Though I had heard great things about their wraps, I had yet to visit Ronto Roasters, located in Star Wars: Galaxy's Edge at Hollywood Studios. I had somehow gotten the impression that it was just a stand/kiosk, like the Milk Stand. Therefore, we had a little trouble finding it. I finally stopped and asked one of the village people. Haha no, not the ones who did Y-M-C-A, but the people (aka cast members) who hang out in the village called Black Spire Outpost, perhaps better known as Galaxy's Edge. They directed us to an actual open-air building, which we had probably walked by many times before while on our way to the Millennium Falcon…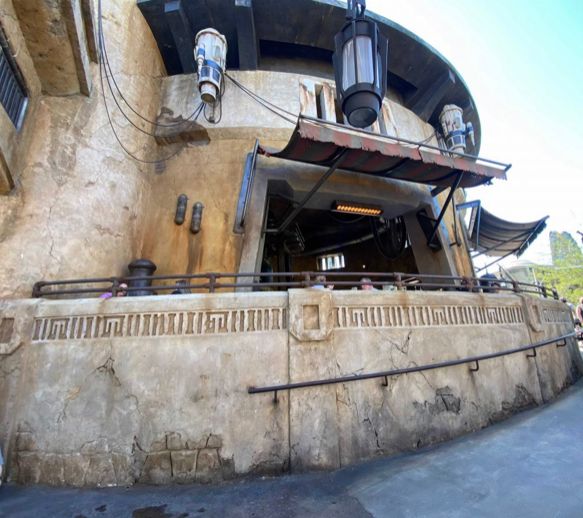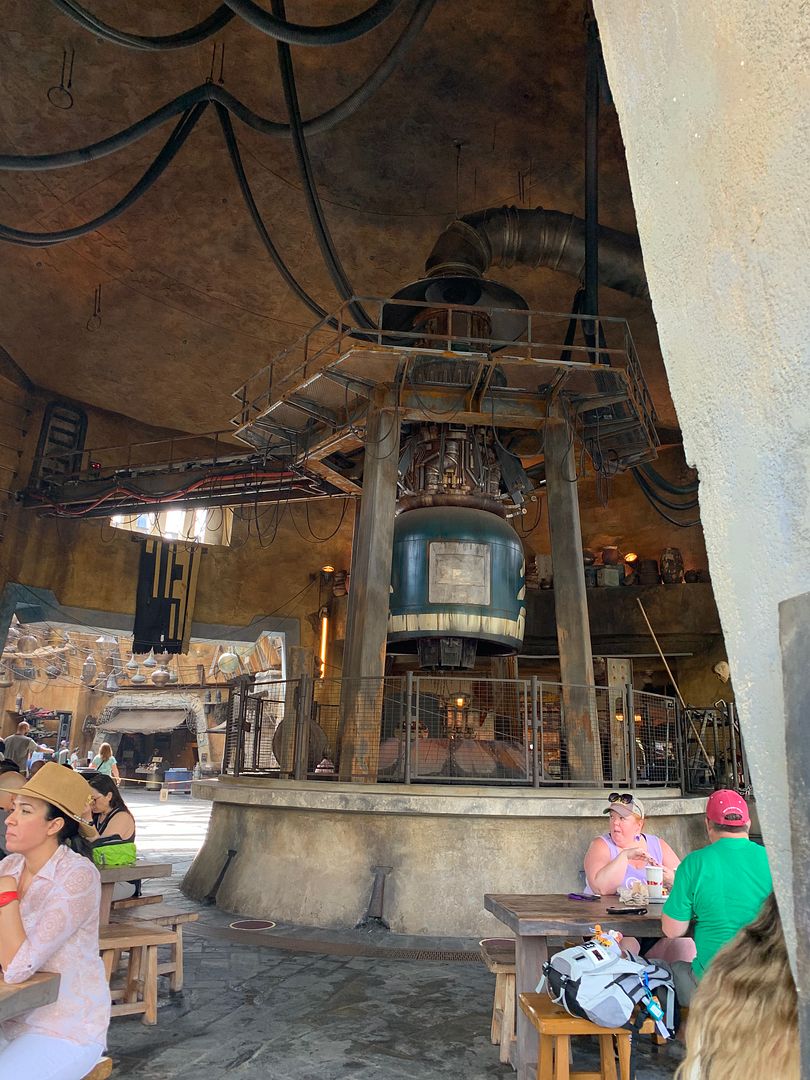 As you can see on this Galaxy's Edge map, Ronto Roasters is the round building next to Docking Bay 7, the main quick service restaurant in this area…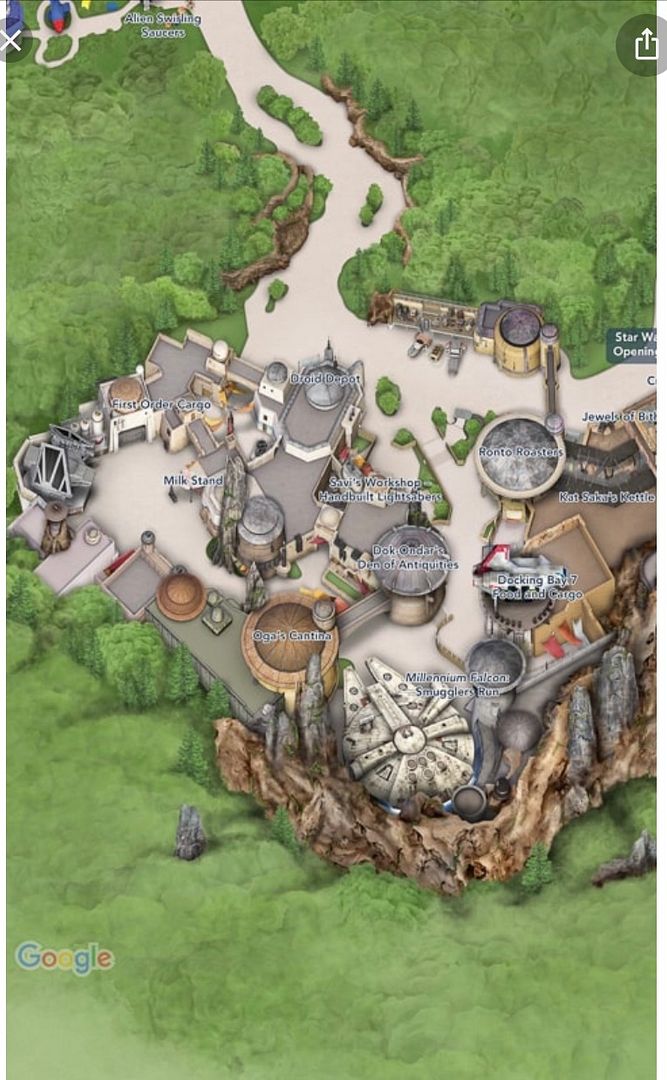 I wonder if they even share a kitchen? Oh wait, no. Ronto, the droid, grills all of the "ronto" meat here on a mechanical spit… (wink,wink)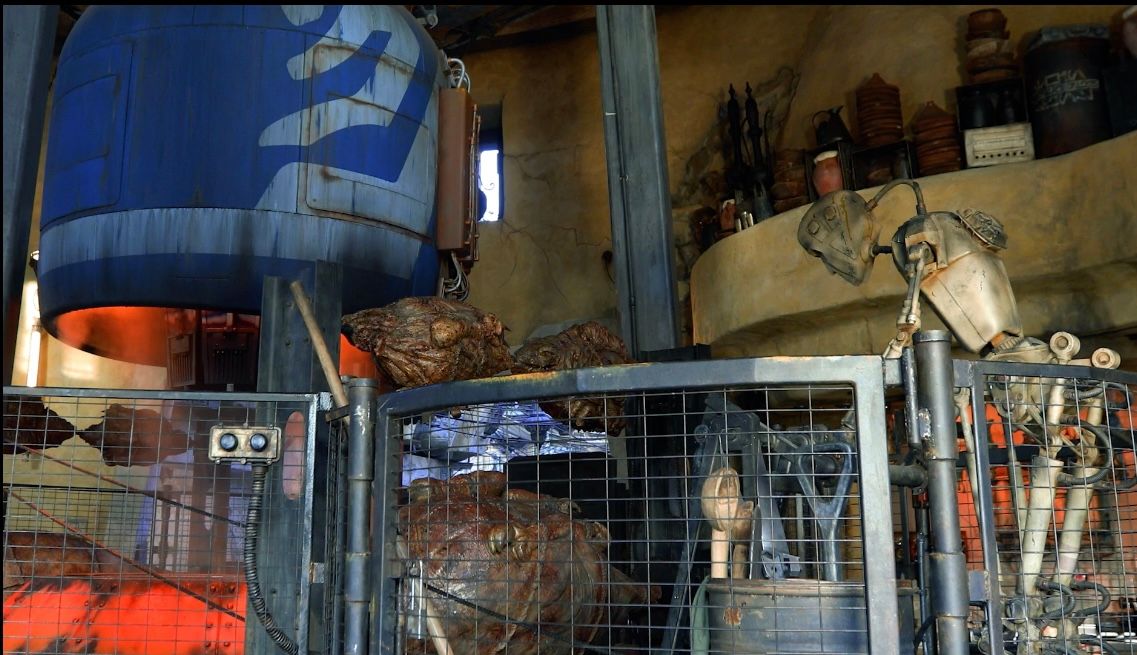 Just look at that ronto…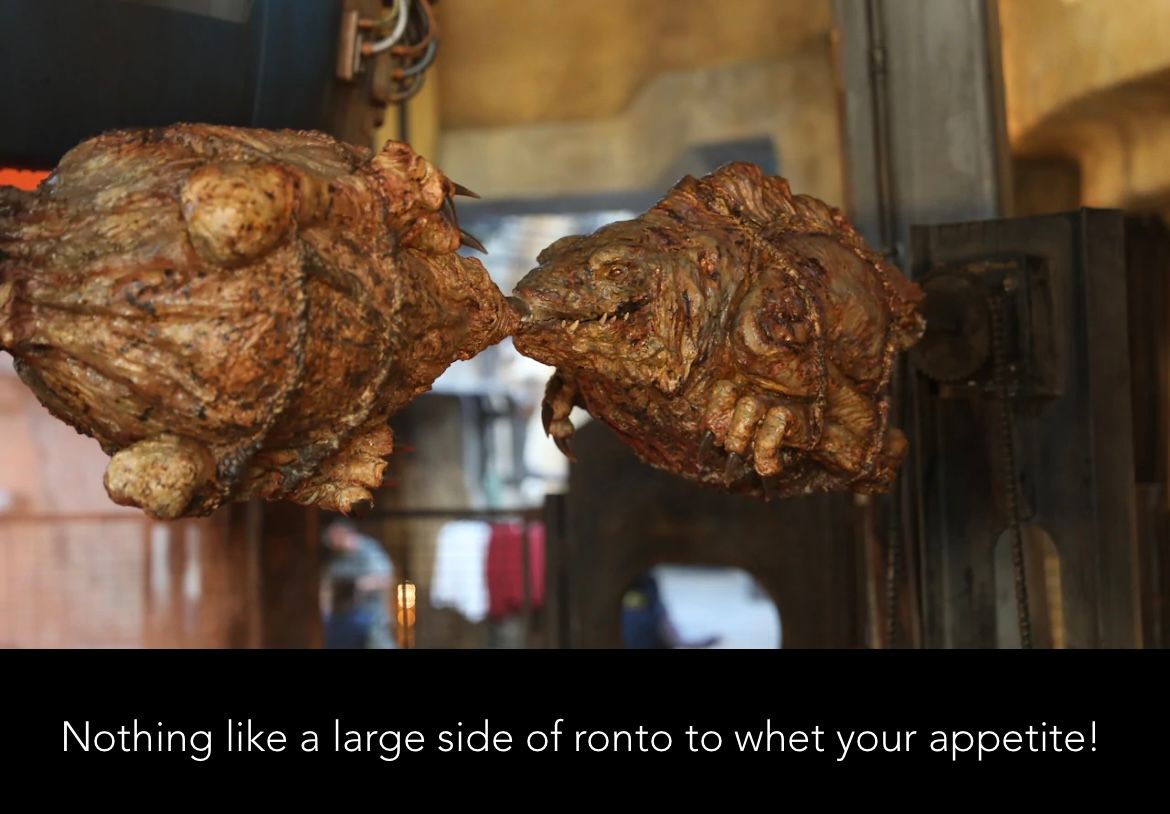 Yum. yum!  Haha.  Oh, and in case you were wondering what a ronto is, the answer is that it is a massive beast native to the planet Tatooine.  While it sure is ugly, we discovered that its meat is very tasty. (wink, wink)
So anyway, the menu here is very limited. Breakfast food items, which are only available from park opening (typically 9:00 a.m.) until 11:00, are the Ronto Morning Wrap and Rising Moons Overnight Oats. There are also two plant-based options on their breakfast menu, which are the Triple Suns Breakfast Wrap (made with plant-based egg, smoky chickpea-onion slaw and roasted tomato sauce) and Andoan Fruit, which actually has both vegetables (jicama and cucumber) and fruit (pineapple, melon, and dragon fruit). The vegetables and fruit are apparently doused with Muja sauce (aka Tamarind sauce). Hmm, I think I'll pass on that. Haha.
Two of their menu food items are available all day. These are their Kyryll Pork Rinds and the regular Ronto Wrap (with Roasted Pork, Grilled Pork Sausage, Peppercorn Sauce, and Tangy Slaw) . Then there is a Plant-based Zuchii Wrap (with grilled zucchini and smoky chickpea-onion slaw with a creamy garlic-Tahini sauce) that is available for lunch from 11:00 until they close at 3:00. Oh, and by the way, I've read that if you don't make it to Ronto Roasters before they close at 3:00 then you can still get the regular Ronto Wrap at Docking Bay 7 (from 3:00 until they close).
Ok, now on to our breakfast choice…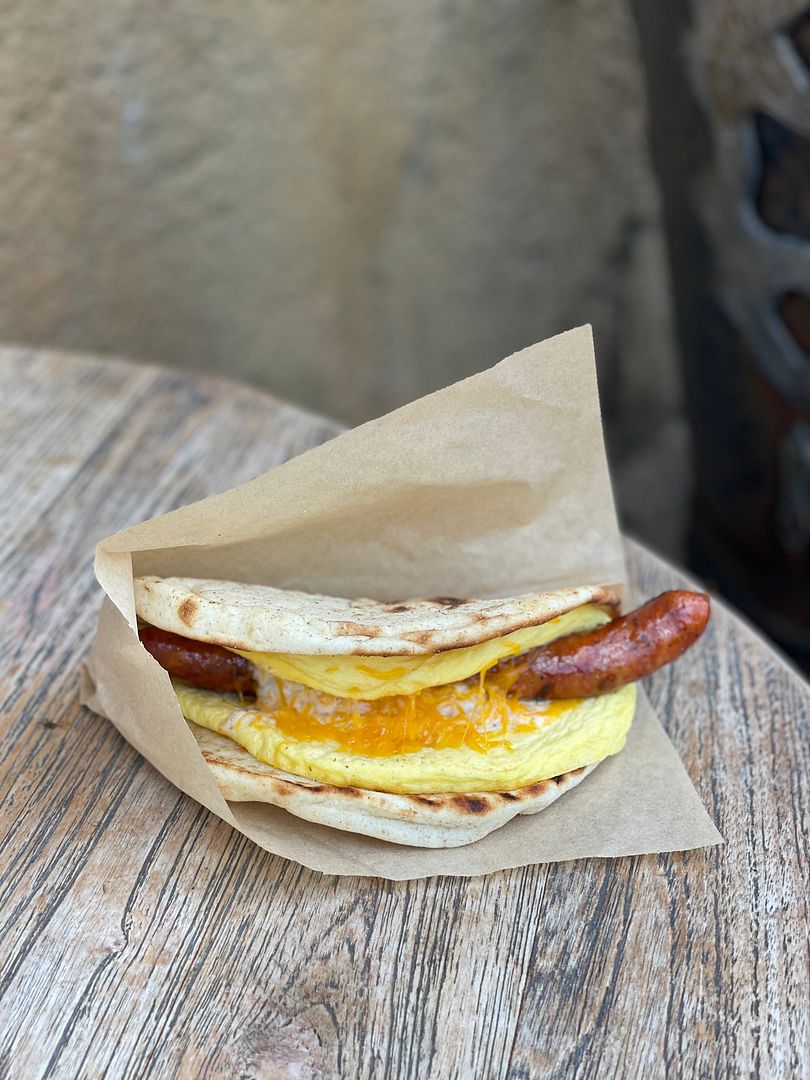 Ronto Morning Wrap – Eggs, Grilled Pork Sausage, Shredded Cheddar, and Peppercorn Sauce in Pita Bread – $12.49
We also requested and were given two glasses of ice water. We were able to find a table for two outside in the corner of their terrace.
Here we shared the wrap, which both of us really enjoyed.  The eggs were cooked in the form of an omelet.  The grilled sausage was tasty and large, even a bit bigger than the pita bread.  
RONTO ROASTERS BREAKFAST VS. WOODY'S LUNCH BOX BREAKFAST
With Woody's Lunch Box (the quick service location in nearby Toy Story Land) only having one breakfast specialty item on their menu in the morning now (their Breakfast Bowl, which are tater tots and scrambled eggs covered with brisket country gravy), Ronto Roasters might be a good (or even better if you tend to spend your mornings in Galaxy's Edge) alternative for breakfast.  The Breakfast Bowl at Woody's is cheaper though at $8.79 and they do offer a Kids' portion of the Breakfast Bowl (which also includes a drink two sides) for only $5.49.  The Kids Meal is actually what I got when I last had breakfast at Woody's in November 2019…
Though the Kids Breakfast Bowl was good (and a great value), in my opinion the Breakfast Ronto Wrap was better.  
NOTE: Additionally both Woody's and Ronto's have limited seating and both offer Mobile Ordering on the MDE app.  
Though Ronto Roasters has a very limited menu, what they do offer (which is primarily the wraps) they do well.  Therefore I would give Ronto's a rating of 4 stars.  Ronto Roasters has not yet been reviewed on Yelp but on TripAdvisor reviewers have rated it 3 1/2 stars.