Where to begin?  Soooo much food, soooo many photos, and soooo many notes taken.  But let's begin with the description of this brunch (per the official Disney World website) that is offered only on Sundays from 10:00 a.m. – 1:00 p.m….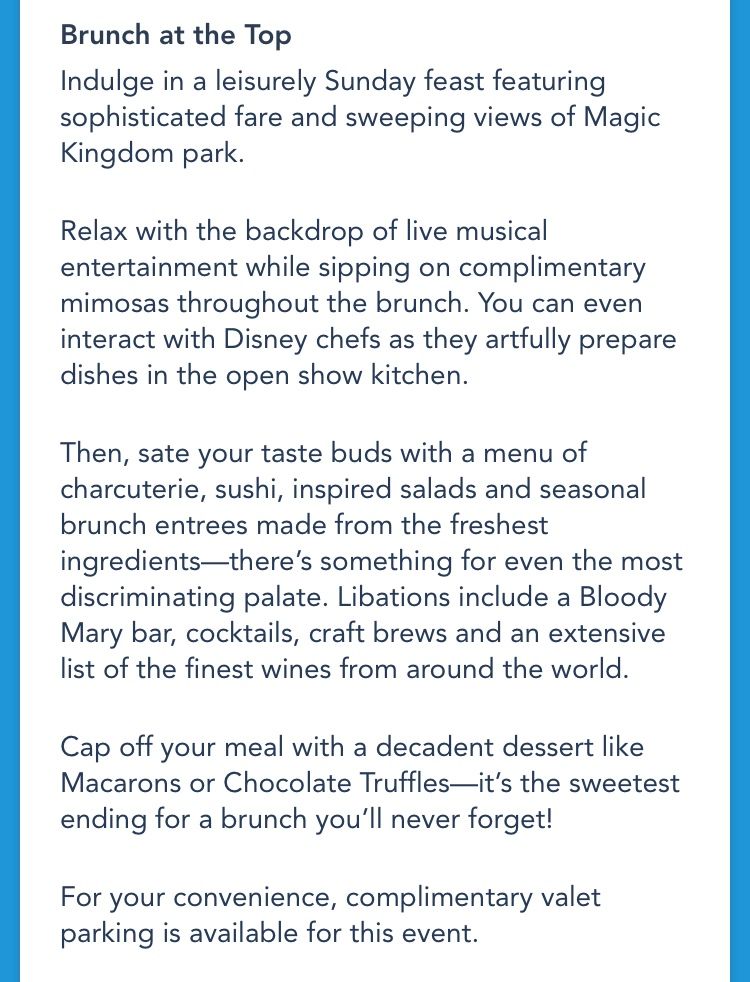 I was meeting my friend, Rachel, to have brunch here at 11:25 on Sunday, October 28th.  Though we had both had dinner at California Grill (more times than I can count), this was our first time having brunch.  Rachel had made our reservation, but I was the first to arrive at the California Grill check-in desk on the 2nd floor of the Contemporary and they allowed me to check in and proceed up the (dedicated) elevator to the restaurant, located on the 15th floor.  Once I had arrived, I was immediately given my first mimosa…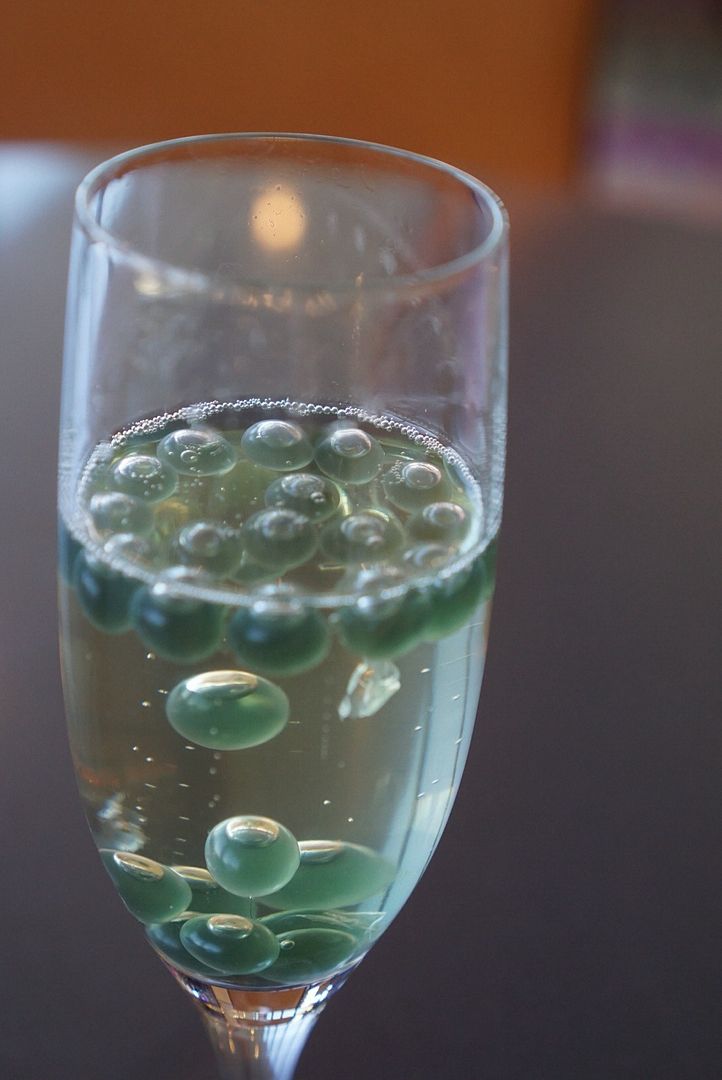 Though they called this a "mimosa" or more specifically a blueberry mimosa, it was not the usual combination of champagne or sparkling wine and orange juice.  Instead this was Cava (a sparkling wine from Spain) and boba (blueberry juice-filled) balls.  While I liked the wine (and had several refills throughout my meal), I tried and really didn't care for the boba balls.  So I still prefer the standard version of the mimosa with orange juice.
For those wanting something non-alcoholic, they were also offering a White Cranberry Spritzer, which can be seen in the lower right hand corner of this photo…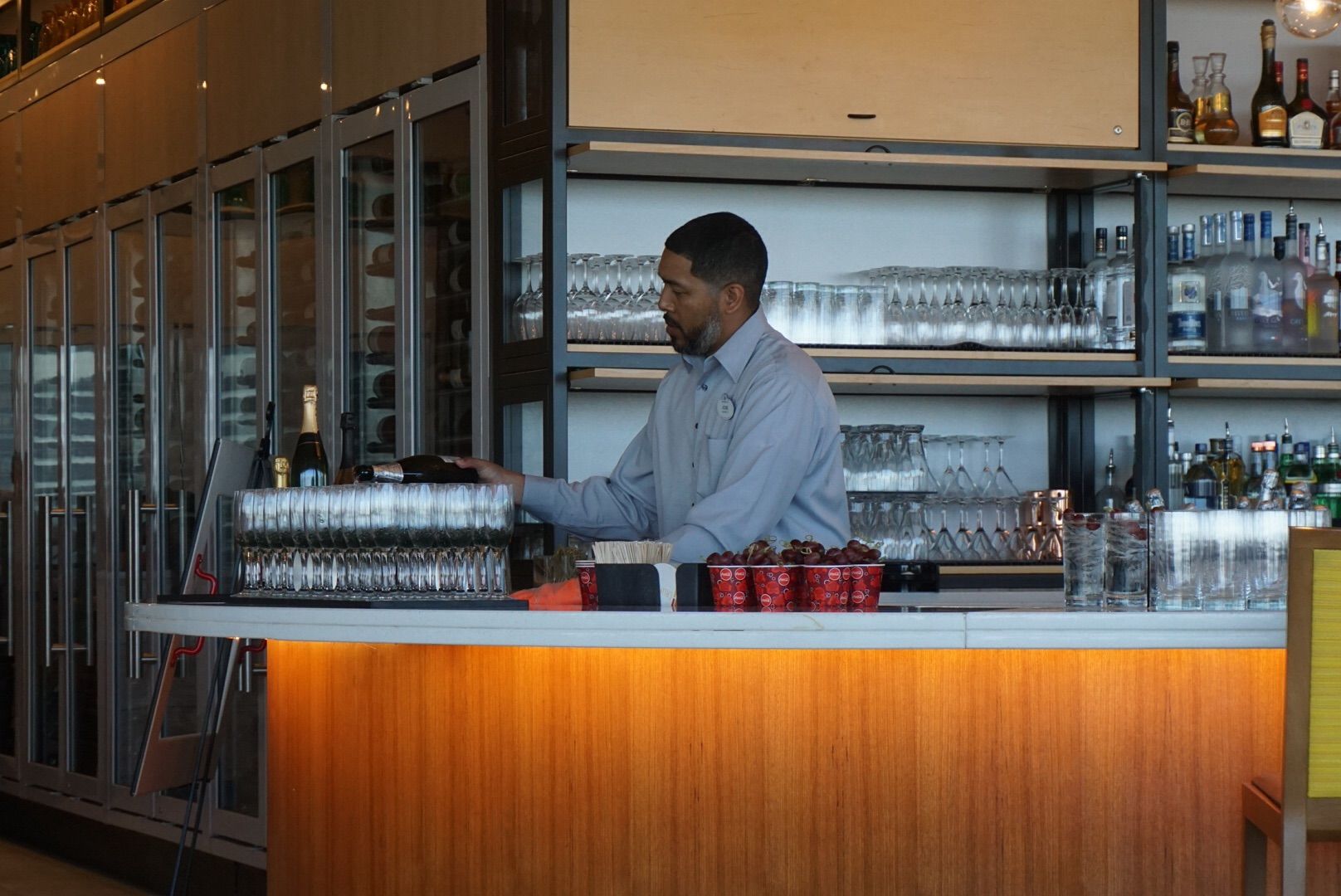 Both the mimosas and spritzers were included in the cost of this meal.
While I waited for Rachel to arrive, I enjoyed the view of Magic Kingdom, the Seven Seas Lagoon and the surrounding resorts…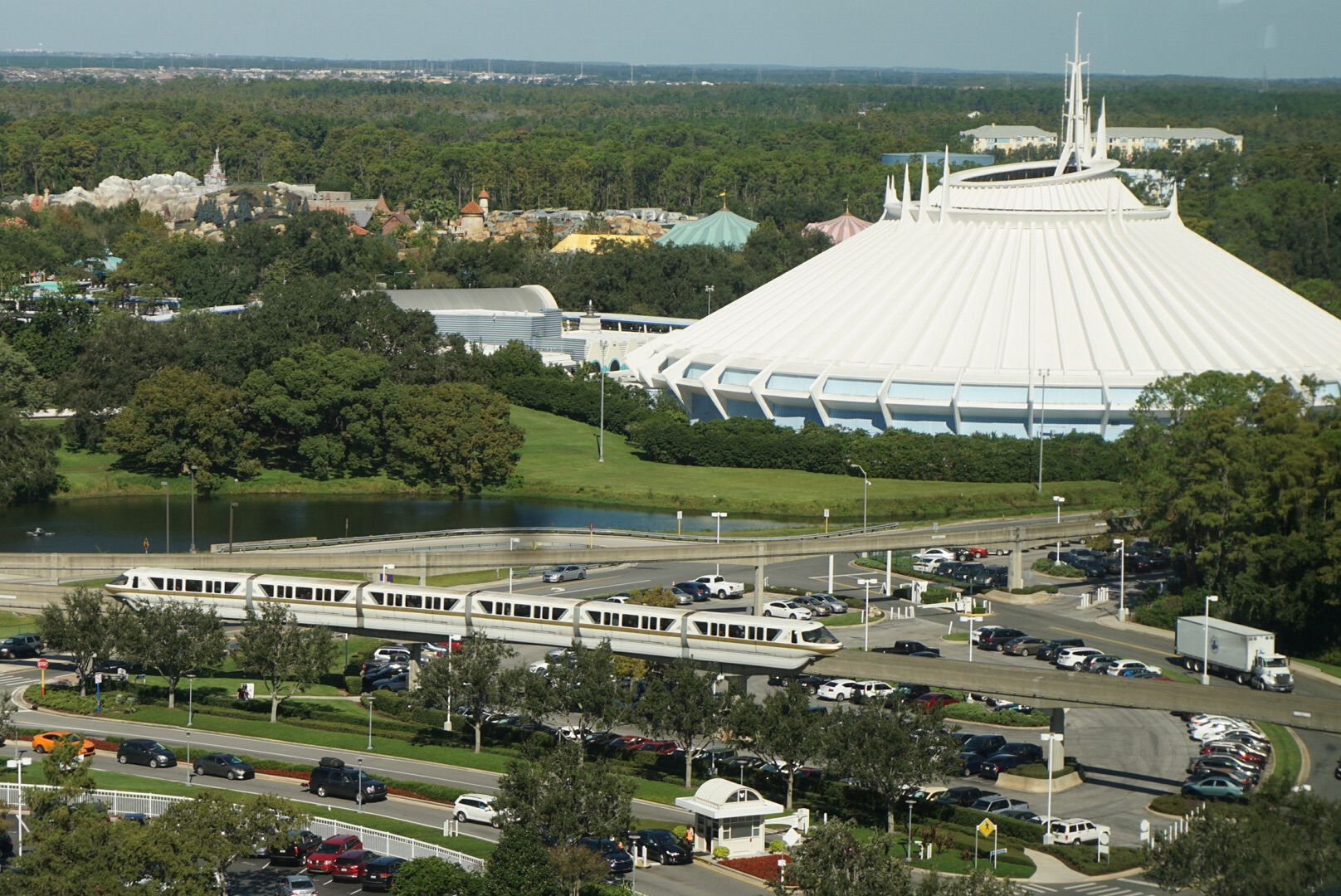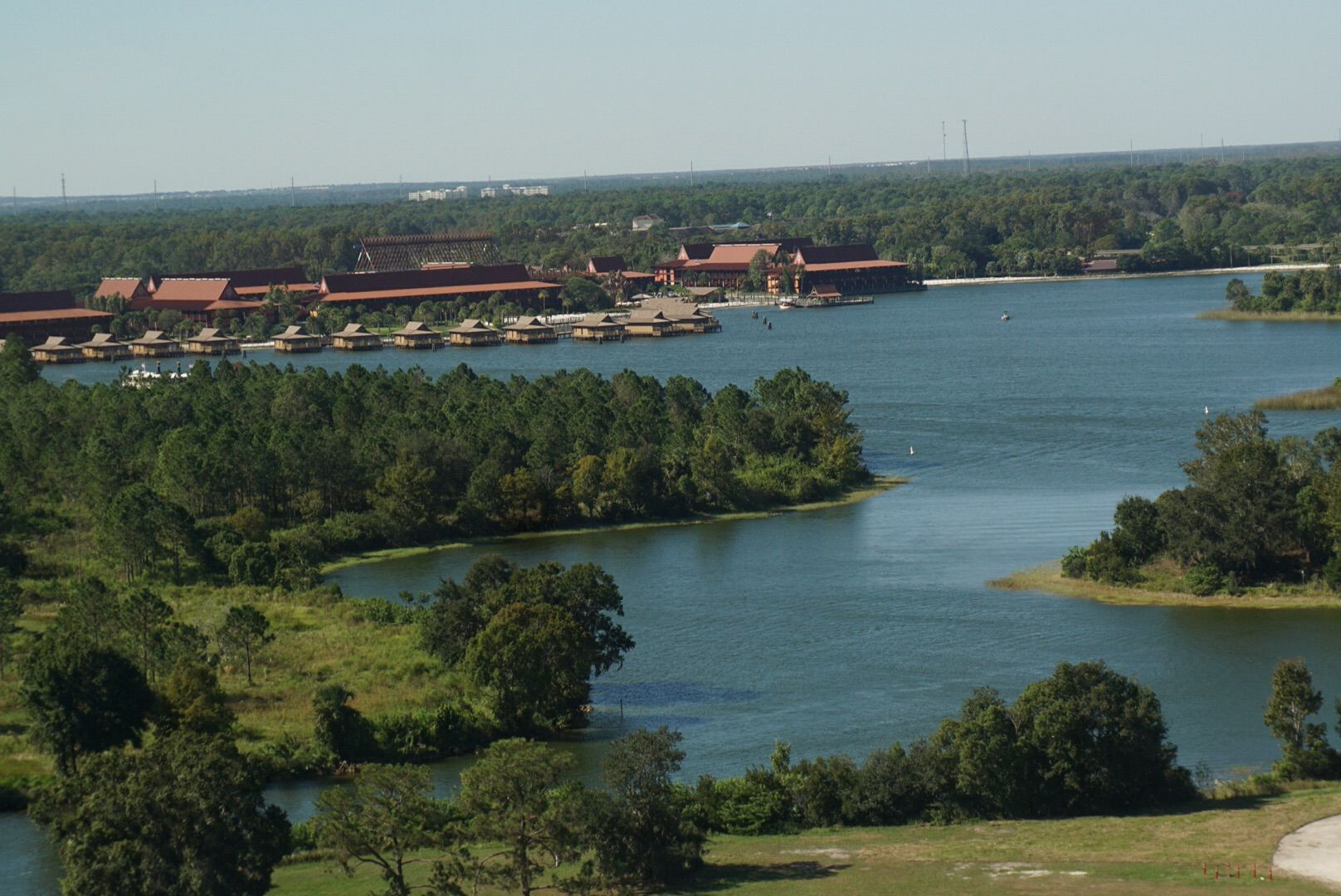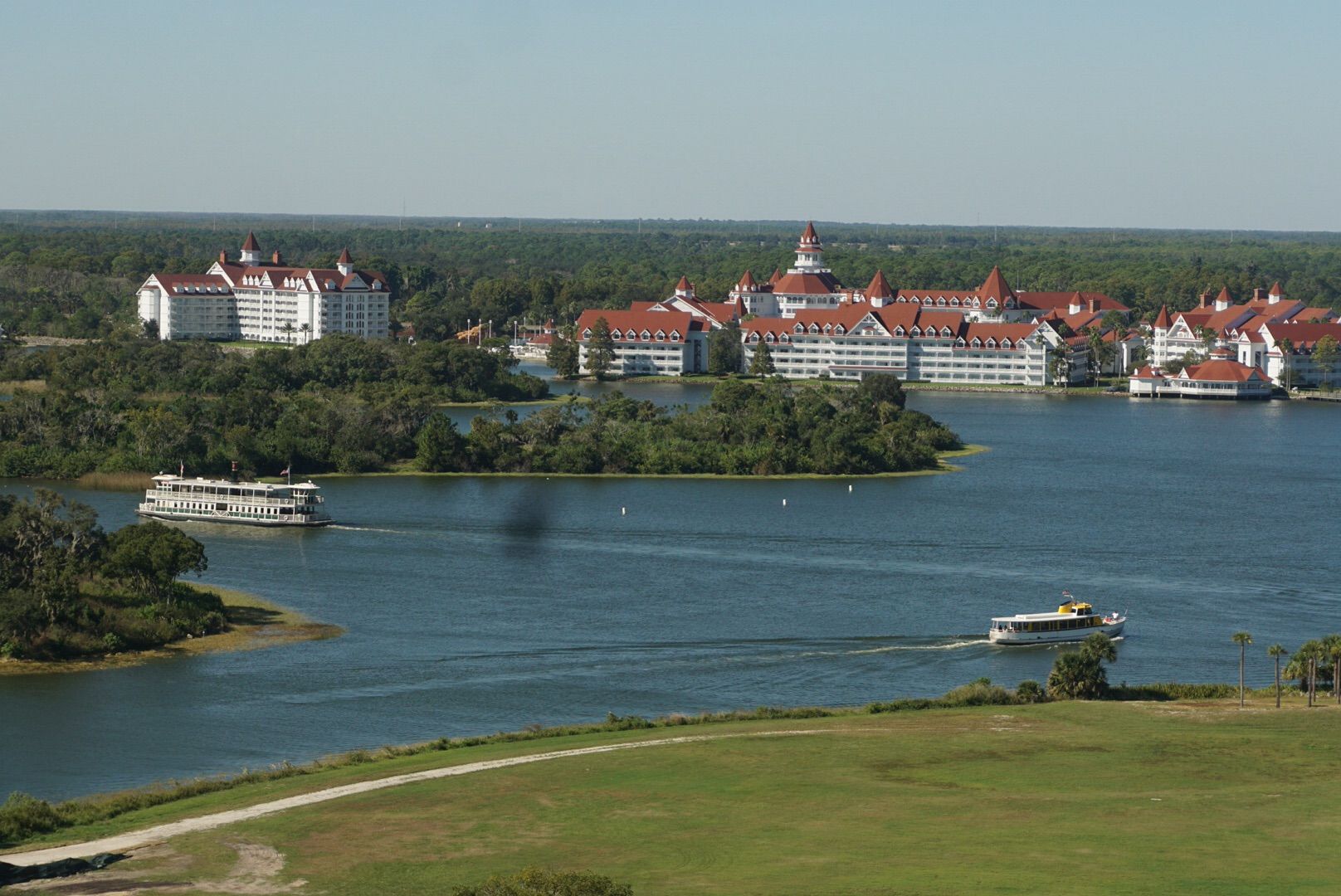 Here's a photo of one of my (current) favorite Disney World restaurants, Narcoossee's at the Grand Floridian Resort…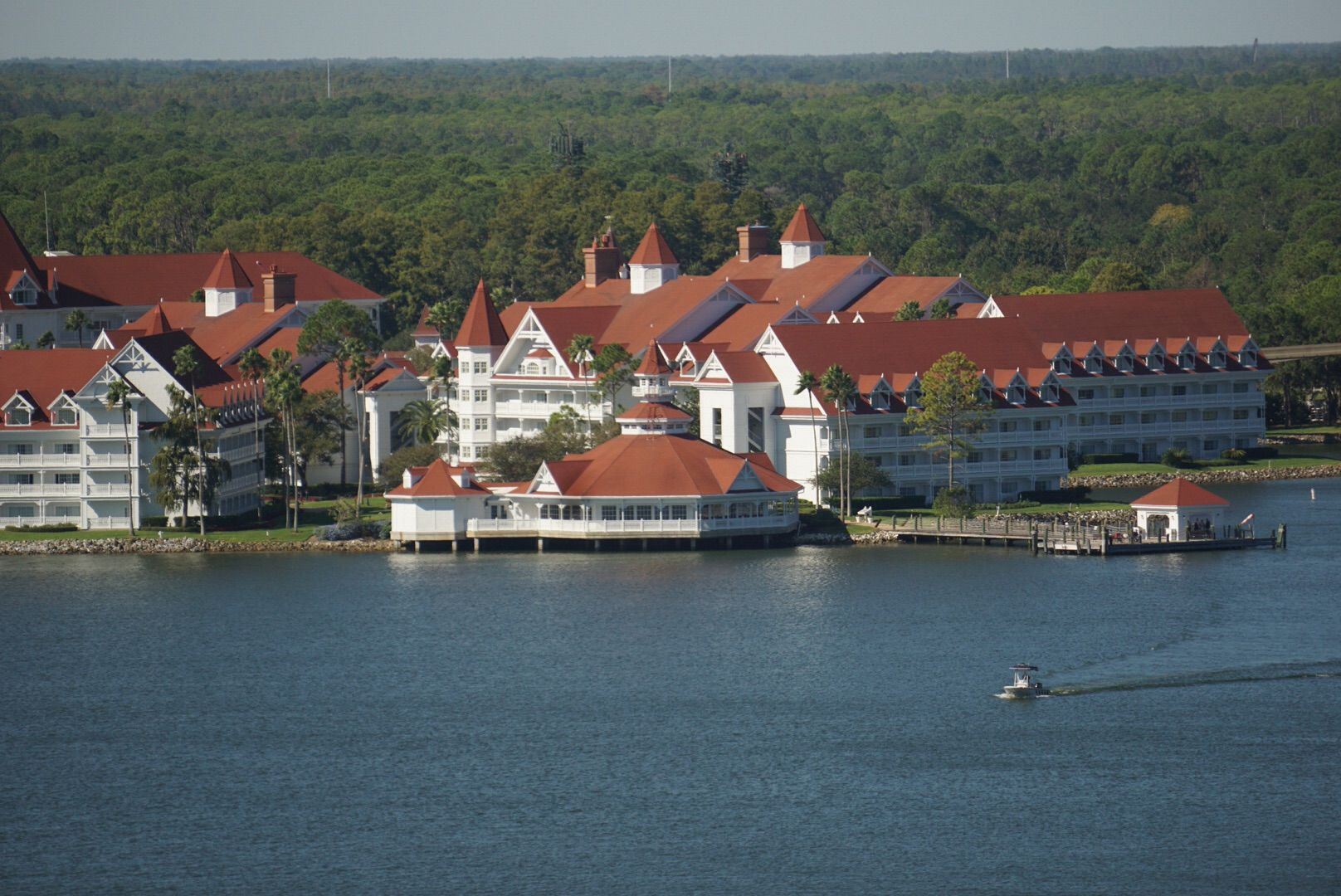 And one of the Polynesian Resort, where I spent the first 3 nights of this trip…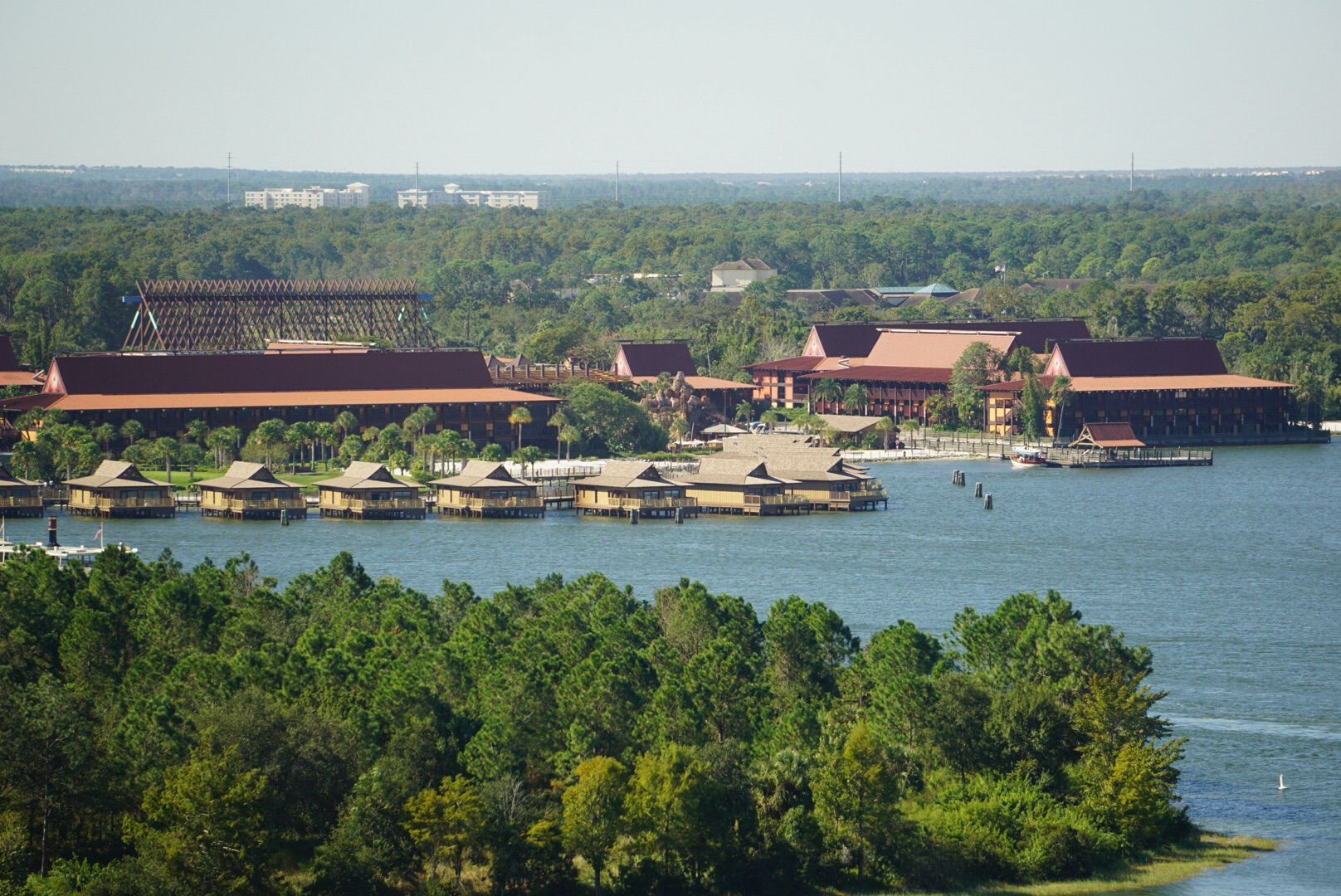 It had been a few years since I had dined at California Grill before dark so I was really enjoying the daytime views here.  But you are likely here to see their food, so let's get on with that.
Not too long after Rachel arrived our pager went off and we were seated at a 2-top table right next to the window, with a great view of Magic Kingdom.  So I of course had to take more photos, but I'll save those for later.
Let's begin with the menu we were given…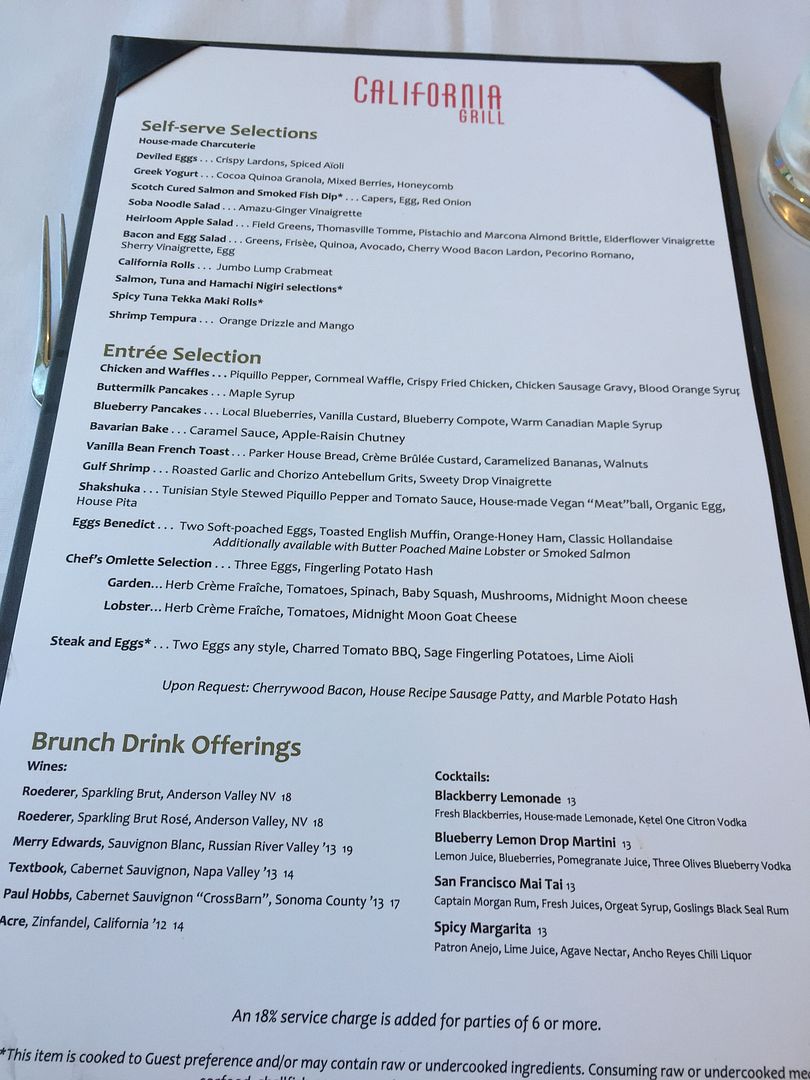 Our very attentive server (one of the best of this trip) then stopped by to introduce herself and take our drink orders.  We both got water (which is always good here because it is extra-filtered) and coffee.  The coffee was a custom-roast, French press coffee and we both really liked it.  So much so that our server brought us each our own press pot that was left at our table and I think we both emptied our pot.  
There was also a Bloody Mary Bar offered to us for an extra cost of $17…
…but we were satisfied with the three (included) beverages we had.
Now on to the food, starting with the Self-Serve station of pastries…
Starting on the left side of the middle table, there was a large basket under a warming lamp (which gave my photos a warm, golden glow)…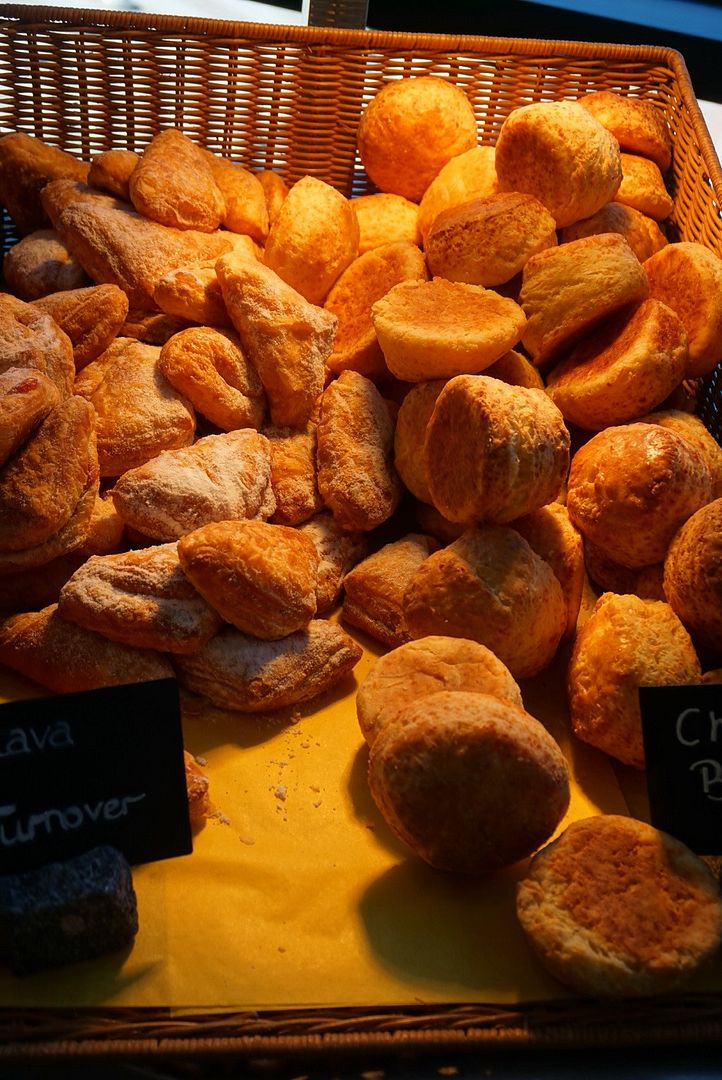 This basket held two delicious pastries, Guava Turnovers…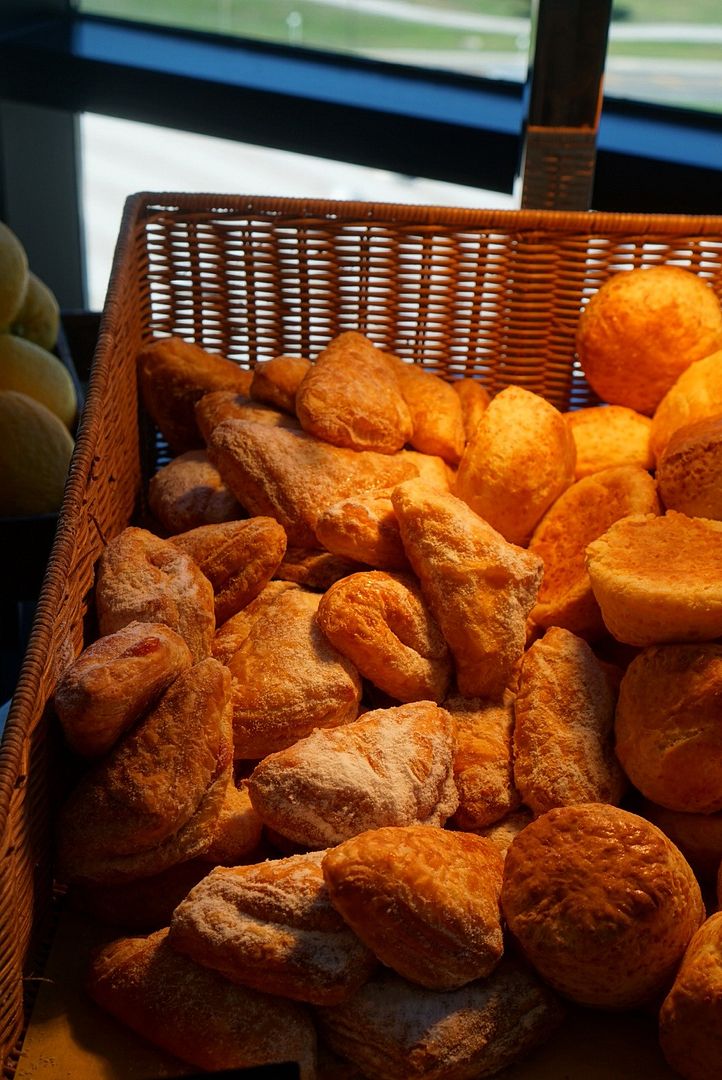 And Cheddar Biscuits…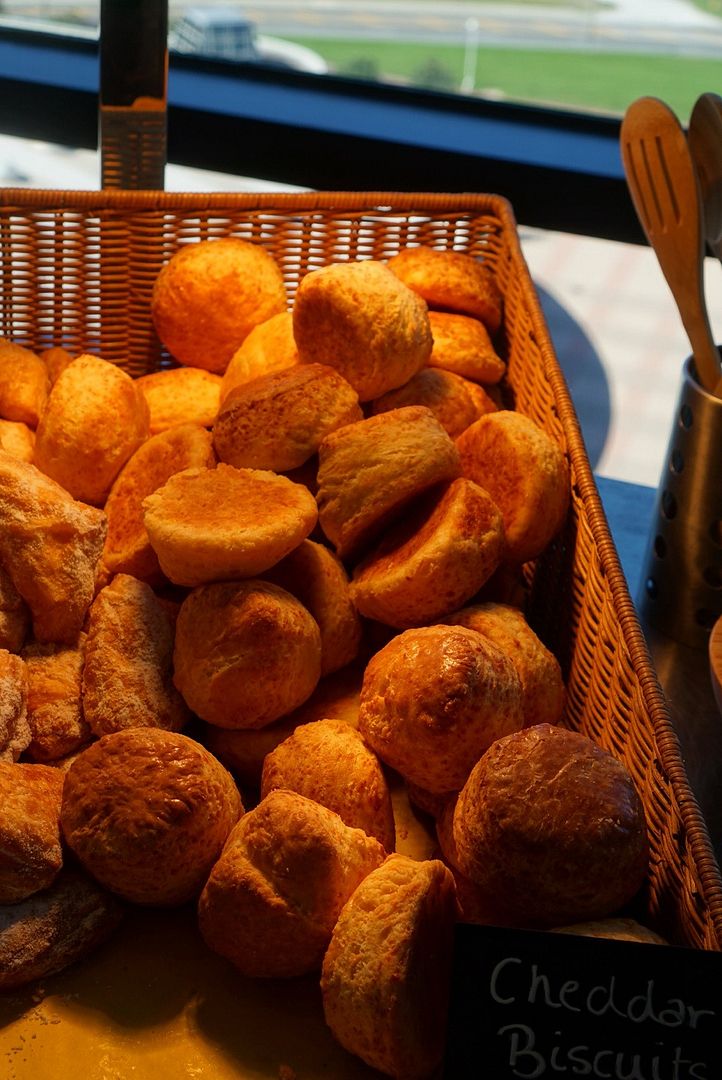 Next was a basket of Croissants…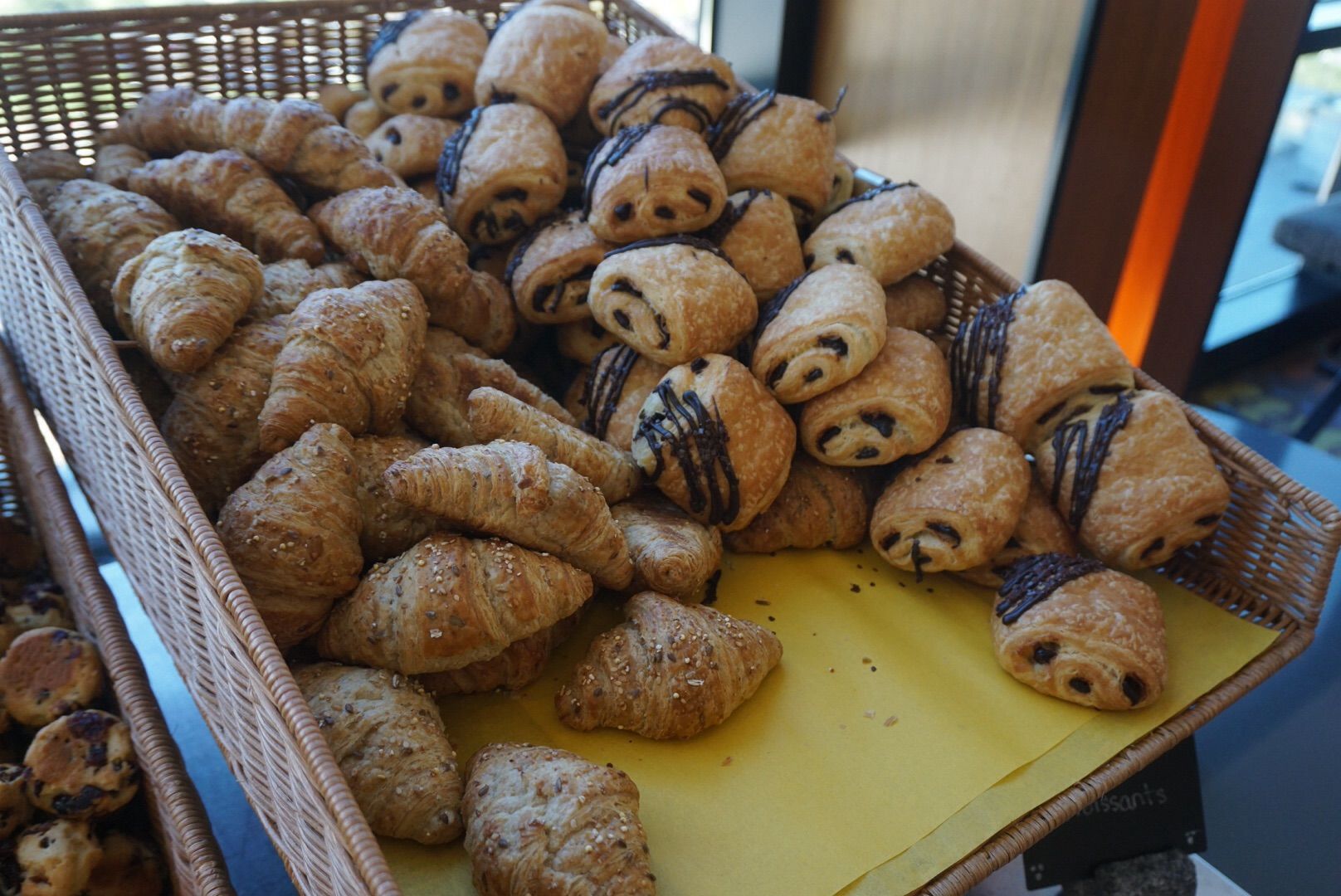 This held two kinds of croissants, Multigrain Croissants…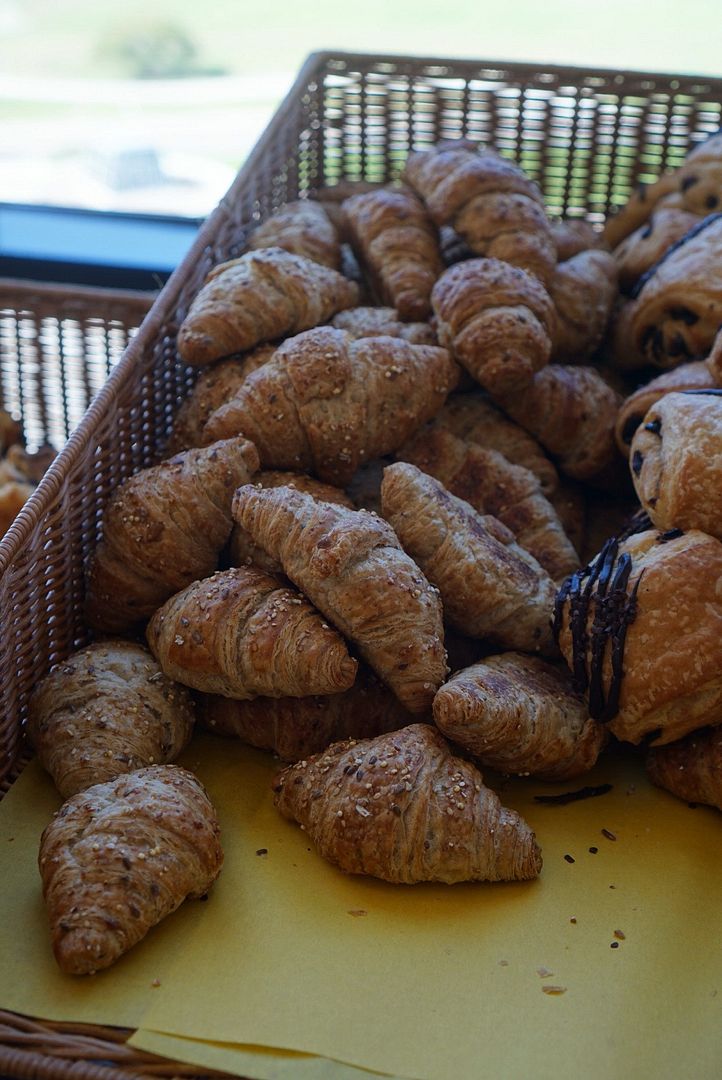 And Chocolate Croissants…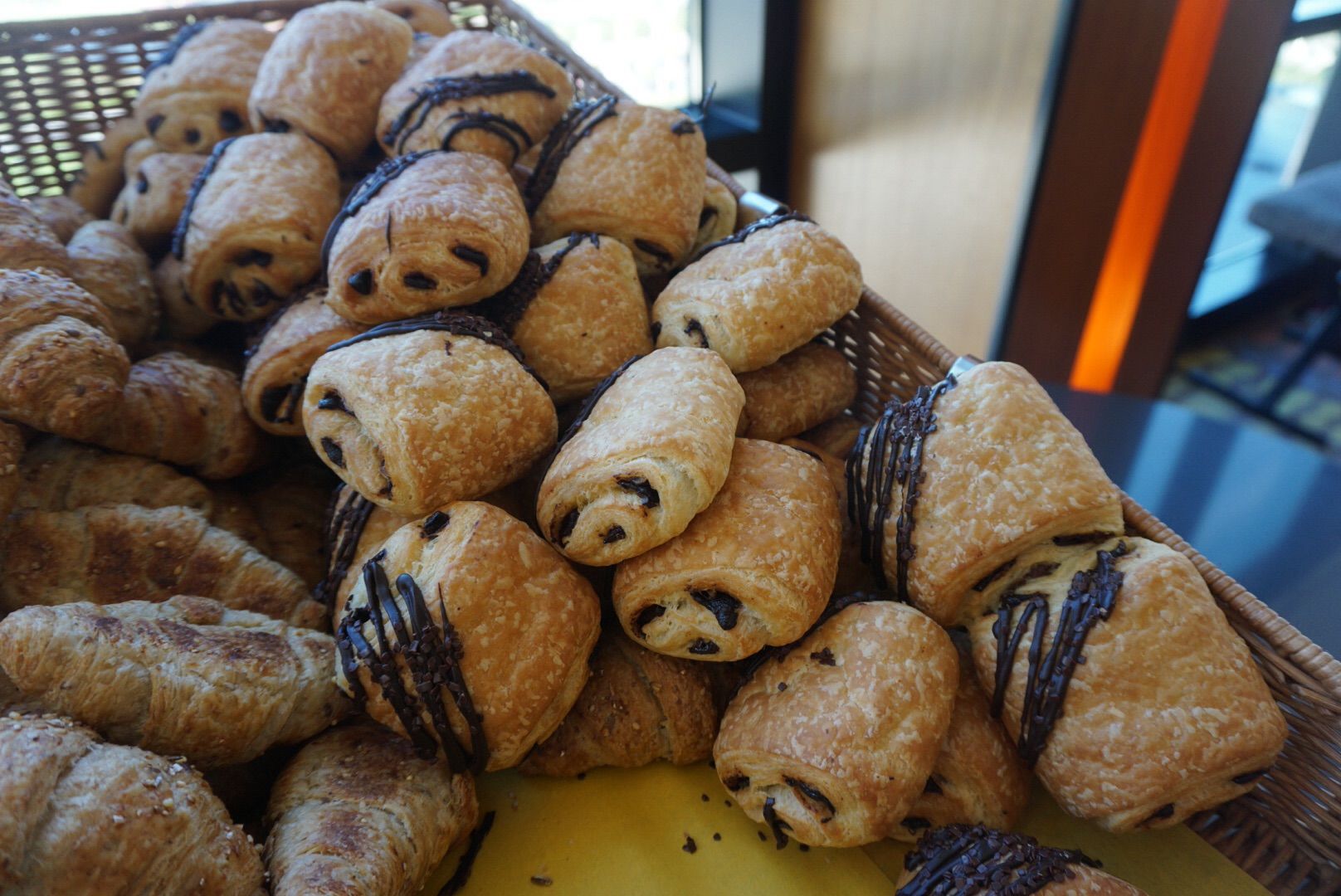 And then the third basket held Gluten-Free Cranberry-Orange Scones…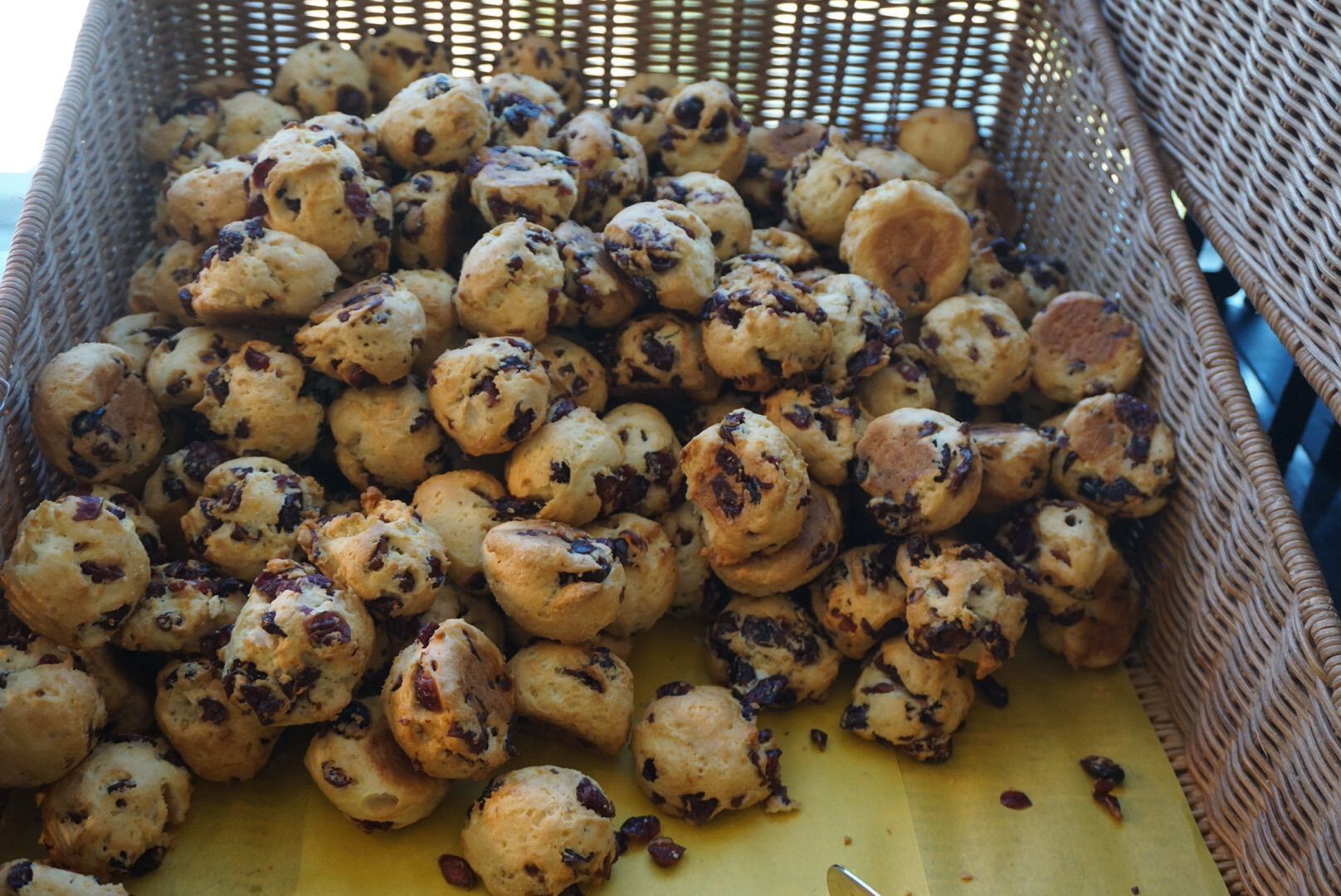 And another look…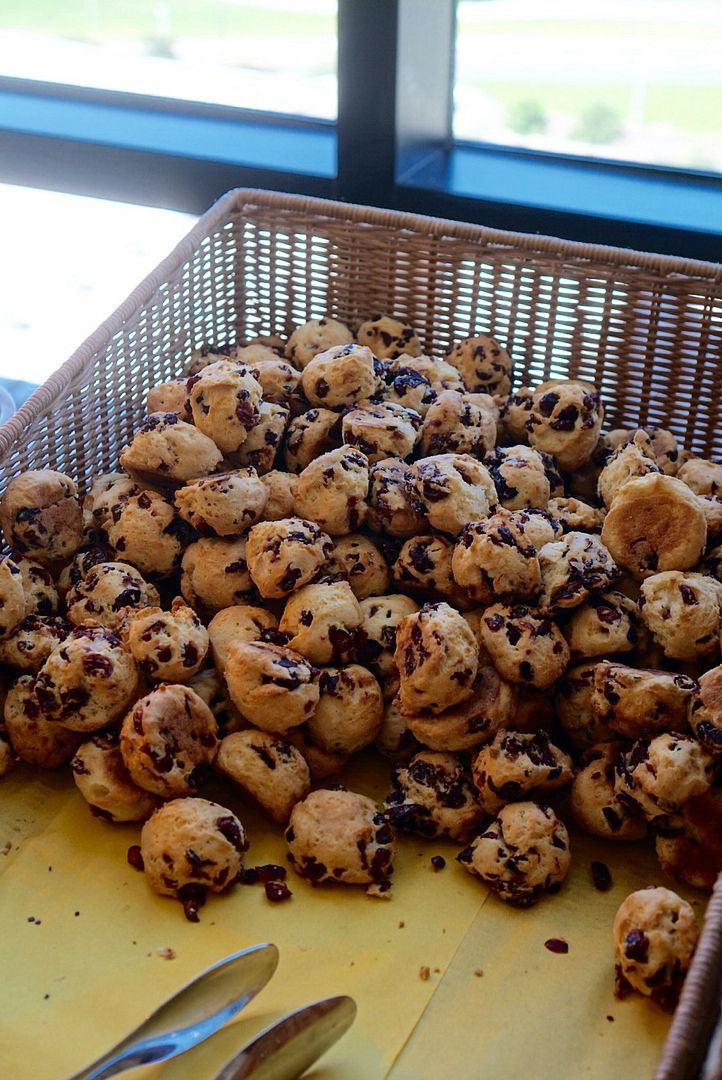 The bowls on the smaller, oval table contained Whipped Honey Butter…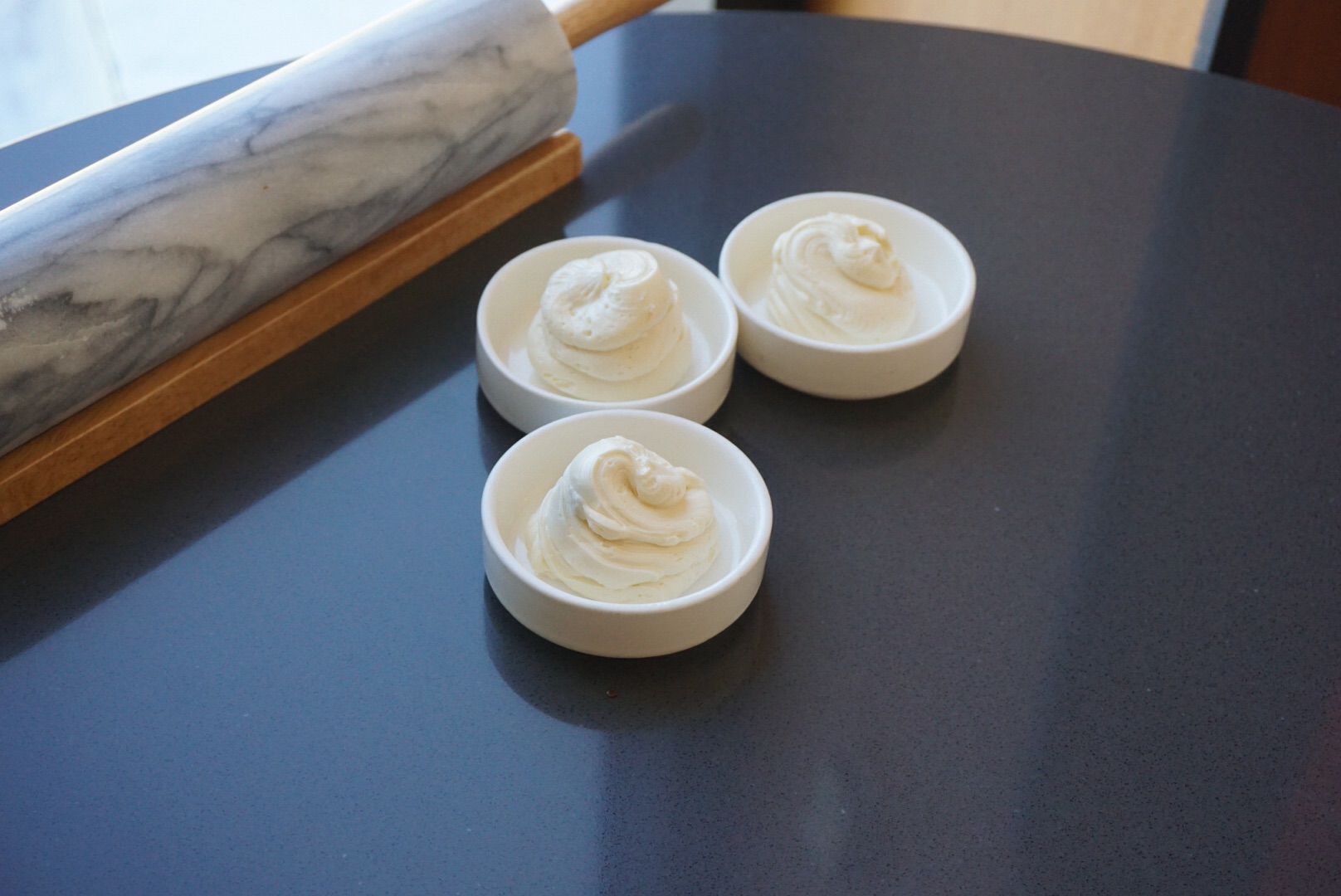 I tried all of these pastries except for the Multigrain Croissant…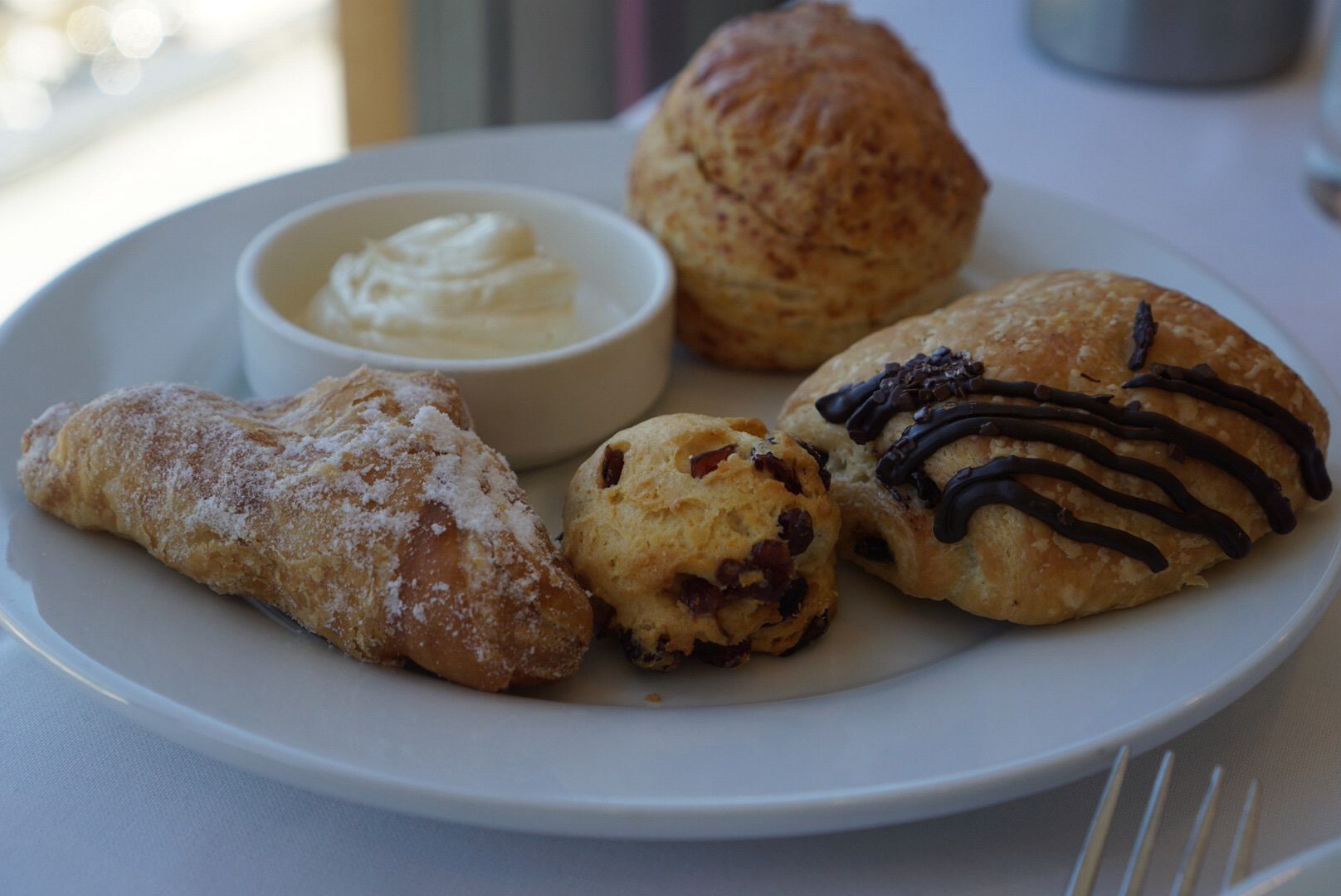 And a little closer look…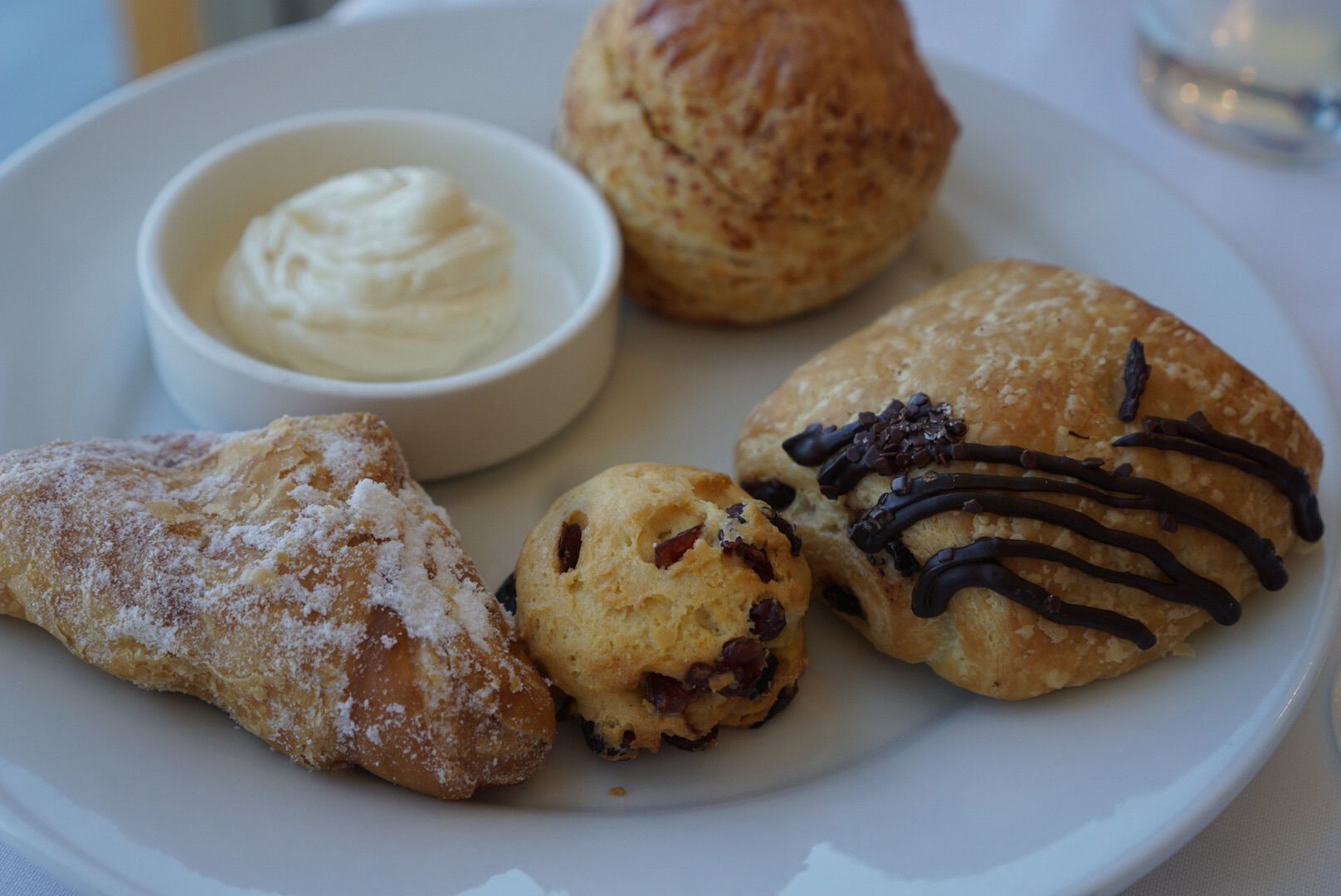 I liked all of these except for the gluten-free scone, which was pretty dry.  I really enjoyed the cheddar biscuit.  It was cheesy, flaky, and quite delicious when topped with the honey butter.  However, my favorite thing on this plate was actually the Guava Turnover.
On the other side of the Self-Serve Pastry station was a station where these were being prepared…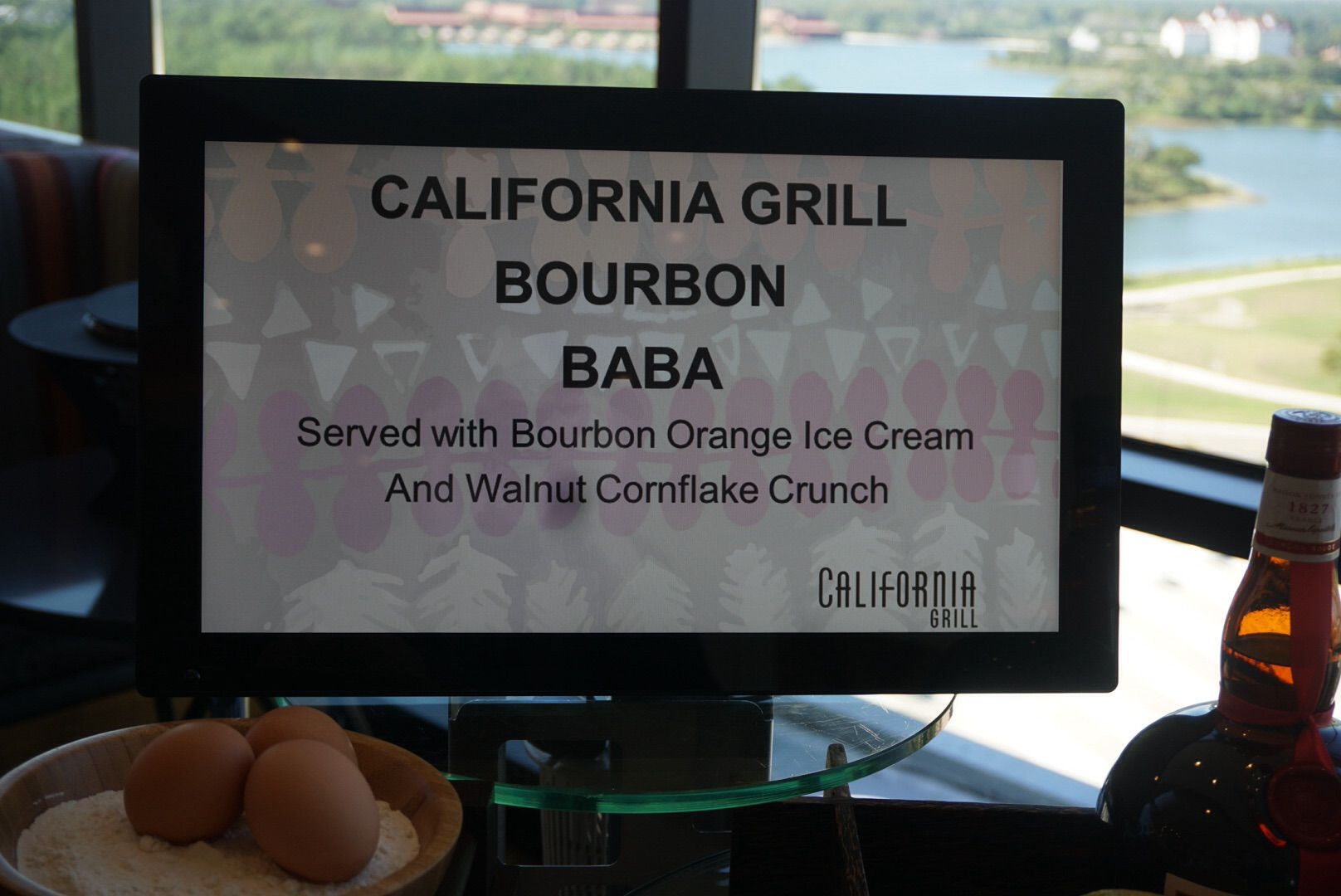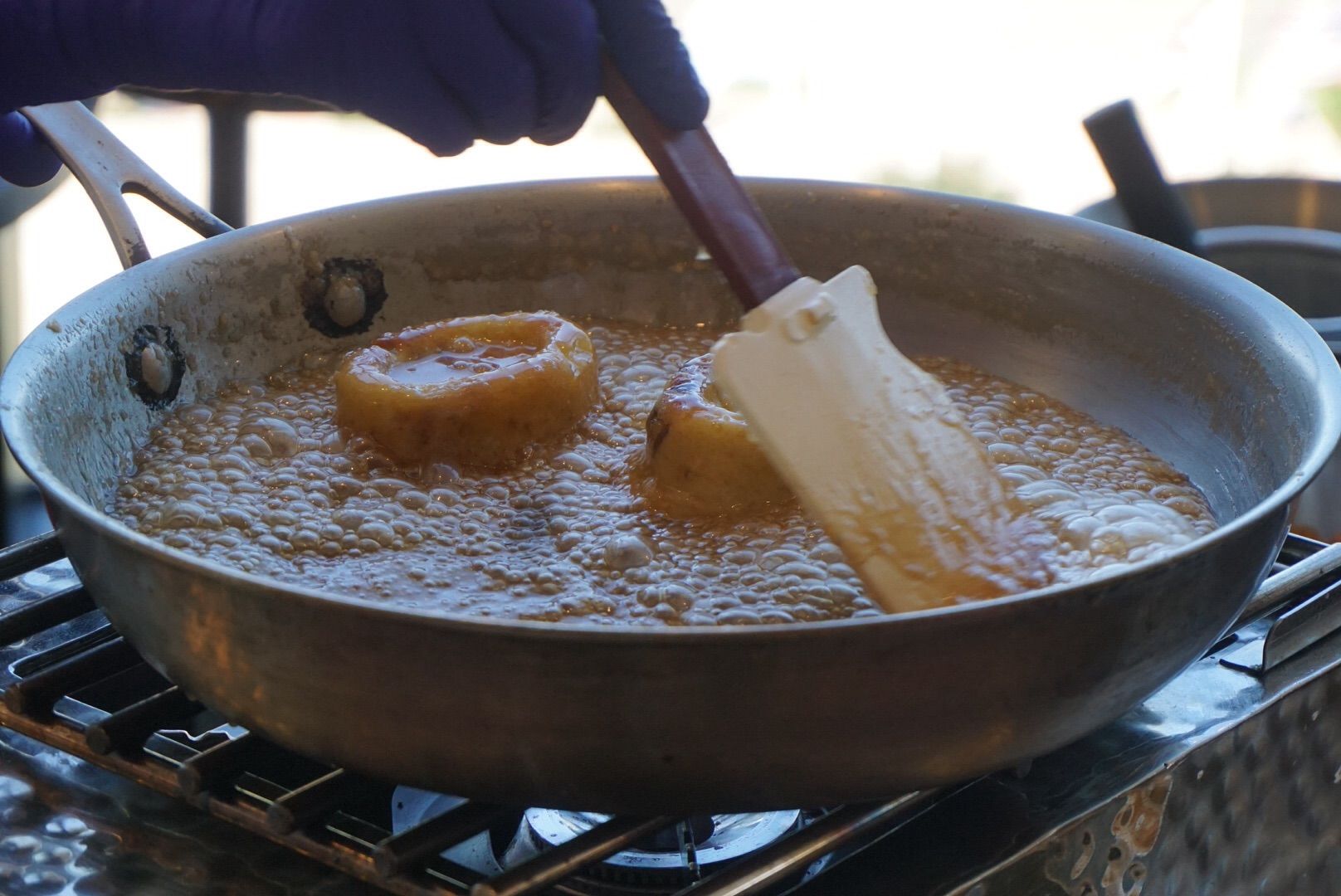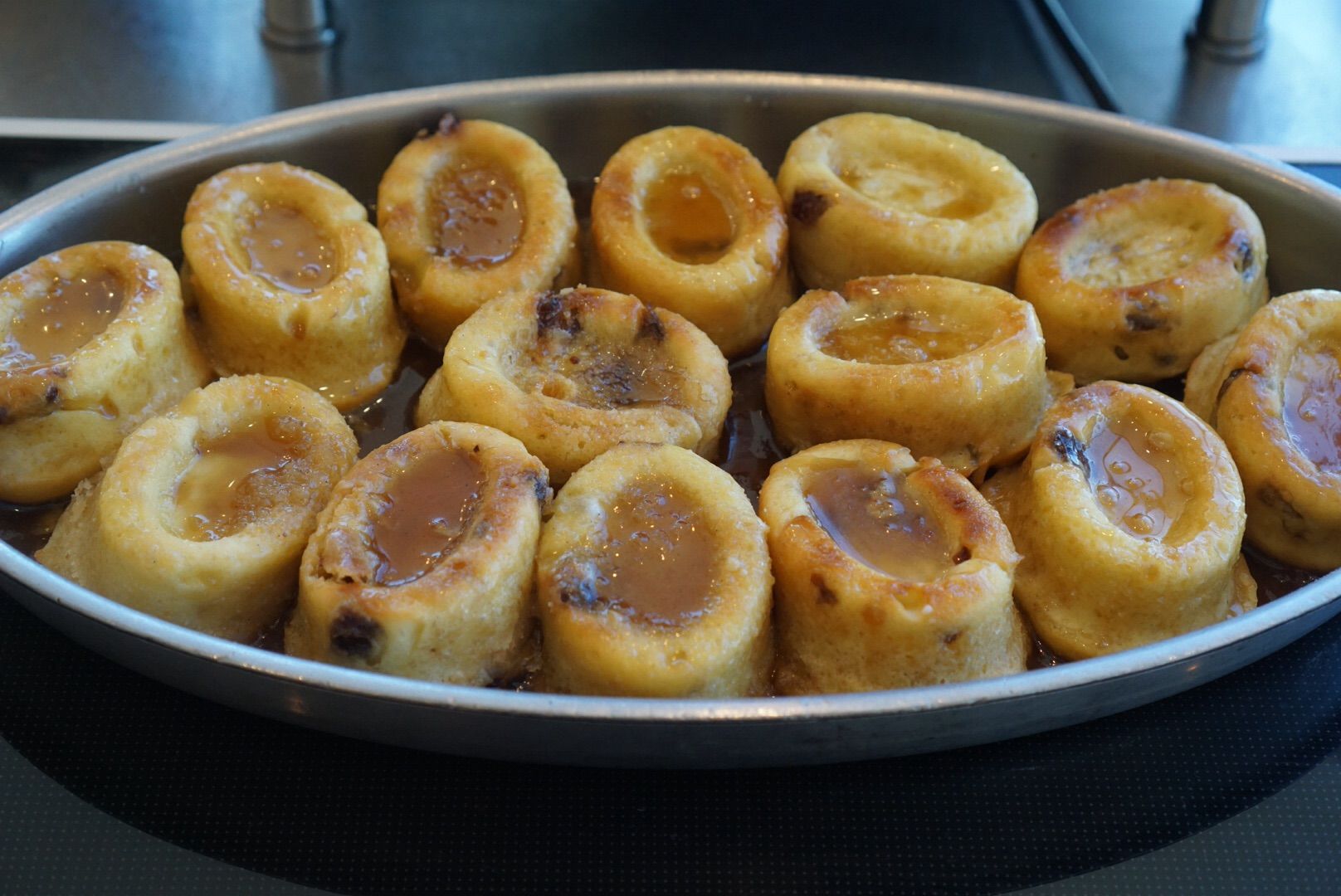 And a closer look of the Babas topped with bourbon sauce…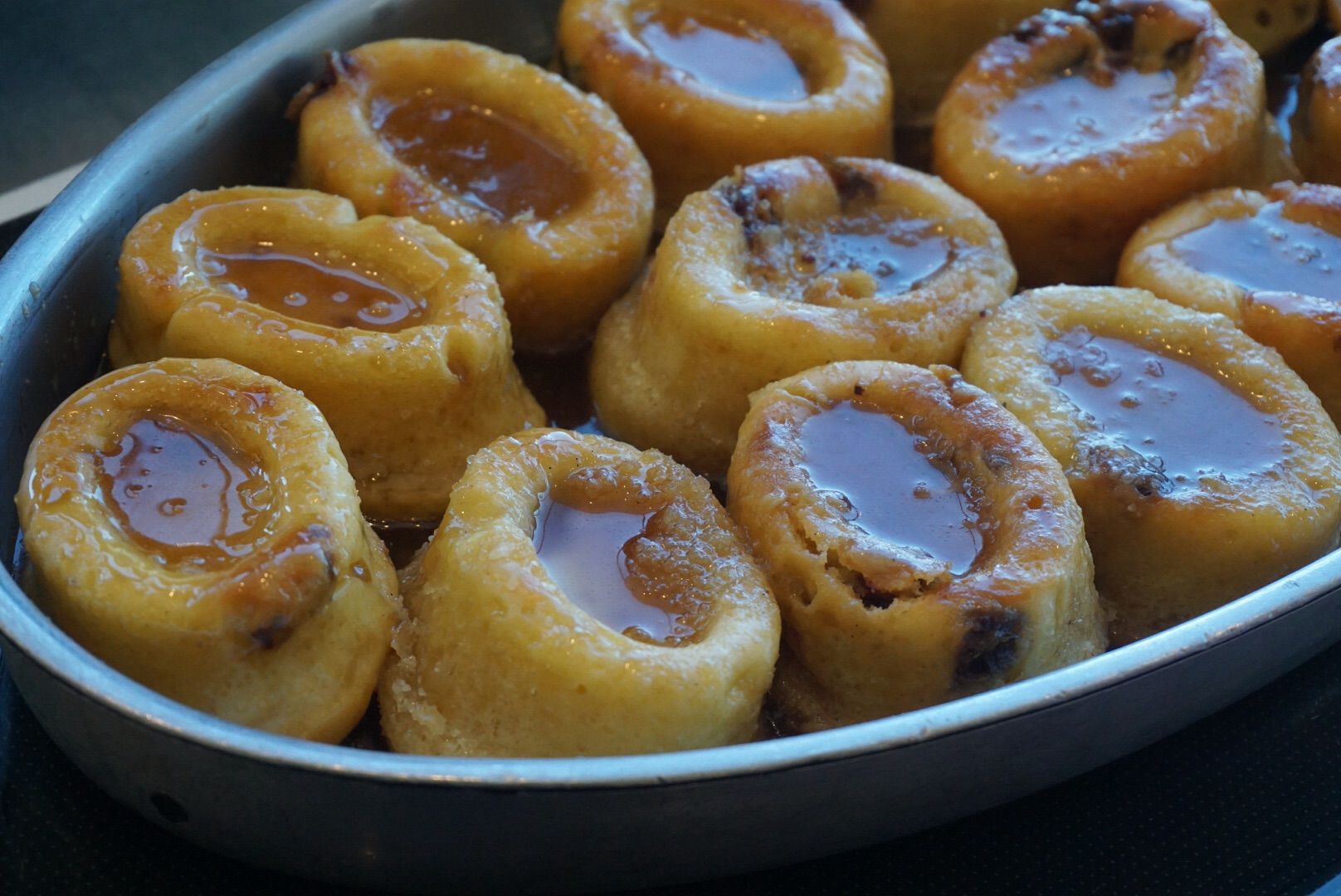 Rachel tried a Bourbon Baba, which was topped with Bourbon Orange Ice Cream and Walnut Cornflake Crunch…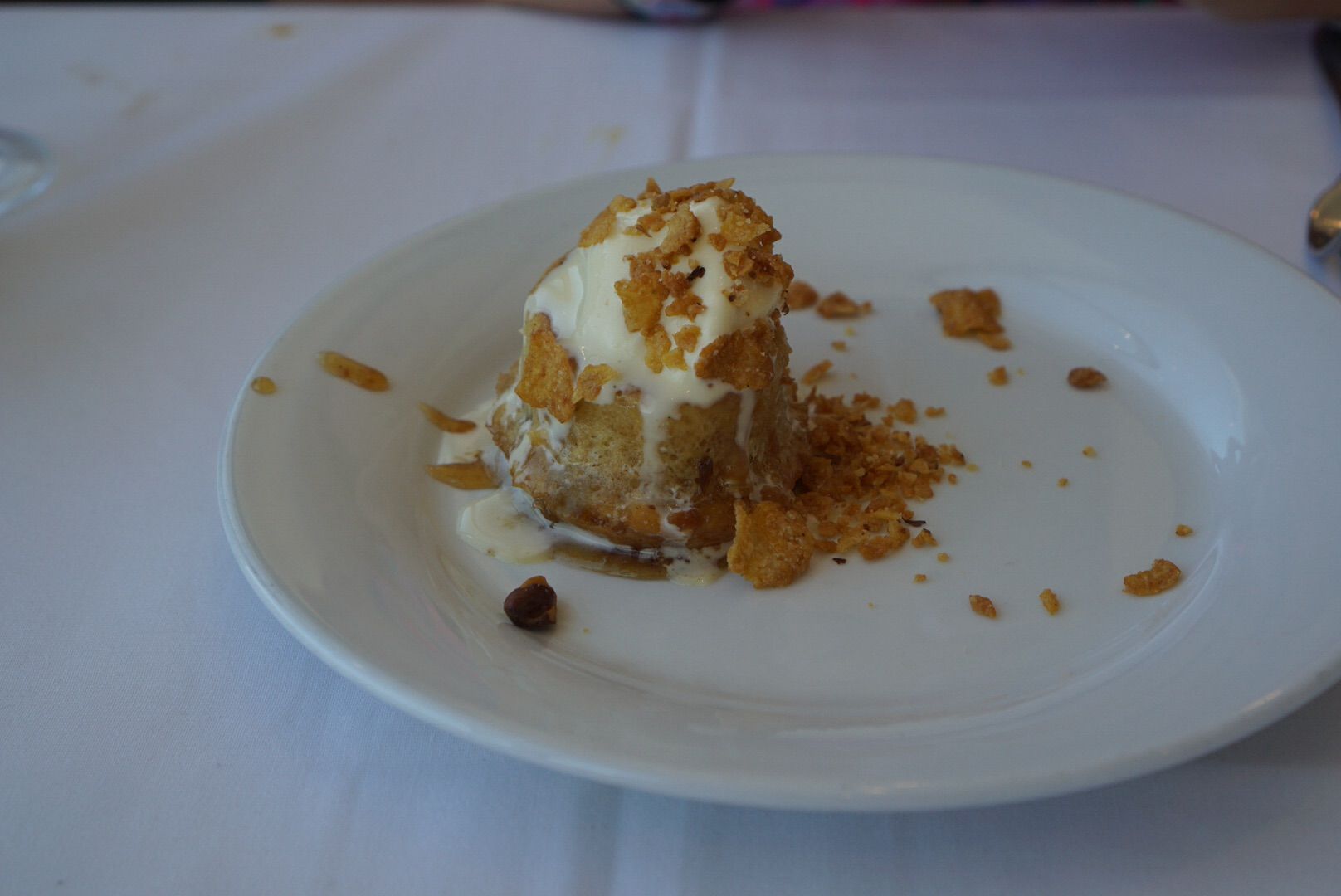 And a closer look…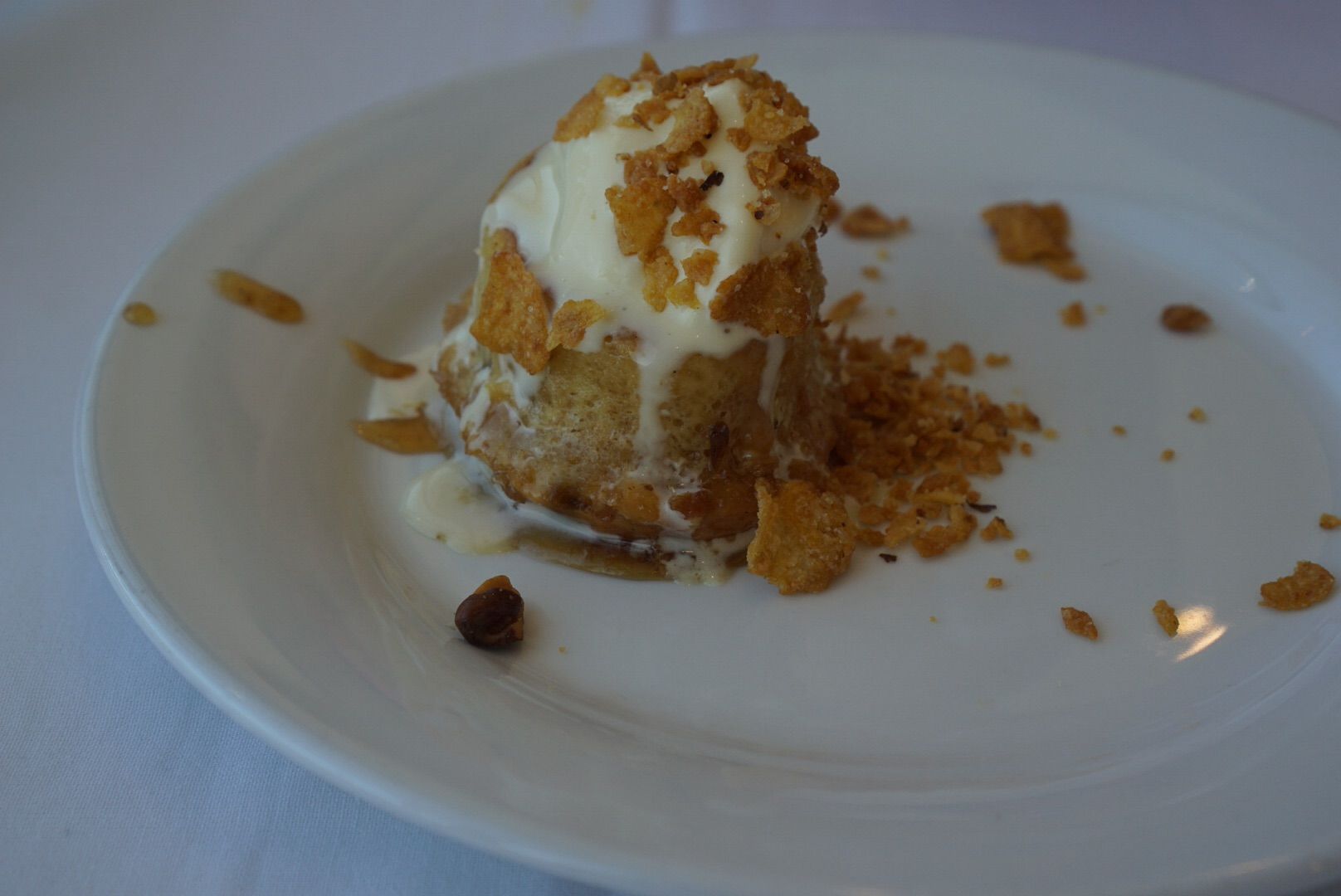 She liked this, especially the bourbon sauce.
Also of note here is that the Baba cake is not always what is served at this station.  I recall seeing a brunch review where they were serving Crepes Suzette here instead.
Now on to the buffet, starting with the Sushi section…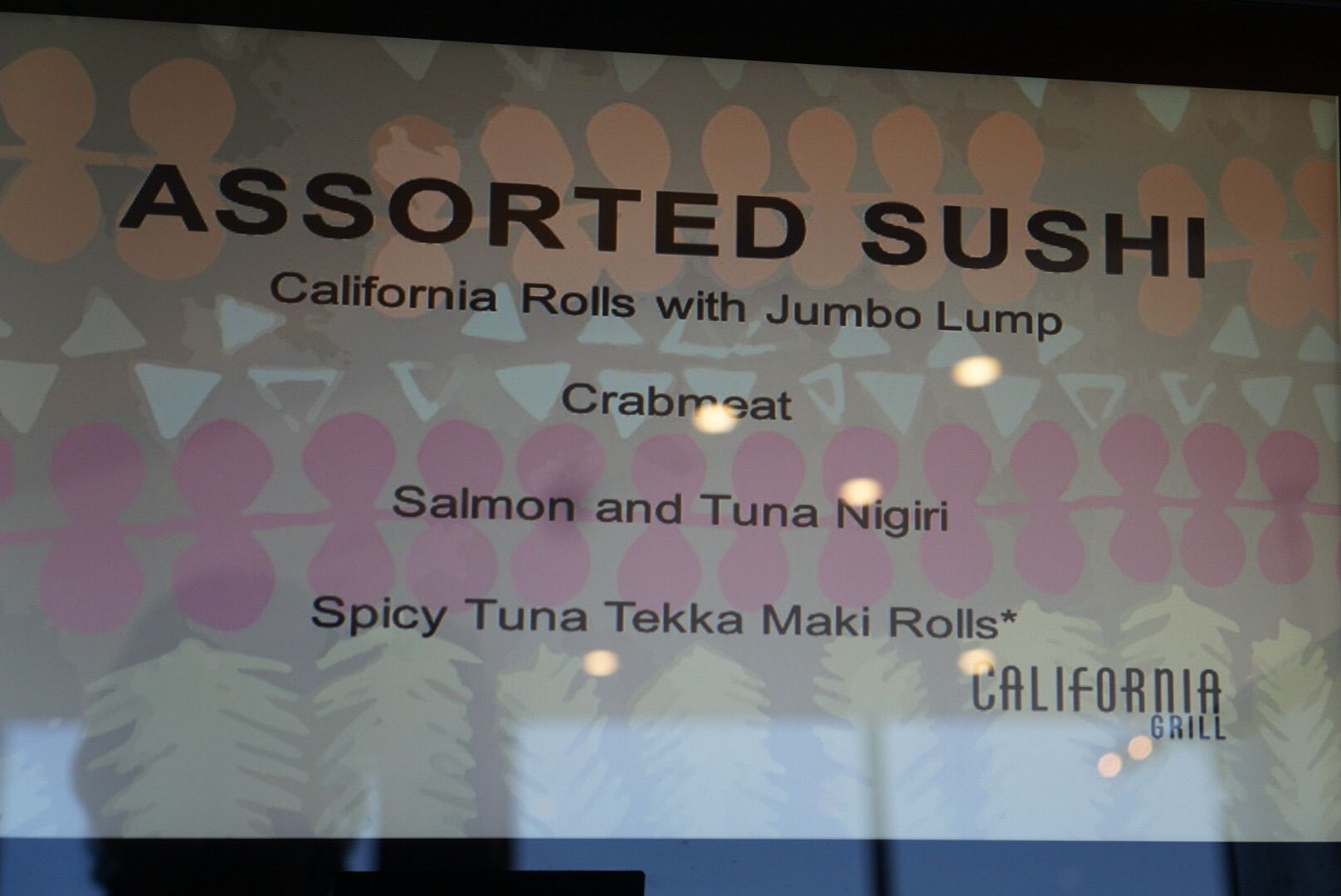 First up were California Rolls with Jumbo Lump Crabmeat…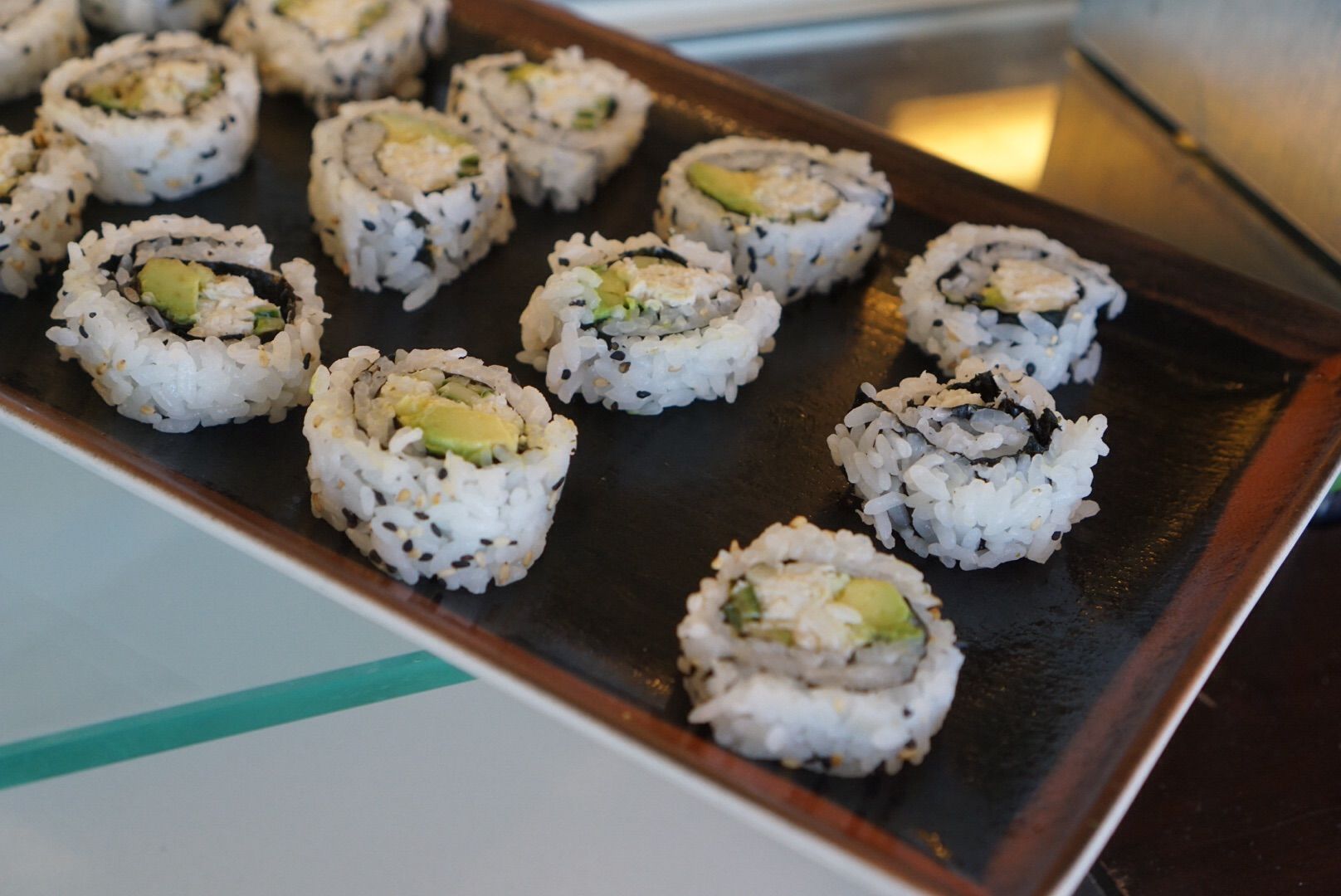 Then Salmon, Hamachi, and Tuna Nigiri…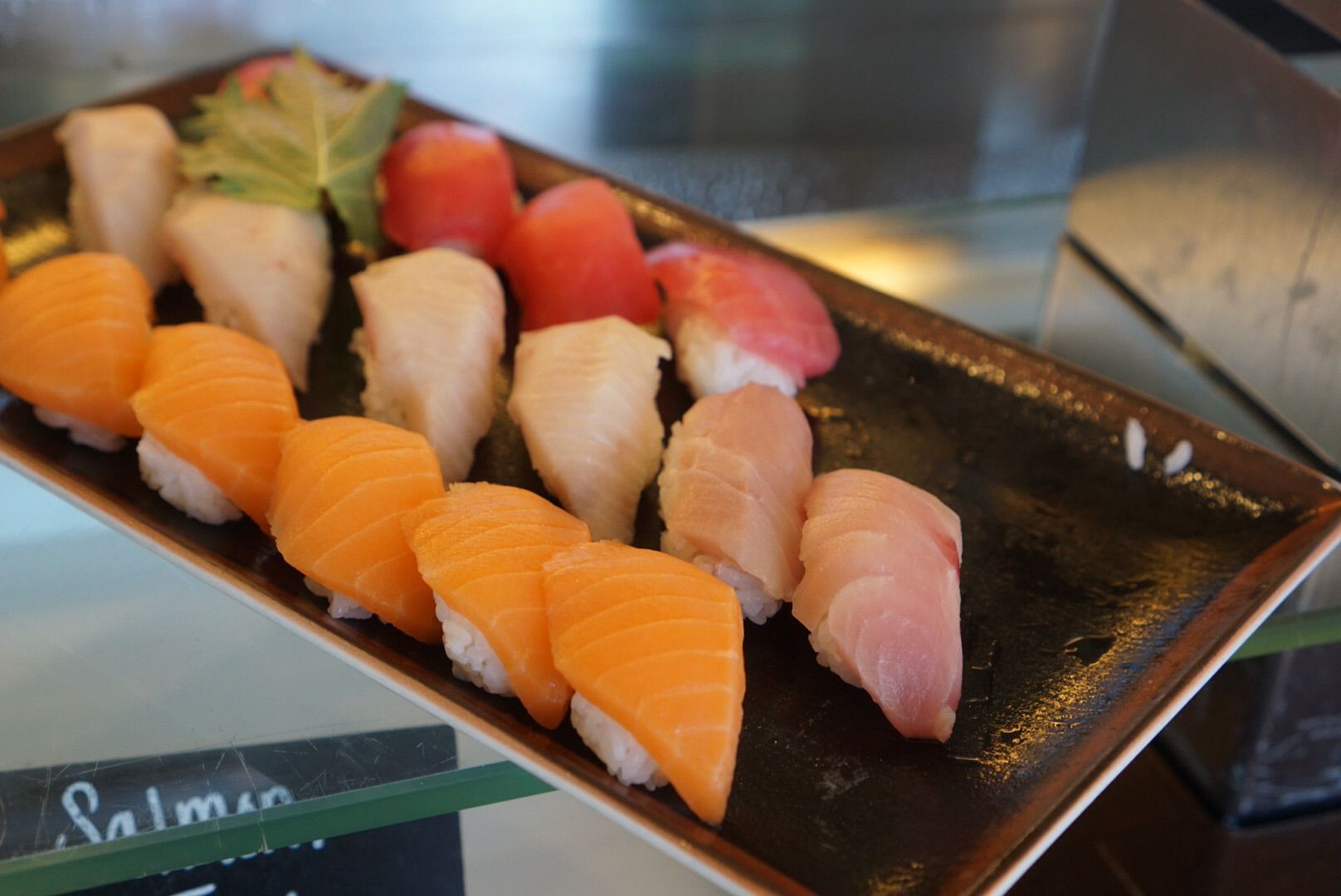 Another look…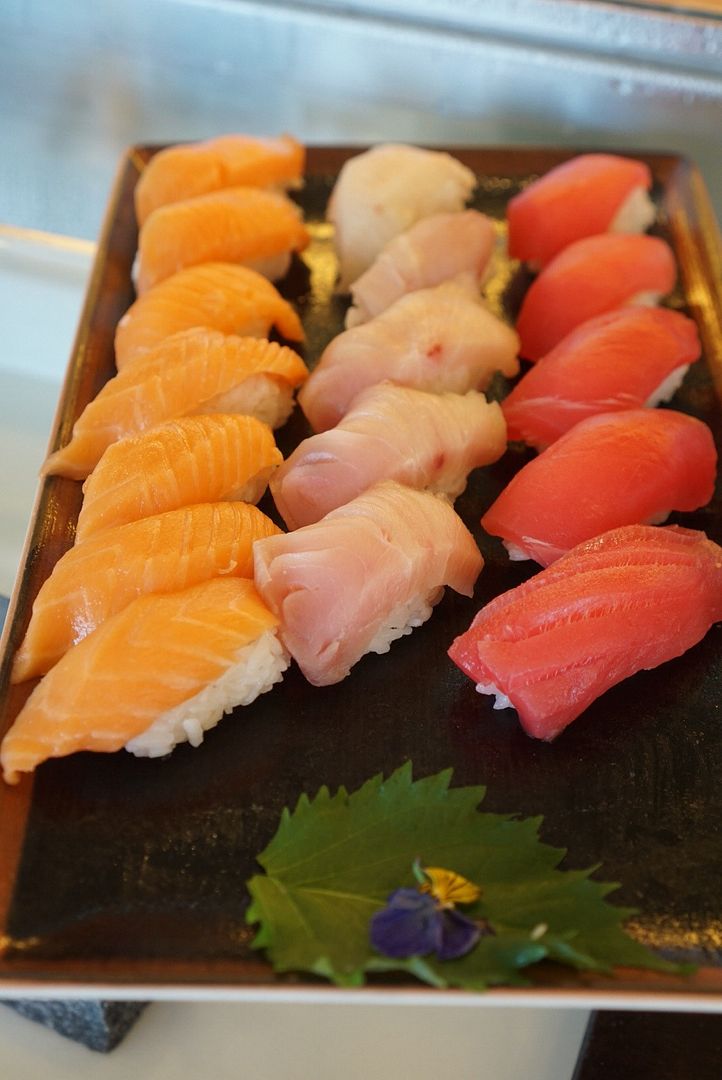 And Spicy Tuna Tekka Maki Rolls…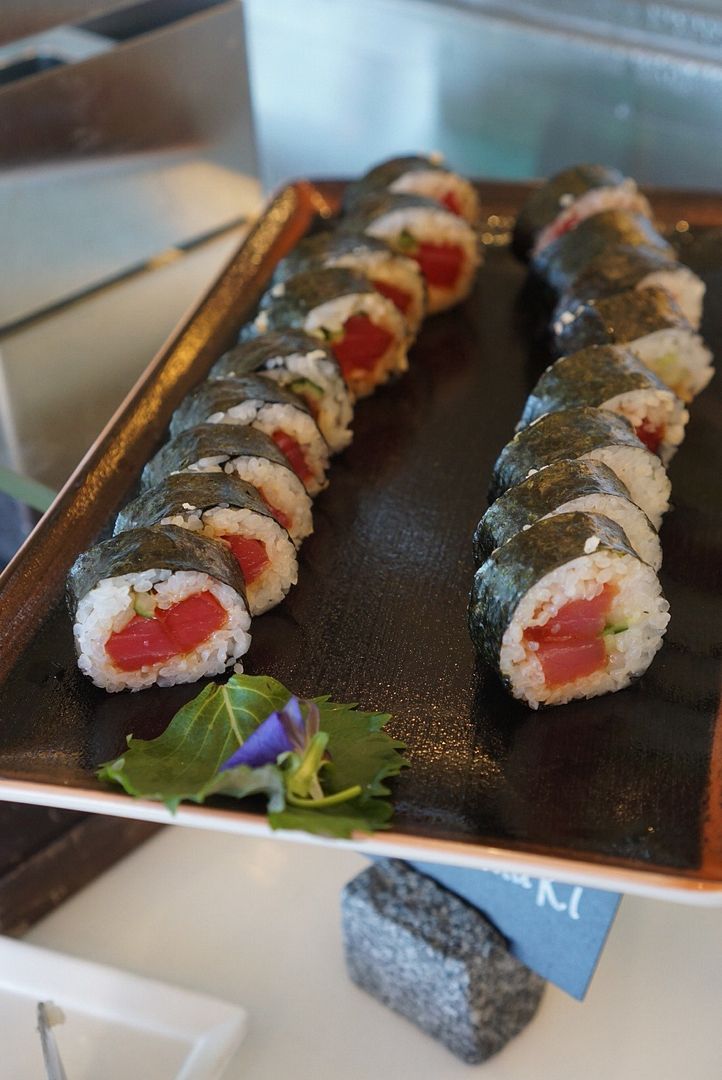 And a closer look…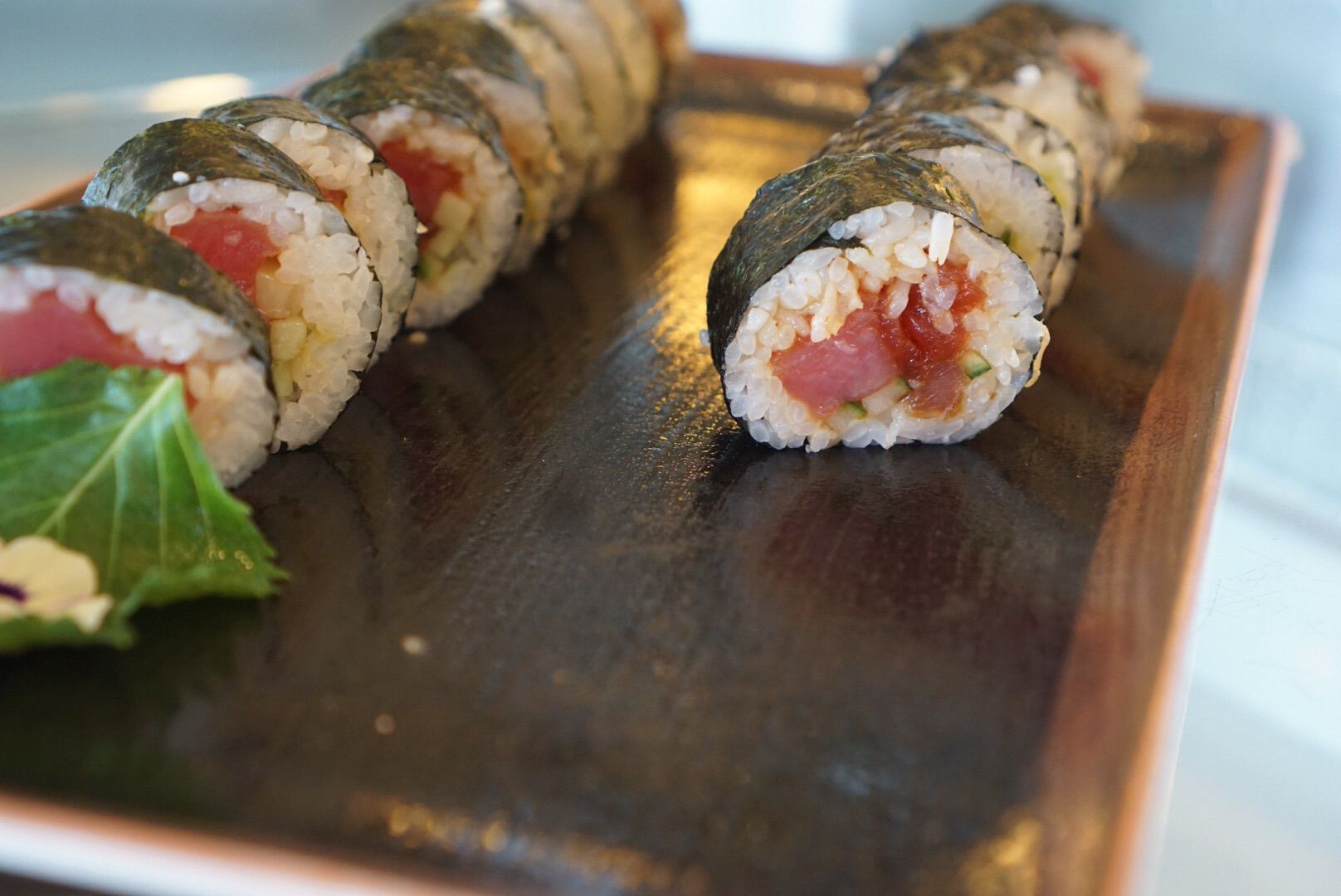 There were also individual bowls of soy sauce available for the taking…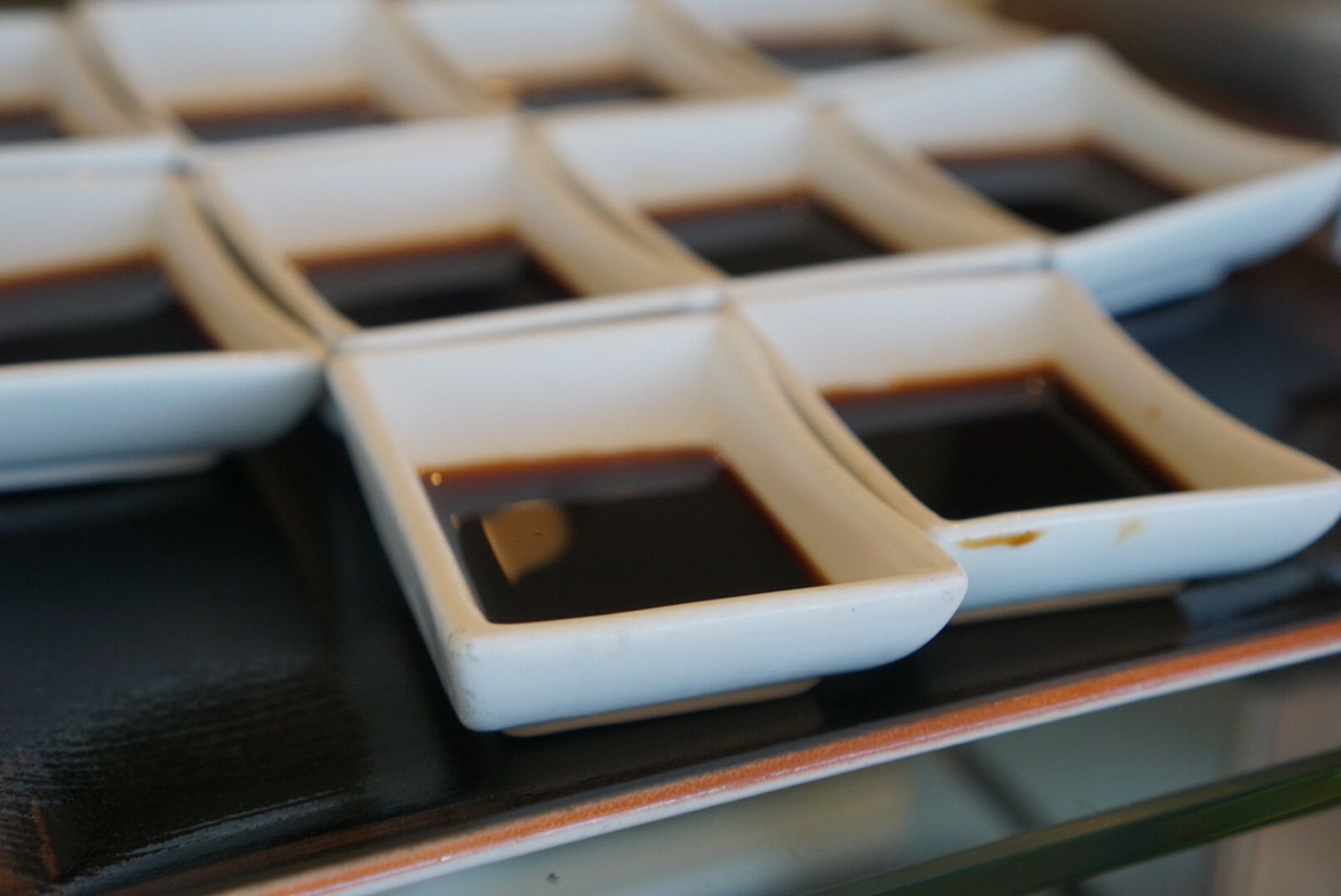 Here's the menu for the next section of the buffet…
There was another sushi roll in this section, Shrimp Tempura with Mango, topped with Orange Drizzle…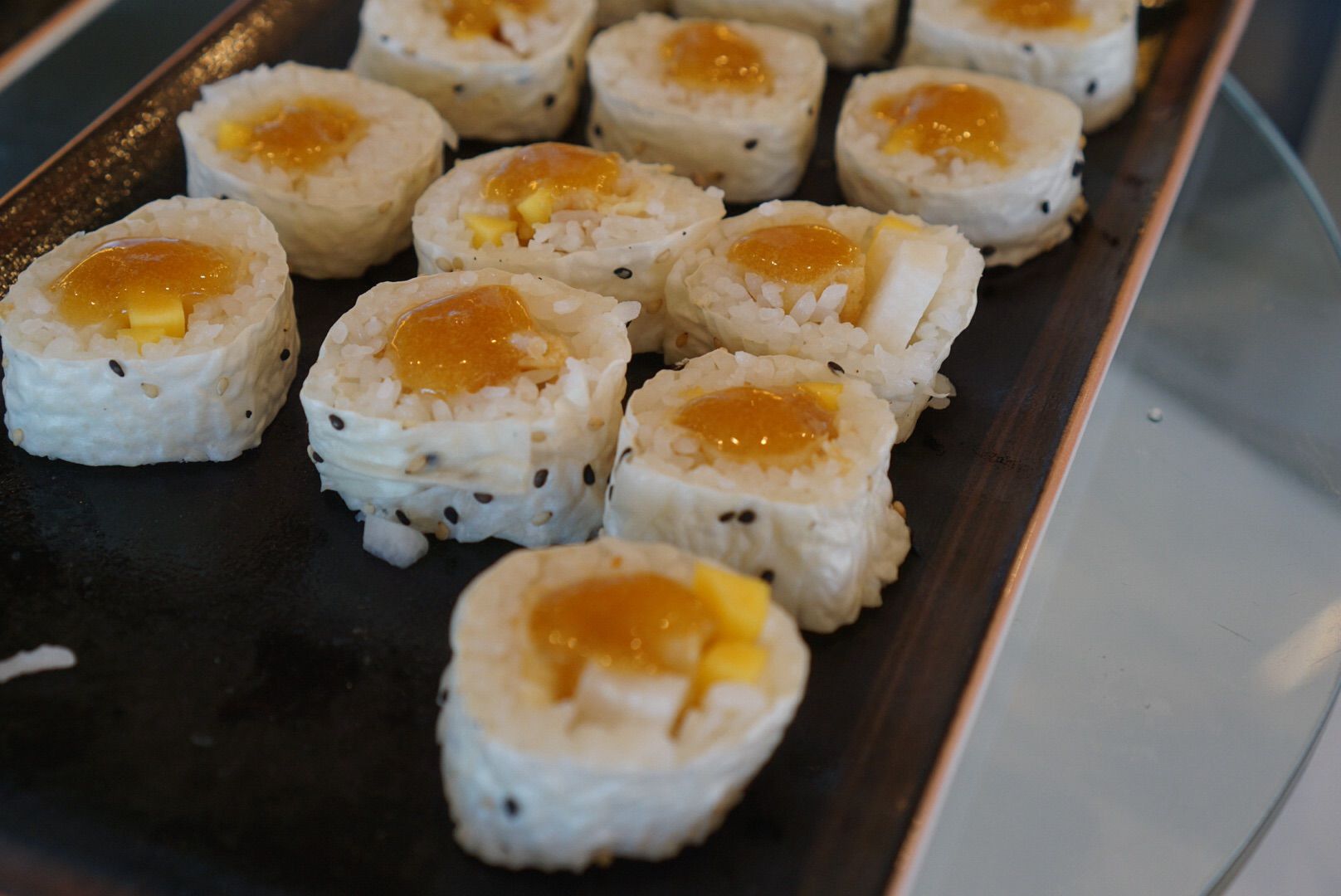 Next were the salads.  Though the sign on display at the buffet table said there was a Peach Salad, it was actually an Apple Salad that was offered that day…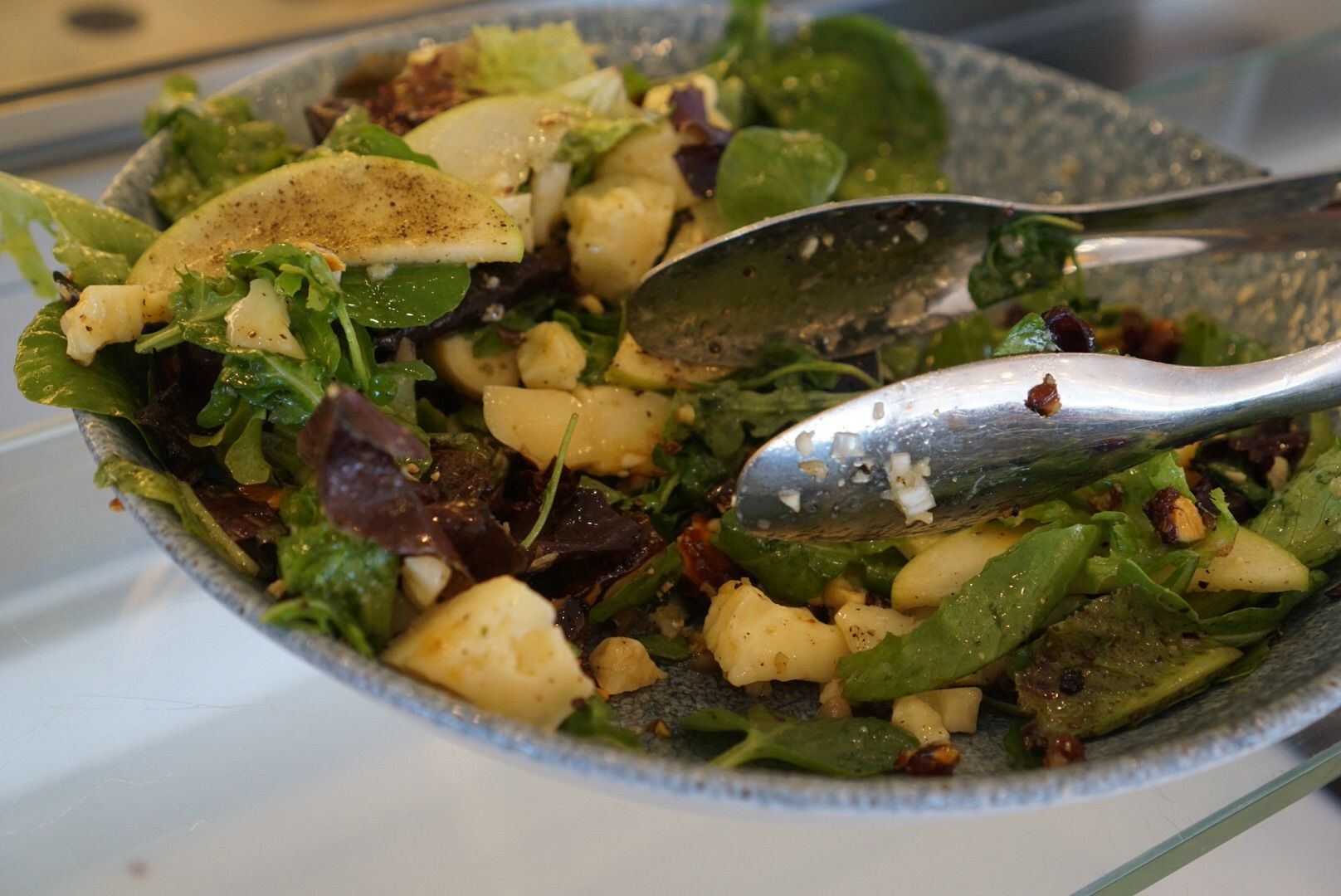 Heirloom Apple Salad with Field Greens, Heirloom Apple Slices, Thomasville Tomme Cheese, Pistachio and Marcona Almond Brittle, and Elderflower Vinaigrette
So pretty much the same ingredients as the Peach Salad listed on the sign, but apple slices instead of peach.
There was also a Bacon and Egg Salad…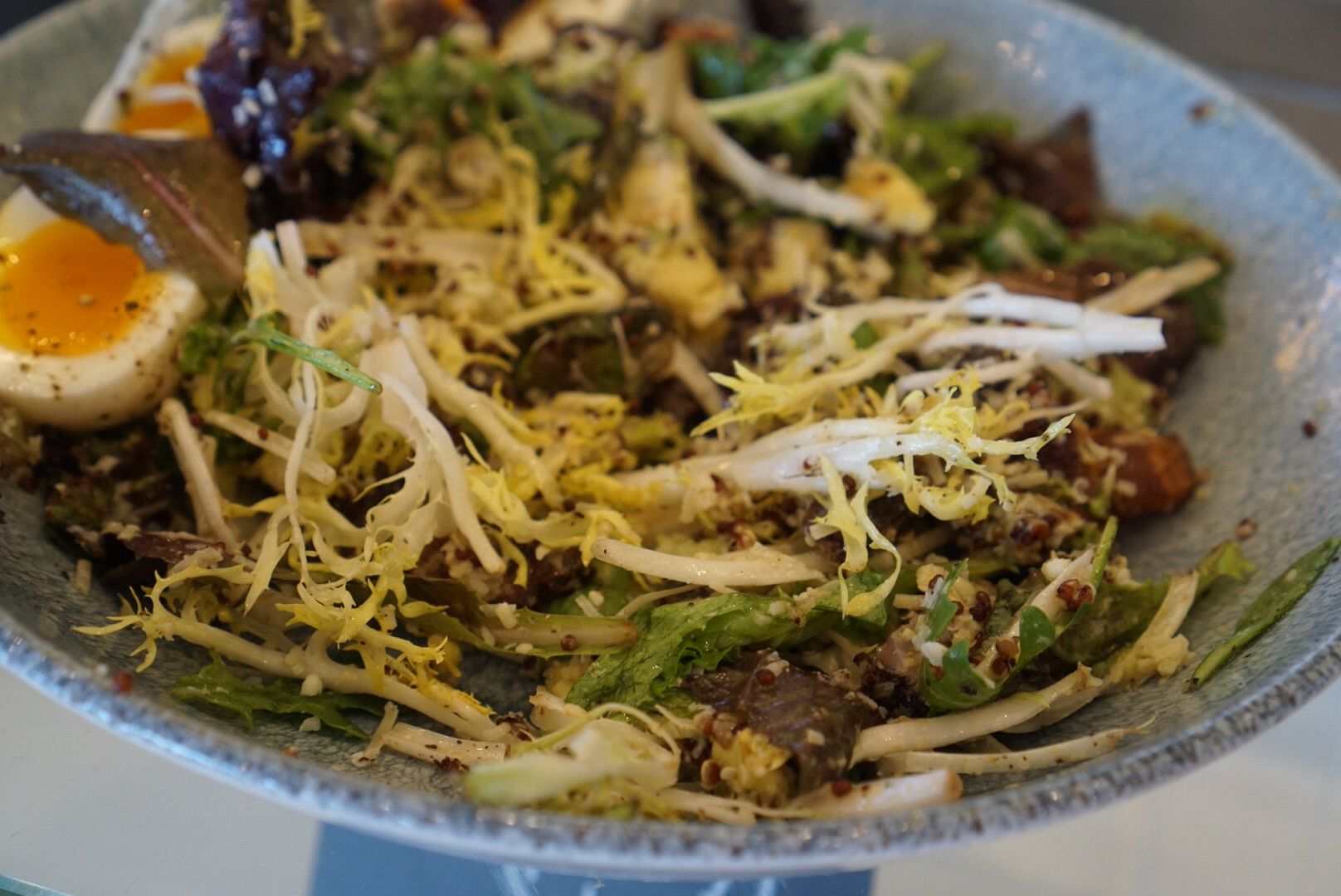 Bacon and Egg Salad with Greens, Frisee, Quinoa, Avocado, Cherry Wood Bacon Lardon, Pecorino Romano Cheese, Sherry Vinaigrette, and Eggs
The third salad on the buffet was this Soba (Buckwheat) Noodle Salad with Amazu-Ginger Vinaigrette…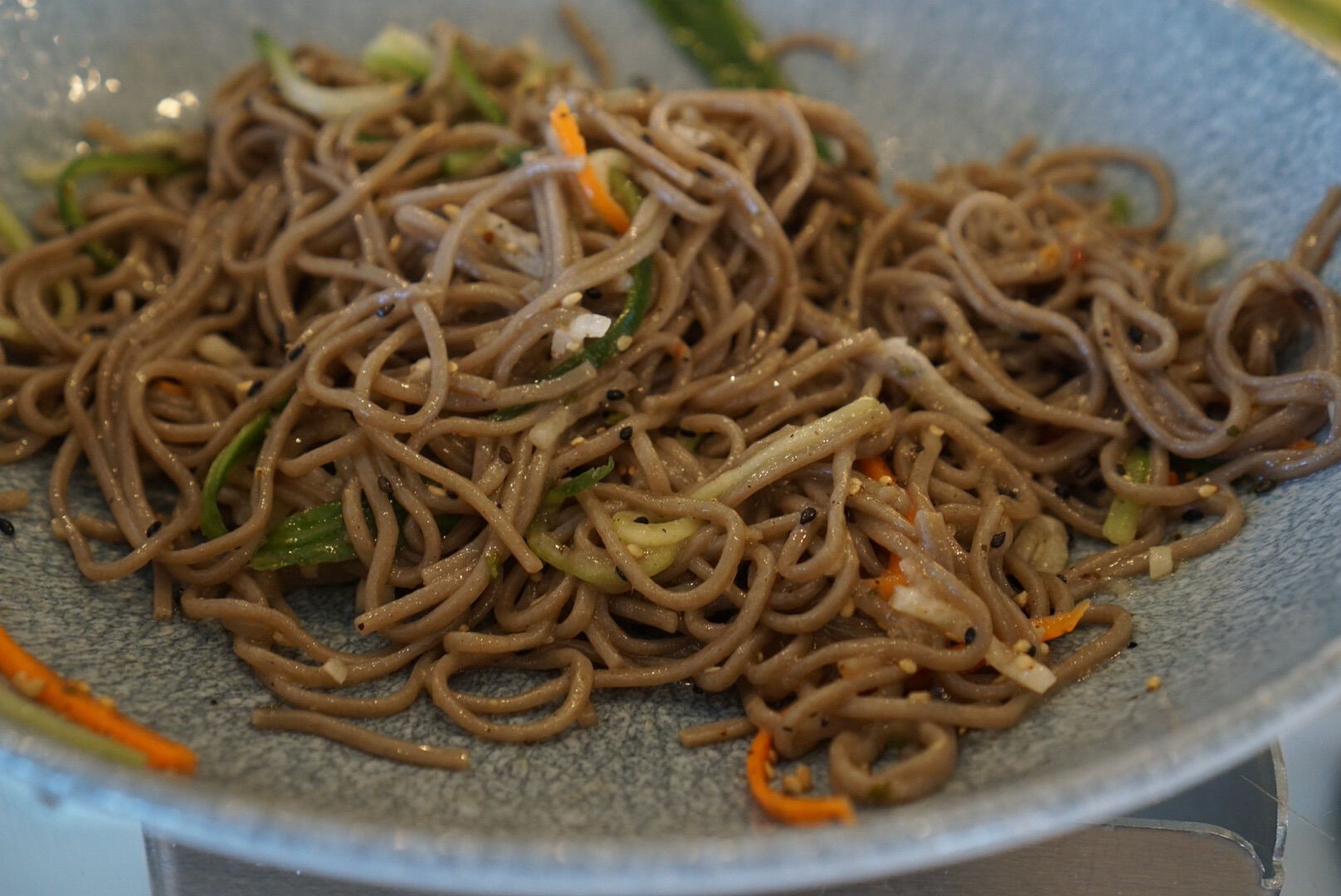 Also in this section were Deviled Eggs topped with crispy bacon lardons and spiced aioli…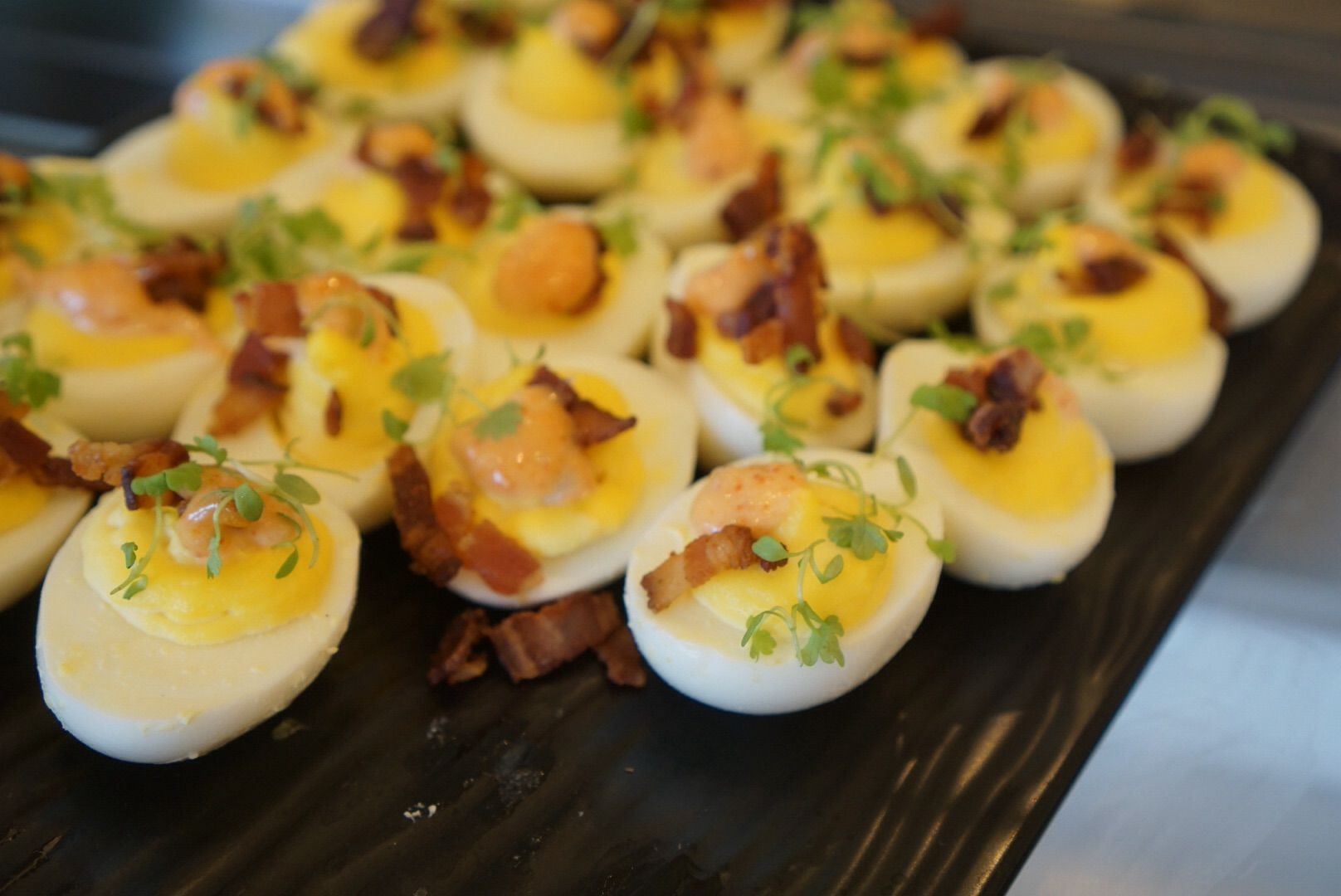 Here is what the next section of the buffet held…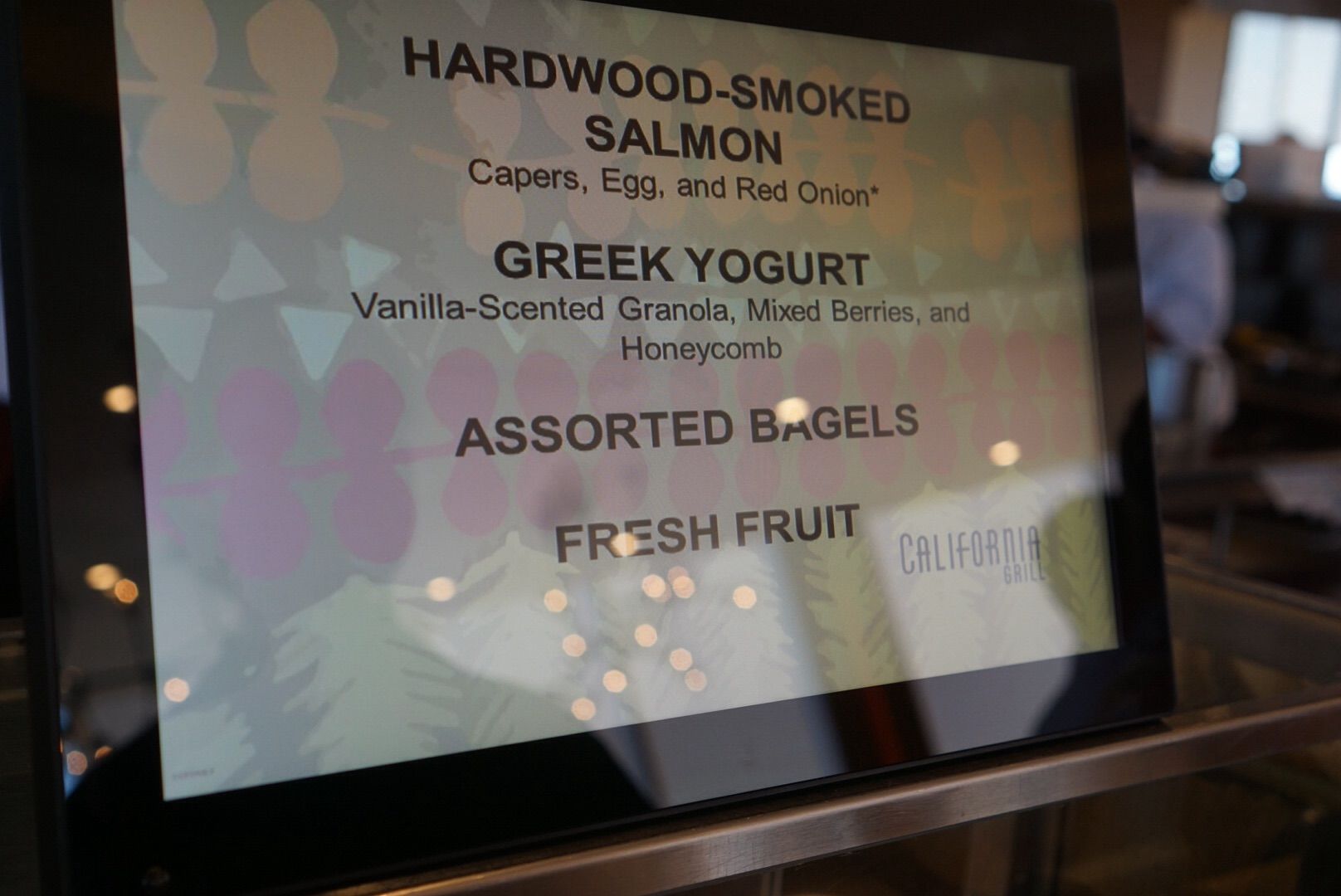 First a tray of of Scotch Cured Salmon and a bowl of Smoked Fish Dip…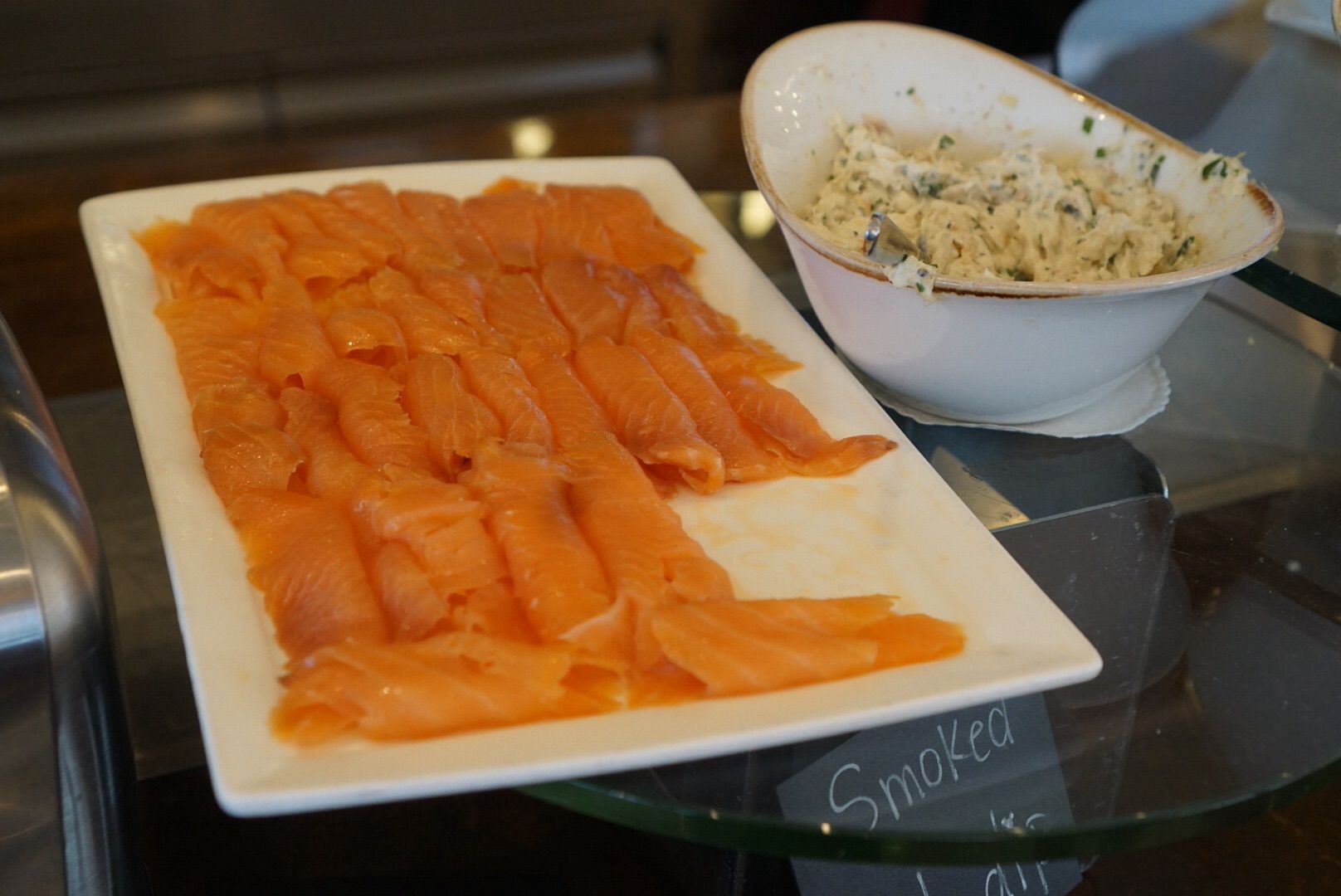 Along with accompaniments like Eggs, Red Onion, Capers, and Cream Cheese…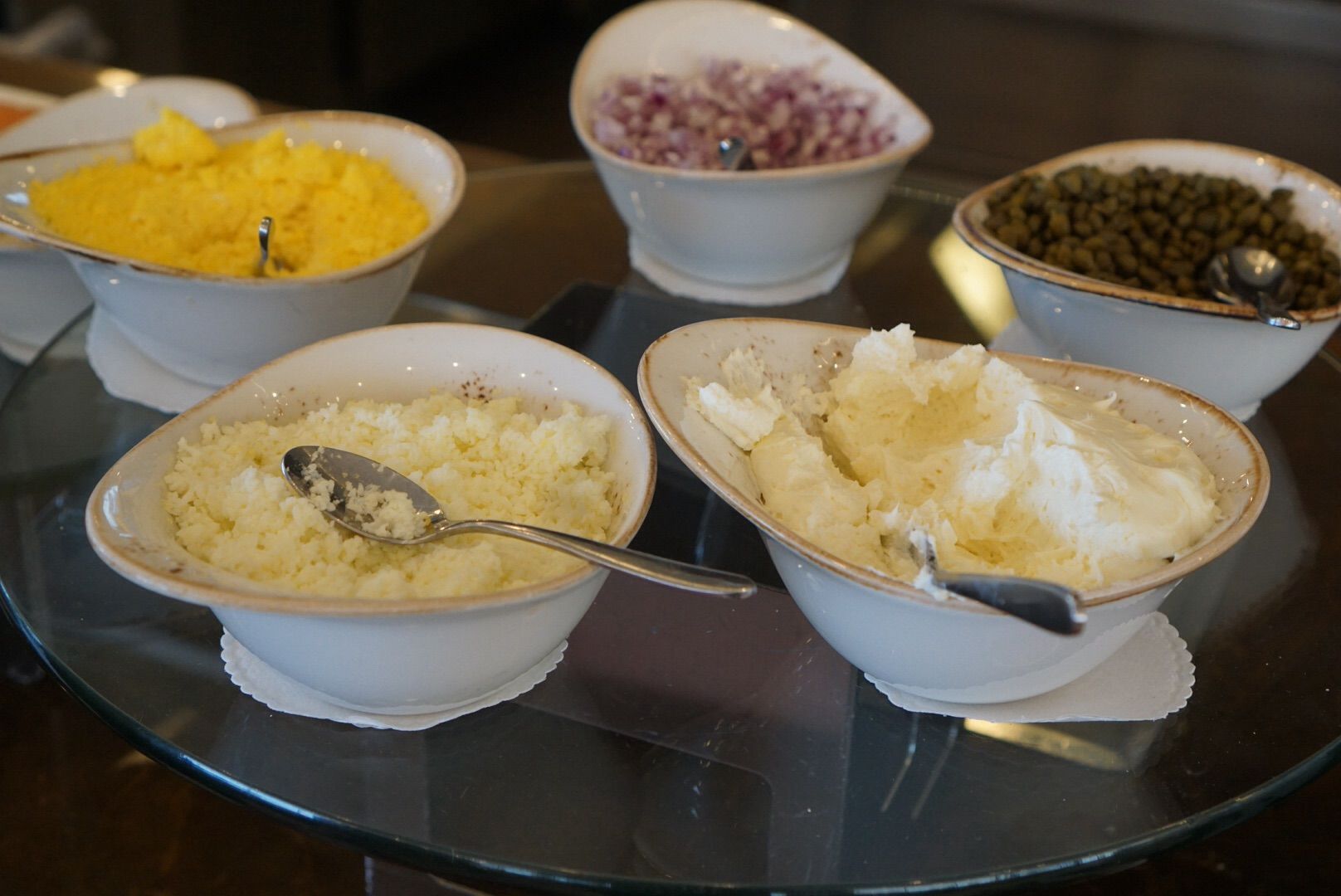 And pre-sliced Bagels…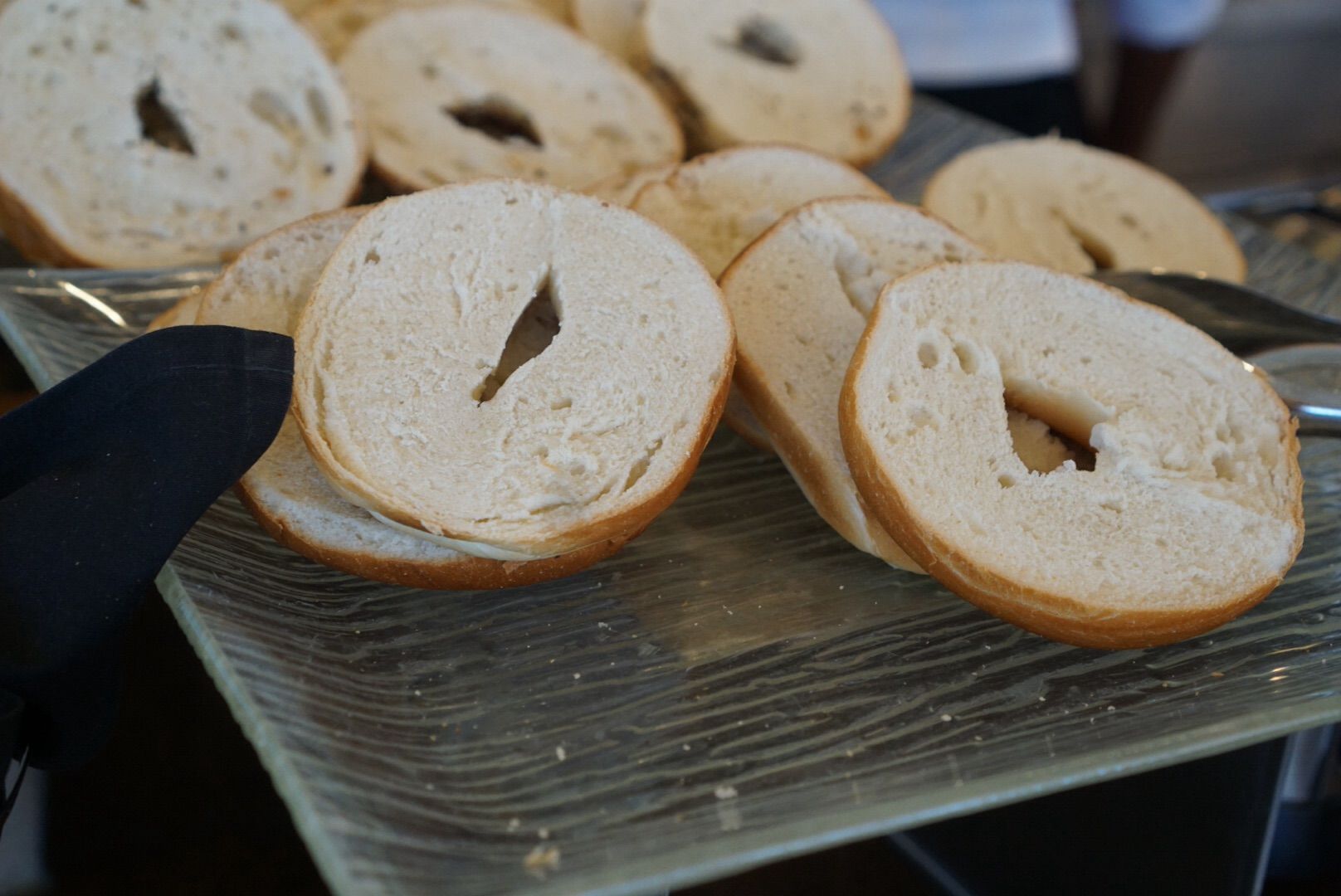 There was also an assortment of breads…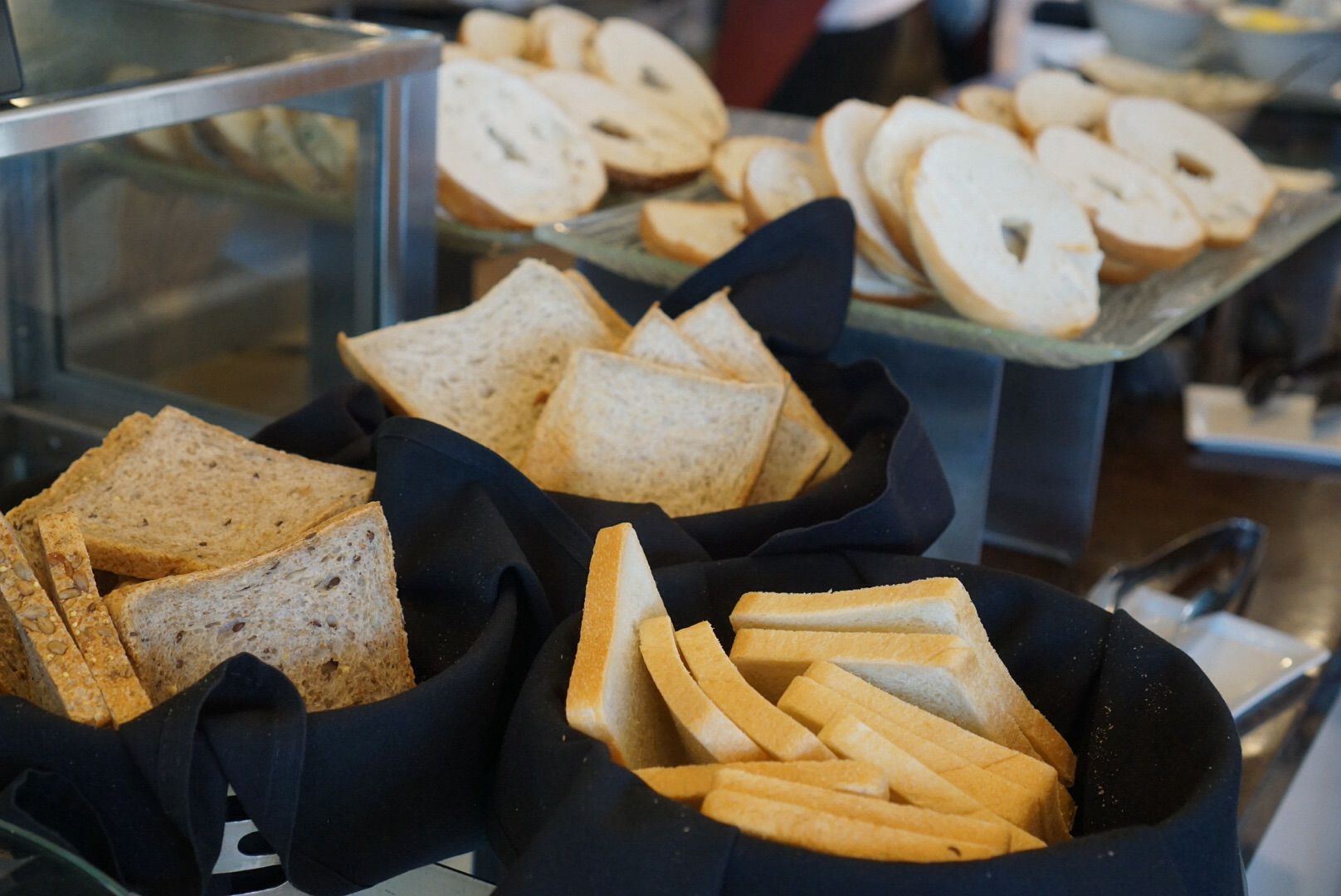 In this section there were also pre-made Greek Yogurt Parfaits topped with Cocoa Quinoa Granola Brittle and Mixed Berries…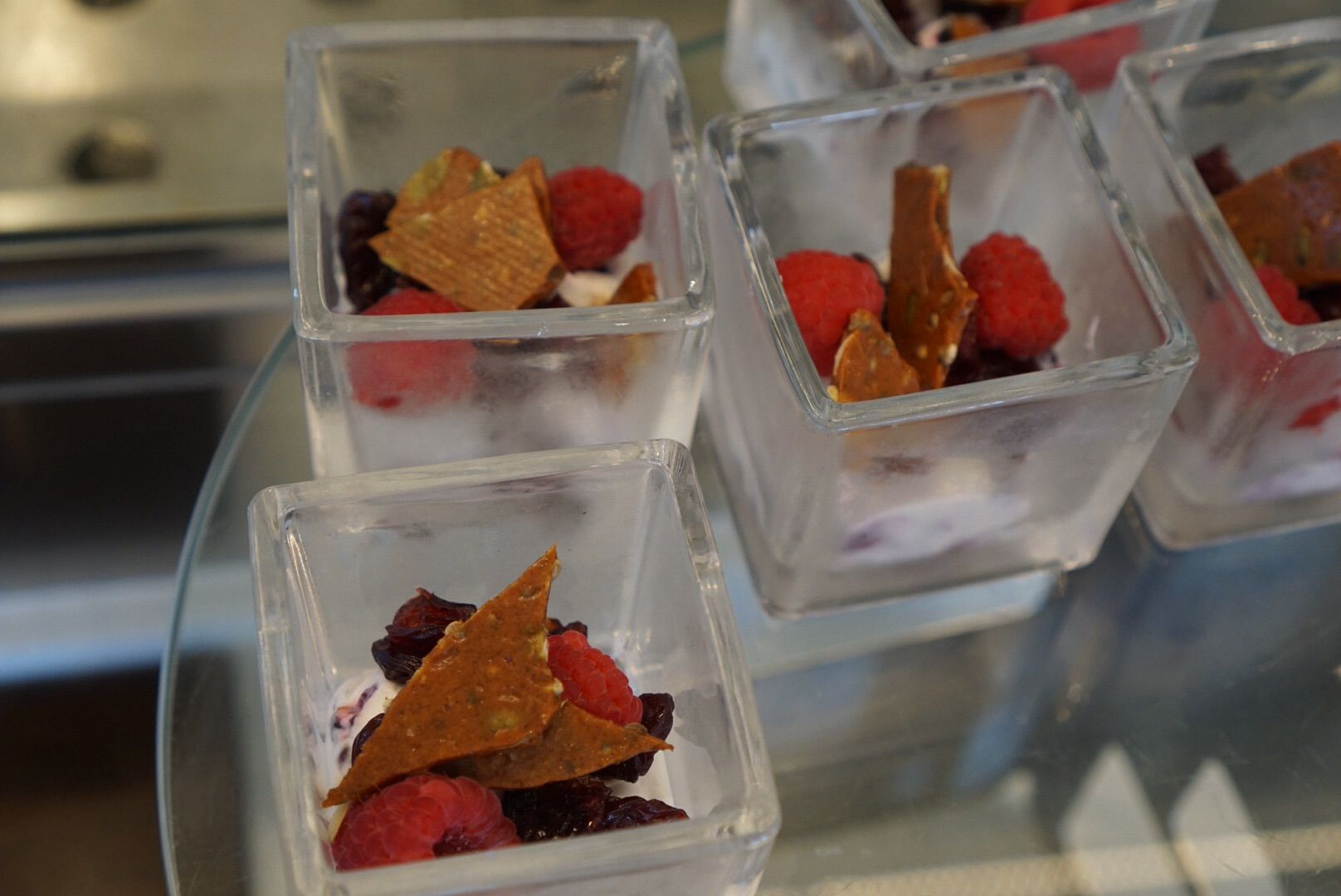 And then for Fresh Fruit, there were Strawberries and Blueberries…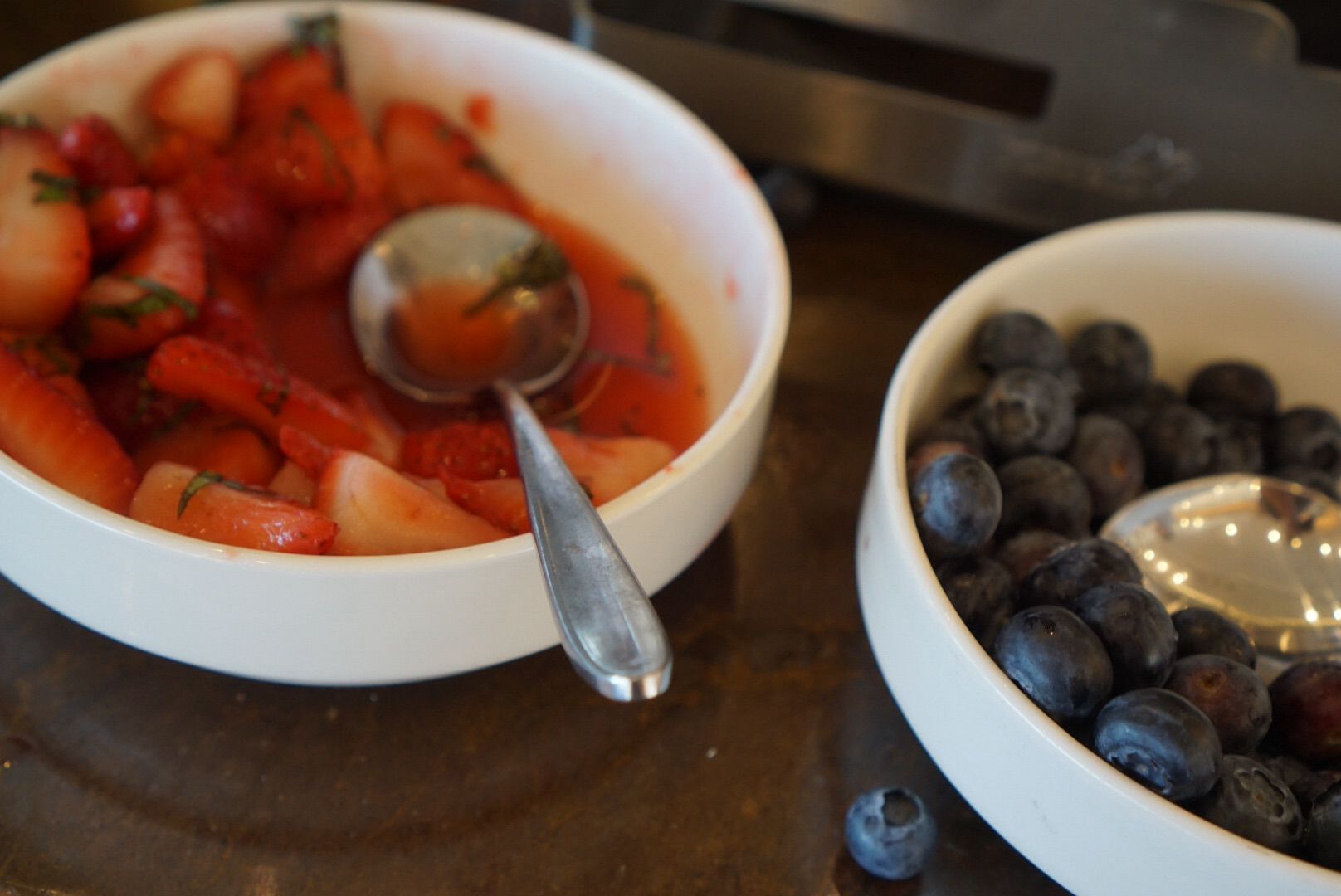 That just leaves my favorite section of this buffet, the House-made Charcuterie and Cheese section.
First the cheeses, Tillamook Cheddar and Thomasville Tomme…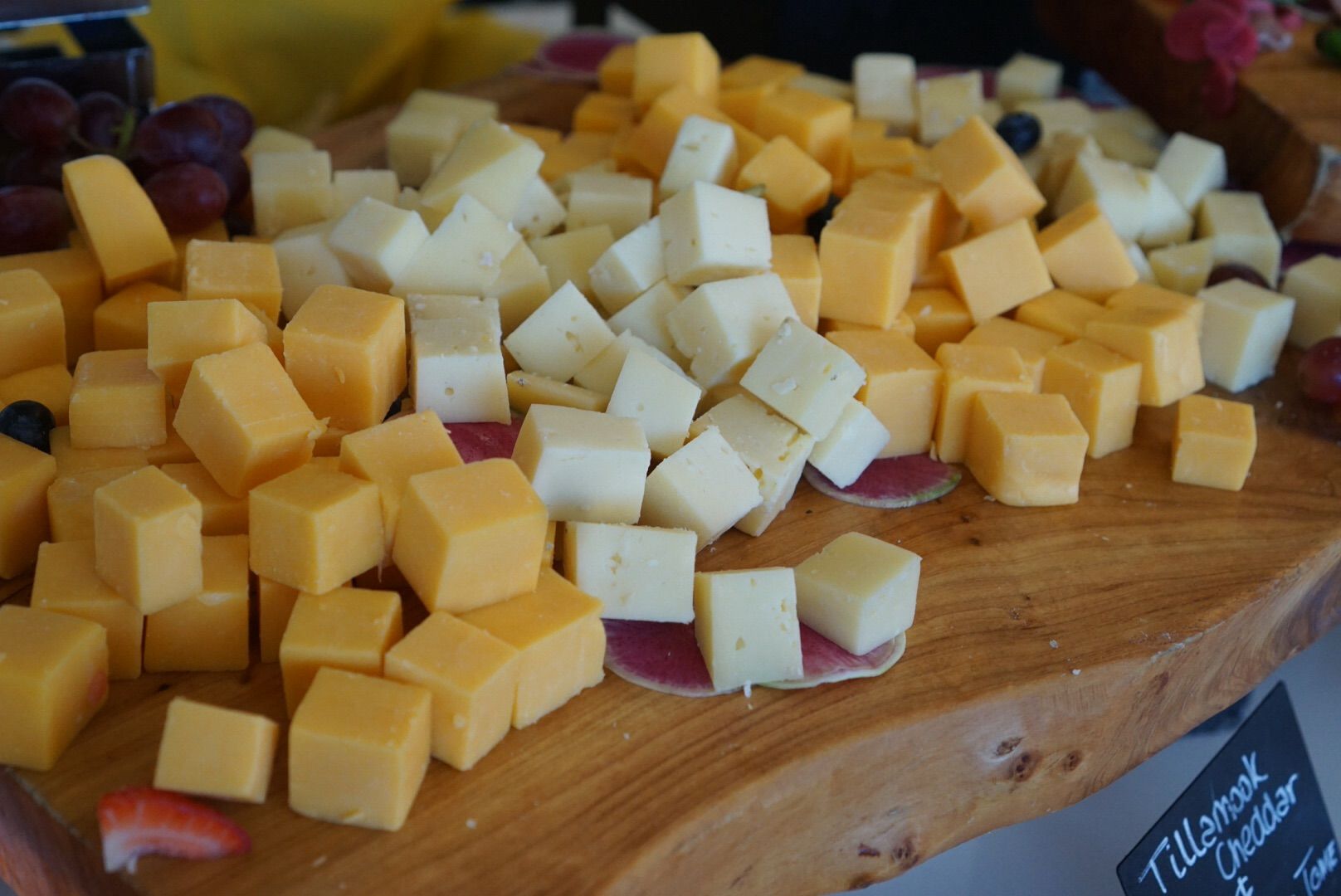 And a delicious, unidentified Blue (Bleu) Cheese…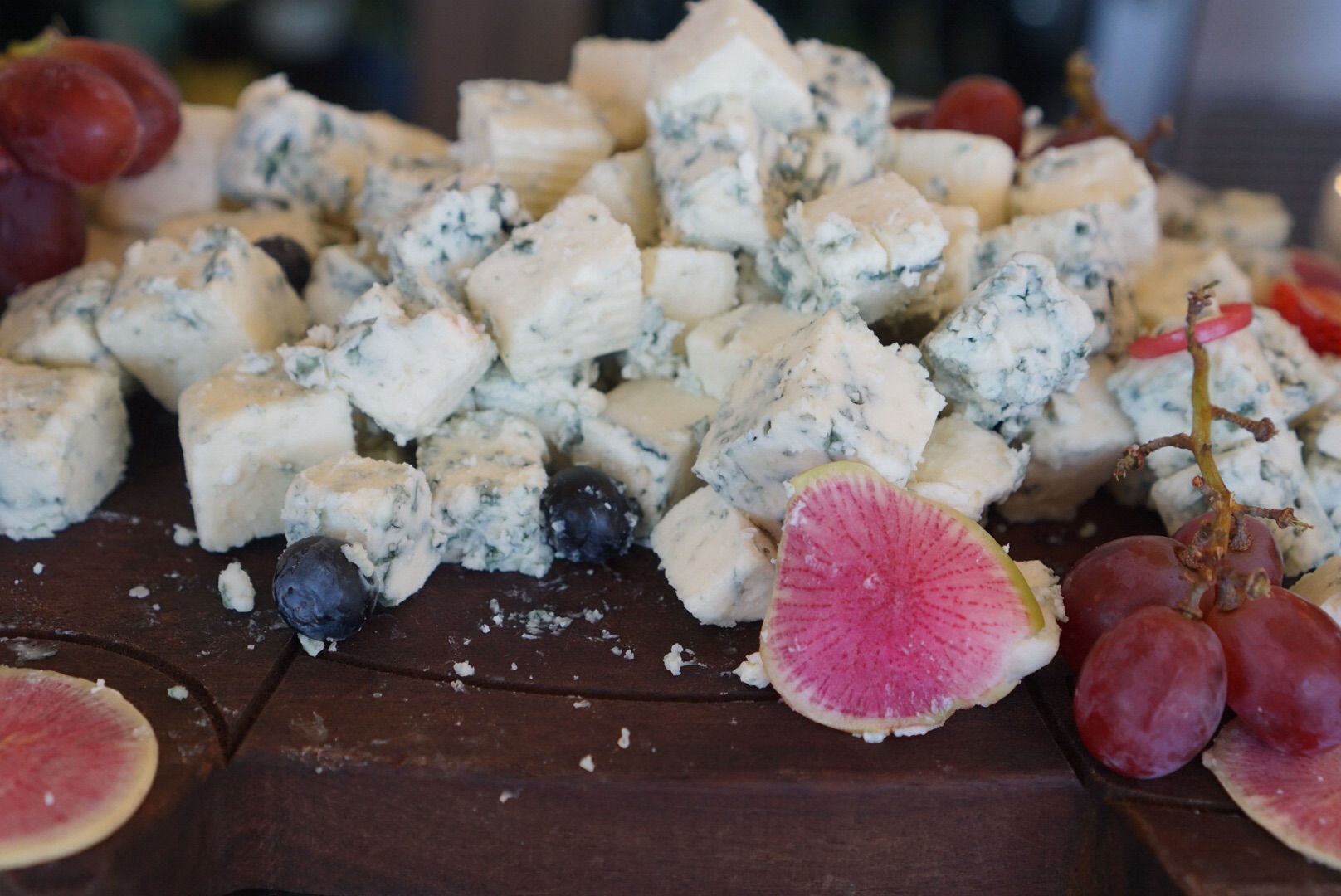 Then the Charcuterie board with Veal Merguez (sausage) and Prosciutto…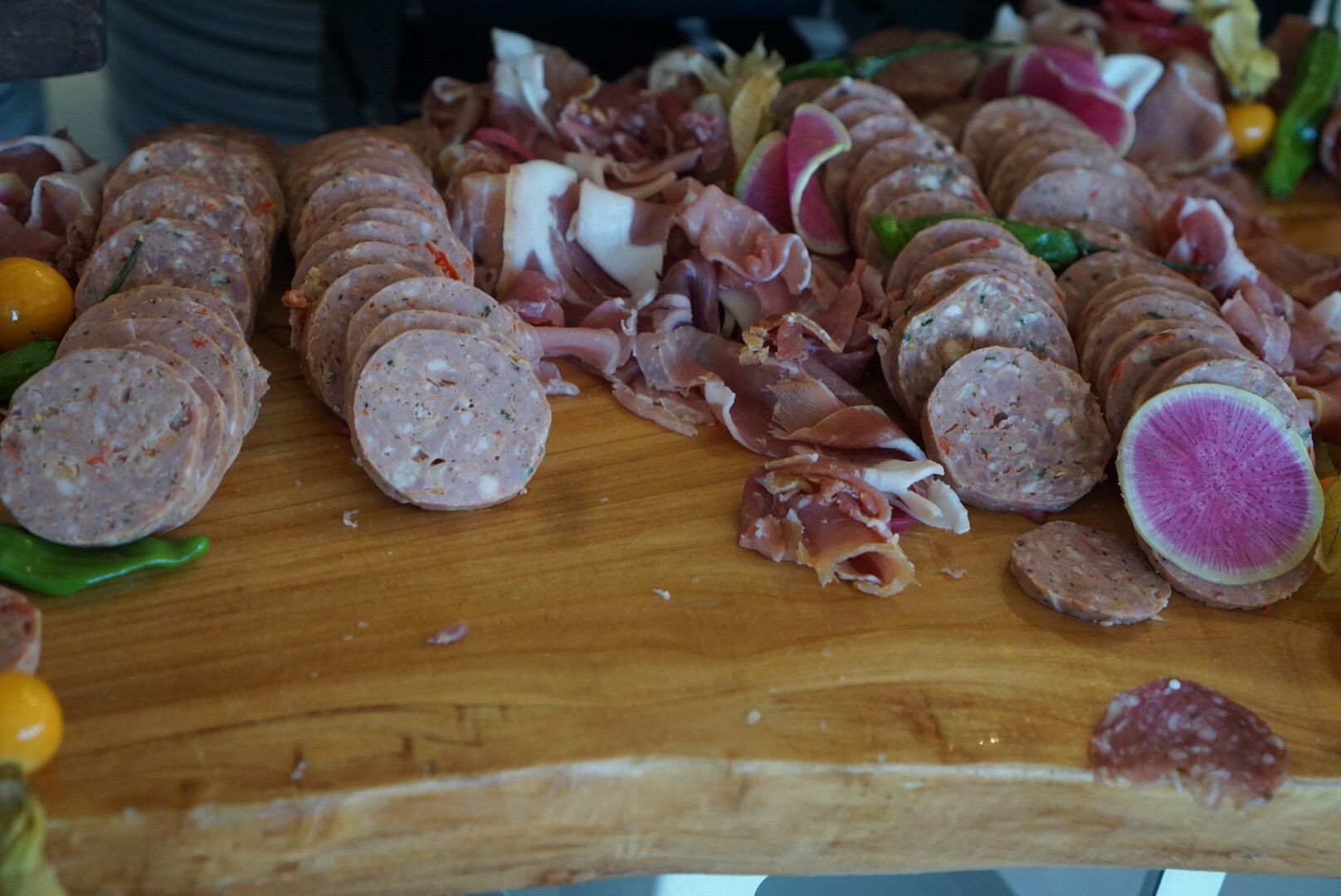 And Pork & Bacon Terrine (pate)  and Napoli Salami…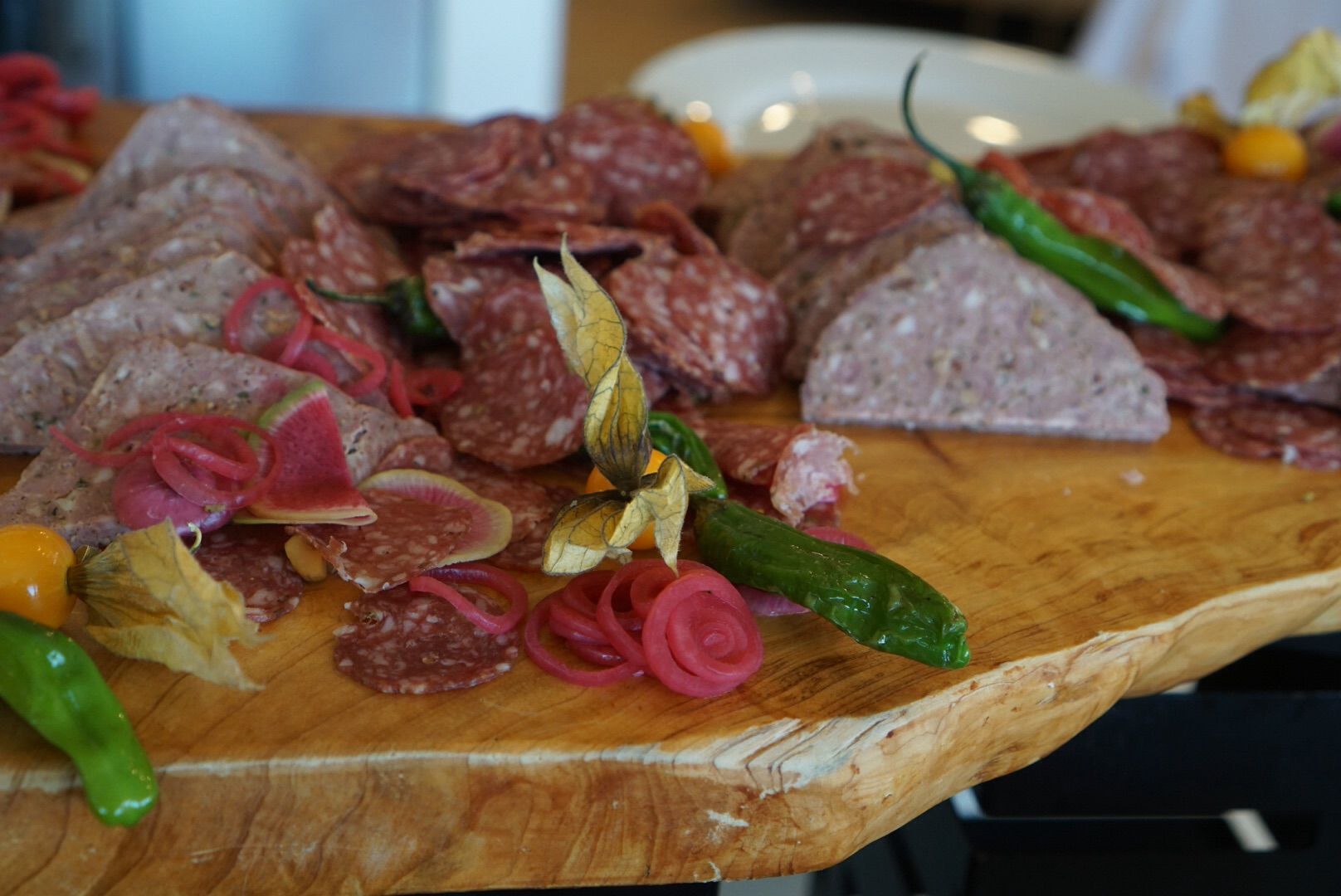 There were also jars filled with things like Pork Rillette, Marcona Almonds, and Pickles…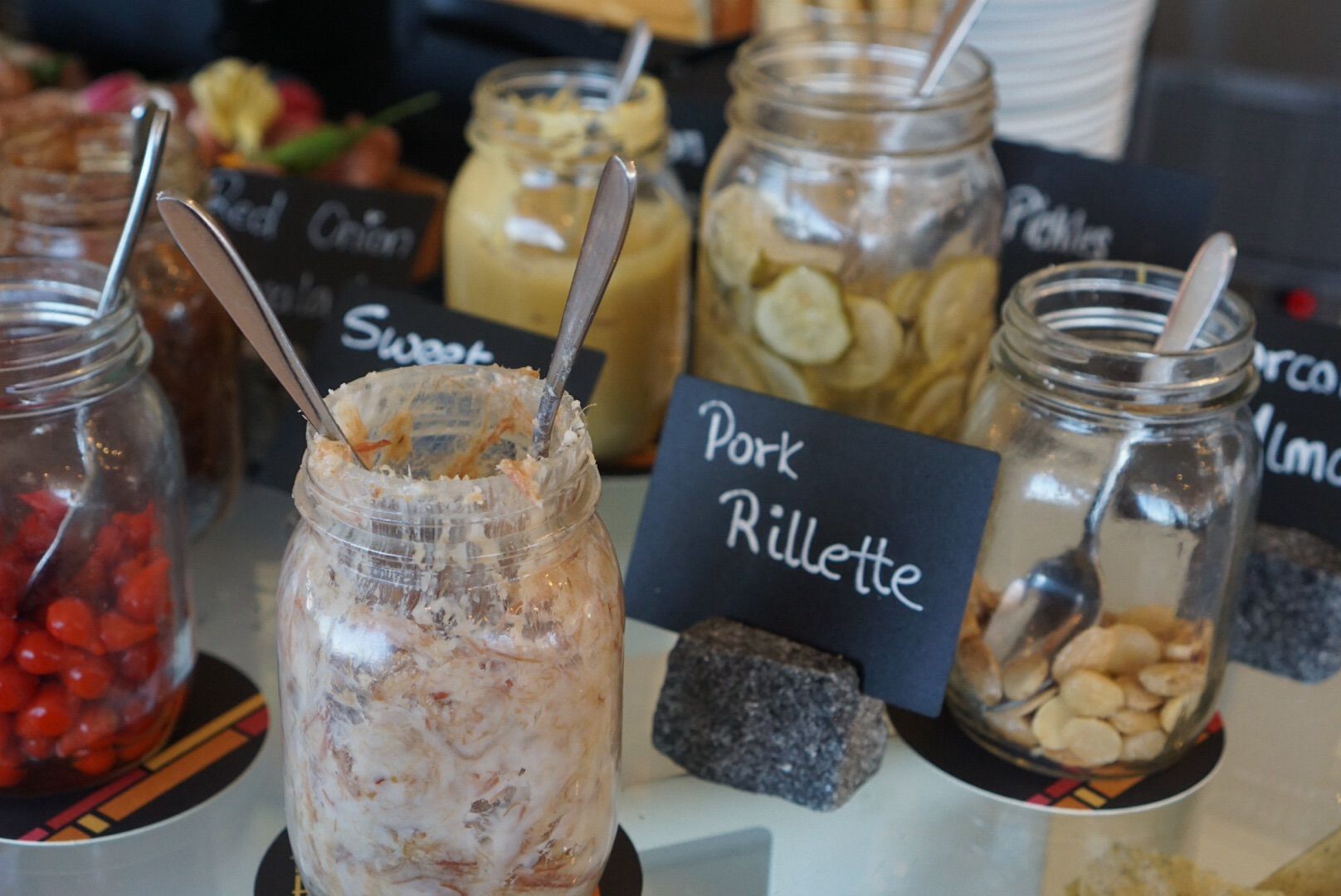 Dijon Mustard, Red Onion Marmelade, and Sweet Drop Peppers…
And here were my choices from the buffet…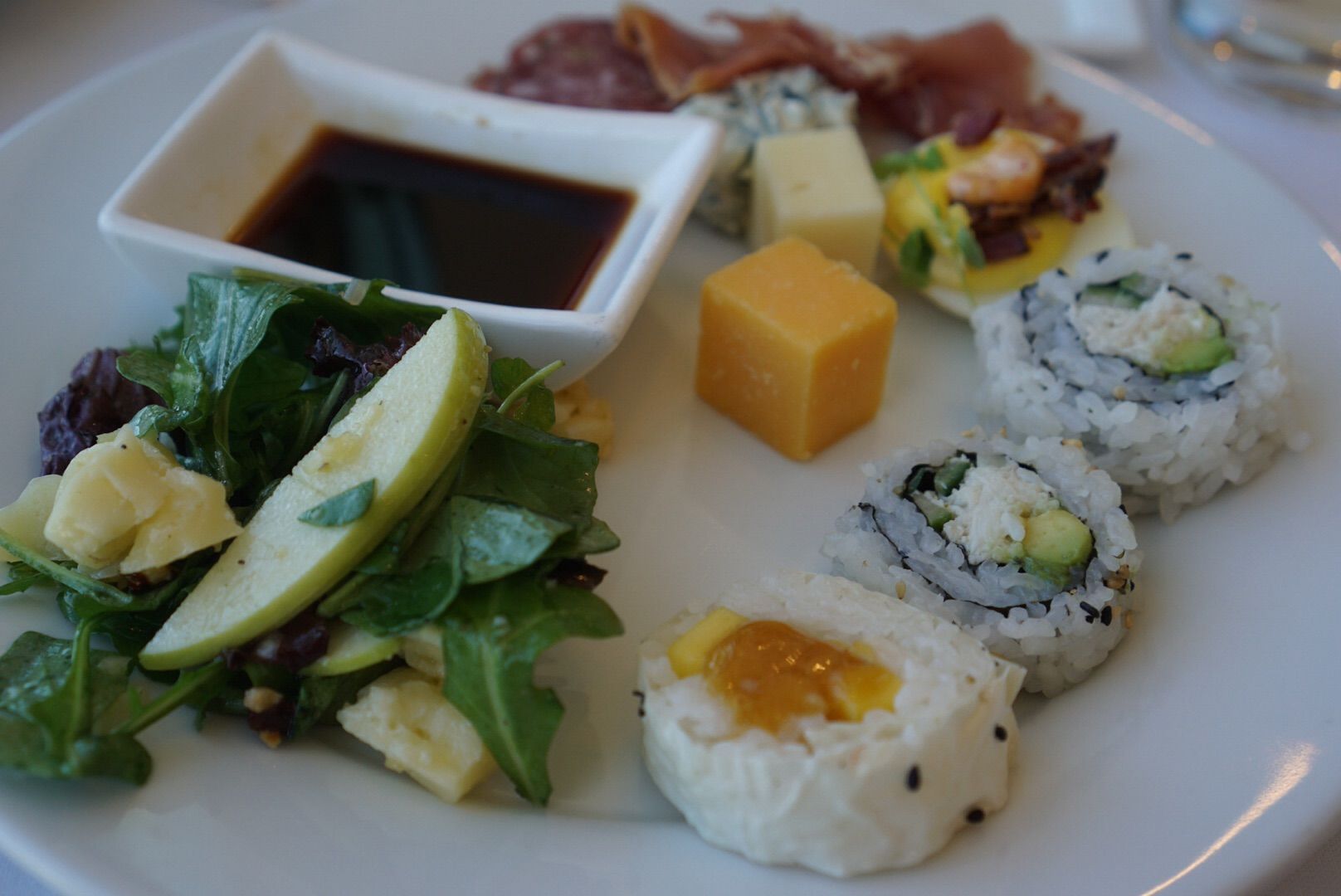 Salami, Prosciutto, a Deviled Egg, 2 pieces of California roll and one Shrimp Tempura, some Apple Salad, and one of each of the three cheeses that were offered.  Everything on my plate was very good.  I enjoyed both kinds of sushi rolls that I tried, but the shrimp tempura with the added sweetness of the mango was especially tasty.
A closer look at some of my choices…
Here is Rachel's plate…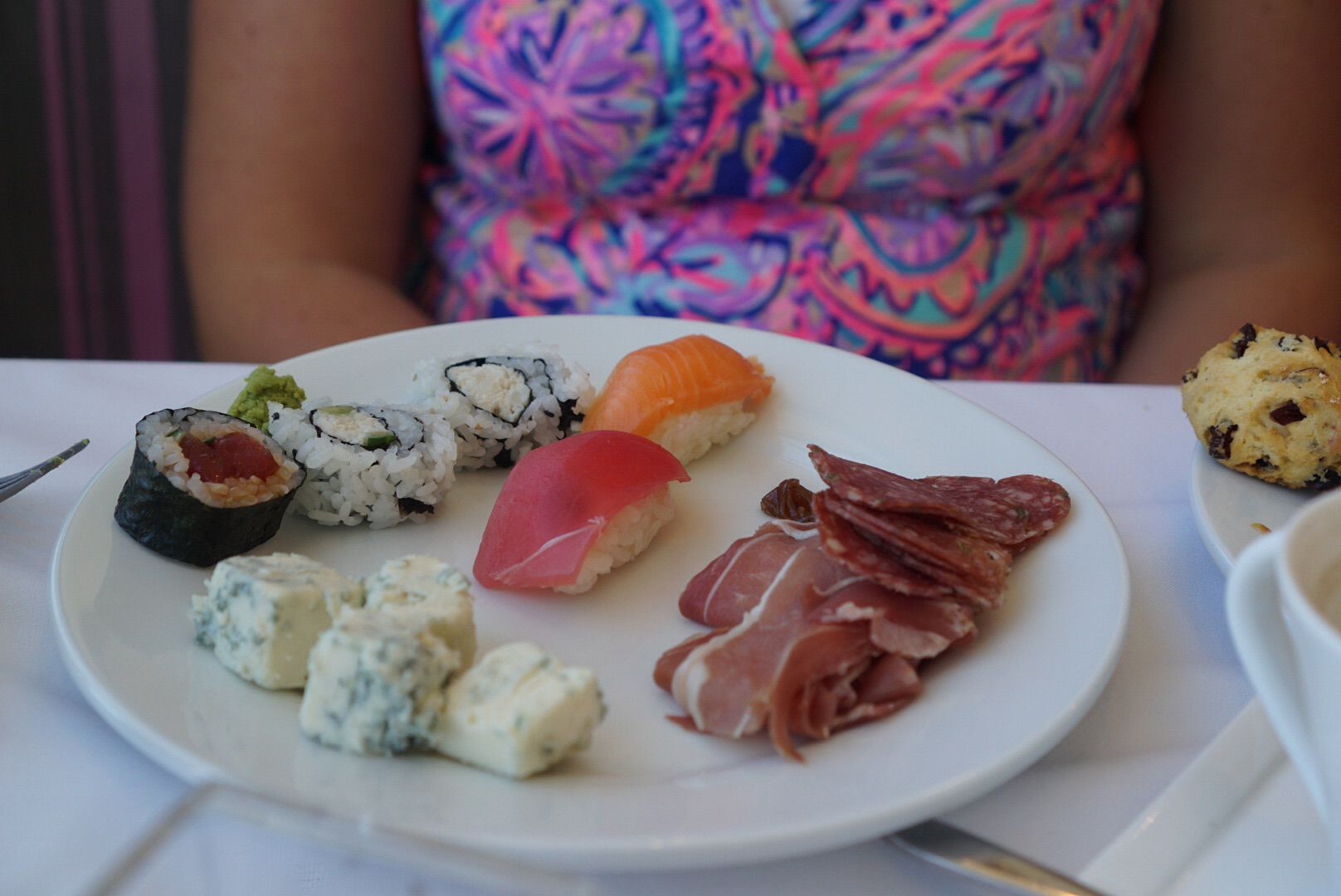 And a closer look…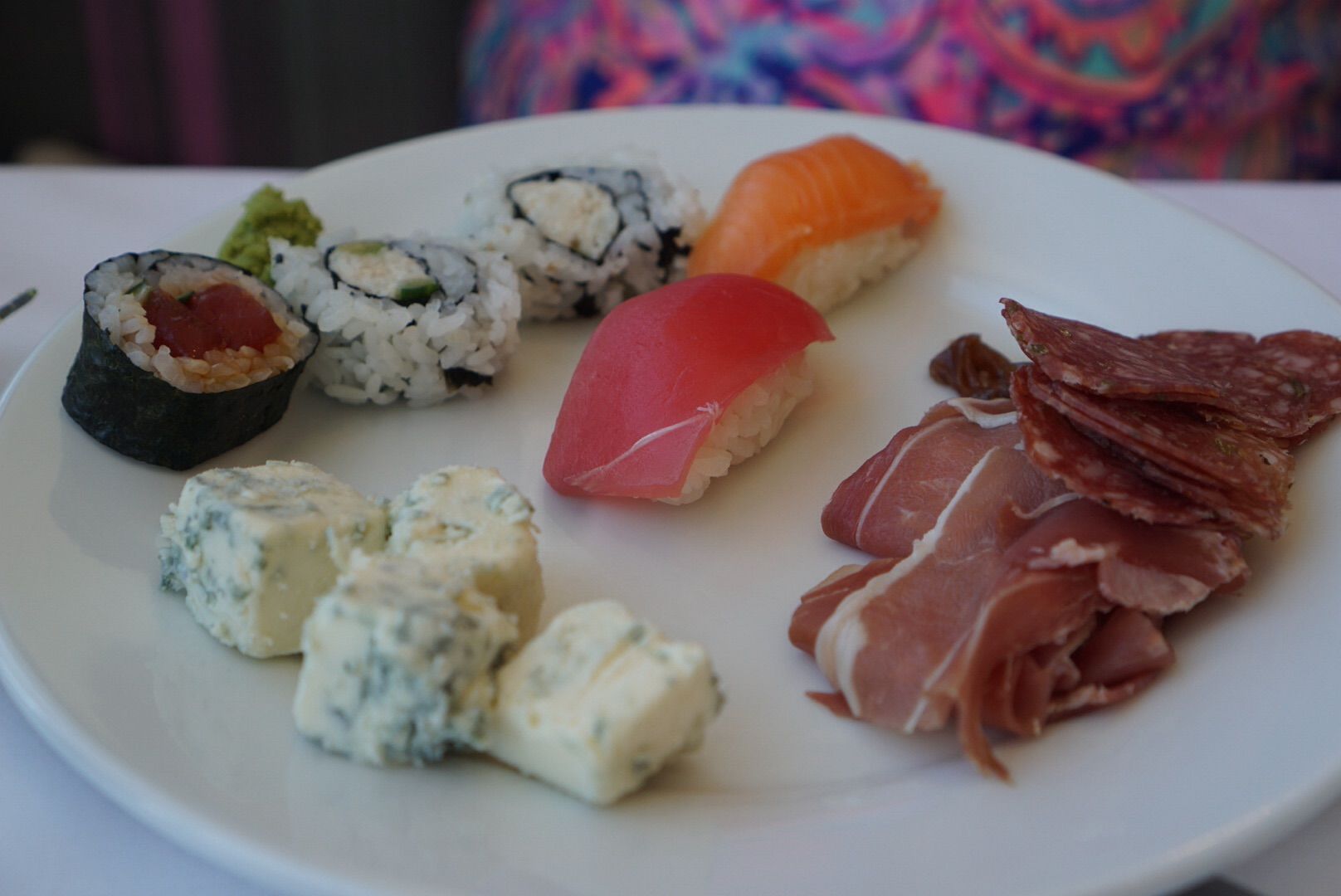 She tried more of the sushi than I did but no salad and she stuck to the blue cheese, which was my favorite of the three cheeses.  We both really enjoyed this blue cheese.  I wish I would have asked what kind it was so I could try to find and purchase some elsewhere.  Rachel enjoyed everything on her plate, but her favorite was the sushi, especially the nigiri.
Although a close second was that blue cheese, along with honeycomb (which could be found on the buffet with the yogurt parfait toppings).  Both of us returned for a plate of this cheese and honeycomb…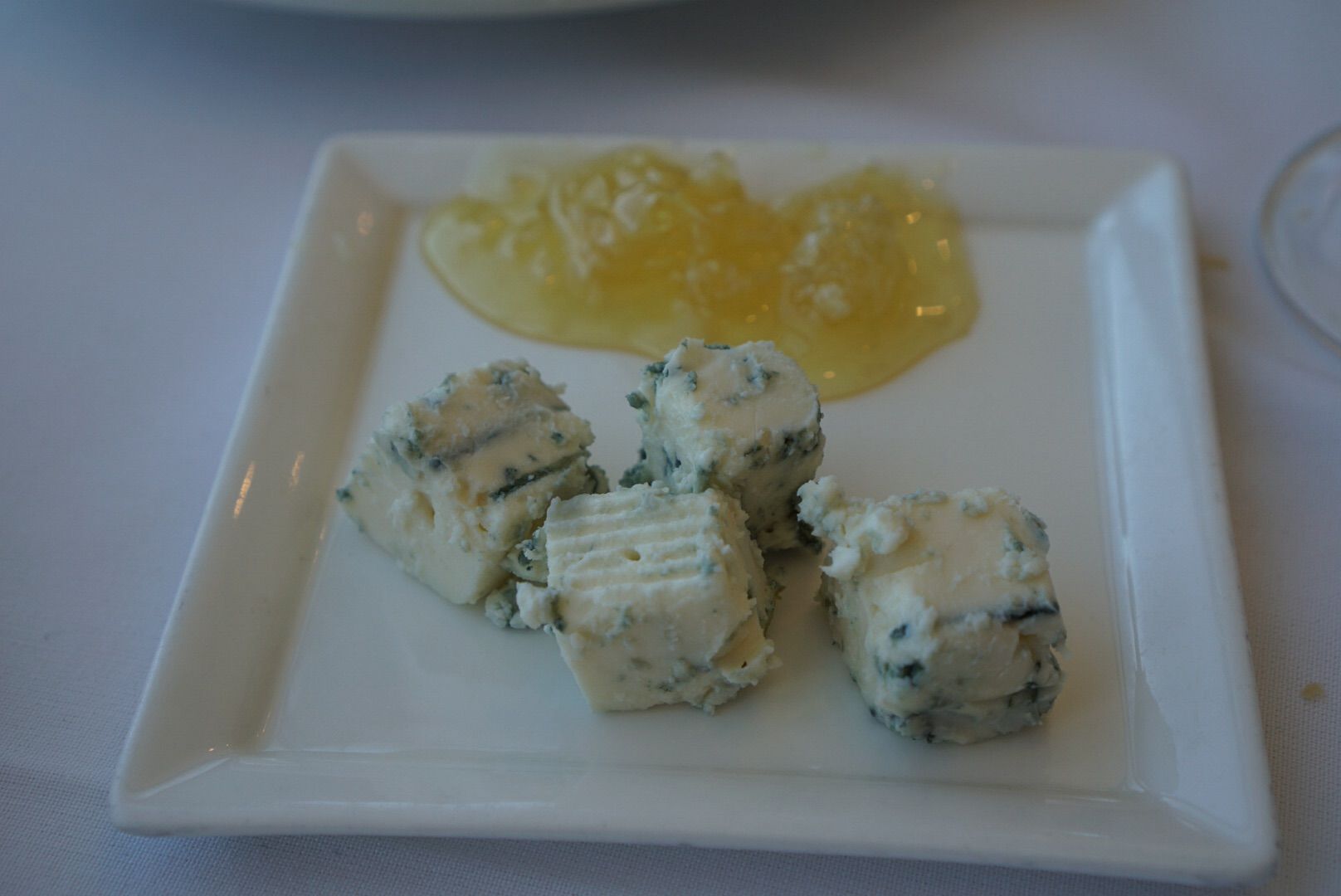 However, one thing that Rachel did not care for was the yogurt parfait…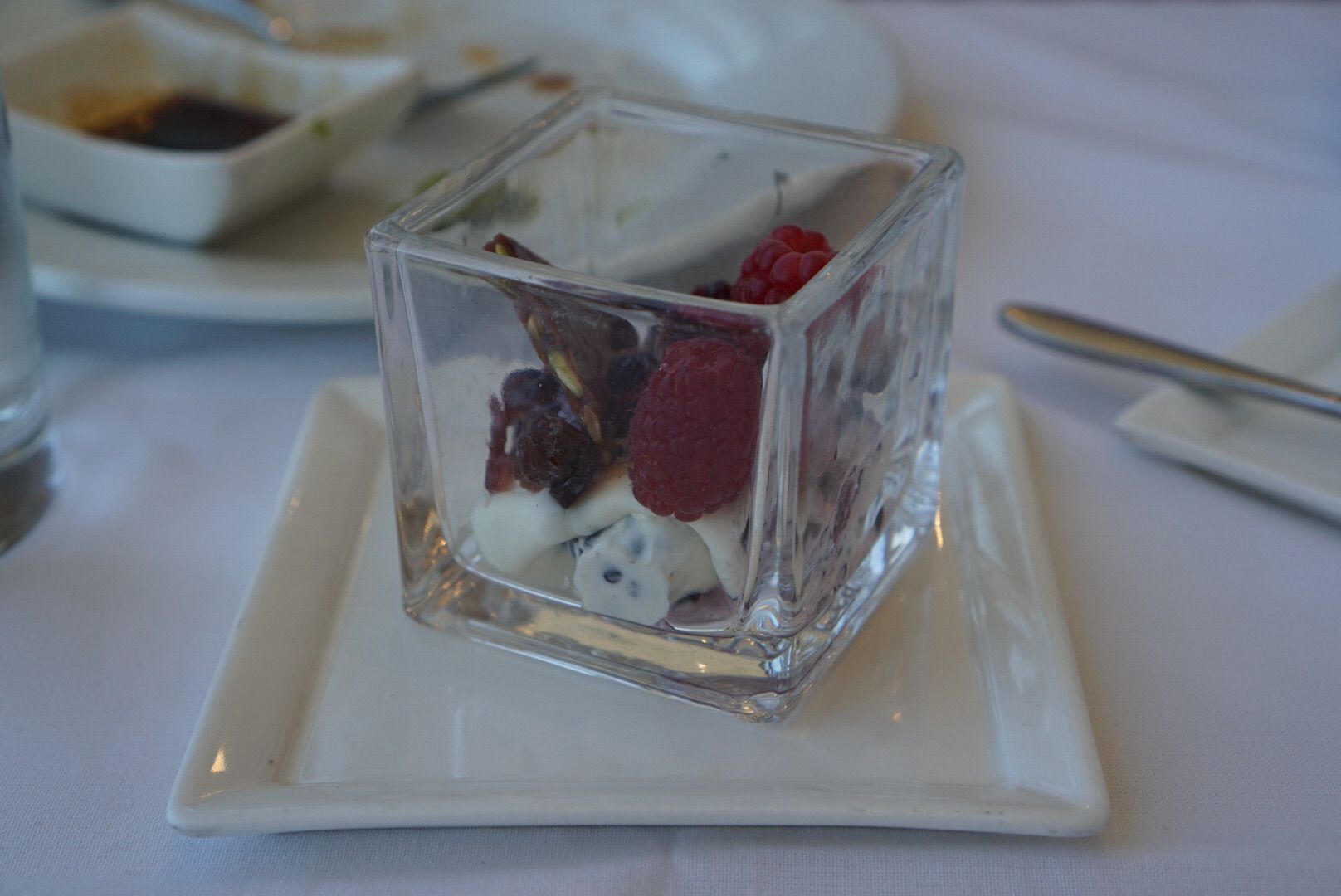 Now for a break from the food to show you the lovely view we had from our table…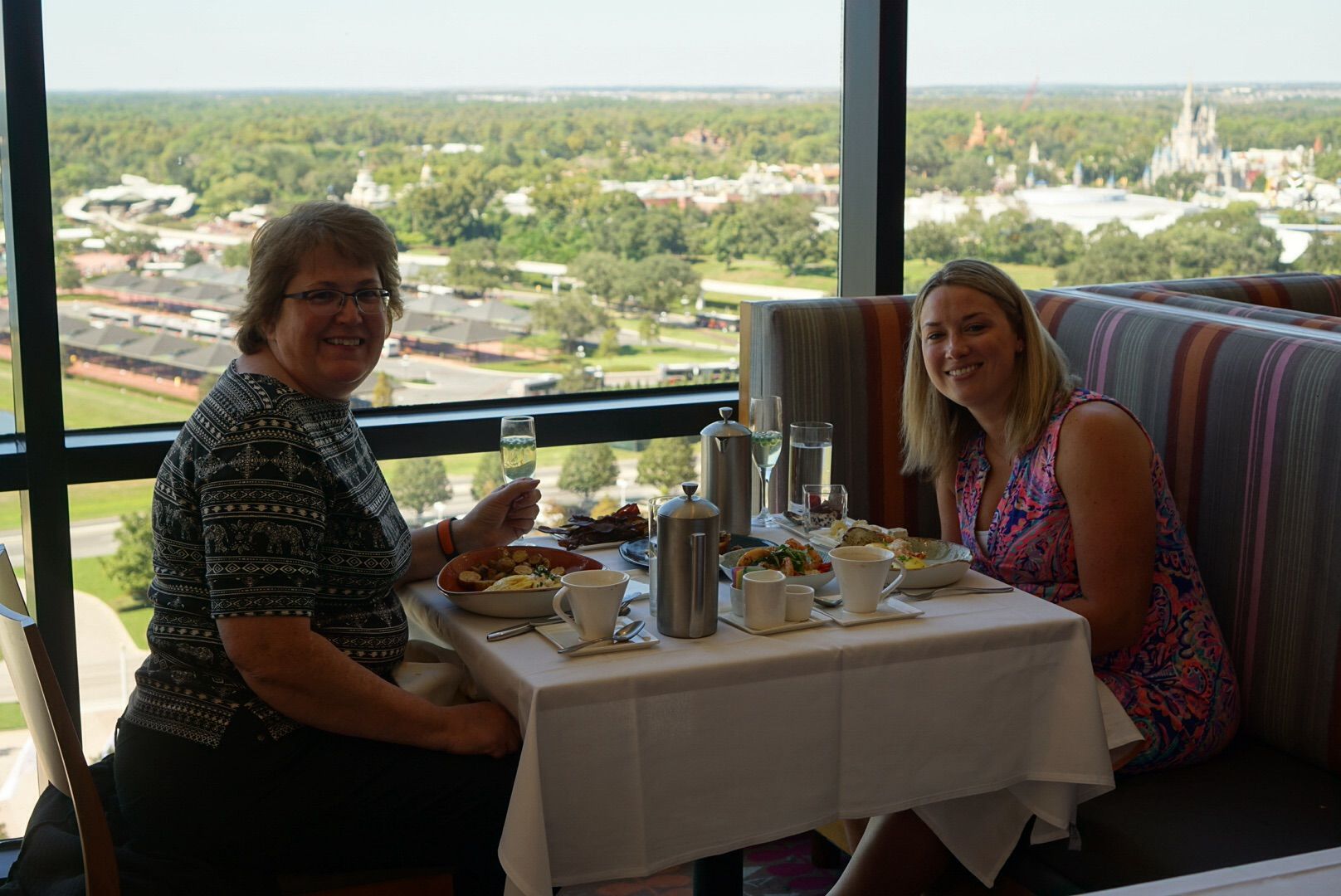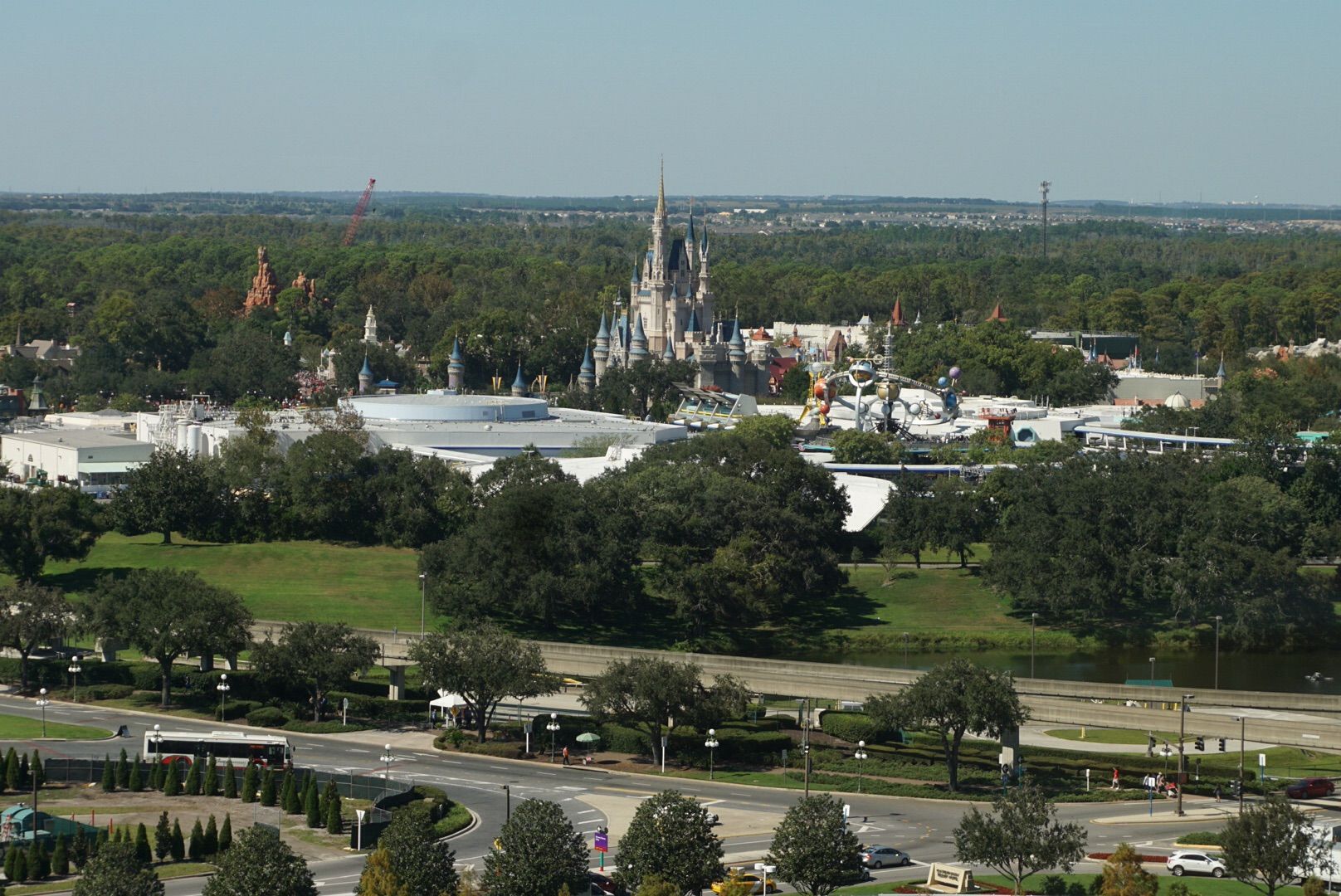 And the castle, with the help of a long distance camera lens…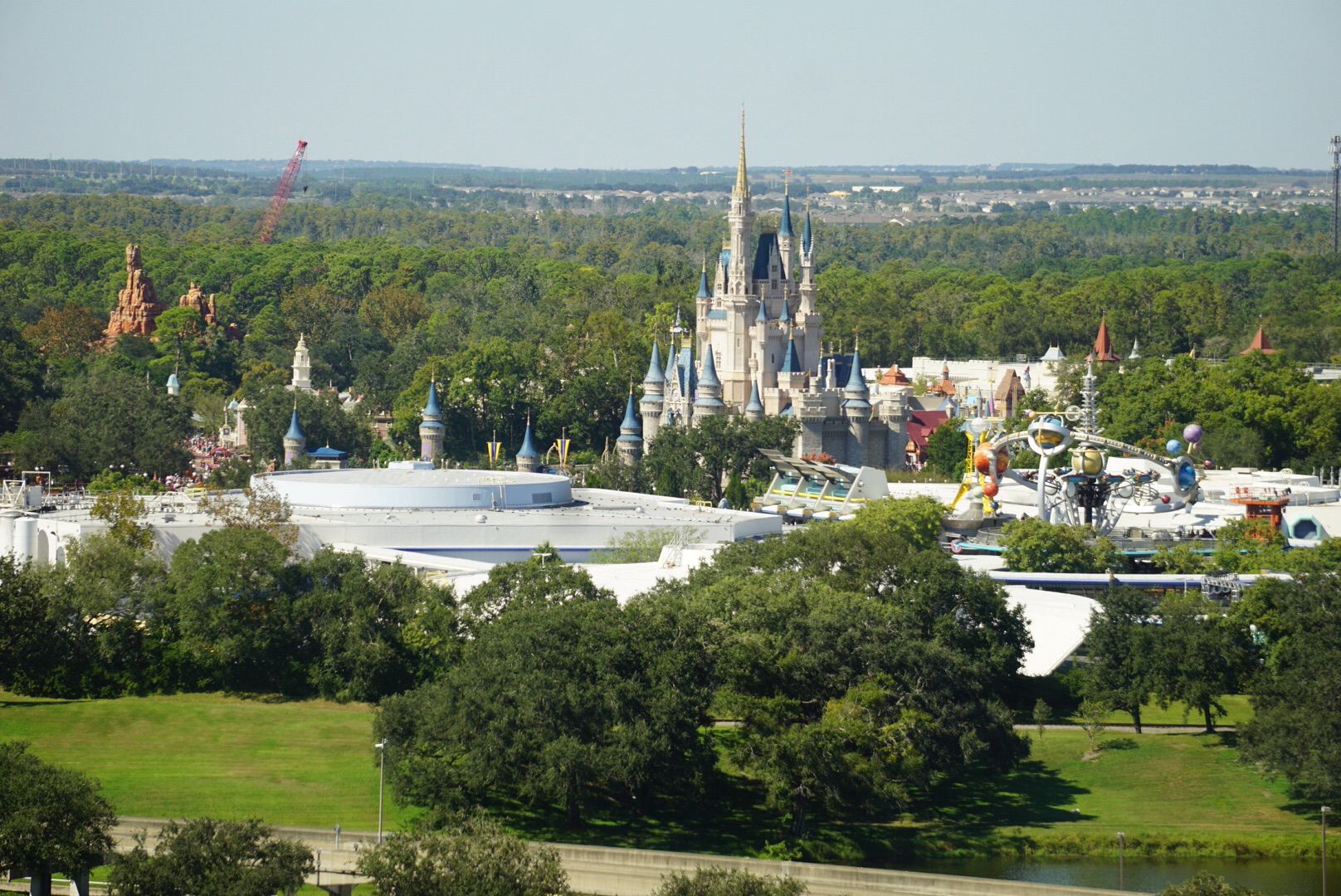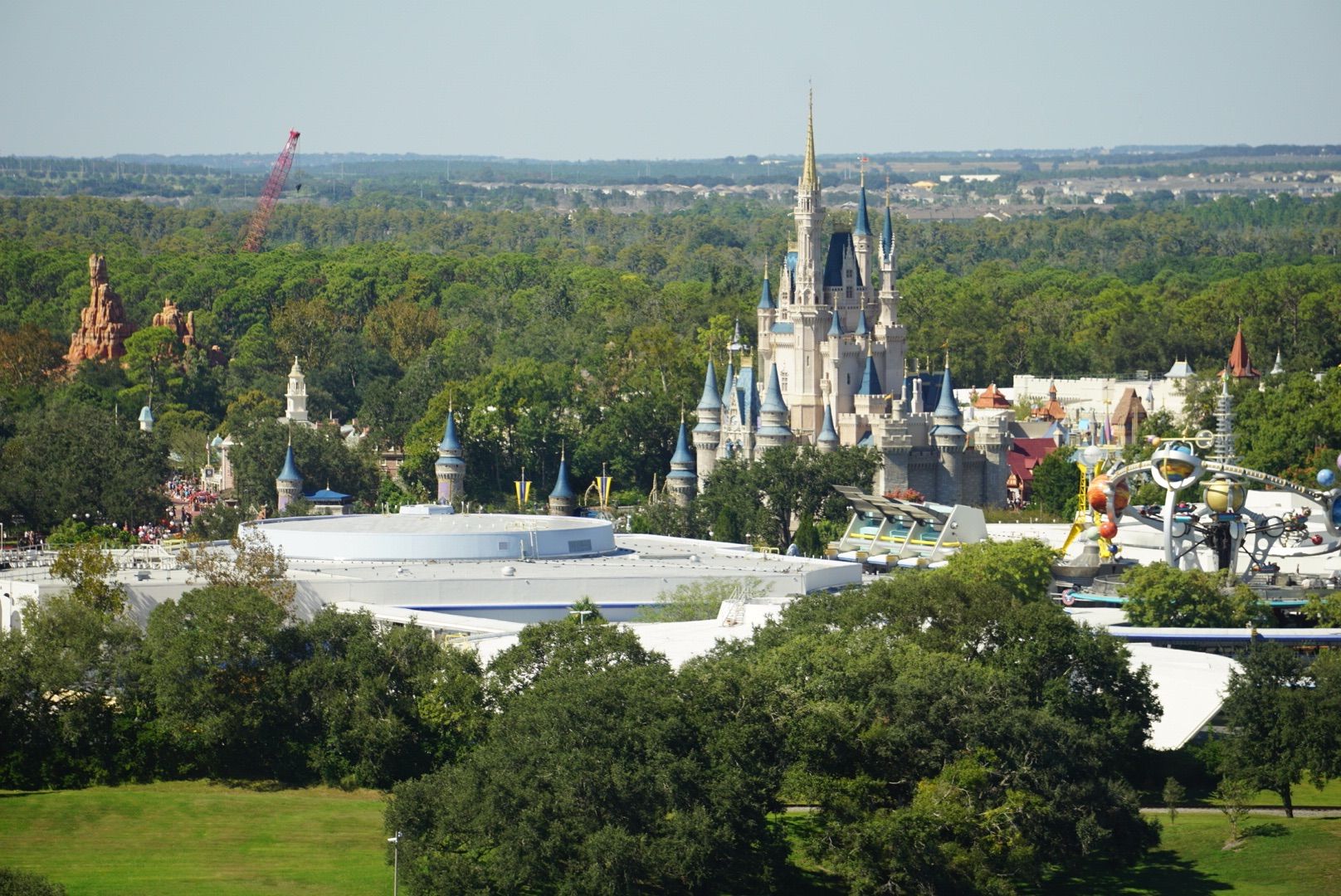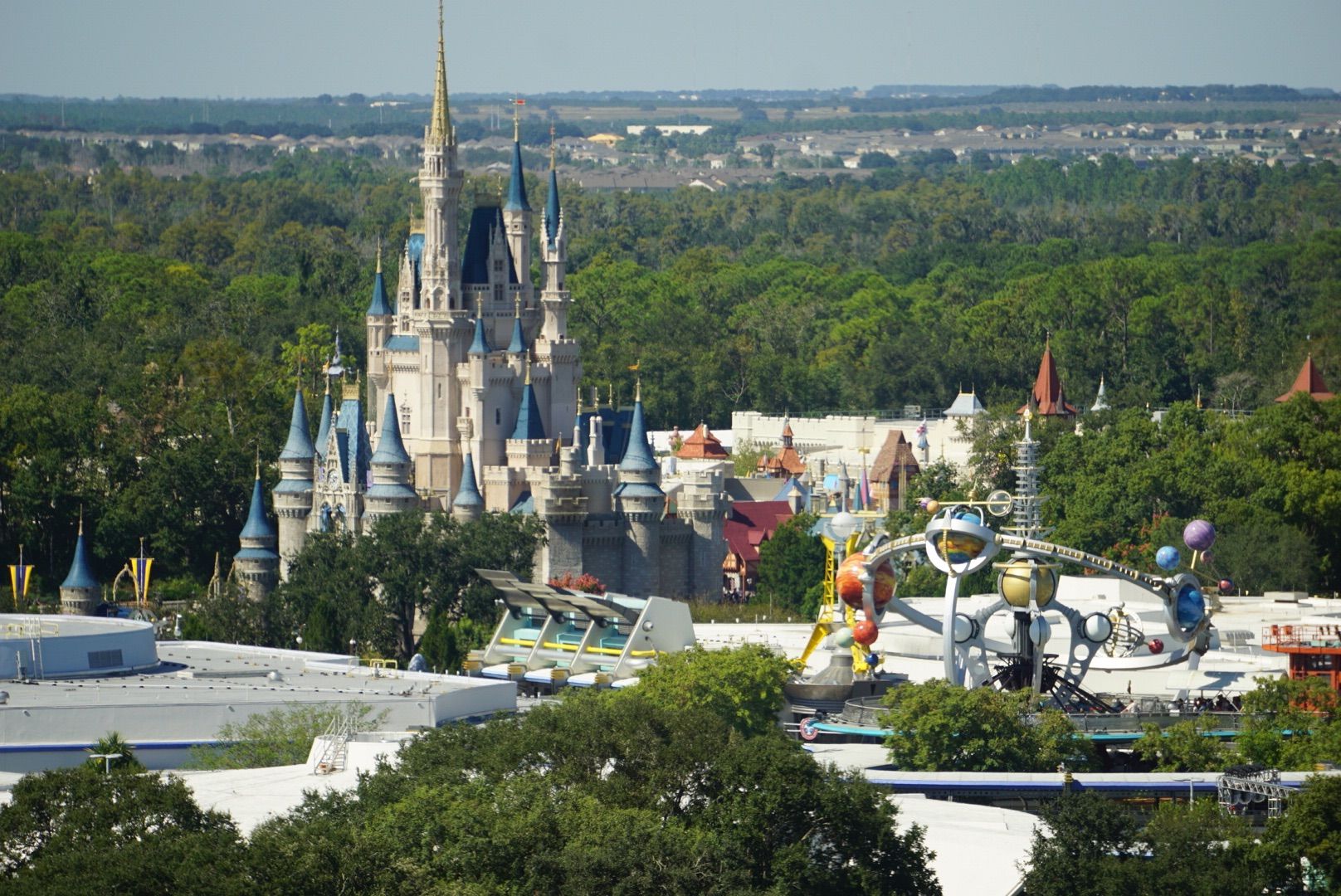 Now it's time for our Entree choices.  Here's the menu again to remind you of the options…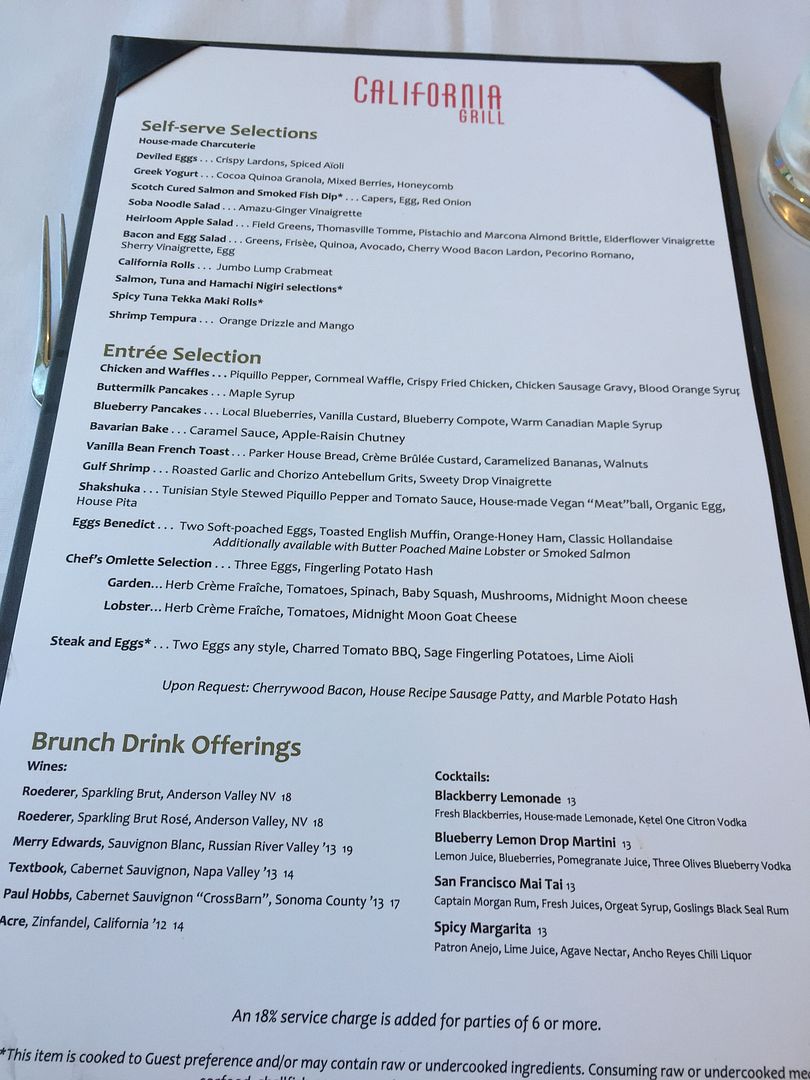 Rachel mentioned to our server that she was having a difficult time deciding between the Lobster Eggs Benedict and the Shrimp & Grits so our server brought her both.  I really wanted the Lobster Omelet but also wanted to try their Vanilla Bean French Toast, since I wasn't going to make it to the Grand Floridian Cafe on this trip for their delicious Vanilla Bean French Toast (one of my favorite WDW breakfasts).  So I too was brought both.  We were also offered a side of bacon and Rachel wanted to try the fingerling potatoes.  Soooo, our table was soon covered with food…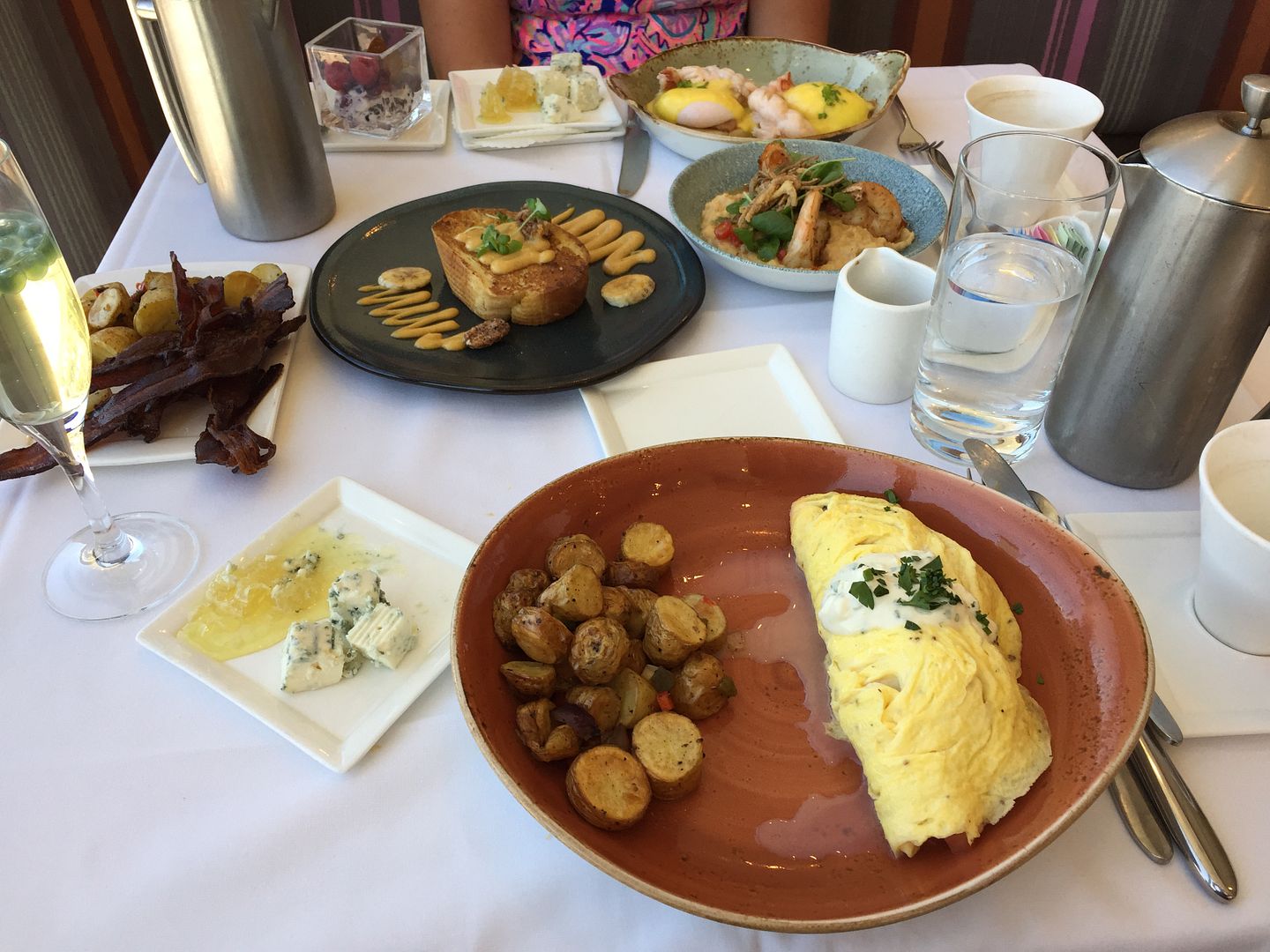 Let's begin with Rachel's entrees, starting with the one she loved…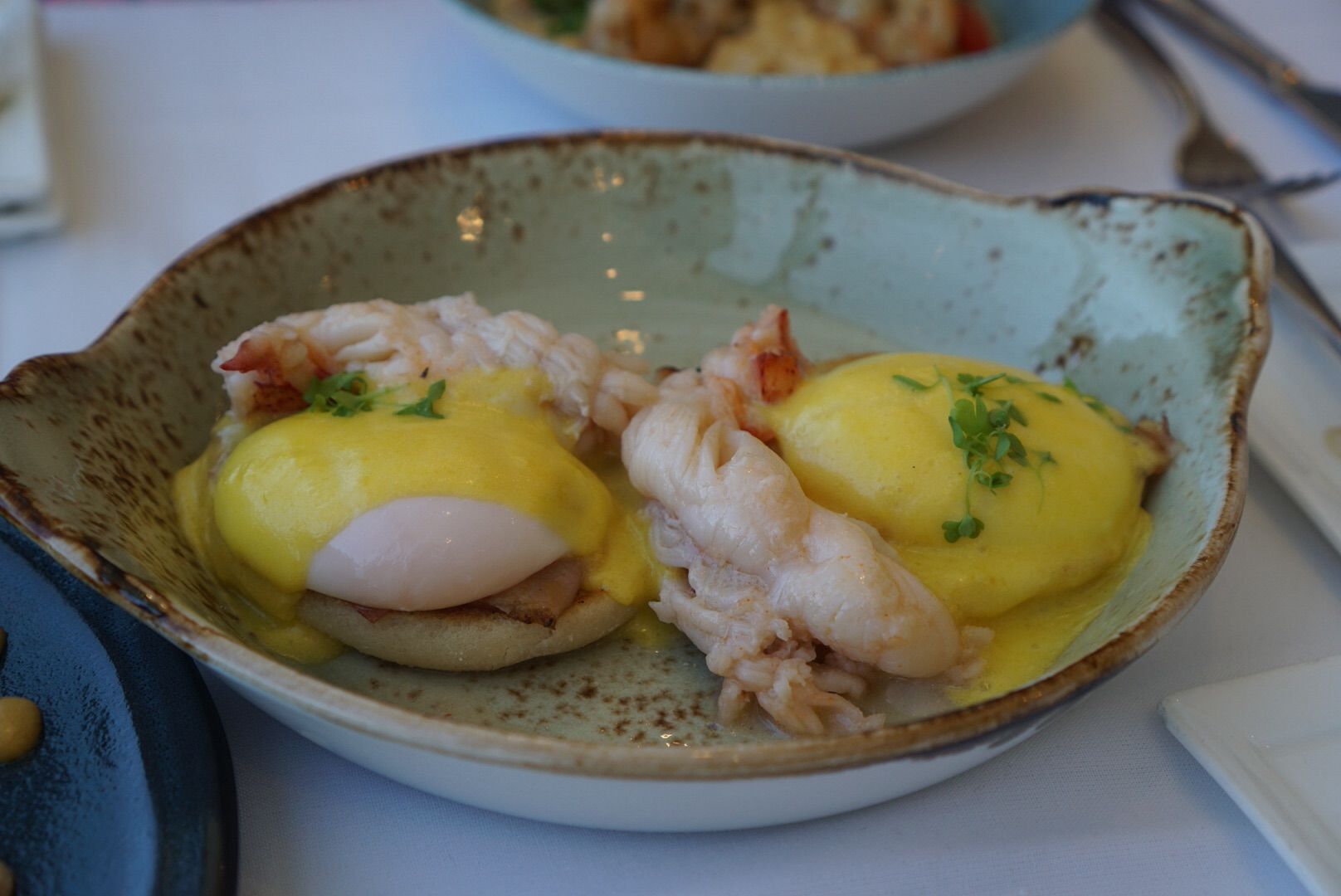 Lobster Eggs Benedict – Two Soft-poached Eggs, Toasted English Muffin, Orange-Honey Ham, Classic Hollandaise and Butter Poached Maine Lobster
And then the Shrimp & Grits…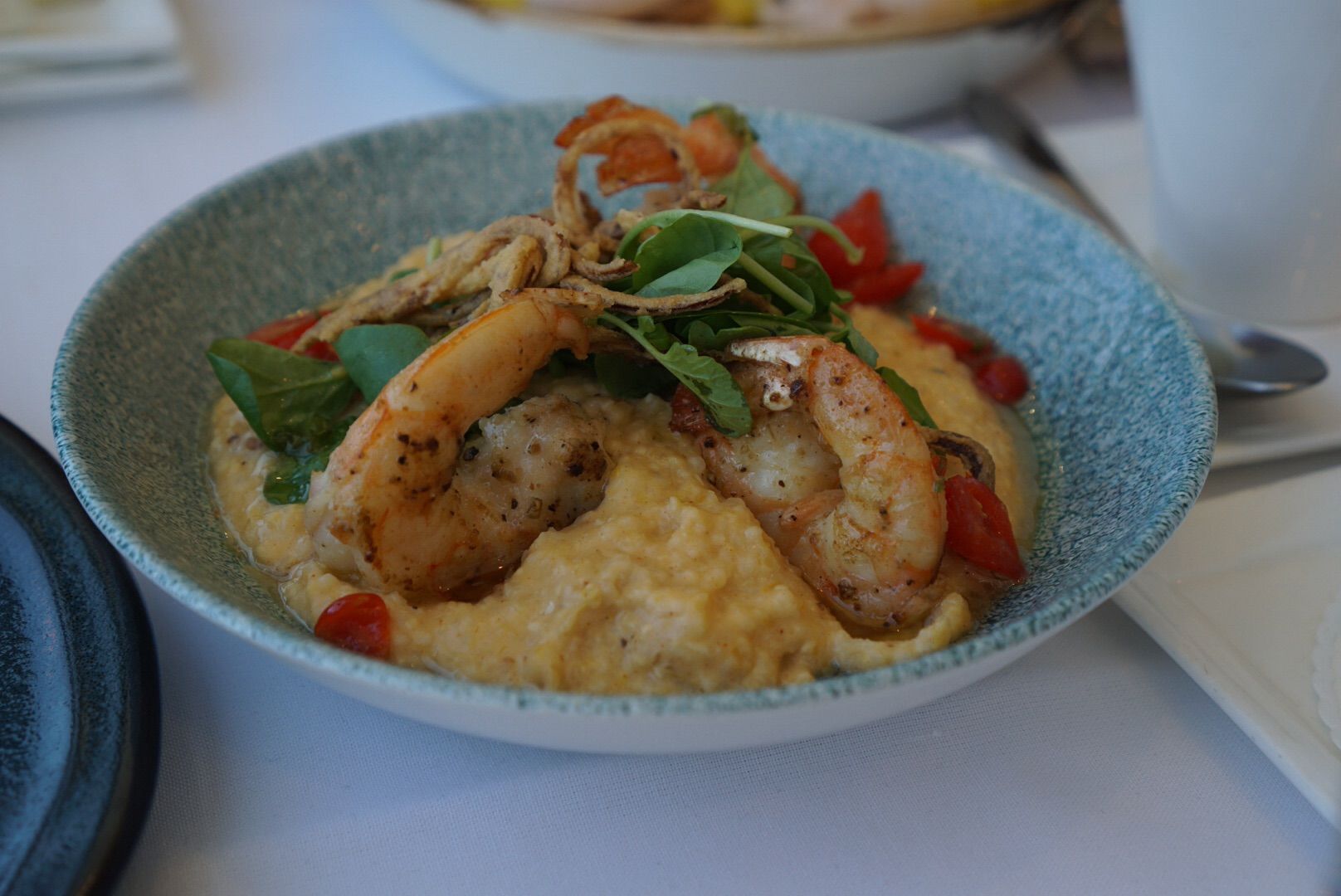 Gulf Shrimp and Roasted Garlic and Chorizo Antebellum Grits
This was more like an appetizer portion size with only three grilled shrimp, but since this was a second entree it was plenty of food.  While Rachel liked the shrimp, she did not like the grits.
Now for my choices…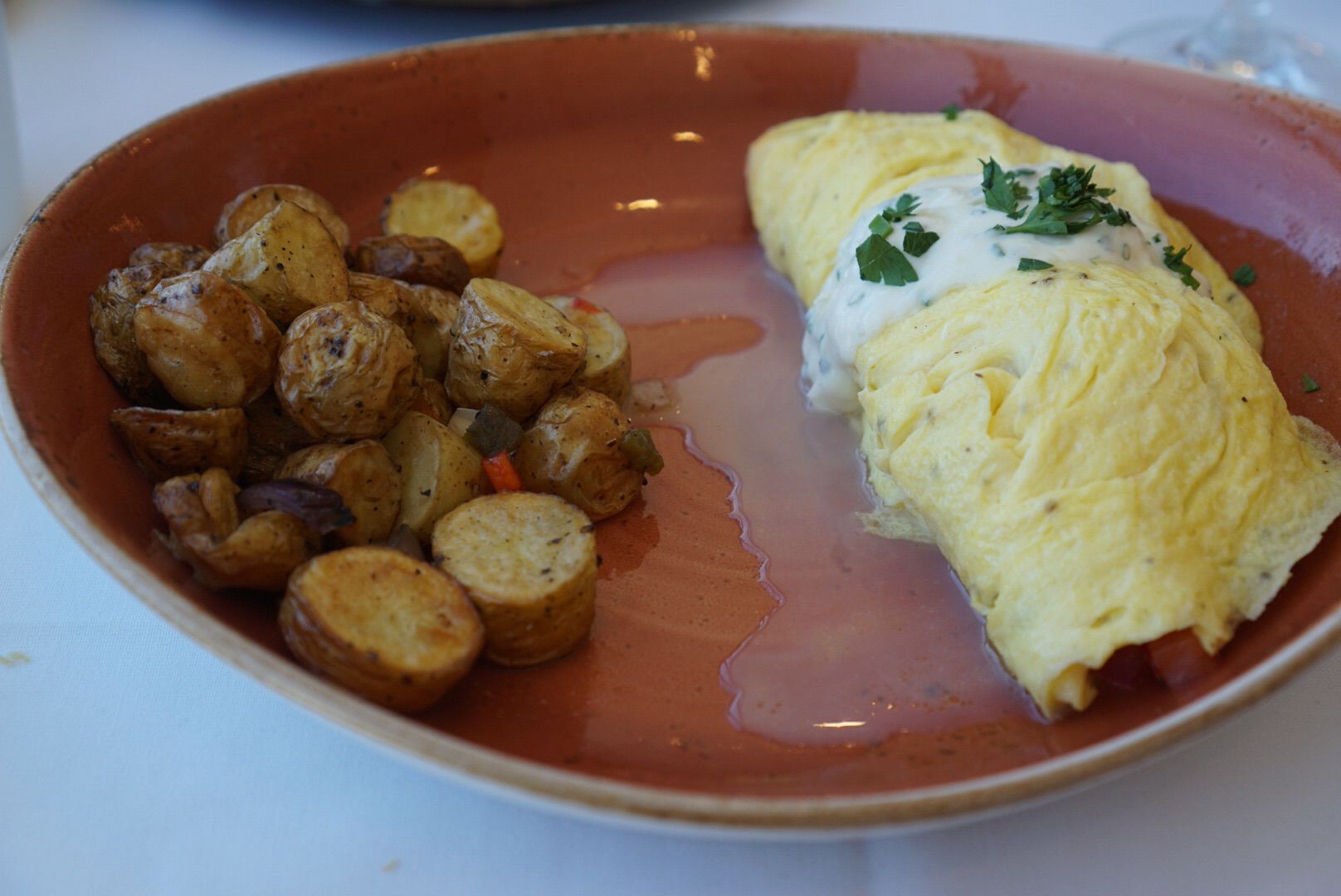 Three Egg Omelette filled with Lobster, Tomatoes, and Midnight Moon Goat Cheese and topped with Herb Creme Fraiche, served with Roasted Fingerling Potatoes 
And another look…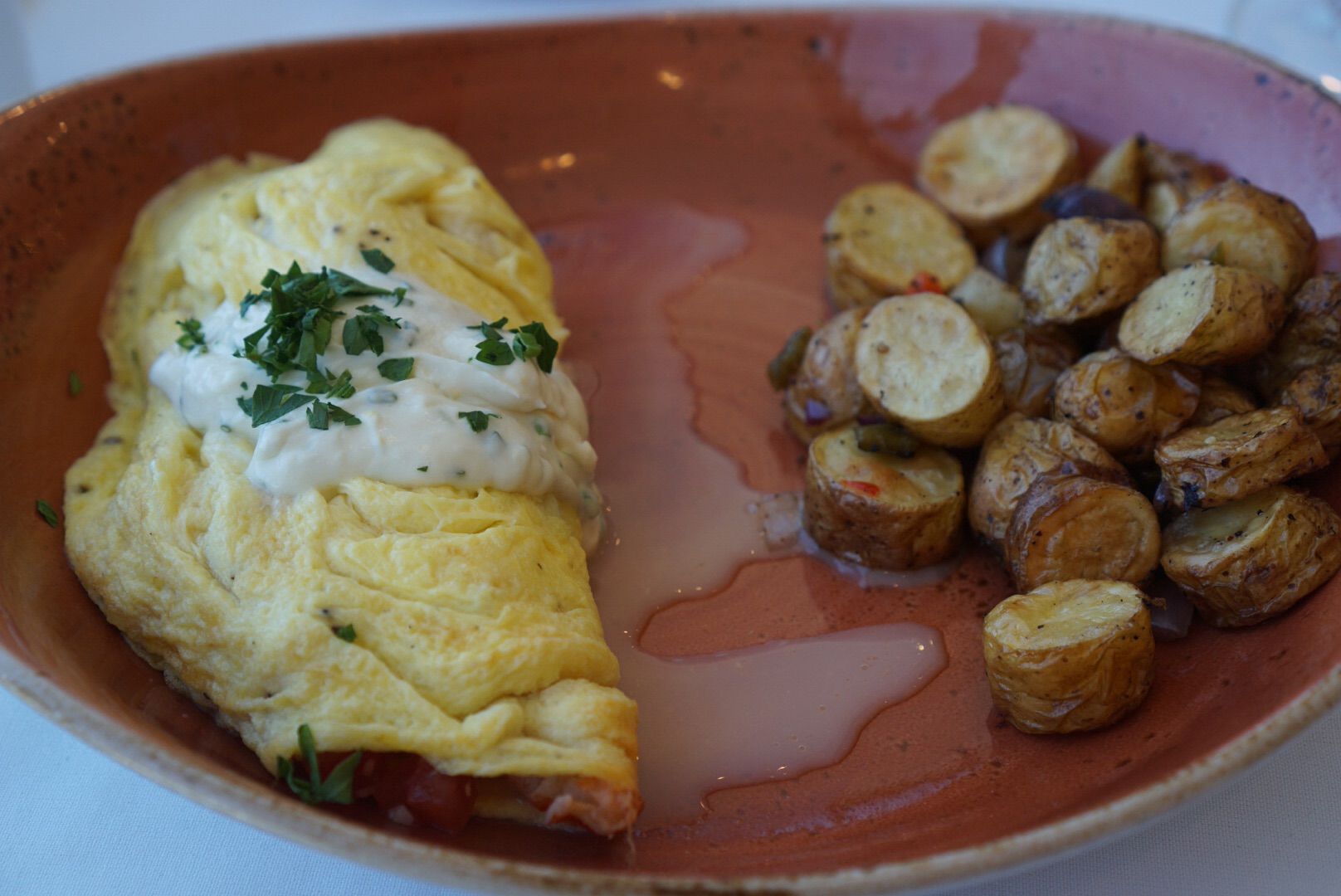 And a look inside…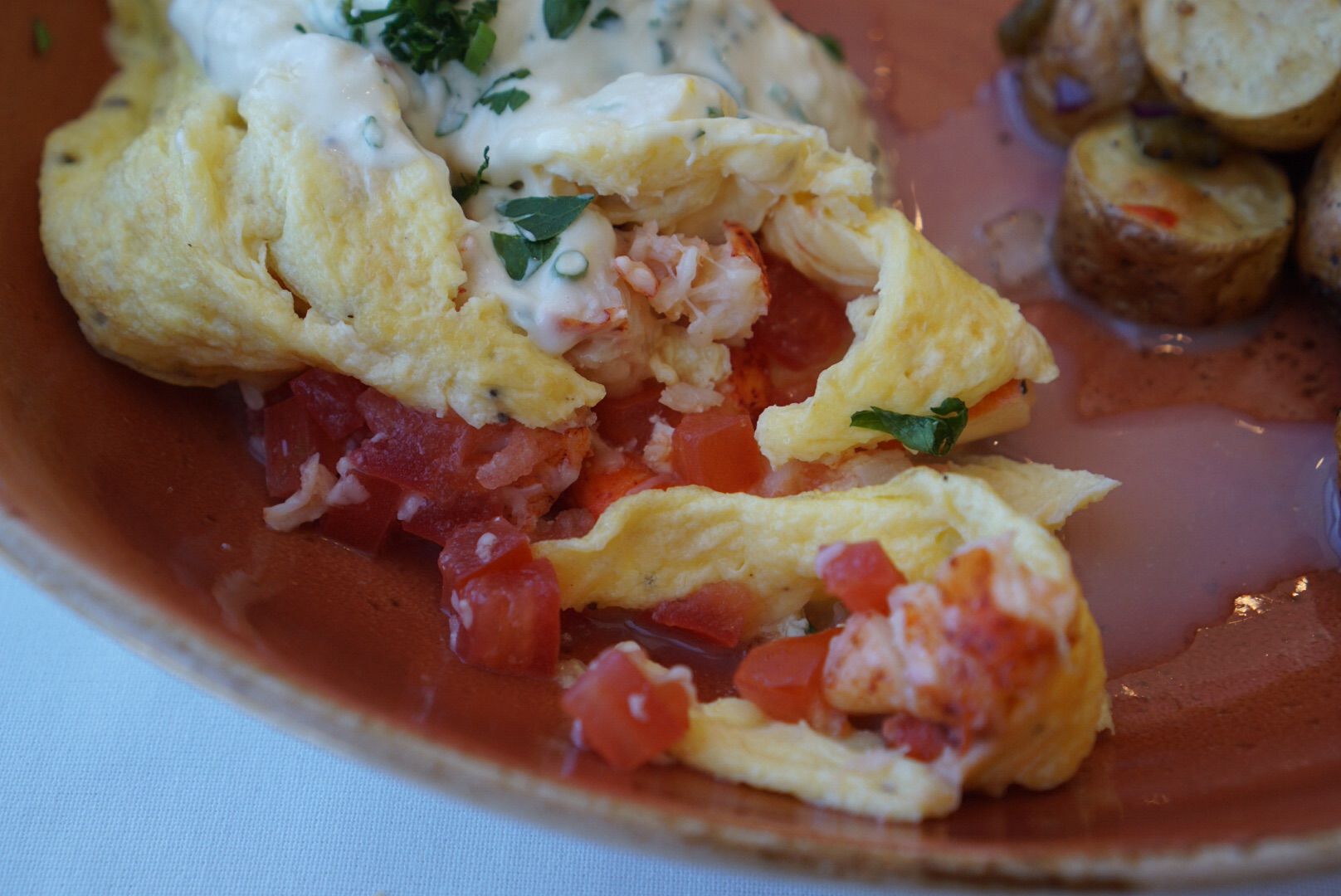 This omelet was huge!  It was filled with lots of small lobster pieces but too many diced tomatoes and not enough goat cheese.  So it was good but probably not something I would order again.  As for the potatoes, they were not good.  They were a bit hard and not seasoned…blah!
Then there was my French Toast…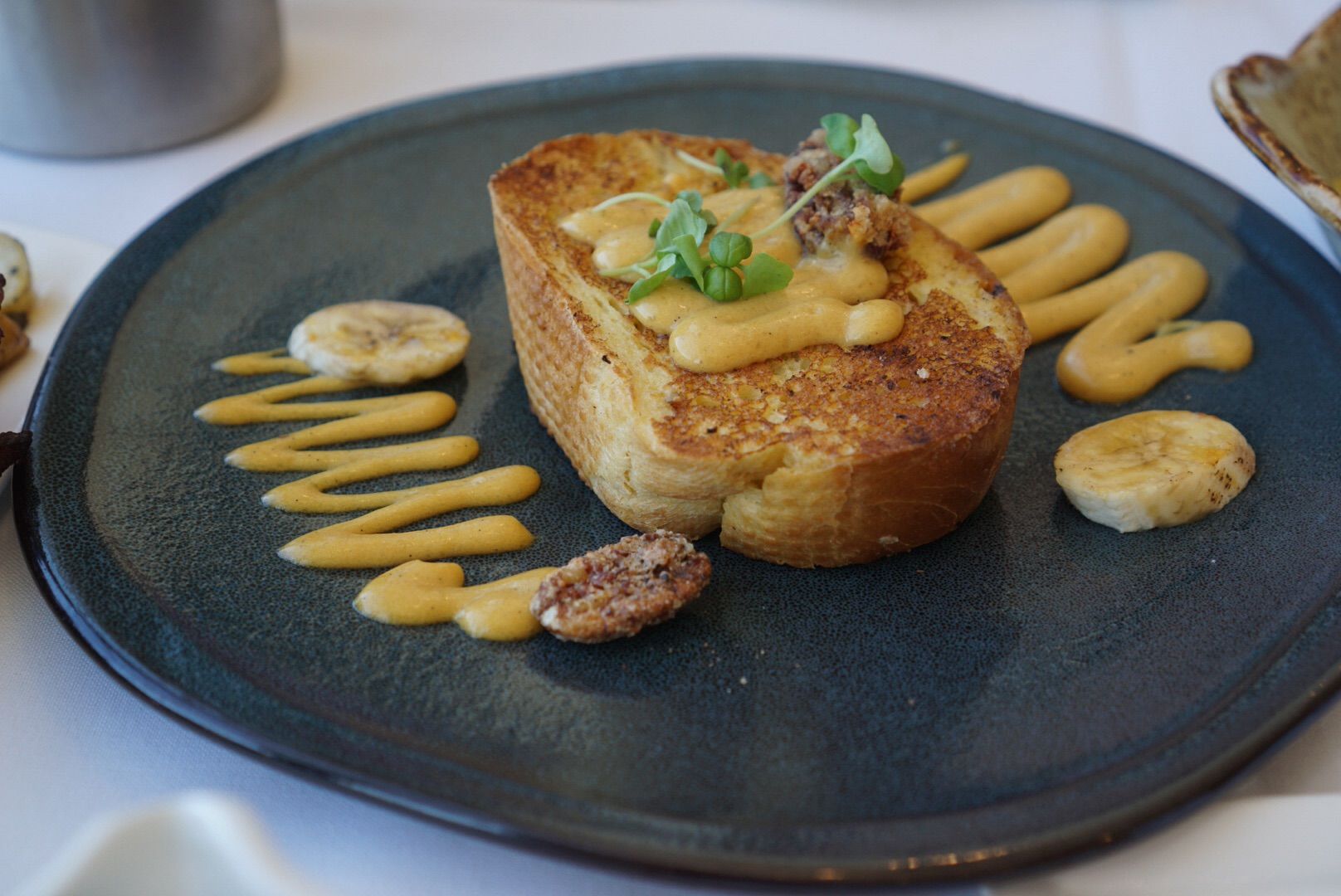 Vanilla Bean French Toast made with Parker House Bread, topped with Creme Brulee Custard, Caramelized Banana slices, and glazed Walnuts
This was only one slice but again it was the perfect portion size for a second entree.  I liked this, especially the creme brulee sauce.  However, in my opinion, it wasn't as good as the Grand Floridian's French Toast.
As for that side of bacon…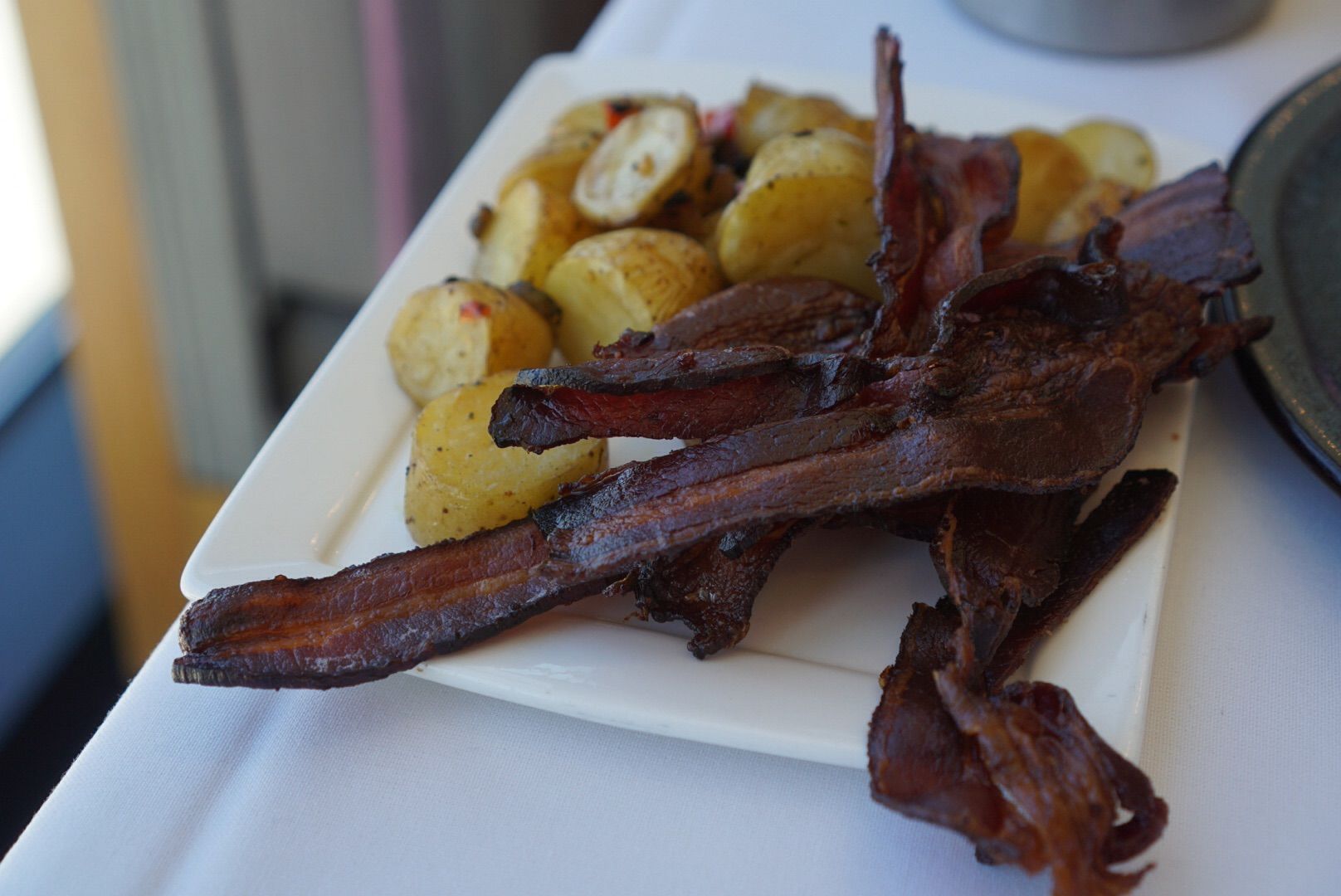 Wow, it was way overcooked.  It appeared to have been a good quality, thick-cut bacon at one time, but the life (and flavor) was totally cooked out of it.
And that just leaves the Dessert Tray…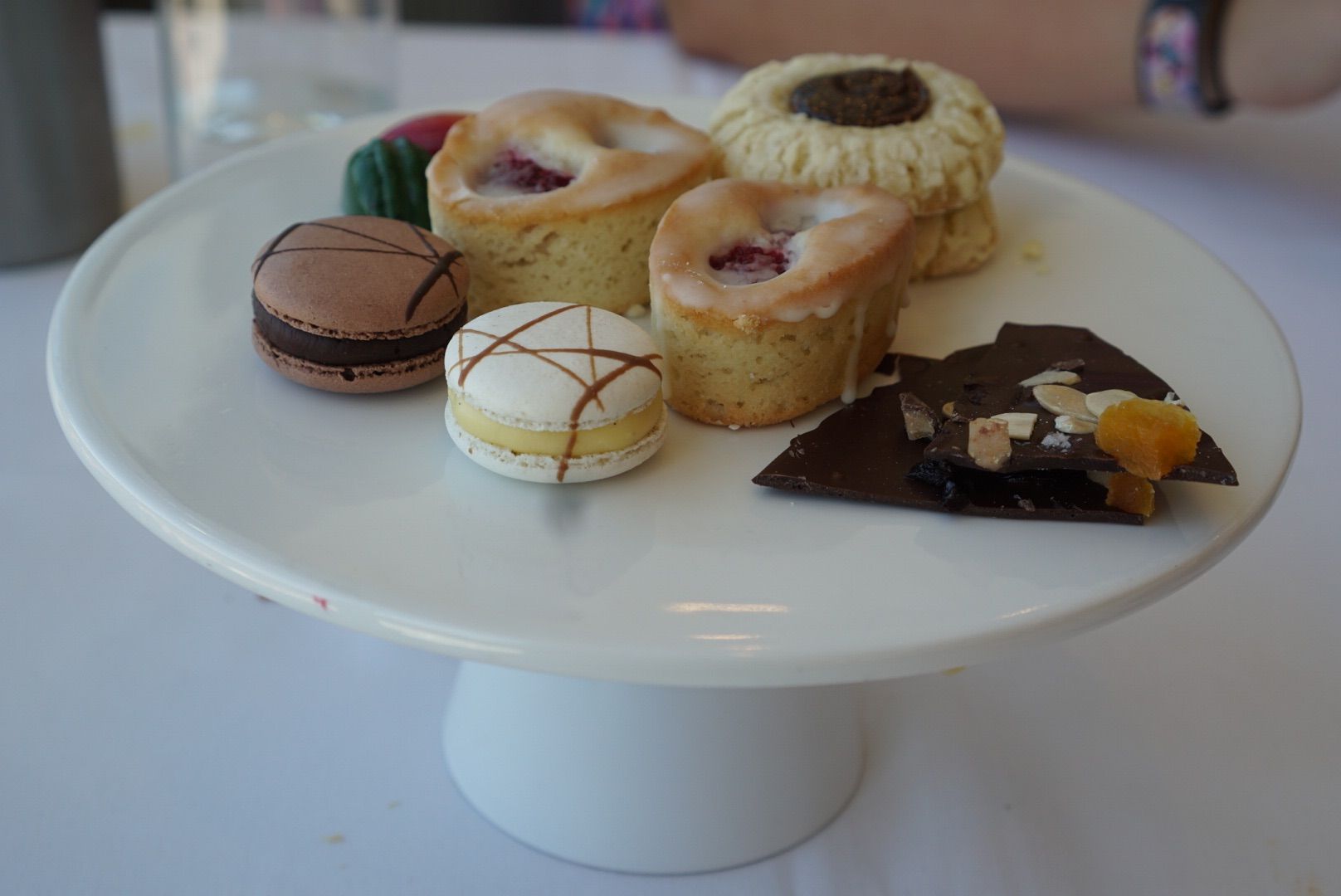 And from a few more angles…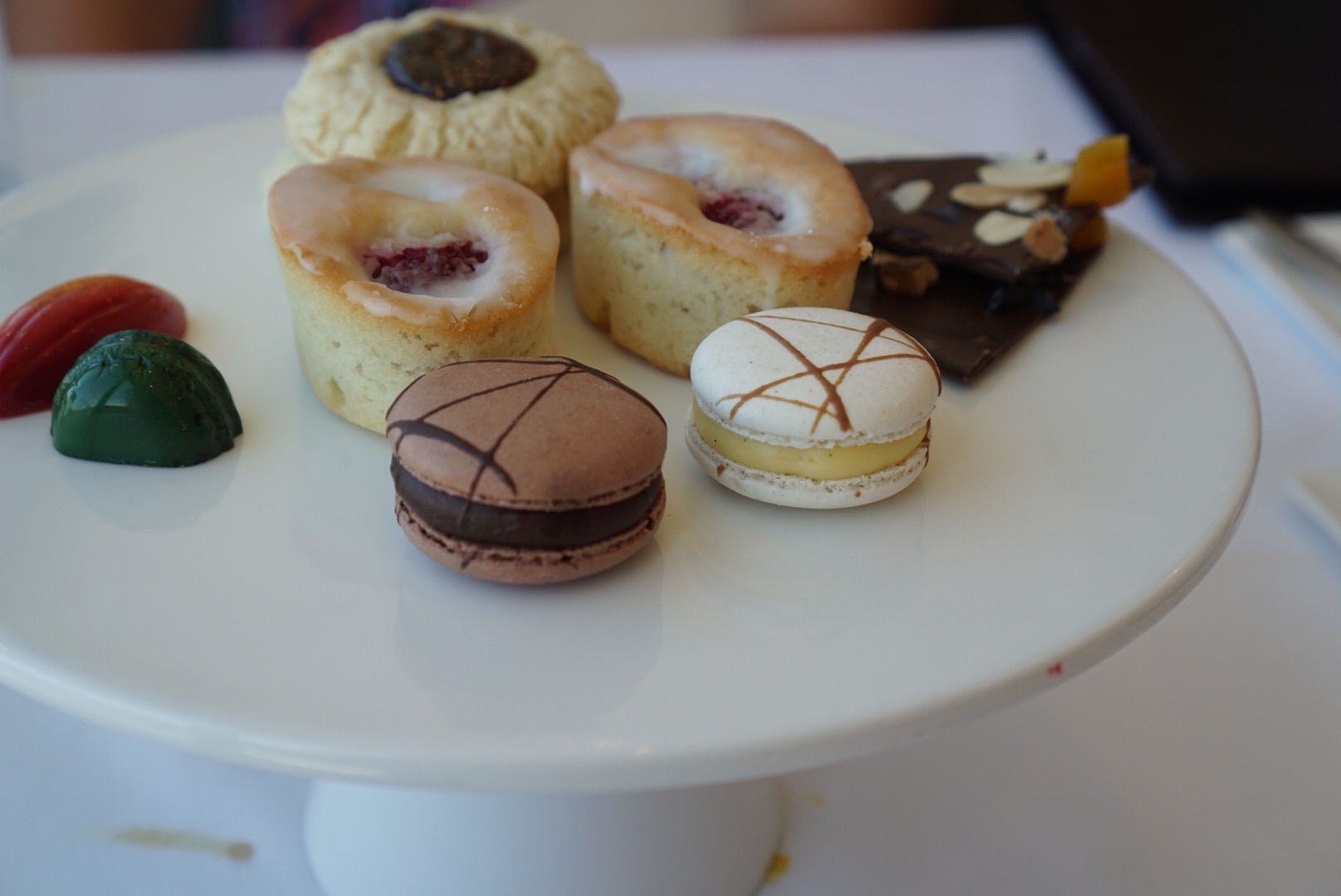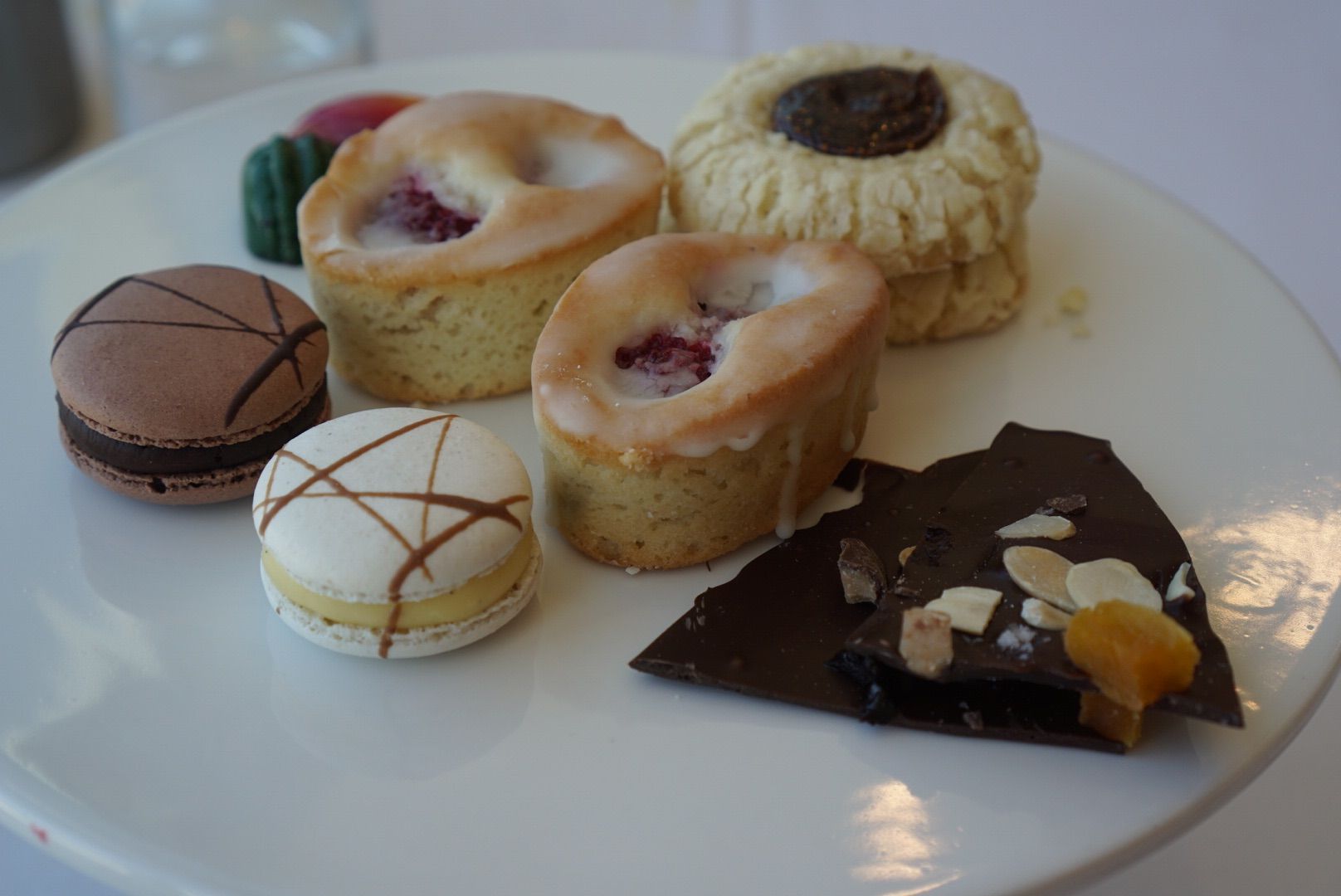 Let's see, on this plate were two cookies (maybe cardamom?) with jam-filled centers, two pieces of chocolate & almond bark, two macarons, two raspberry cakes (or financiers), and two truffles.  Sadly we were both way too full to eat any of these.  So we had them boxed up and Rachel took them home with her, as she lives nearby.  As for me, I was heading to Animal Kingdom after brunch so let Rachel have mine to share with her husband.   She later told me that the raspberry cake was delicious and the cookie was good, minus the jam in the middle.
This meal was so relaxing and enjoyable.  We were encouraged by our server to take our time and we did, finishing up about 3 hours after I arrived at the restaurant.  The food was for the most part quite good.  It didn't really matter that there were a few things that were not good because there was so much other food to choose from.   And then there was the excellent service we received.  I have found that the service at California Grill is pretty hit and miss.  I've experienced some of the best service here and also some of the worst.  This visit was definitely one of the best!  Another positive was the great atmosphere, with an awesome view of Magic Kingdom and Cinderella's Castle from our table and live music provided by a 2-piece jazz band.  So the end result was that I came away from this meal at California Grill with a smile on my face.  California Grill had once been my favorite Disney World restaurant but for various reasons that hasn't been the case in recent years.  This brunch experience gave me hope that California Grill might be trending up on my favorites list once again.  I looked forward to returning three days later for dinner on Halloween night.  Would that dinner be a "trick or treat"?  Stay tuned to find out.
Just a few side notes before the ratings and rankings.  The cost of this meal was $80 (not including tax and gratuity), which is expensive but with the amount of food we had I feel it was worth it.  They did accept Rachel's Tables in Wonderland for a 20% discount on both of our meals, so that was nice.  Also an unexpected perk was that our server invited us to return that evening to view the Magic Kingdom fireworks from California Grill's observation deck.  We both had other plans for that evening so didn't return but it was nice to be given that option.  
As for the ratings and rankings, Yelp reviewers gave California Grill a 4 star rating.  However, those on Trip Advisor rated it 4 1/2 stars and based on only this brunch I would agree with them.  As for its ranking, California Grill ranks #100 of the nearly 3,000 Orlando area restaurants reviewed on Trip Advisor.  Narrowing this down to just the Disney World area restaurants, California Grill ranks #28.