There was a time that California Grill was my favorite restaurant at Disney World.  Up until about 5 years ago, many of my favorite WDW dining experiences had happened here.  But then things began to go downhill for me starting around 2014.  During some of my visits there I had bad service, other times the food wasn't that great, and once I even had problems with both the food and service.  Other than brunch, I had not had an "all-around" good meal there since 2013.  But I've always loved the atmosphere of California Grill, especially the terrific view of Magic Kingdom and its fireworks that it provides.  That, plus all of the good memories that I have of special dinners there, has kept me coming back here on every trip…always hoping that the magic would return for me.
There was a bright spot in 2018, but it was during my brunch at California Grill.  It was one of my favorite meals during my 2018 trip, however my dinner there was again less than stellar.  Therefore, I included brunch in my dining plans for 2019 and also (for various reasons) made a dinner reservation there (180 days in advance).  First, and probably my most important reason for doing this, was that my son had requested it.  It was previously his favorite place at Disney World to have steak.  Add in the facts that we were staying right there at the Contemporary Resort and were on the Disney Dining Plan and it just seemed like the thing to do.
But speaking of the Dining Plan, we had just 2 Table Service credits left in our account for the first part of our back-to-back room reservations at the Contemporary.  We had until midnight to use or lose these last 2 credits before our account was reset with the dining credits from the second part of our reservations being added.  With California Grill being one of Disney's signature restaurants, a meal there requires 2 Dining credits.  This was perfect though because I was not hungry enough to have my own entree and dessert.  So with the addition of a couple of appetizers that I wanted to try anyway (and that I paid for out-of-pocket), it ended up being more than enough food for the two of us.
That's it for the background information, so let's move on to our 9:05 dinner on Friday, November 1, 2019 at California Grill.  With it being a Friday night and with the last Halloween party being held at Magic Kingdom that evening (which means the last time that the special Halloween fireworks would be shown for the season), California Grill was a very popular place to be.  While it's usually always a busy restaurant, on this night it seemed extra busy, but thankfully we were still seated by 9:15.
First came the complimentary bread service which consisted of sourdough bread…
Along with some dipping oil that had sun-dried tomatoes, chives, and spices…
When California Grill reopened after their 2013 remodeling project they served a lavender focaccia that I really didn't like at first but eventually got used to.  Then they changed to this sourdough bread and dipping oil in 2018 and I liked the change.  However, it is very similar now (if not the same) as the sourdough bread that is served at another of Disney's signature restaurants, Narcoossee's.  However, I didn't get to dine at Narcoossee's on this trip, so perhaps they have changed their bread to something else.
Anyway, we munched on the bread and oil while we looked over the menu…
But first we had to decide on our drinks.  Since Andrew was using our Dining Plan credits he was entitled to an alcoholic beverage.  He was wanting to get the same cocktail that he had enjoyed the last time he dined here, which was on his 21st birthday in 2016.  I was surprised to see though that it was no longer on their cocktail menu, as it had been one of their signature cocktails since they reopened after the 2013 remodel.  I'd had this drink several times since then, as it was a sweet, fruity cocktail that I enjoyed.  The last time I'd had it though may have been during Andrew's birthday dinner in 2016, when the three of us (including my daughter, Emily) all got a…
Twisted Mai Tais – Mount Gay Rum, Crème de Noyaux (an almond-flavored crème liqueur), Orange Juice, and Pineapple Juice with a splash of Lime – $9.75 (from our December 2016 dinner)
But now the Twisted Mai Tai had been replaced by a different one…
San Francisco Mai Tai – Captain Morgan Spiced Rum, Almond Orgeat Syrup, Orange and Pineapple Juices, Gosling's Black Seal Rum Floater – $15.00
So the new Mai Tai still included orange and pineapple juices but the Mount Gay Rum had been replaced by a cheaper rum, Captain Morgan spiced rum.  Also the Crème de Noyaux almond flavored creme liqueur had been replaced by just almond flavored syrup.  There was a Gosling's Black Seal Rum Floater on top, which added some value to the new mai tai, and also gave it a darker appearance.   But even though the new Mai Tai was being served in the same glass as the old one and they seemed to be using less expensive ingredients, the price had gone up from $9.75 to $15.00.  Wow!  Thankfully he was eating and drinking on the Disney Dining Plan that night so it helped make the more than 50% price increase a little more tolerable.
As far as how it tasted, he said it was good but he actually preferred the old version, as spiced rum is not really his rum of choice.
Since I was not using Dining Plan credits, I opted for a non-alcoholic beverage…
My Ice Tea was good and there were free refills.  But I always forget how much I like the water at California Grill (it's ultra filtered I think) and would have been just as satisfied drinking the water for free and saving the $4.29 (plus tax & tip) that I paid for the tea.
Moving on to our food now.  There were a few things on this menu that I was interested in.   One of these was under the first section, "Artisanal Hand-formed Pizzas from the Wood-burning Oven"…
So I have not much luck lately with the flatbreads or pizzas at California Grill.  On my last visit I tried the Pepperoni pizza and didn't like it.  But I decided to give them one more chance when I saw this pizza on the menu…
Black Mission Fig and Prosciutto Pizza with Fig Jam, Fig Balsamic Vinegar, Fonduta (a cheese fondue sauce made with Fontina cheese), Point Reyes Blue Cheese, and Arugula – $21.00
With the exception of the arugula (which is just ok), I really like all of the ingredients of this pizza so I thought this was sure to be a hit for me.  However, though it was not a miss, it wasn't really a hit either.   I didn't like that the prosciutto was placed on the pizza after it had been sliced, which made it very difficult to eat.  I did though like the crust, as it was nice and crispy.  Overall the flavors were good, although the blue cheese definitely dominated.  That was okay for me, as I love blue cheese, but not for Andrew.  He tried a slice but didn't like it because of the strong blue cheese flavor.  So overall, though it was better than any of the flatbreads and pizzas that I've had at California Grill in recent years, it still wasn't as good as I'd hoped.
I also ordered a salad but asked our server to wait and bring it with Andrew's entree.  I was between the Heirloom Apple Salad and the Heirloom Tomato and Burrata Salad…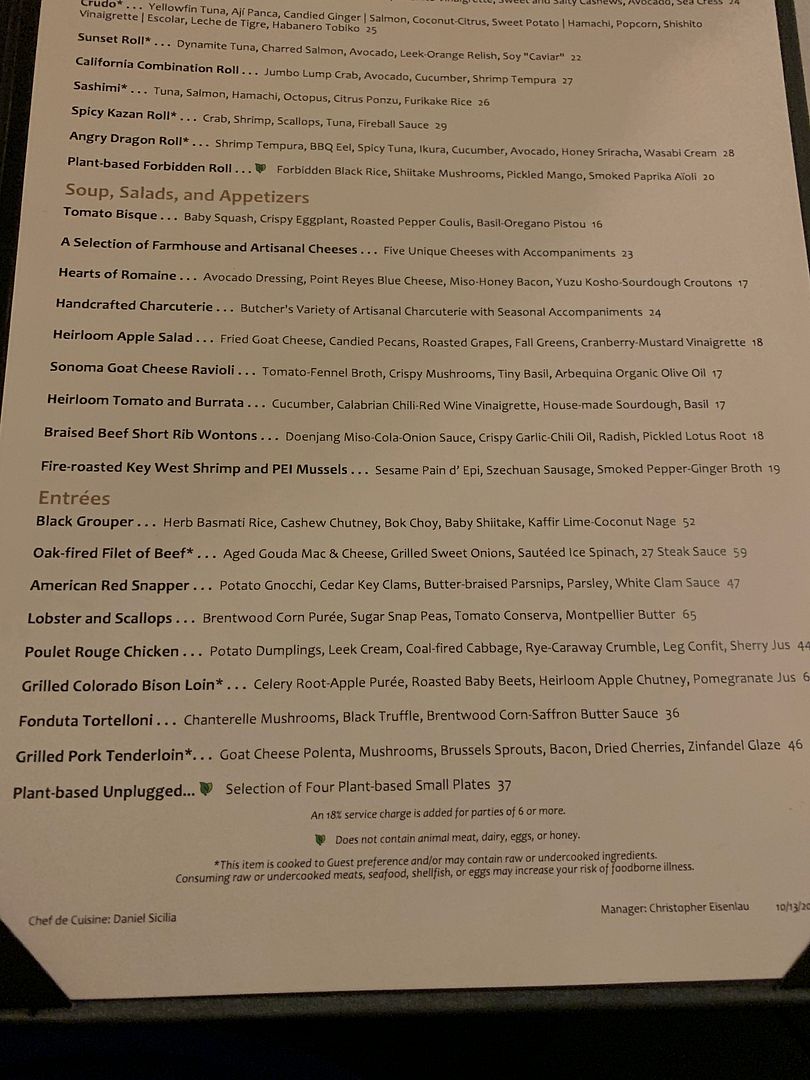 I decided against the Apple salad though because I was a little leery about its Cranberry-Mustard Vinaigrette, as I'm generally not a fan of mustard-based sauces, etc.  So I ordered the…
Heirloom Tomato and Burrata Salad with Cucumber, Calabrian Chili-Red Wine Vinaigrette, House-made Sourdough, Basil – $17.00
Starting with the two main ingredients, the tomatoes were not very flavorful and the burrata cheese tasted a bit off.  However, the worst part of this salad was the abundance of sourdough mini-croutons.  Since it didn't specify in the description that the house-made sourdough came in the form of croutons, I wasn't expecting them.  I don't mind a few croutons placed on top of my lettuce salad but there were a large amount of these mini-croutons mixed in with the other ingredients.  In my opinion, they in no way complemented this salad, in fact they actually ruined it for me.
Andrew, of course, ordered the steak (cooked to medium temperature) for his entree…
Oak-fired Filet of Beef served with Aged Gouda Mac & Cheese, Grilled Sweet Onions, Sauteed Ice Spinach, and 27 Steak Sauce – $59.00
After taking my photos, he cut into his filet and it was pretty rare (red).  I could tell by his face that he didn't want to complain but that he was not happy with it.  So this is when mom took over, as I feel that if they are going to charge $59 for a steak, they should be able to cook it to the customer's preferred temperature.  I spotted our server nearby and motioned for her to come over to our table.  We showed her the very red interior of Andrew's steak and she apologized and took his plate back to the kitchen.  Since it was almost time for the fireworks, which we wanted to go outside and watch, I asked our server to not bring the steak back until we had returned to our table.
And so we headed outside to the observation deck to see the 10:15 fireworks show from the Halloween party at Magic Kingdom…
However we soon discovered that it had gotten cold outside and decided to return to our table and watch the fireworks from there.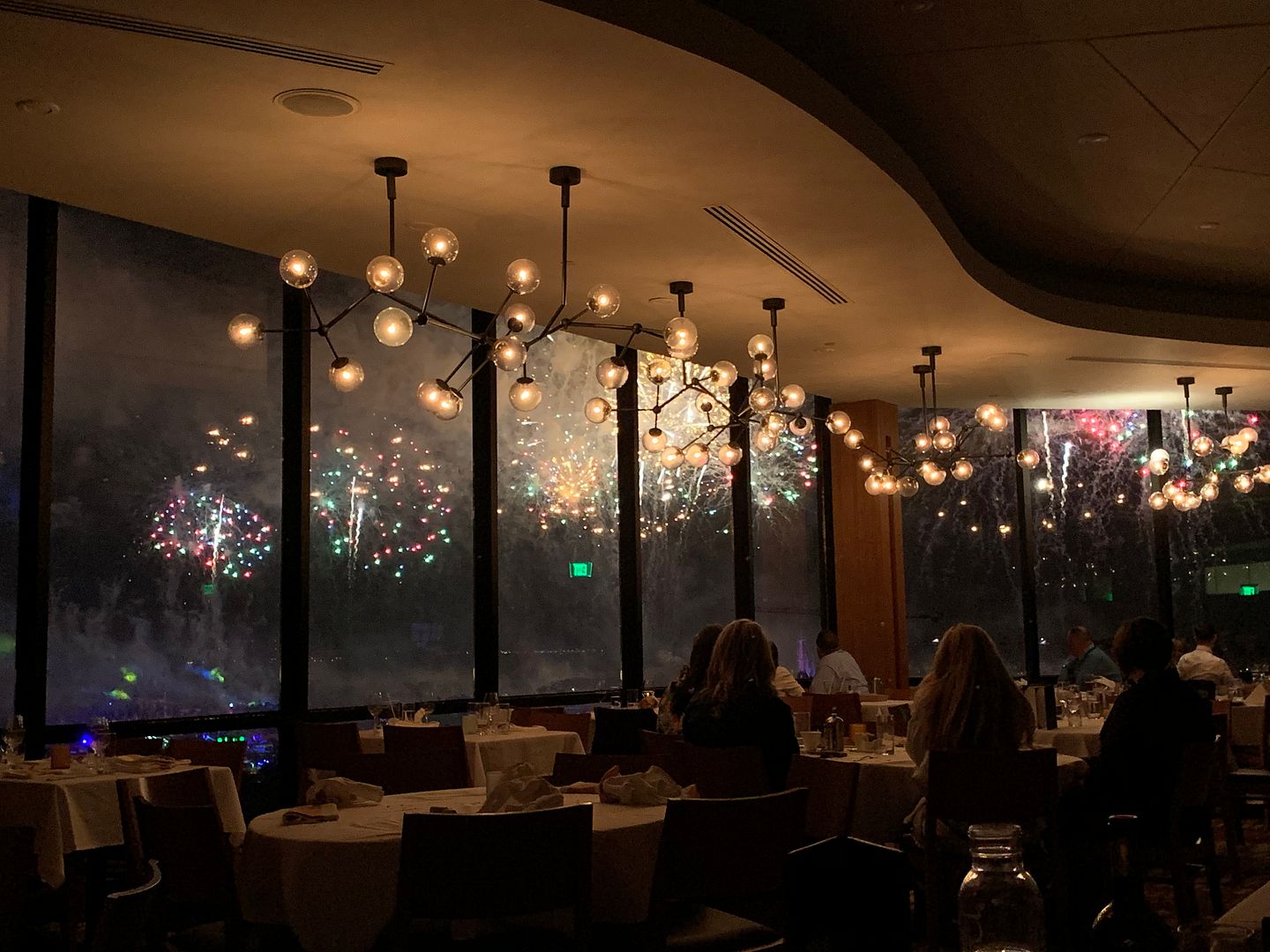 Though our table was not by a window, the view was fine and we enjoyed the show more now that we were warm again.
Now back to our meal.  Andrew's plate was returned to the table with a new (uncut) steak on it, and thankfully this time it was cooked to his requested medium temperature.  Is it just me or does it seem like Disney chefs have a hard time cooking their steaks to the requested temperature?
This has happened to me frequently at Disney restaurants, usually with my steak being undercooked but I have also had it overcooked.  It seems to happen more often there than at local steak restaurants, such as Outback where the steaks are much less expensive.
But anyway, the second time around they got it right with Andrew's steak and he said it was tender and well-seasoned.  However, he would have another steak later on in this trip that was even better than this one.  So stay tuned.
Regarding his side dish, we disagreed.  I tasted his mac & cheese and thought the pasta was too al dente but he thought it was fine.
By this time it was getting close to 11:00 and we were tired, having gotten up very early that morning for Extra, Extra Magic Hours.  Had Andrew not been using Disney Dining Plan credits we probably would have called it a night at this point.  But since dessert was an included part of his meal with the Dining Plan, we found ourselves looking over this menu and trying to decide what dessert to order and share…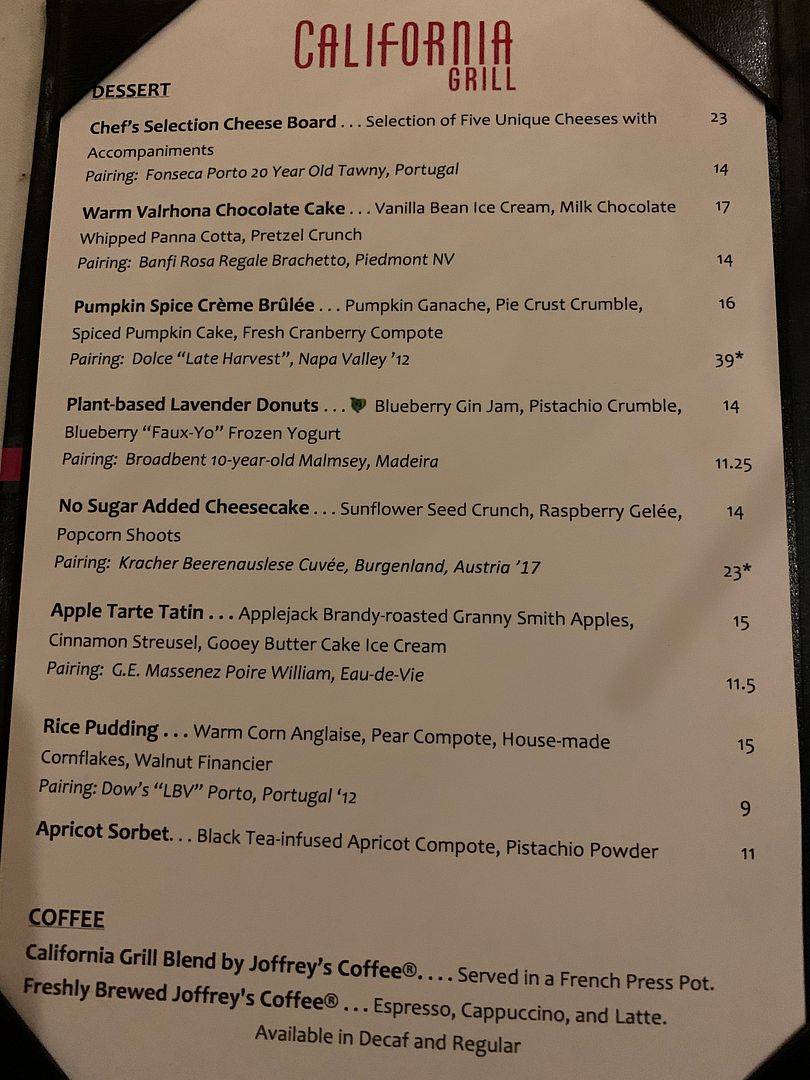 Though we both really like creme brulee, we weren't too excited about the pumpkin flavored one that they were currently offering.  So after some further negotiation, we decided on this dessert…
Warm Valrhona Chocolate Cake with Vanilla Bean Ice Cream, Milk Chocolate Whipped Panna Cotta, and Pretzel Crunch – $17.00
And from another angle…
The warm, chocolate lava cake was filled with a liquid chocolate center, plus the whipped panna cotta had a milk chocolate flavor.  There was lots of chocolate going on here, so it was good to have the vanilla ice cream with it to offer some contrast.
And FYI, this dessert has been on their menu for at least a few years now, as I had it in 2017.  It looked and tasted the same then as now…
The only difference was the price, as it cost only $14.00 then (or $3 less).  Yikes!  For chocolate lovers this is a good choice though if you are on the Disney Dining Plan, but I'm not sure that it's worth $17.00 if paying for it out-of-pocket.  I guess it depends on how badly you are in need of a chocolate fix, lol.
So at about 11:15 we got our bill.  Well actually we got 3 bills.  The first was a combined bill for everything we had both ordered.  Then we each had a separate bill.  Andrew's included everything that was covered by our 2 Dining Plan credits…the Mai Tai, Steak, and dessert.  The total for this bill was $96.92, all covered by the Dining Plan.  I paid for only the gratuity on his bill.  Then my bill was for everything I ordered that was not included with the Dining Plan…pizza, salad, and iced tea.  This total came to $45.04 plus gratuity.  Now I was really tired by this point and completely forgot that I could have received a 10% discount on my bill (or about $4) if I'd told them I was an Annual Passholder.
Oh well.
  Not too costly of an error, but wanted to mention it so that you can learn from my mistake.  In addition to Tables of Wonderland members (who get a 20% discount at most of the table service restaurants at Disney World), many restaurants also give a 10% discount (on everything but alcoholic beverages) to Annual Passholders and DVC members.  Some restaurants, although not California Grill, will even give you a 10% discount if you pay with a Chase Disney VISA credit card.  So it pays to ask.
And that just leaves the ratings and rankings.  Yelp reviewers gave California Grill 4 stars. Those on Trip Advisor gave it 4 1/2 stars and ranked it #132 of the nearly 2500 Orlando area restaurants reviewed there.  Narrowing it down to just the nearly 300 restaurants in the the Disney World area, California Grill ranks #40.  As for my opinion, this dinner did not do much to change it.  While Andrew's steak was good, it took them two times to get it right.  The dessert was also good, but at $17 it was way overpriced.  The pizza was okay, but  my salad was not good.   So overall the food was just slightly above average.  This along with just average service results in an pretty much average rating of 3 stars from me for this dinner. If it wasn't a signature restaurant with signature prices, I might be more inclined to rate it better since my expectations would be lower.  But I would have to now say that having dinner at California Grill is no longer a signature dining experience for me…it's lost its magic.  But brunch, on the other hand, is a different story.  A story that I will be happy to tell you later in my trip report, so stay tuned for that review.
2 Table Service Dining Plan Credits Used – $96.92 Value (or $48.46 per credit)