My first ever visit to Citricos was during my 25th Wedding Anniversary trip in 2010.  The food was just okay and the service was terrible.  After that visit I returned three times, in 2011, 2013, and 2014.  Though visit #2 was much like visit #1, the next two (including my last visit in October 2014) were great.  Although I had planned to return to Citricos sooner, something always came up and my plans changed.  So I was excited, after 4 years, to return to Citricos for visit #5.  With two bad experiences and two good experiences, this would be the visit to tip my Citricos scale either positively or negatively.  Which would it be??
I checked in a few minutes early for my 8:30 solo dinner reservation at Citricos.  I was told that they were running behind with their reservations so I might  have to wait a bit.  She suggested that I go next door to the Mizner's Lounge to have a drink while I waited.  Since I was dining that night with the Disney Dining Plan, which includes a cocktail, I declined the offer to have a cocktail at my own expense.  The weird thing though regarding this whole situation was that I had barely sat down on a chair in the restaurant's waiting area when I received a text on my phone (at 8:26) that my table was ready.  And this was only the beginning of the weirdness and awkwardness of this meal.  Though I had inquired at check in if the Magic Kingdom fireworks could be seen from any of the tables in their dining room and was told yes, I was seated as far away from the many windows as you could get.  Not a big deal though, except that my two-top table was located right next to the restaurant's busy walkway.
Most guests were led down this walkway to be seated at their table and would leave the dining room via that walkway.  This was also where their open kitchen is located…
Though initially I enjoyed watching the chefs at work, I soon realized that this was also where the servers picked up their orders so there was constant activity going in and out of this area.  Additionally there were three managers who often stood together here and talked among themselves.  Though I'm sure they were surveying the entire dining room, it felt like all 6 eyes were on me ( I was the closest table to them) as I was trying to take photos for my review.
And to make matters worse, my server kept popping up from behind me while I was taking photos of my food to ask if everything was ok…when I hadn't yet taken a bite!  Additionally he had a constant, nervous laugh that I found kind of creepy.  So all of this combined made for a rather uncomfortable dining experience.  I just wanted to get through this meal as quickly as possible and get out of there.
Which is sad because there were some things about this dinner which were very good, including my cocktail, chosen from this section of their menu…
I was told by my server that any wine, beer, cocktail, or cordial listed on their menu was eligible to order with the Dining Plan except for the two wines listed in the middle of this page.  Since these wines were $75 – $82 for a 1 oz. pour, I was not at all surprised that they were excluded.
I chose one of their Specialty Cocktails…
Citricos Golden Margarita with Don Julio Reposado Tequila, Grand Marnier and Fresh Lime Juice – $16.00
This was very good, one of the best margaritas I've had!  Oh, and it contained plenty of alcohol.
Thankfully the complimentary bread basket arrived at my table at about the same time so I had something to munch on to counter the effect of the alcohol, lol.
The goodness continued with my appetizer choice, chosen from the Appetizer section of their menu…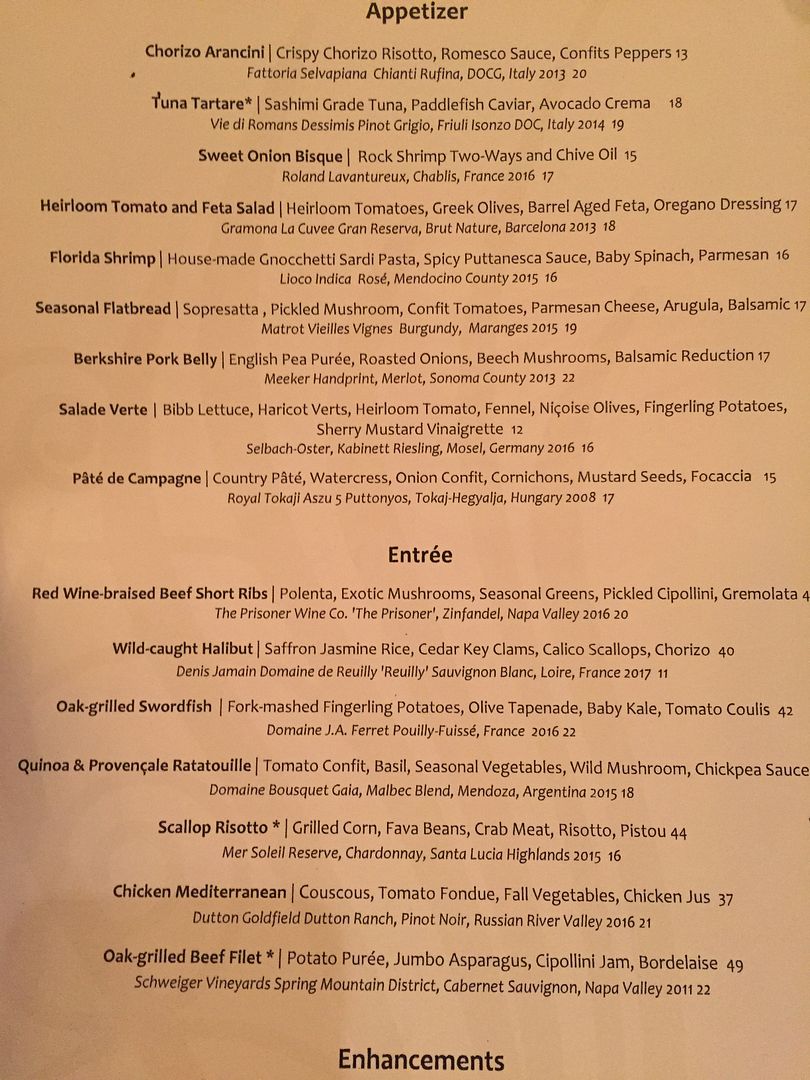 I had originally planned to have the Shrimp & Pasta appetizer but changed my mind and switched to something I thought would be a little lighter…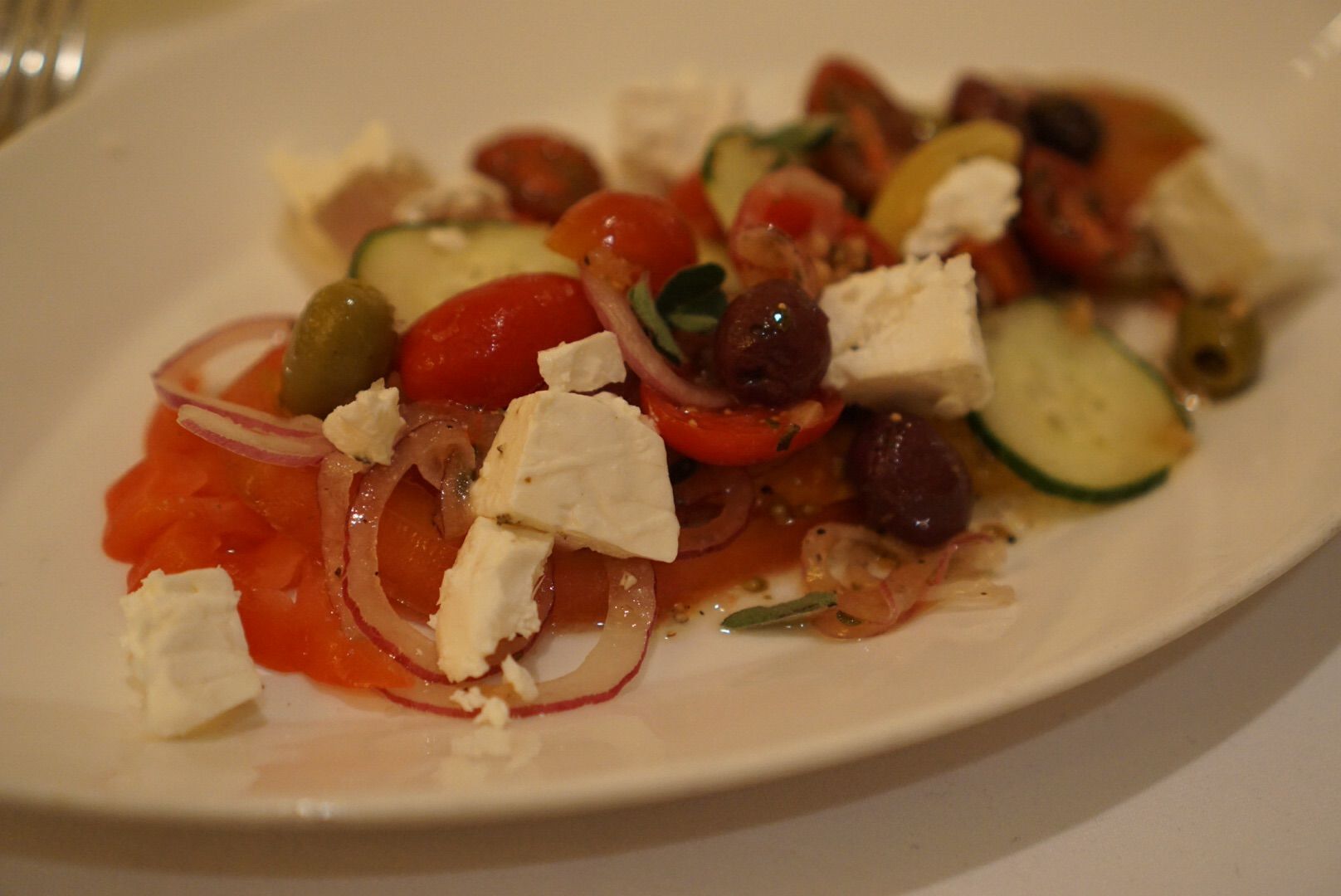 Heirloom Tomato and Feta Salad with Heirloom Tomatoes, Greek Olives, Barrel Aged Feta, and Oregano Dressing – $18.00 
And a closer view…
This had all of the typical ingredients of a Greek salad, including cucumber and red onion slices, Kalamata (and green) olives, and feta cheese.  These along with fresh, ripe Heirloom tomatoes made for a delicious salad.  Though at $18.00 I thought this salad (without meat or seafood) was way overpriced, being on the Dining Plan allowed me to enjoy it without any guilt.
So I was feeling pretty good about my choices so far, but would my luck continue with my entrée?…
For my entrée, I chose the…
Oak-grilled Beef Filet served with Potato Puree, Jumbo Asparagus, Cipollini Jam, and Bordelaise – $49.00
And a second and third look…
I ordered my filet cooked to a medium temperature but when I cut into it it looked more like something between rare and medium rare to me…
What do you think?  I saw this post on Instagram recently and thought it was funny…
It baffles me how most of the restaurants (especially the signature restaurants) at Disney have such a hard time getting filets cooked to my requested medium temperature.  Most often it is not cooked enough but occasionally I've had it served at the "Block" well-done temperature.  I don't ever recall having a problem with my filets at Outback Steakhouse, lol.
But anyway, I decided immediately that I would not send it back for more time on the grill as I didn't want to delay my meal (for the reasons that I've already explained).  Though my filet was very tender, in addition to the wrong temperature, it was lacking in flavor.  I thought it needed more seasoning or perhaps more of the bordelaise sauce, which was good.  As for the side dishes, the potatoes were pureed so in consistency they were similar to the pasty ones I had the night before at Narcoossee's.  However they were a bit better here because they were not over-salted like the Narcoosee's potatoes.  But my preference is still mashed potatoes that are whipped to a fluffy consistency and then buttered, salted (but not over-salted) and peppered.  No more pureed potatoes please!  As for the asparagus, like the filet they could have used a little more cooking time.  This asparagus was definitely al dente, which is probably perfect for some but not for me.
And that just leaves dessert, chosen from this menu…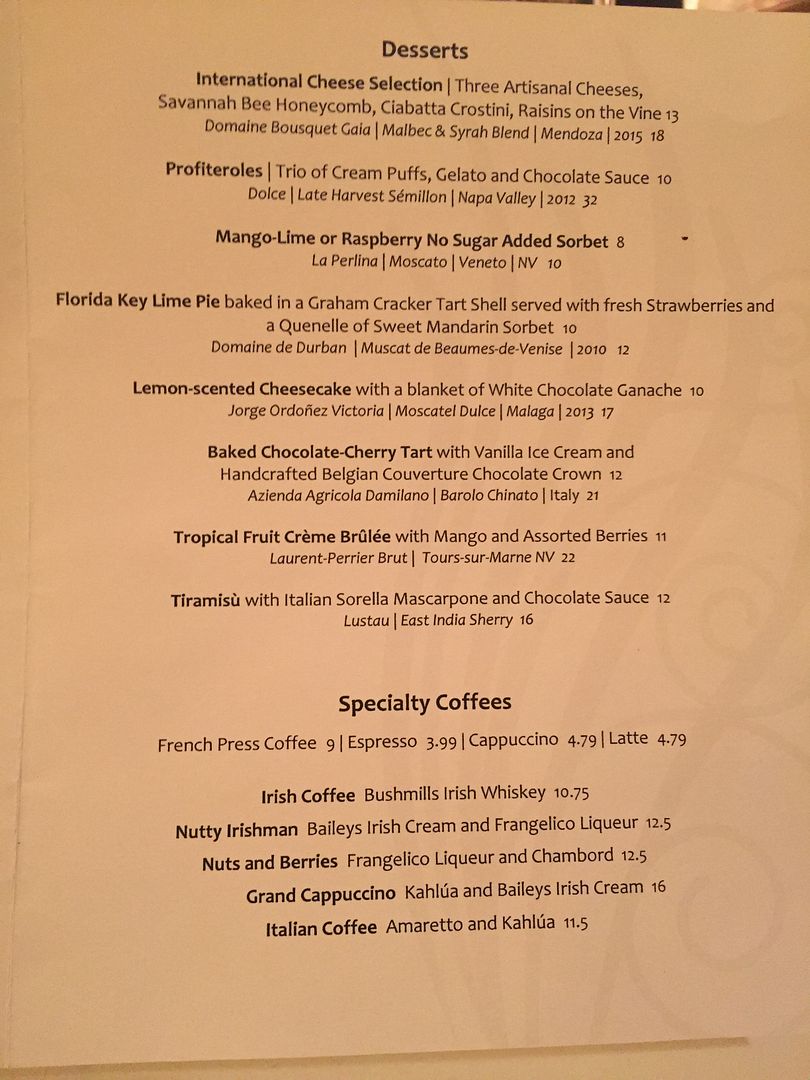 I had originally intended to order the Chocolate Tart with the fancy chocolate crown, just like I had on most of my previous visits to Citricos.
The only change to this dessert since I first had it about 7 or 8 years ago is that instead of it being banana and chocolate, it was now cherry and chocolate.  The change in fruit was not a deal breaker for me, but when it came time for me to order dessert I just wasn't feeling it.
Instead I decided to order something else…
Profiteroles – A Trio of Cream Puffs filled with three different flavors of gelato and topped with chocolate sauce – $10.00
Closer…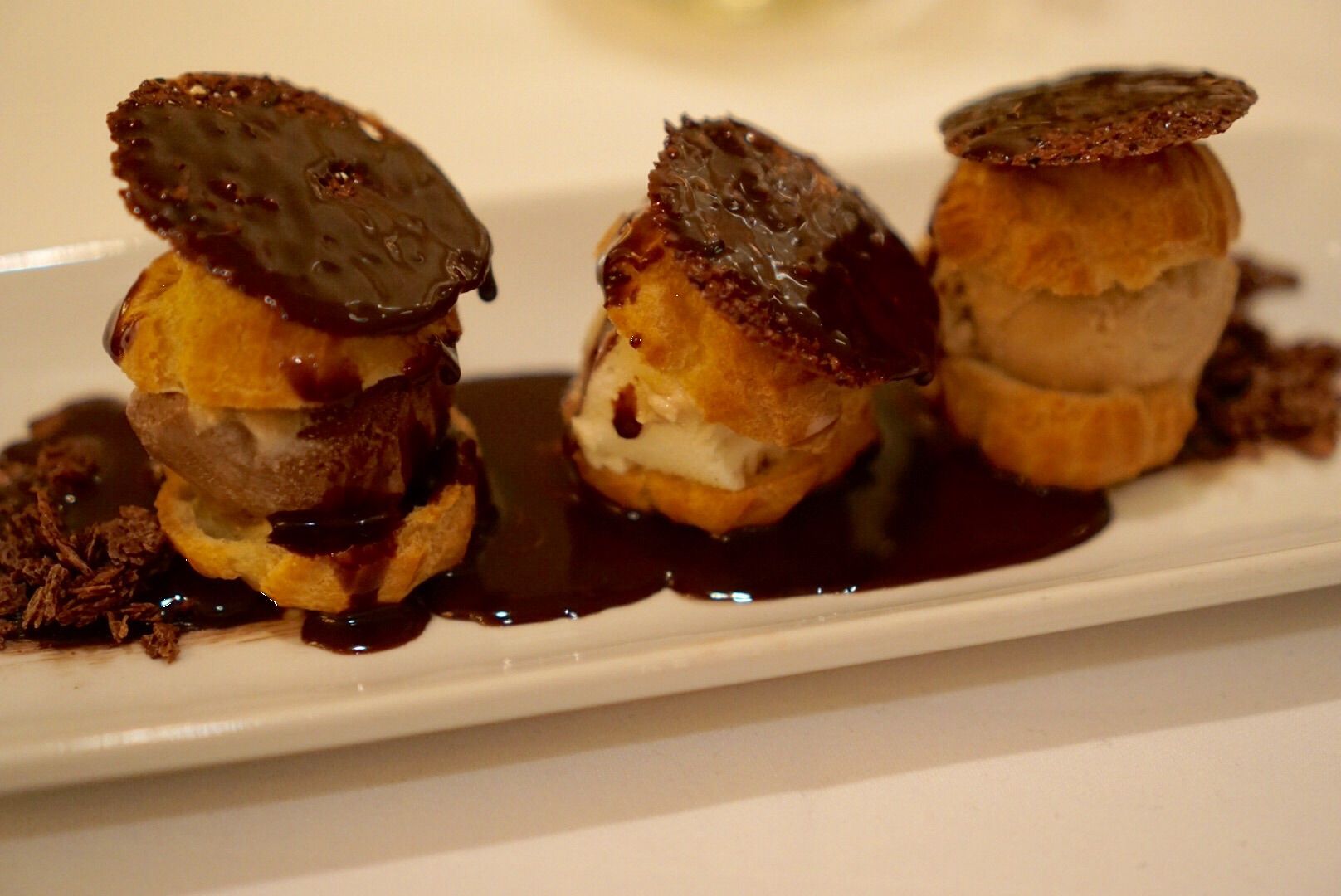 And from another angle…
At the time this was a new dessert that had taken the place of the Tasting of Gelato dessert, which was actually still listed on their online menu.  It was the three gelatos (From left to right: Double Chocolate, Italian Vanilla Bean, and Mocha Espresso) that were the best part of this dessert.  The chocolate sauce, served warm, was poured over the profiterole by my server when it was brought to my table.  It too was also tasty.  The problem though was with the profiterole (cream puffs) themselves, as unfortunately they tasted kind of stale.  And though the chocolate tops (lids) looked pretty cool, they tasted like they weren't meant to be eaten.  
I have one more bonus photo of the Kids Menu that I took on my way out of the restaurant…
Now for the ratings and rankings.  Though my cocktail and salad were very good, the entrée and dessert courses were disappointing.  Also the weird vibe that I felt throughout this meal was rather off-putting.  Therefore this meal rates only a 3 to 3 1/2 for me.  Reviewers on Yelp though gave Citricos 4 stars and it received 4 1/2 stars on Trip Advisor.  Also on Trip Advisor Citricos ranks #112 of the nearly 3,000 Orlando area restaurants reviewed there.  Narrowing down to just the (approx.) 275 Disney World area restaurants, Citricos ranks #43 on Trip Advisor.
Last let's crunch the Disney Dining Plan numbers…
Deluxe Dining Plan Credits Used – 2
Cost of my Meal had I paid Out of Pocket – $99.32 (or $49.66 per credit)