For the final dinner of our trip I chose a restaurant where, during my last visit there in November 2018, I had had a really good steak. When you think about bluezoo you usually think "seafood" but I actually chose this restaurant because of there "turf" rather than their "surf". The last time I ate here I really enjoyed their filet. It was actually one of my favorite meals of that trip. I had chosen seafood on my two previous visits to bluezoo because that's what they are known for. While my seafood entrees were good, they really didn't "wow" me. So on my last visit I decided to "think outside the box" and was rewarded for doing so. Having gone to Shula's for my birthday dinner earlier in this trip and being disappointed with our steak, I decided to give the Swan & Dolphin restaurants a shot at redemption and made a reservation at bluezoo for our final dinner.
We checked in on time for our 7:45 reservation and they attempted to seat us in the lounge. We sat at the table for a few minutes and then I decided that I really wanted Andrew to see their beautiful dining room, as this was his first time at bluezoo. So I asked if we could be moved and they accommodated my request.
And so here are some photos of the bluezoo dining room…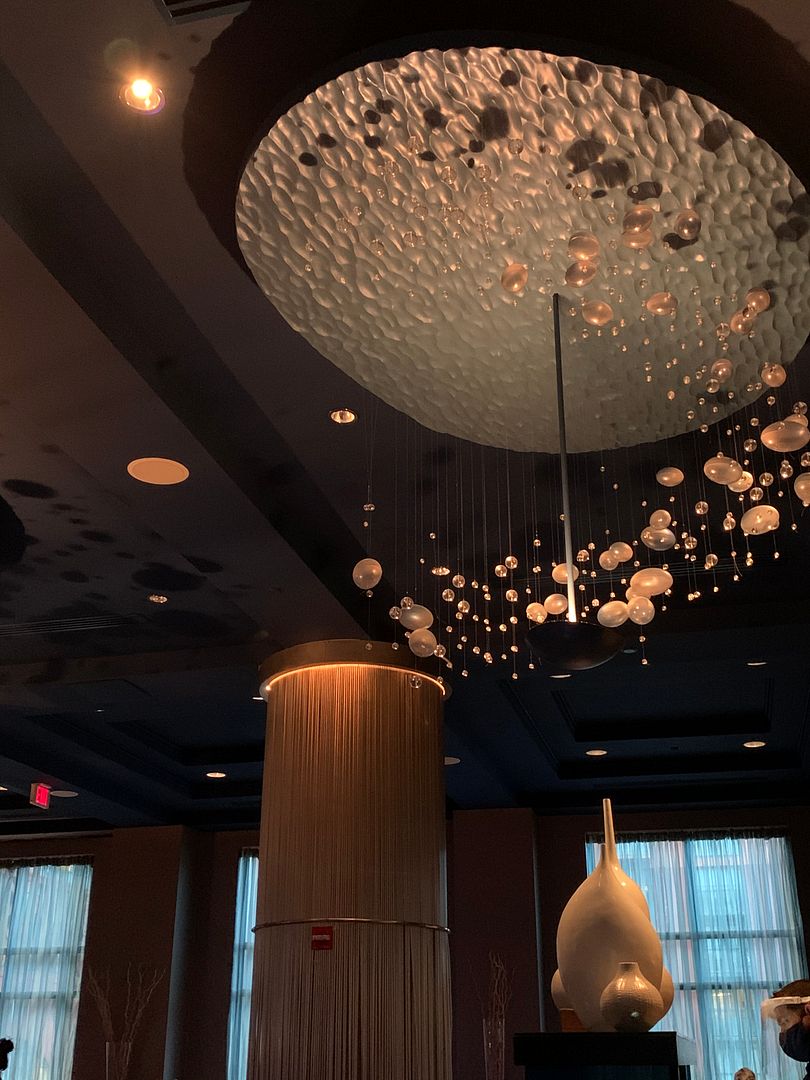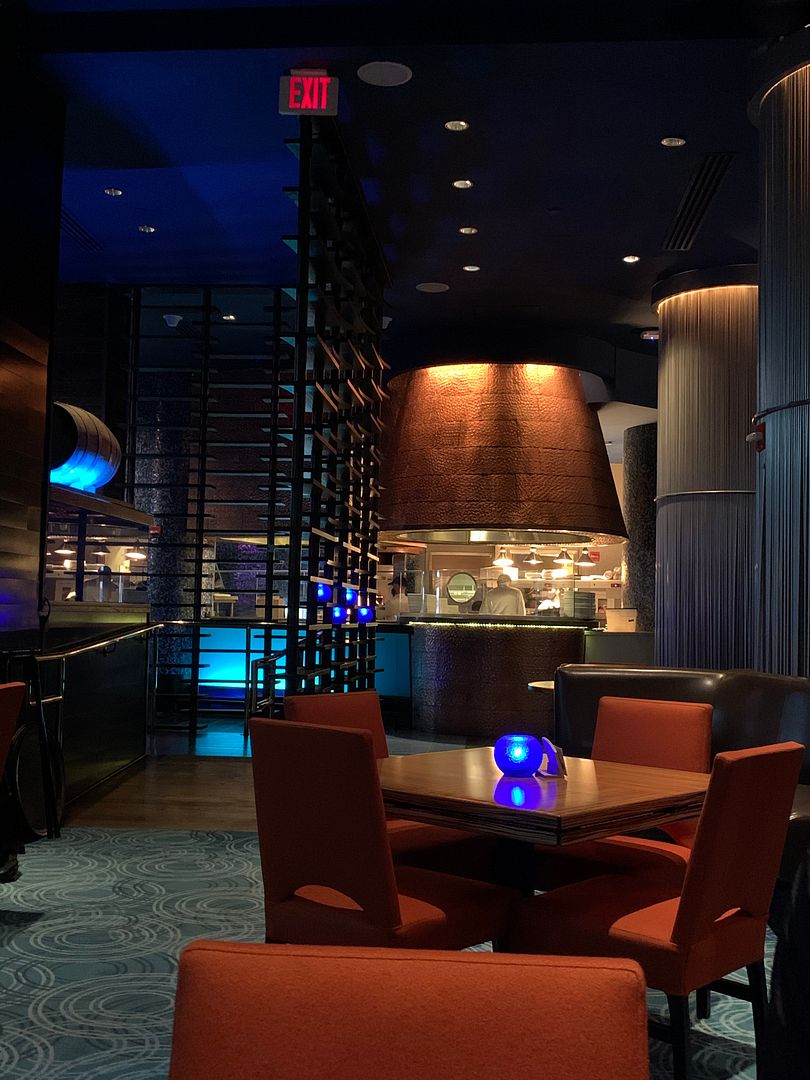 We both started with a cocktail from Specialty Cocktails menu…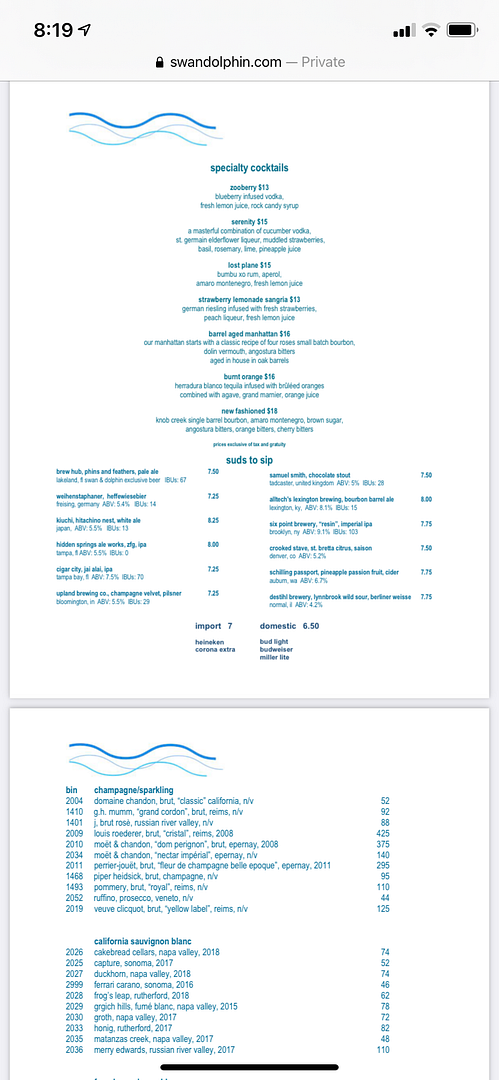 Andrew chose the…
Strawberry Lemonade Smoking Sangria – German Riesling  infused with fresh strawberries, peach liqueur, and fresh lemon juice – $13.00
The dry ice "smoking" effect was fun and the drink tasted like a sweet, strawberry lemonade.  If you like sweet, fruity drinks then this is a winner.  Although I will note that for $13.00 the portion size seemed a bit small but maybe it was just the glass.
I have had their signature cocktail, the Zooberry, before but I wanted to try something different.  So I ordered the…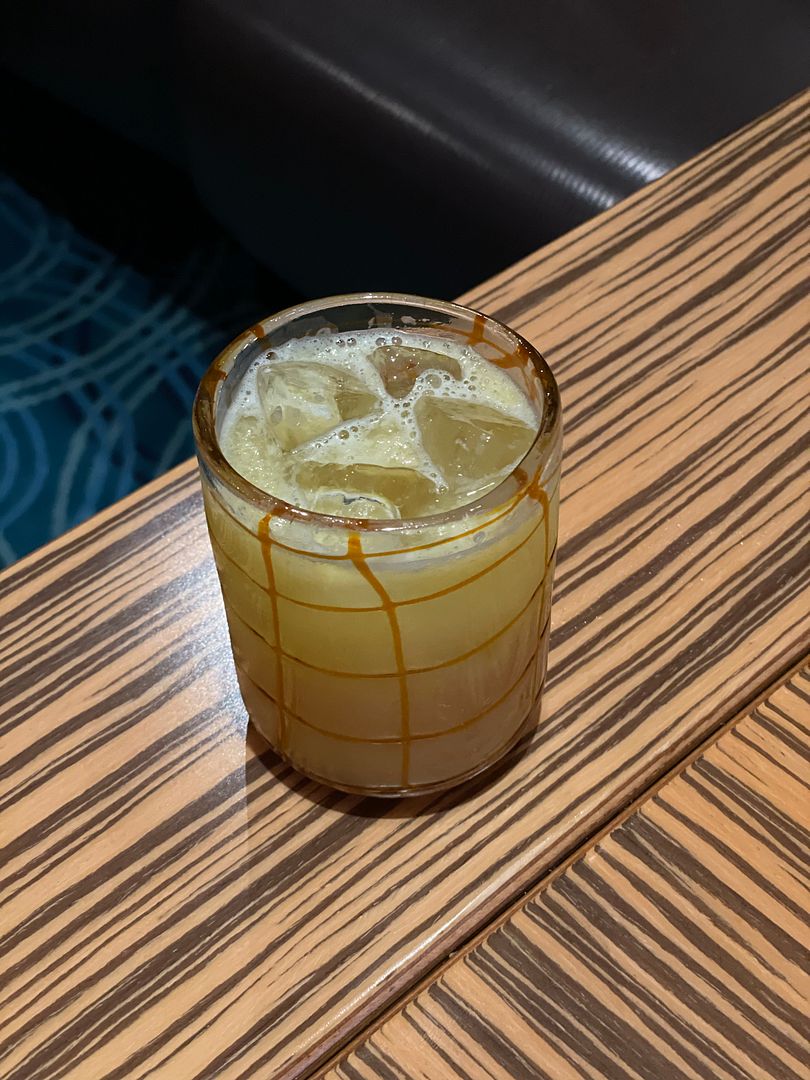 Burnt Orange – Herradura Blanco Tequila infused with bruleed (burnt) oranges combined with agave, grand marnier, and orange juice – $16.00
This had a super strong orange flavor and had a generous amount of tequila.  So for me this was a sipping drink until the ice melted enough to calm the intense flavors.  
Next came the complimentary bread basket…
There was some ciabatta, some onion bread, crisp garlic herb flatbread (lavash) and butter with fennel.
Knowing that Andrew is not a fan of seafood, I made the sacrifice and recommended that he order the…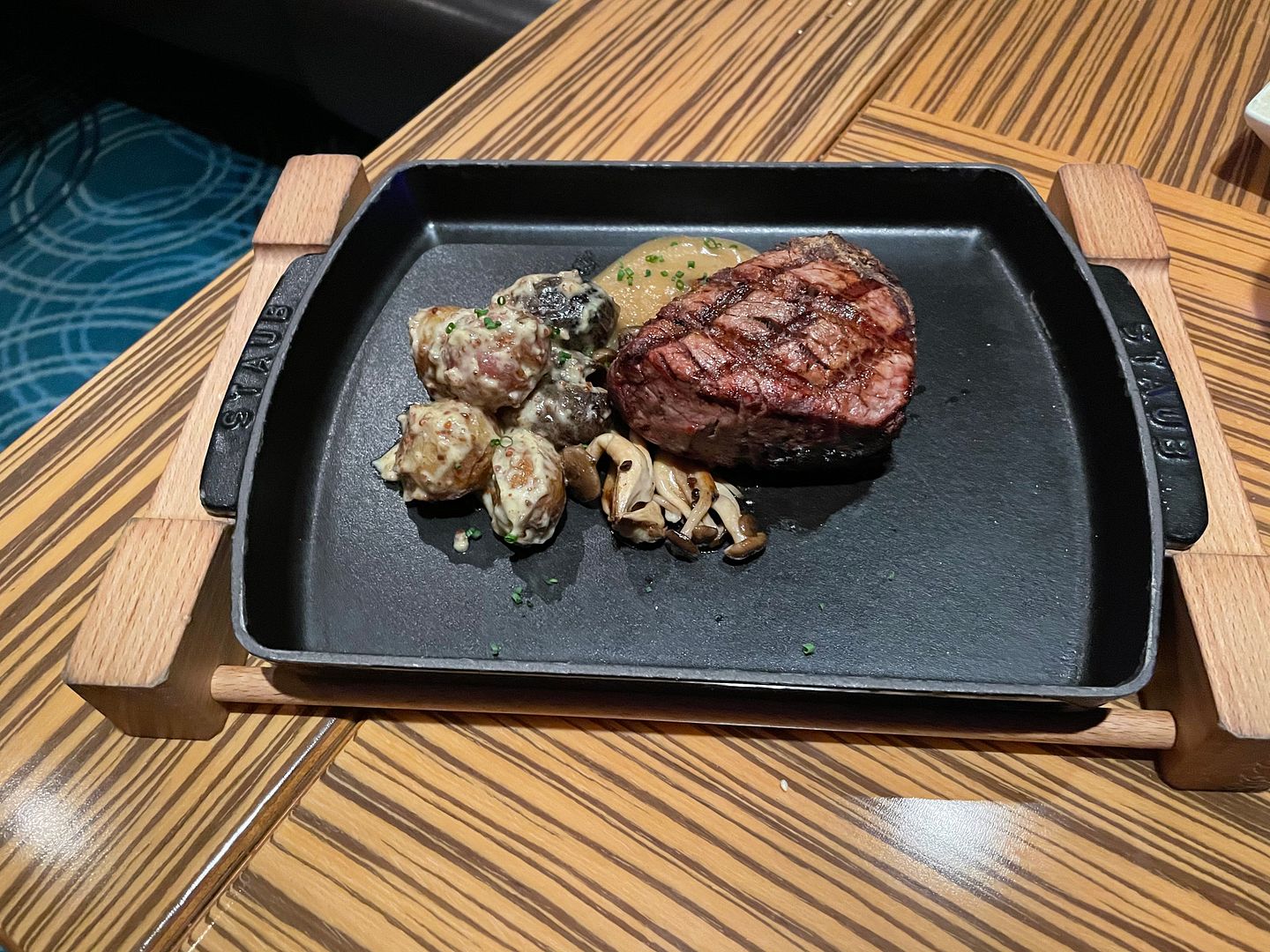 Angus Beef Filet served with Roasted Potatoes, Field Mushrooms, Sautéed Onion, and Truffle Porcini Sauce – $52.00
This was properly cooked to his requested temperature, which is often an issue for some reason at Disney World restaurants.  I was not at all surprised that he enjoyed this more than our filet at Shula's.  
As for me, I had thoughts of trying one of the three flatbreads on their menu, as they all sounded good, but ultimately decided to have their burger since I hadn't gotten to have one at Big River Grille for lunch earlier that day.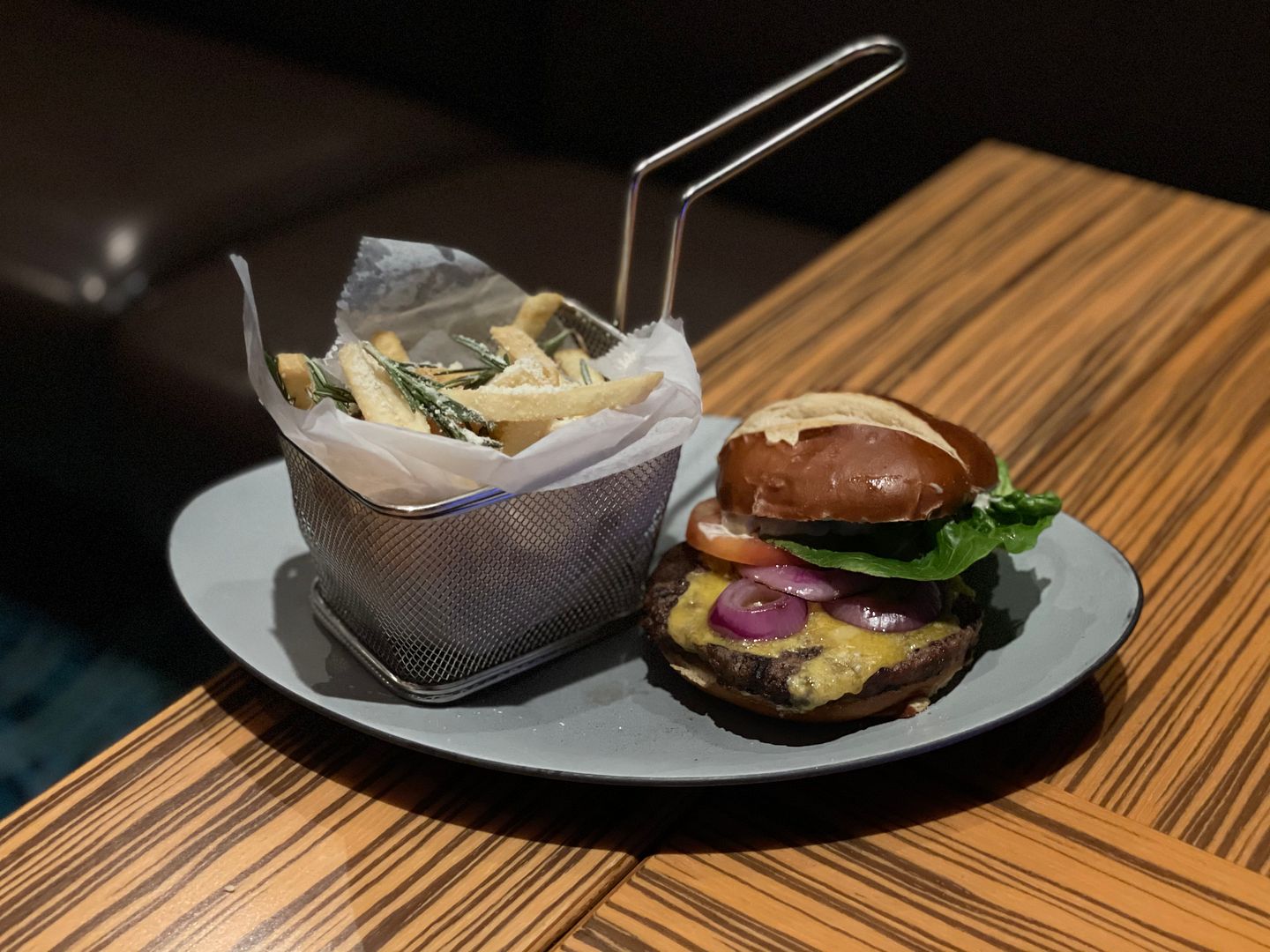 Bluezoo Burger – Grilled Angus Beef Patty topped with Tillamook Cheddar Cheese, Grilled Red Onion, Lettuce, Tomato and Bluezoo Secret Sauce on a Pretzel Bun – $18.00
I'm not a big fan of pretzel buns with burgers but it did hold up well to the saucy, cheesy burger, which is a plus.  The bun served with my burger at Ale & Compass quickly disintegrated during our dinner there two nights earlier so I appreciated that the pretzel bun held its ground.  Unfortunately though I was still too full from my No Way Jose sundae (eaten more than 4 hours earlier) to give this burger a fair shake.  But I will say that it was better than the other burger I had on this trip, the one at Ale & Compass.  
Also, the burger normally comes with their regular fries but I opted to substitute them for their Shake & Bake Fries for an extra $4.00 charge…
Shake & Bake Fries with Roasted Garlic, Grated Parmesan Cheese, and Rosemary (normally $10.00)
While the flavor of these fries was good, they were not quite as crispy as I would have liked. In my opinion, they could have been left in the fryer a little longer. Also the fresh uncut rosemary leaves seemed a little odd to me. I guess it made it easy to push the sprigs aside, as I'm not really a fan of that herb.
Yelp reviewers rate bluezoo 3 1/2 stars and those on TripAdvisor rate it 4 1/2 stars. I would probably split the difference and give bluezoo a rating of 4. As for its ranking, bluezoo ranks #121 of the 2450 Orlando area restaurants reviewed there, so in the top 5%,