Over 3 days of my 2018 trip to Disney World I visited a total of 12 out of the 40+ Epcot Food and Wine Festival booths.  On my first day I was on the Deluxe Disney Dining Plan so I was using snack credits to purchase my choices.  In order to maximize the value of those credits I chose some of the festival's most expensive food items.
I used 4 of my 6 total snack credits at the Epcot Food & Wine Festival booths.  I started my noshing at about 10:45 a.m.  Though the official opening time for World Showcase and the festival booths is 11:00, several of the booths were already open at 10:45, including my first destination…
This was the only time of the many times that I passed by this always popular booth that there was no line so I was quite happy.  I of course used my first snack credit on their $8.00 Le Cellier Wild Mushroom Beef Filet Mignon with Truffle-Butter Sauce…
A little closer look…
This was delicious!  I've had this a few times before but this filet was by far the best I've had from the Canada booth.  It could be because I visited the booth early so it was fresh off the grill.  Or it could be because I wasn't paying the $8.00 out of pocket for it.  Or it could be that it was cooked to my preferred temperature of medium/medium-well…
But regardless of the reason, I found my first taste from the 2018 festival to also be my favorite one.   It was a good quality (lean but tender), well-cooked piece of beef served with a very tasty truffle-butter sauce and delicious sautéed mushrooms.  Though its $8 price seems high for a booth snack, when you compare it to the $59 that is charged for the larger filet (with mushroom risotto) that is served inside at Le Cellier's restaurant it seems like a pretty good deal to me.  And of course, it was an excellent use of a Dining Plan snack credit!
Moving on to my second snack credit choice, which was another $8.00 item, this one from the Greece booth…
From Greece I tried the Taste of Greece…
And a closer look…
From left to right: Chicken Souvlaki, Lamb Sausage with a Dill Tomato Ragu, and Warm Pita Bread topped with Feta Cheese Dip
On a side note here, as I was going through the line waiting on my food, the girl behind me asked that the tzatziki sauce be left off of her chicken.  Not only did they comply with her request, but they generously offered her a second skewer of chicken in place of the sauce (which she happily accepted).  Personally I think the chicken would have been rather boring without the tzatziki, but it was nice gesture to someone who didn't want (or perhaps had an allergy to?) the sauce.
Another note is that the CMs were discussing the change in the chips that were being served that day with the Loaded Nachos.  While previously they had been pita chips (which is what they were when I had the nachos last year)…
…they were now serving what looked more like tortilla chips.  They weren't sure if this was just a temporary replacement or permanent.  I was glad though that I hadn't ordered the Loaded Nachos (which I had really enjoyed last year), as I liked the pita chips and would have probably been disappointed with the change.
Okay, now for my review of the Taste of Greece.  Overall the trio was pretty good.  My least favorite of the three was the Lamb Meatball.  It's been a few years since I've had it, but I remember the similar Lamb Meatball that is served at the New Zealand booth as being better.  I wasn't wild about the dill-tomato sauce.  It was just okay.  I love feta cheese so I really liked the feta cheese dip.  My only complaint with this item was that the pita bread was cold instead of warm, as described on the menu.  Interestingly, the feta cheese dip & pita was the only holdover from the 2017 Taste of Greece trio. The other two items (Stuffed Grape Leaves with Lemon Dill Sauce and Grilled Octopus) had been replaced so they must not have gone over well.  One of the replacements, the Chicken Souvlaki (grilled chicken skewer covered with tzatziki sauce) was tasty and seemed to be a safer bet to please more people than the grilled octopus.  It will be interesting to see if they again tweak the Taste of Greece trio next year.  My vote would be to replace the lamb meatball, although it did add color to the trio and made the platter more photogenic.
For my third snack credit I visited the Hops & Barley booth (in the American pavilion area) for another $8.00 item…
My choice was the New England Lobster Roll…
And a closer look…
This was really good and another of my favorites from this year's festival.  There was a good amount of lobster and it was very tasty, especially with the herb mayonnaise.  The roll tasted fresh and buttery.  Overall a very good choice and a great use of a Dining Plan snack credit if you like lobster.
Also from this booth (but not DDP eligible) I tried the Angry Orchard Rose Hard Cider…
This cider was their recommended pairing with the lobster roll and I agreed with their choice.  The cold, slightly sweet cider went down quite well with my lobster roll.  A couple of weeks ago I picked up a 6 pack of this cider and tried it at home sans the lobster roll.  Sadly it didn't taste as good as I remembered.  I guess it was missing the "Disney magic".
On another day I returned to the Hops & Barley booth for one of my festival favorites from previous years…
Freshly Baked Carrot Cake with Cream Cheese Frosting – $4.00
A look inside…
This was again very good, although with that generous amount of frosting it was super sweet.  Not a problem for me, just a warning to those who don't have a sweet tooth.
Now moving on to the Italy booth where I used my 4th snack credit for yet another $8.00 item…
Fritto Misto: Crispy Shrimp, Zucchini and Sweet Potato Fries with a Spicy Sauce
This looked so good from every angle…
But sadly its taste was very disappointing.  There were about 8 or 9 small shrimp but of the 4 that I tried only one tasted okay.  The others tasted like old frozen shrimp that had been left in the freezer for too long.  The sweet potato fries (there was a whole pile of these on top) tasted okay but were soggy and limp, like they had sat under a warmer for too long.   So the only thing I liked was the fried zucchini sticks but sadly there were only two of them.  Because of its $8.00 price I suppose this was a good use of a snack credit in theory.  However, since about half of this went into the garbage I guess it was not a good choice for me.  But at least 3 out of my first 4 snack credits were used wisely, so I feel like I definitely got my money's worth.
On my next two visits to the Food & Wine Festival, I (along with a little help from my friends, Niki & Mike) managed to try offerings from 8 more of the booths.  The first of these was the Ireland booth…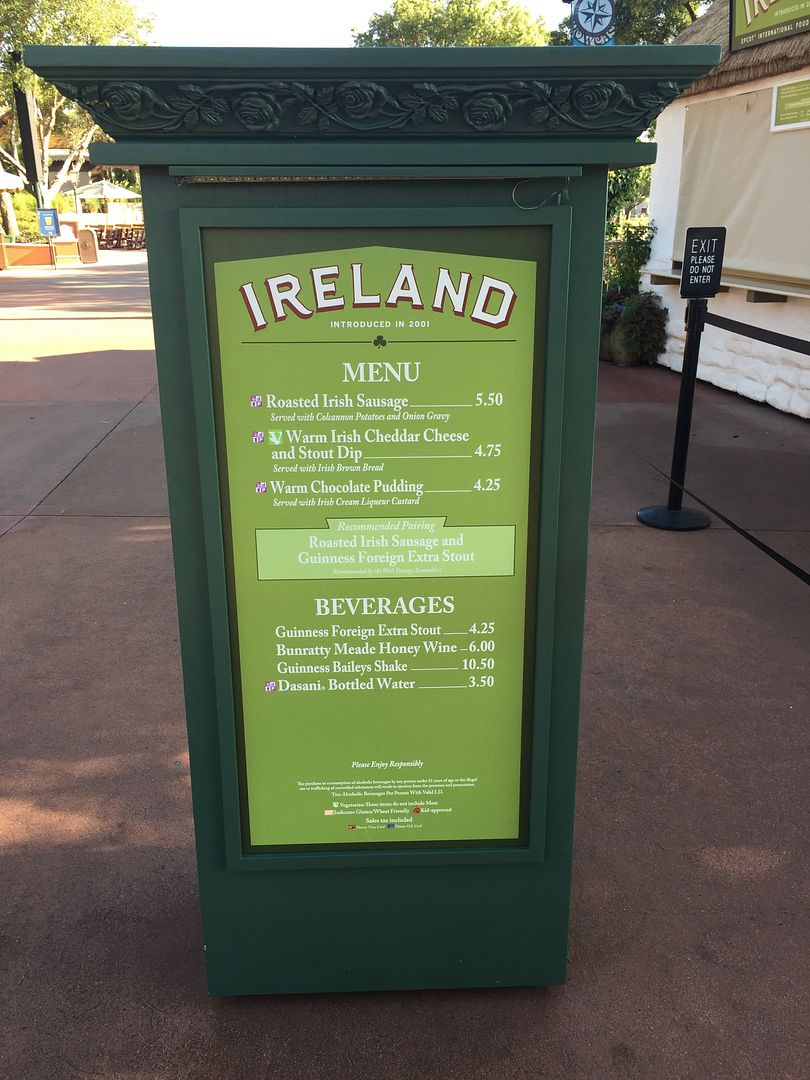 Where I chose this…
Roasted Irish Sausage with Colcannon Potatoes and Onion Gravy – $5.50
And another look…
I had really enjoyed the Bangers & Mash that I had a few years ago at the Rose & Crown so was looking forward to trying this.  However, I was somewhat disappointed.  While the sausage was good, I didn't like the colcannon (mashed) potatoes.  They tasted mostly of cooked cabbage (of which I'm not really a fan), onion and vinegar.  I must say though that this was a pretty large portion of food for $5.50.
Sadly I completely forgot that I wanted to try the Guinness Baileys Shake here.  When I finally remembered towards the end of my trip, I didn't have the opportunity to make it back to the Ireland booth for the shake.  Hopefully, they will offer this again next year.
My next stop was across the pond in France…
Carbonade de Boeuf, Puree de Pommes de Terre: Beer-braised Beef with Bacon, Onion Mashed Potatoes – $6.25
And a closer look…
After ordering this I feared that I had made a mistake when I saw it being prepared.  A CM took a pre-packaged container from a warmer/oven and plopped the two pieces of beef (along with gravy) on top of a pile of mashed potatoes.  But this ended up being mostly good.  One of the two pieces of beef was pretty good, but the other had some fat.  The mashed potatoes and gravy were good though.  I liked them much better than the Irish colcannon potatoes.
Next I wanted something sweet, so for that I went to the Belgium booth…
Hmmm…chocolate or berry??? I chose the…
Belgian Waffle topped with Whipped Cream and Warm Chocolate Ganache – $4.00
A closer look…
A simple dessert, but delicious.  Another one of my favorites from this year's festival.
A few years ago I tried the Berry Waffle here and really enjoyed it…
I would give a slight edge to the chocolate one, but they were both very good.
My next stop was Japan…
Where I chose this…
Teriyaki Chicken Bun: Steamed Bun filled with Chicken, Vegetables, and a Sweet Teriyaki Sauce – $5.50
And a look inside…
Though this was sweeter than I was expecting, I liked it.  The steamed bun was soft and tasty and so was the shredded, sweet teriyaki flavored chicken inside.  I couldn't really taste the vegetables though that were listed as an ingredient on the menu.
After having carrot cake from the Hops & Barley booth (which I mentioned earlier in this post), my next booth was India…
From India I tried the…
Korma Chicken with Cucumber Tomato Salad, Almonds, Cashews and Warm Naan Bread – $5.25
And a closer look…
Though I wasn't expecting it to be served this way, the chicken and sauce and the cucumber tomato salad were mixed together.  And to my surprise, I liked it all mixed together.  The chicken was dark meat (I usually prefer the breast meat) but it was very flavorful.  The sauce had a little spice to it, but not too spicy.  The naan bread was good for mopping up the sauce.  Good choice!
I was ready to call it a day after India but I received a text from my friends, who wanted to try a few booths before heading to a wine seminar.  So we met up in Africa…
They shared two of the offerings here.  The first was the…
Berbere-style Beef Tenderloin Tips with Onions, Jalapenos, Tomato, and Pap – $5.50
And also a dish that I hadn't seen listed on the first online menus.  I think it was added to the Africa menu later.
Piri Piri Skewered Shrimp served with Citrus-scented Couscous – $6.75
I was too full to taste these but Niki and Mike enjoyed them both.  They said the beef dish was spicy but very good.  I remember liking this when I had it last year…
The shrimp dish had several large grilled shrimp that were very good.  The couscous had a slight lemon flavor and there were also black eyed peas, which wasn't listed as an ingredient in the menu description.
Though I didn't eat anything from the Africa booth this time, I did have a glass of wine that I had been wanting to try for awhile…
Jam Jar Sweet Shiraz – $5.00
I'm not usually a fan of red wines (except for an occasional pinot noir) but this was a sweet red wine and was very good.
We then moved on to China…
I forgot to take a photo of the China menu so I borrowed this one from the Disney Food Blog.
Niki and Mike tried two things here.  The first was the…
Beijing Roasted Duck Bao Bun with Hoisin Sauce – $6.75
A little closer look…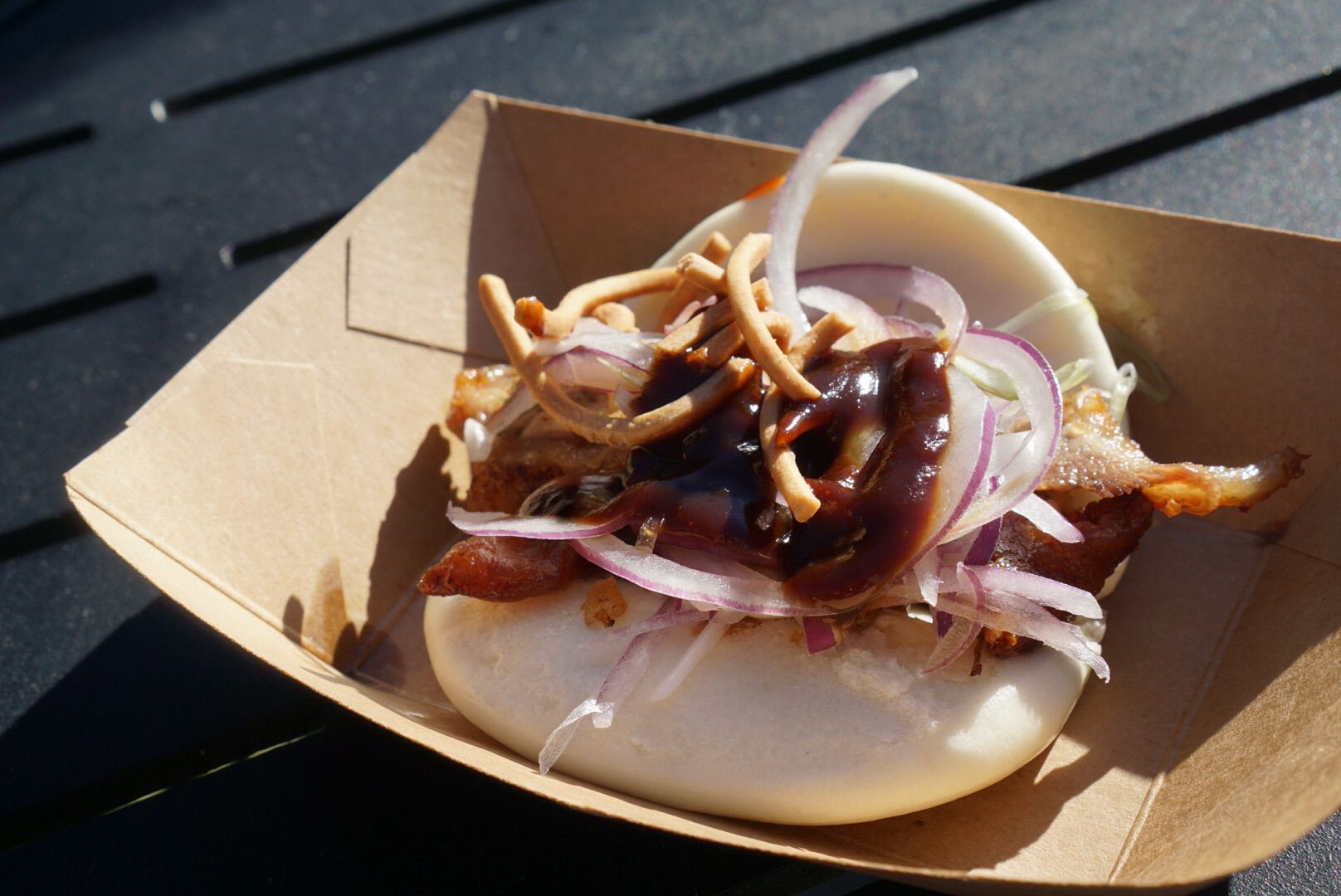 They said the duck bao was very good but their favorite was the…
Xi'an Pancake with Beef – $6.75
And a look inside…
Unfortunately I made a very poor choice here…
Black Pepper Shrimp with Garlic Noodles – $6.75
There were only two shrimp and both of them were awful…worse than the ones in the Fritto Misto at the Italy booth.  And though I like garlic, the noodles were too garlicy for me.  This was definitely a fail for me, and my friends agreed.
And that just leaves a booth that I visited on a 3rd day at the festival…
At this booth I tried the…
Ropa Vieja Empanada topped with Tomato Aioli – $5.25
And another look…
This was good.  Had a little spice to it but not too much.
I liked it even better than the Beef Empanada that they used to serve at the Patagonia booth in previous years…
So my Top 5 from the 2018 Festival were:
Le Cellier Filet Mignon from the Canada booth
Lobster Roll from the American pavilion's Hops & Barley booth
Carrot Cake with Cream Cheese Frosting from the Hops & Barley booth
Chocolate Belgian Waffle from the Belgium booth
Korma Chicken from the India booth
And there were only two failures of the 16 food items which we tried.  The worst of these was the Black Pepper Shrimp with Garlic Noodles from the China booth, but 2/3 of the Fritto Misto trio from the Italy booth was bad so it also makes my failure list.