Oga's Cantina, one of the Best Bars in America??
In case you hadn't heard, in July 2020 Esquire magazine named Oga's Cantina one of the 27 Best Bars in America for 2020.  In doing so they said this…
"For many, the first memory of a bar is likely [Star Wars:] Episode IV's cantina scene—who didn't want to hang out there? That would explain the constant lines outside Oga's Cantina, a part of the Star Wars theme park, Galaxy's Edge. But it is worth the wait to have that proto–bar fantasy fulfilled. There are smoking drinks in neon colors, a starship pilot turned DJ, and—who knows?—Han Solo might just slide in next to you." Address: 351 South Studio Drive (Disney's Hollywood Studios theme park), Lake Buena Vista, Florida —Adrienne Westenfeld
So for me, does Oga's Cantina live up to all the hype?  Read on to find out.
First things first, if you don't have a reservation, you likely won't be able to enter Oga's Cantina.  To my knowledge, it is the only bar/lounge on Disney property that requires a reservation.  That was the case when we visited in November 2019 and that is still the case now from what I've read.
So in September I made our "Lunch" reservation for Oga's Cantina…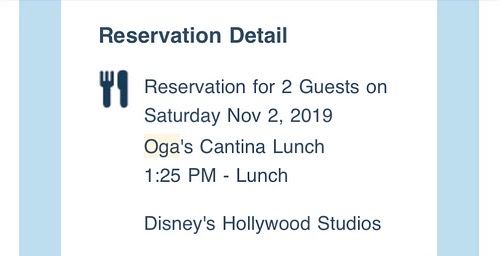 But don't be fooled by the term "Lunch".  Unless you are planning to mostly drink your lunch, you should probably have other plans for eating lunch (or dinner).  But more on that later.
Our reservation confirmation came with some extra details and policies, which were more than the standard Disney Dining policies that are usually included with your confirmation…
With that last detail, "Late arrivals may not be accommodated",  I made sure we were in the designated line for Reservation Check-in outside of Oga's before our 1:25 reservation time, but not earlier than 1:10 because of this policy…
Checking In
Guests should check in no earlier than 15 minutes prior to their reservation time with the Cast Member at the end of the queue at Oga's Cantina inside Star Wars: Galaxy's Edge.
So anyway, though the line was fairly long, the process went pretty quickly and at about 1:30 we were led inside to our assigned places to stand at a table for 10.  Already at this table was a family of 6 and soon a couple was added to our group.  Although it was very close quarters, because of the noise level it really wasn't possible to carry on a conversation other than to say hi and comment on the cool "smoking" drink ordered by one of the kids.  (I think it was called a Carbon Freeze?).
Some of that noise level was due to the fact that our table was very close to…
Don't get me wrong though, the droid DJ R-3X, also known as REX, is awesome and I really enjoyed the music he was playing.  REX's musical entertainment provides a great vibe and contributes to Oga's immersive experience.
But let's back up just a bit.  As we were led to our assigned table we were told about the 2 drink per person maximum and 45 minute time limit, which confirmed that those policies listed in my reservation confirmation were being enforced.  We were also given this menu…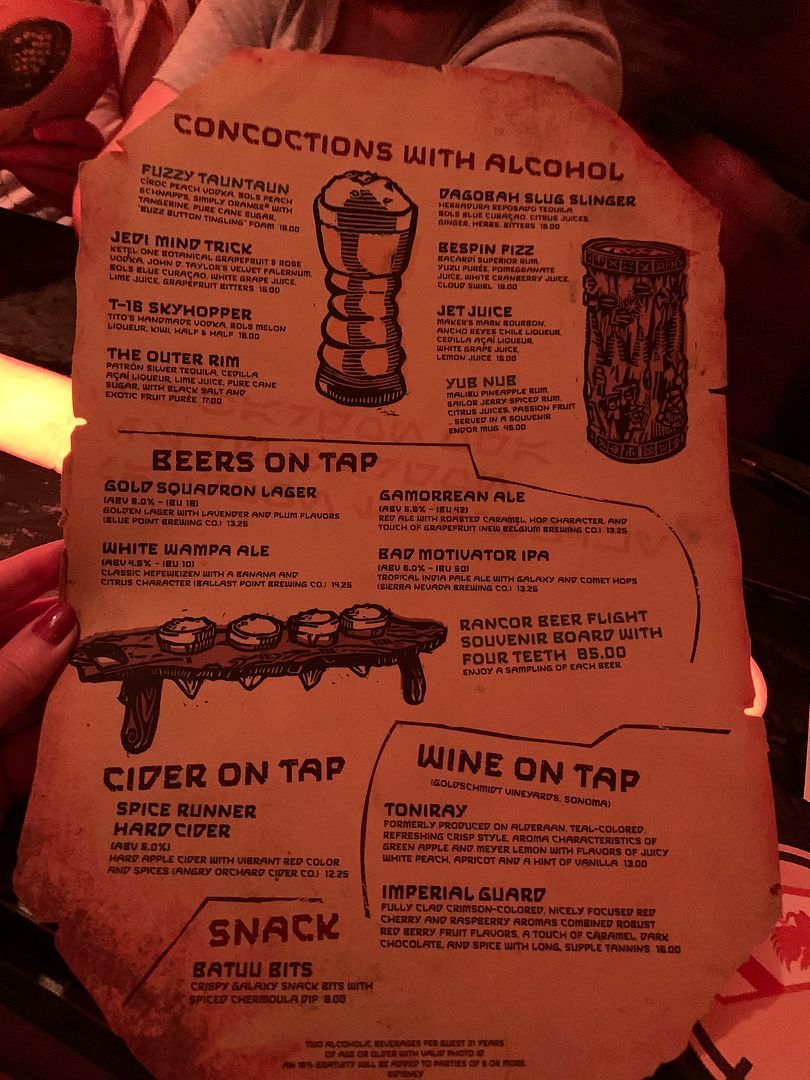 On one side of the menu were all of their alcoholic beverages, which included 8 specialty cocktails, 4 beers, 2 wines, and a hard cider.  Also listed at the bottom was their one food offering, Batuu Bits.
I'd heard that you could also order a Charcuterie plate, but at this time (November 2019) it was not listed on their menu.  Note: Looking at their current (August 2020) online menu on the official Disney World website, I see that it now includes this charcuterie plate…
Happabore Sampler – Cured and Roasted Meats, Cheese, Pork Cracklings ($21.00)
I also see that those Batuu Bits that were listed for $8.00 on their November 2019 menu, now cost $11.00…a 37.5% price increase in less than a year.  YIKES!  I am happy to tell you though that (per the current online menu) the options and prices of their alcoholic beverages have not changed since November 2019, with only one exception.  I no longer see the Gamorrean Ale listed under the Beers on Tap section of their online menu, so hopefully that wasn't your Oga's beverage of choice.
Nothing seems to have changed in the Concoctions without Alcohol section on the reverse side of the menu…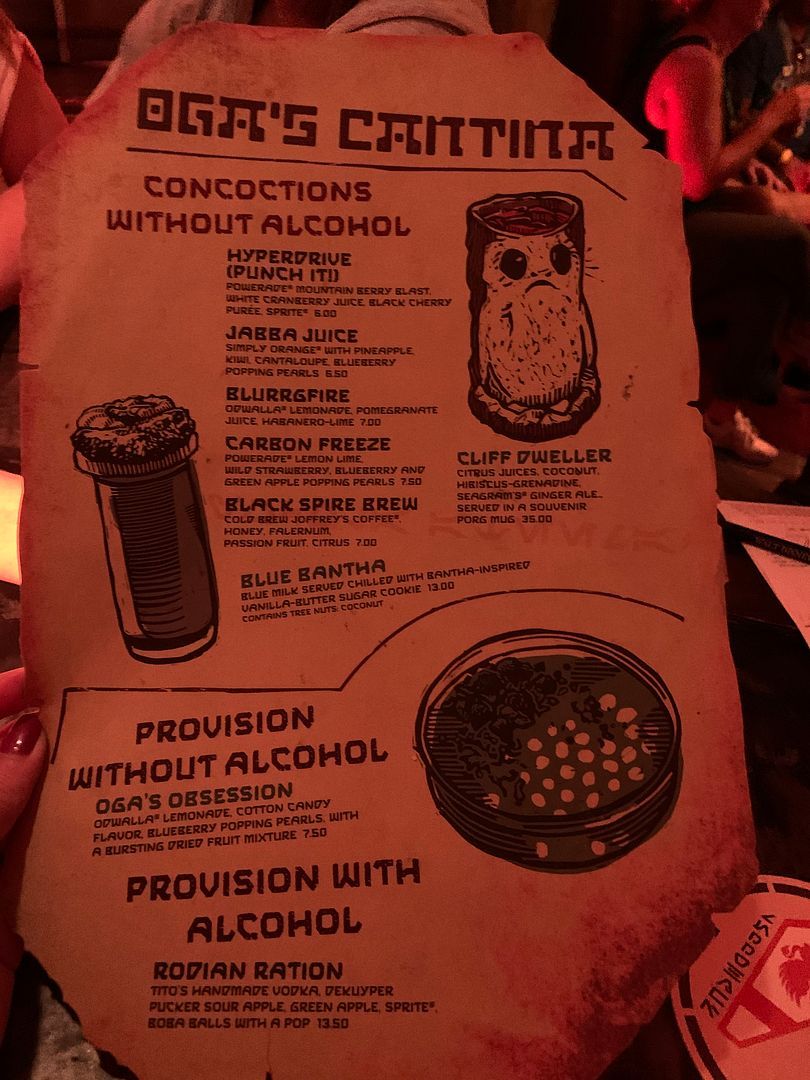 Comparing this to the current online menu, they still  have the same 7 non-alcoholic beverages and all of the drink prices have remained the same.  The same is true of the Provisions with and without alcohol (which are basically jello shots from what I've heard).
So anyway, as soon as we got situated at our assigned table, I immediately forgot that our "time clock was ticking".  Instead of looking at the menu, I was looking around the bar and taking photos.  These were taken with my phone because it was way too crowded, "elbow to elbow", to mess around with getting my camera out of my bag.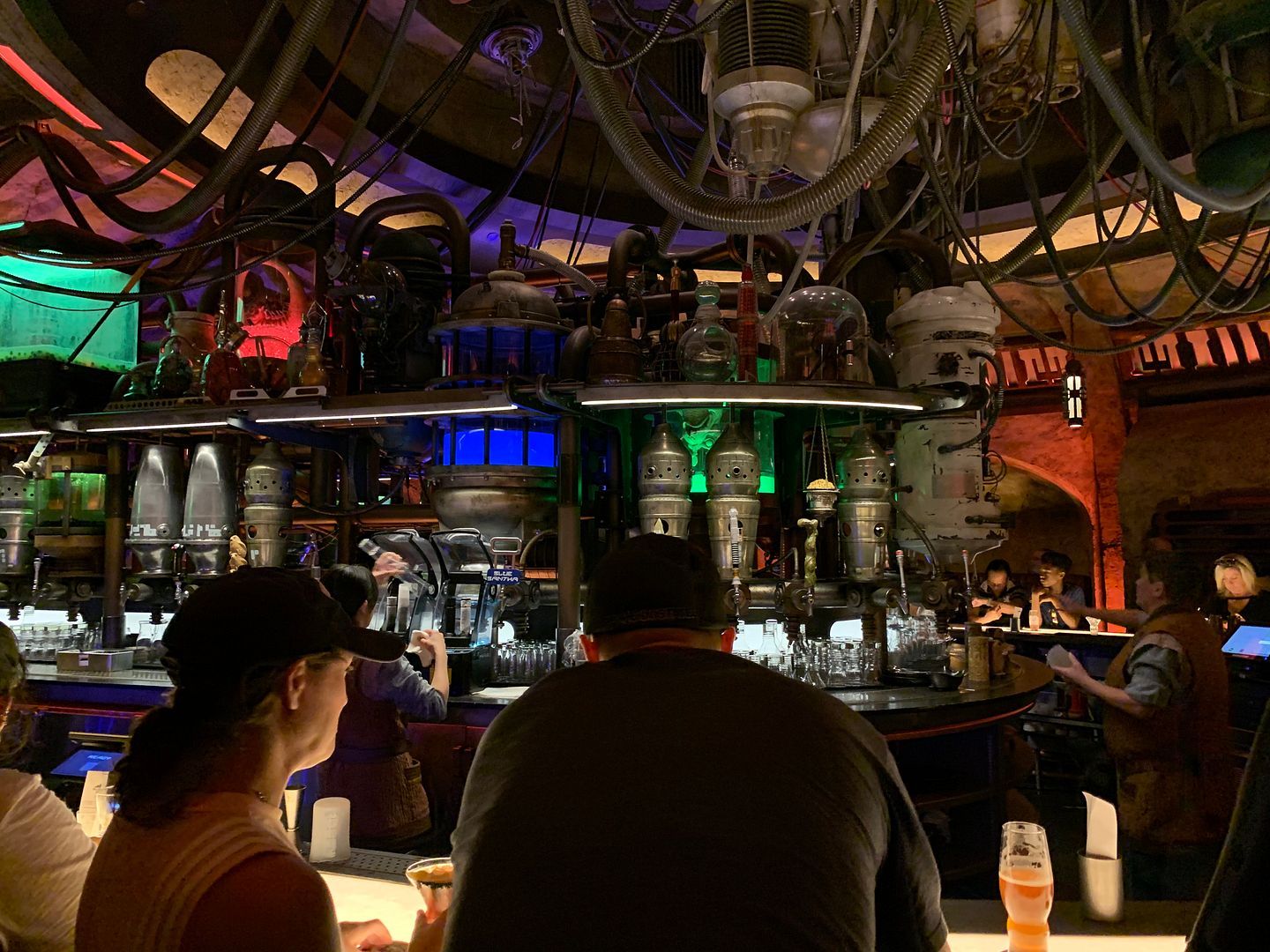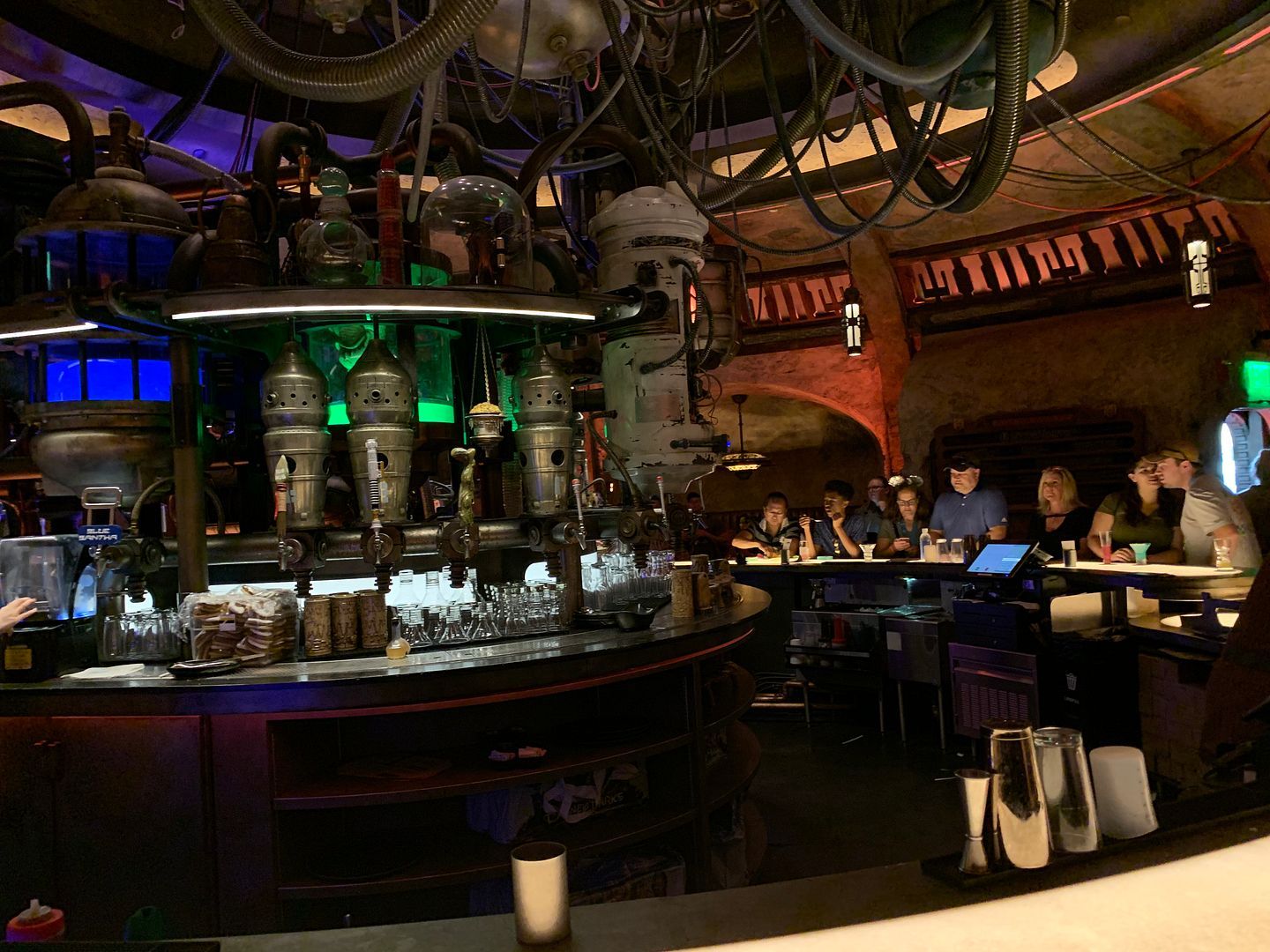 I'd only taken a couple of photos of the bar area when a server arrived to take our order.  I let Andrew order first while I quickly looked at the menu.  I got as far as the first 3 ingredients in the description of the first cocktail listed (Peach Vodka, Peach Schnapps, Simply Orange juice) and decided that would work for me.  I love Fuzzy Navels.
And so I ordered the…
Fuzzy Tauntaun – Cîroc Peach Vodka, Bols Peach Schnapps, Simply® Orange with Tangerine, Pure Cane Sugar, and "Buzz Button Tingling" Foam – $16.00
After taking some drink photos, I took a few sips of my drink.  My lips started to feel weird…first tingling then kind of numb.  I was beginning to feel a little concerned about the lack of feeling in my lips and said something to Andrew about it.  He laughed and asked if I had read the description of my drink.  Oops, in my rush to order I hadn't gotten to the part about the "Buzz Button Tingling" Foam…
An Aha! moment…a moment of relief! LOL
Though I could have done without the lip numbing foam, I enjoyed my drink.
Andrew also liked his choice…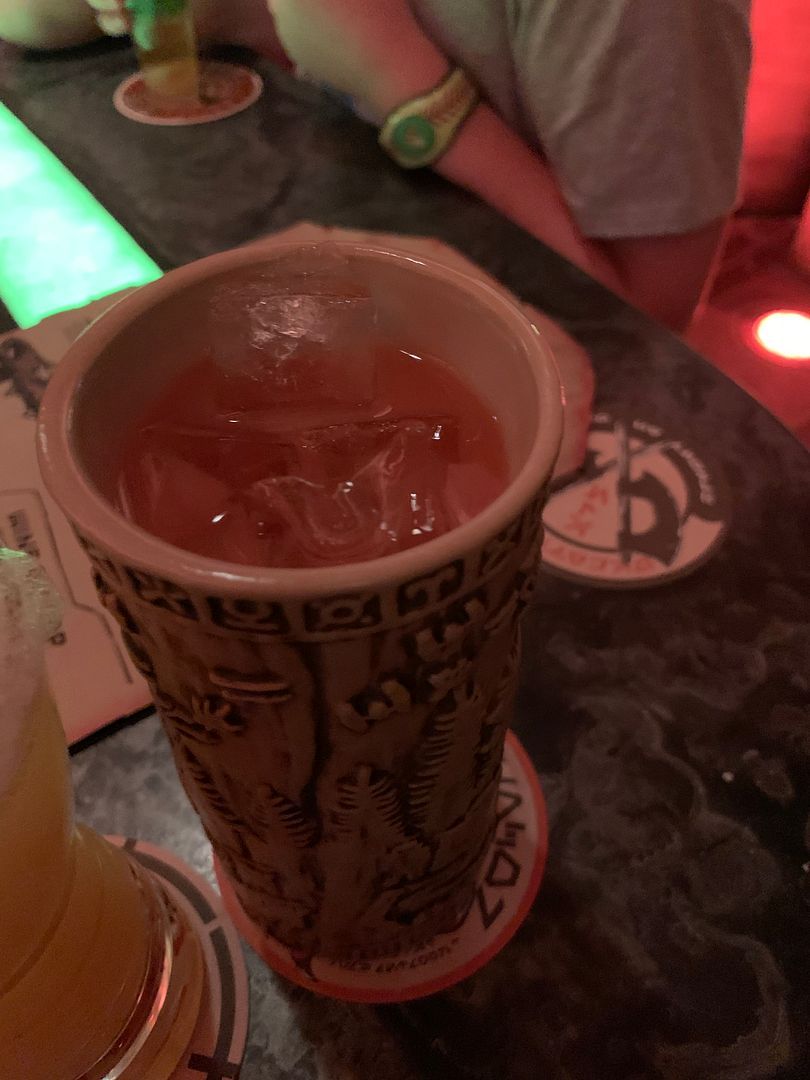 Yub Nub – Malibu Pineapple Rum, Sailor Jerry Spiced Rum, Citrus Juices, and Passion Fruit served in a Souvenir Endor Mug – $45.00 (or $15.00 without the mug)
When Andrew ordered this he asked if he could get the Yub Nub without the souvenir mug.  He was told that as long as he didn't take the mug, he would not be charged for it.  We were charged $15.00 for his Yub Nub, so they put a value of $30 on this rather unremarkable looking mug…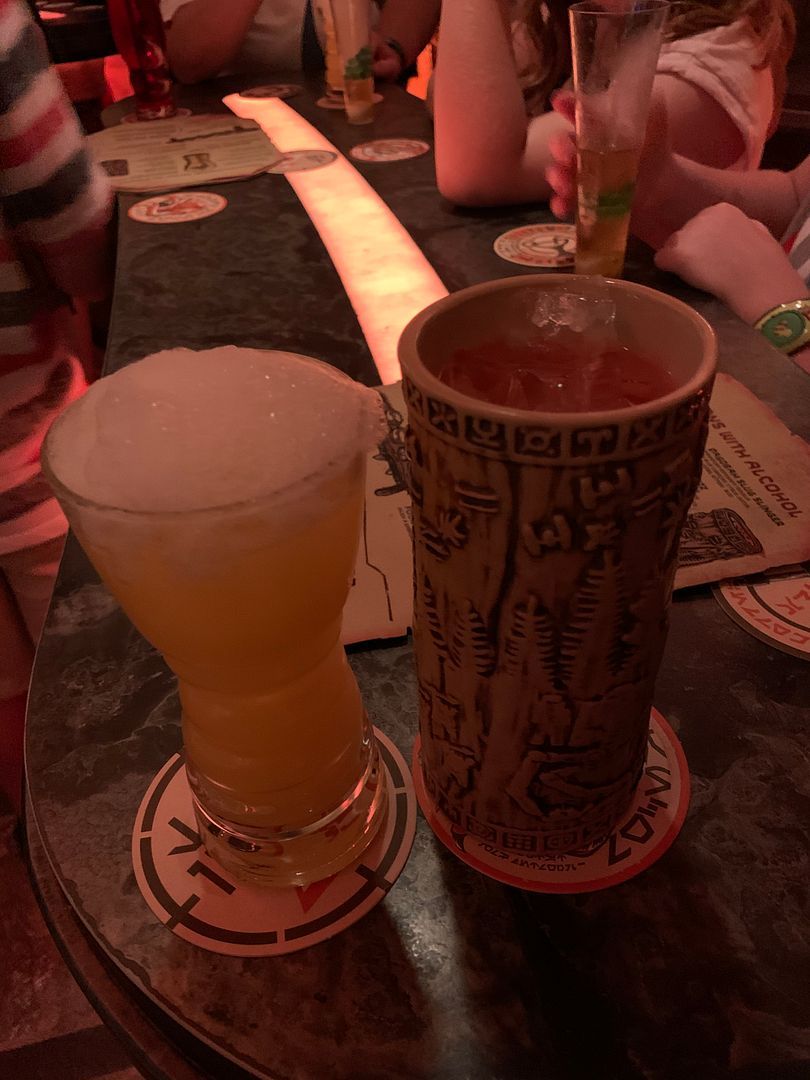 I have one more thing to mention before wrapping up this review, and it's regarding the seating arrangements at Oga's (or lack thereof)…
Limited Seating
Oga's Cantina consists mainly of standing room, with limited seating. Seating is not guaranteed upon entry.  While there were probably about half a dozen booths which could seat at least 10 people (so likely multiple parties seated at a table), most guests (probably 75%) are assigned to a standing table or to a spot standing at the bar.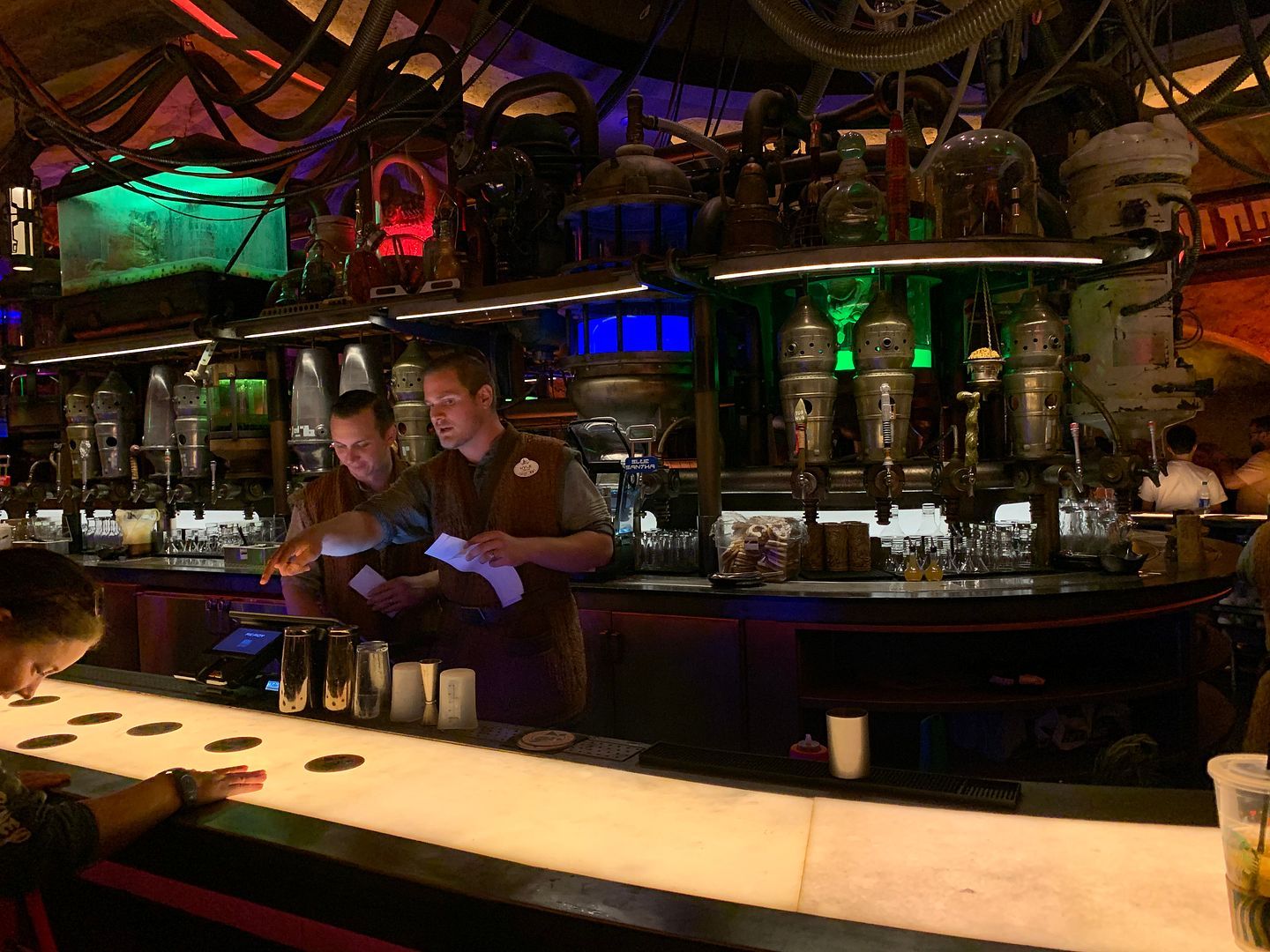 NOTE: With the current COVID restrictions, I've heard that parties are kept at least 6 ft. apart so no more packing people in like they did pre-COVID.  But post-COVID, I'm sure they will be back to the elbow-to-elbow situation that we experienced,
So overall this was an expensive 45 minutes (we were out by 2:15) with two drinks costing $31.00 plus tax and tip.  But as a Star Wars fan, it was a must-do experience.  However, if it weren't for the fact that I wanted my daughter to also have this unique experience when she joined me on this trip about a week later, I probably wouldn't have felt the need to return.  But I'll save further comments for the review of my second visit to Oga's Cantina.  I'll also save the ratings for Oga's Round II, so please stay tuned!