After a 20+ minute wait we received a text from the restaurant that our table was ready.  My friends, Nicole & Mike, and I were seated at a 4-top table not far inside the dining room from the lobby.  This was my second time dining at Flying Fish since the major renovations that were done in the summer of 2016.
At that time the restaurant was transformed from a whimsical Boardwalk seaside circus theme…
To a little more sophisticated aquatic theme, which is similar to bluezoo at the nearby Dolphin but not as pretty, IMO…
The lighting fixtures went from parachuting "flying fish"…
To this stunning chandelier that looks like fish flying above the ocean surface…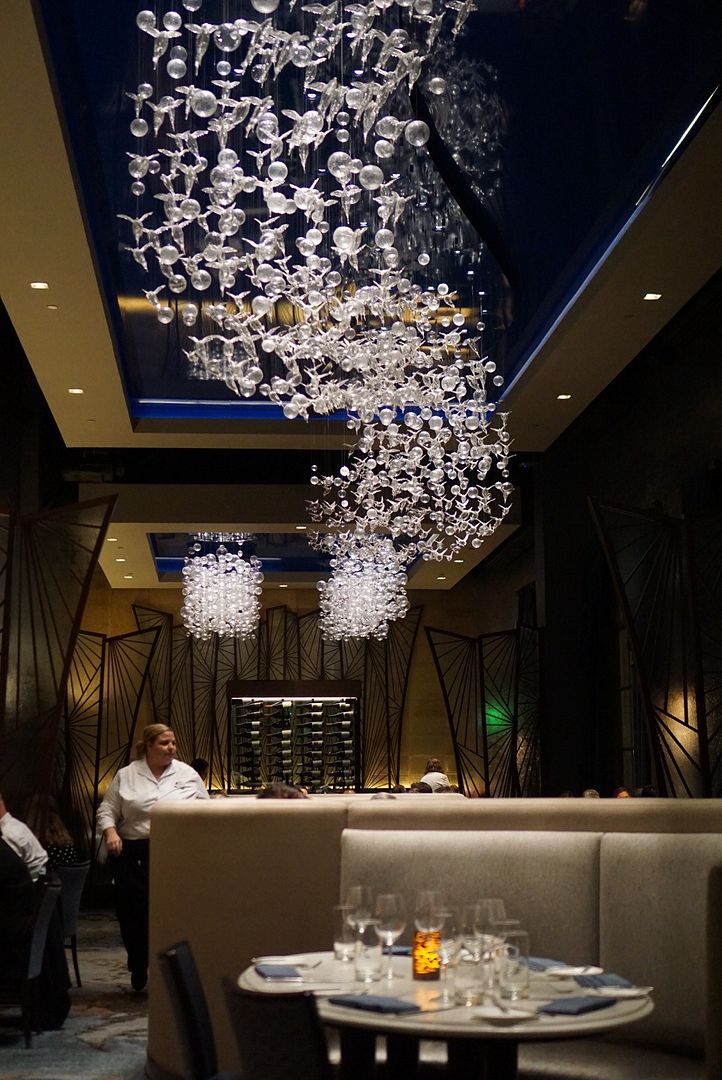 All of the wooden chairs were replaced, some of these by love seats/couches…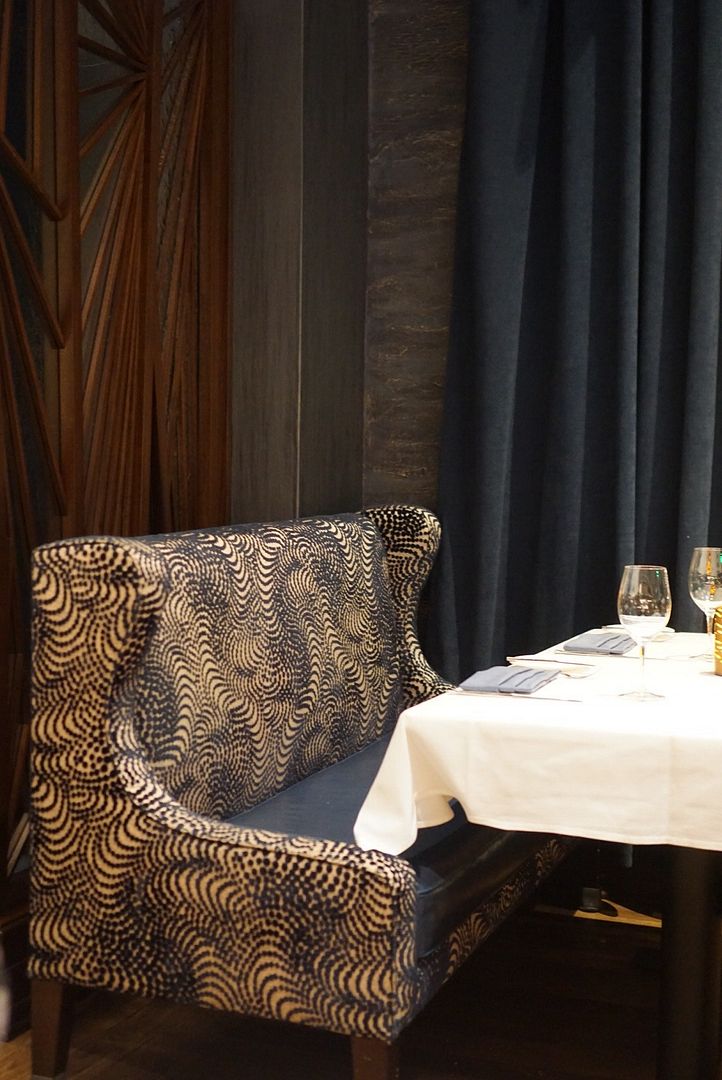 And they have new silverware which follows the aquatic theme…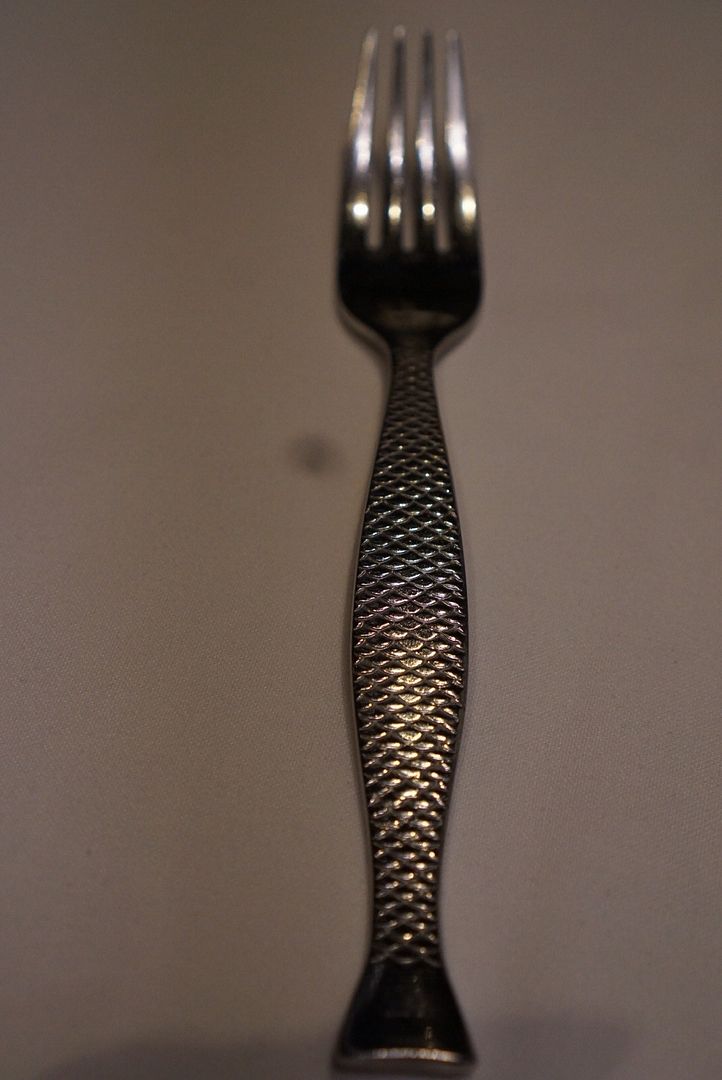 It's a very different look from what it once was.
Along with the new restaurant design came a new head chef and a new menu, one that no longer included some of the restaurant's most popular dishes, such as the crab cake appetizer and the potato-wrapped red snapper.
Two years after the restaurant's transformation from Flying  Fish Cafe to just Flying Fish, the menu (as of Oct. 29, 2018) looked like this…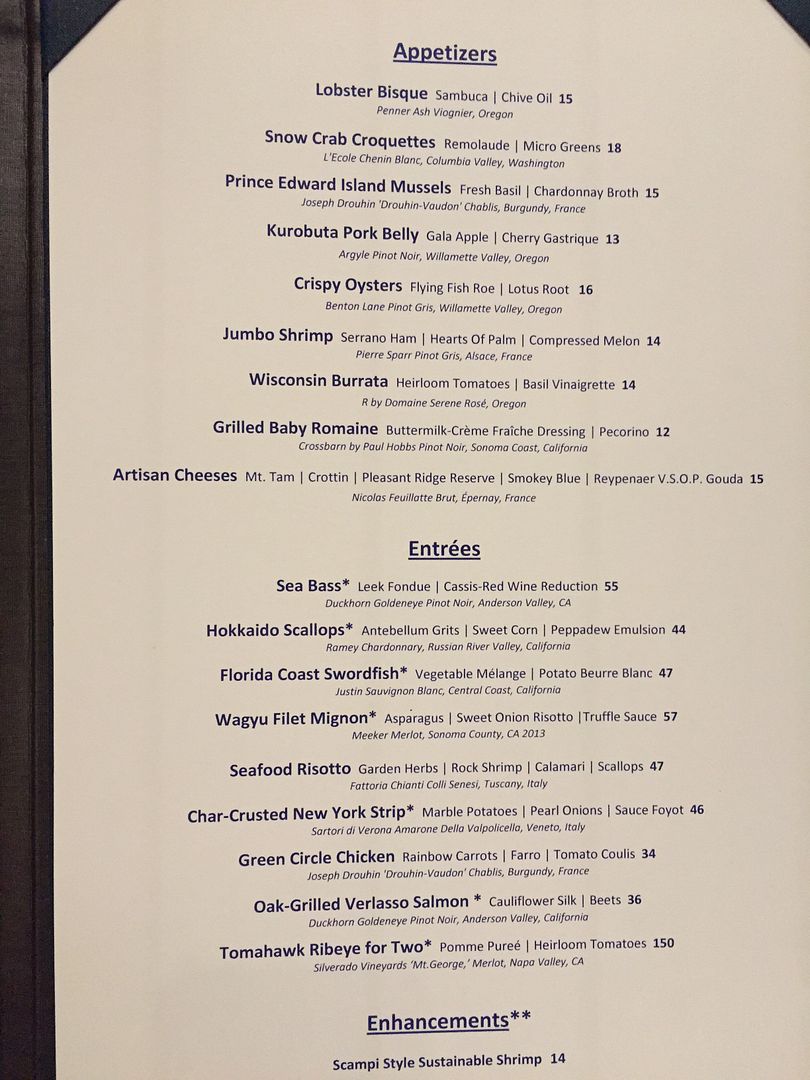 Nicole and Mike decided they didn't want entrees and instead ordered several things from the Appetizers section of the menu.
They both started with this…
Lobster Bisque with Sambuca and Chive Oil – $15
In case you are not familiar with Sambuca, it is an Italian aniseed-flavored liqueur.  Though I'm half Italian, I've never been a fan of anise flavor (or Sambuca) so when I saw it in the description, I shied away from the lobster bisque.  However, Nicole and Mike both enjoyed it.
They then shared this appetizer…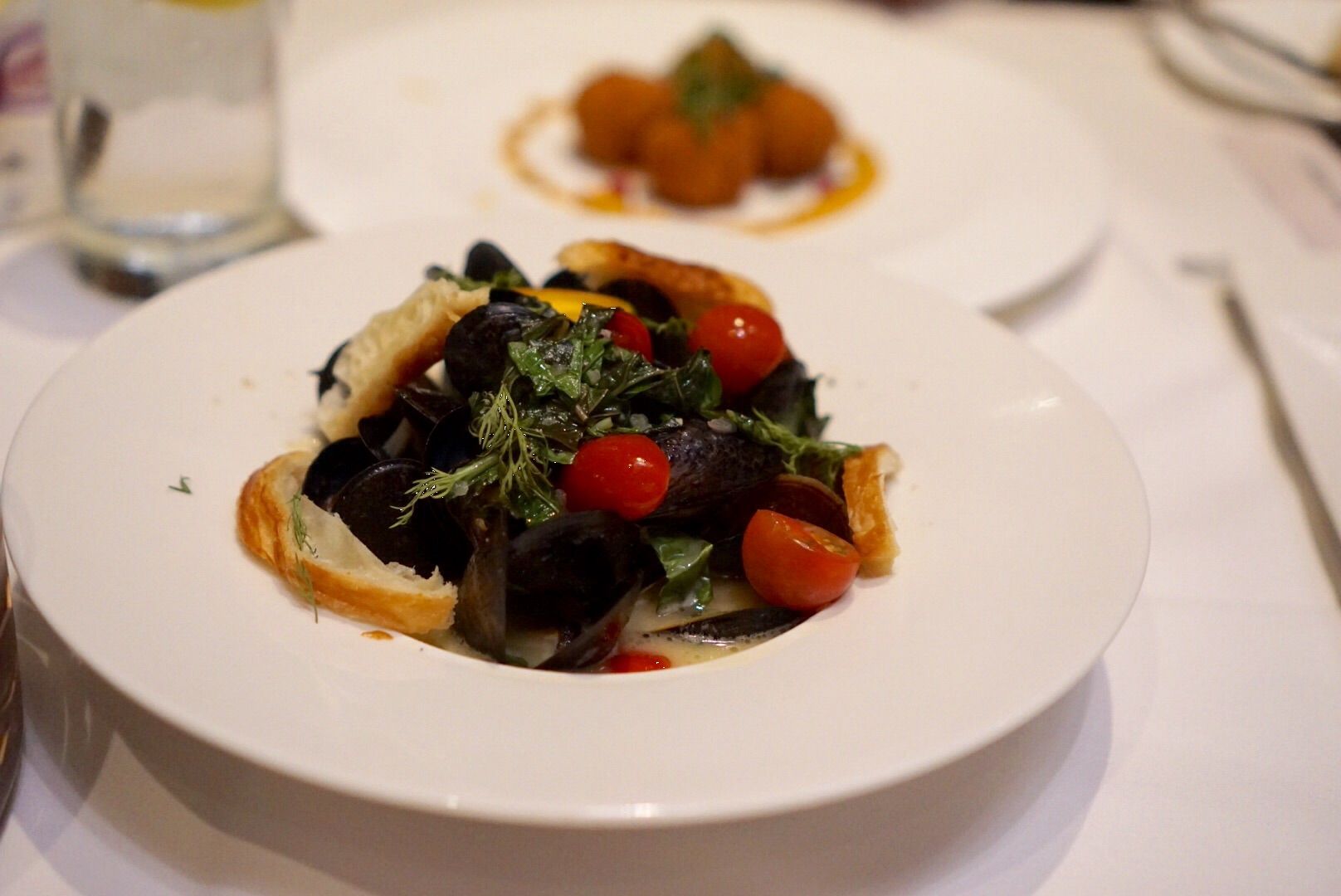 Prince Edward Island Mussels in a Chardonnay Broth, topped with fresh basil – $15
And a closer look…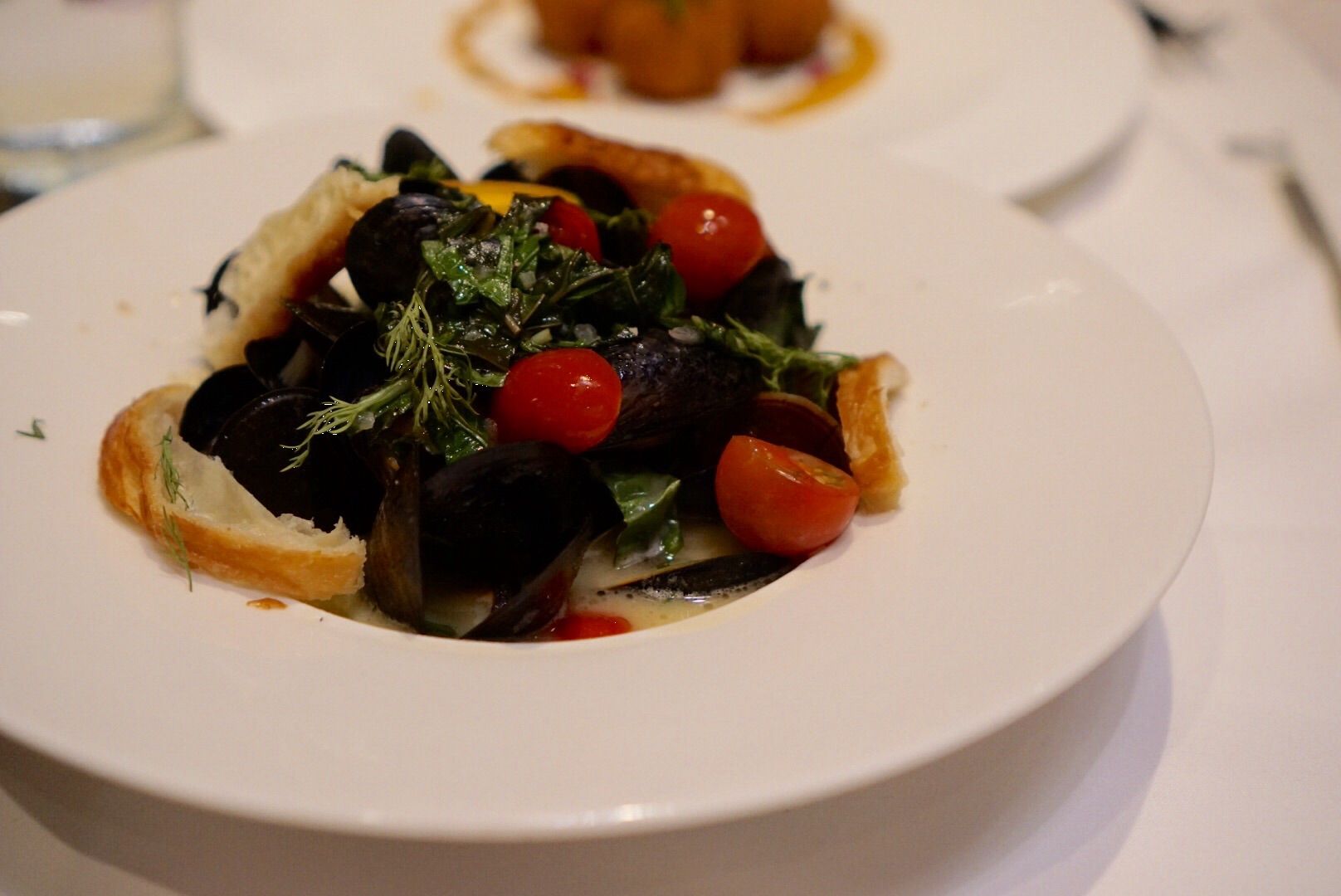 This was another winner for them.  They really enjoyed the chardonnay wine broth.   So when they ran out of the toasted bread slices that accompanied the mussels they switched to using some of the nori bread from our complimentary bread basket to soak up the broth…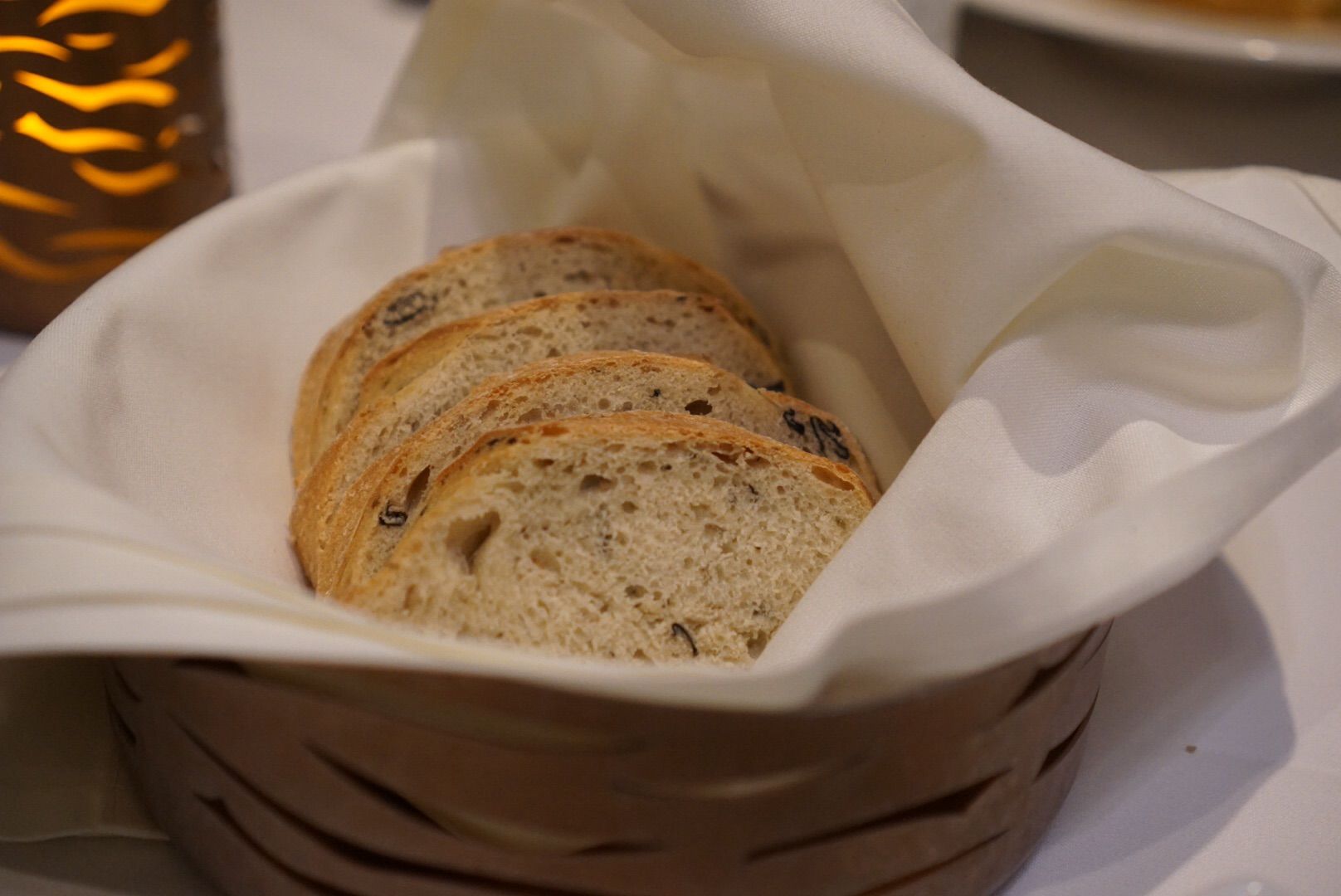 No mussels (or broth) for me so I just used some of the butter topped with black sea salt for my bread…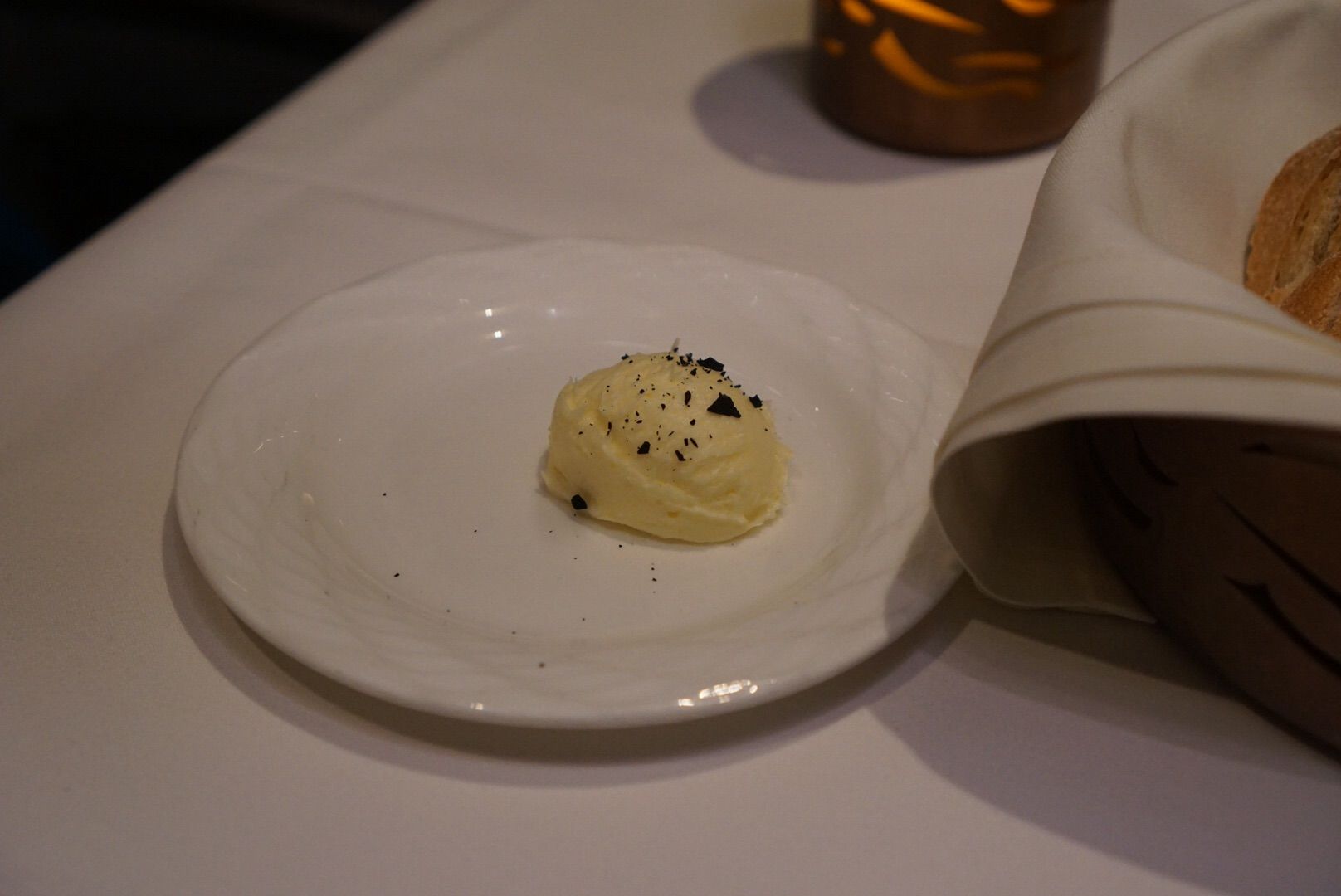 Nicole and Mike then shared a second appetizer…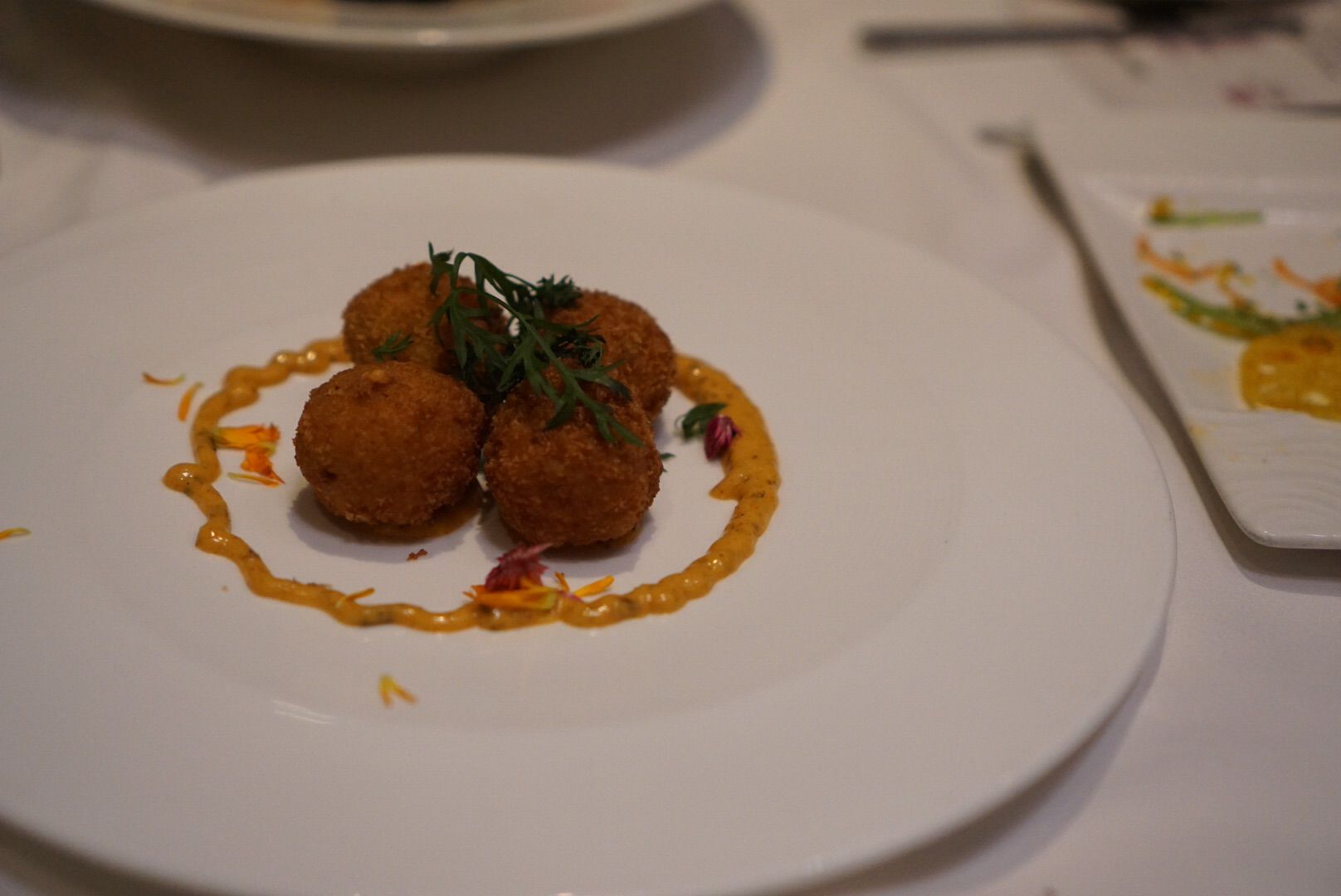 Snow Crab Croquettes encircled by remoulade and topped with micro greens – $18
And a closer look…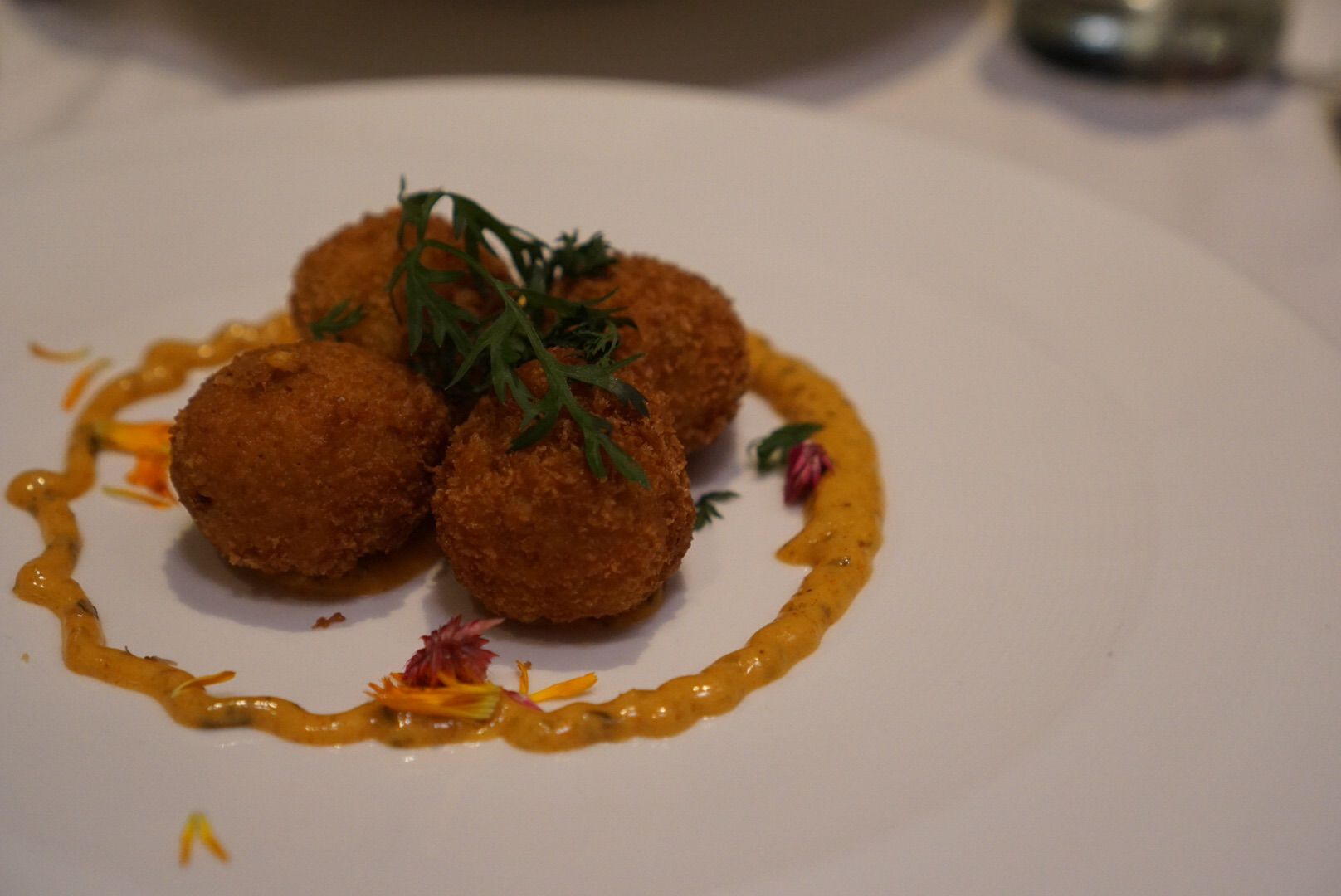 They liked these and commented that they had a lot of crab meat and not much filler, which for $4.50 per croquette they should be mostly crab.
Mike enjoyed one more appetizer…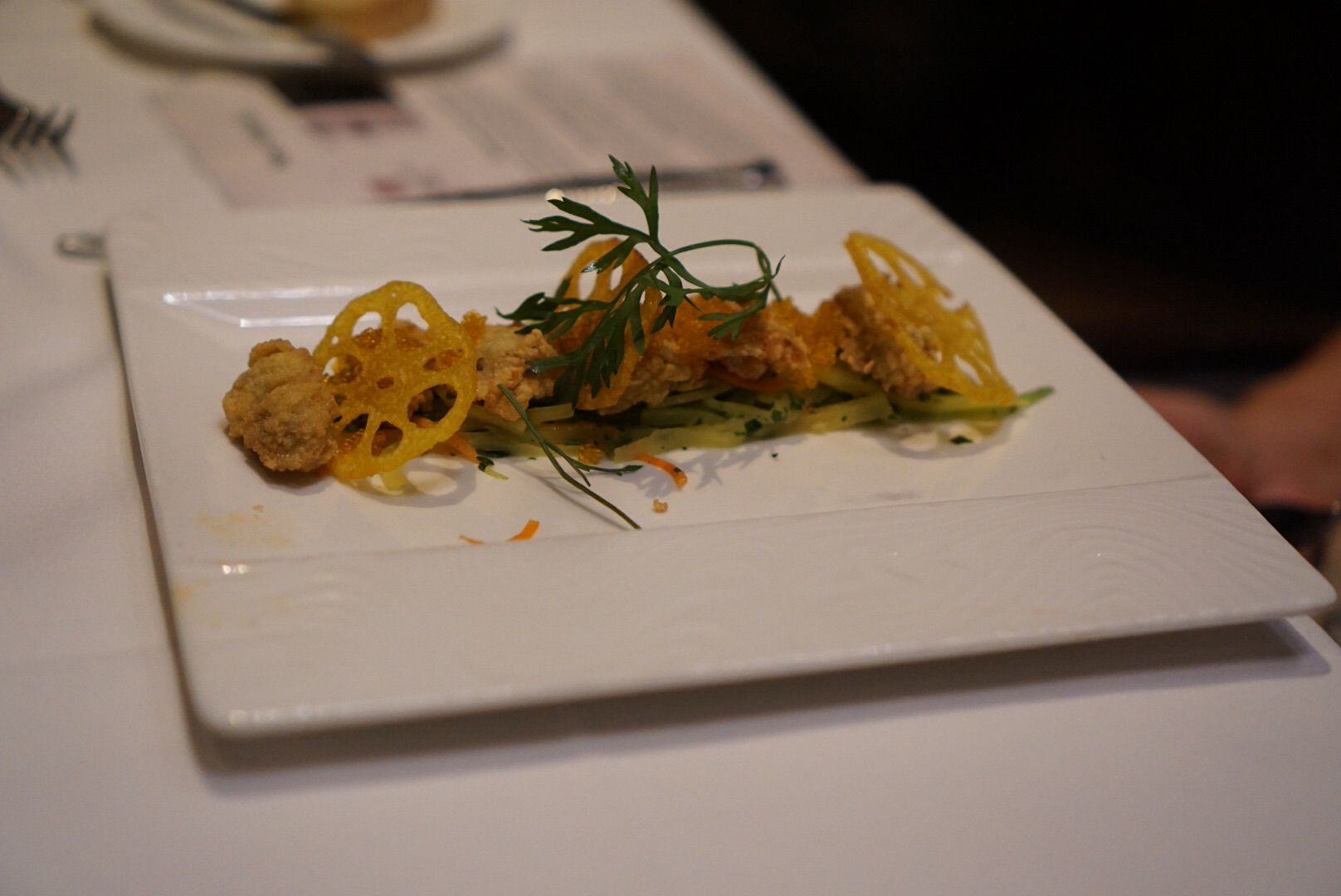 Crispy Oysters with Flying Fish Roe and Lotus Root – $16
As for me, I was hungrier than expected after having had a 5 course lunch, so I ordered both an appetizer and an entree.  My appetizer choice was…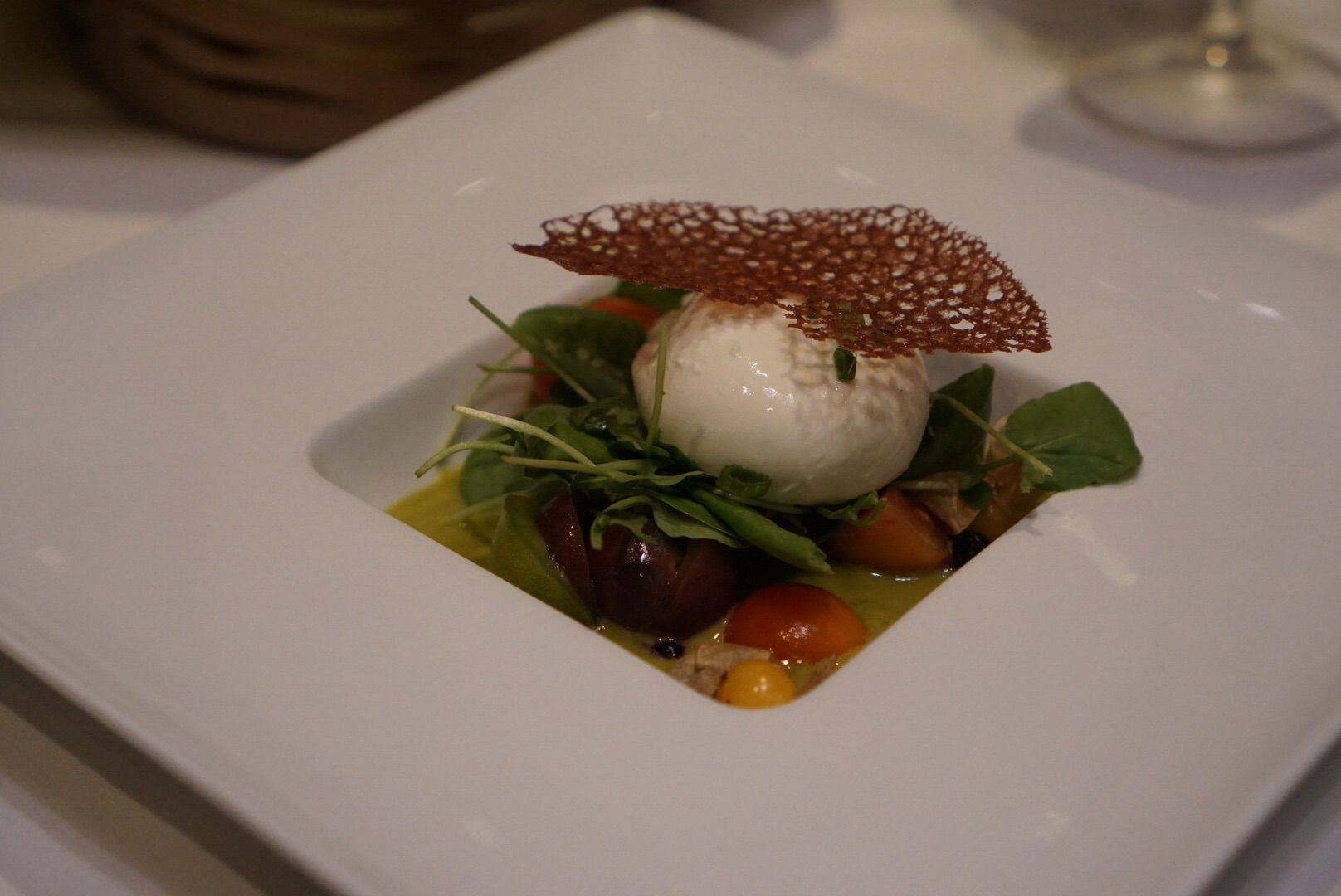 Wisconsin Burrata Cheese & Heirloom Tomato Salad with Basil Vinaigrette – $14
And a closer look…
So what's the difference between fresh mozzarella and burrata?  Well, burrata cheese takes the mozzarella one step further — it's fresh mozzarella that's formed into a pouch and then filled with soft, stringy curd and cream.  I enjoyed this salad, especially the basil vinaigrette, but the tomato salad that I had had at Citricos earlier in this trip was better.
Then for my entree I chose…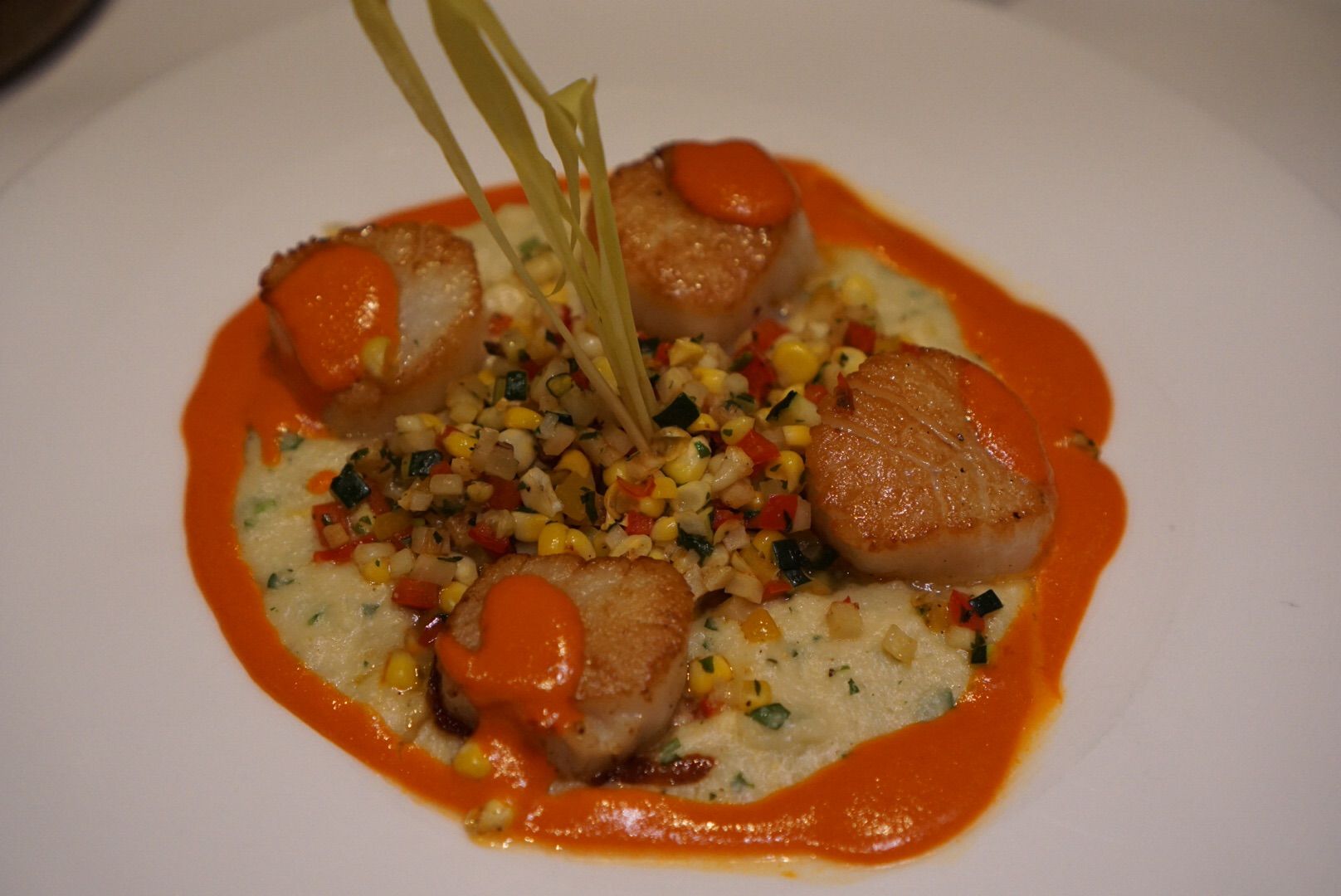 Hokkaido Scallops with Antebellum Grits, Sweet Corn, and Peppadew Emulsion – $44
And a closer look…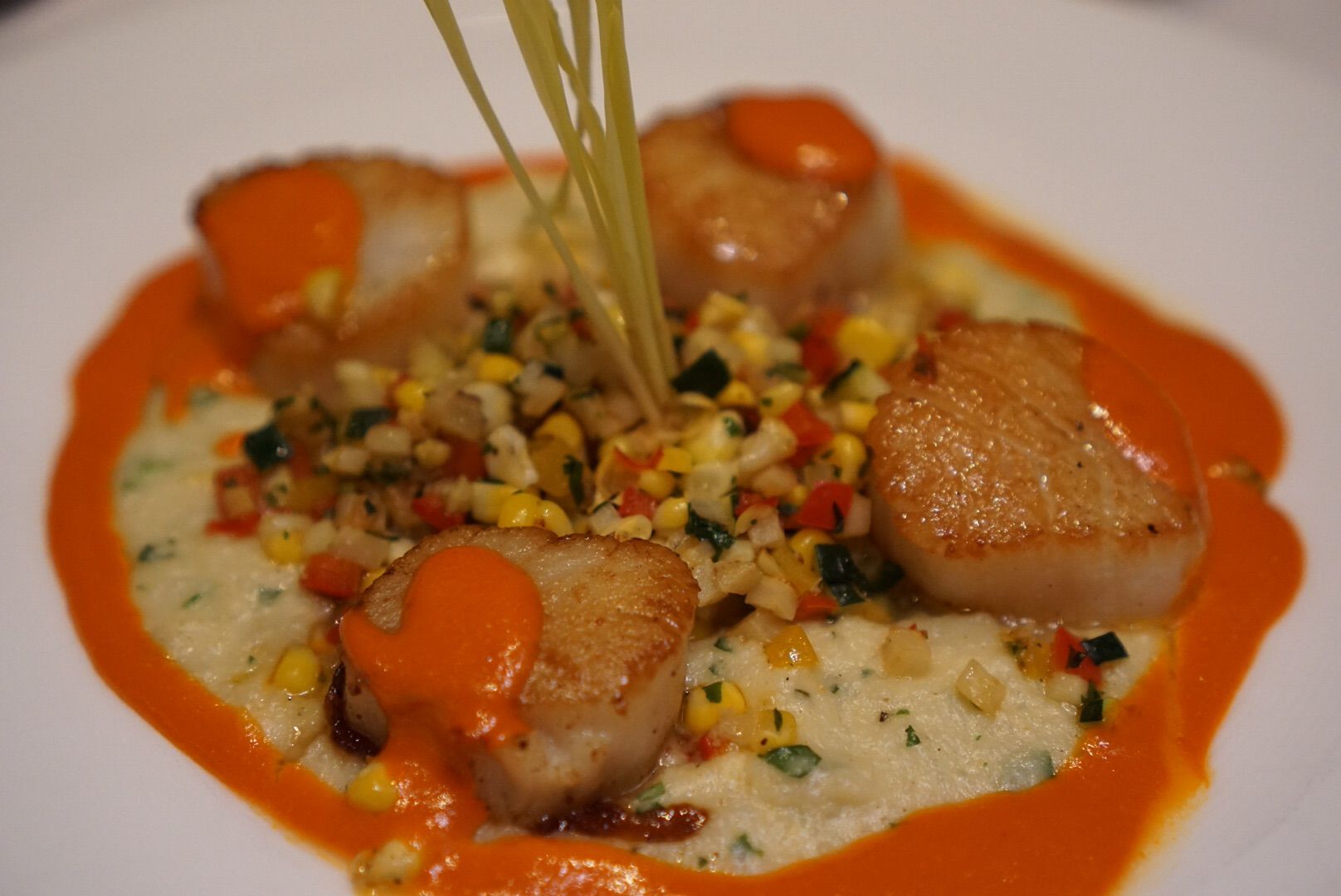 I went with the scallops cooked to medium rare, as recommended by the chef, however I should have stuck with my usual medium, as these seemed a bit undercooked to me.  But they were still good.  I really enjoyed the grits and succotash (with sweet corn and red peppers).  The sauce (peppadew emulsion) was a weird bright orange color, which reminded me of french dressing.  It was made from sweet and spicy peppadew peppers.
While I enjoyed my scallop dish, it didn't come close to the one I had at Flying Fish in 2015…
Grilled Hokkaido Scallops served with Pumpkin, Butternut Squash, Pecorino, and Mascarpone-laced Risotto di Carnaroli and Crispy Prosuitto
This was probably the best scallop dish I've ever had.  Delicious!
Now on to dessert…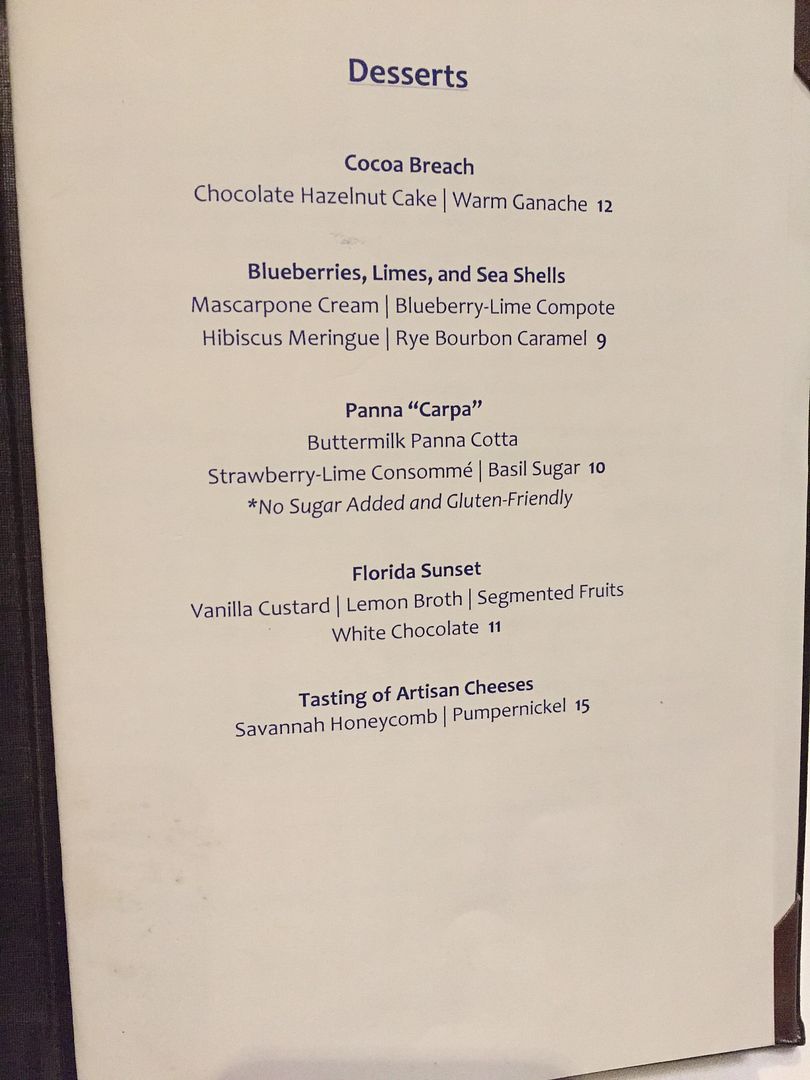 Nicole chose the…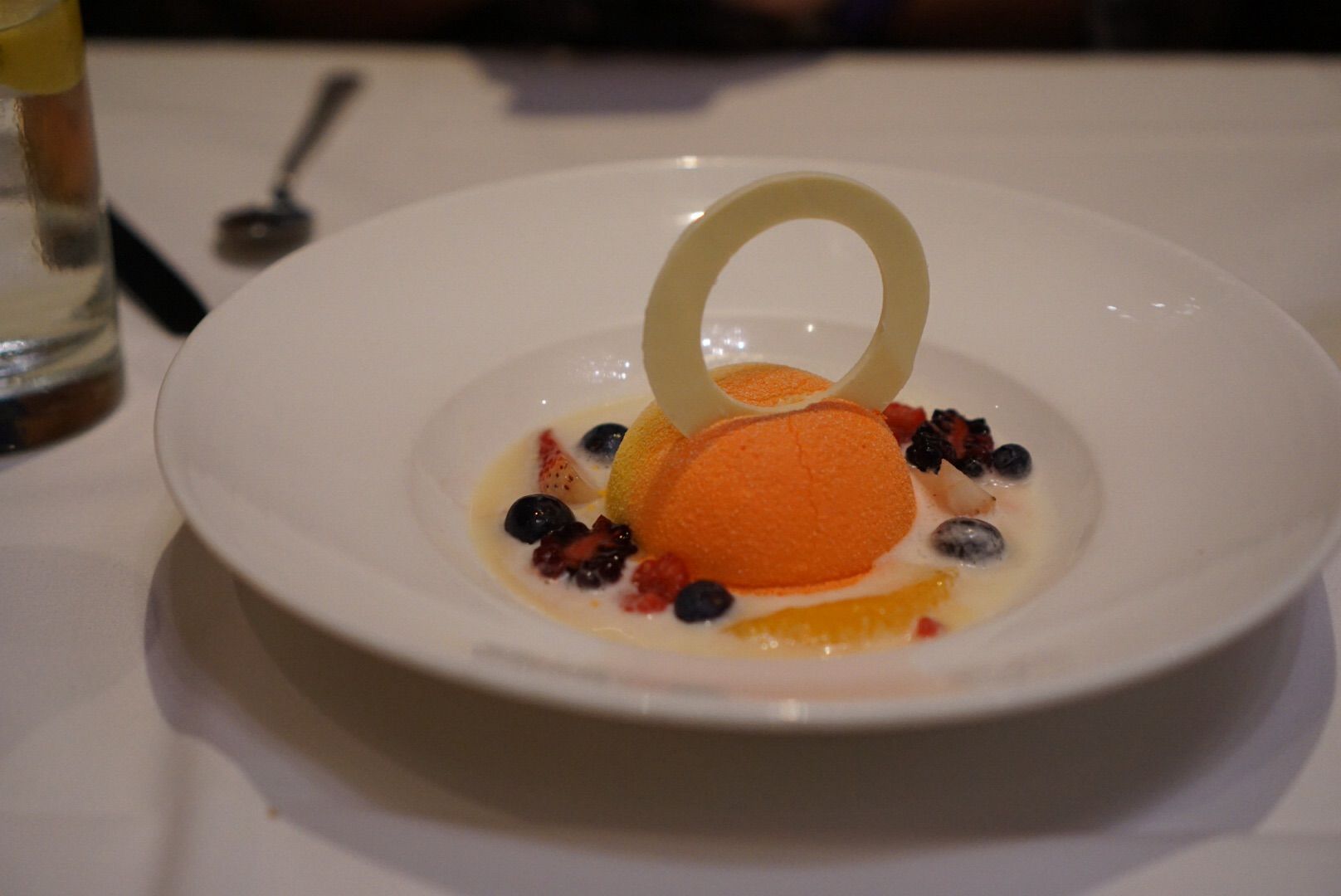 Florida Sunset with Vanilla Custard, Lemon Broth, and Segmented Fruits, topped with a White Chocolate Sphere – $11
And a closer look…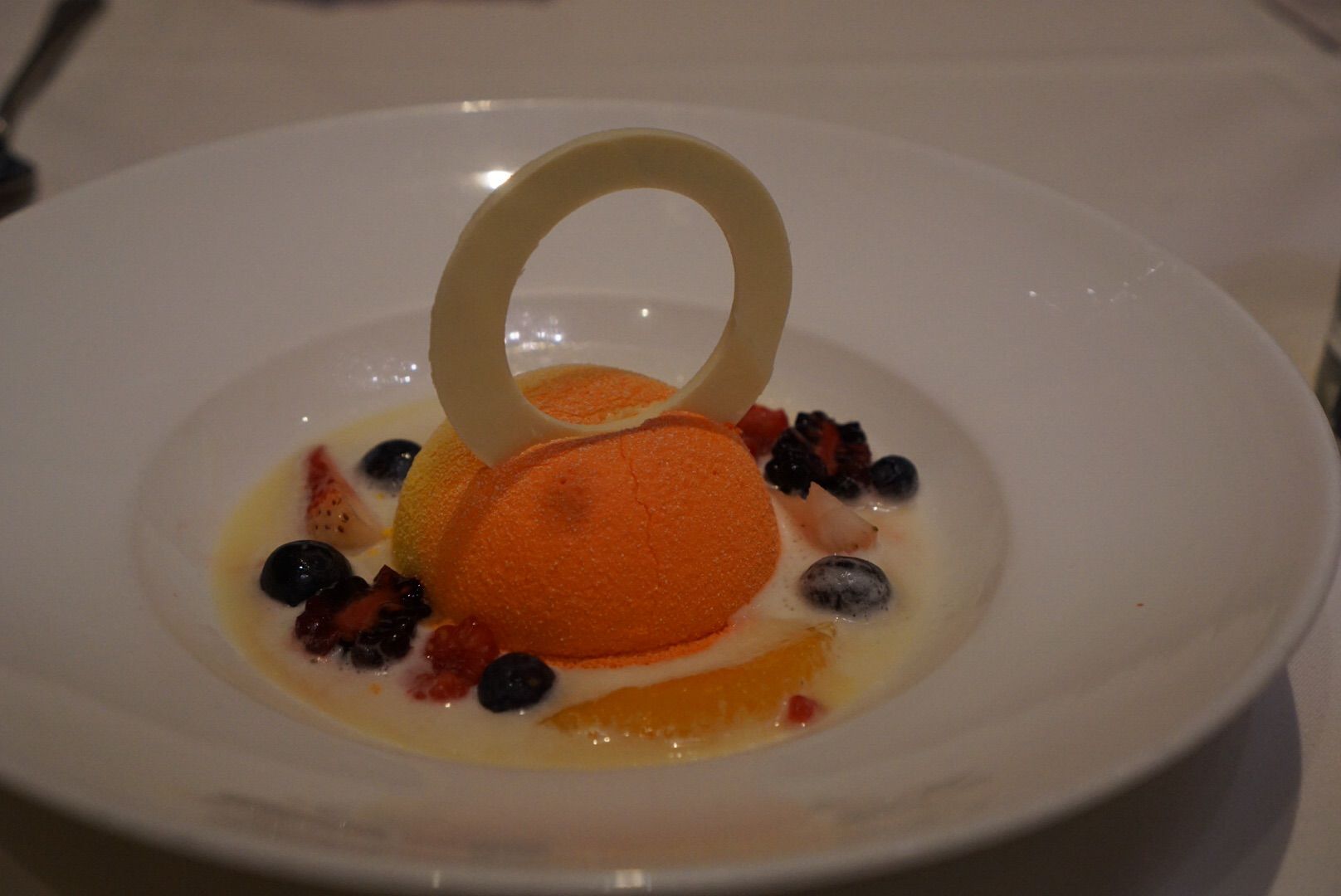 Though she really liked the lemon broth, the rest of this dessert was just okay.
While nothing on their Dessert menu appealed to me, I did spot something on their Specialty Coffee & Cocktails menu that I'd had before and loved…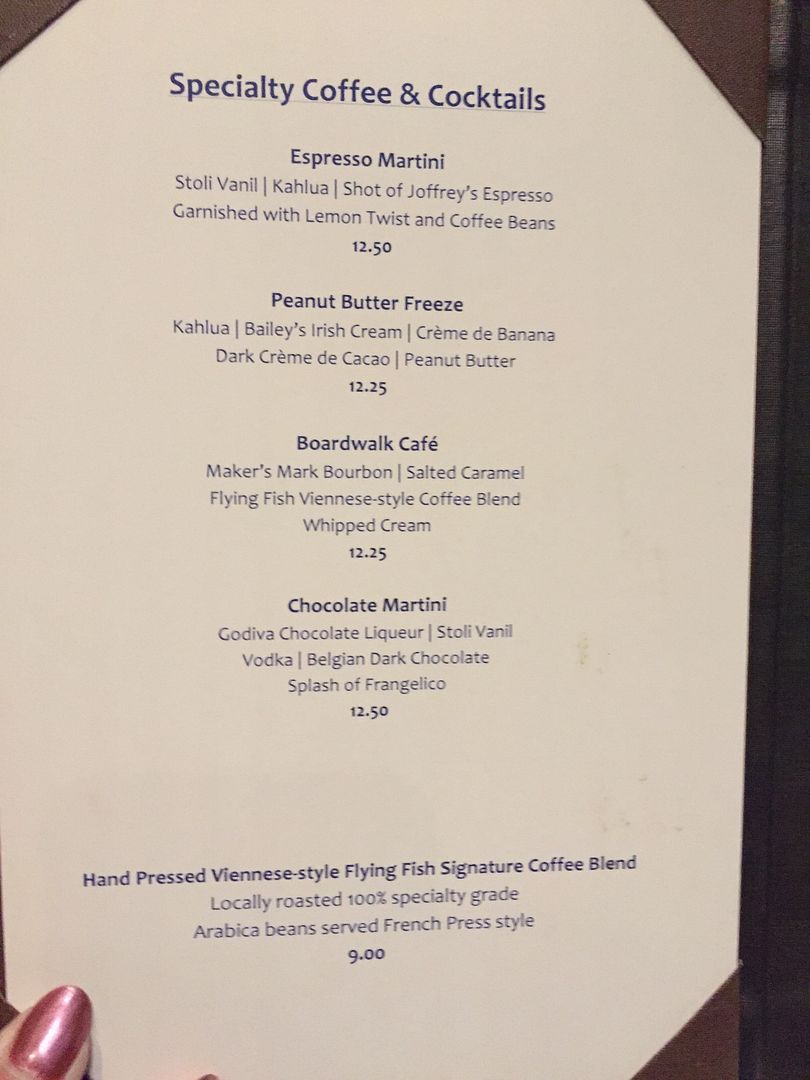 Here is a photo of their Peanut Butter Freeze, when I'd last had it in 2014…
And here is what it looked like in October 2018…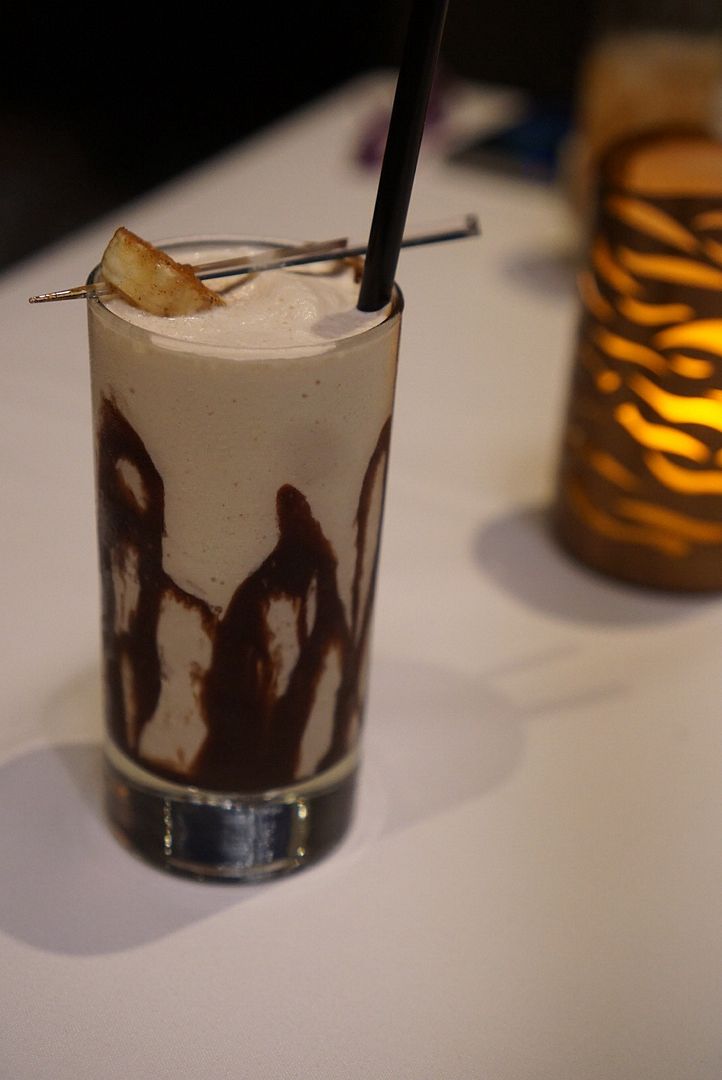 Peanut Butter Freeze with Kahlua, Bailey's Irish Cream, Creme de Banana, Dark Creme de Cacao, and Peanut Butter – $12.25
And a closer look…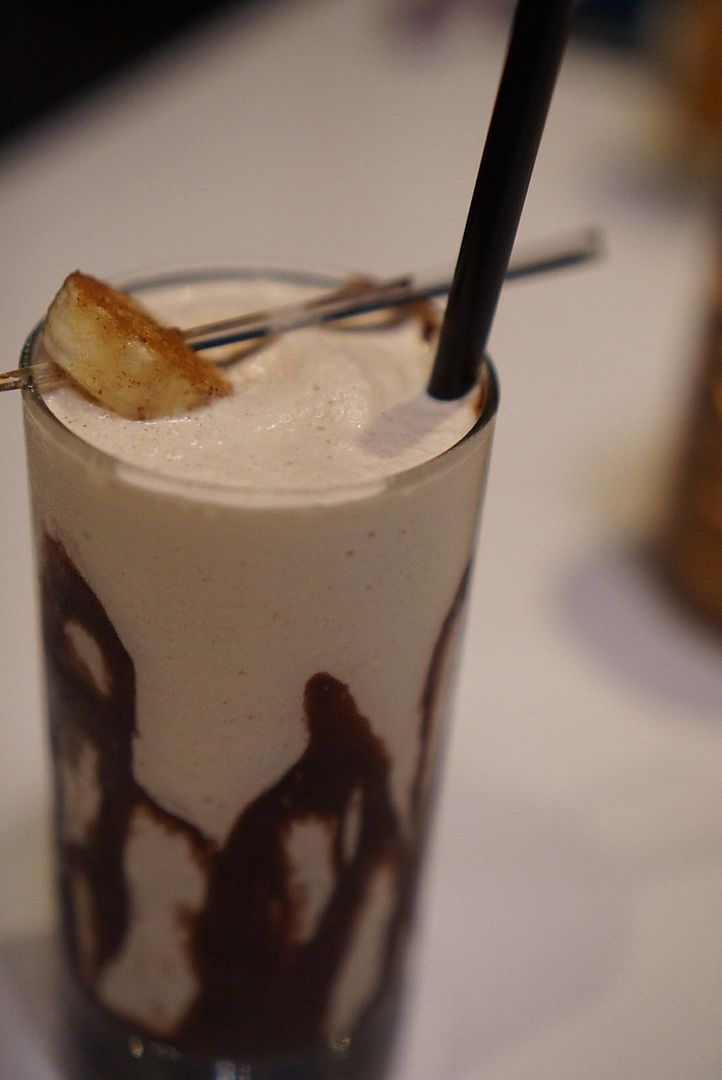 Though this looked different (prettier presentation with the chocolate syrup design along the sides of the glass) and cost a few dollars more than in 2014, it still had the same ingredients and tasted pretty much the same.  It maybe tasted just a little more like peanut butter than I remembered, but still very good.  My one problem with drinking this is that this restaurant was freezing cold inside.  I hate when you are forced to dine with a jacket on in order to be comfortable, which was the case here.  Ordering a frozen cocktail made this situation worse, teeth-chattering cold.  It probably would have been wise to order one of their specialty coffees rather than the Peanut Butter Freeze, but I guess I'm not wise, lol.
And so that just leaves the ratings & rankings.  Yelp rates Flying Fish 4 stars and Trip Advisor reviewers gave it 4 1/2 stars.  I would probably agree with the 4 stars.  While almost everything was good, nothing was outstanding.  And then there was the uncomfortably cold temperature of the restaurant.  As for the rankings, Flying Fish ranks #118 of the 2,850 Orlando area restaurants reviewed on Trip Advisor.  Narrowing this down to just the approx. 250 eateries in the Disney World area, Flying Fish ranks #38.