My friends, Nicole & Mike, and I were seated shortly after 8:00 at a 4-top table, which was not located right next to a window as we had hoped.  However, with just one table of guests in between us and a window, we still had a decent view for Illuminations, which was scheduled for 9:00 that night.
Although I looked at their menu of Margaritas and took a photo…
…I already knew which one I was going to order.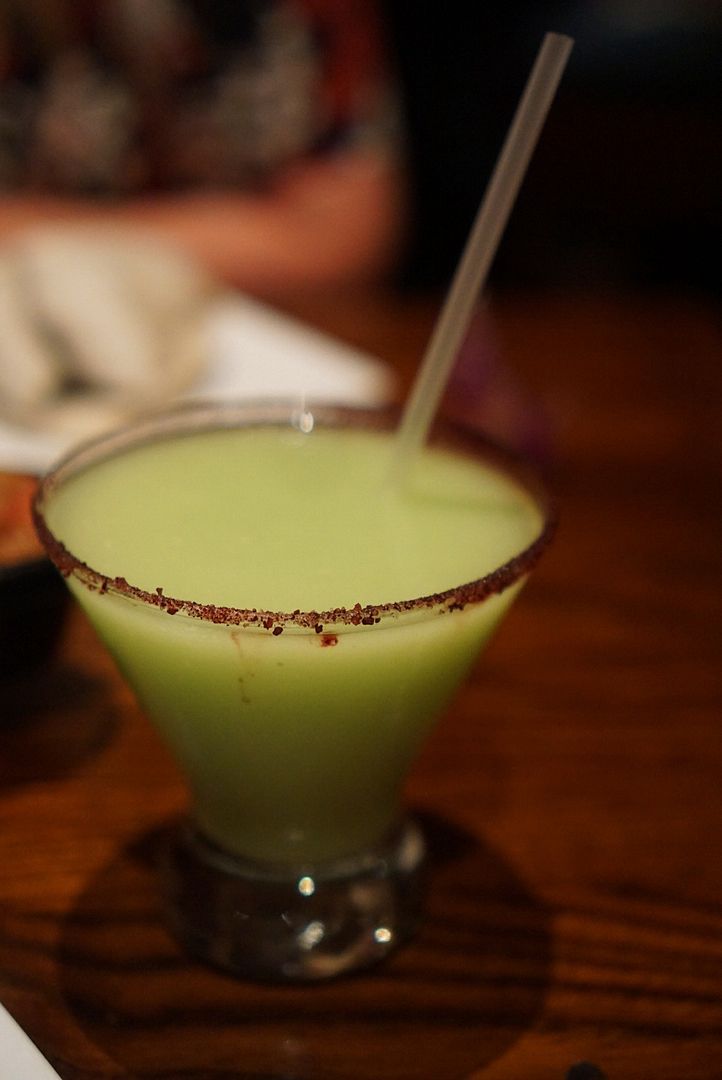 La Cava Avocado Margarita with Avion blanco tequila, melon liqueur, fresh avocado, agave nectar, fresh lime juice.  Served frozen with hibiscus salt rim – $15.00
While I've always had great avocado margaritas at La Cava de Tequila inside the Mexico pavilion and the restaurant next door to the bar, San Angel Inn (which has La Cava make their margaritas), they've been hit and miss at La Hacienda.  Fortunately this one was a hit!  Oh, and not just for me but for Nicole too, who also enjoyed her avocado margarita.  If you've never had one, I highly recommend it…even if you don't like avocados, as these really don't taste like avocado.
Along with our margaritas, a complimentary basket of tortilla chips and salsa was delivered to our table…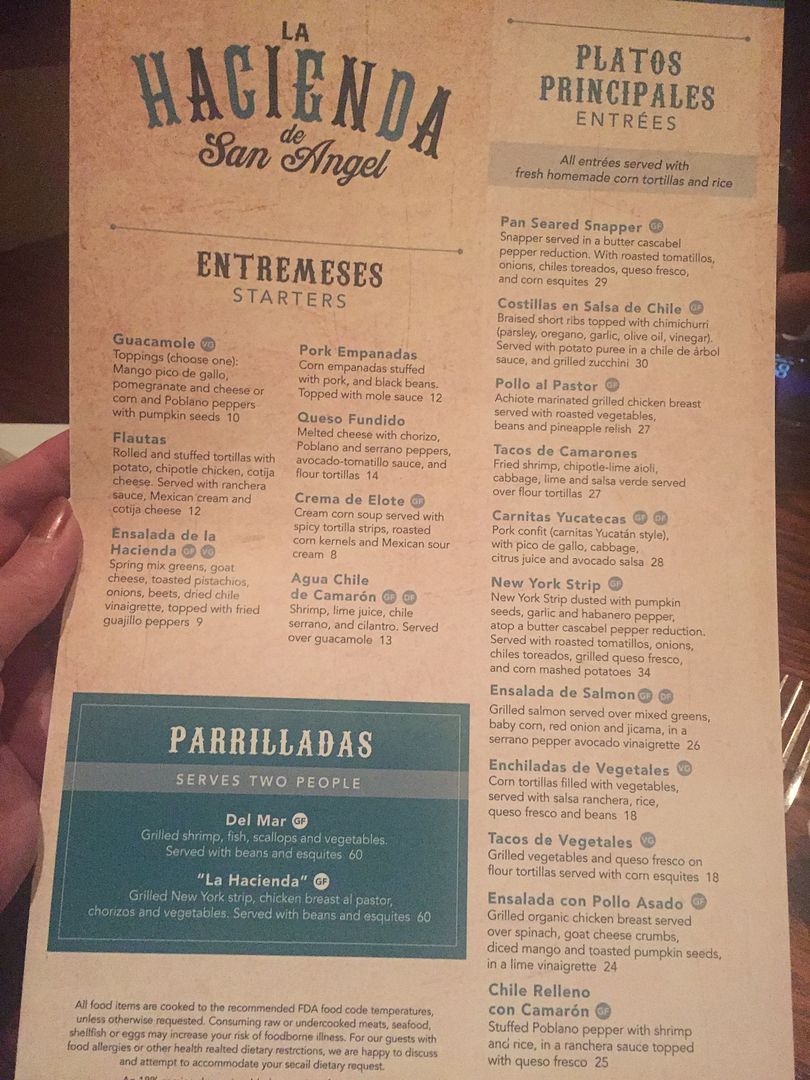 After eating my way around the Food & Wine festival booths that afternoon, I wasn't very hungry so decided to order just an appetizer…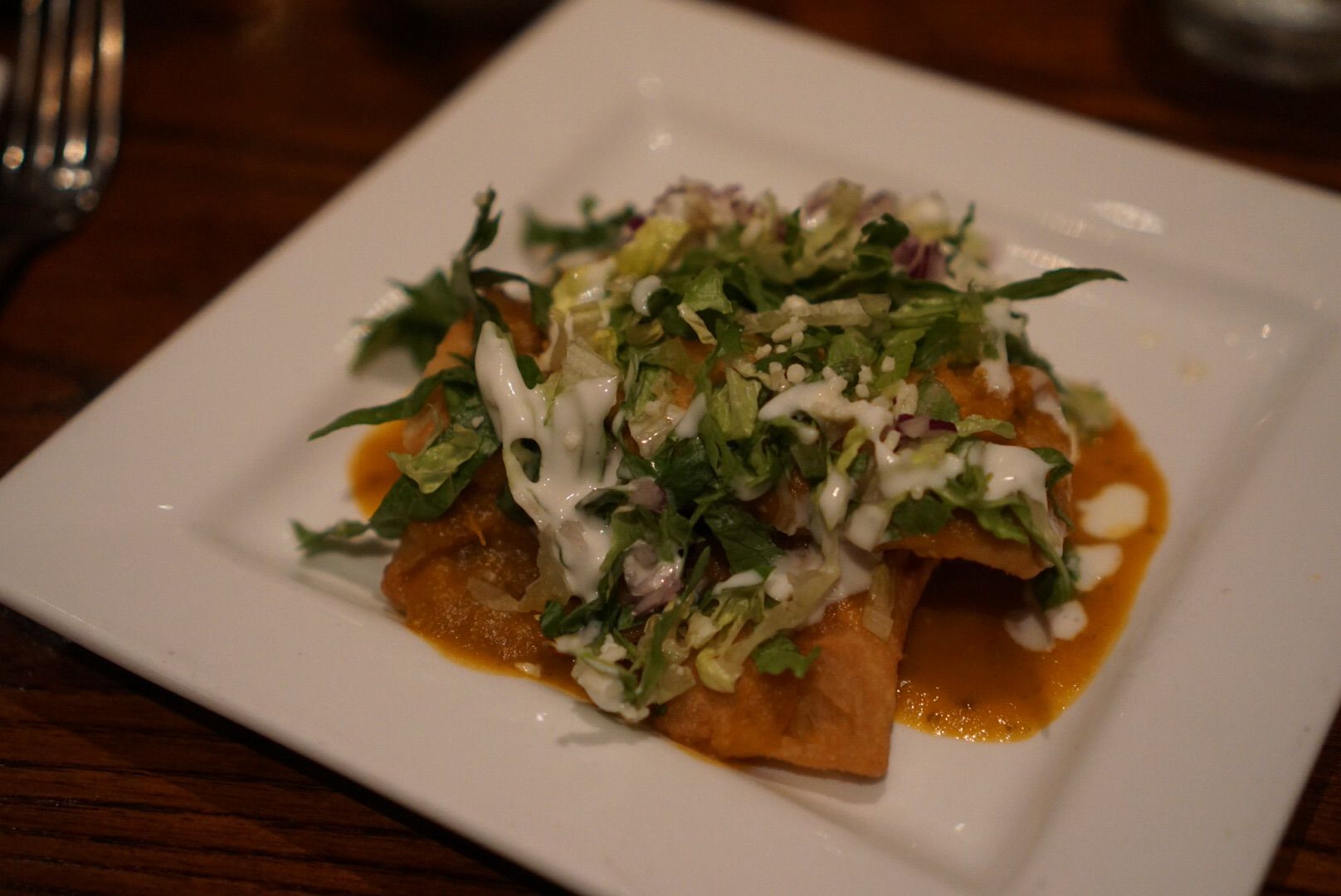 Flautas – Rolled and stuffed tortillas with potato, chipotle chicken, and cotija cheese.  Served with ranchera sauce, Mexican cream and cotija cheese – $12.00
As you can see these were topped with lots of shredded lettuce…too much for my liking.  Here's a look at one of the (I think 2) flautas minus the toppings…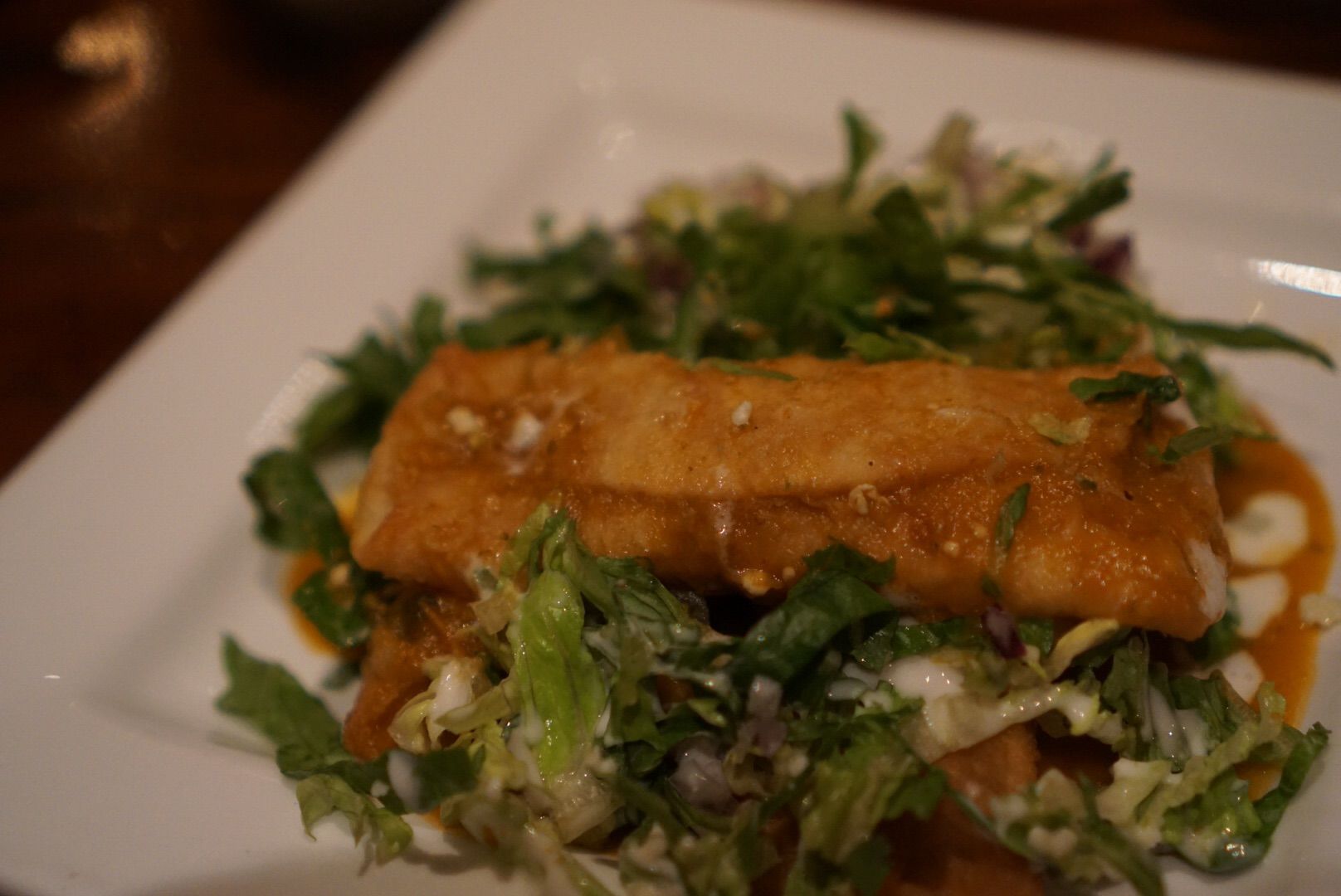 The flautas, while their filling tasted pretty good, were not as crisp as I would have liked, mostly due to all of the wet lettuce on top of them.  So while they were fine, if I had had a do over I would have tried the pork empanadas for the same price.
Nicole & Mike are big fans of the Parrilladas, both the seafood and meat platters.  On this night they chose the Del Mar for $60.00…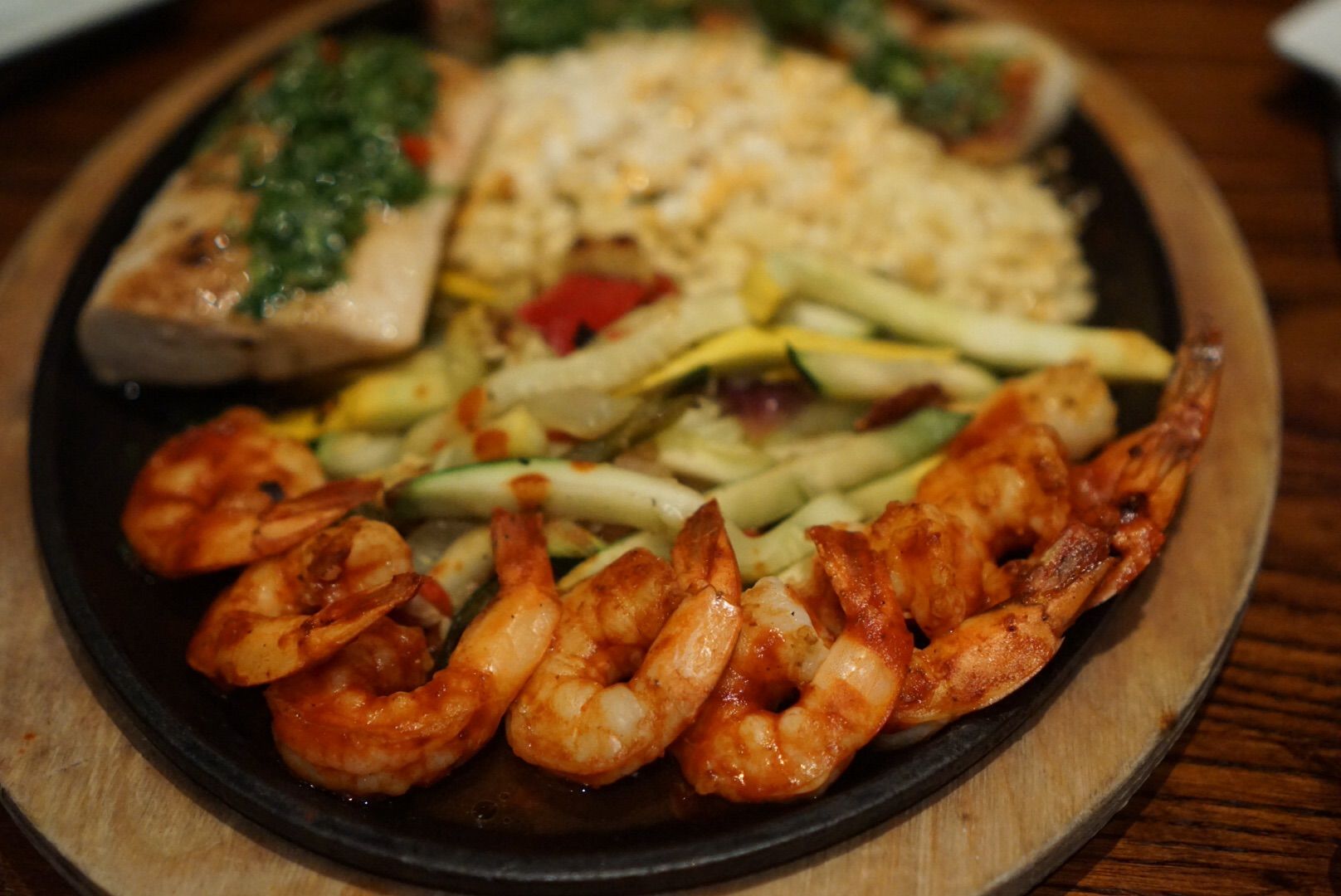 Included on this seafood platter (meant to serve two) were shrimp, fish (I think Mahi Mahi), scallops (hiding in the back of the plate), grilled vegetables (I think zucchini, squash, red peppers, and maybe green onion?), and a large amount of esquites (Mexican street corn).
Here's a slightly better look at the back of the platter…
They again loved this platter, especially the shrimp, scallops, and esquites.
Served with this platter were bowls of rice and refried beans…
Nicole & Mike said these were both good too.
I then decided to order a dessert for us to share…
But before the dessert was brought to our table, it was time for Illuminations.  Here are some photos which I took from our table (which was not right next to a window, but one table over)…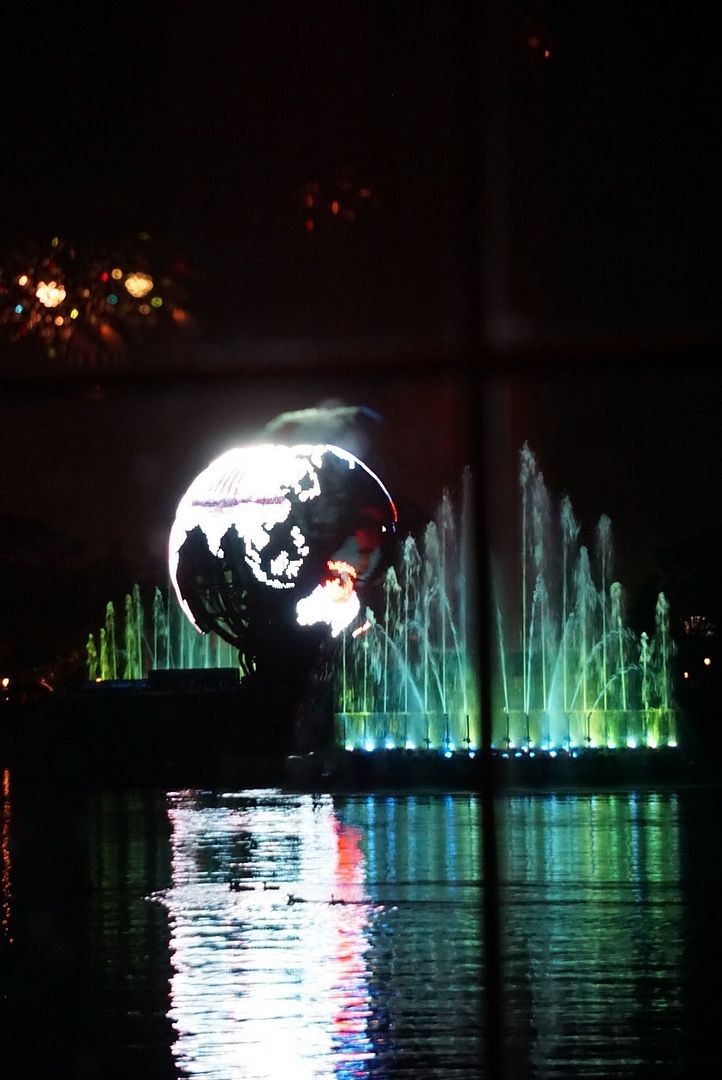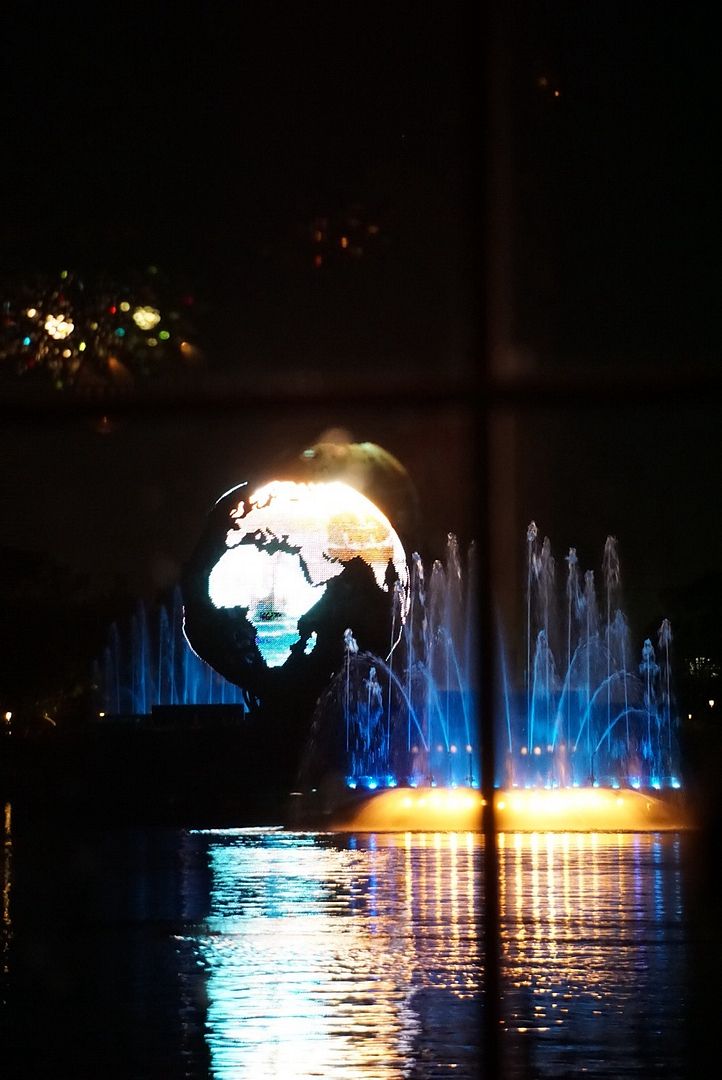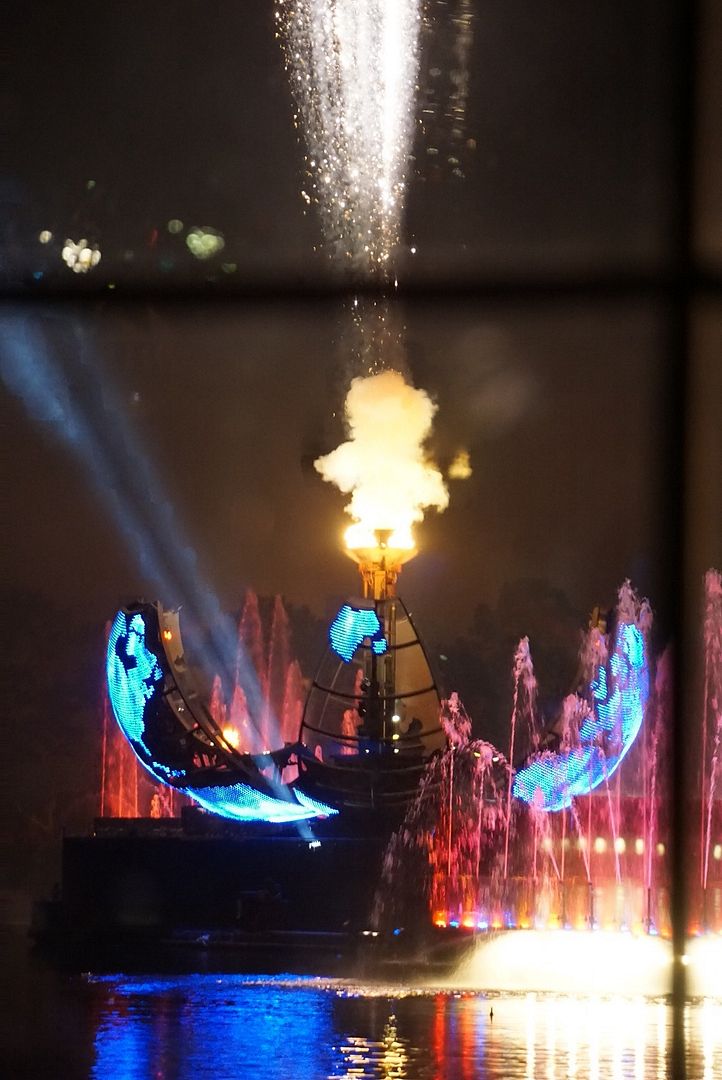 Then it was time to dig in to our dessert, which was delivered sometime during the show…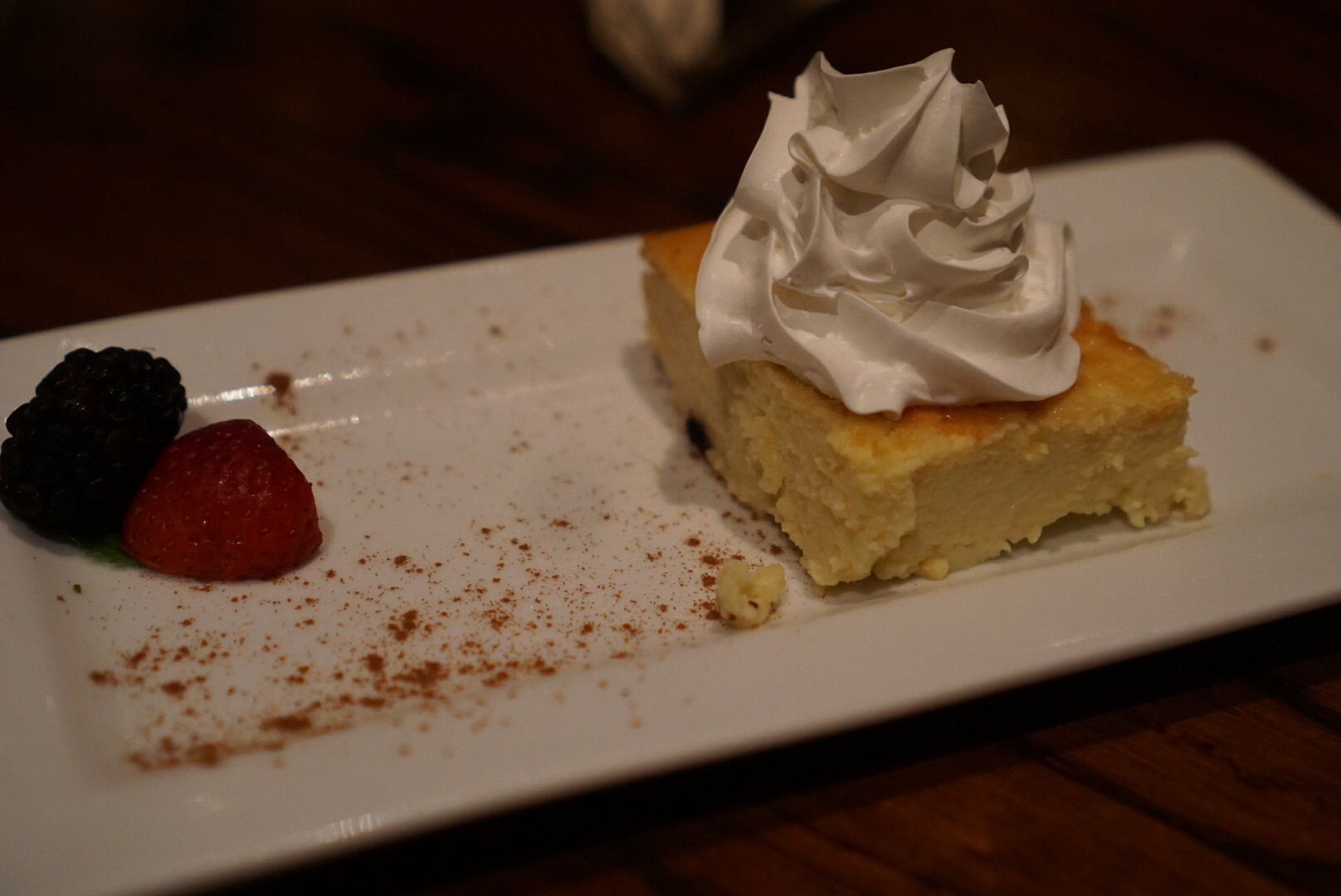 Flan de Maiz – Traditional Caramel and Sweet Cream Custard – $8.00
And a closer look…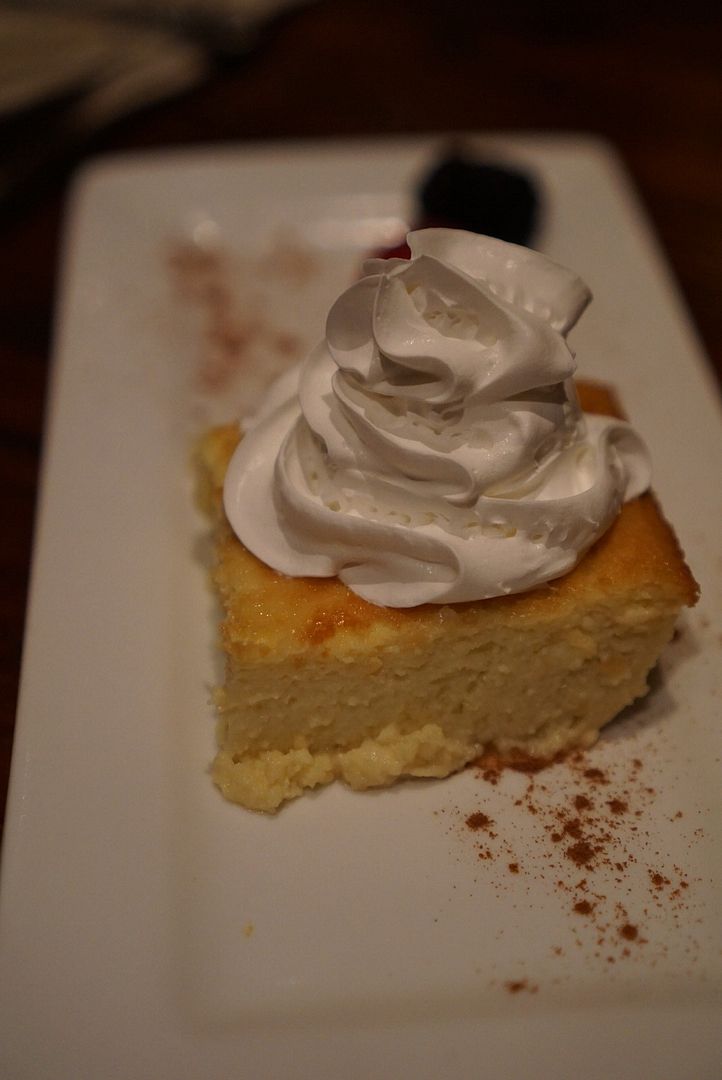 Because of the added ingredient of corn in this flan, it had a different consistency than the flans (baked custards) I've had previously.  This flan was thicker and coarser.  It tasted similar to the delicious cheesecake dessert that is served at San Angel Inn, but not quite as good.
And so that just leaves the ratings & rankings.  The reviewers at both Yelp and Trip Advisor gave La Hacienda a rating of 4 stars.  I would probably give it only 3 1/2 stars, but my friends would probably have rated their meal 4 1/2 stars so overall an average of about 4 stars.  As for its ranking, La Hacienda ranks #280 of the nearly 3,000 Orlando area restaurants reviewed on Trip Advisor.  Narrowing this down to the approximately 250 Disney World area restaurants, La Hacienda ranks #84.