We arrived about 5 minutes late for our 1:20 lunch reservation at Canada's Le Cellier restaurant but it was not a problem. They called us almost immediately after we checked in and we were seated at a spacious 4-top table in the corner of the Alberta section of the restaurant. [NOTE: If you have never eaten at Le Cellier, the various sections of the restaurant are named after one of the thirteen Canadian provinces or territories.] I must say that I was surprised that the two of us were seated at a table that could seat at least four. Though Le Cellier is considered a signature restaurant, it is tight quarters there (with the tables very close together) so they can squeeze in as many people as possible. Therefore I was expecting to be seated at a table like these two tops that were next to ours…
But actually, unlike my previous visits to Le Cellier, the restaurant wasn't very full.  This was at 1:30, so maybe a little past their peak busy lunch time.  However, my original reservation had been made for 11:15 but when I scheduled the Epcot tour a couple of weeks prior to our trip I knew we wouldn't be able to make it.  Knowing how popular this restaurant once was, I was doubtful that I would be able to reschedule our Le Cellier lunch so late in the game.  But to my surprise, I actually had my choice of a few different later lunch times to choose from.  At no time though (not even at 180 days out) was I able to get a dinner reservation at Le Cellier.  So I guess Le Cellier is still popular, just not at lunch.
Ok, moving on now to their menu, as of November 2019…
Andrew already knew exactly what he wanted to order so while I photographed and perused the menu he spent the time scrolling through Instagram on his phone, lol.
The first food to arrive at our table was the complimentary bread basket…
Included were one each of a pretzel breadstick and a multi-grain and sourdough roll. Each of these represent different provinces in Canada. The sour dough represents the Yukon province and its annual festival, the Yukon Sourdough Rendezvous. The multi-grain roll represents the grain growing provinces (called The Prairie provinces) of Alberta, Saskatchewan, and Manitoba. And our favorite, the pretzel bread, represents Ontario, which hosts the 2nd largest Oktoberfest celebration outside of Germany.
As soon as we saw the contents of the basket, both Andrew and I recognized the problem here…there was only one pretzel breadstick!!! So I immediately asked for one more and soon two more arrived…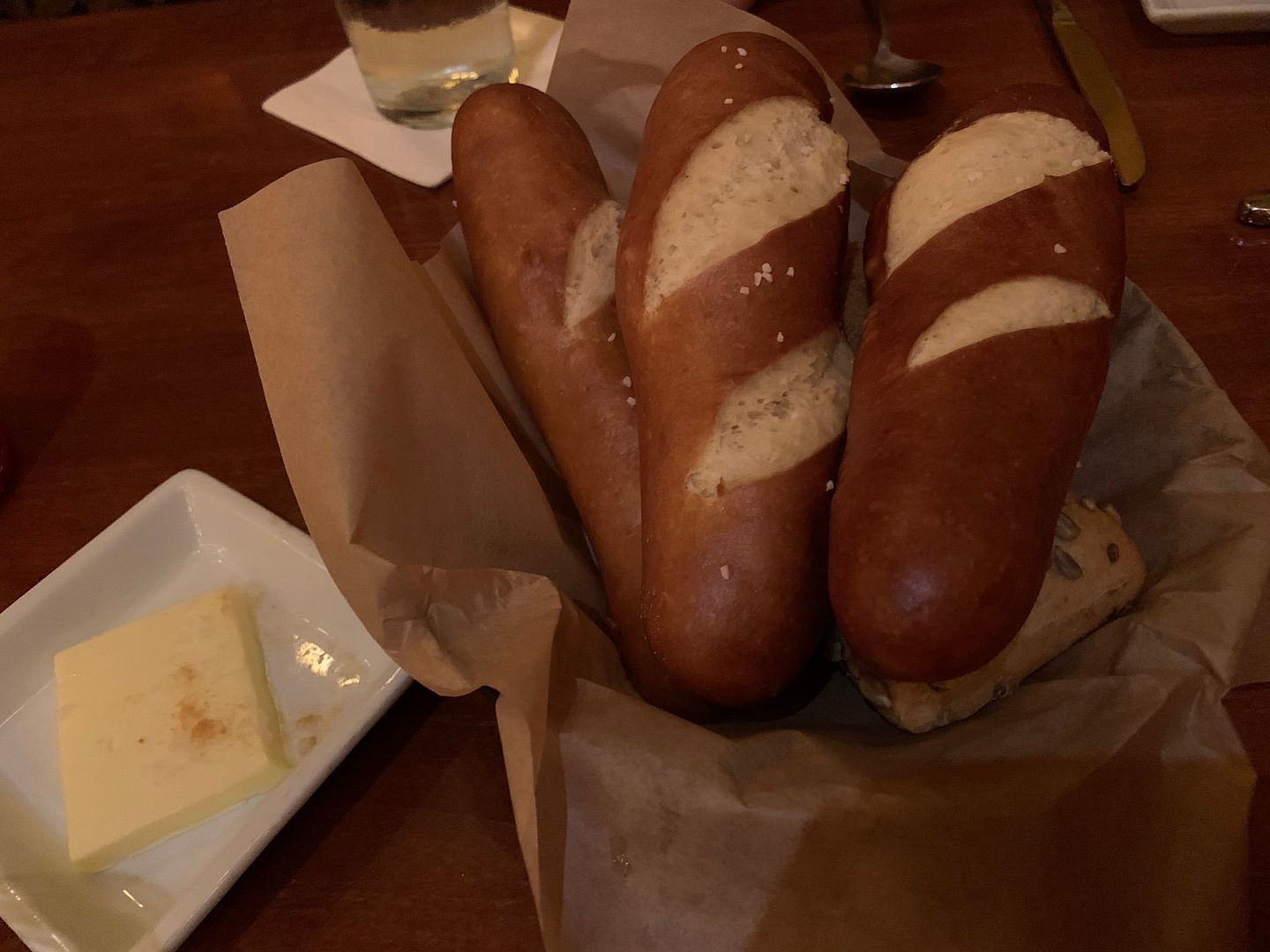 These are always so good, especially when dipped into what Andrew chose for his appetizer…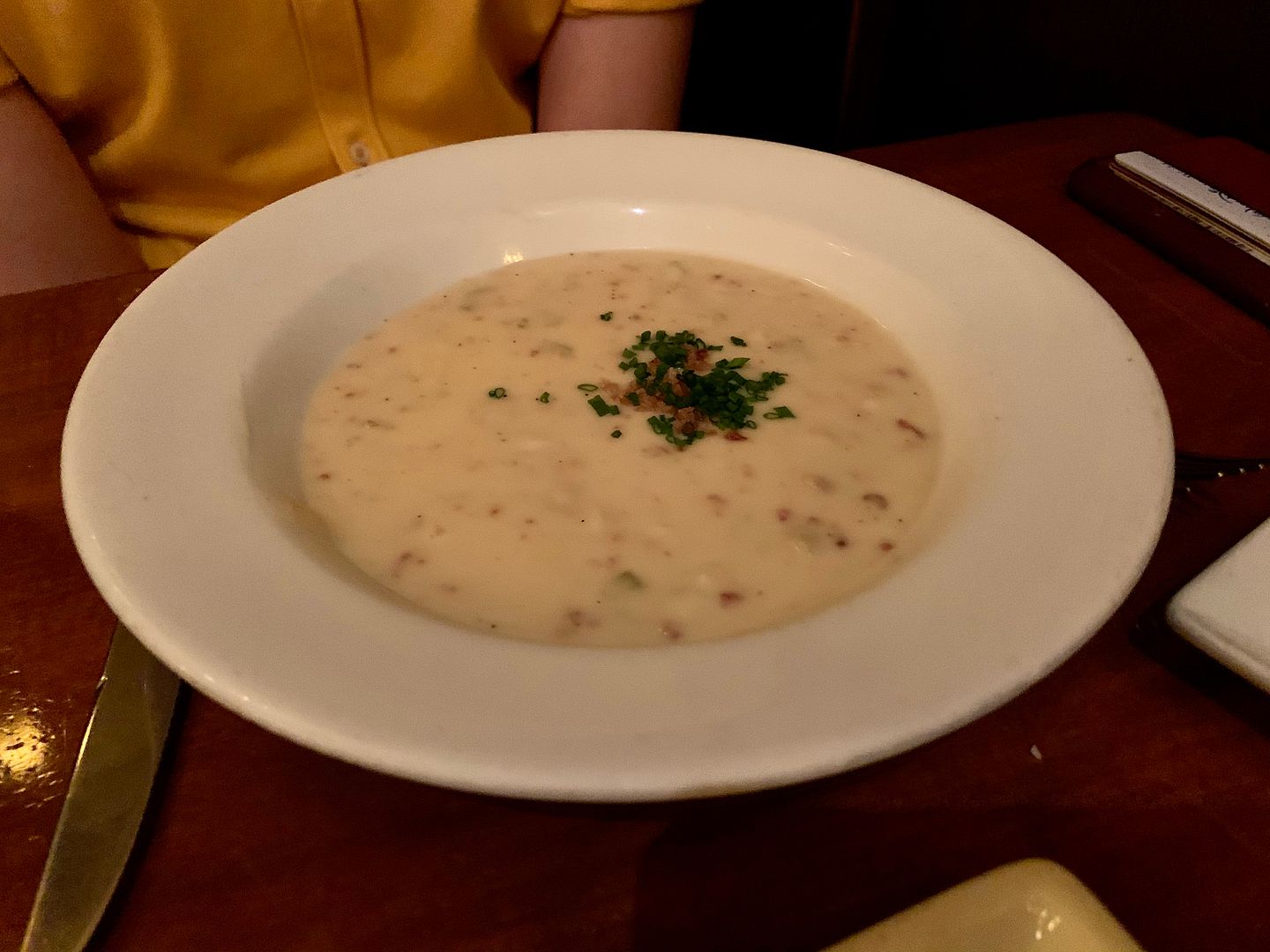 Canadian Cheddar Cheese Soup made with Moosehead Beer and Applewood-smoked Bacon – $13.00
Andrew thought this tasted more like beer than he had remembered (and he doesn't like beer), but he still liked it. The spoonful that I had of his soup tasted the same as usual to me. As always, I thought it was delicious. I guess my only complaint about it is that the price keeps going up. In my 2015 review it was only $7.25. Then on my next visit to Le Cellier in 2017 the price had gone up to $11.00. And then this time (November 2019) it was $13.00. That's a 79% increase in 4 years. Ouch!
Even though I knew I would enjoy the cheddar cheese soup, I decided that for the sake of this review I should try something else. And that something else was this…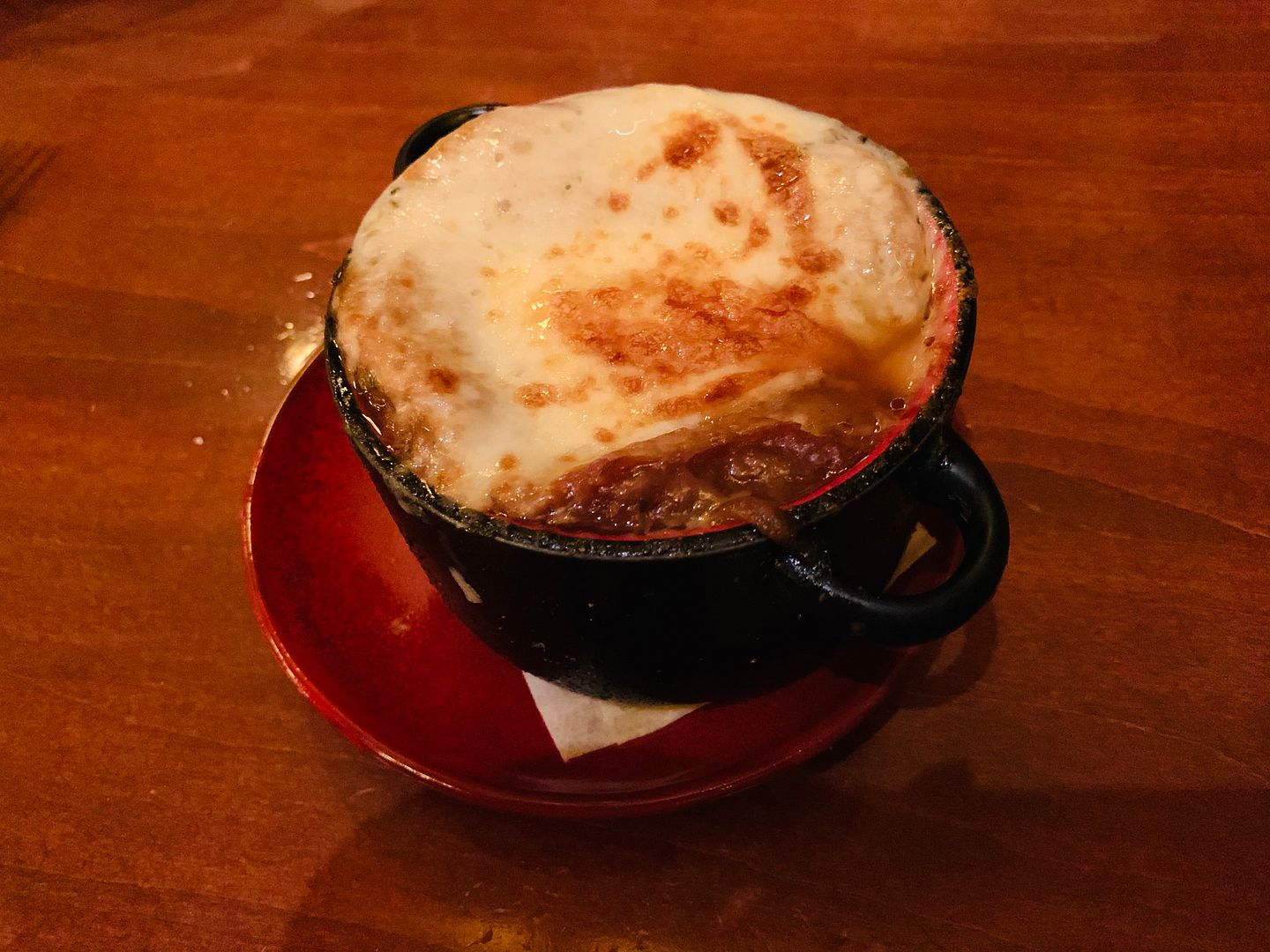 French Onion Soup topped with Brioche and Provolone, Fontina, Asiago and Parmesan Cheeses – $13.00
I was happy to see that they had added French onion soup to their menu, since generally I really like French onion soup. However, I've had it at various restaurants at Disney World and it's been rather hit and miss. I didn't care for it when it was served at Yachtsman Steakhouse but loved it at Shula's Steakhouse, two other steakhouses at Disney World. Others I've tried were at Be our Guest and Chefs de France, both of which I thought were just okay. The Chefs de France soup had a chicken broth base and Be our Guest was vegetable, if I remember correctly. When it comes to French onion soup I prefer a beef broth. Although the YSH soup had a beef broth, it predominantly tasted of tomato. Other than Shula's, another "beefy" French onion soup that I like is the one at the Grand Floridian Cafe. It was on both their Breakfast/Lunch menu and their Dinner menu so I've had it both for a late breakfast and for dinner. Both times I enjoyed it. Sadly though it is no longer on either menu. Hopefully once things are more normal, Disney restaurant menus will be expanded and the French onion soup will be back on the GFC menu.
But let's get back to our lunch at Le Cellier, and more specifically, their French onion soup. I'm happy to report that it was very, very good. Much to my surprise, I actually thought it was equally as good as their cheddar cheese soup. Sadly though the French onion is not currently (as of this writing in April 2021) on Le Cellier's limited menu.
Now for our entree choices, starting with Andrew's. He really wanted the filet but doesn't like mushrooms so didn't want the mushroom risotto that normally accompanies the filet here. In the past I thought you could substitute the side for any side served with another entree on the current menu. But when he asked if he could have the cheesy french fry potato gratin that came with the rib eye steak instead of the risotto, he was told no. The substitution choices were only french fries, green beans, brown rice, or regular mashed potatoes. This was their regular mashed potatoes, not the Loaded Boursin Mashed Potatoes that are listed under the Enhancements section of the menu for $10.00.
He chose the mashed potatoes…
Le Cellier Filet Mignon – AAA Canadian Tenderloin served with Mashed Potatoes (instead of the Mushroom Risotto) – $59.00
Andrew was very happy with his choice of the mashed potatoes. He said he loved both the potatoes and his filet, which was cooked properly to his requested temperature of medium. He also said it was better than the filet he'd had at California Grill. In fact, this ended up being Andrew's favorite meal of the trip.
As for me, I also ordered the filet, but as it was normally served…
Le Cellier Filet Mignon – AAA Canadian Tenderloin served with Mushroom Risotto, Asparagus-Tomato Relish, and Truffle-Butter Sauce – $59.00
I also ordered mine medium but it was much pinker/redder than Andrew's filet. It looked more like medium rare to me…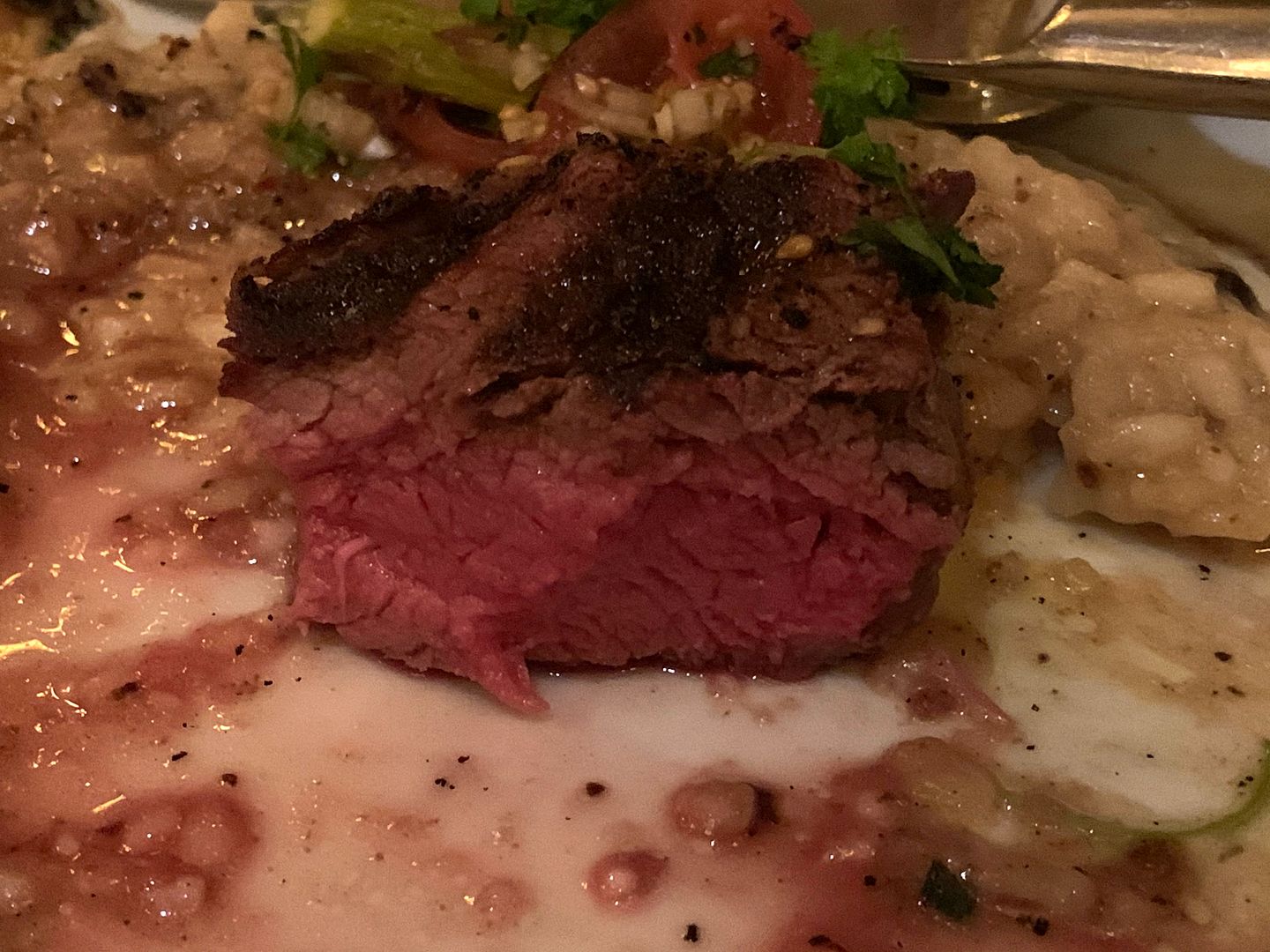 Still it was very good and I agreed with Andrew that it was better than his California Grill filet. I thought it was better seasoned and more flavorful. And while the risotto was good, in my opinion it was not as good the mashed potatoes, which Andrew let me taste. Next time I would strongly consider asking to substitute them for the risotto.
Overall, this was probably my second favorite meal of the trip. Considering that my last meal (really just the entree) at Le Cellier was awful, I was pleasantly surprised. Le Cellier is now back on my list of possible choices for full service dining at EPCOT.
As for the ratings and rankings, the reviewers on both TripAdvisor and Yelp have given Le Cellier a rating of 4 stars. Andrew and I however gave this meal at Le Cellier 4 1/2 stars. Had there not been a misstep on the temperature of my steak (which is a bit annoying for a restaurant which claims to be a steakhouse), I probably would have given this meal a full 5 stars. Le Cellier's TripAdvisor ranking is #232 of the nearly 2500 Orlando area restaurants reviewed there. Narrowing it down to just those in the Disney World area, Le Cellier ranks #69 of the nearly 300 reviewed.