So why did I choose Shula's for this special occasion? Well, first of all I hadn't been there since May 2014, so it had been on my list to review again for awhile now. And next I really enjoy a good steak, especially a filet, and Shula's is often touted as being the best steak house on Disney property. However, the two times that I visited Shula's, the steak wasn't really a highlight for me. But things change, especially when it comes to restaurants at Disney World. Consistency is generally not one of their strong suits. I've had some of my best meals and worst meals at Disney at the very same restaurants. So all of that is to say, why not give Shula's another chance to fulfill their reputation? And what better time to splurge at this expensive restaurant than on my birthday?
Ok, now let's move on to our meal. We were seated at a 4-top table shortly after checking in for out 7:45 reservation. The décor at Shula's is both formal, with dark wood floors, even darker wood paneled walls and then tall white ceilings…
White linen table cloths and white chairs add to the formal look…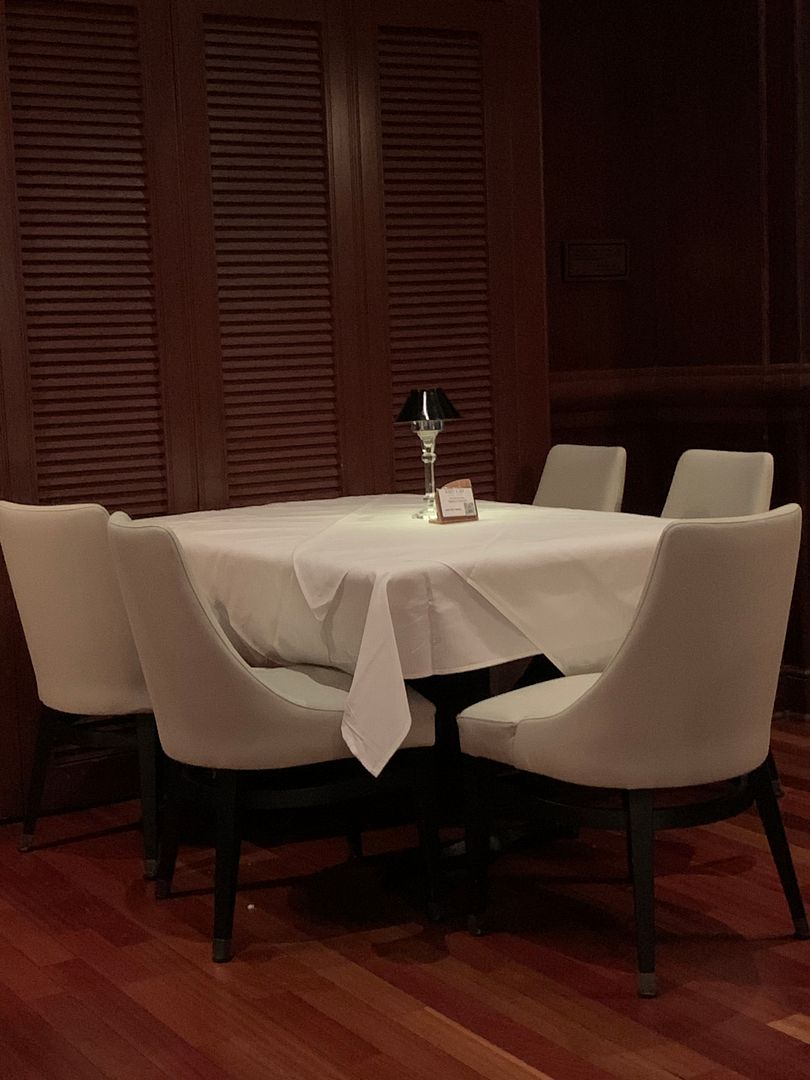 But then Shula's also has just a bit of an informal sports bar vibe with all of the football-related photos lining the walls…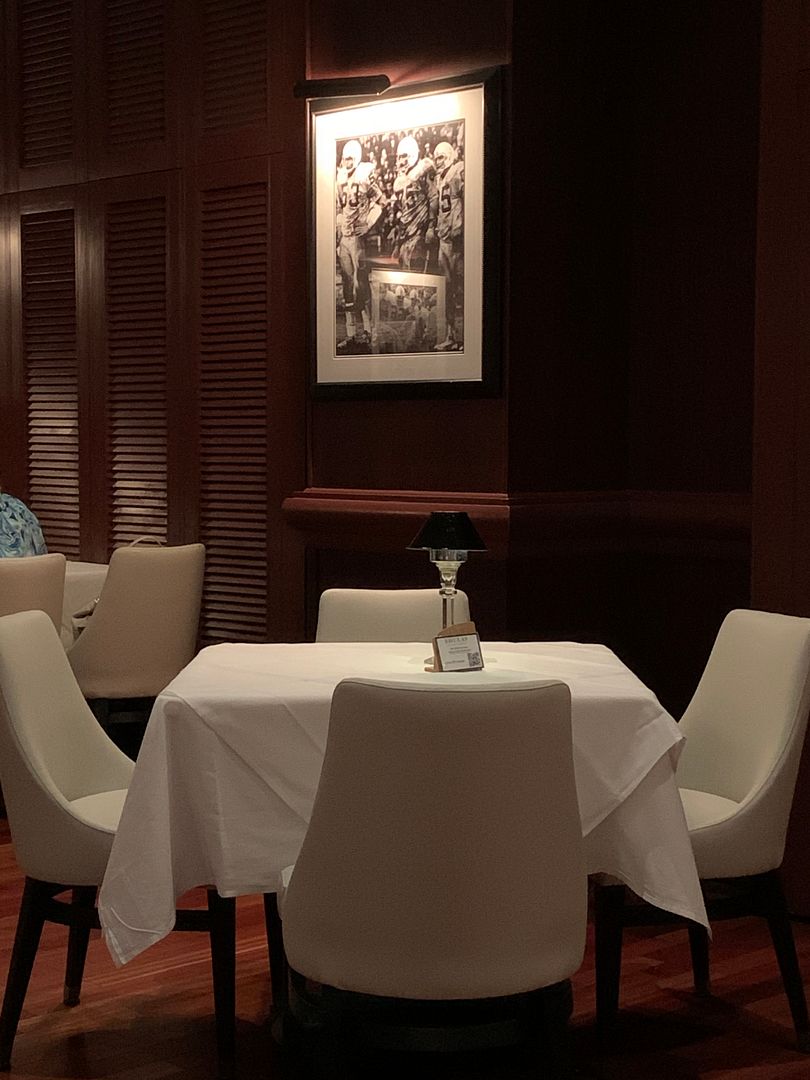 Missing though from the tables were the football "menus".  Here are photos of this that I took when I last dined here in 2014…
Just as before, we were assigned two servers, both wearing facemasks plus the extra protection of plastic face shields.  Nice!  
One of our servers took our beverage orders.  Andrew chose his from their Handcrafted Cocktails menu…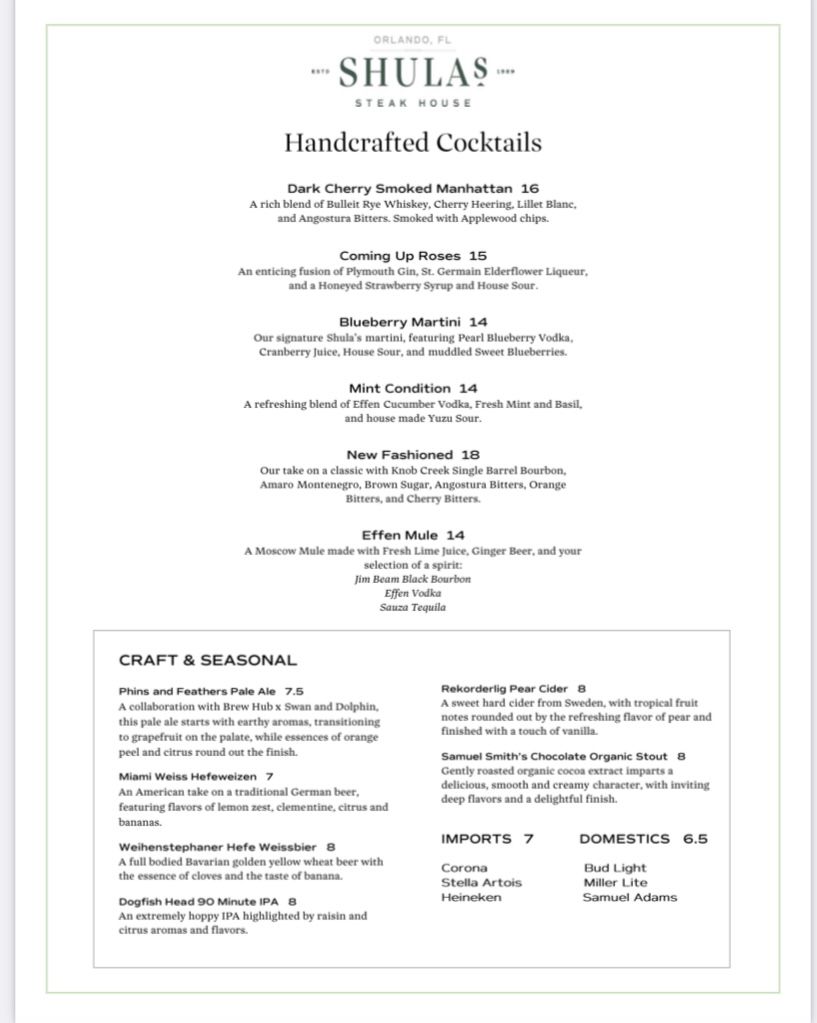 After our server's recommendation, he chose their signature martini…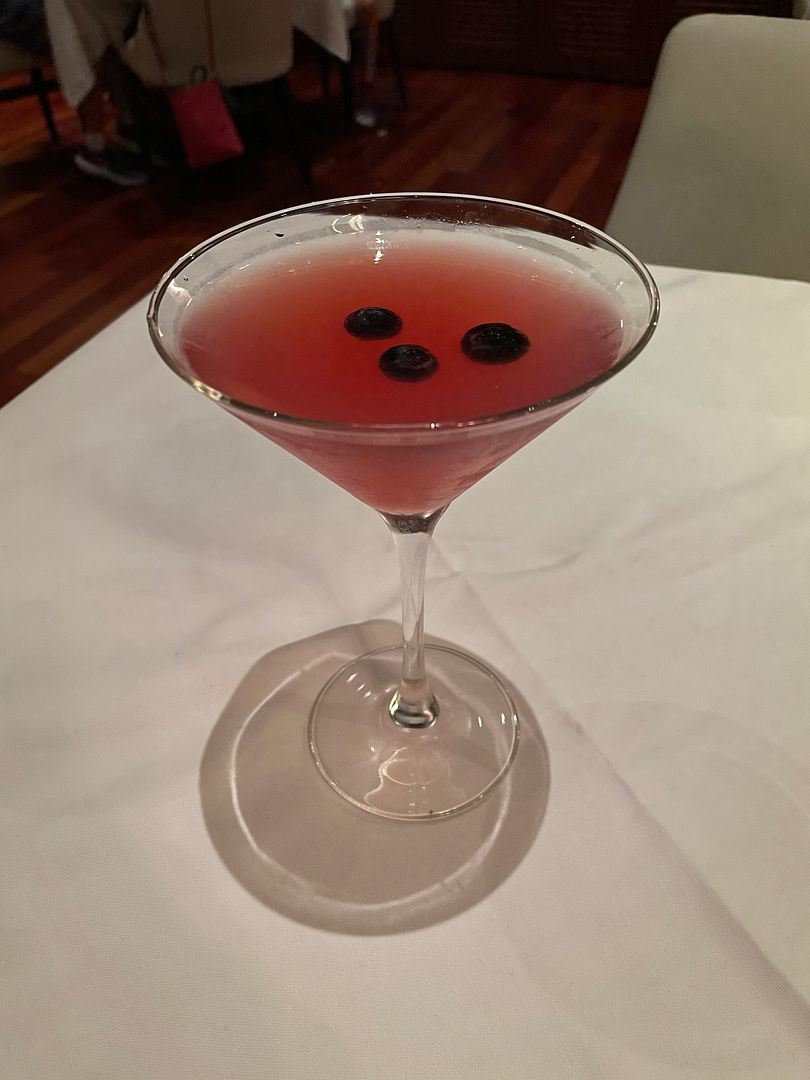 Blueberry Martini featuring Pearl Blueberry Vodka, Cranberry Juice, House Sour, and Muddled Sweet Blueberries – $14.00
Andrew commented that this was strong, with a good amount of vodka.  
I didn't see anything on the Cocktail menu that called to me, but I did see one of my favorites (Eroica riesling) in the White Wine section of their list of wines available by the glass.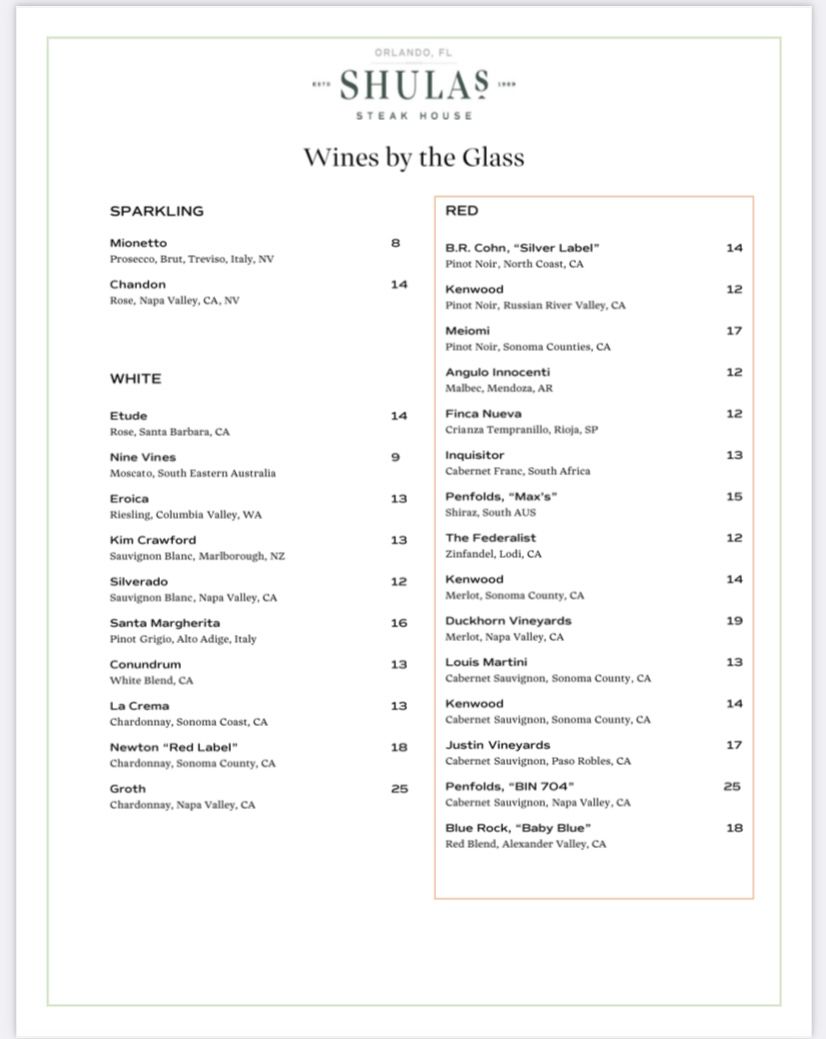 This is not a super sweet riesling, but instead is crisp with just a touch of sweetness.  Though it's not a wine that you would typically pair with steak (probably better with seafood), I enjoy it so much that I was not concerned about this.  
Along with our drinks, we were brought a complimentary bread basket…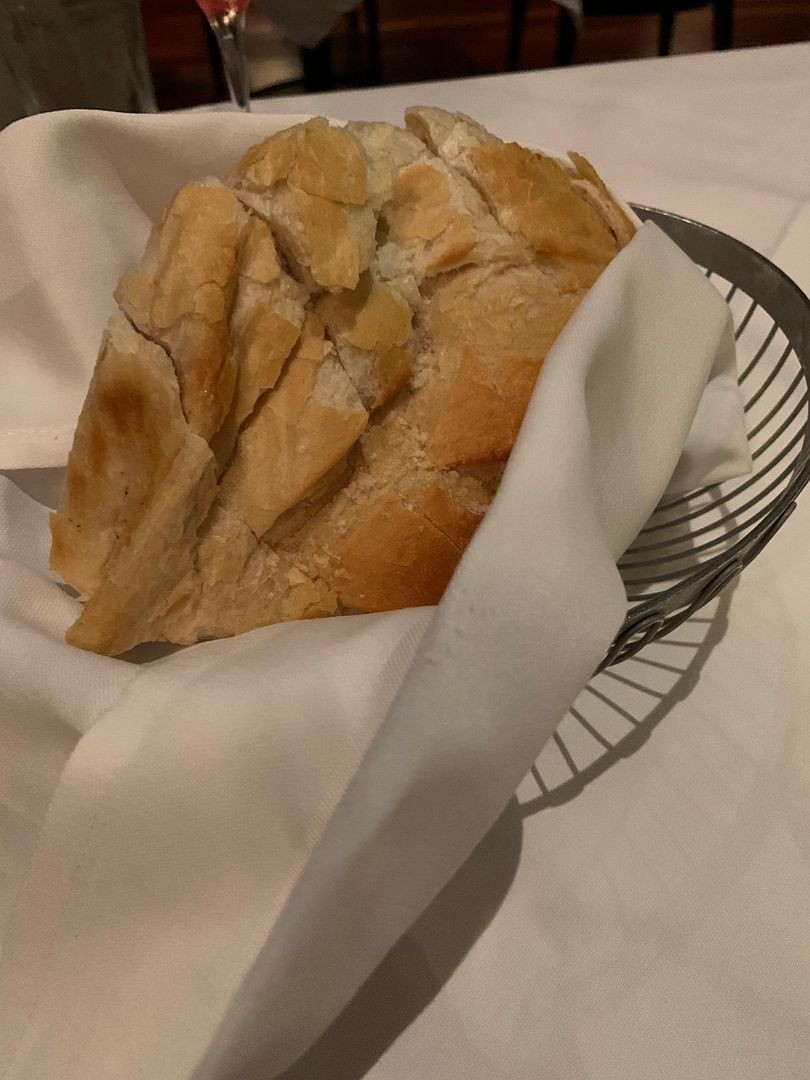 This was filled with thick slices of warm sourdough bread with a crispy crust and a nice, soft center.  Simple, yet very tasty.  While I showed restraint and ate only one slice with my appetizer, Andrew had most of the remaining slices.  He loves his bread!  
And speaking of my appetizer, I chose their…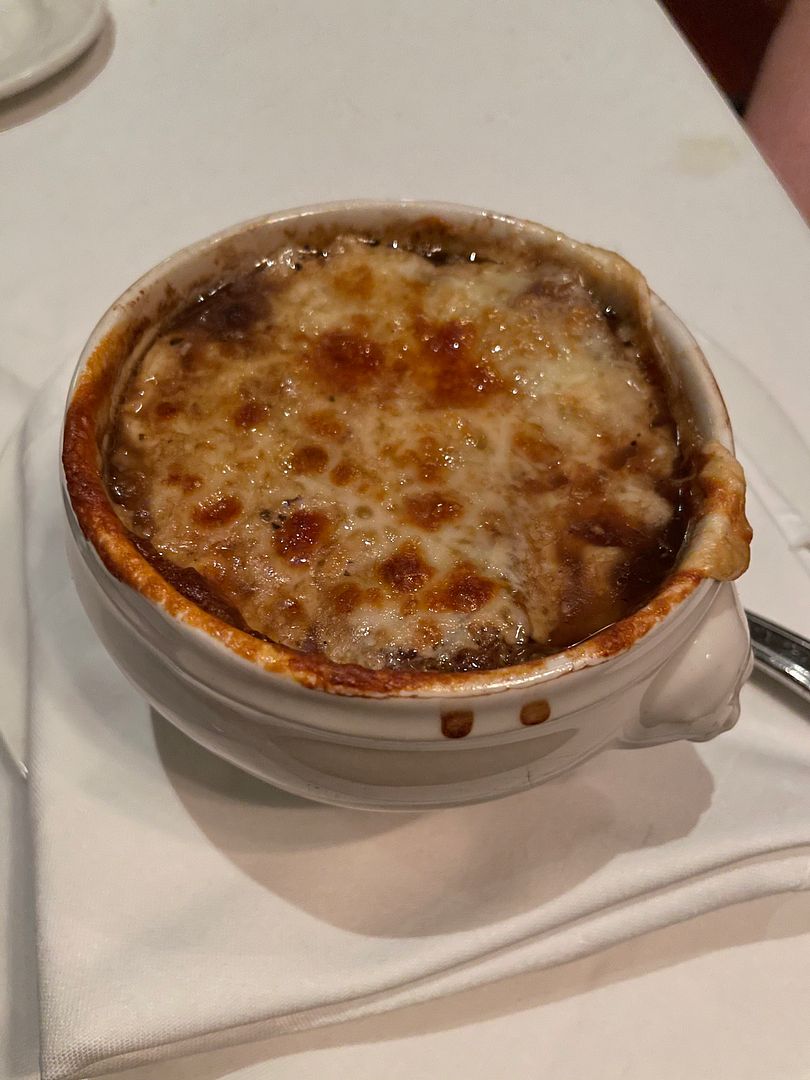 French Onion Soup – Caramelized Onions and Croutons in a Rich Beef Broth, topped with Gruyere and Provolone Cheeses – $13.00
For 7 years I've thought about how delicious this soup was and have compared the many French onion soups served by other restaurants at Disney World to this one. All fell short. Frankly, I was afraid that this time it too would fall short of the high bar set in my mind since 2014. But thankfully my memory proved to be accurate, as it was still delicious. For me, its rich, beefy broth makes the difference between a great French onion soup and an okay one. The bread cubes used are likely made from their leftover sourdough bread. Add to this the sweetness of the caramelized onions and topping it with delicious, melted gruyere and provolone cheeses makes for French onion soup perfection. So in my opinion, Shula's is still the champion for French onion soup at Disney World. It's better than the soups at the French (or French-themed) restaurants like Chefs de France and Be our Guest. Better than those served at other steak houses at Disney World, like Yachtsman and Le Cellier. Note though that the soup I had during my 2019 lunch at Le Cellier came very close. However, sadly I no longer see it on their current menu. Another very good one that fell just a bit short of Shula's was the French onion soup at the Grand Floridian Café. I'm not seeing it on the menu there anymore either. Boo!
Now for Andrew's appetizer choice. He had a difficult time finding something that appealed to him on their menu…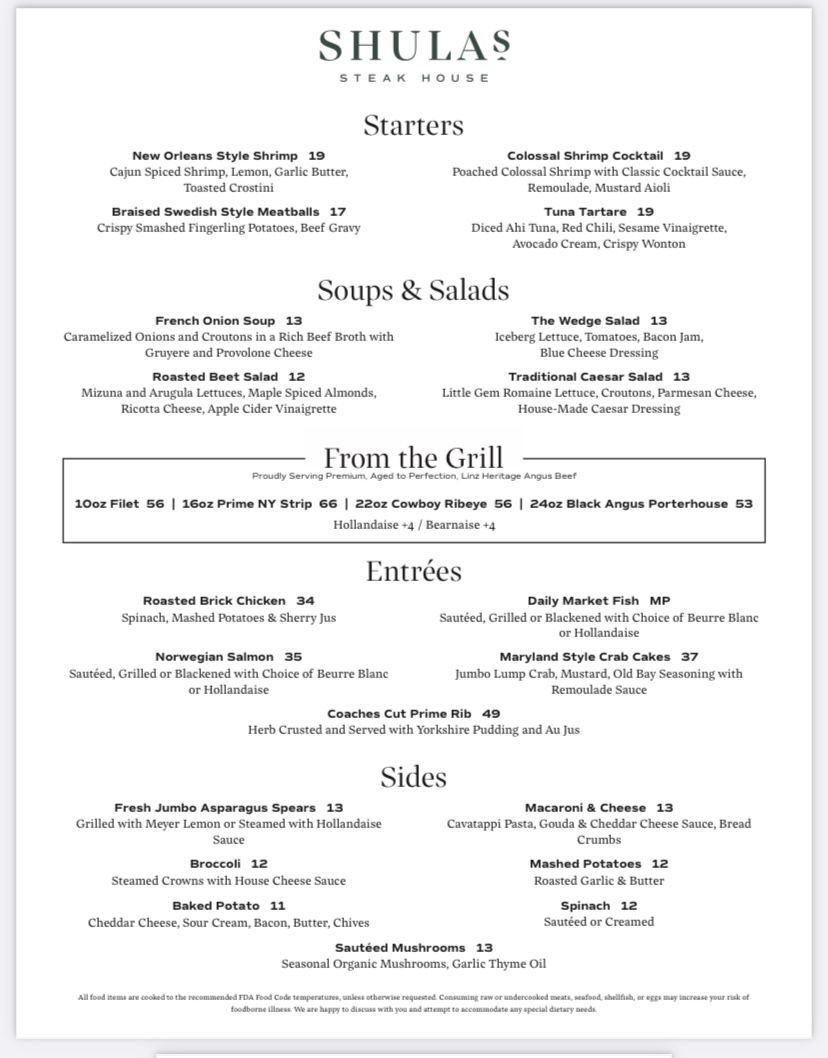 He doesn't generally eat seafood or salads and doesn't like French onion soup. So that left the…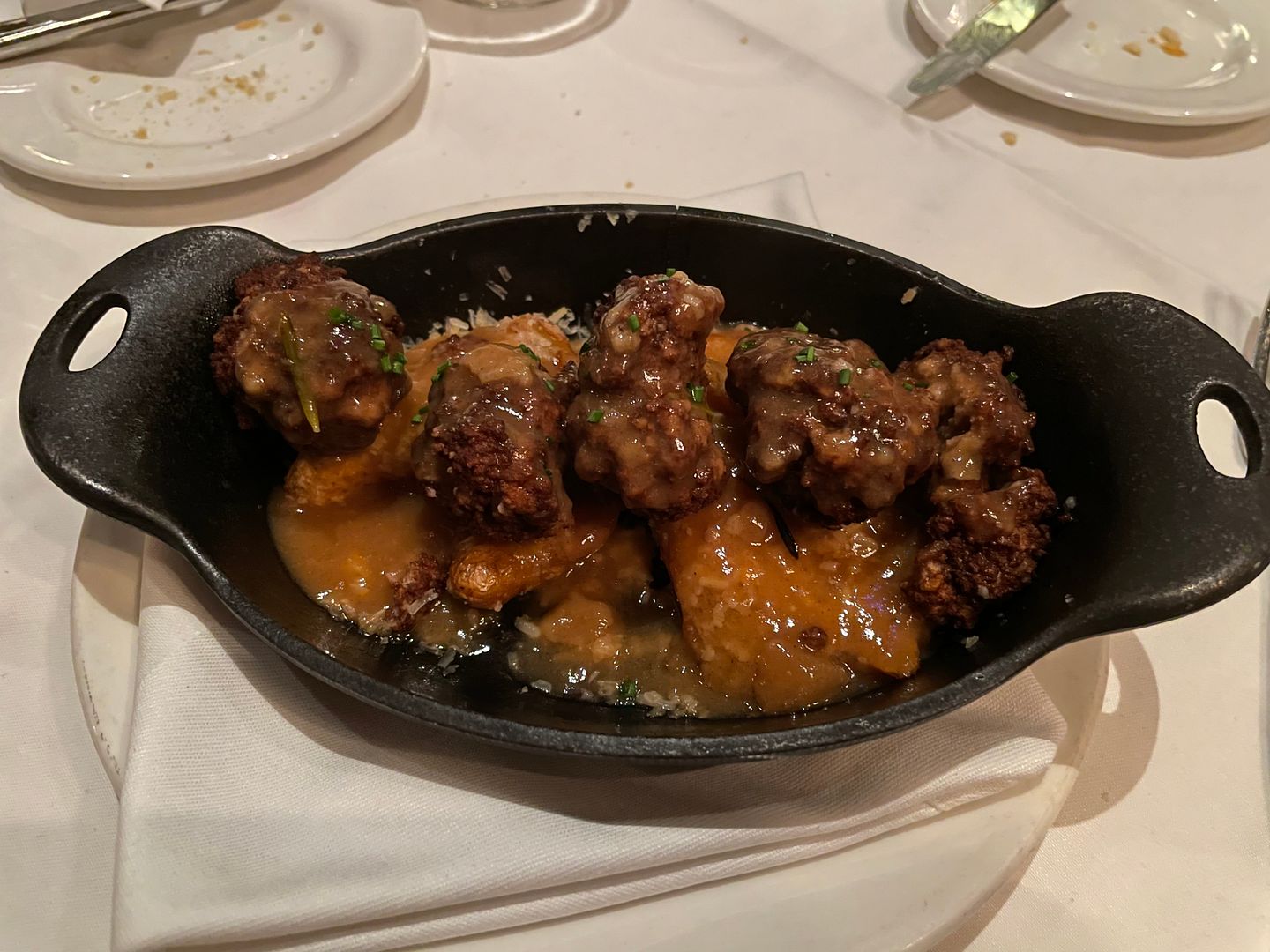 Braised Swedish Style Meatballs with Crispy Smashed Fingerling Potatoes and Beef Gravy – $17.00
He said the gravy was really good. This along with the meat and potatoes reminded him of a good, savory beef stew.
Now on to our entrees. Just like at most of the other reopened restaurants at Disney World, the menu is more limited at Shula's than it was pre-pandemic. As a result they no longer offer a petite filet, which is what I would normally get. The only filet on their menu is a 10 oz. one and this is actually the smallest steak that is offered. Since we had each started with an appetizer and I wanted to try several of their side dishes (which are all served a la carte here and in sharable portion sizes), we decided to share a steak…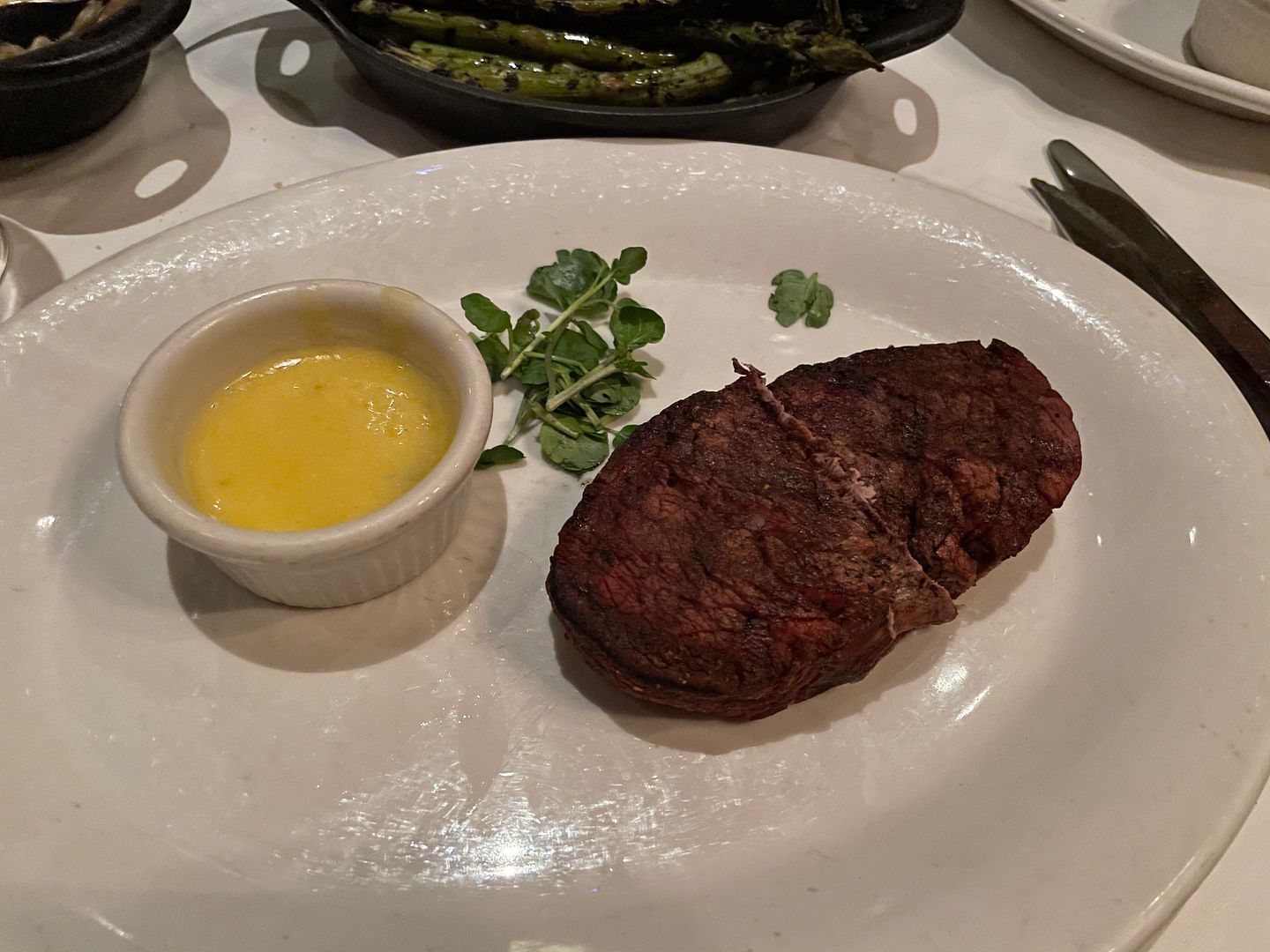 10 oz. Filet Mignon – $56.00
Lately I've been ordering my steaks cooked to medium temperature but I let him choose and he requested it to be medium well, which our server confirmed to be a slightly pink center. When they brought our filet to the table it was intact. They sat it in front of Andrew and requested that he cut into the center to confirm it was cooked to his desired temperature. Even with the server holding a flashlight on it (because it's fairly dark in there with the wood paneled walls and no windows), I really couldn't see the inside of the steak and I don't think Andrew could either. So he said it was fine and once our server left he finished cutting the filet down the center and I placed my half on the empty plate they had brought me. As we ate our filet though we both noticed that there was no pink left at all in the meat. So I would definitely say this was well done. It was not burned though and it was well-seasoned so it was edible but very dry. It always irks me when a steak house can't cook their steaks properly, especially when you are paying $56.00 for just your steak (no sides are included). If it had been underdone I would have probably sent it back to the grill for more cooking but with it being overcooked they would have had to start over with a new steak and we didn't want to wait.
As for our sides, we chose three. I'll start with the one we both liked…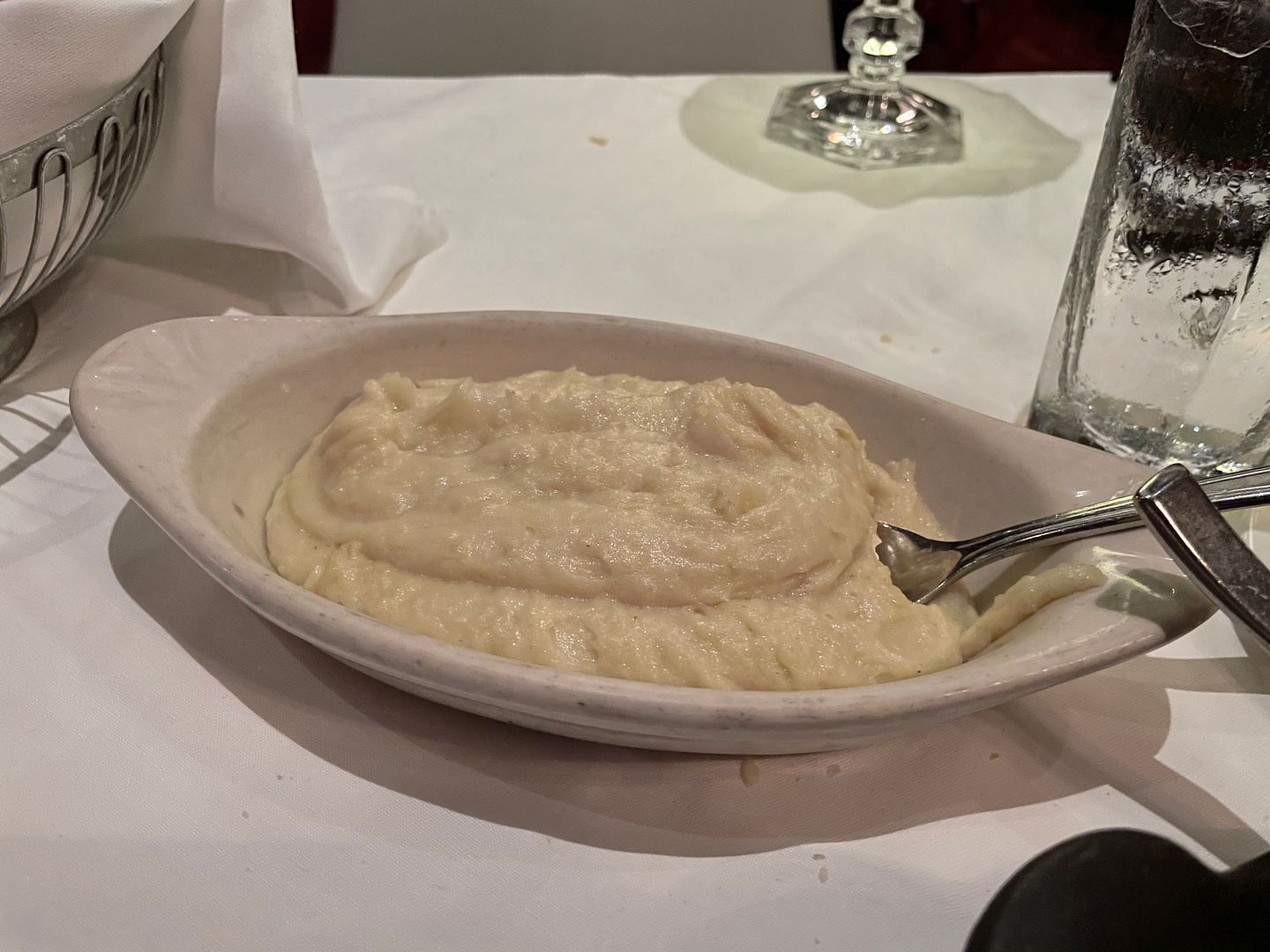 Mashed Potatoes with Roasted Garlic and Butter – $12.00
They were nice and creamy. You could definitely taste the garlic, which could have been a problem had my husband been sharing these with us, as he is not a fan of garlic. But Andrew and I both like the flavor of garlic so we enjoyed the mashed potatoes.
Our second side choice was their…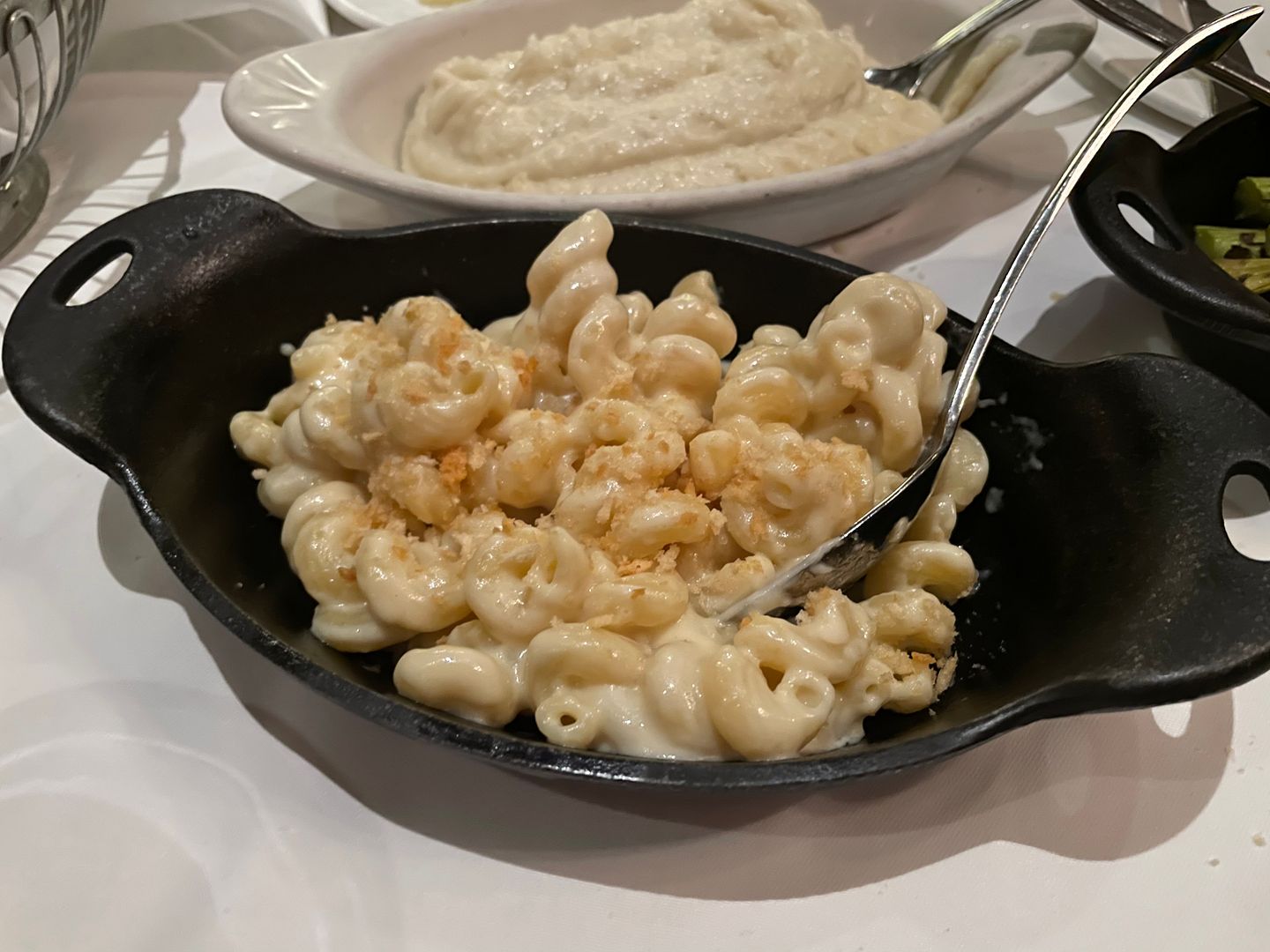 Macaroni & Cheese – Cavatappi Pasta, Gouda-Cheddar Cheese Sauce, and topped with Bread Crumbs – $13.00
We had high expectations regarding their mac & cheese, as I had read several reviews where it was specifically mentioned and recommended. But neither of us were wowed by it. It was just okay.
Then for our third side we ordered…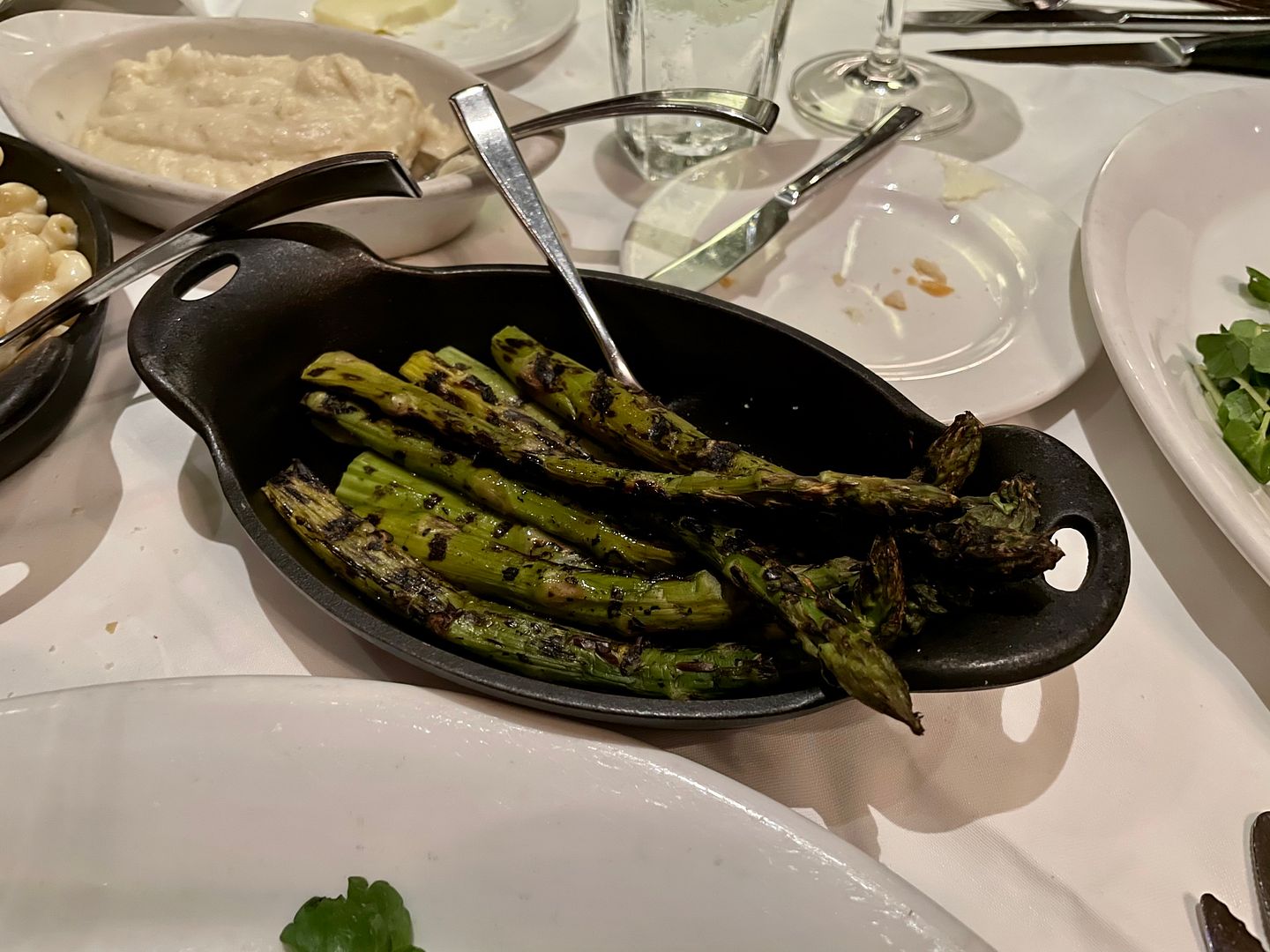 Fresh Jumbo Asparagus Spears grilled with Meyer Lemon – $13.00
The other option for preparation was to have it steamed and served with Hollandaise sauce. Our server recommended that we have it grilled and we took his advice. However, most of the asparagus spears were a bit more charred than I would have liked, and it gave them a burnt flavor. The other flavor that was dominant was the lemon, which I'm not really a fan of generally. So in hindsight I think we should have gone with the other option.
Regarding dessert, a few times during our meal our server reminded us that if we wanted either their chocolate soufflé or their chocolate lava cake then we needed to order it early on, as these require some time to prepare. Though I had enjoyed both of these desserts during my last visit (shared between 6 people), I just didn't want to commit to having dessert when we were ordering so much other food. So I instead told our server that if we had any room left for dessert we would get the crème brulee (which is something both Andrew and I enjoy). But after seeing how much food we had left uneaten I told our server that we were passing on dessert. However, he insisted that we have the creme brulee, saying that he had already put in the order for it and that it was "on the house" because of my birthday.
And so the Vanilla Crème Brulee was brought to me topped with a lit candle…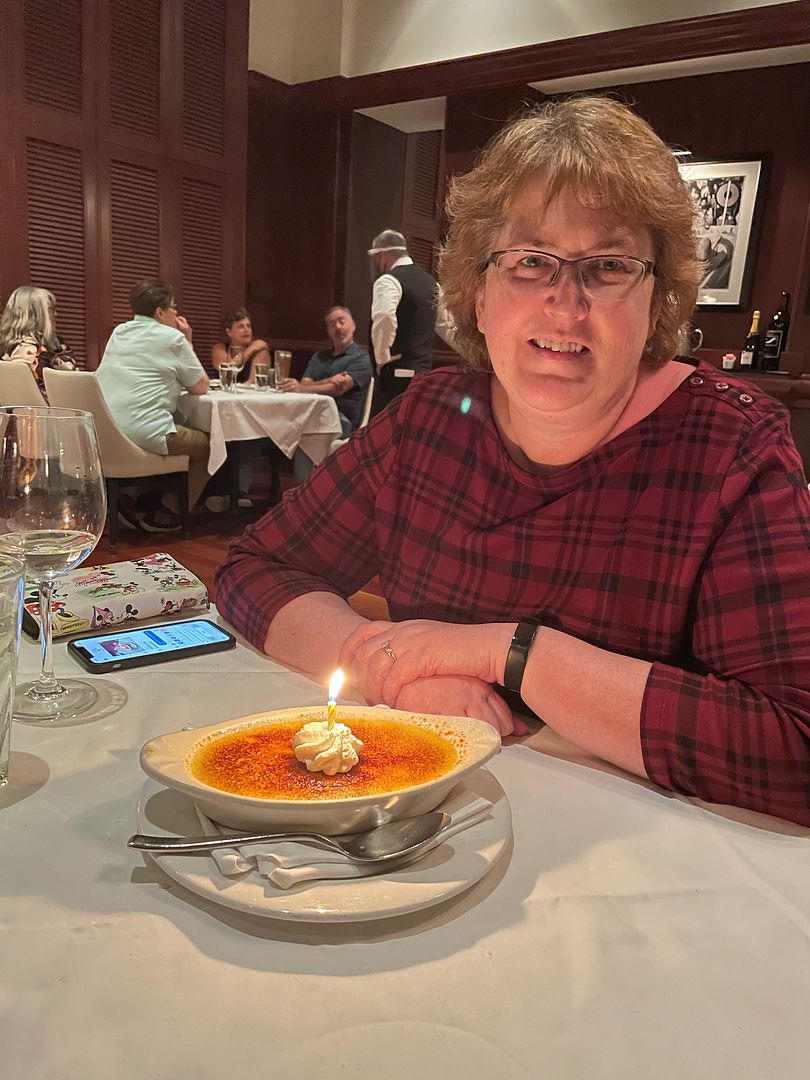 Now before COVID I would have thought nothing about blowing out this candle which was sitting on top of a dessert that I was planning to share with someone else.  But now, well that just seemed awkward and unsafe.  So instead I burned my fingers pulling the candle out and away from the crème brulee before blowing it out.  Has that birthday tradition been permanently ruined due to COVID? Or has it just turned me into a germaphobe? Either way, BOO to COVID!!! 
But I digress, so let's get back to the topic of dessert…more specifically Creme Brulee.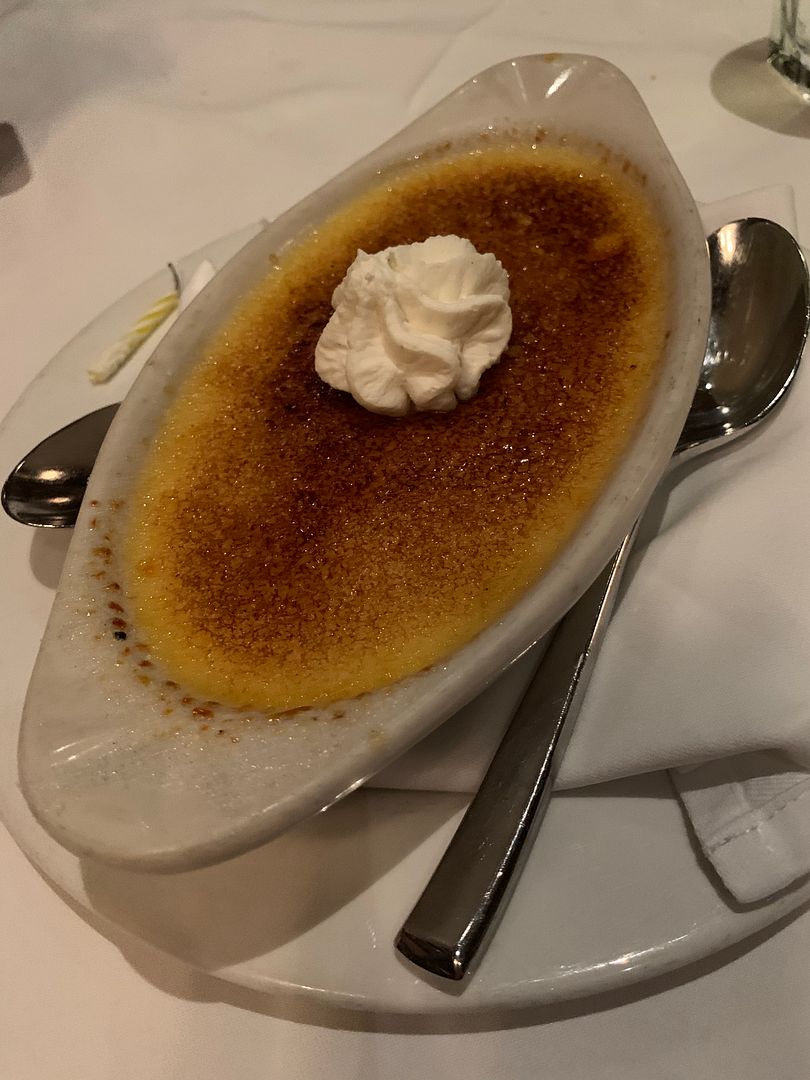 This was very good. Crème brulee is actually one of Andrew's favorite desserts so he didn't mind sharing this one bit. Thank goodness because I was already pretty full, even before having dessert. But you can't pass up the opportunity to have crème brulee, especially when it's your birthday and it's free!
So overall our meal started and ended well but the middle (the entree and 2 of 3 sides) were just okay. Service though was very good, plus they gave me a free birthday dessert. So with that in mind I would bump our rating for Shula's up from 3 1/2 to 4. But for my birthday dinner I was hoping for a perfect 5 or at least a 4 1/2. The reviewers on Yelp agree with my 4 star assessment but those on TripAdvisor rate it higher, at 4 1/2. Shula's is also ranked very high, coming in at #33 out of the nearly 2,500 Orlando area restaurants reviewed there. Narrowing this down to just the nearly 250 Disney World area restaurants, Shula's ranks #6. I find that pretty incredible. So what are the 5 Disney World area restaurants that outrank Shula's? Well, #1 has long been Victoria & Albert's and it is definitely on my Disney bucket list to dine there someday. However, V & A's has been closed now for more than 18 months so I'm a little surprised that it has been able to maintain its #1 status. I guess the TripAdvisor algorithm for ranking restaurants doesn't take into account how old the reviews are. Moving on to #2 La Luce at the Hilton Bonnet Creek and #3 Bull & Bear Steakhouse at the Waldorf Astoria. Neither of these are located on Disney property but I guess they are considered to be restaurants in the Disney World area. While I have heard of both of them, I've never heard of the restaurant ranked #4, Zeta Asia, another one located at the Hilton Bonnet Creek. With having 2 of the top 4 restaurants, it sounds like the Hilton might be the place to stay for foodies visiting Disney World. #5 on the list is the biggest surprise though as it's La Cava del Tequila, the tequila bar located inside Epcot's Mexico pavilion. While they serve excellent margaritas, I wouldn't consider it a food mecca. In fact, I wouldn't even consider it a restaurant. Before the COVID shutdown they served chips, salsa, guacamole and queso but I'm not sure if they have resumed serving these snacks yet, I guess I should check out #5 on my next Disney trip. But anyway, the bottom line is that there are a lot of people out there who love Shula's, but I don't happen to be one of them. I thought I would love it, which is why I chose to dine there for my birthday. But I didn't. So BOO to me for choosing the wrong restaurant for my birthday celebration. And again, BOO to COVID…just because. Lol