I arrived at about 8:00 for my 8:20 reservation for one and was able to check in and add Rachel without any problem.  Normally I like to sit outside on the porch here and enjoy the beautiful view of the Seven Seas Lagoon, etc. while I wait to be seated, but they had the door to the porch roped off so I found a seat in the small waiting area by the check in desk.  I later learned that now they only allow guests to stand outside on their porch starting at 15 minutes prior to the scheduled Magic Kingdom fireworks time.  Bummer!  Not sure when this change in their policy occurred or if it is a permanent one but I suppose it's to the advantage of those who are able to score a window table here, as there is no longer the potential of having your view being blocked by guests standing outside on the porch…at least until 15 minutes prior to and during the fireworks.
While I waited for Rachel to arrive I took some photos of the Finding Nemo themed sculpture on display in Narcoossee's waiting area…
The top of the display…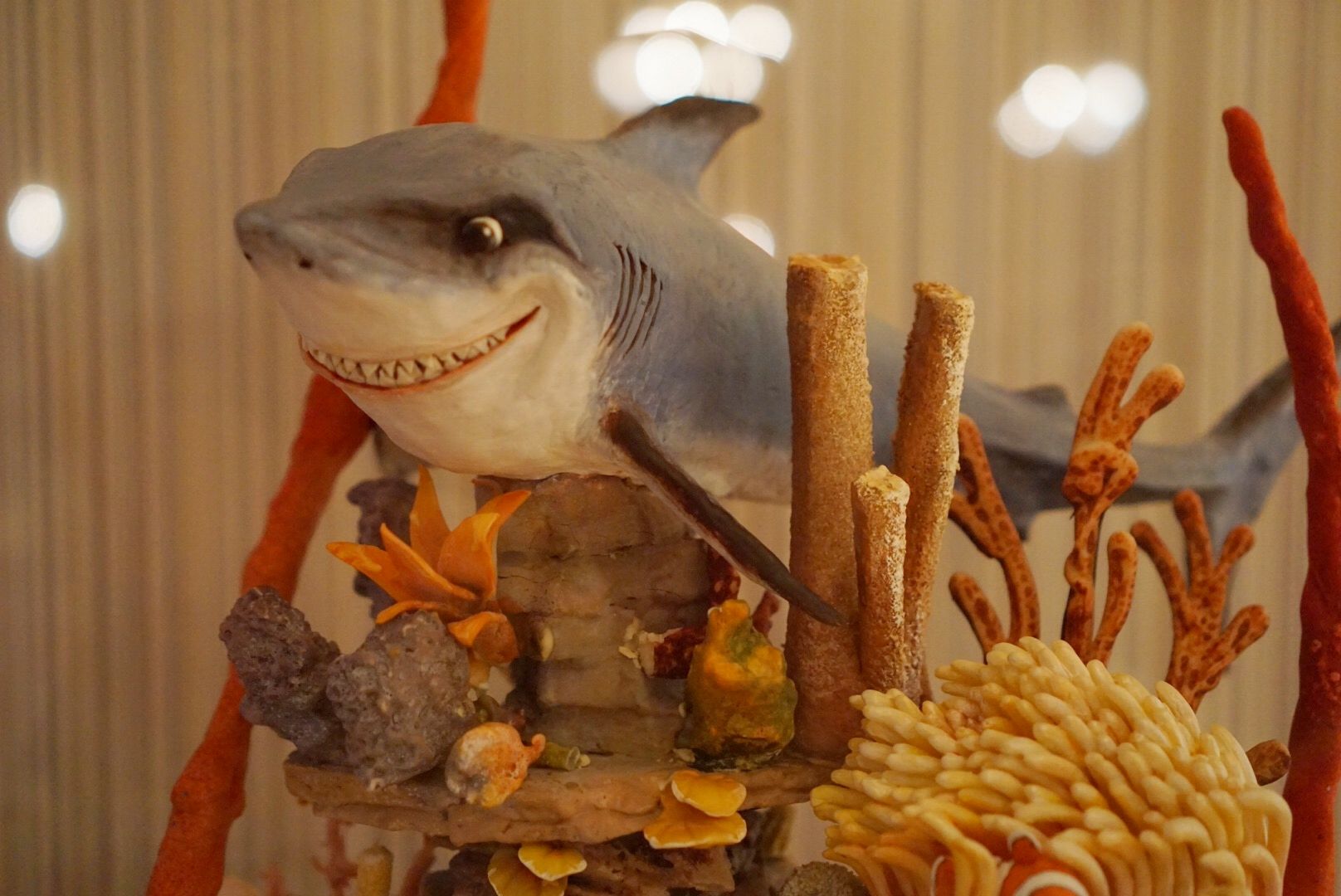 This entirely edible display, created by Bridget Watkins and Erich Herbitschek (who I think is the Master Pastry Chef at Victoria & Albert's),  is made out of 75 pounds of white chocolate.  All of the figures were sculpted and molded by hand.  The scene was then sprayed and hand-painted with colors made from cocoa butter mixed with edible candy and food coloring.  So be sure to take a look at this beautiful sculpture if you are dining at Narcoossee's.
Shortly after Rachel arrived we were seated at a 4 top table next to a window on the side of the restaurant closest to the dock.  We were presented with their cocktail/wine menu…
And their food menu…
I was told by our server that I could use by Dining Plans credits for Rachel's meal as well as my own.  So my plan of treating Rachel to dinner at Narcoossee's in reciprocation for her buying my ticket for the Swan & Dolphin Food & Wine Classic worked flawlessly.
Being on the Deluxe Dining Plan we were told there were very few limitations here for our beverage and food choices.  For our included beverage we could order any of their specialty cocktails (which ranged in price from $10 for sangria to $14.50 for a Manhattan made with Woodford Reserve Bourbon).  We could also have any of their beers (which were all in the $7 – $12 price range) or wines served by the glass, except for their wine flights and a few of their cordials (which were in the $30 – $40 price range).  While most of the wines on their menu ranged in price from $13 – $17, there were some higher priced wines like the Far Niente Chardonnay that Rachel chose, which I believe was $24 but was still included with the Dining Plan.  I went with one of their Featured Wines, which also happens to be one of my current favorite wines.
Chateau St. Michelle Eroica Riesling – $17
I would describe this as an off-dry (or semi-dry) Riesling, which for me is perfect…not too sweet and not too dry.
Before moving on to our appetizer choices, here is a photo of Narcoossee's complimentary bread basket…
They have served this same sourdough bread (along with soft, unsalted butter topped with sea salt) for years and years.  It is crispy on the outside and nice and soft on the inside.  I really enjoy it.  I do warn you though that inevitably you will make a bread crumb mess on your table when you eat this…but it's worth it.
Ok, now on to the real food starting with our appetizers.  Here is a reminder of what we had to choose from…
I chose their signature soup…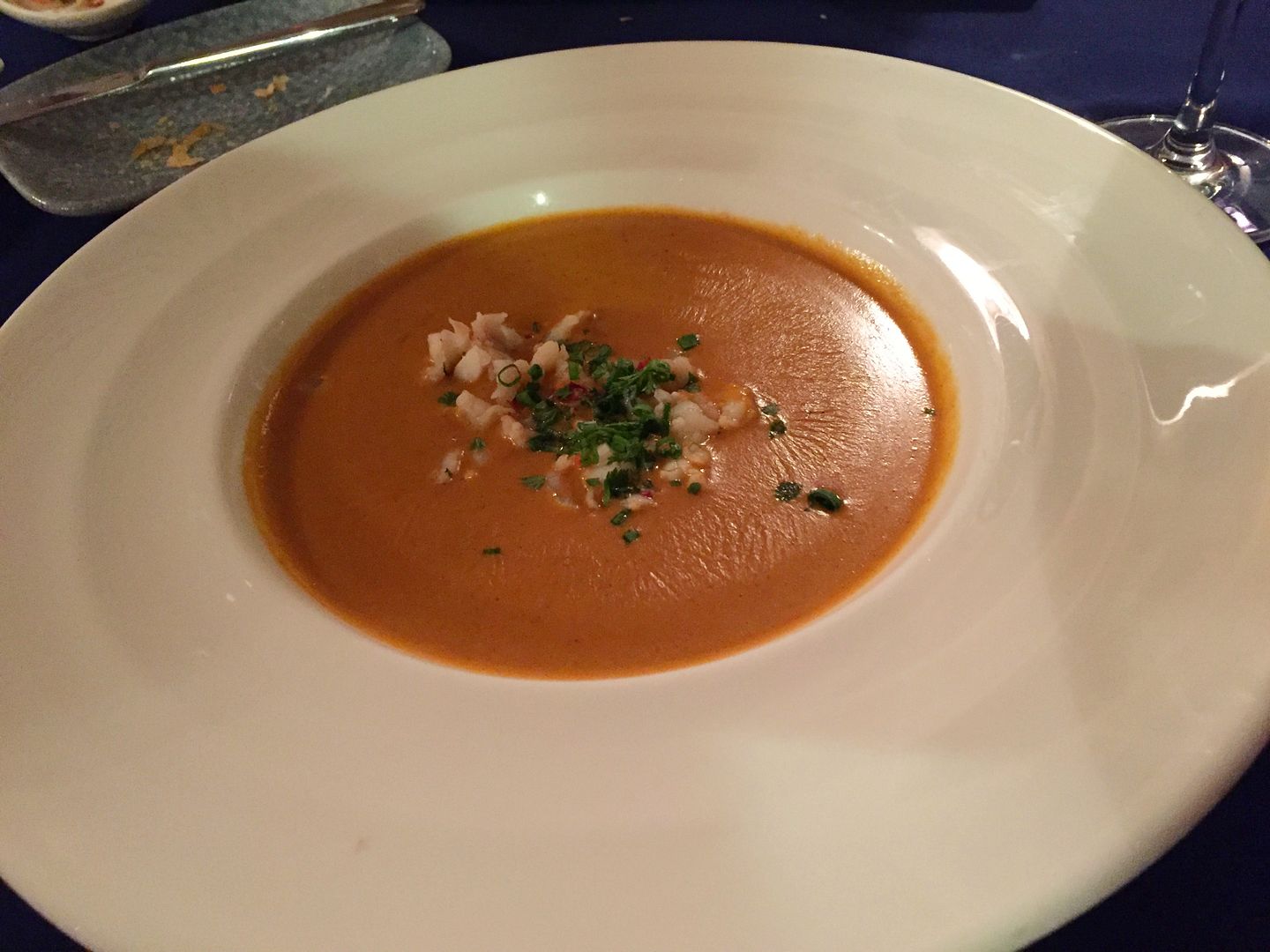 Maine Lobster Bisque with Butter-poached Lobster, Coral, Chervil – $16
And a closer look…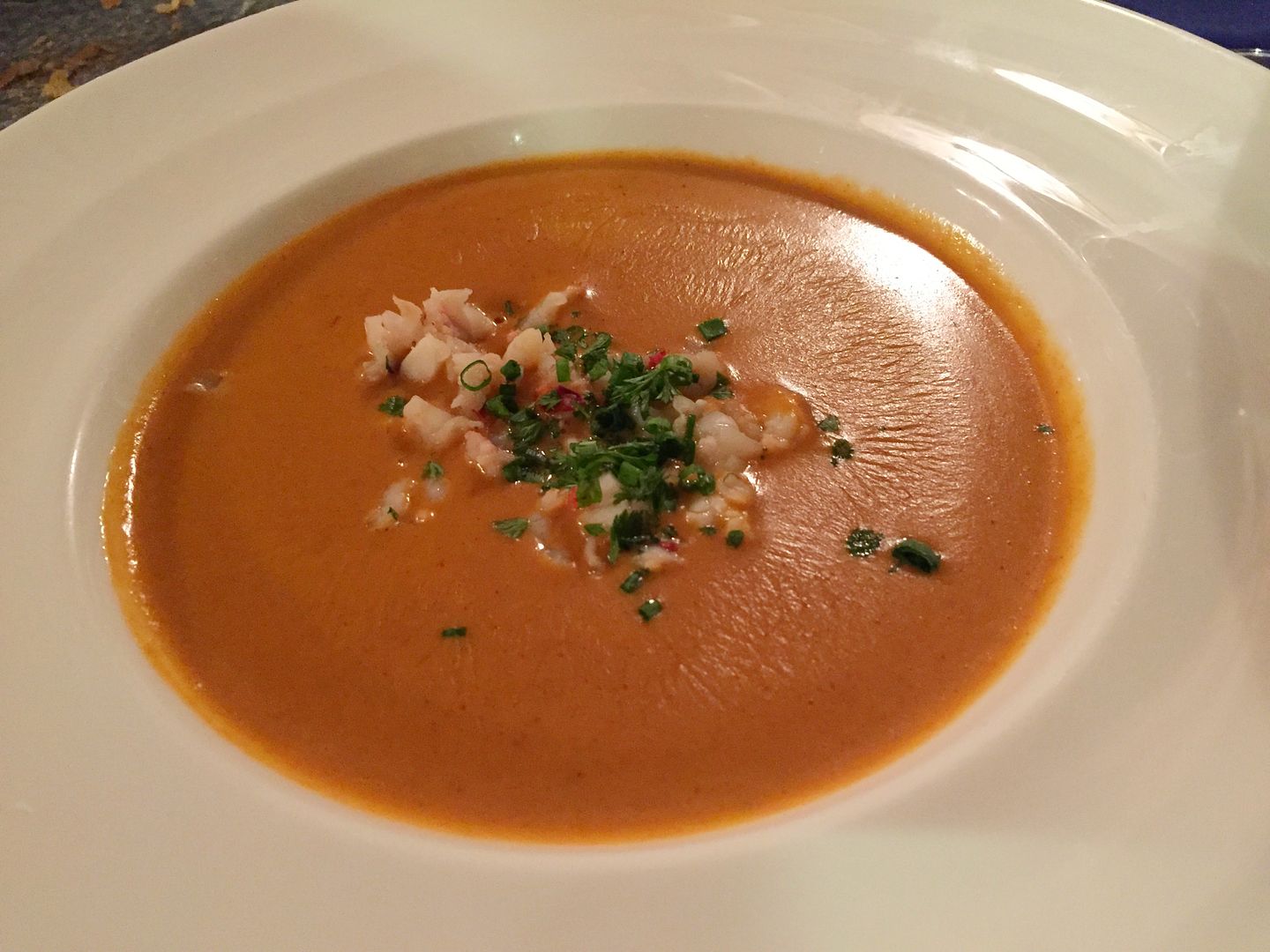 The portion size was small, as the center of this very large bowl was not very deep.  However, the rich, creamy broth was very good and it was topped with about 3 tablespoons of chopped lobster meat that was tasty.
As for Rachel, she chose an option which was available as either your appetizer or dessert on the Deluxe Dining Plan…
Artisanal Cheeses – Four tasting portions from around the world with Prosciutto and Accompaniments – $22
And a closer look…
Here is the list and descriptions of the included cheeses…
She liked all of the cheeses, but especially the Gorgonzola with the honey comb that was one of the accompaniments.  I too love blue cheeses (and even more so with honey) so this would likely have been my favorite of this plate too.
Next our entrees, chosen from these options…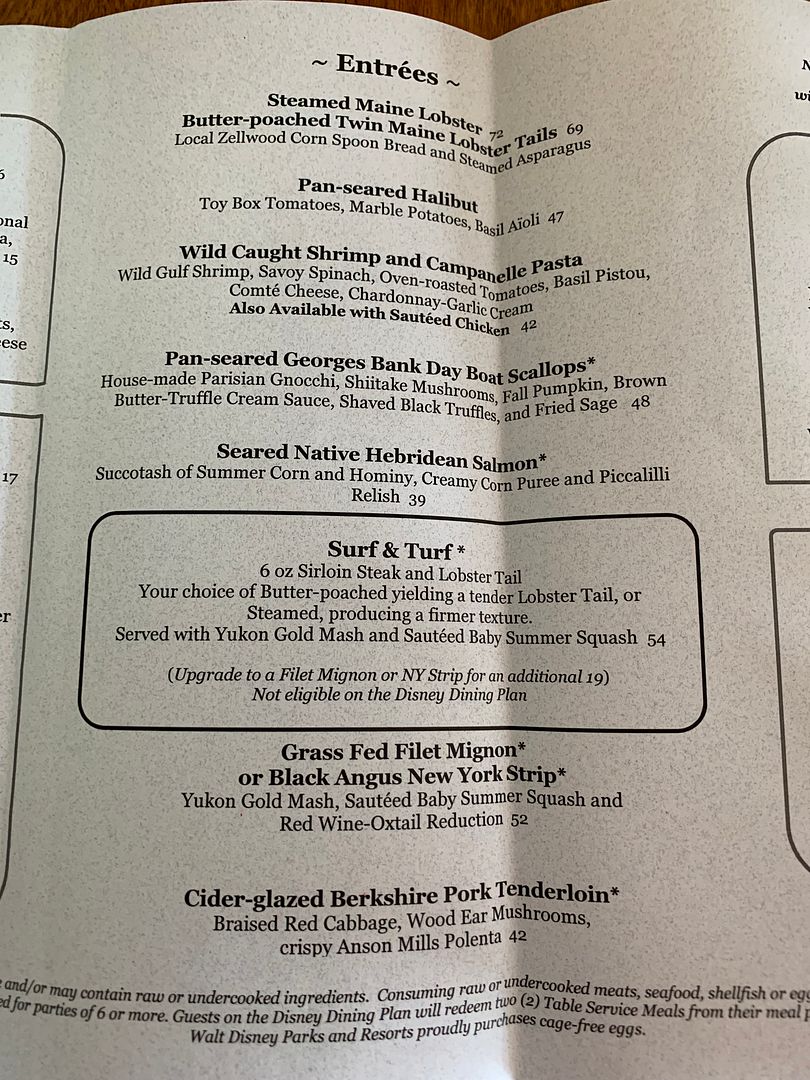 Rachel chose this for her entree…
Pan-seared Georges Bank Day Boat Scallops served with House-made Parisian Gnocchi, Shiitake Mushrooms, Fall Pumpkin, Brown Butter-Truffle Cream Sauce, Shaved Black Truffles, and Fried Sage – $48
Rachel said the scallops were really good but didn't like the pasta side which she said was heavy on the salt.
The scallops were one of the two entrees that I was considering so when Rachel ordered them I went with option #2…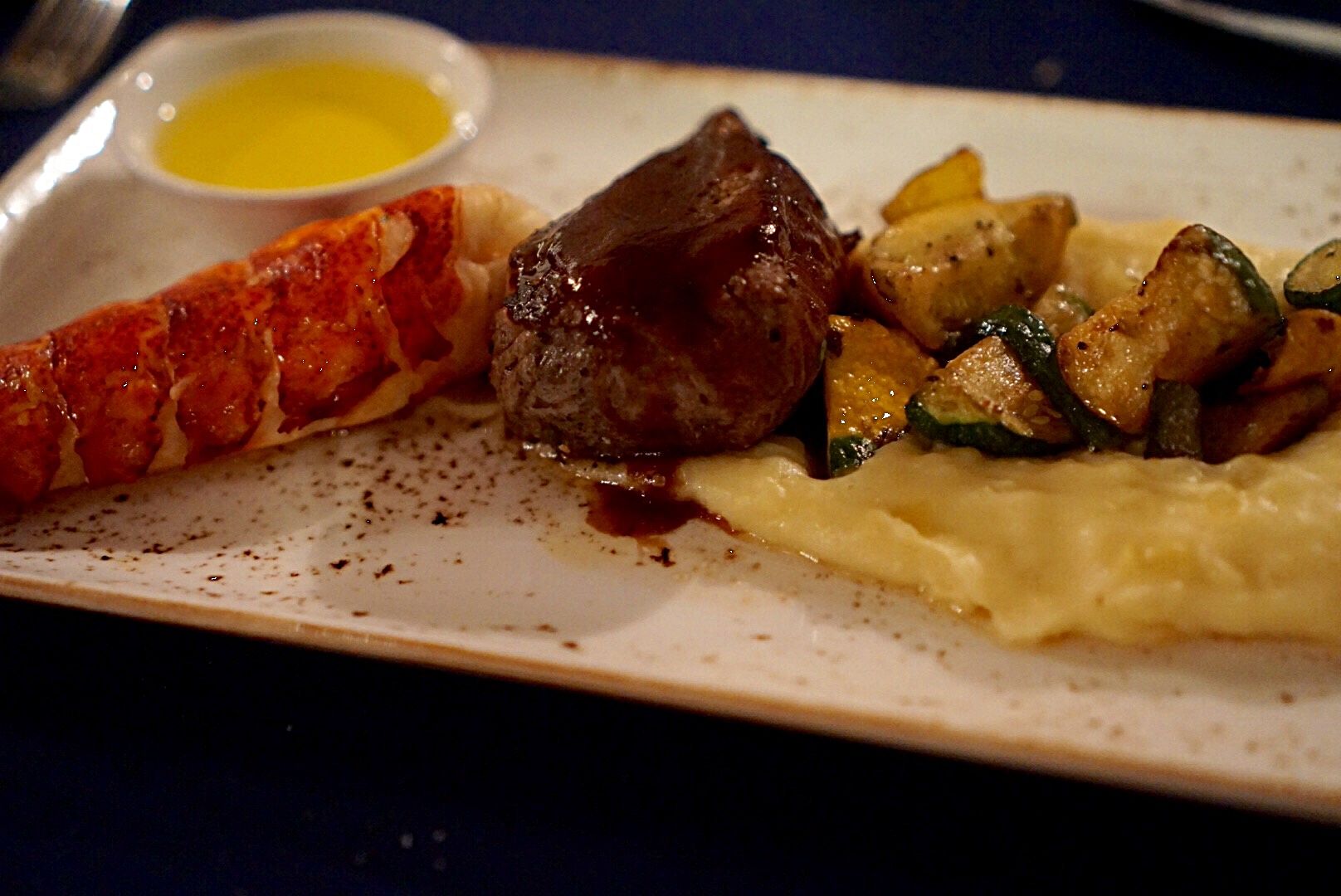 Surf & Turf – 6 oz. Sirloin Steak and Lobster Tail (your choice of steamed or butter poached, which is what I chose), served with Yukon Gold Mashed Potatoes and Sauteed Baby Summer Squash – $54
While I could have subbed the sirloin steak for a filet (my preferred steak cut), there would have been a charge of $19 which would not have been covered by the Dining Plan.  I'm glad I didn't do this because I doubt the filet would have been $19 better than this sirloin steak, which was very good.  The steak was well-seasoned and cooked to the correct temperature (medium as ordered) which seems to often be a problem at Disney restaurants.  While it was small (only 6 oz.) it was the right size for me since it was paired with a lobster tail.  And speaking of the lobster tail, it was even better than the steak.  The lobster meat was tender, buttery and delicious!  As for the sides, they were 50/50.  While I enjoyed the sauteed squash, I didn't really care for the mashed potatoes.  I like my mashed potatoes to be whipped and fluffy, but these were kind of pasty and were a bit oversalted.
And speaking of oversalted mashed potatoes, Rachel also ordered this side…
Narcoossee's Signature Mashed Potatoes – Yukon Gold Rustic Mashed Potatoes, Applewood-smoked Bacon, Tillamook Cheddar, Chives – $9
These tasted like the same pasty, salty mashed potatoes that I had but with the addition of lots of bacon and cheese…making them even more salty.
Also note that Rachel paid for this side out of pocket, as none of these extra sides/sauces (listed on the menu as Enhancements) were included with the Dining Plan…
Now for dessert…
Both Rachel and I are big fans of Narcoossee's signature dessert…
Almond-crusted Cheesecake with Lambert Cherry Sauce – $16
So I broke one of my dining review rules and also ordered the cheesecake even though that was what Rachel chose.  And as always, it was again delicious…or at least the 1/2 of my dessert that I was able to eat.  The other half was boxed up for me to take back to my room, where it remained in my refrigerator until I checked out 3 days later and sadly had to throw it away.  Being on the Dining Plan, there was no time at which I was hungry enough to want more dessert…not even Narcoossee's cheesecake.
One more note regarding this dessert.  On my last visit to Narcoossee's, just one year ago in Nov. 2017, the cheesecake was $12.  Now the price is $16, which amounts to a 33% increase.  That's an incredible price increase in just one year!!  Had I not been on the Dining Plan this time, I'm not sure that I would have paid $16 for dessert.  I do love this cheesecake but $16?!?!  Really Disney??
Our meal then ended with a bang, as we watched HalloWishes from Narcoossee's porch…
I think this is my favorite place to watch the Magic Kingdom fireworks outside of the park.  I just love the colorful reflections on the water.
And that just leaves the ratings and rankings.  For the most part our food was very good, as was the service, so I would give Narcoossee's a rating of 4 1/2 stars.  Though Yelp reviewers only rated it 4 stars, the reviewers on Trip Advisor agreed with my 4 1/2 star rating.  Narcoossee's ranks #95 of the more than 3,000 Orlando area restaurants reviewed on Trip Advisor.  Narrowing it to just the 350+ restaurants in the Disney World area, Narcoossee's ranks #24.
Deluxe Dining Plan Credits Used – 4 
Cost of our Meal had we paid Out of Pocket – $222.91 (or $55.73 per credit)