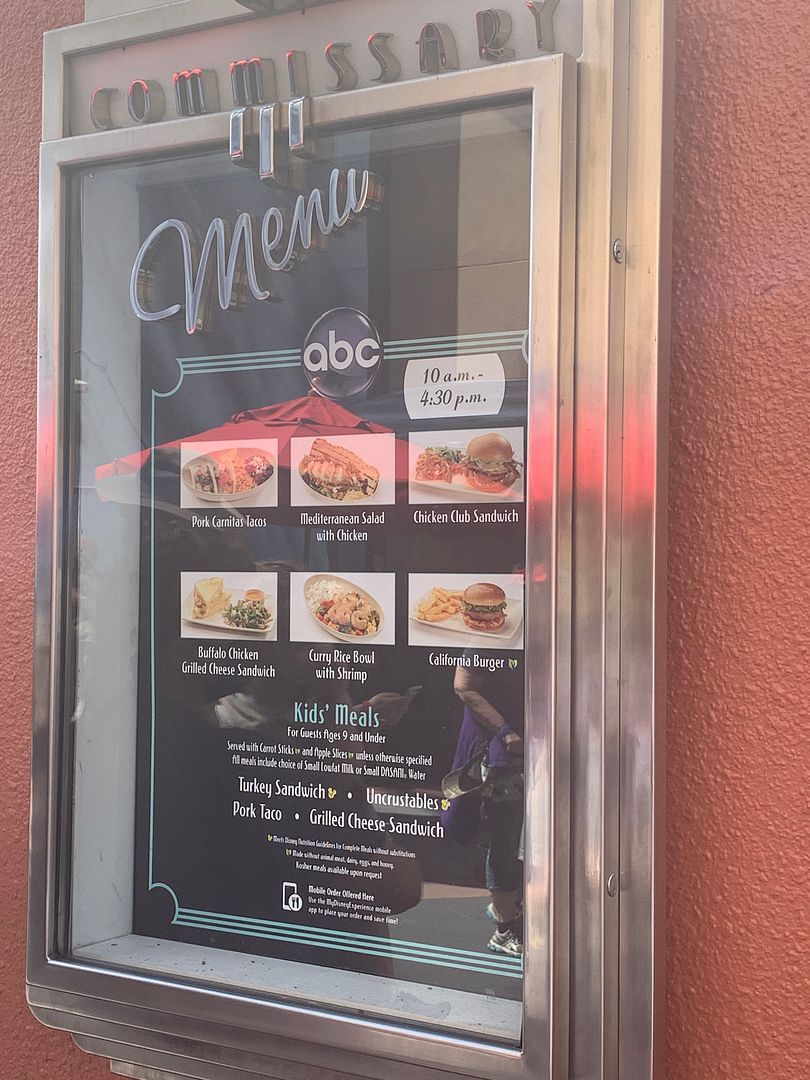 Our decision to have lunch at ABC Commissary was based on several things, all positive in its favor. First was its location,. It is centrally located in the park, on Commissary Lane, the street behind the Chinese theater (home of DHS' newest ride, MIckey & Minnie's Runaway Railway). Another plus is that our order (per the Mobile Order app on MDE) would be almost immediately available. Other good quick service options at DHS are located much further away (in Toy Story Land and Star Wars Galaxy's Edge) and Mobile Order wait times were already quite long at 11:00 (especially for Woody's Lunch Box). Additionally, I had had breakfast here during my last trip in March 2020 and was pleasantly surprised by how good it was (we gave it a rating of 4). So I was hopeful that lunch there would be equally as good.
And finally, though the menu was limited to just 6 entrees, we found that 4 of them were appealing to us…the tacos, the salad, and two of the three sandwiches. My husband went off in search of a restroom and left me behind (seated by the Hollywood Brown Derby) to make the final decision.
So on the Mobile Order app I placed our order for these two entrees to share…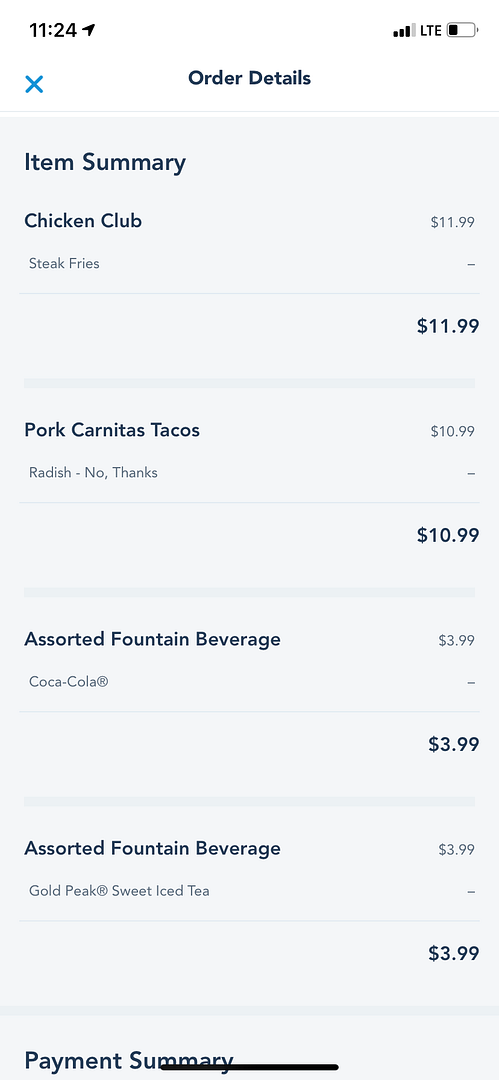 Once he had returned we walked over to the entrance of the restaurant and waited only a few minutes before I received notification that our order was ready for pickup. I showed my notification to the CM manning the door and we proceeded inside and to the Mobile Order pickup location, where our food was waiting for us.
Nearby was a station where we picked up some napkins, plastic silverware (which had replaced the non-disposable silverware that we had used here during our March 2020 pre-COVID breakfast), and ketchup packets.
Also there was a beverage table/station manned by a CM…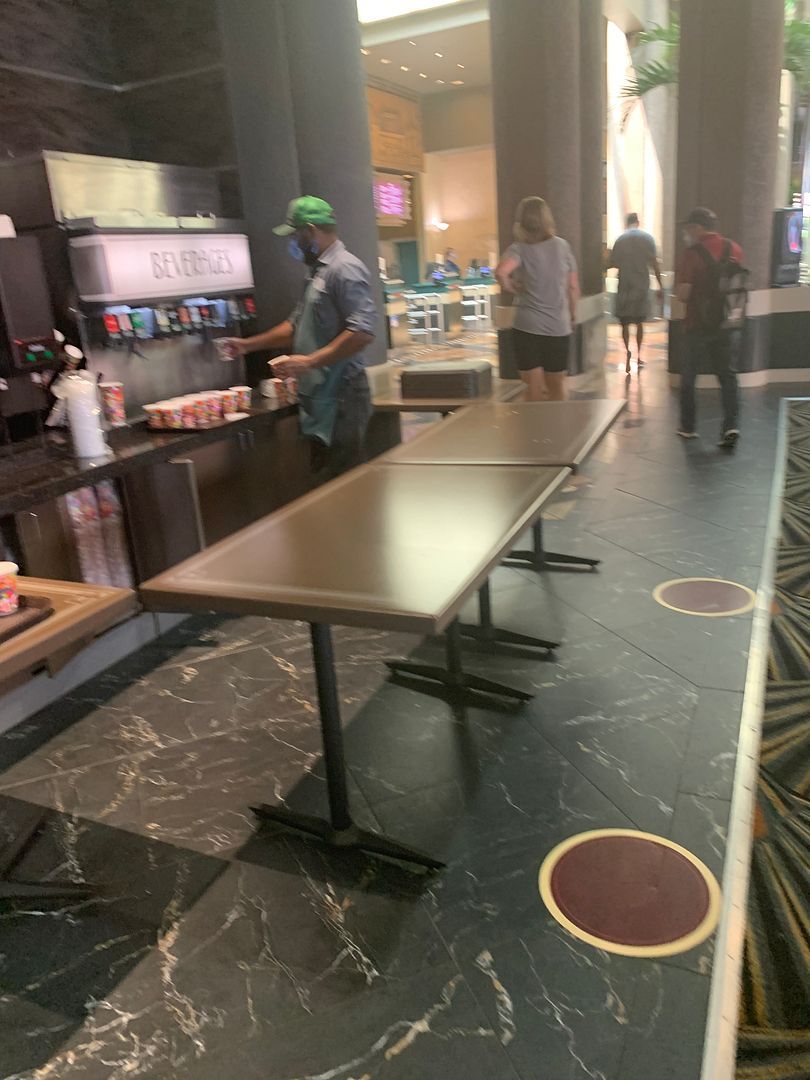 This was another change that occurred due to COVID.  Before there were self-serve beverage stations here.  But now you tell the CM what you had ordered and he pours your drink for you.  We told him our drink order of a Coke (for me) and a sweet tea (for my husband).  However, after we sat down and my husband took a sip of his drink he realized that it was just regular iced tea.  He just drank it though rather than trying to exchange it for his correct order of sweet tea.  So now I'm left wondering if the CM just didn't hear the "sweet" part of sweet tea or if the ABC Commissary doesn't actually serve sweet tea, even though it was listed on the Mobile Order menu.  
Anyway, though they have a few tables outside we decided to eat indoors, as we were able to find a table which had no diners seated nearby.  So on to our food.  I started with the tacos…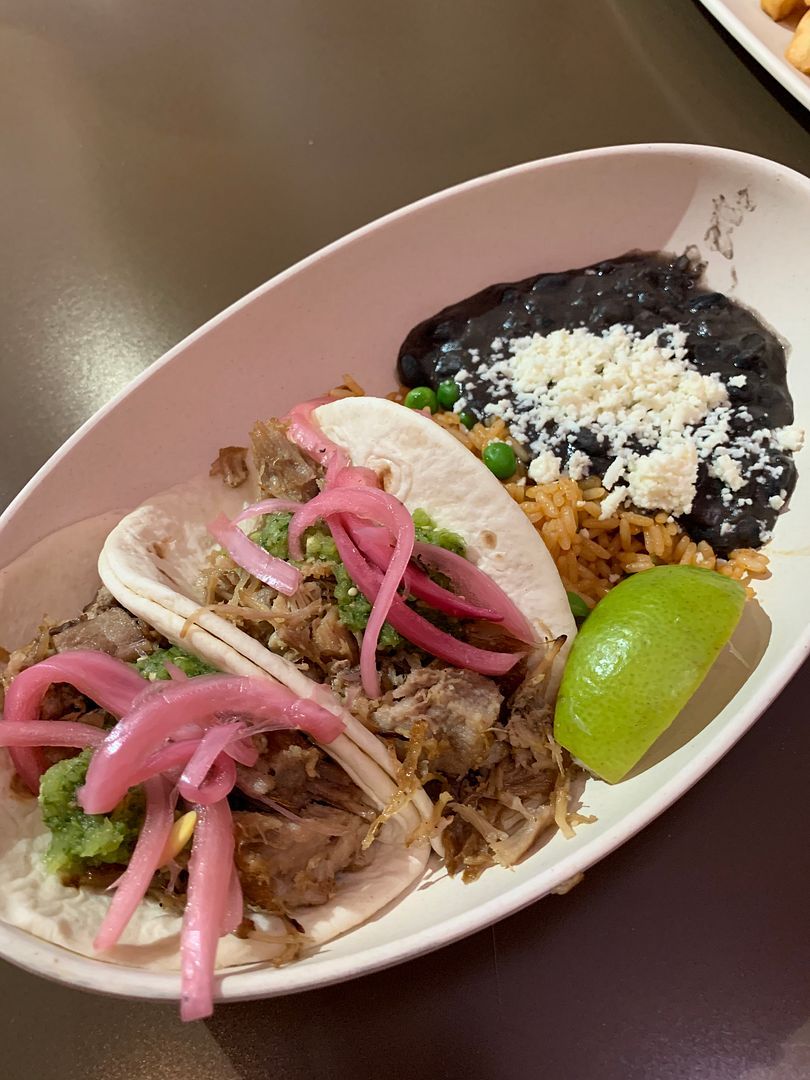 Pork Carnitas Tacos – Pork Carnitas on Flour Tortillas topped with Avocado Salsa Verde, Pickled Onion, and Radish served with Mexican Rice and Black Beans topped with Queso Fresco – $10.99
I ordered these without the radish, as I am not a fan of radish. We probably could have easily picked it off though. I ate one of the two tacos and really enjoyed it. The pork was nicely seasoned and not fatty, which is sometimes a problem for me with with pulled pork. I liked the addition of the Avocado Salsa Verde, which gave this some additional flavor.
I also enjoyed my share of the sides, Mexican Rice and Black Beans…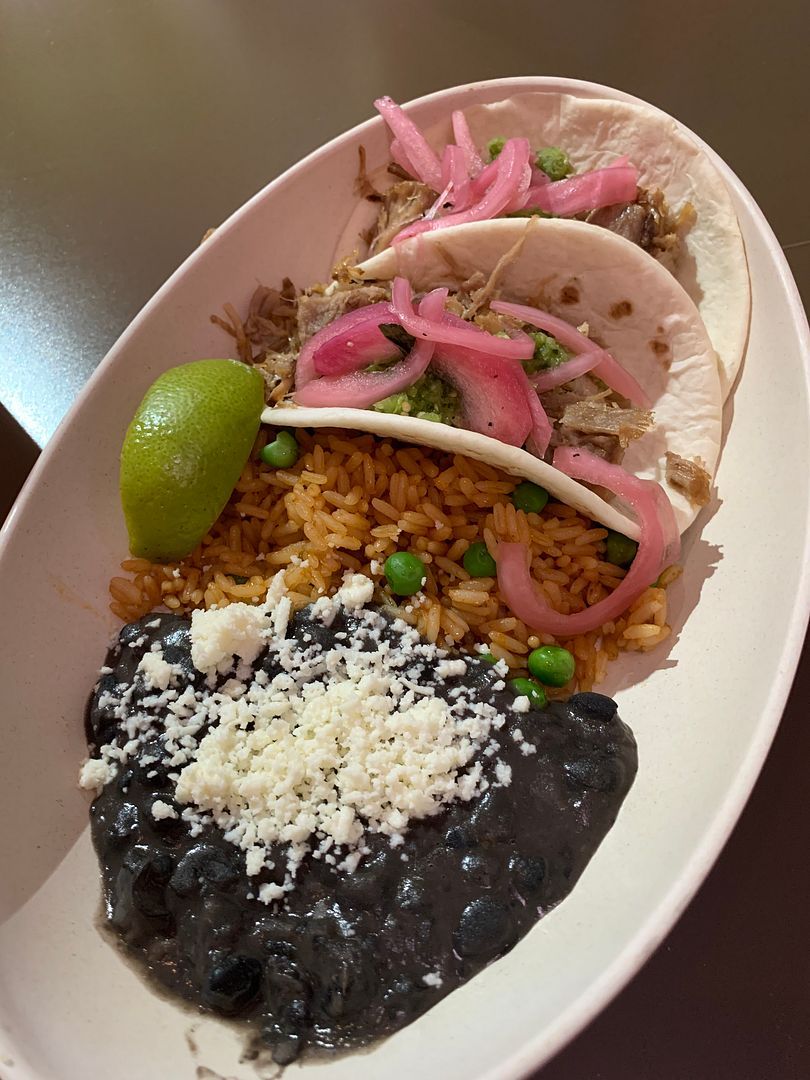 Both were a decent quality, especially for a quick service restaurant.  
Meanwhile my husband was quickly devouring the other entrée that I'd ordered for us to share…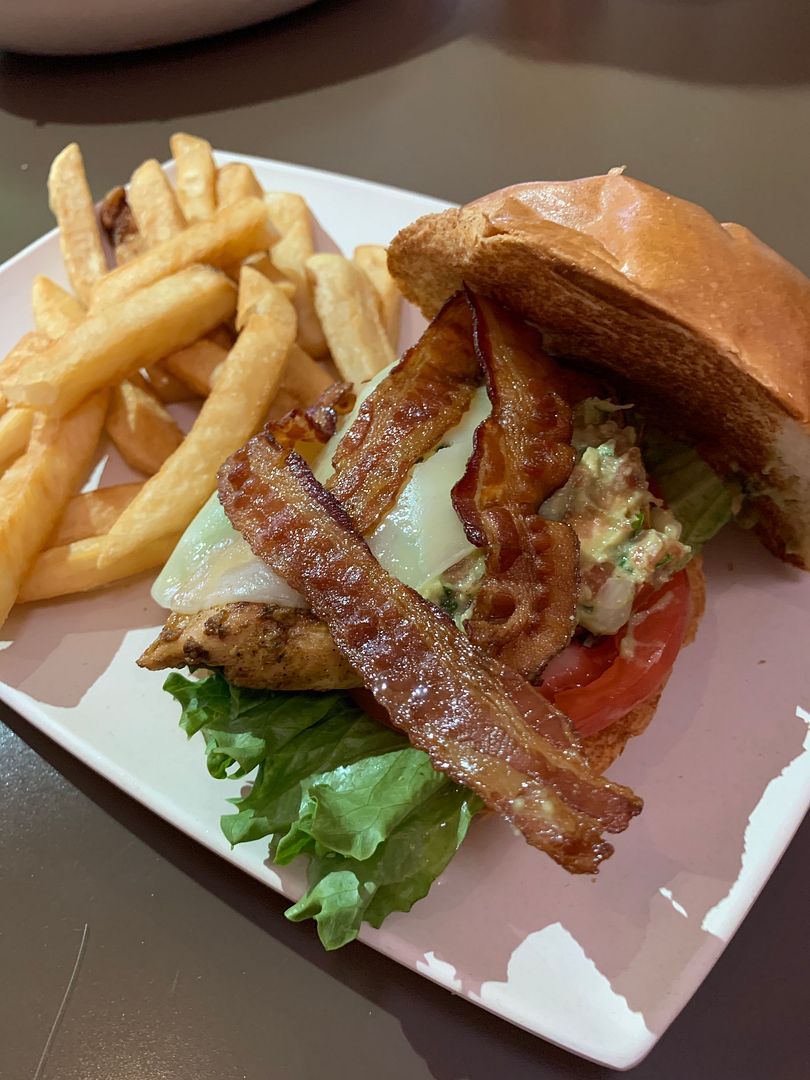 Chicken Club – Marinated Chicken Breast served on a Toasted Brioche Bun topped with Bacon, Provolone, Guacamole, Ranch Dressing, Lettuce, and Tomato served with choice of Side – $11.99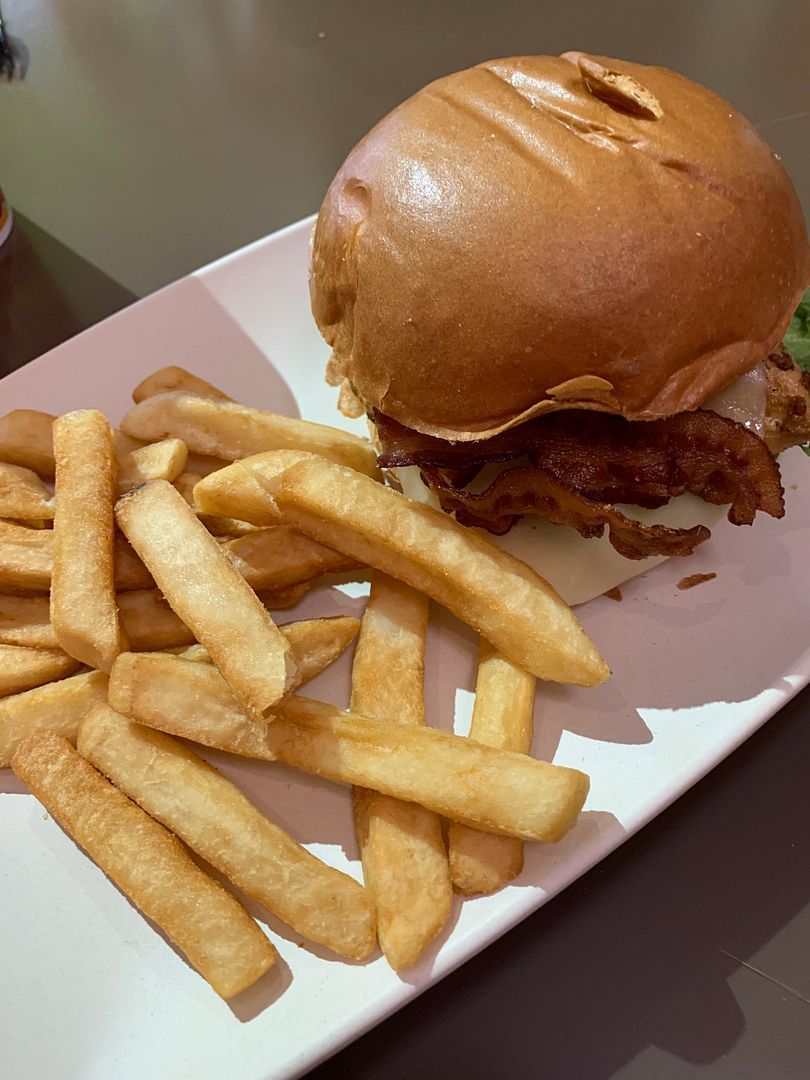 He'd nearly eaten all of the thick-cut french fries and more than half of the sandwich before I stopped him and traded plates. He said he was really hungry, but I also think he really liked this. But I really liked it too. The chicken was a good size grilled breast that was moist and well seasoned. And I really enjoyed all of the included toppings. The combination of the chicken with the bacon, cheese, avocado and ranch dressing was delicious. Oh, and the brioche bun tasted fresh and held up well to the contents of this sandwich. I also enjoyed what was left of the tasty fries.
So just like their breakfast (which sadly they are not currently offering), I was again impressed by the food at ABC Commissary. I gave the breakfast a rating of 4 but I would bump that up to 4 1/2 for our lunch. However, just like last year when I reviewed our breakfast, the ratings on both Tripadvisor (3.5 stars) and Yelp (3 stars) aren't as favorable as ours. But in my opinion, ABC Commissary is a hidden gem and I encourage you to give it a try if you find yourself in need of a quick service lunch or dinner at Disney's Hollywood Studios.