This November 2019 dinner was our first visit to this popular Quick Service restaurant located at Disney Springs. We arrived at about 6:00 on a Sunday evening and found there to be a very long line of people waiting to place their order at the counter. We were handed this menu to look over as we waited in line…
Andrew told me his choices and he went off to find us a table while I remained in line to place our order. Since we were on the Disney Dining Plan and each of us were using 1 QS DDP credit, we were each entitled to an entree (from the Salad, Sandwich or The Smoker section of the menu). Obviously if you want to receive the most "bang for your buck" (aka the most value for your Dining Plan credit) you should choose your entree from the more expensive From the Smoker section of the menu, which is what we did. Also of note is that when you choose your entree from the Smoker section you also get jalapeño cornbread, their signature polite slaw and your choice of 1 market side (listed on the right side of the menu).
Once I had placed our order I found Andrew at a very small 2 top table. It was so small that in order to have room on the table for all of our food and beverages we had to place the roll of paper towels (that are on all of tables in place of napkins) on the floor.
Included with our Dining Plan was a beverage, alcoholic or non-alcoholic. The beverages were the first things brought to our table. We both chose our beverages from the Small Batch Cocktails section of their menu.
Andrew chose this…
POLITE PUNCH with blood orange moonshine, pineapple and cranberry juices – $11.00
While I went with this basic cocktail of Rum (Siesta Key rum) & Coke ($11.00)…
Note: I just noticed that the Rum & Coke has been removed from the current (January 2021) online menu and replaced by a Seasonal (housemade) Cocktail.
We both enjoyed our drinks and agreed that they had a generous amount of alcohol.
Our food was then delivered to our table. I'll start with Andrew's choices…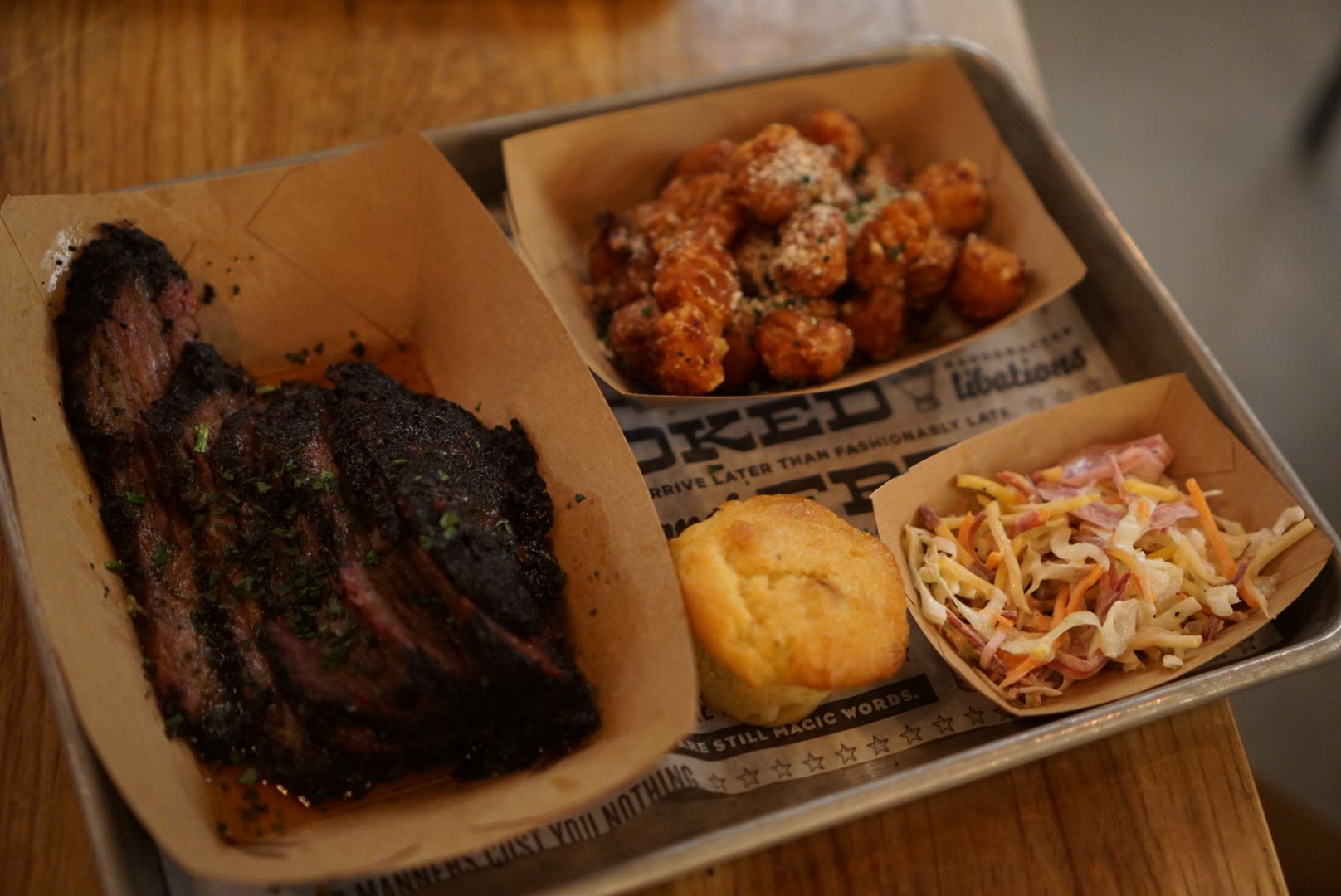 USDA PRIME BRISKET with a coffee rub, served with a jalapeño cornbread muffin, cole slaw, and a choice of 1 market side – $19.00
For his included side he chose…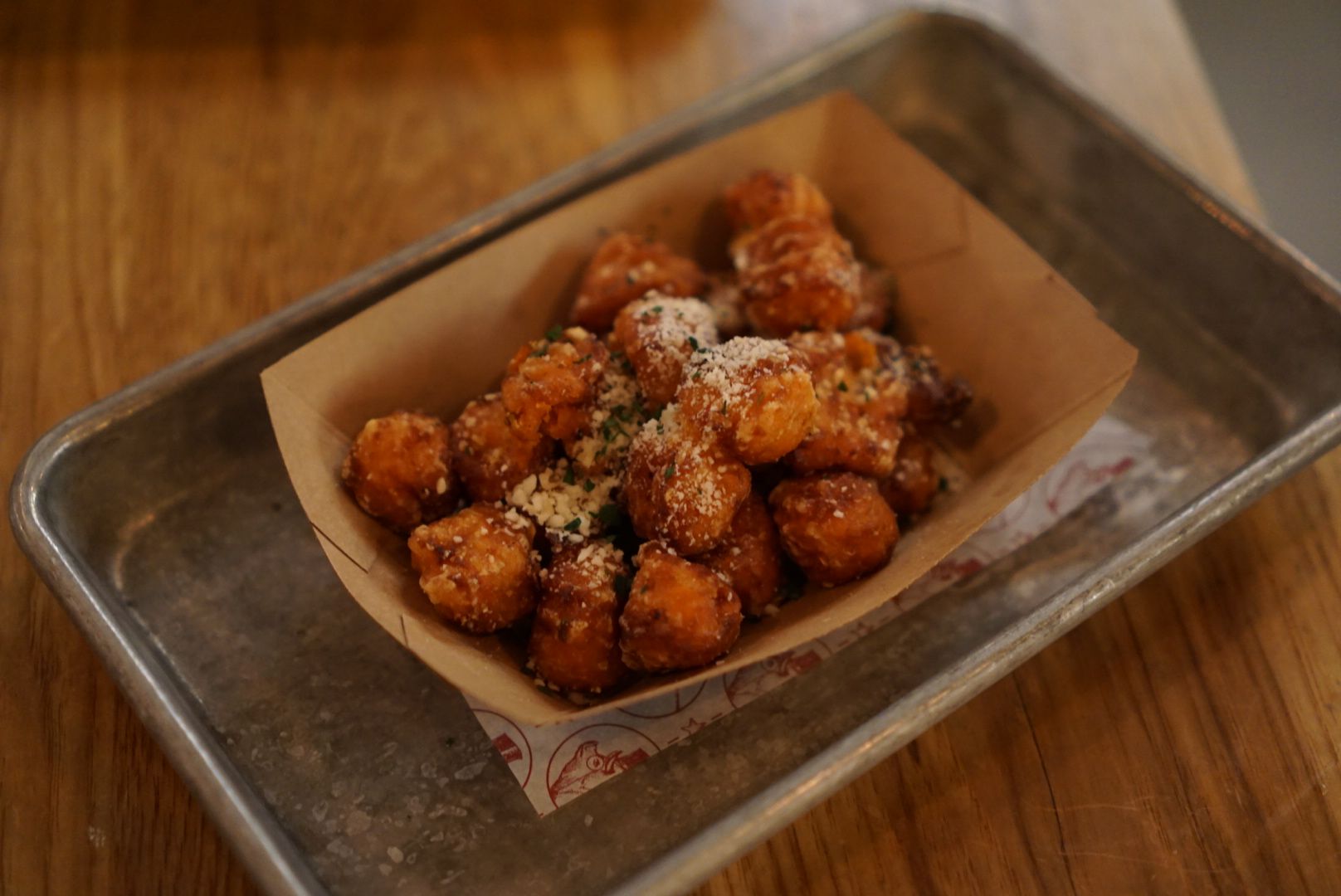 SWEET POTATO TOTS topped with parmesan cheese
There were several slices of brisket, however there were a few that were rather fatty, which is typical for brisket. But overall the brisket was good and he was very happy with his choice of side dish. I was unsure about combining parmesan cheese with sweet potatoes but the flavor combination worked together fine.
As for me, my entree choice was…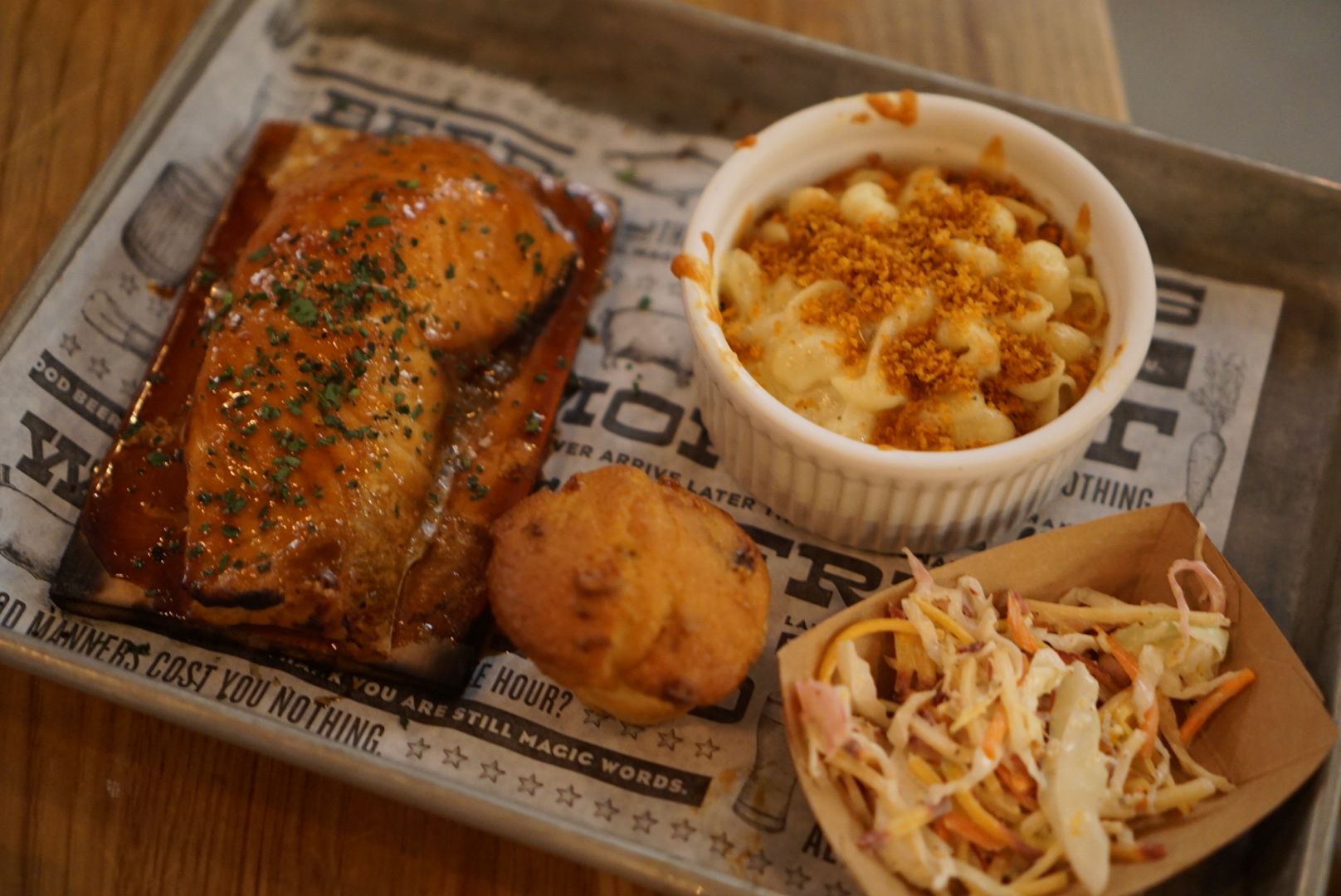 CEDAR PLANK SALMON with maple-dijon glaze, served with a jalapeño cornbread muffin, cole slaw, and a choice of 1 market side – $22.00
For my side I chose the…
MAC AND CHEESE made with aged cheddar and topped with breadcrumbs
The salmon was very good. It was not fishy tasting, like salmon can sometimes be. I'm normally not a fan of dijon mustard but I did enjoy the salmon's maple-dijon glaze. I also thought the mac & cheese was very good. The cornbread was good, with a little bit of spice from the jalapenos, but the slaw was nothing special. I like my cole slaw more finely chopped and with a sweeter dressing.
I actually had trouble deciding between two of the Market sides that I wanted to try so ended up ordering an additional side, for which I paid out of pocket…
CRISPY BRUSSELS SPROUTS with a whiskey-caramel sauce – $6.00
NOTE: I was actually able to get a 10% Annual Passholder discount on this extra side.
I had read reviews which raved about how good these were but I was disappointed with them. I thought they should have been crispier and needed more of the tasty sauce.
But other than the brussels sprouts, we were happy with our meal and our decision to use the last of our QS credits at Polite Pig. It's a good quick service restaurant choice, especially if you are on the Disney Dining Plan.
Reviewers on Yelp and Trip Advisor gave Polite Pig 4 stars and I would agree with their assessment.
2 Disney Dining Plan Quick Service Credits Used – $67.10 (including tax)