Ever since it was announced last summer that a barbecue restaurant would be taking the place of Liberty Inn in Epcot's American pavilion, I've been quite curious about it.  So when the opportunity arose to try this new place within two weeks of it opening on Feb. 19, 2020, I was excited.
We entered the restaurant at around 2:00 p.m..  Though past the prime lunch time hours of 11:30 – 1:30, it was still fairly busy.  We were though able to find a table pretty quickly and started looking at menu…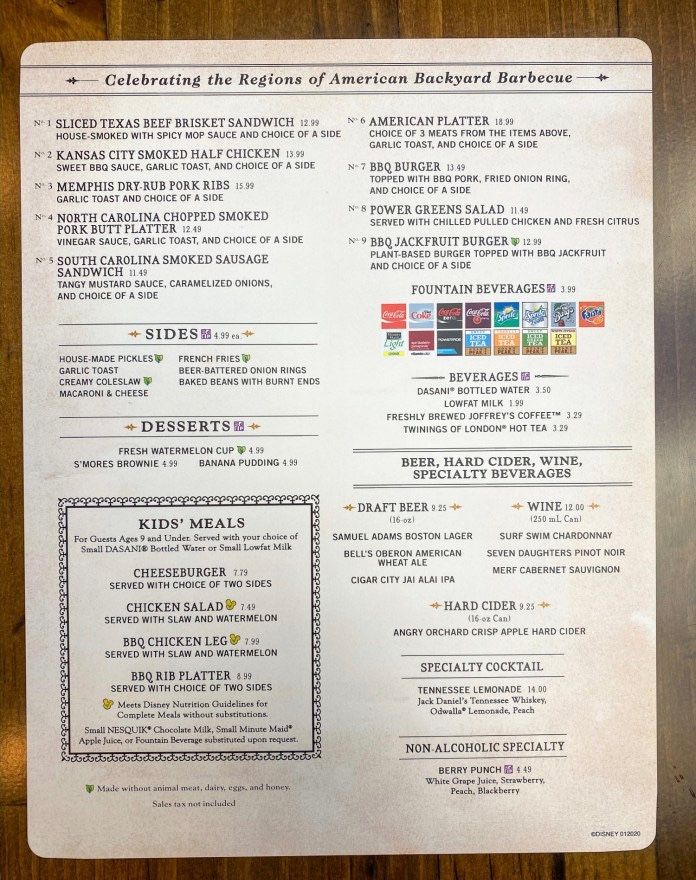 Once we had decided what we wanted to order we attempted to place our order using the My Disney Experience mobile order app.  However, we got a message that the mobile ordering was temporarily unavailable.
So Andrew stayed behind to save our table and I went up and placed our order with a cashier.   After picking up our order (which had been placed on a tray for me), I headed to the condiment area.
They have sauce dispensers out with the other condiments so you are free to try as many of them as you like…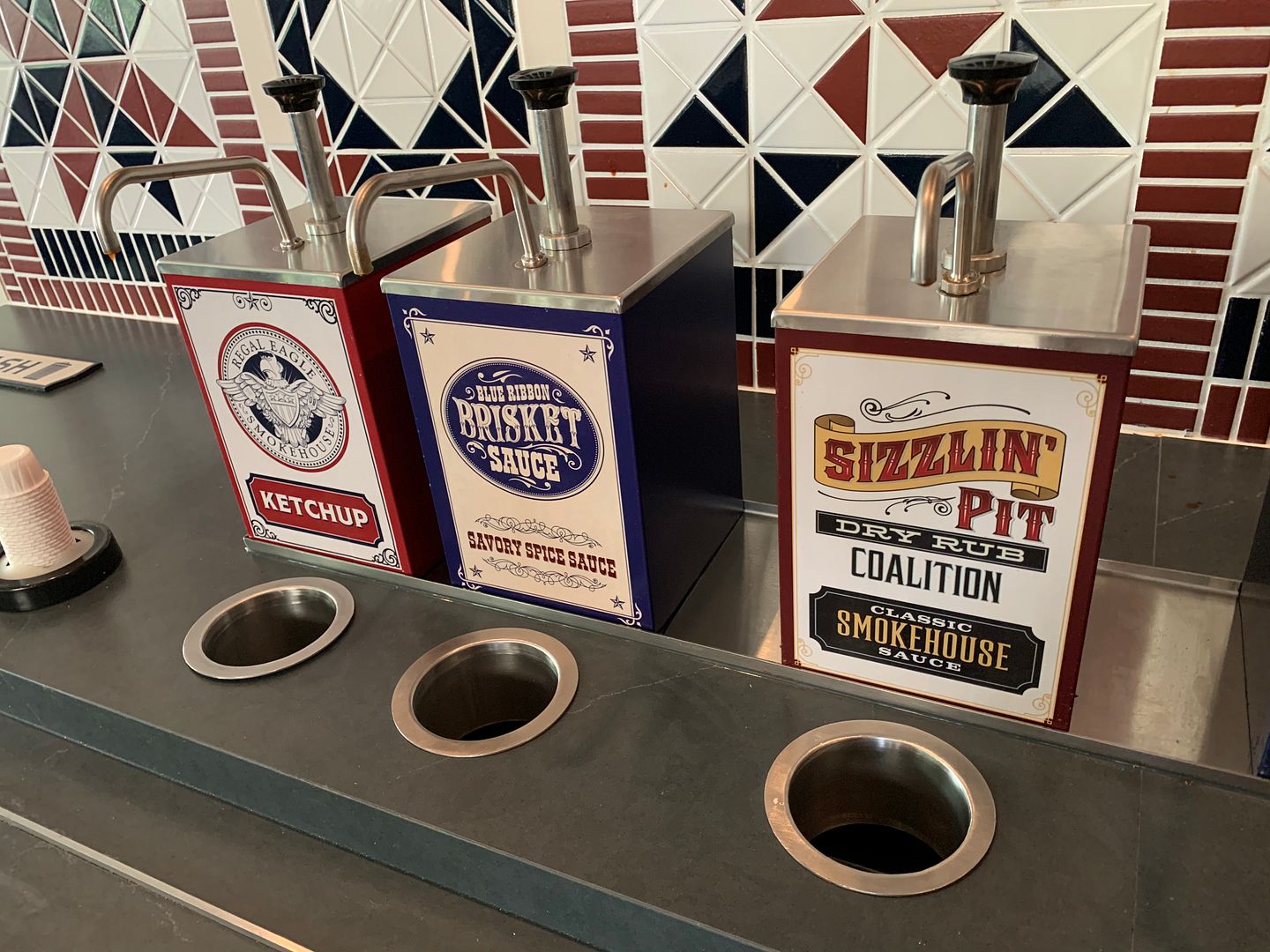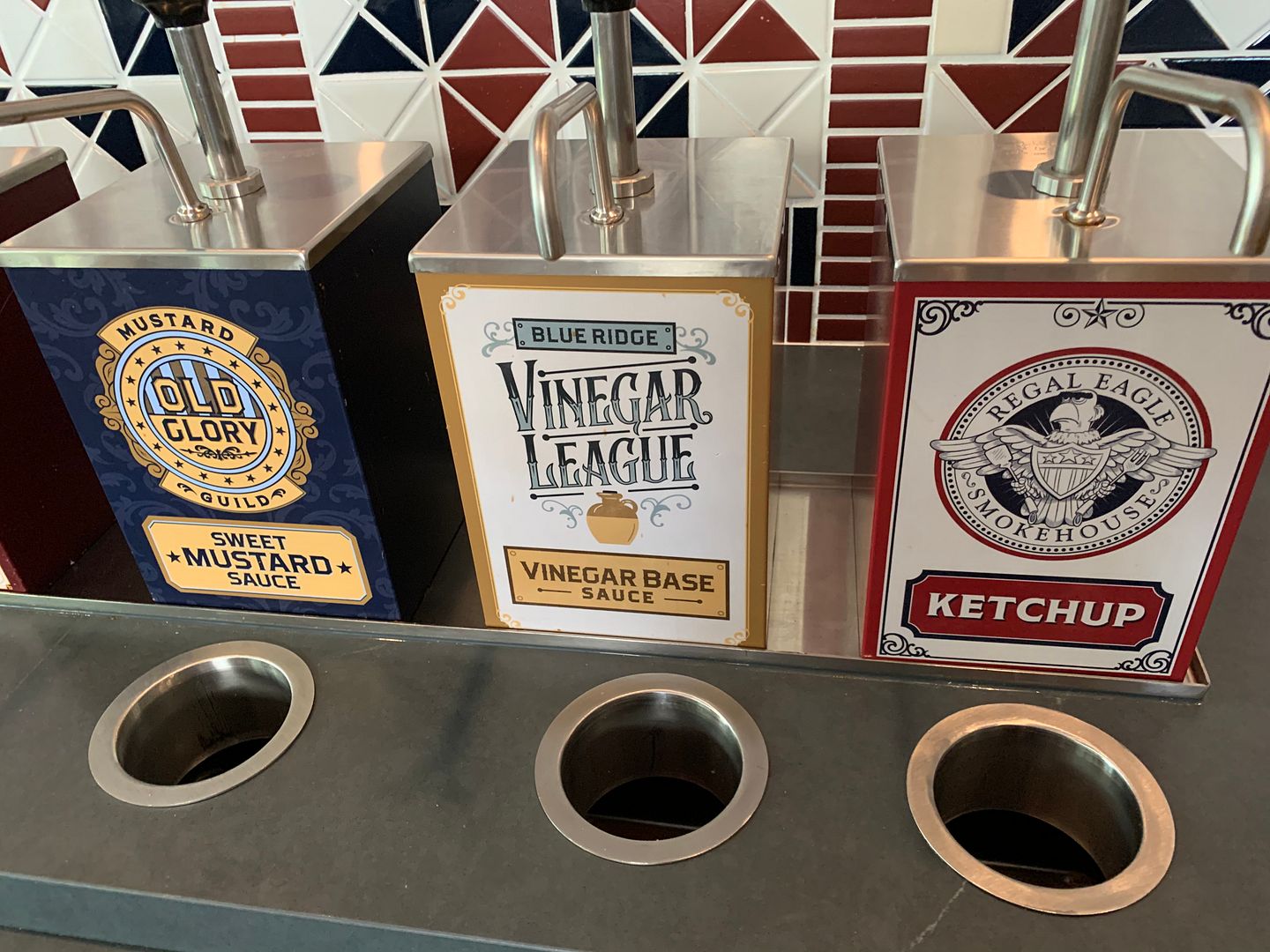 Therefore we were able to try all 4 of their sauces, plus I took some ketchup for our fries…
Ketchup, Vinegar base sauce, Sweet Mustard sauce, Classic Smokehouse sauce, and Brisket sauce
We liked all of these.  The sweet mustard sauce was especially good to dip our fries in.  I'm not a fan of mustard or mustard-based sauces but I did like this one.  So we ended up not really needing the ketchup for our fries.
I also looked for napkins when I got our silverware but was puzzled when none was found.  When I got back to our table I realized why when I saw the roll of paper towels there…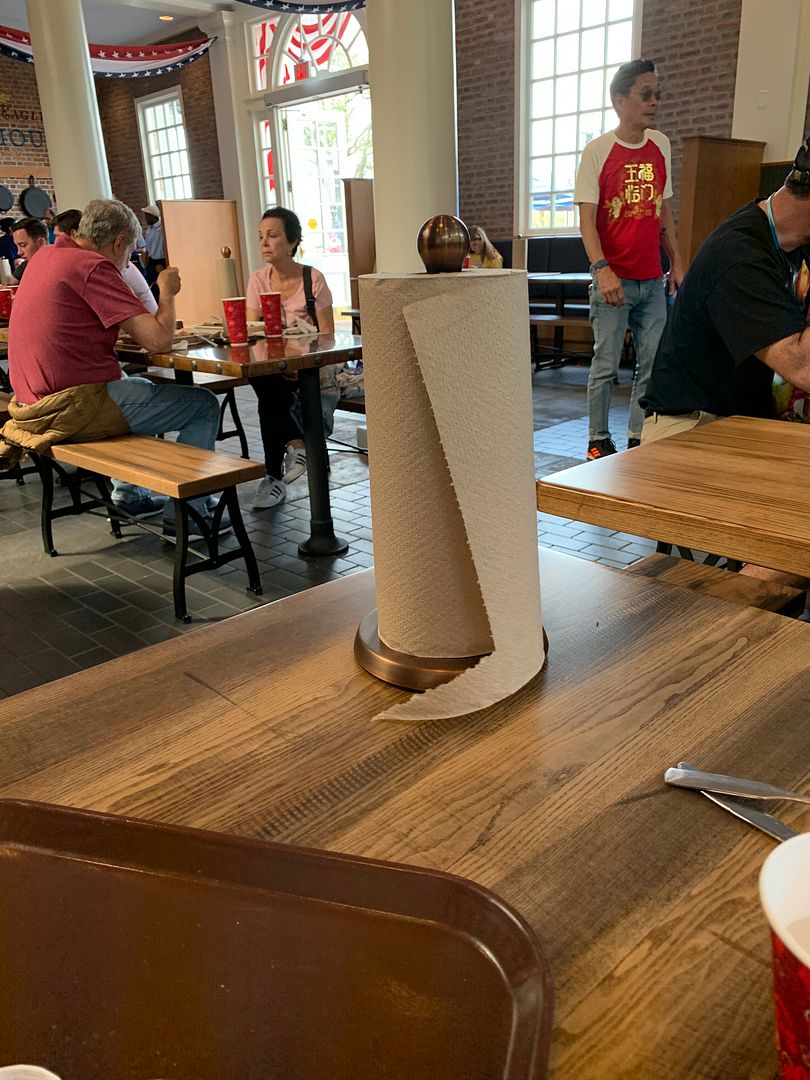 Each of their picnic style tables had its own roll of paper towels, so there was no need for napkins…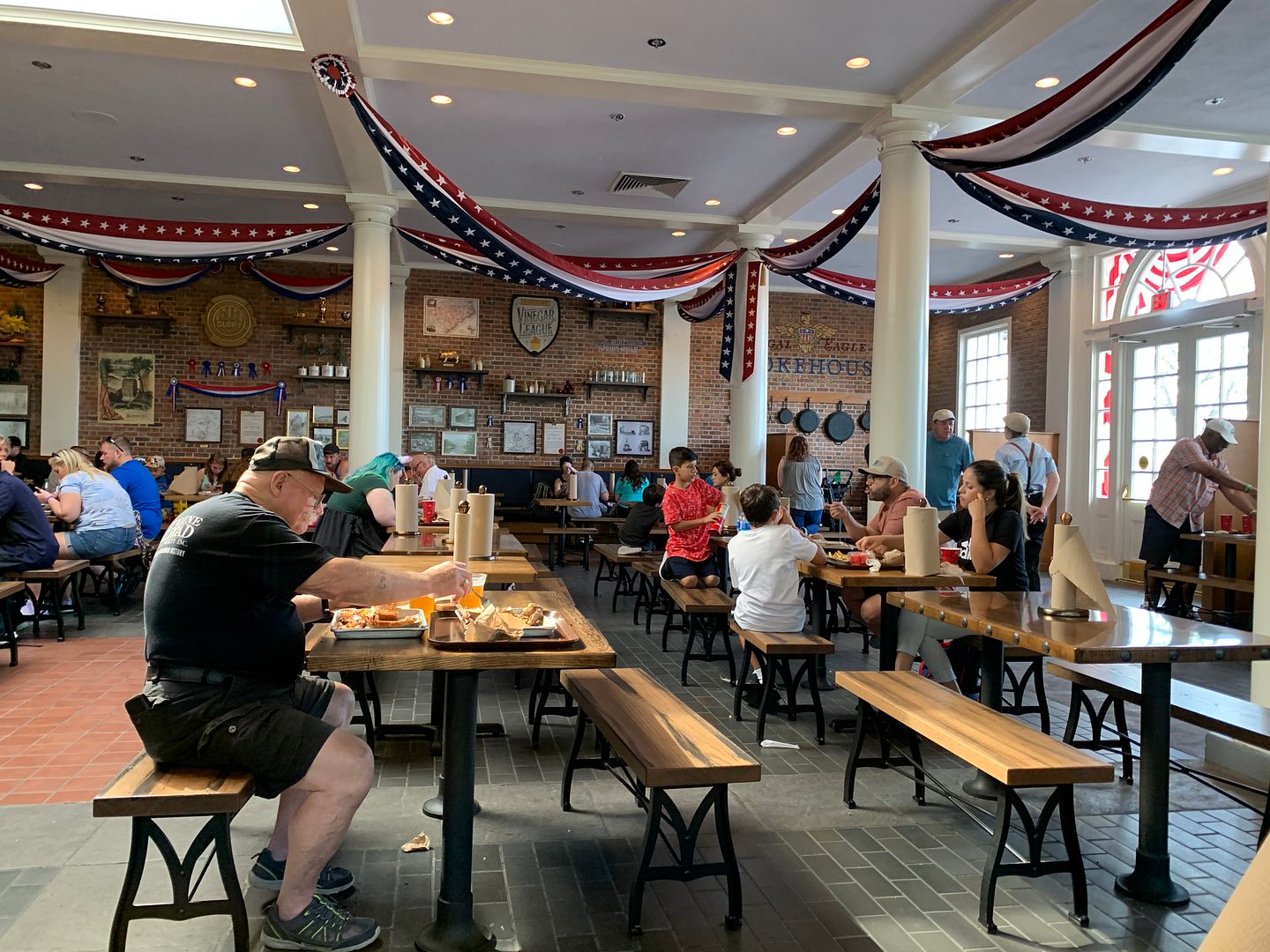 Now on to the food.  I wanted to sample as many things as reasonably possible (for 2 people to eat) for the sake of my review, so I ordered the American Platter…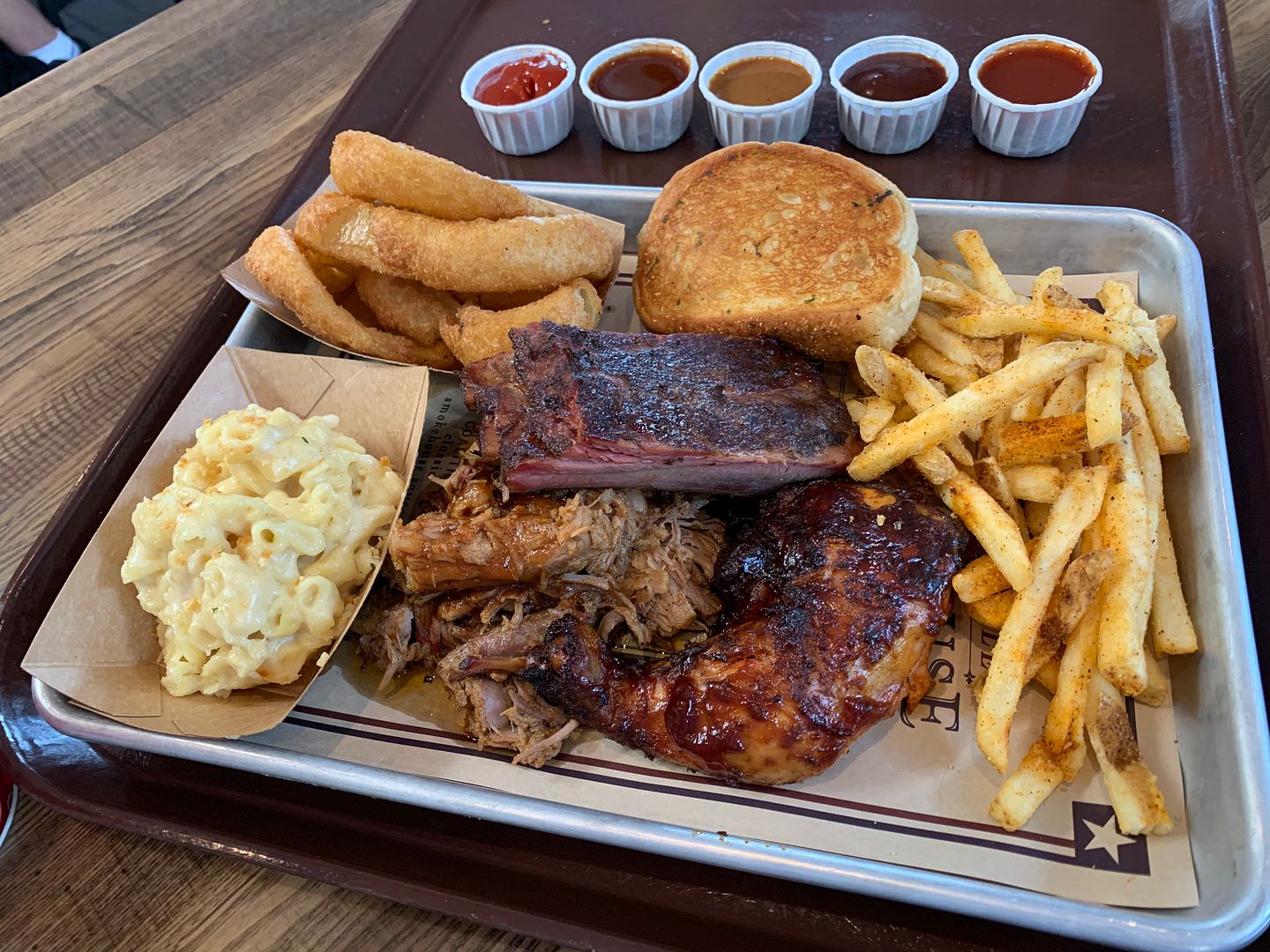 At $18.99, the American Platter is the most expensive entree on their menu, however it is a lot of food…enough for two to share (unless one of you is starving).  This would be an excellent use of a Quick Service Dining Credit, but we weren't on the Disney Dining Plan on the trip.
With the American Platter you have your choice of 3 meats.  The 5 options are Brisket, Chicken, Ribs, Pork Butt, and Sausage.  Here are the 3 we chose…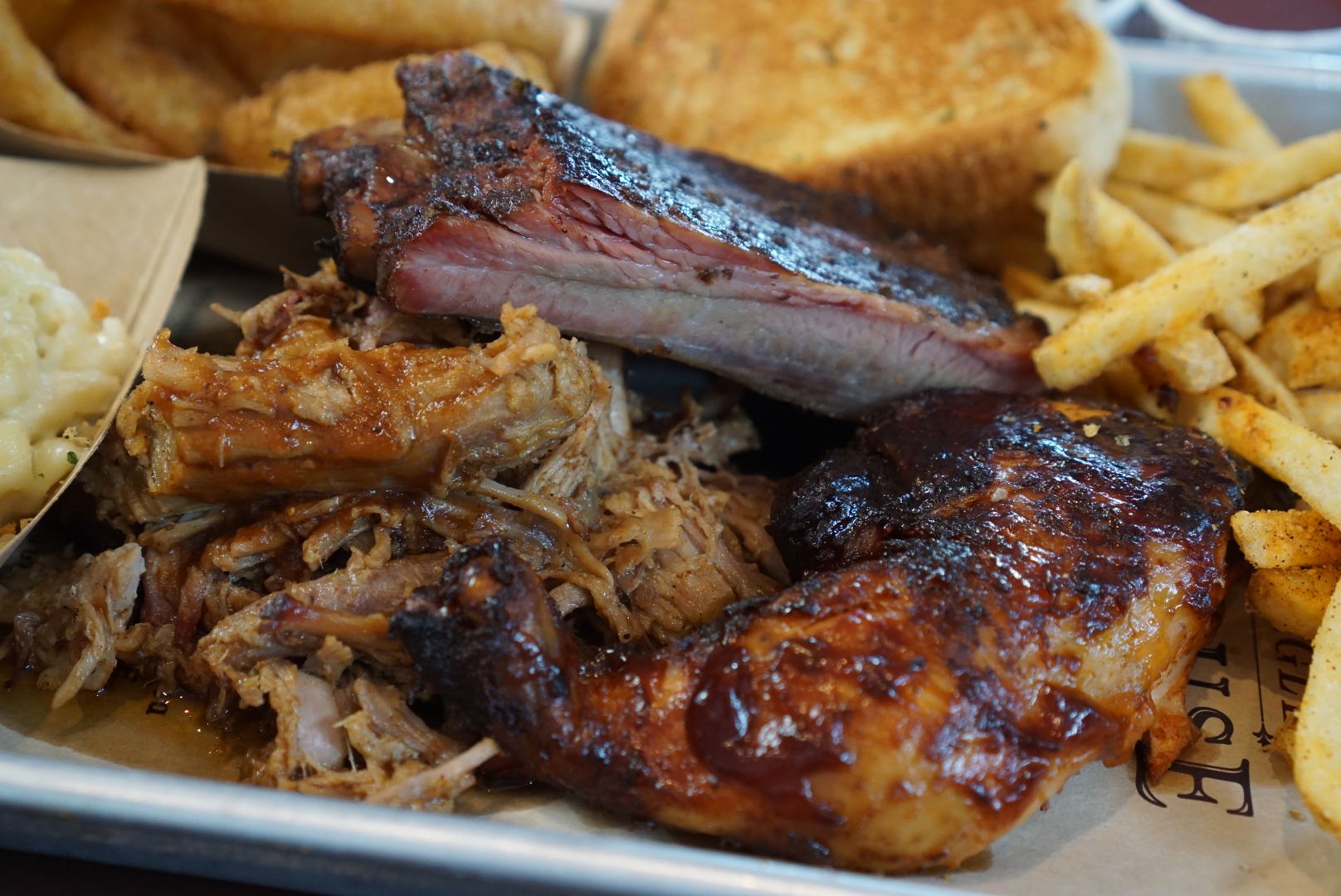 Memphis Dry Rub Pork Ribs, Kansas City Smoked Chicken, and North Carolina Chopped Smoked Butt
Let's begin with our least favorite, which were the Ribs…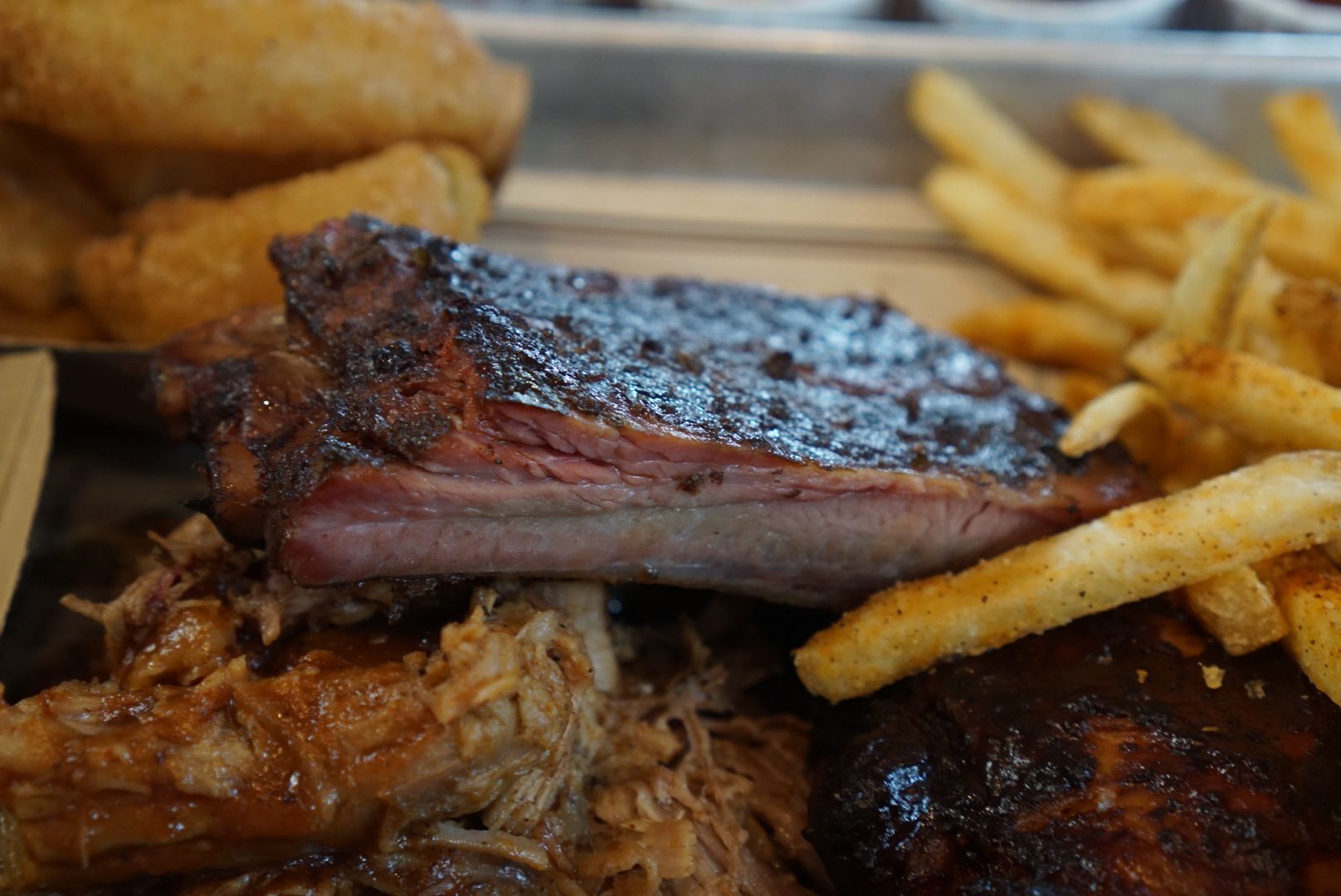 The small slab that we got with the platter included two ribs, so we each got one.  If you get the the full order of ribs, I think you get twice as much (so 4 ribs).  Since there isn't a lot of meat on each rib, that seems like a pretty small portion for $15.99.  As far as the ribs, they were lean so that was a plus.  I do not like fatty meat.  However, their flavor was rather boring.  Though the dry rub was good, they needed sauce added to make them more appealing.  So the ribs are probably  not something I would order here again, either as part of the platter or on their own.
Our other two meats were very good though.  Our second choice was the Chicken…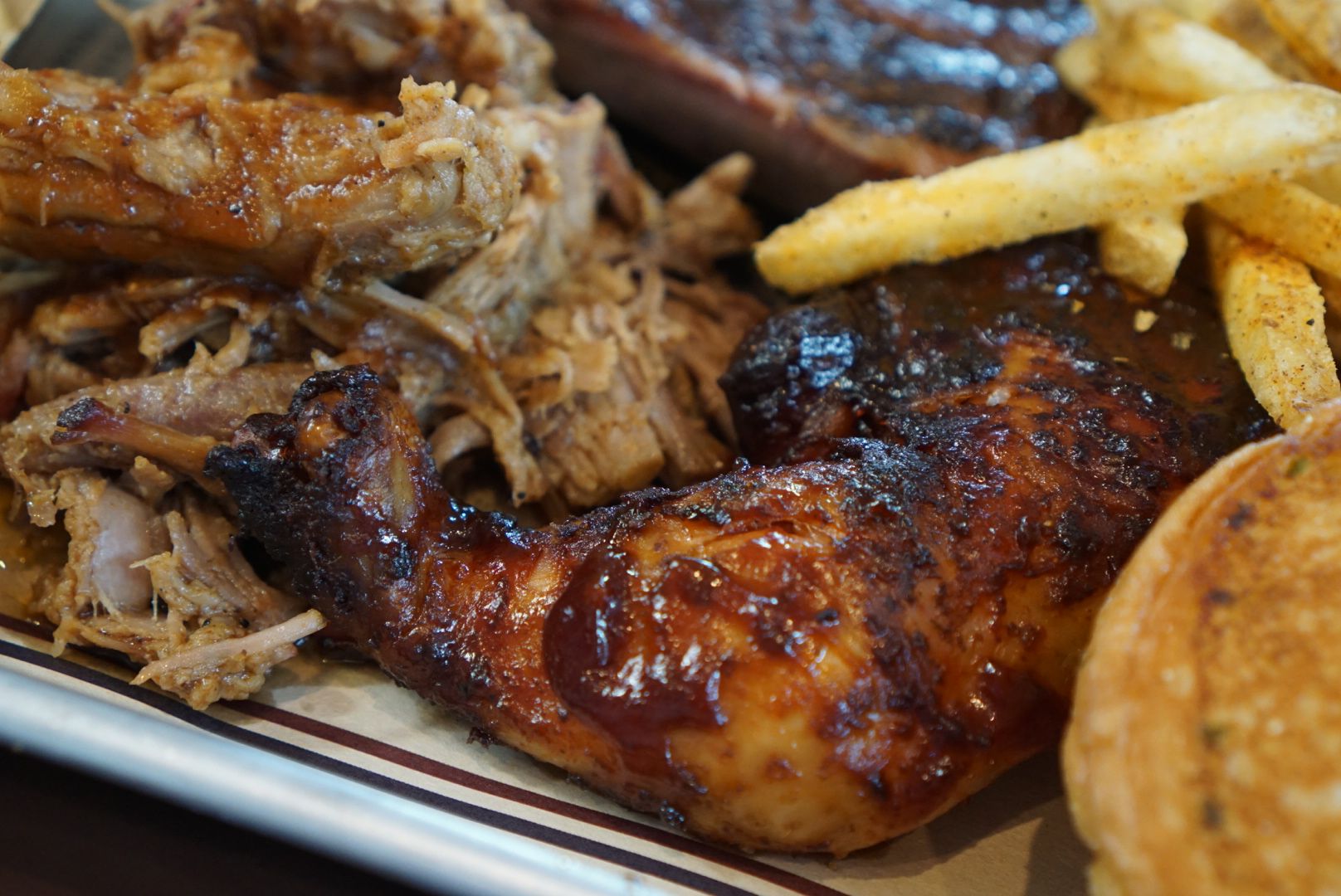 Though you get a half of a chicken when ordering the chicken entree, with the American platter you get 1/4, or one piece that includes a breast and wing.  The sweet barbecue sauce on the chicken was really tasty and the chicken was moist and flavorful.
We both really liked the chicken, but our favorite meat was the Pork Butt…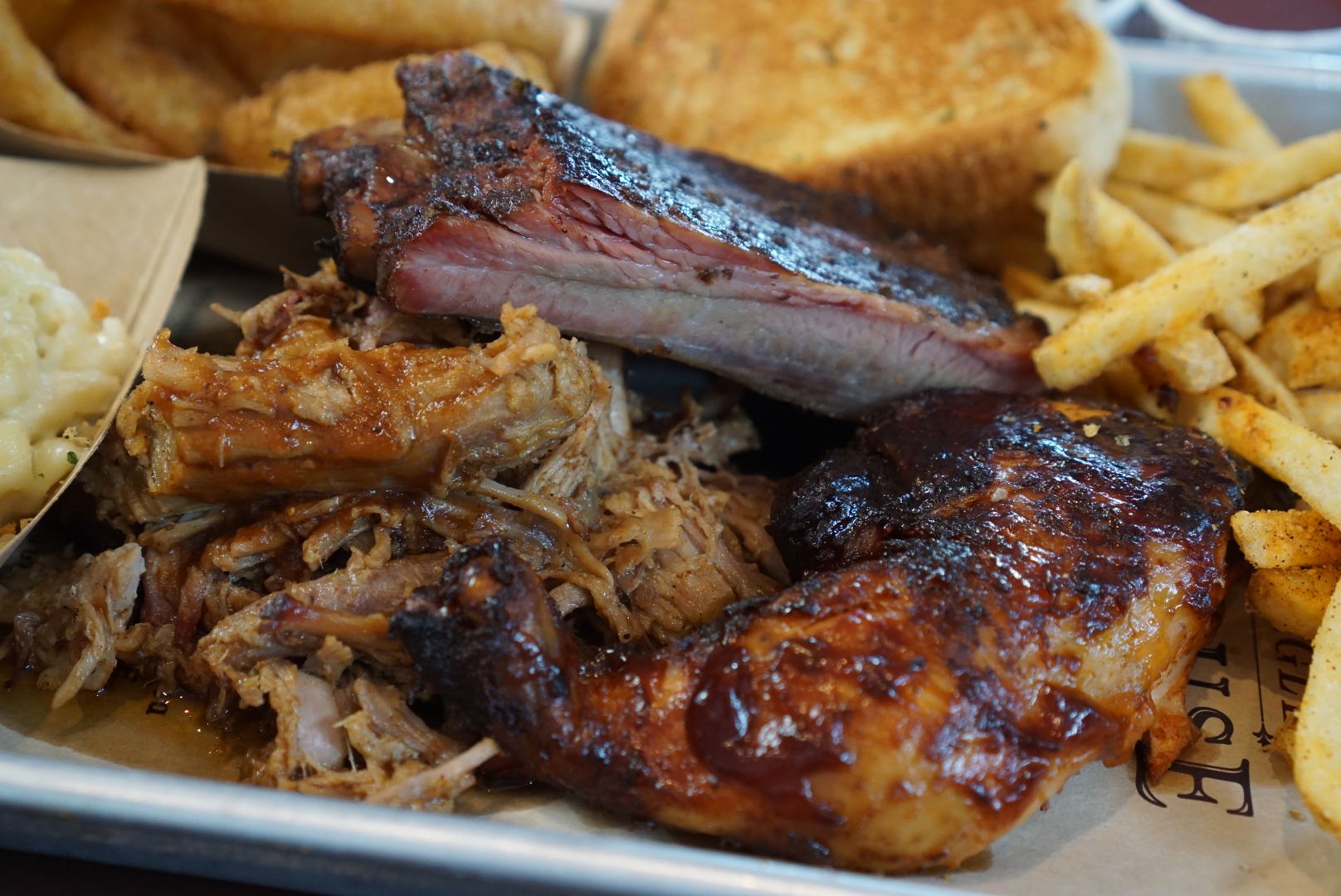 Though the pile of pulled pork on our platter did not look very appetizing, it actually tasted very good.  I really enjoyed the vinegar-base sauce on the pork and its smokey flavor.  Pulled pork is not normally my "thing", so I was quite surprised when this ended up being my favorite of the 3 meats.  I'm glad I let Andrew convince me to get the pork rather than the brisket.
As for the sides, only one is included with your meal.  However, we couldn't agree on just one side.  Andrew wanted the French Fries, but I wanted to try the Onion Rings, Macaroni & Cheese, and Baked Beans with Burnt Ends.  So I ended up ordering 3 of the 4 (paying $4.99 each for the 2 extra sides), eliminating only the Baked Beans because I knew Andrew would not eat them.
I'll start with our favorite of the 3 sides we tried, French Fries…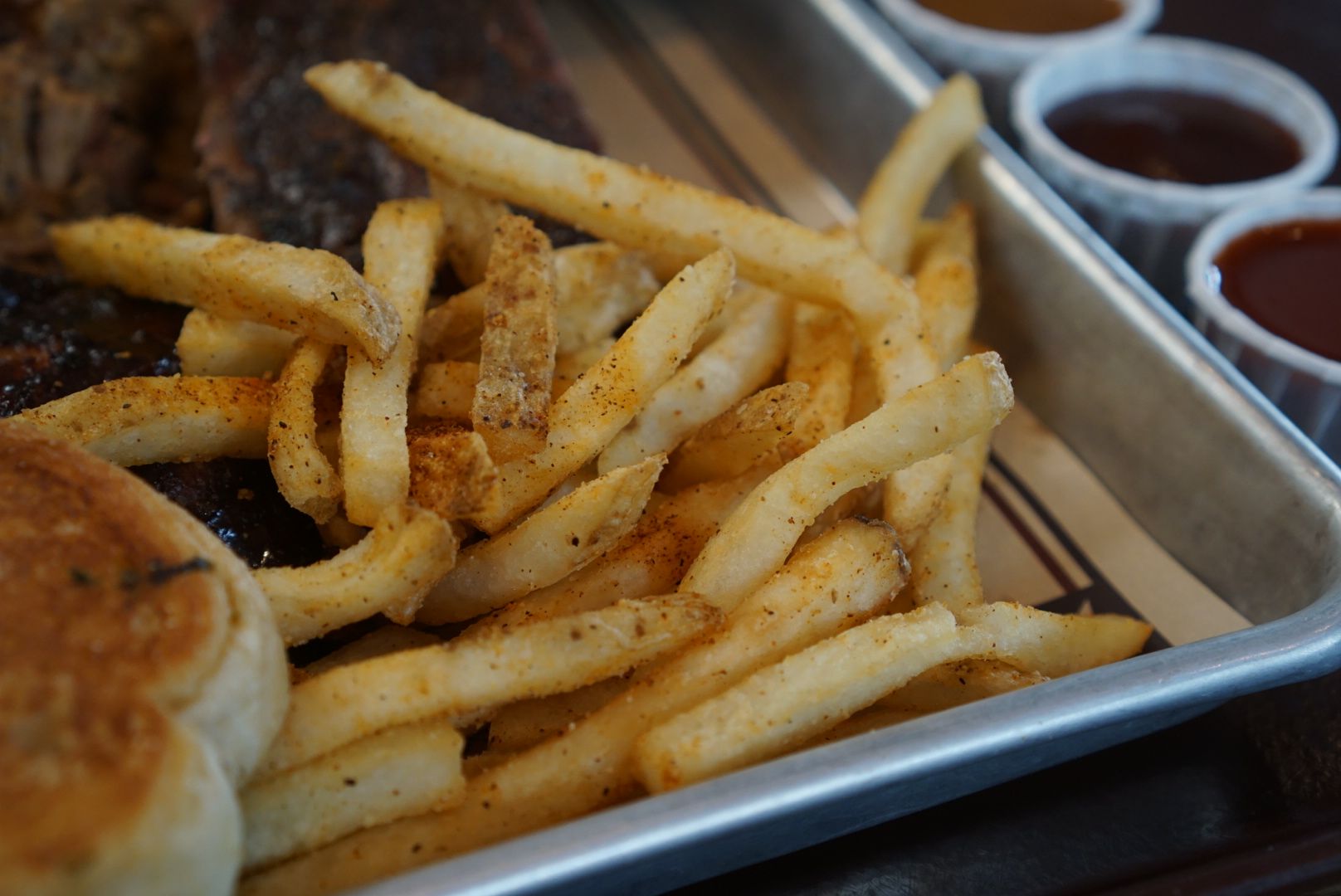 These were crispy and nicely seasoned (with seasoned salt).  They were very tasty on their own, but even better when dipped in the sweet mustard sauce.
Our second side was the Beer-Battered Onion Rings…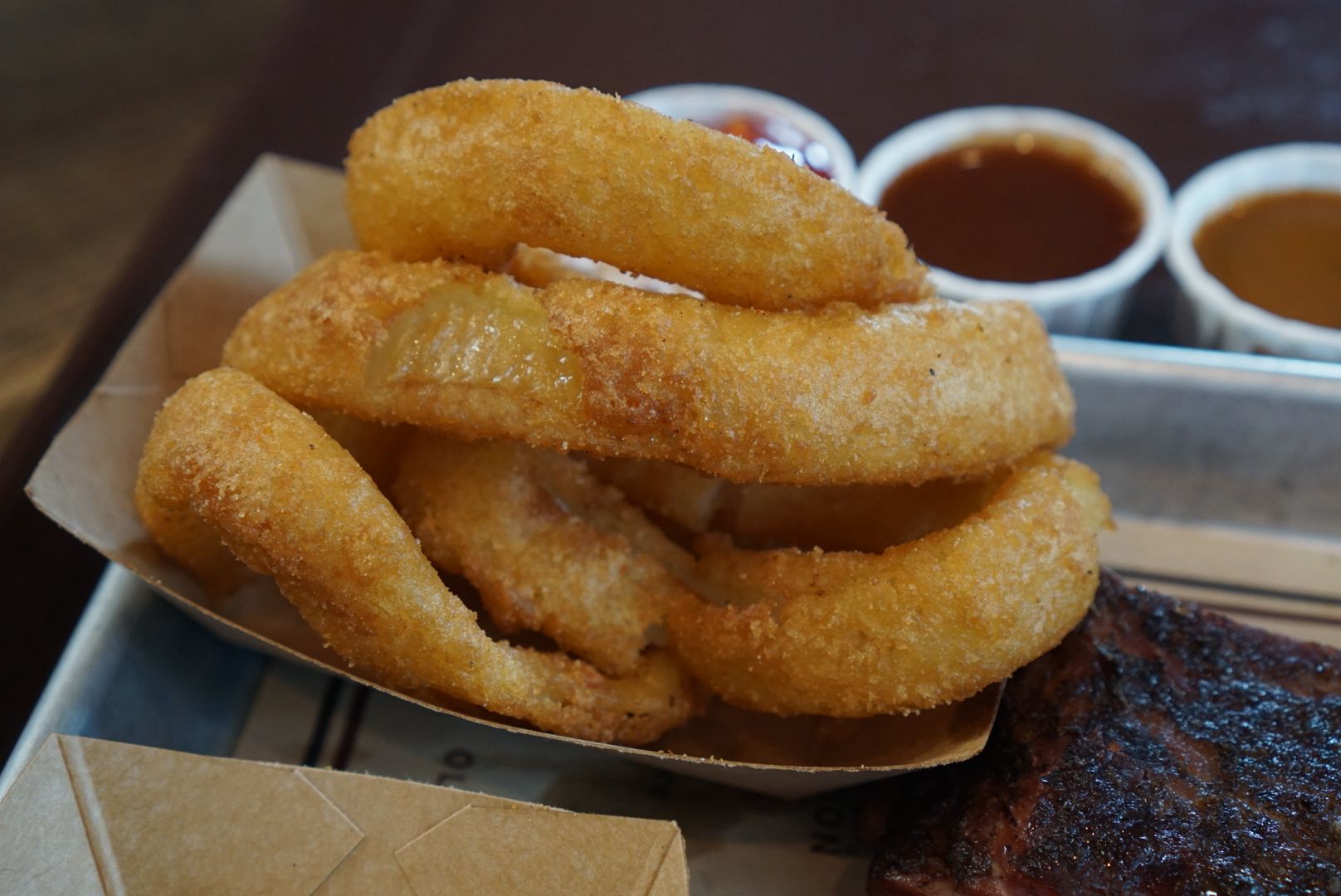 I liked these, but Andrew thought they were just okay.  Though they were large in size, we only got 4 rings for $4.99, so rather expensive.  They were good though.  Not Beaches & Cream or Prime Time Cafe good (two of my favorite places to get onion rings at Disney World), but good…at least I thought so.
We were also in disagreement about Side #3, the Macaroni & Cheese…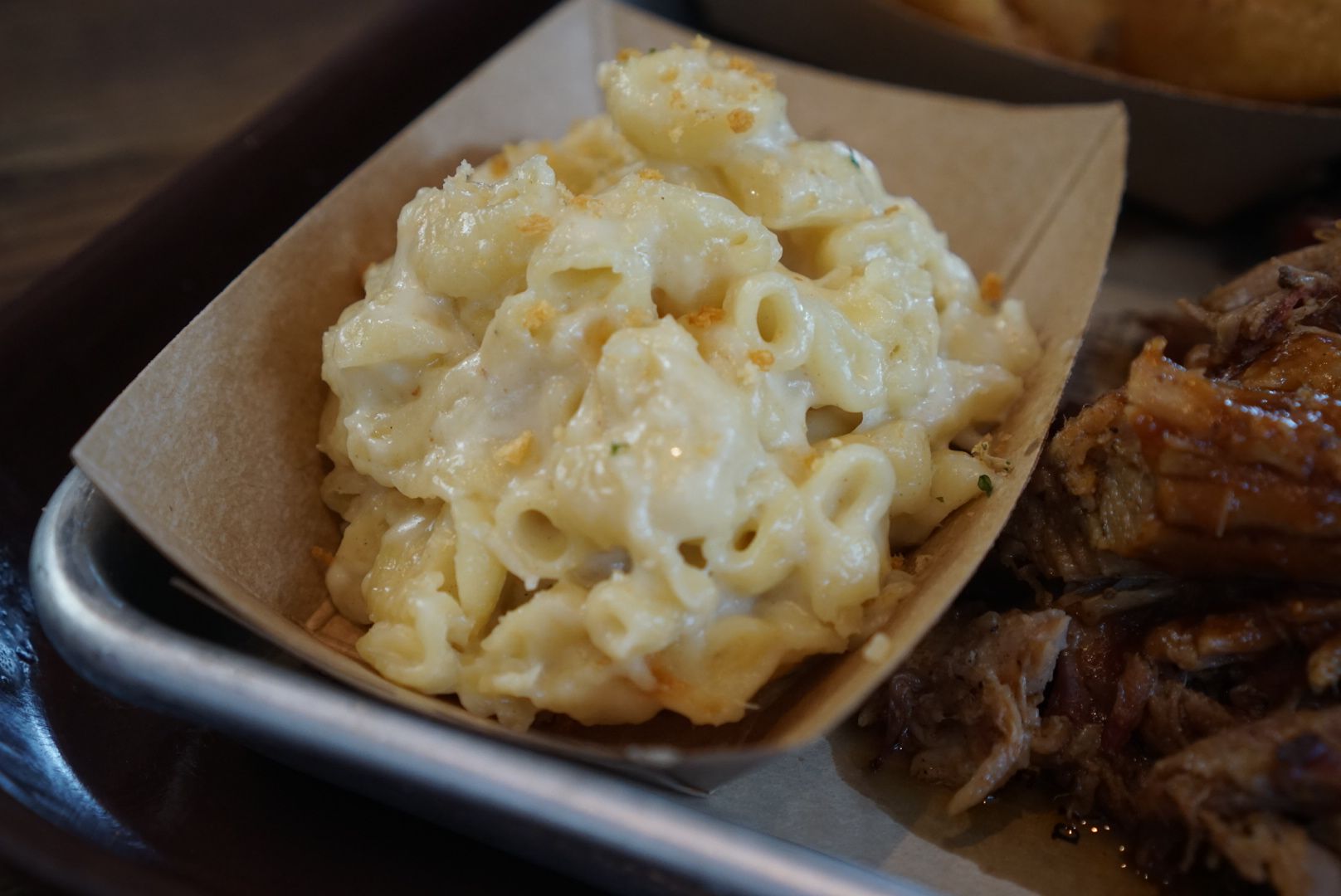 I thought this was really good but Andrew said the cheese sauce tasted like the "plastic" variety.  I didn't get that "plastic" taste at all though.  I really think that Andrew's assessment of the mac 'n' cheese was mostly due to being full, plus a little bored and ready to move on.  I  though enjoyed the macaroni and cheese and would get it again.
And that just leaves the side that is included with most of the meals at Regal Eagle, including the American Platter, the Garlic Toast…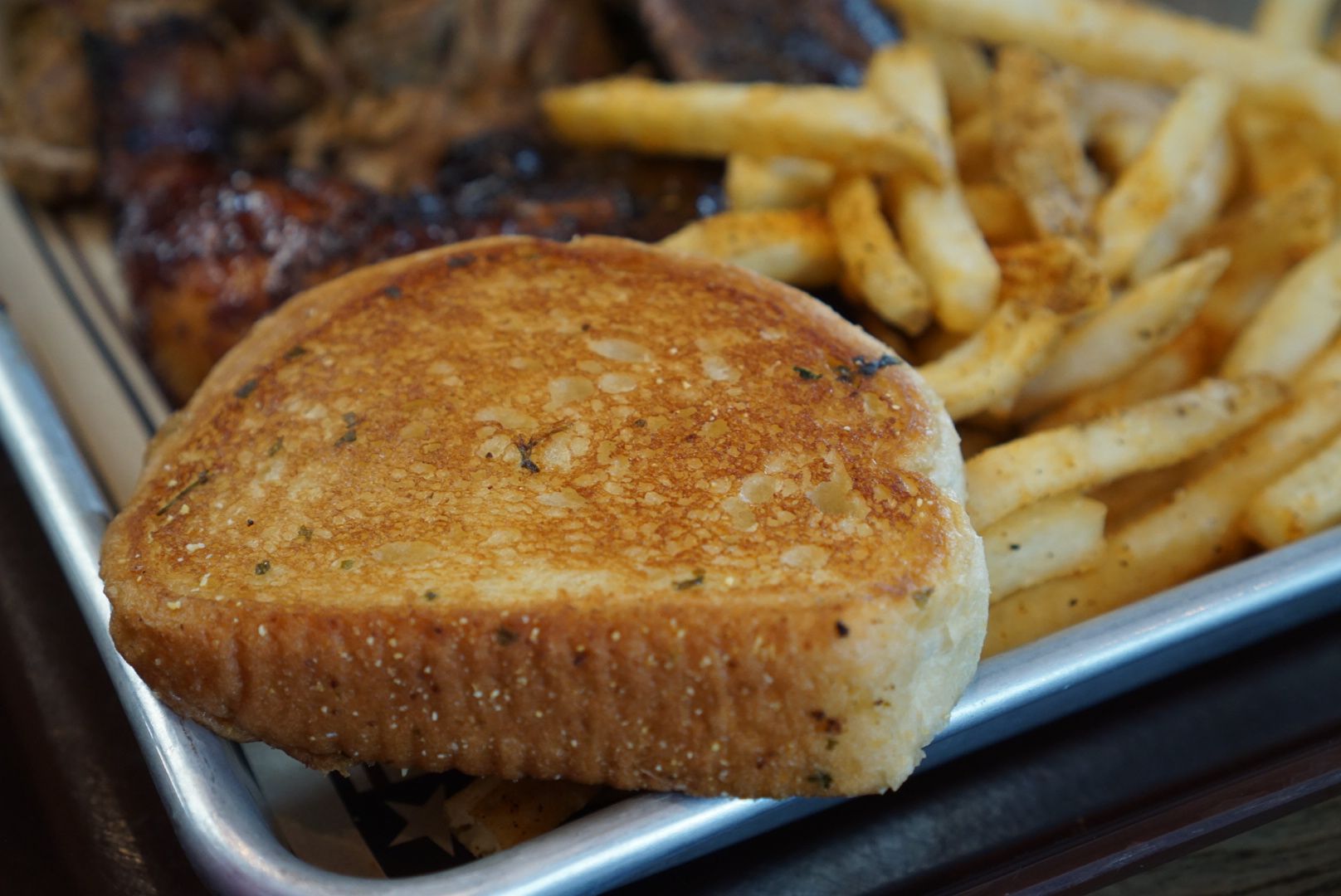 It was your typical Texas Toast variety of garlic toast (small but thick slice of toasted bread with a small amount of garlic butter).  Not really needed, but it was fine.
Since Regal Eagle had not been open for a full month before Disney World had to close the parks due to COVID-19 concerns, there aren't yet many reviews for it on Yelp or Tripadvisor.  On Yelp there are currently only 8 reviews, with an average rating of 4 1/2 stars.  Tripadvisor has only 1 review, which gave Regal Eagle a perfect 5 stars.  As for me though, I would probably give my first visit to Regal Eagle a rating of 4 stars.  Because there are so many good restaurants at Epcot (plus there are frequently festivals being held there which include food booths), it is difficult for me to commit to returning to Regal Eagle on my next trip.  But I will return sometime, because I still want to try that brisket.