Let's begin with photos of the Roaring Fork menus, as posted outside of the Wilderness Lodge's quick service restaurant on October 28, 2018.
First the Breakfast menu, served from 7:00 – 11:00 a.m….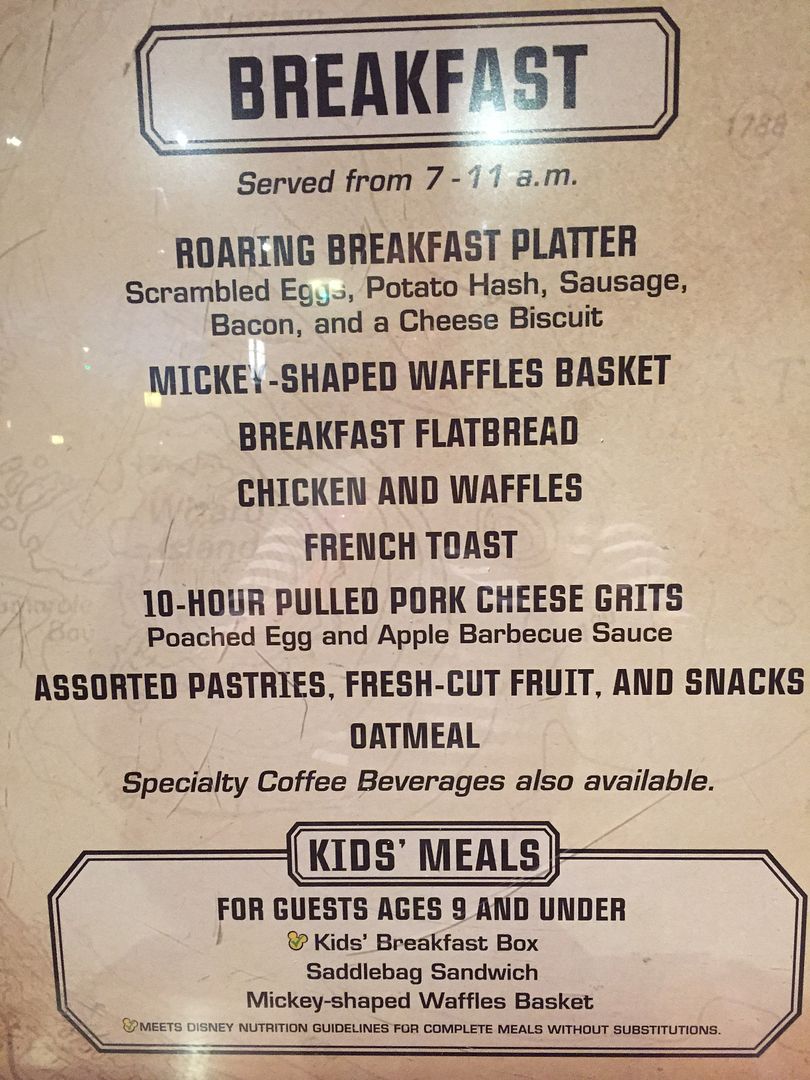 And the Lunch/Dinner menu, served from 11 a.m. – 11:00 p.m….
With only a two night stay at the Wilderness Lodge on this trip, I didn't have the opportunity to have lunch or dinner at Roaring Fork.  But on my second/last morning of my stay I did check it out for breakfast.
I first explored (and photographed) most of the options in their display case…
Cinnamon Roll with Maple Glaze 
Apple, Cherry and Cheese Danish
Multigrain and Plain Croissants – $3.49
Chocolate Croissants
Humphrey Bear Claws – $5.29
Hazelnut Donuts
Fruity Crunch Donuts – $3.19
Blueberry Muffins – $3.49
Pumpkin Muffins – $3.49
Chocolate Chip Muffins – $3.49
Cranberry Scones 
There were also these desserts…
Mickey Brownie – $4.29
Magic Cookie Bars 
Campfire Cupcake (Marshmallow and Chocolate) – $5.49 
And a few other snacks that I don't recall seeing at Roaring Fork during my visits in previous years…
Cinnamon Glazed Almonds and Cinnamon Glazed Pecans
I think the nuts may have been a seasonal addition.
Something that was missing though that I had been looking forward to trying ever since I saw it in a Disney Food Blog review is the Maple Bacon Donut…
I suppose it was probably replaced by the Hazelnut Donut…
So I instead turned my attention to the hot options on their menu…
Here is what I chose…
Breakfast Flatbread with Sausage Gravy, Pit Ham, Eggs, Onions, Peppers, Mozzarella Cheese, and Cheddar Cheese – $9.99
And some closer shots…
I asked for this "To-Go" so it was given to me boxed up and in a bag.  Unfortunately I didn't look inside until I got back up to my room.  That is when I realized that I had no plastic silverware and this large flatbread (pre-sliced into just 4 triangles) was badly in need of cutting and eating with a knife and fork.  But I had to make do by picking up a large triangle slice and attempting to eat it with my hands, which was quite messy because of the sausage gravy (that made much of the crust soggy).  I also thought this had way too many peppers and onions.  I ended up just tearing off pieces around the edges because there the crust was crisp and the toppings were light.  So overall this was a disappointment, as was their coffee.  I had filled my (Disney Dining Plan) refillable mug with coffee to have with my breakfast but wasn't able to drink it.  It was super strong and tasted burned.
I had had several great breakfasts at Roaring Fork previously, but had always had the Bananas Foster Mickey Waffles…
So I guess I should have gone with the Bananas Foster French Toast or requested the Mickey Waffles with the addition of the Bananas Foster sauce.  Sometimes you are rewarded for trying new things and you discover a new favorite.  Sadly, this was not one of those times.
That just leaves the ratings & rankings.  While Yelp reviewers gave Roaring Fork 3 1/2 stars and Trip Advisor gave it 4, I would rate it only 2 1/2 stars based solely on this visit.  As for its Trip Advisor ranking, Roaring Fork came in at #510 of the more than 3,000 restaurants in the Orlando area.  Narrowing it down to those in the Disney World area, Roaring Fork ranked #147 of about 250 restaurants that are reviewed there.