It had been 4 years since I last dined at Artist Point, so this was my first experience with its character dinner.  My previous visits to Artist Point (when it was a signature restaurant) were pretty hit and miss.  My last dinner there (in October 2015) was of the "miss" variety so consequently I wasn't really in a hurry to return.  However, when they converted Artist Point into a character dining experience in December 2018, I decided it was time to give it another try.
Because it is one of the more expensive (1 credit) character meals, I thought it would be wise to include this in our plans while we were on the Disney Dining Plan.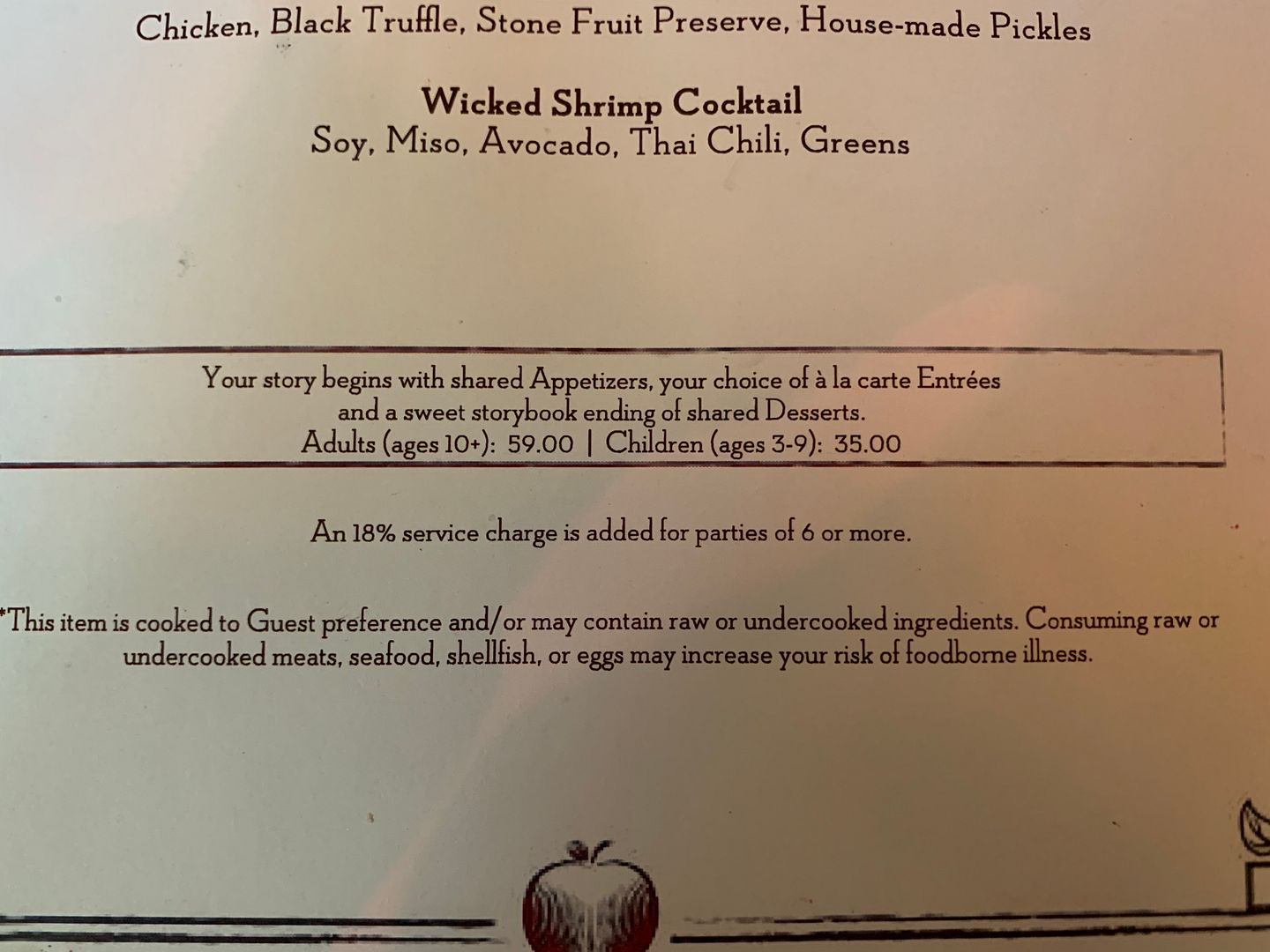 As we approached the restaurant's podium to check in for our 5:45 reservation I noticed a few things outside of the dining room that indicated the changes that occurred to Artist Point since I last visited
Though the Artist Point sign was the same…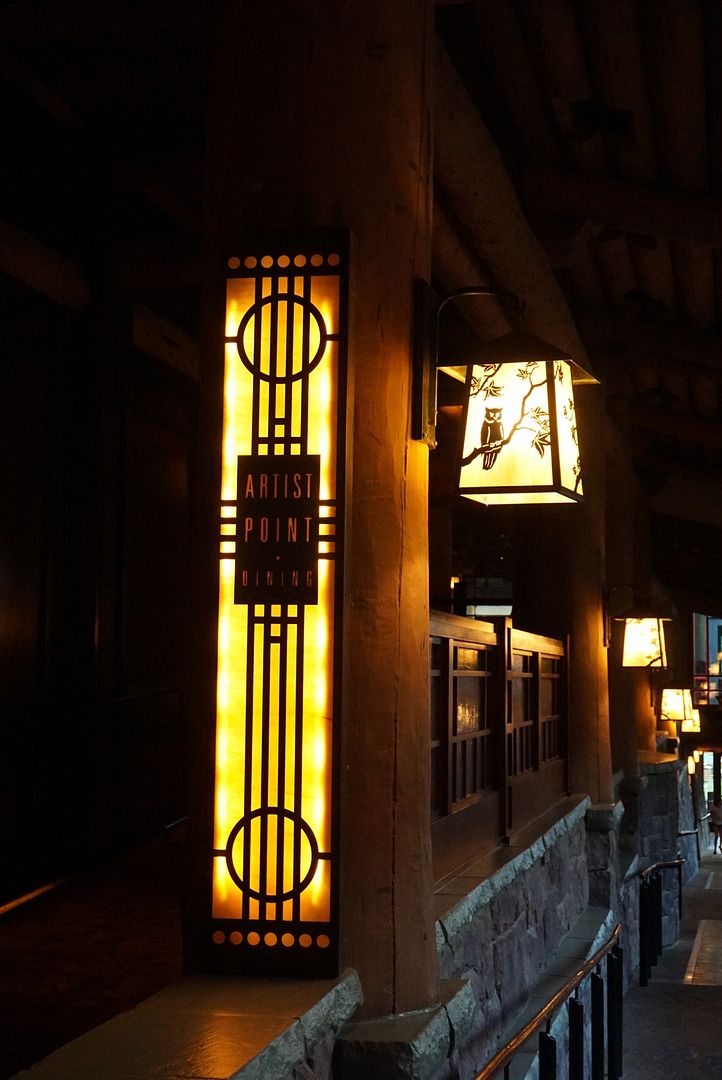 There was  Snow White artwork and Dwarf figurines in the window display by the ramp which leads to the restaurant…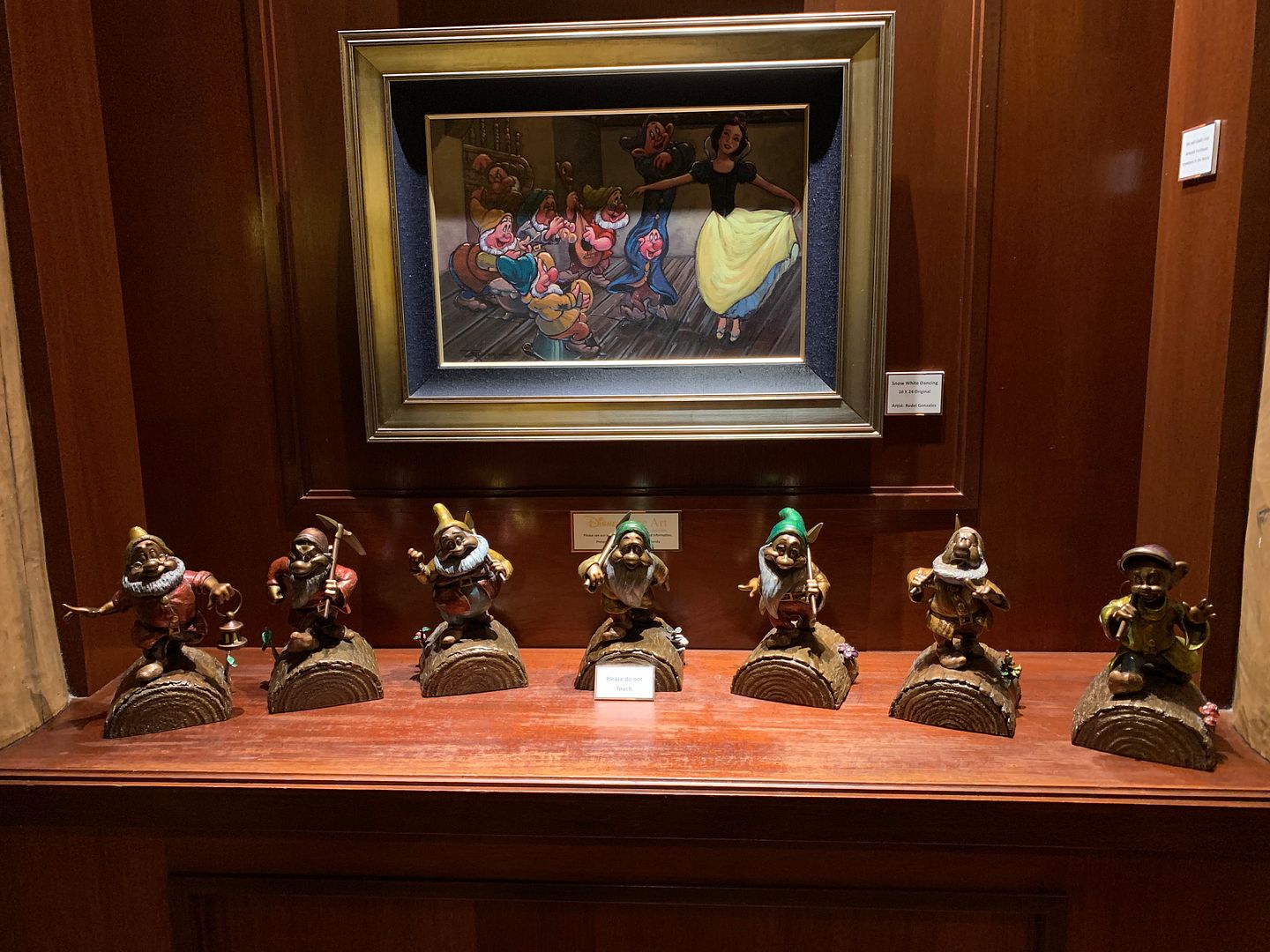 And this was on display just behind the podium…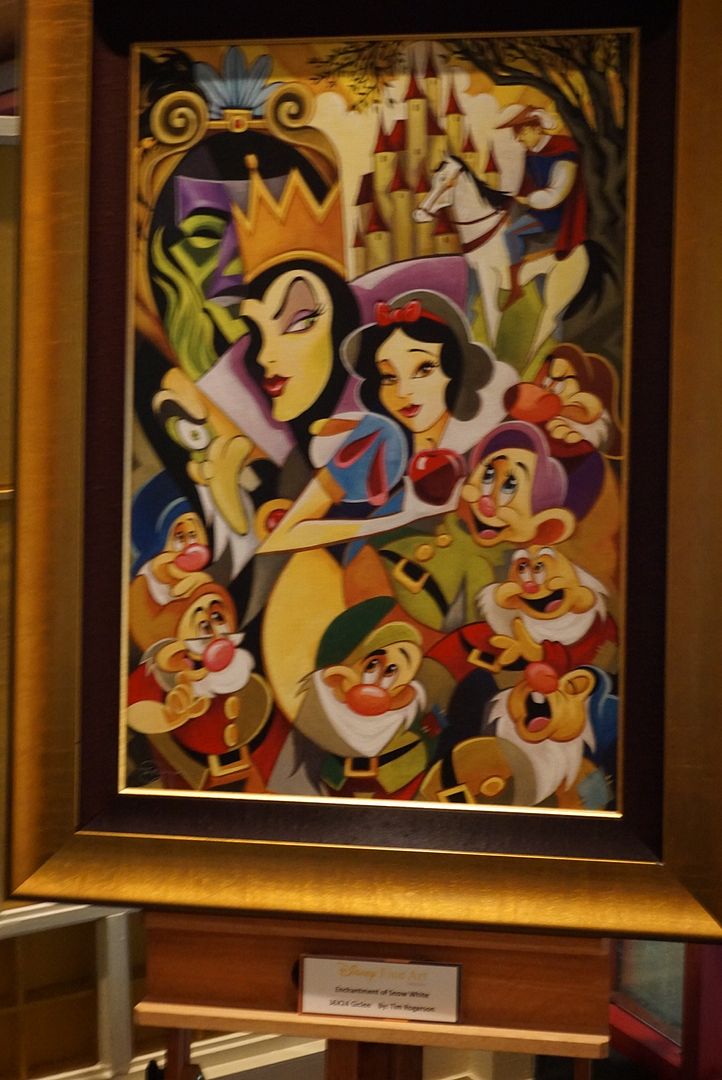 We were given a pager, as our table was not yet available, and we went back out to the to Wilderness Lodge's beautiful lobby, which I love.  After about 10 minutes our pager went off and we returned to the restaurant's podium to be seated.
Once seated I looked around the dining room and saw that they had added trees to the previous decor to make it look like an enchanted forest…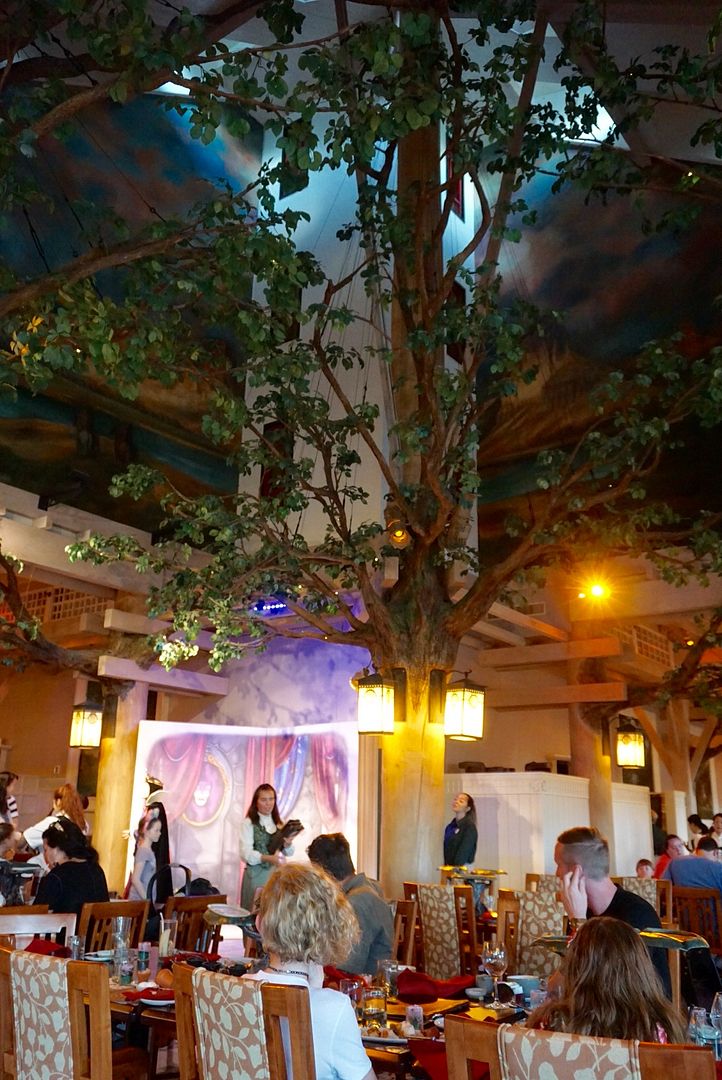 At times during our meal the trees would come to life with colored lights…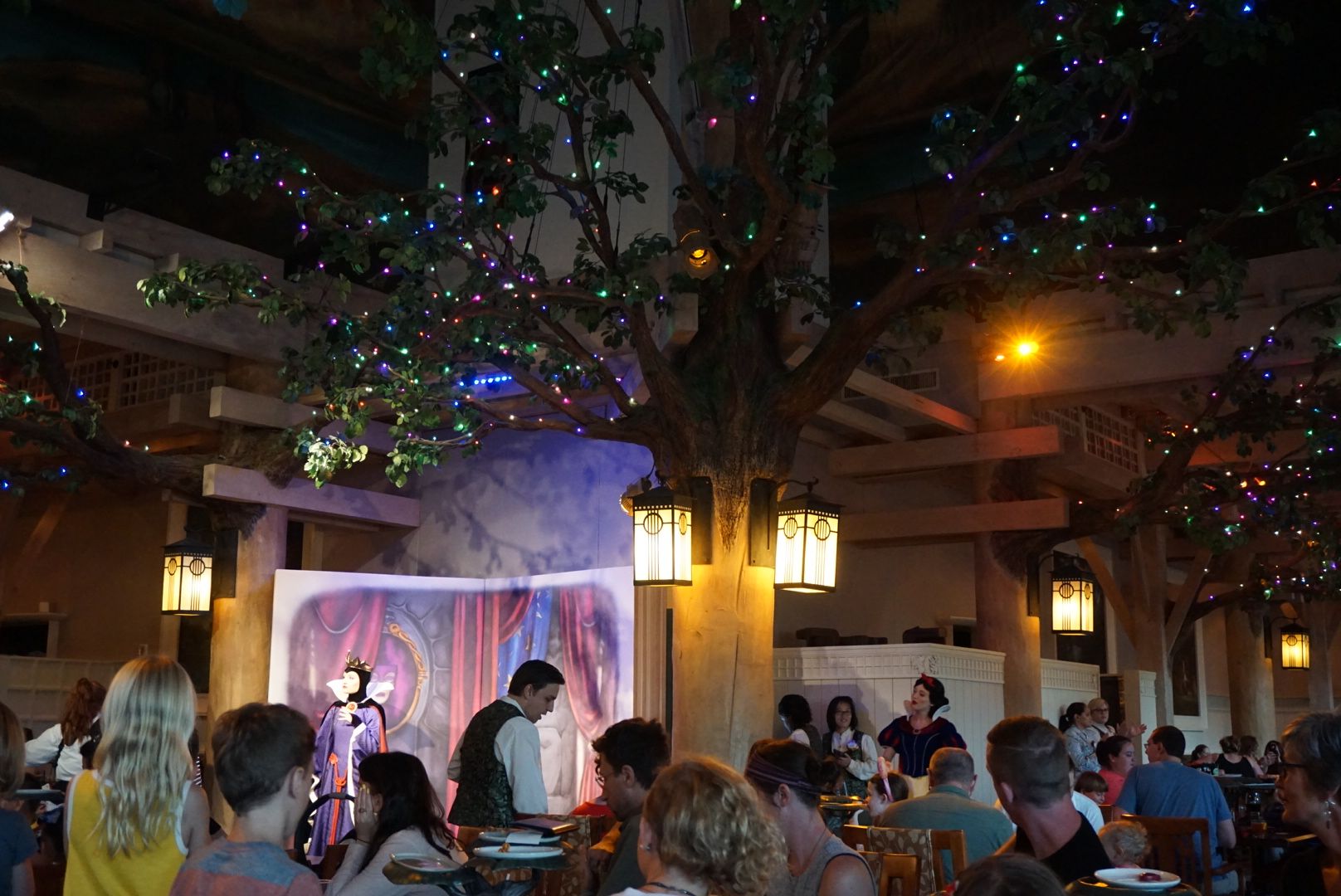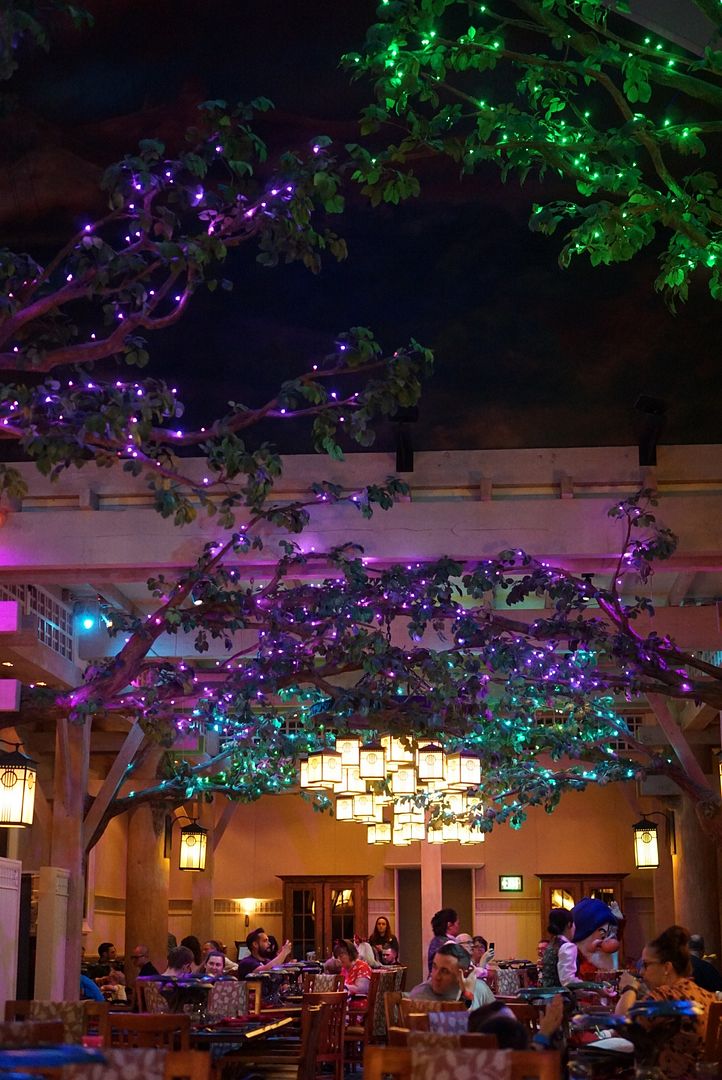 There was also a backdrop set up along one wall of the dining room where the Evil Queen held court…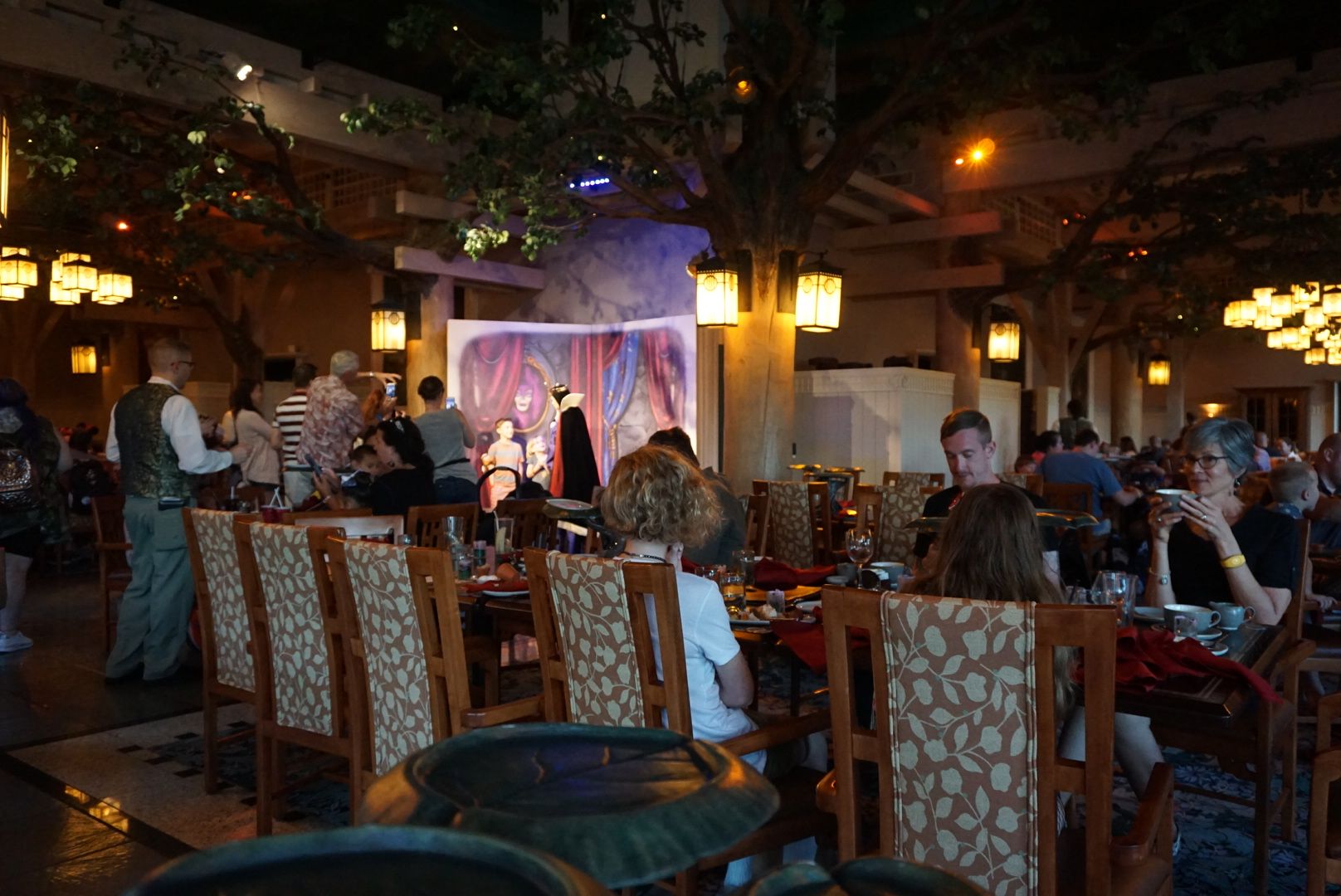 Some of the decor was unchanged though, like Artist Point's wood tables and chairs…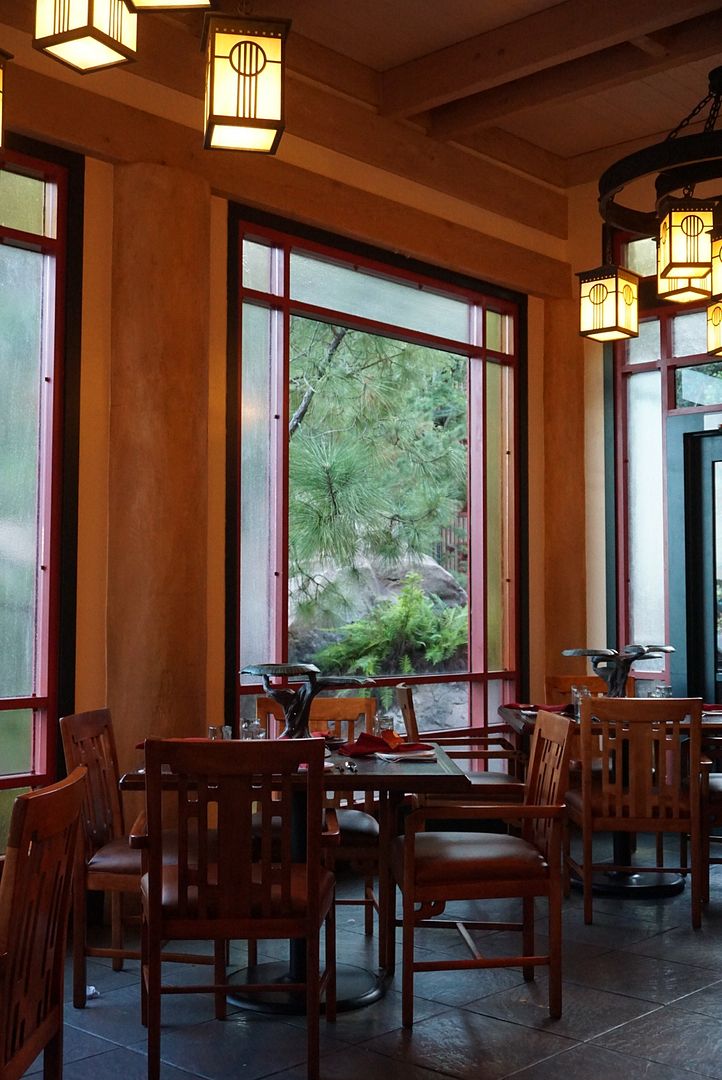 The tables were set a bit differently than before though…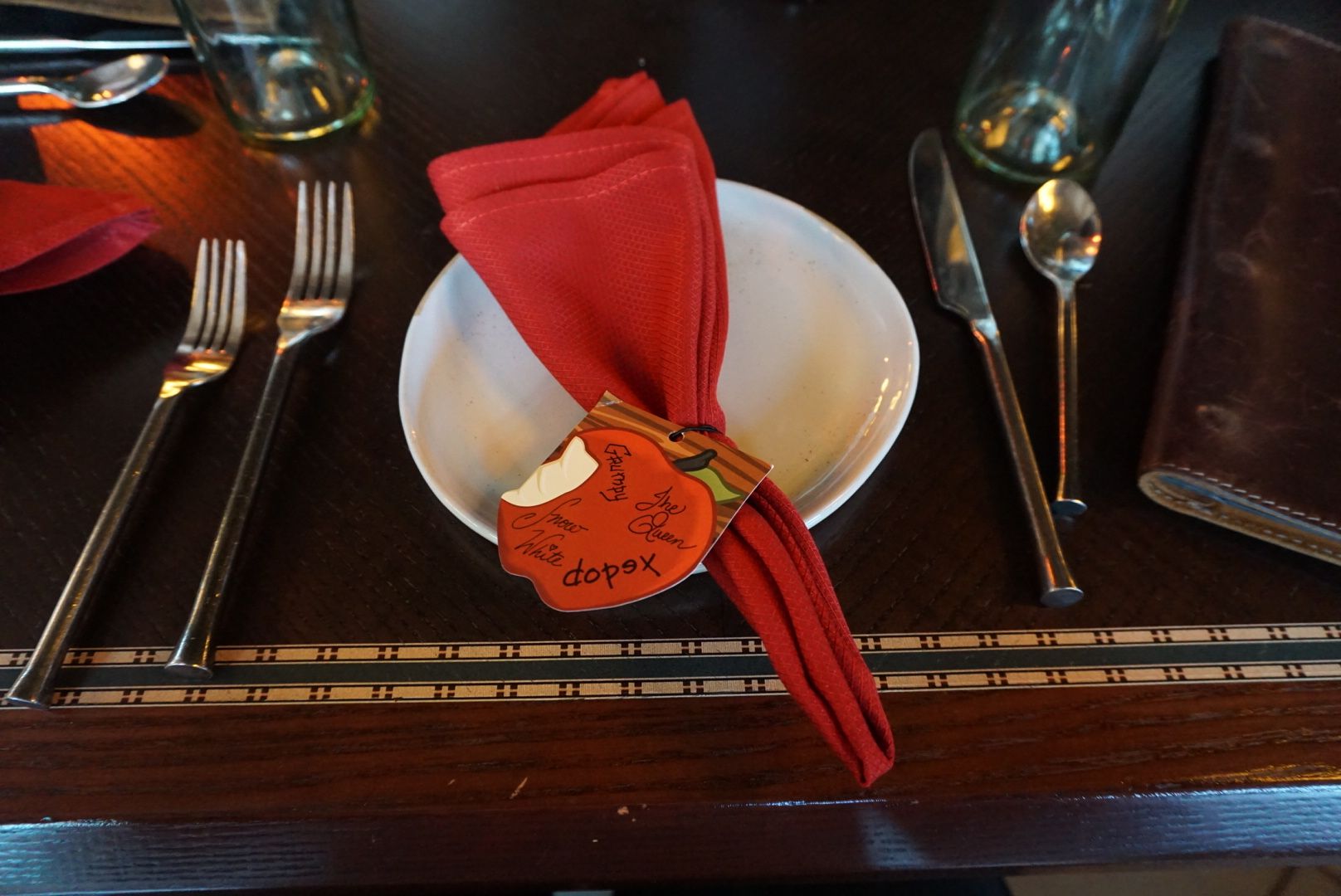 Each place setting now includes a paper apple/character signature card which has the signatures of the 4 characters that appear at this dinner…Snow White, Dopey, Grumpy, and the Queen.  I believe Snow White and the Dwarfs will still sign your autograph books when they visit your table, but not sure if the Queen would.
The menus were also different, looking like leather storybooks…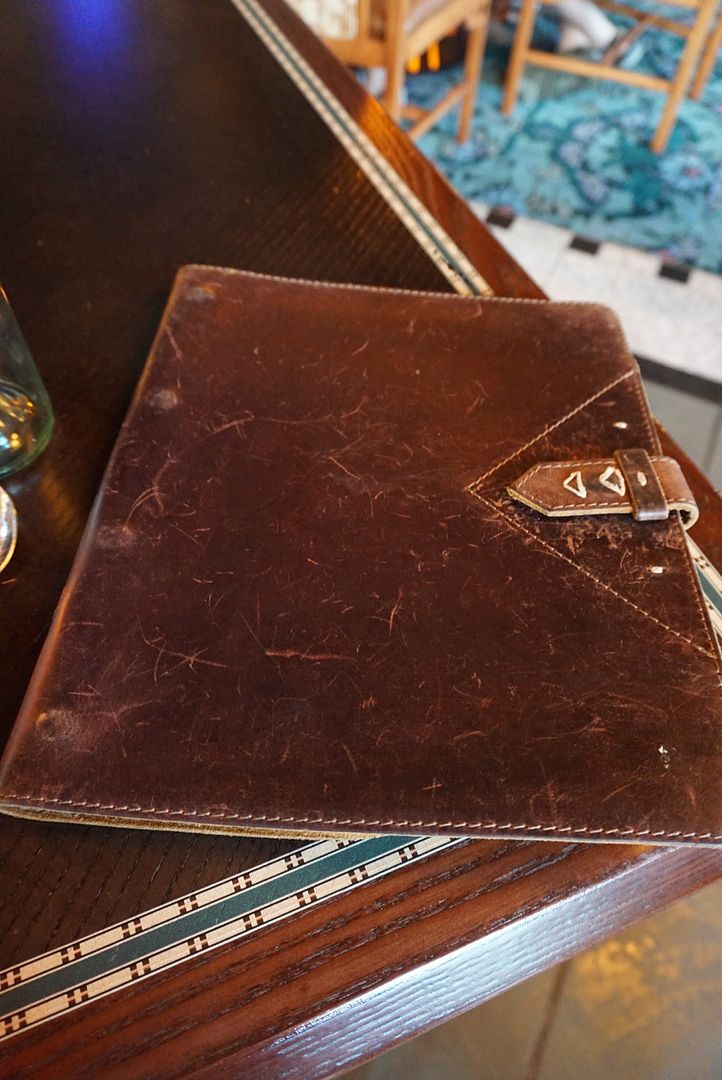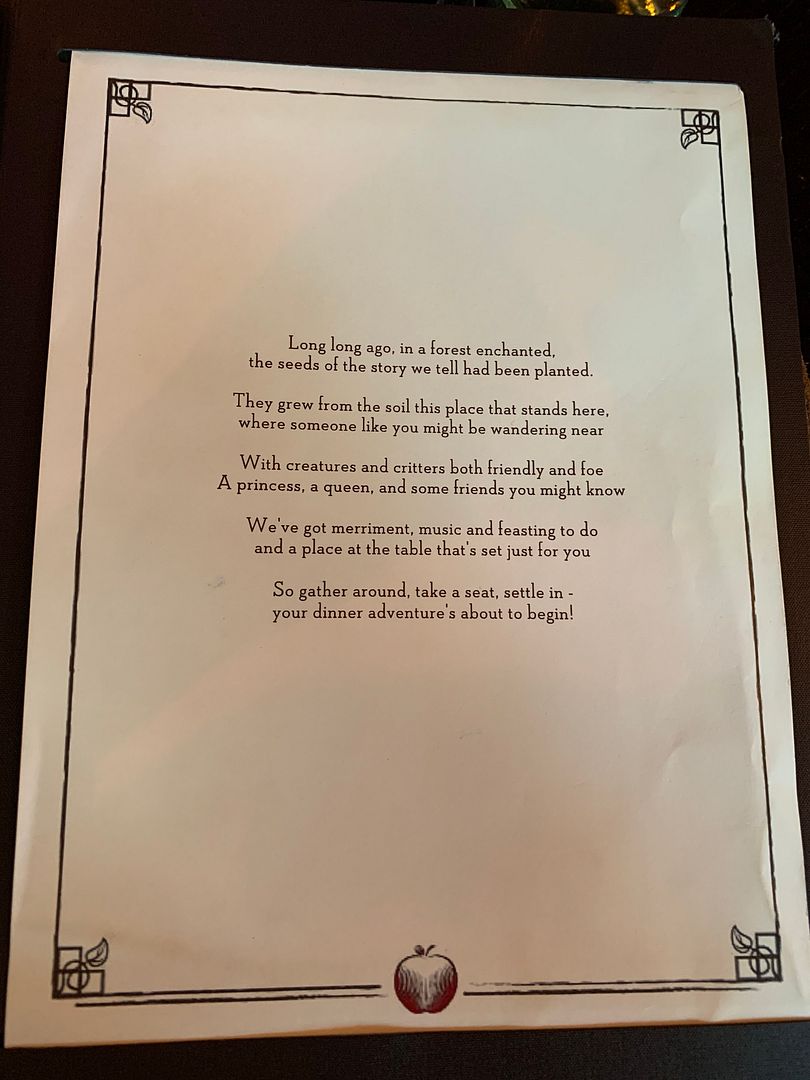 Also on each table was a 3 tiered tray which looked like a tree with three big branches…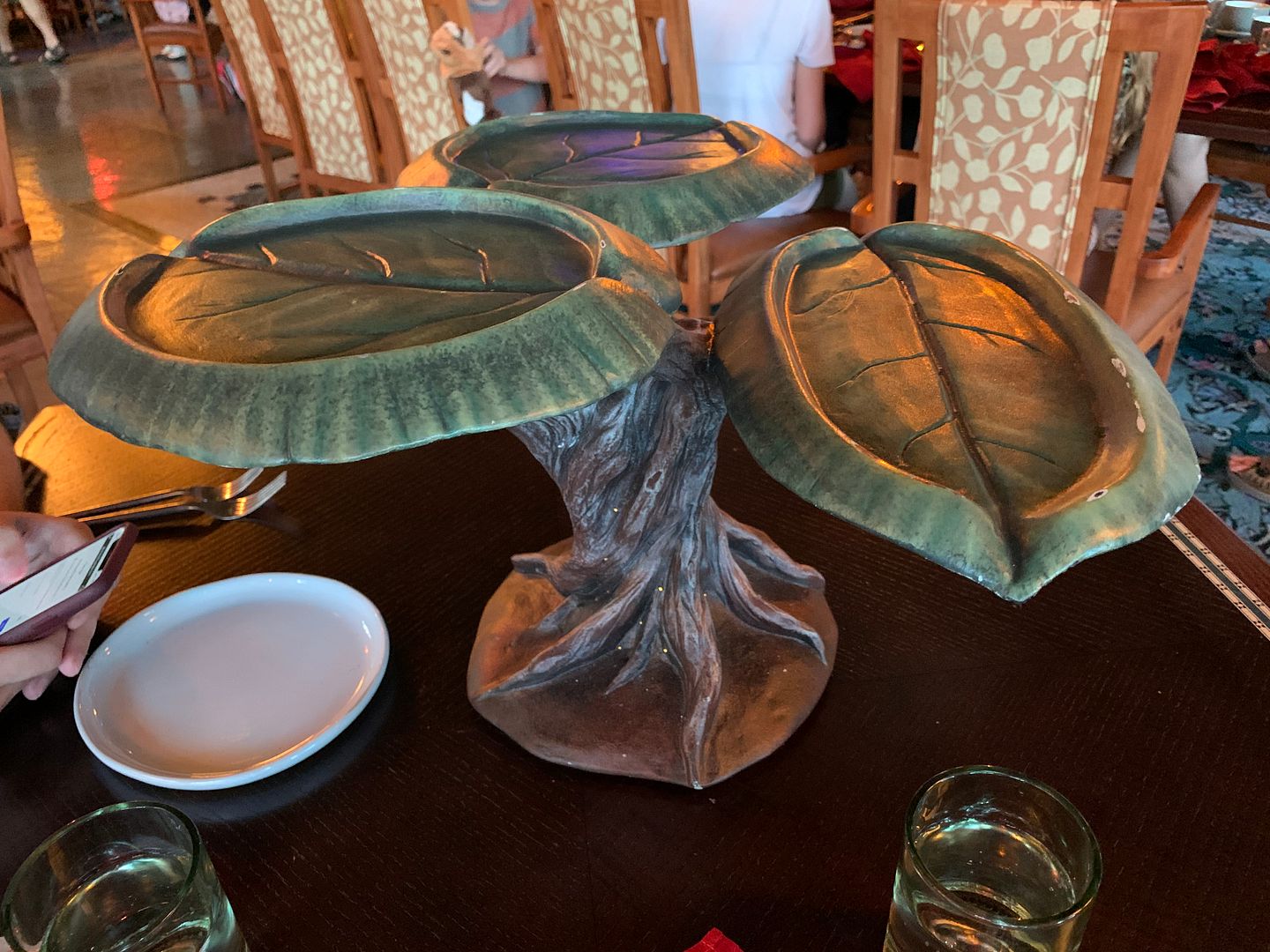 Now on to the food and beverages.  Included in the price of this meal was one regular non-alcoholic beverage.  We both chose lemonade.  Being on the Dining Plan though we were also entitled to a cocktail, wine, beer, or a non-alcoholic specialty drink…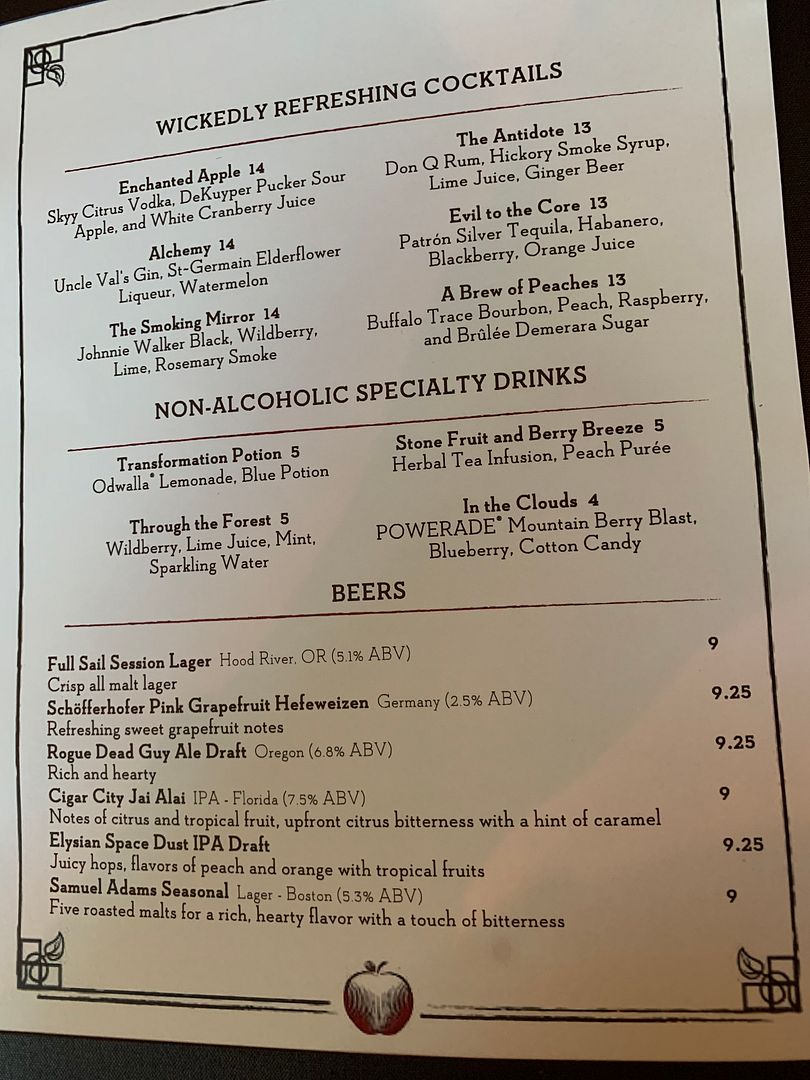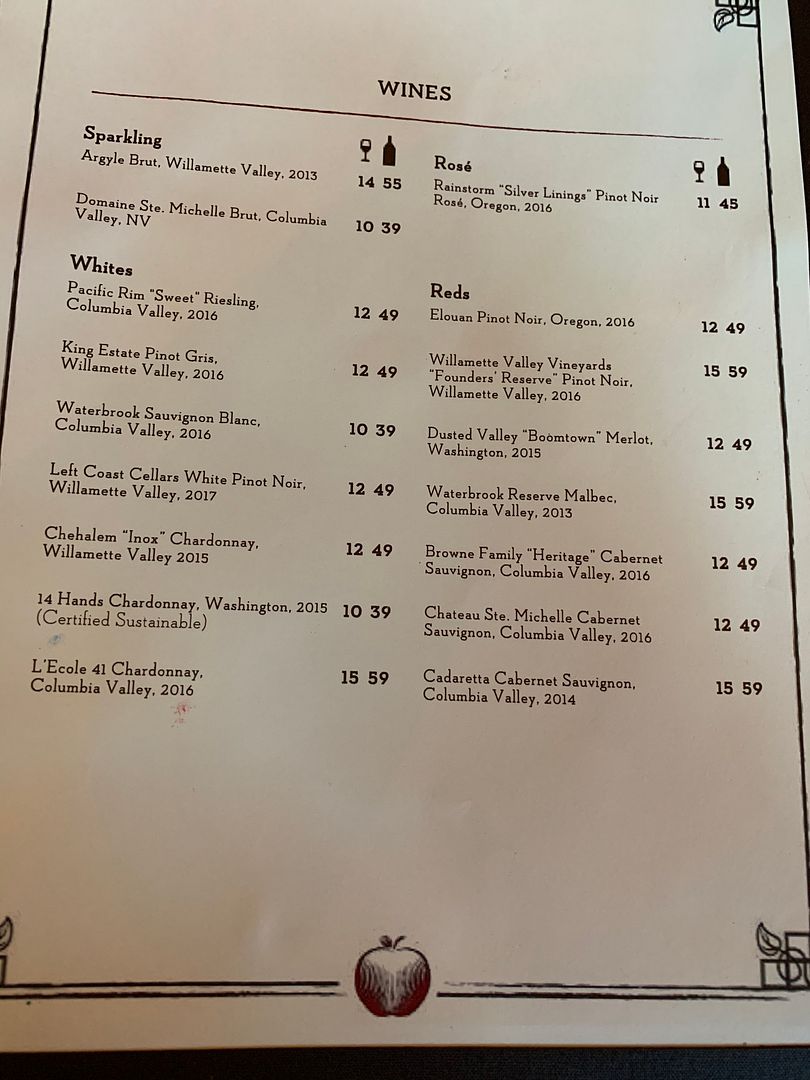 I asked our server which of their cocktails were sweet.  He pointed out two of their "Wickedly Refreshing Cocktails"…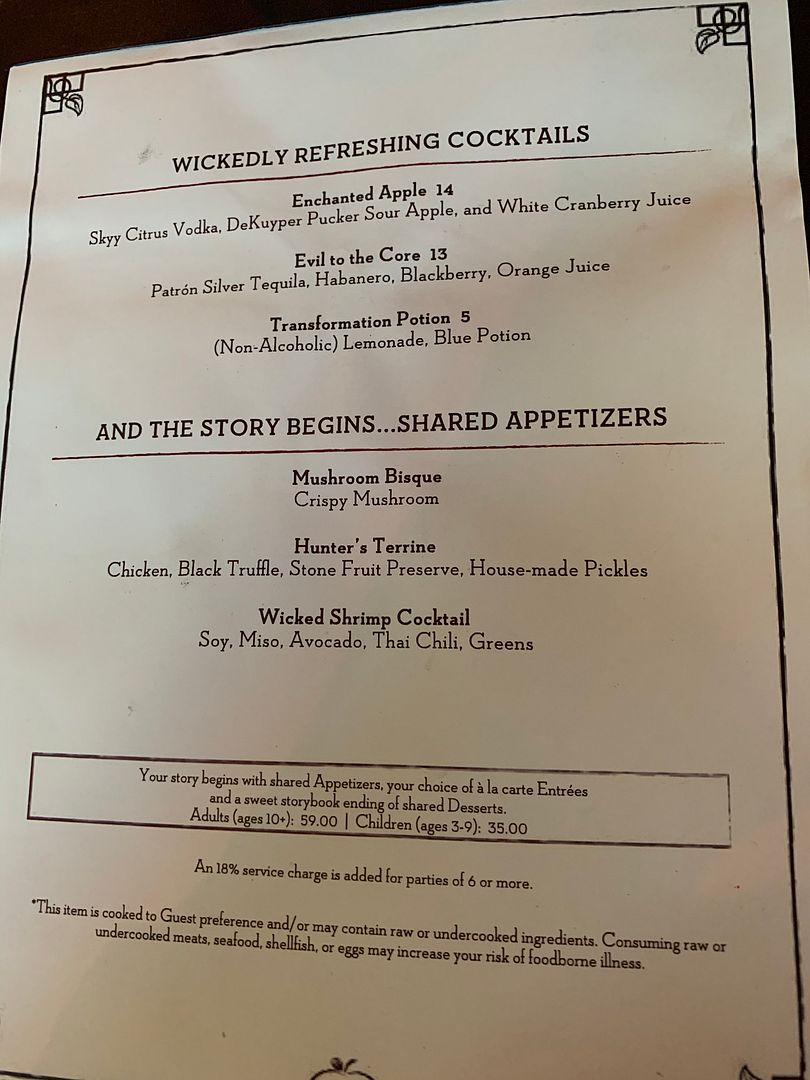 And we took his suggestions and ordered them…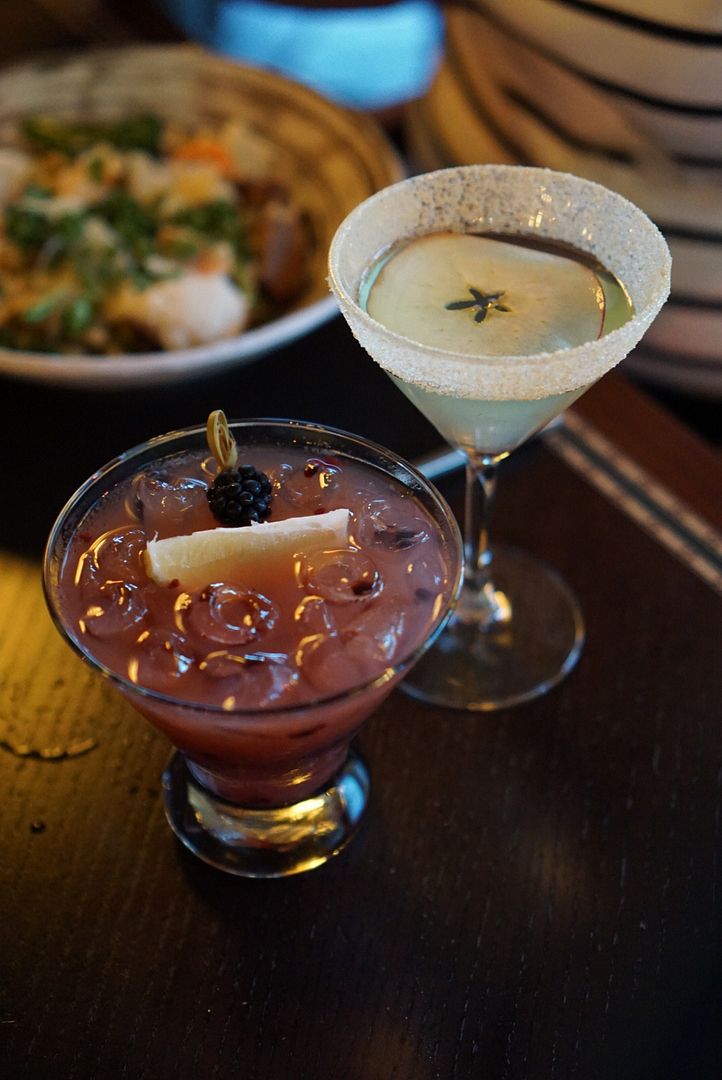 Andrew's choice was the Evil to the Core…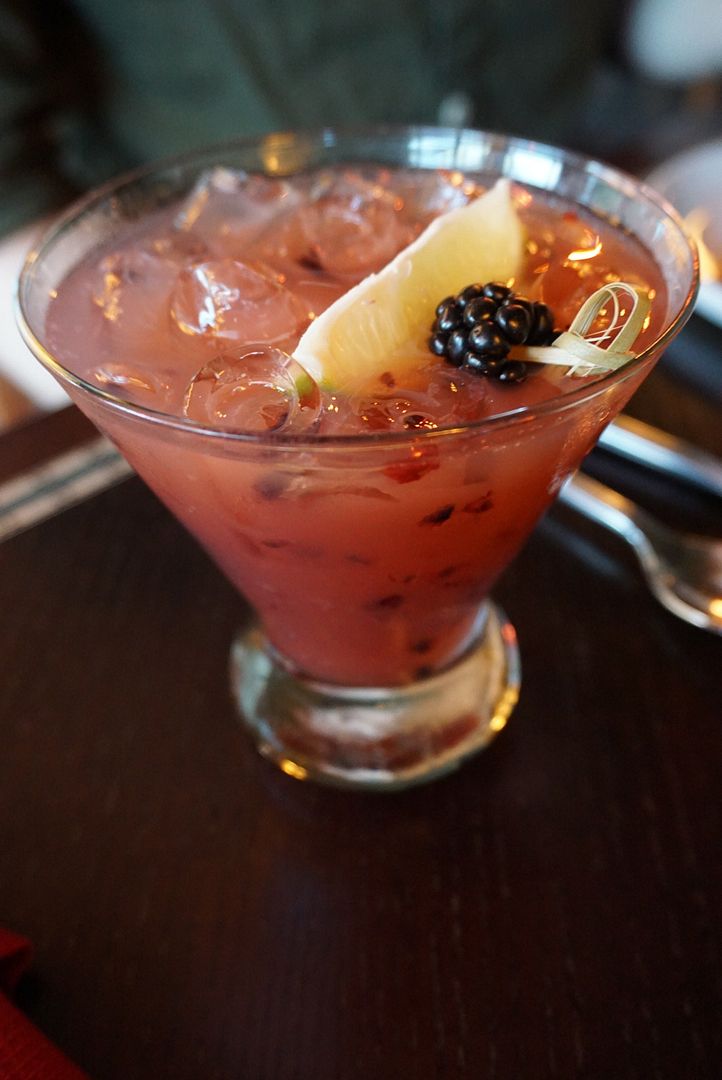 Evil to the Core – Patron Silver Tequila, Habanero, Blackberry,  & Orange Juice – $13.00
The habanero gave this a little spice but he said it wasn't too spicy.  He liked it.
I went with the other recommended "sweet" cocktail, the Enchanted Apple…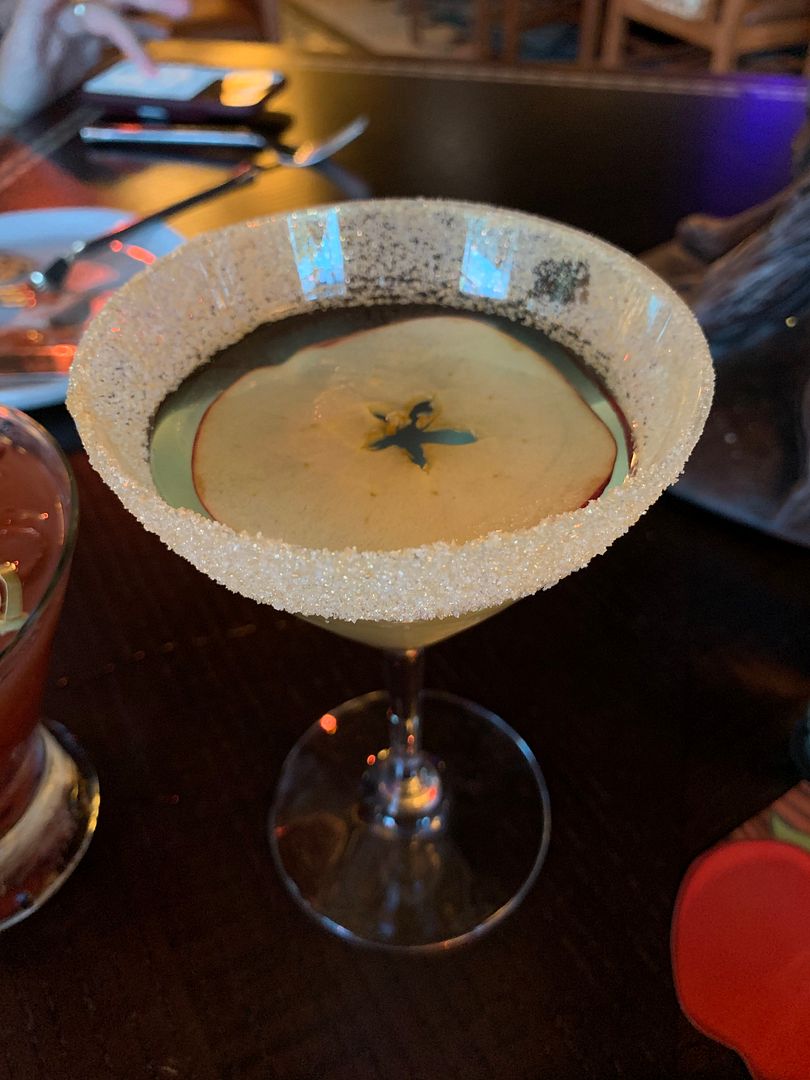 Enchanted Apple – Skyy Citrus Vodka, DeKuyper Pucker Sour Apple and White Cranberry Juice – $14.00
DeKuyper was serious when they called their apple flavored schnapps, "Pucker Sour Apple."  The drink on its own was "lip puckering sour".  However there was a large amount of sugar on the rim of the glass so as long as I got some of that sugar with each sip it seemed to balance out the sourness of this cocktail and made it drinkable.  So it was fine, but probably not something I would order again.
Next our shared appetizers were brought to our table…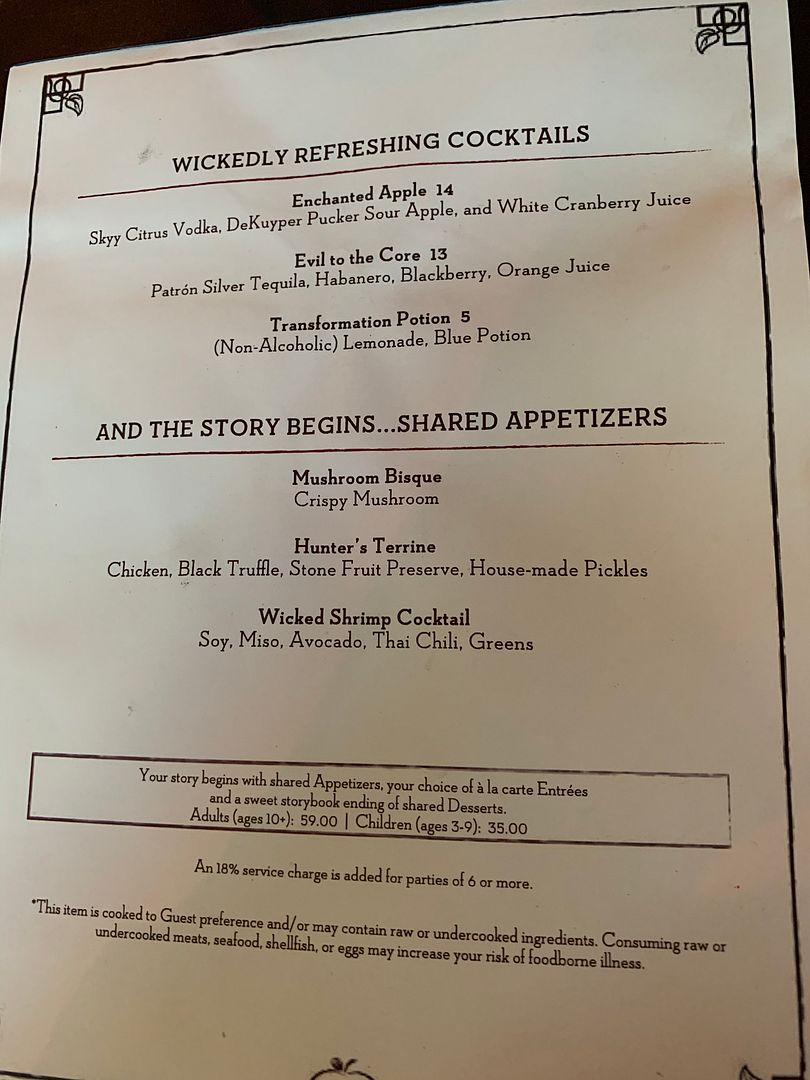 The three appetizers were placed on the tiered tree tray on our table…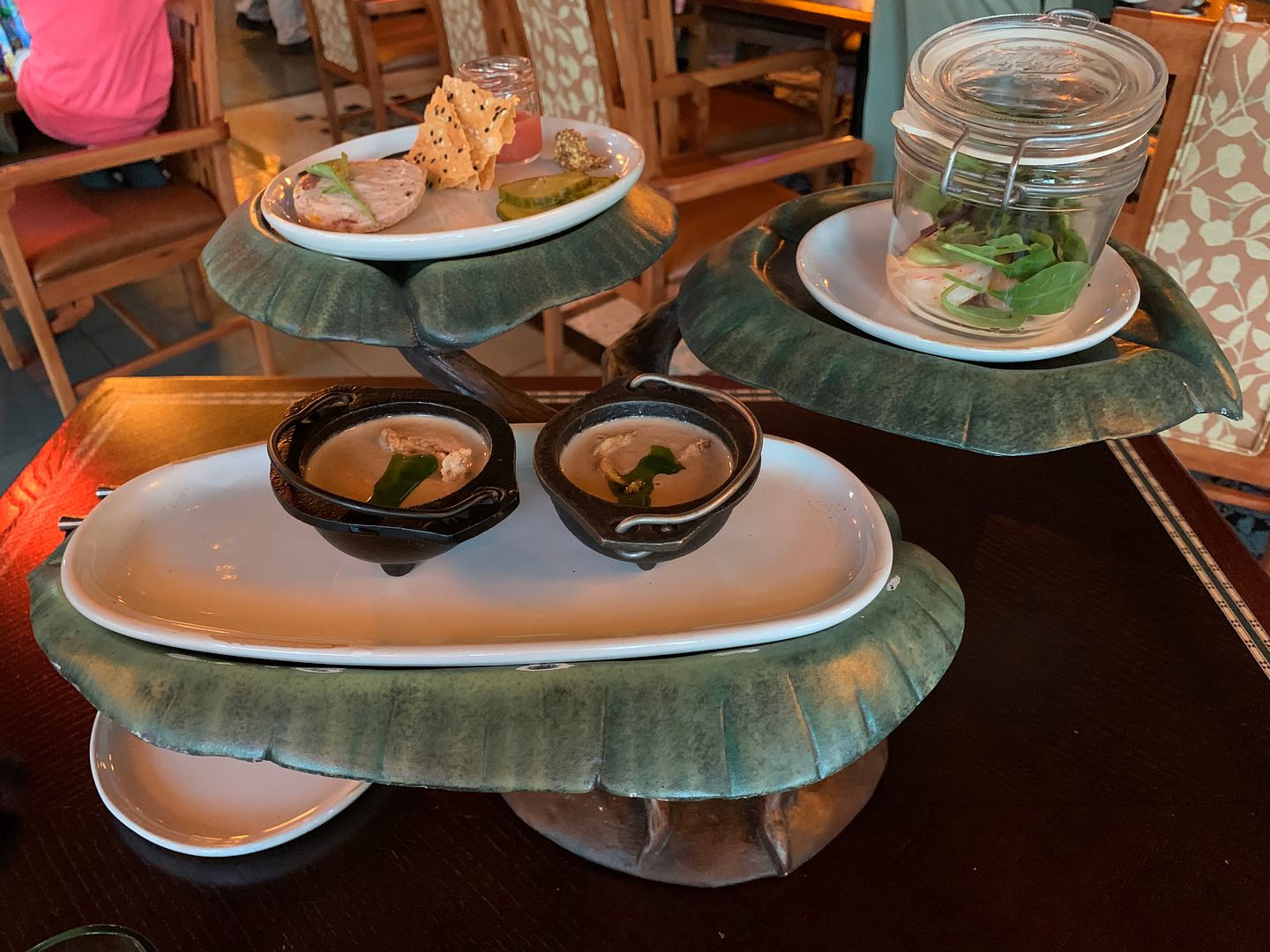 Let's start with the best (in my opinion) first, the Mushroom Bisque…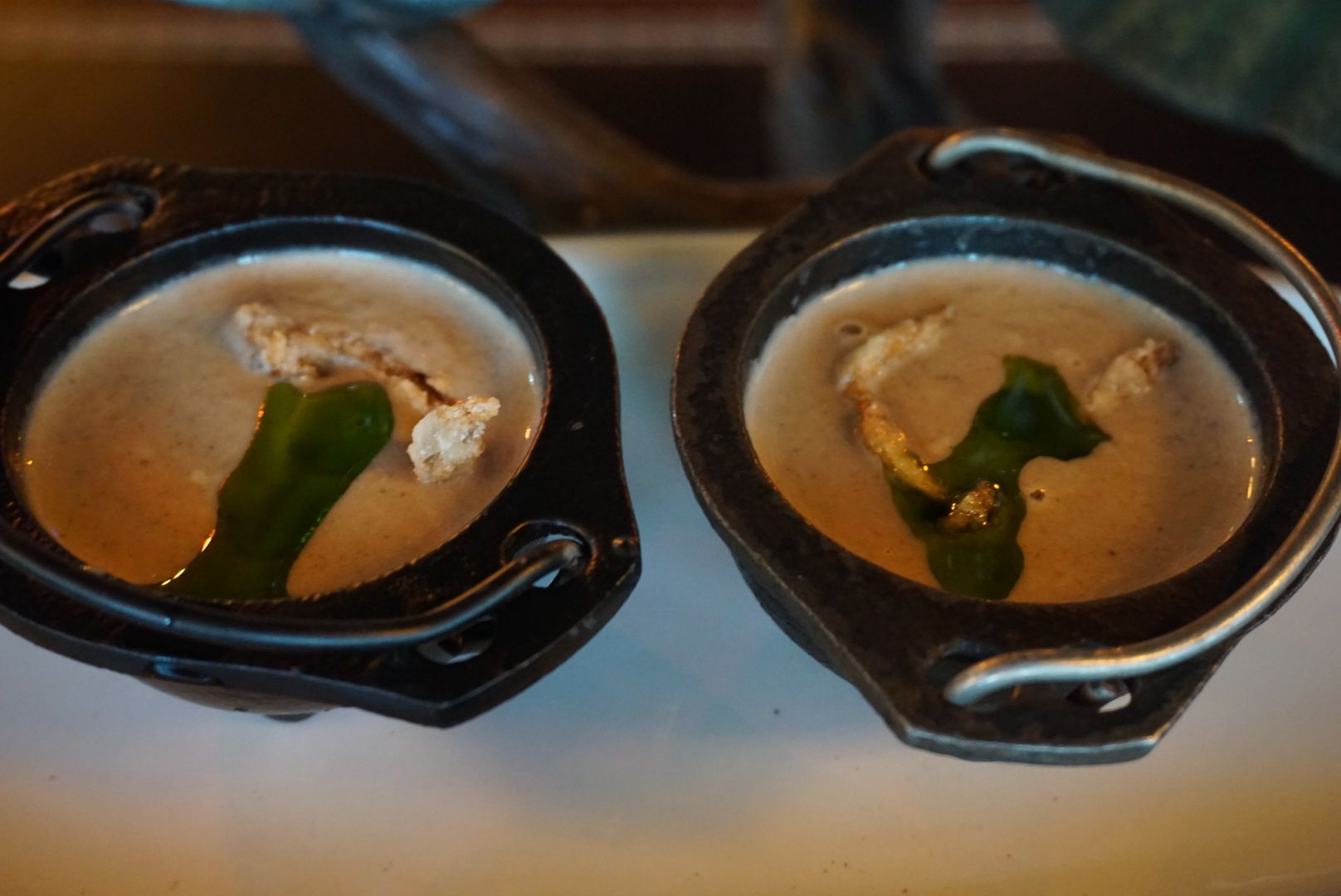 I was very excited to see this Mushroom Bisque.  I was a big fan of Artist's Point's mushroom soup so was sad when I thought it was no longer available.  Then I noticed that it was still on the Territory Lounge's menu and now it has been added back to Artist's Point's menu, as part of the character meal's included appetizers.  Though I probably would have liked the squash soup that this replaced on their appetizer menu, I loved the mushroom soup.  It tasted the same as it had previously.  Yay!  The rich, creamy soup was topped with a pistou sauce (of perhaps garlic, basil, and olive oil??) and some pieces of crispy mushrooms.  When Andrew found out this was mushroom soup he passed on his share so I got to have both of these, which kind of filled me up.  But it was worth it because for me this was the best part of the meal.
Andrew also doesn't care for cocktail shrimp so I got his one shrimp in addition to mine…
The Wicked Shrimp Cocktail  (one shrimp per person) comes in a jar with soy, miso, avocado, Thai chili, and greens.  The chili gave them a hint of spice, but not too spicy.  They were fine.
Andrew though did like the third appetizer…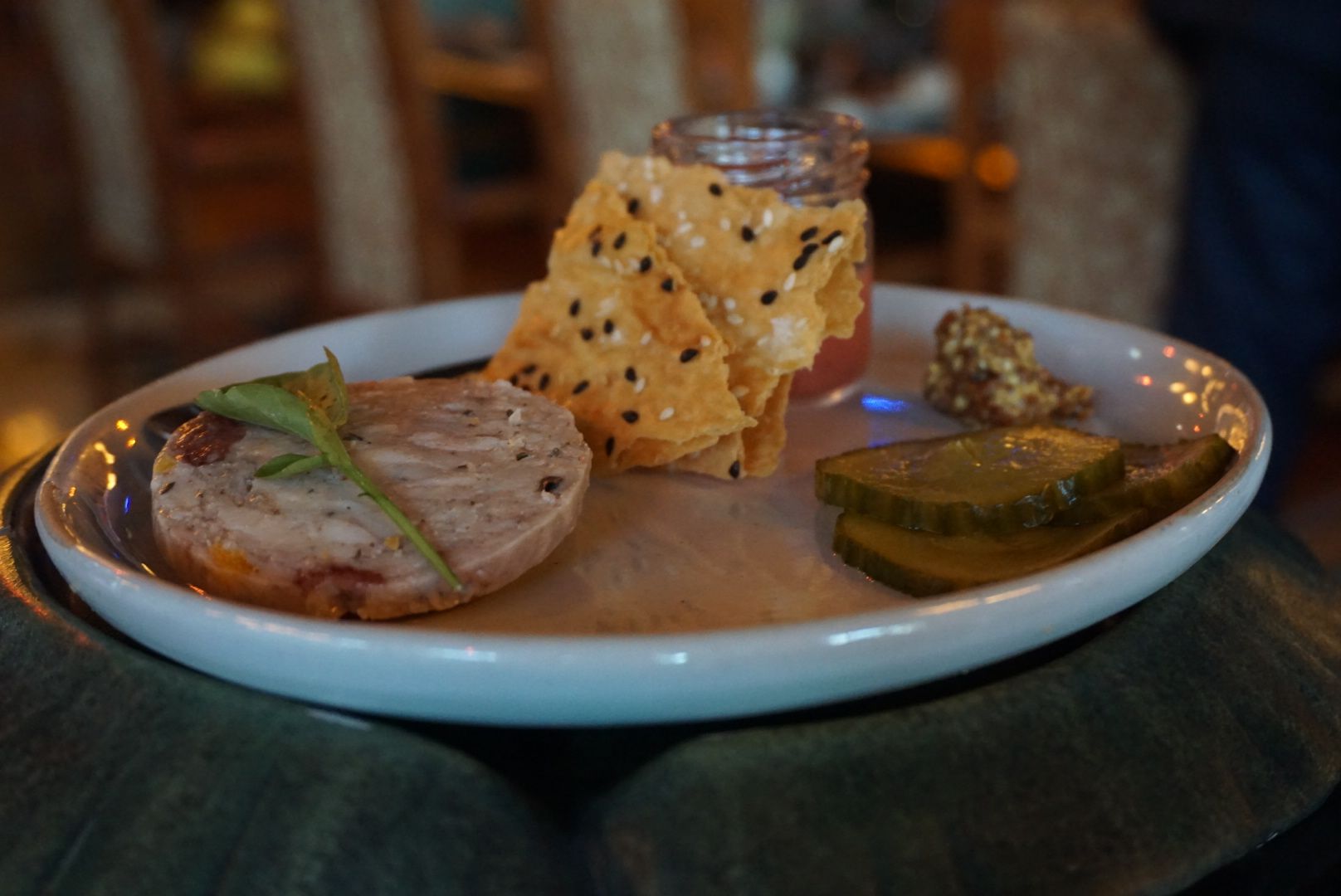 Hunter's Terrine – Chicken, Black Truffle, Stone Fruit Preserve, House-made Pickles
I was surprised that he liked the chicken and black truffle pate but then again I didn't tell him that truffles are mushrooms.
  I actually didn't care for it, but was glad that he liked it.  He also liked the lavash crackers, preserves, and even the pickles so I pretty much left this plate for him and concentrated on the shrimp and delicious mushroom soup.
Though most of this meal (both the appetizers and desserts) is a set menu, we did get to choose our entree from these 7 options…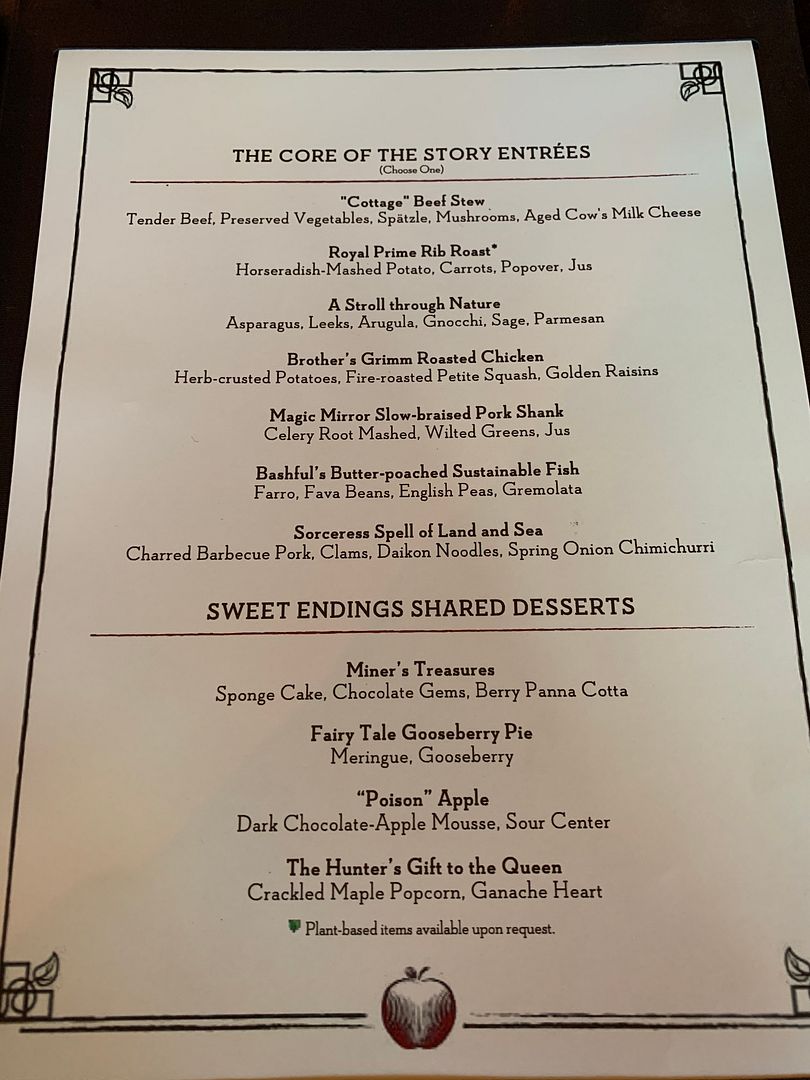 Andrew was between the Prime Rib Roast and the Chicken entrees so to help make his decision he asked questions about the chicken, as he doesn't really like bone-in chicken.  Our server told him that the chicken was an airline chicken breast, meaning a chicken breast with a wing joint and tenderloin attached.  So it's mostly boneless except for the small bone of the attached wing.
That sold him on the chicken and so here was his entree…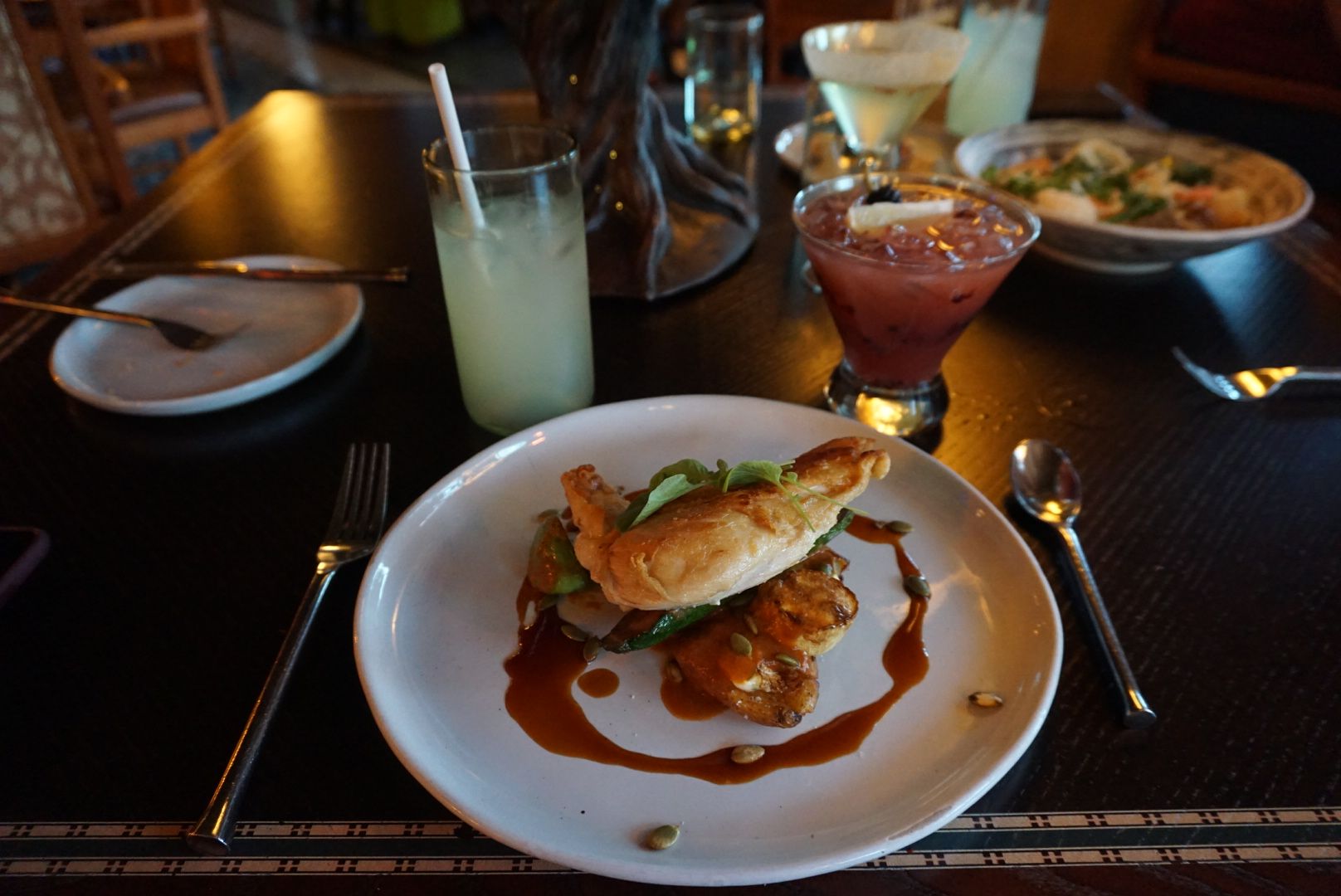 Brother's Grimm Roasted Chicken  served with Herb-crusted Potatoes, Fire-roasted Petite Squash, and Golden Raisins 
And a closer look…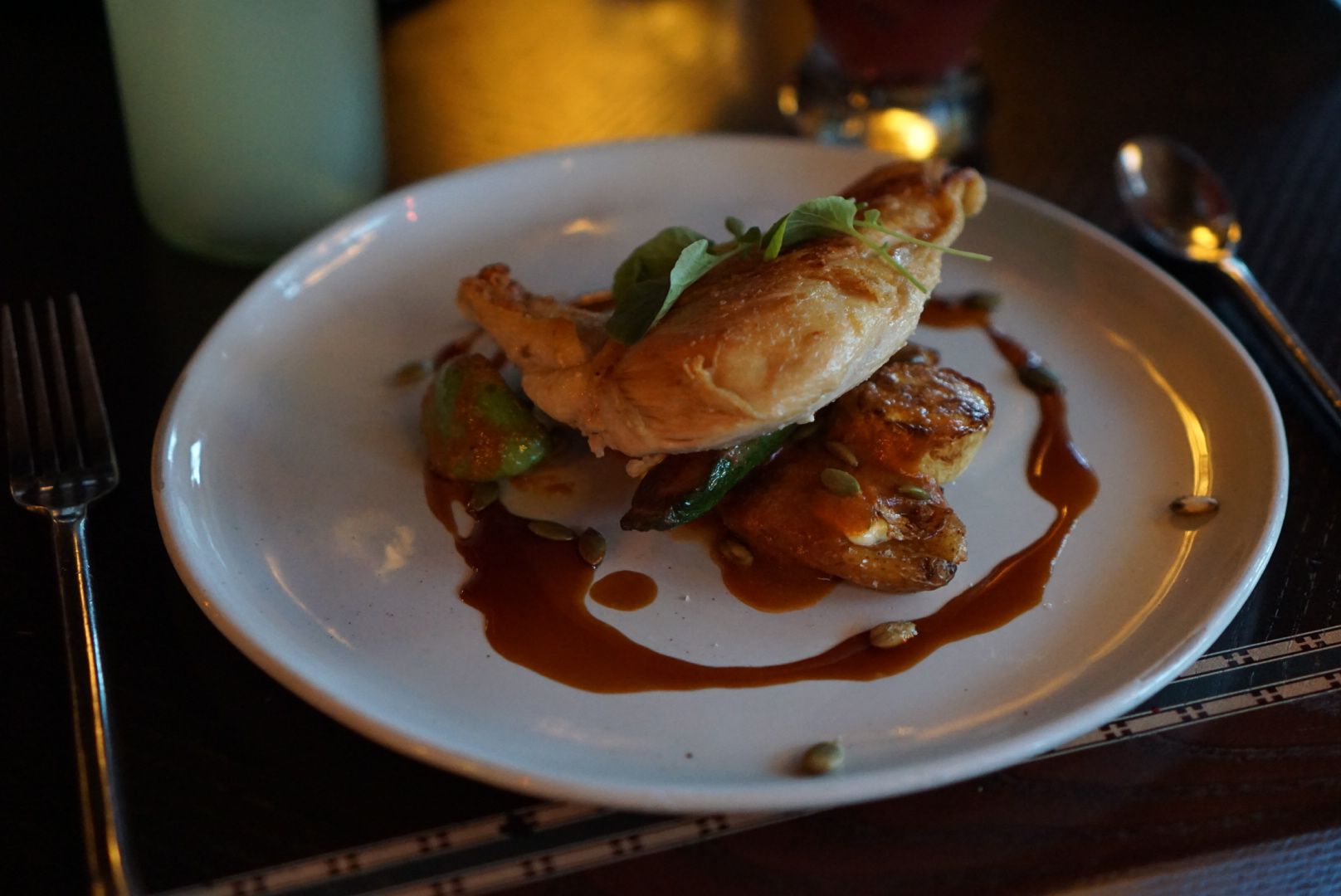 Andrew loved this!  He said the chicken was moist and flavorful and commented that it was some of the best chicken he's ever had.  High praise.
I was not as enthused about my choice…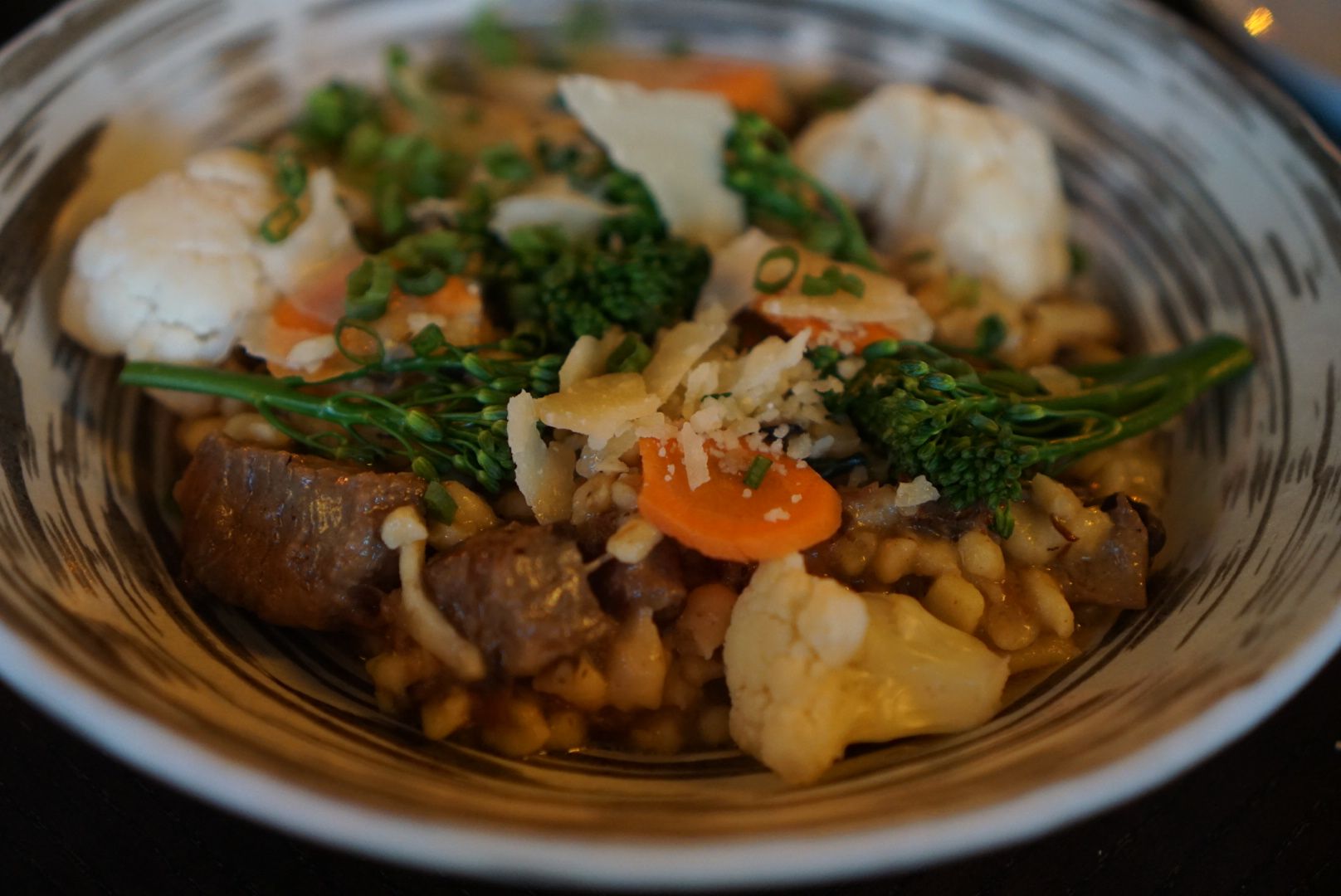 "Cottage" Beef Stew with Tender Beef, Preserved Vegetables, Spatzle, Mushrooms, and Aged Cow's Milk Cheese
My first bite of this tasted sour.  I had missed the "preserved" vegetables in the description of this stew.  In other words, the vegetables tasted like they were pickled (aka preserved with vinegar) and were sour tasting, especially the cauliflower.  Since I don't care for the sour taste of pickled vegetables, I avoided the vegetables in this dish and ate only the meat and spatzle (pasta).  While I liked the meat, unfortunately there was very little of it in my plate of stew.  I also really enjoyed the spatzle.  The spatzle along with the few pieces of beef plus two helpings of the mushroom soup and two cocktail shrimp were enough to fill me up.
But I did save just a little room for our desserts.  First our server came to our table with a large glass box and opened it, releasing dry ice-created "smoke" and displaying the crackle maple popcorn and red chocolate ganache hearts which were inside.
The popcorn was tasty but sadly we didn't get to taste the heart candies.  I put them in my bag to save for later, but then forgot to take them out when we made a quick stop back at our room after dinner.  We (including my bag) then spent the (still warm) evening at Magic Kingdom and by the end of the night when I discovered the hearts in the small pocket inside my bag they were a melted mess.
Oh well, we had plenty of other desserts…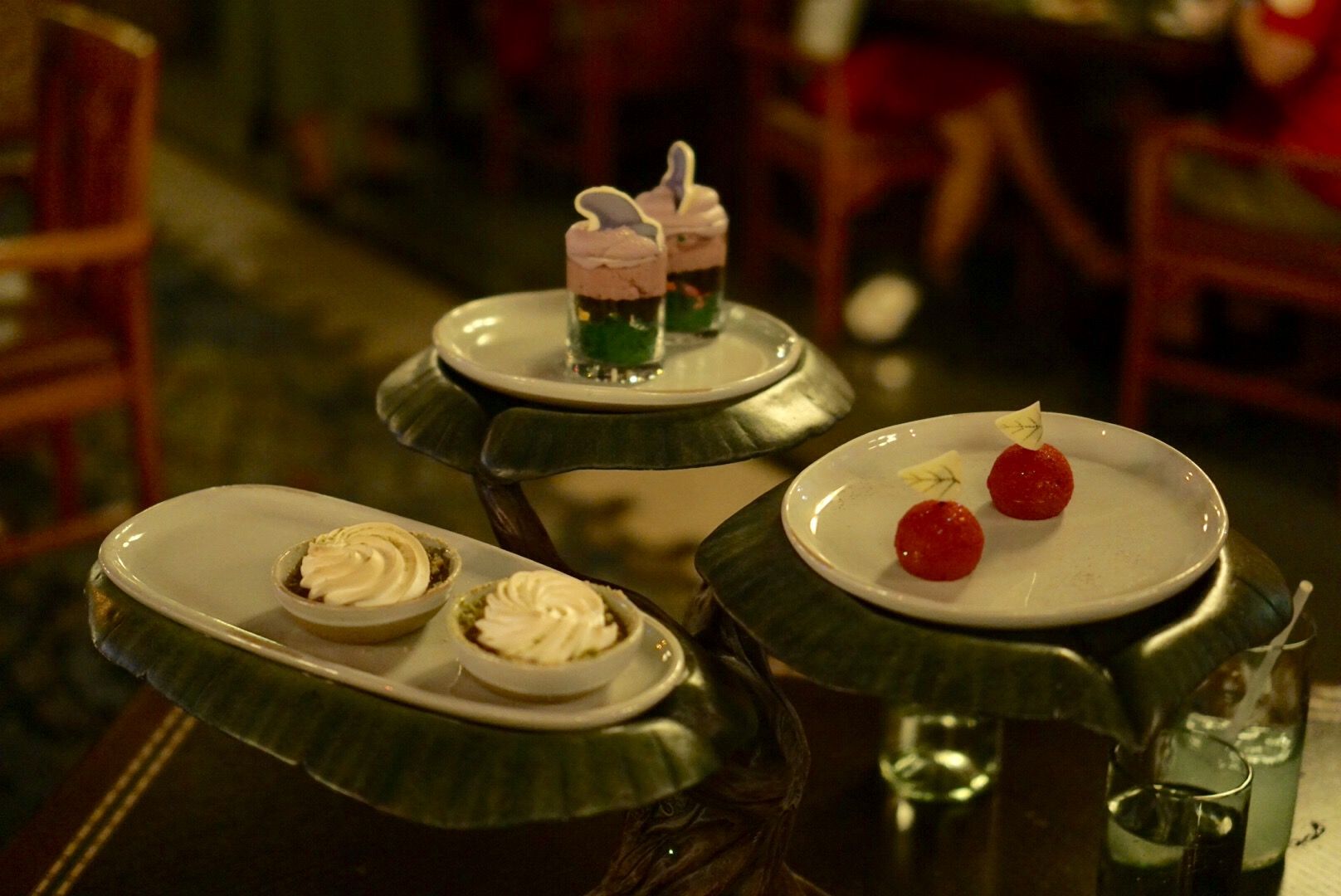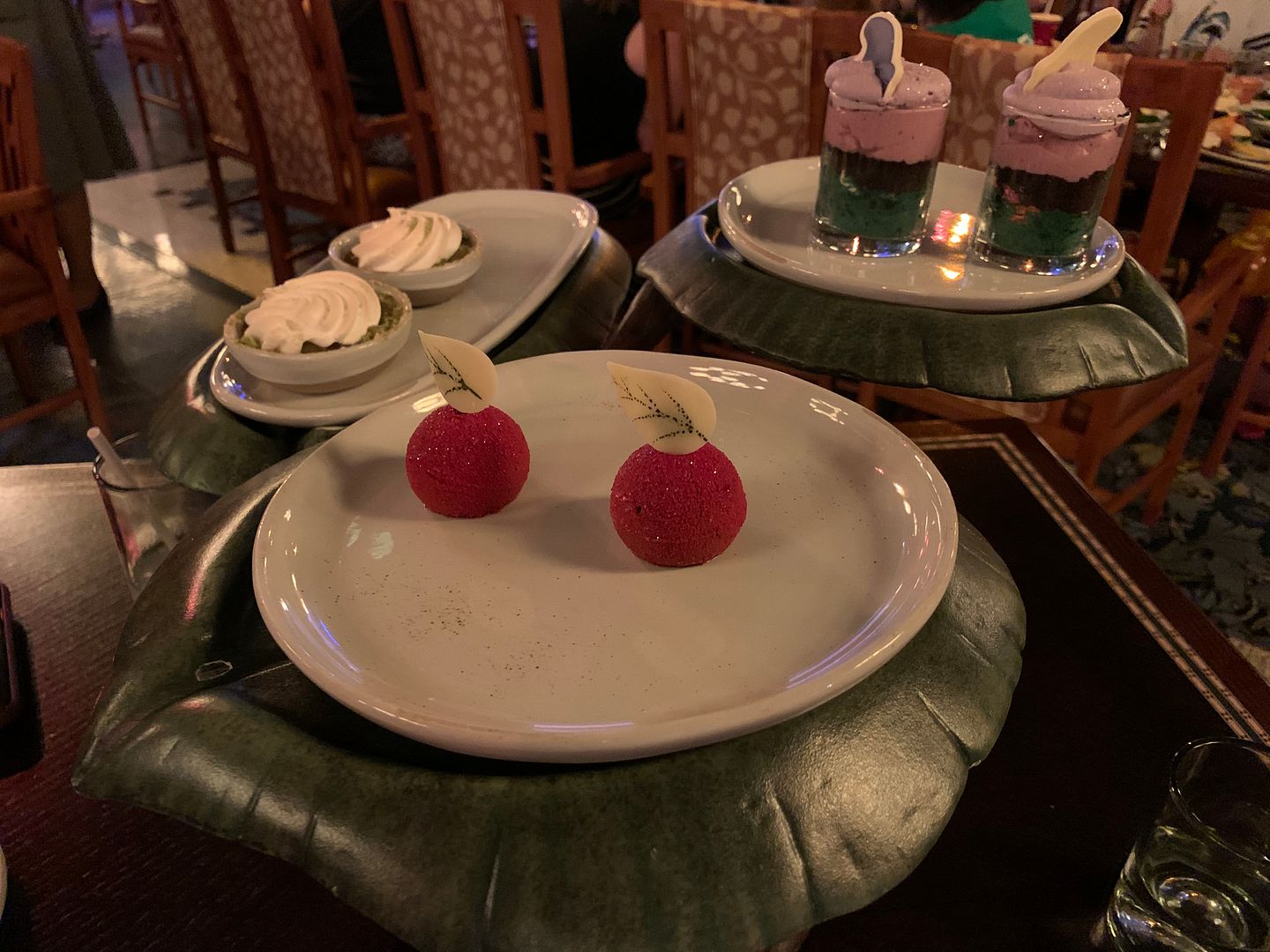 My share of the desserts…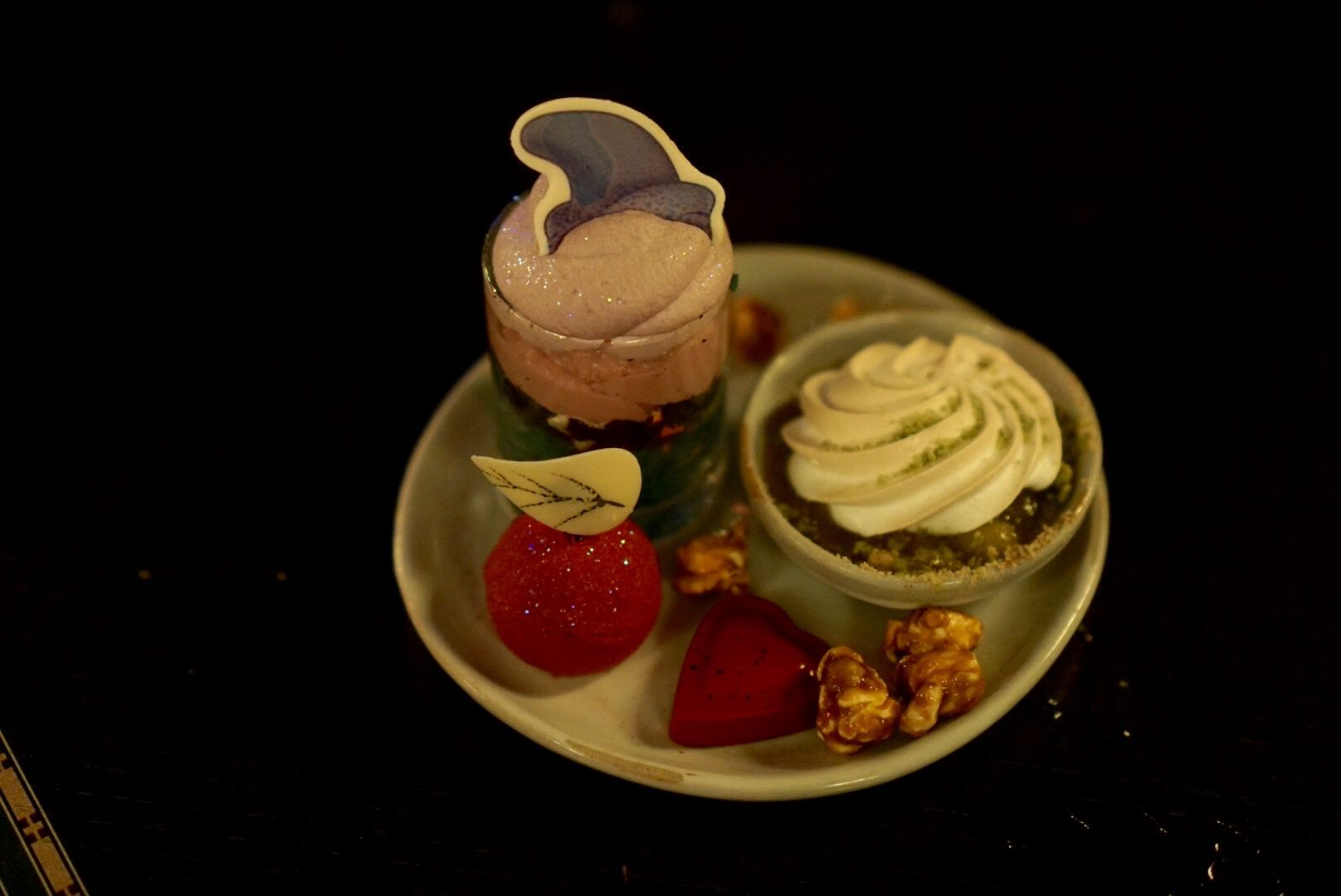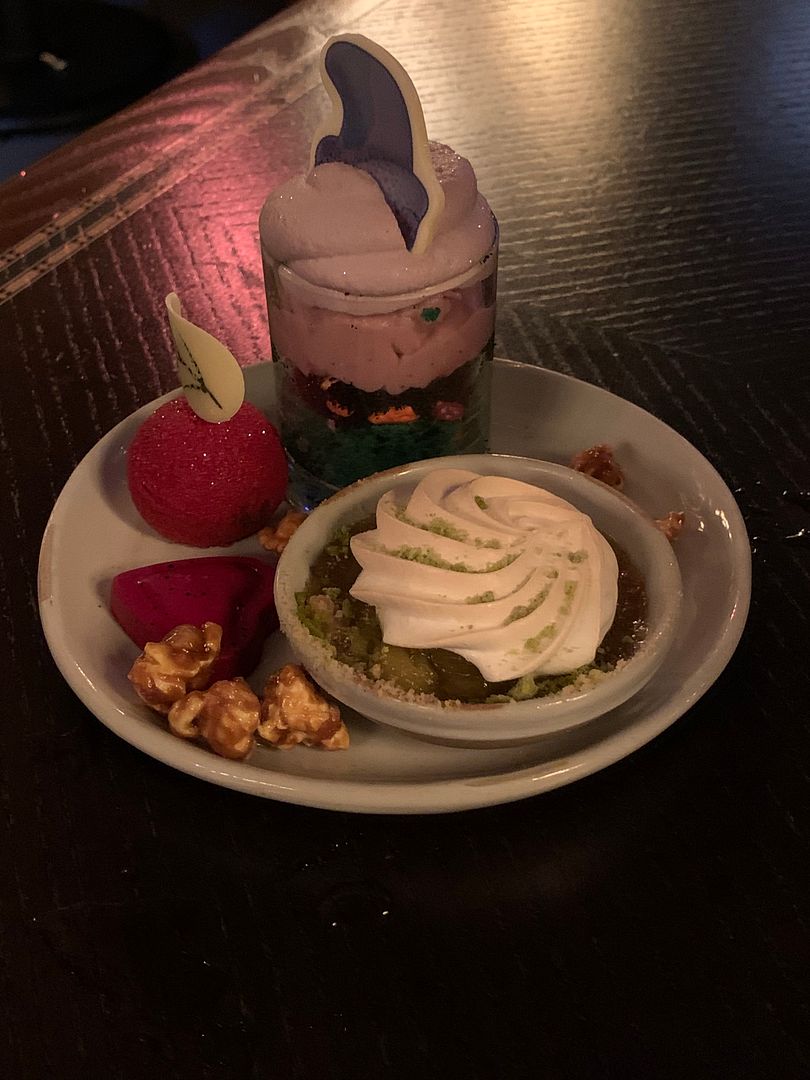 Let's begin with the dessert that we agreed was the best…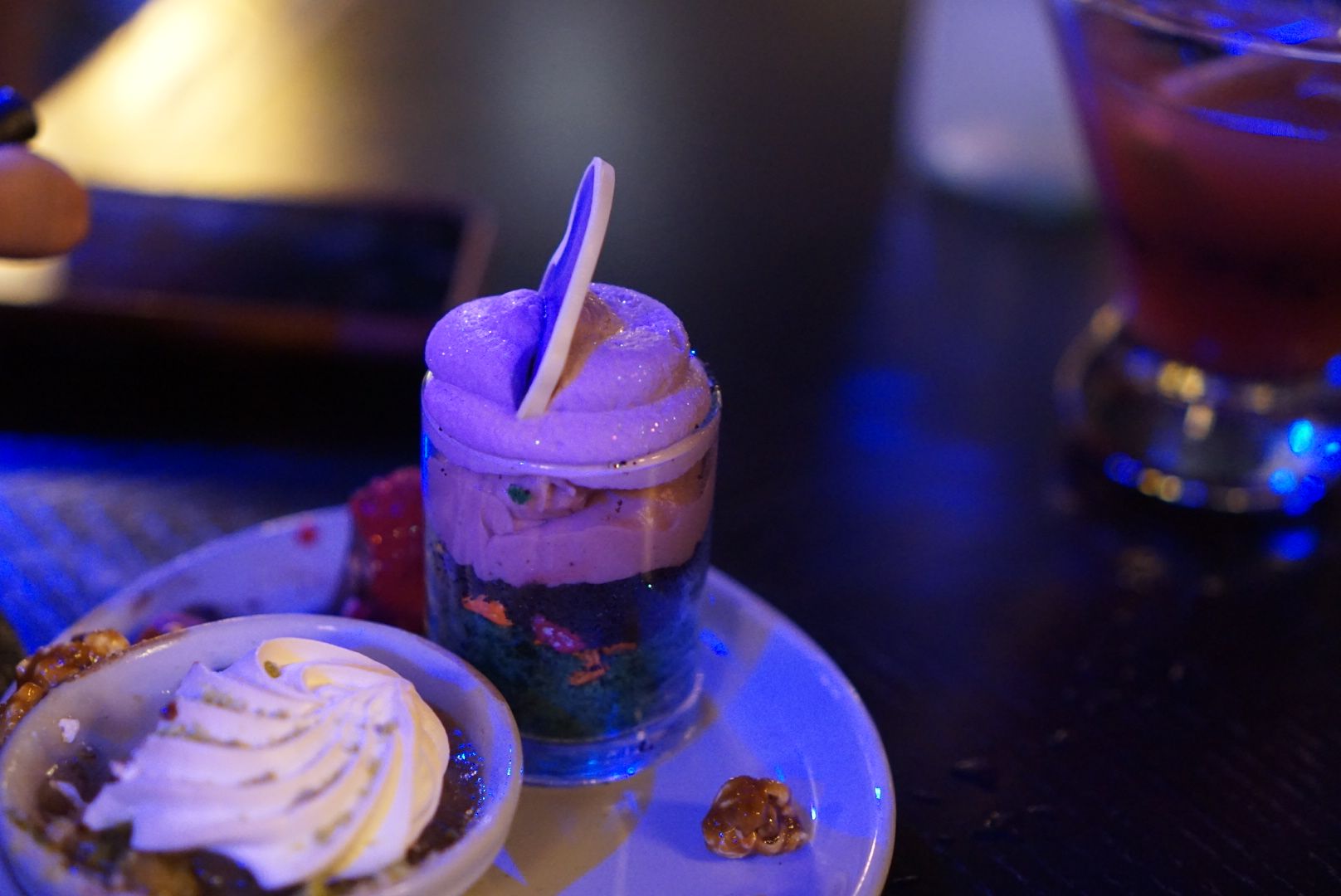 Miner's Treasures – A layered dessert with Sponge Cake, Chocolate Gems (pieces), and Berry Panna Cotta 
We both really liked the combination of flavors that this one had.
My second favorite of the desserts was the Fairy Tale Gooseberry Pie (the dessert in the bowl topped with meringue).  To me this tasted like Apple Crisp.  Andrew didn't like it but I did.  However, Andrew liked the third dessert but I didn't.  The "Poison" Apple was filled with a dark chocolate-apple mousse.  Since I'm not a fan of dark chocolate, this was my least favorite of the three desserts.
Now for the characters.  There are 4 characters here from Snow White & the Seven Dwarfs.  Only two of the three that were to come visit our table did so.  First up was Snow White…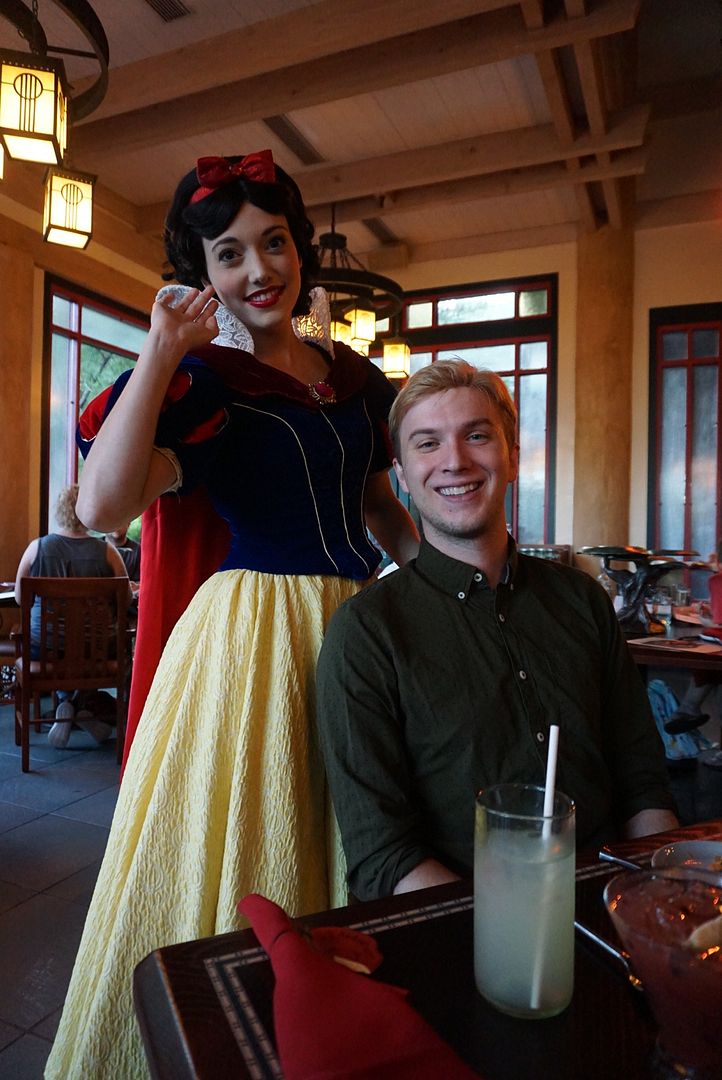 And Dopey stopped by our table twice.  The first time taking a photo with Andrew, while thumbing his nose at me…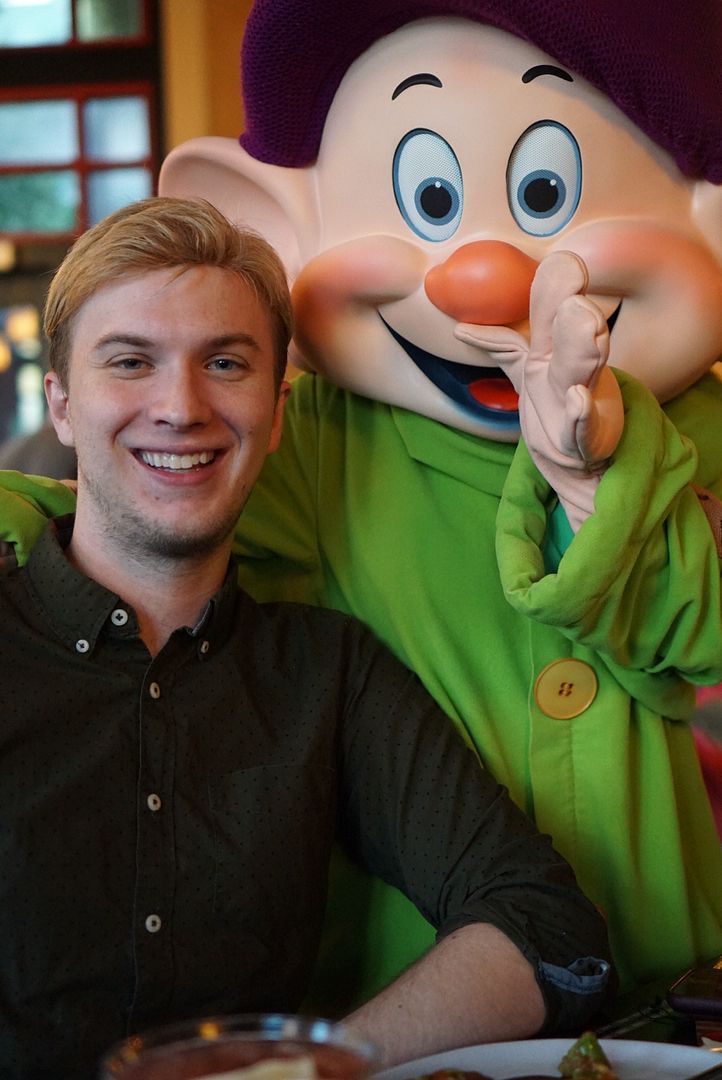 And then the second time around, I got into the act…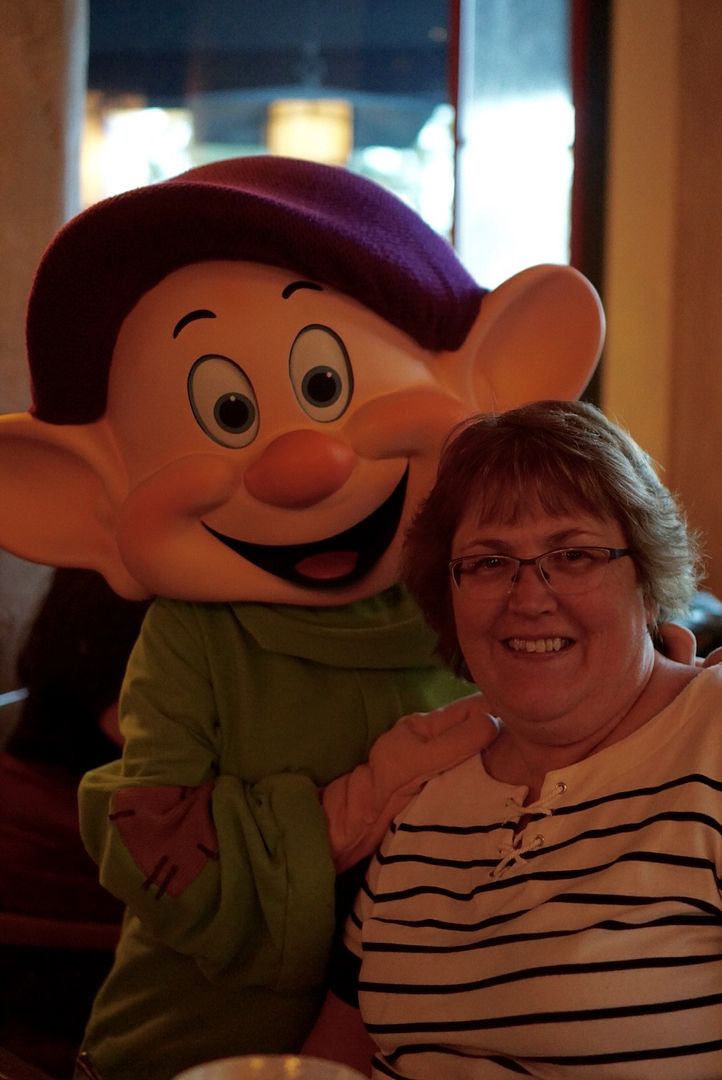 However, Grumpy (the other dwarf that was there) bypassed our table twice during our dinner.  Not sure what we did to get on Grumpy's bad side, but oh well. 
Though the Queen took part in the character parade around the dining room that occurred a few times while we were having dinner…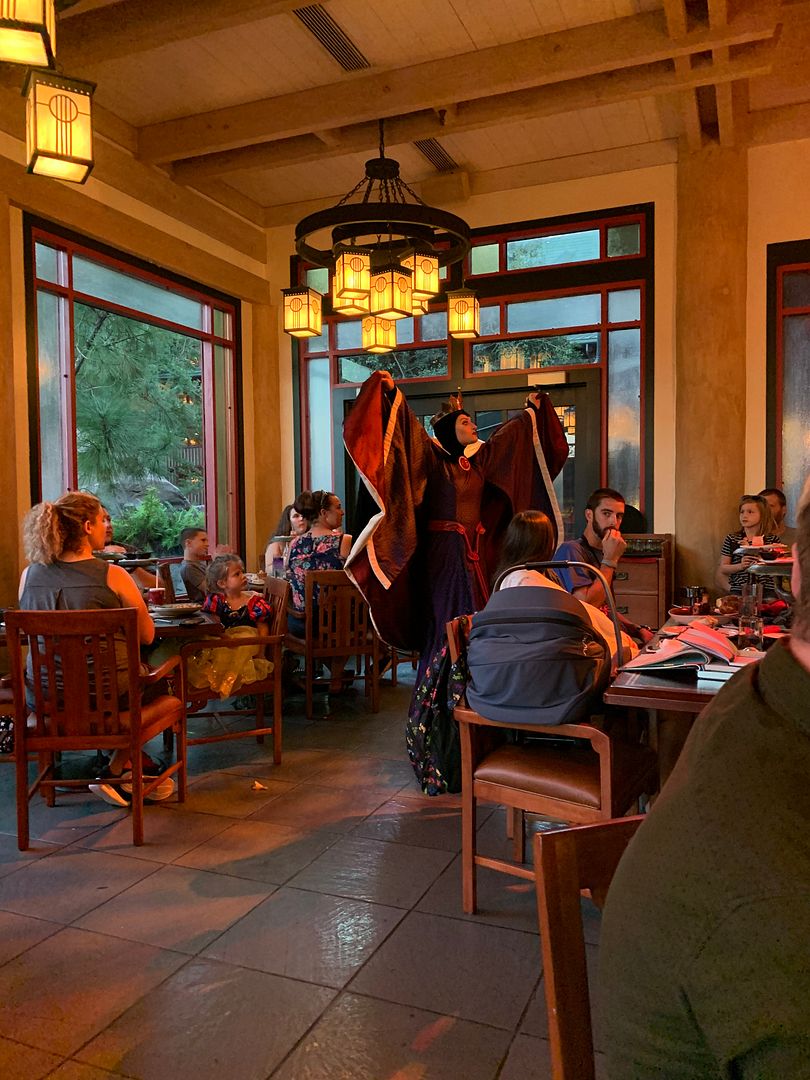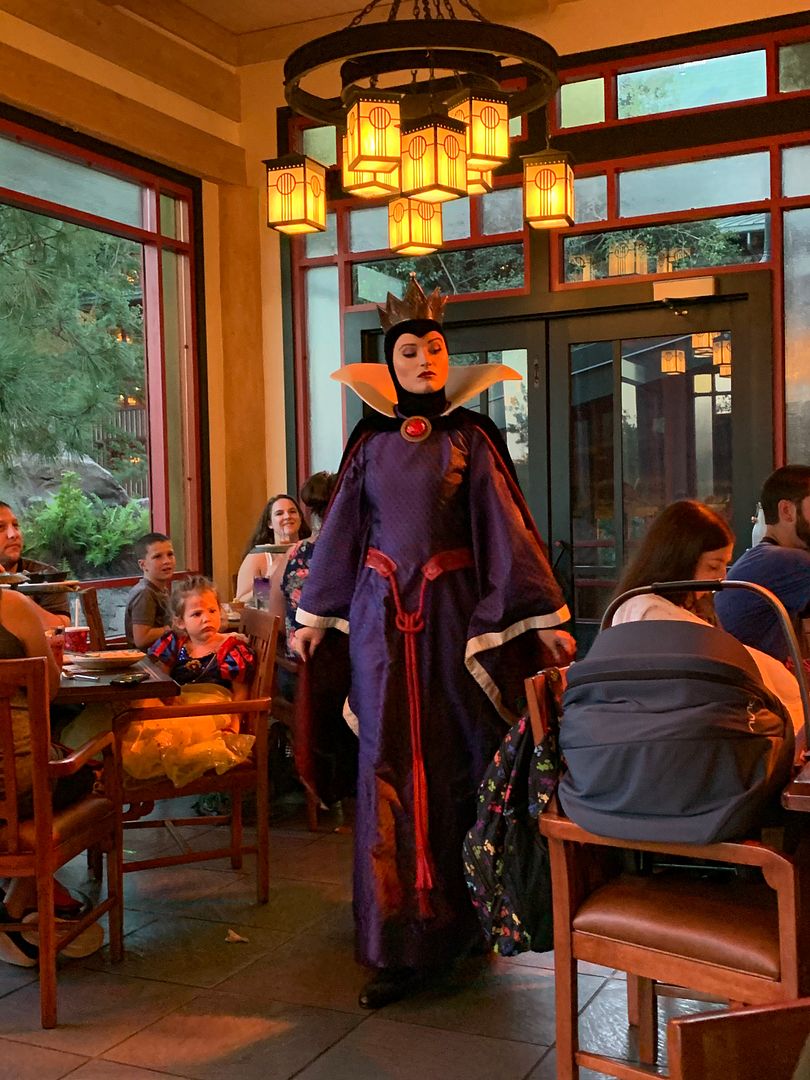 She did not stop and interact with anyone seated at the tables.  Instead we were given a "summons" at the end of our meal…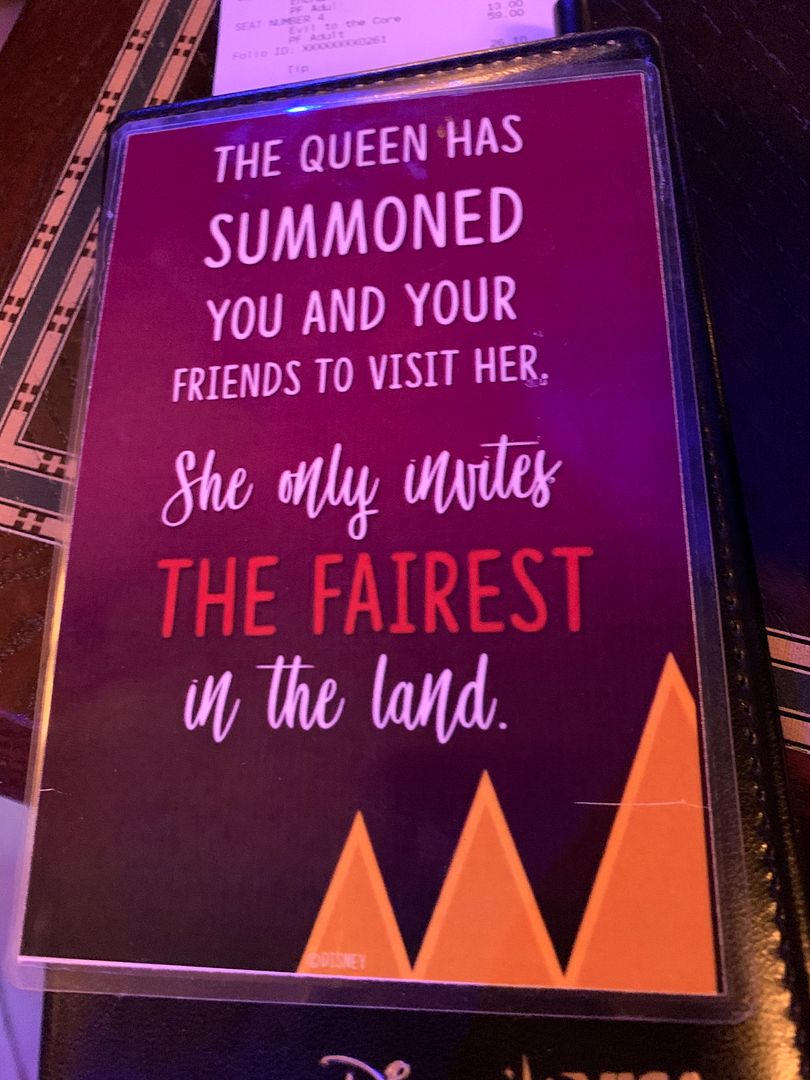 Along with our check…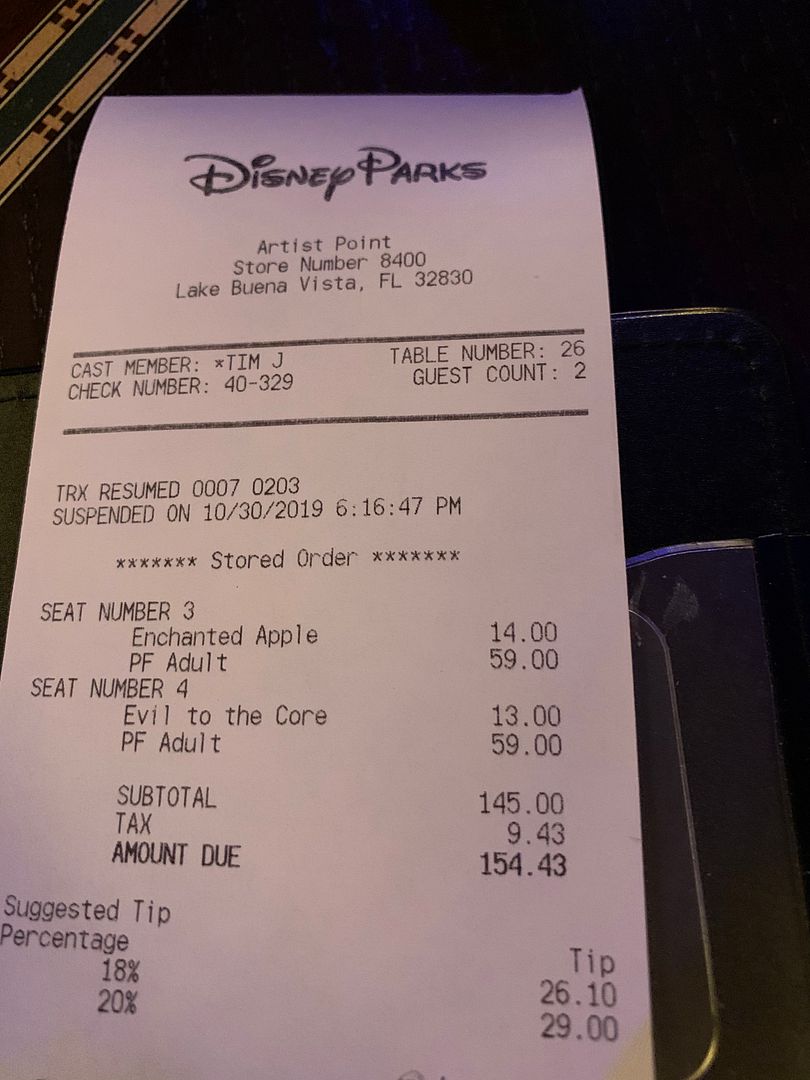 Yes, you are reading that right… $154.43 for two people! Yikes!!  I was very thankful that I had decided to do this dinner while we were on the Dining Plan.  We had paid only $150.98 for an entire day's worth of Dining Plan credits (2 QS, 2 TS, and 2 snacks) for the two of us and this one (1 TS credit) meal cost more than that.  So basically that made our $85 breakfast at Be our Guest and our two snacks that day free.
NOTE: One thing to keep in mind though with the Dining Plan when figuring out your trip budget is that it doesn't include the tip.  We were still responsible for paying the gratuity, which on a $145 food and alcohol bill (before tax) is not cheap.
On our way out of the restaurant we presented our "summons" card to the Queen's attendant/photographer.  We then had a fun interaction with the Queen…or I should say, we had fun and she "tolerated" us.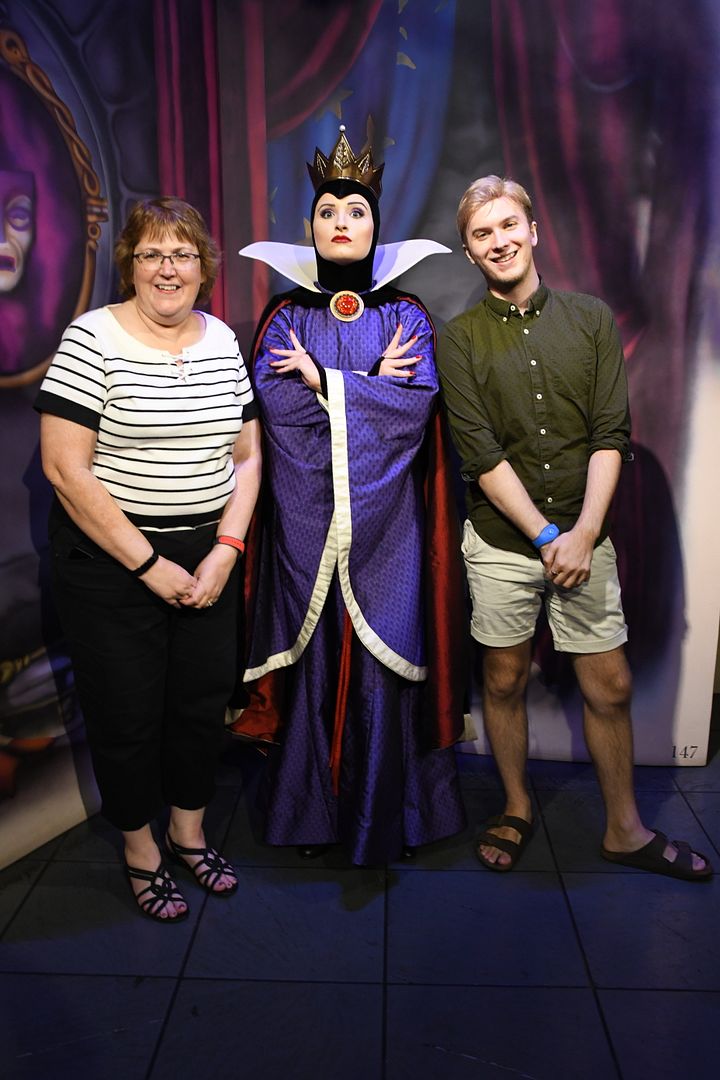 And with that the story of our dinner at Artist Point came to…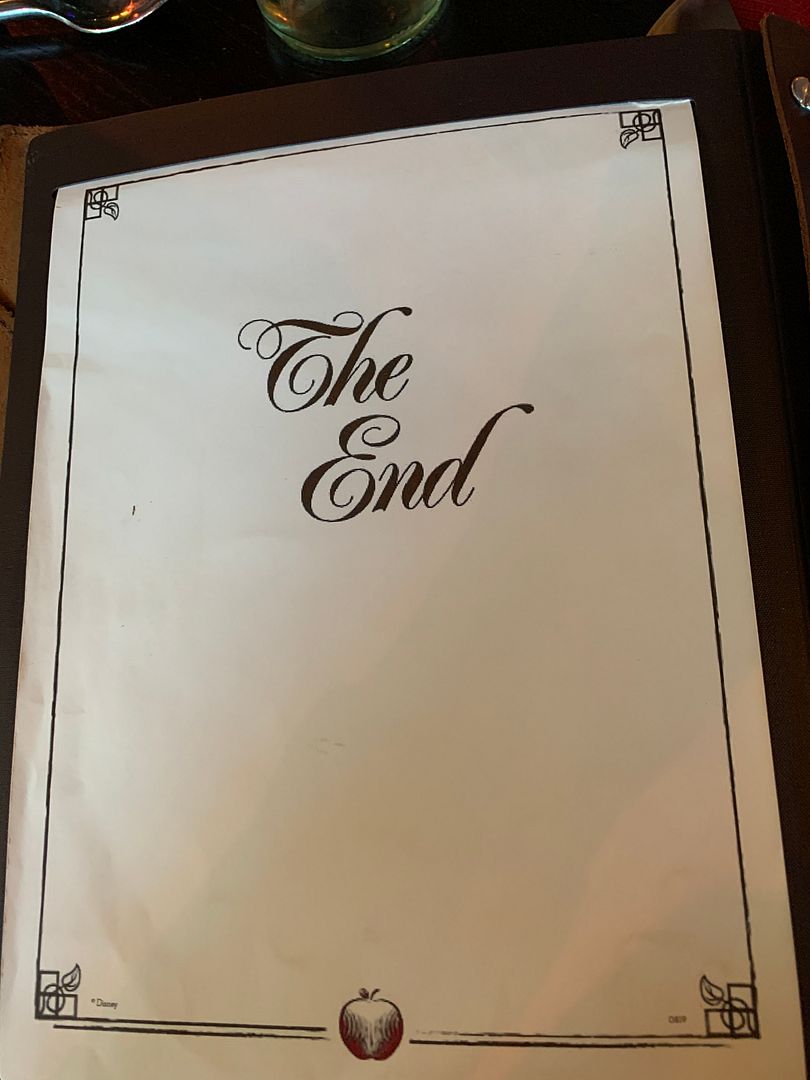 So that just leaves the ratings and rankings. Both Yelp and Trip Advisor reviewers have given this dinner a rating of 4 stars.  I liked the appetizers and the desserts, but was disappointed with my entree.  Andrew though loved his entree.  So I guess I would be willing to also give this meal 4 stars.  However, I would say that it is overpriced unless you are on the Dining Plan.  As for its Trip Advisor ranking, it ranks in the top 10% best coming in at #297 of the nearly 3,000 Orlando area restaurants reviewed there.  Narrowing it down to just the 250 restaurants in the Disney World area, this dinner ranks only #89 though.  Garden Grill, Cinderella's Royal Table and Chef Mickey's are character dinners which rank higher than the one at Artist Point.
2 Table Service Dining Plan Credits Used – $154.43 (or $77.21 per credit)