While waiting to use a Soarin' Fast Pass, I had visited Sunshine Seasons (the quick service restaurant located next door) a few times on my recent trips to look at the desserts in their Bakery station display case.  Though they always looked good, I was never tempted enough to purchase any…probably because I wanted to save the room for the food at the F & W festival booths.  So it had been 5 years since I'd actually eaten something at Sunshine Seasons, and that something was their Berry Croissant Pudding…
Sadly Sunshine Seasons quit serving this Berry Croissant Pudding a few years ago.  However, the recipe can be easily found online if you are interested.  Here is one that I found:
Ingredients
1 1/2 lbs Croissants (About 12-15 Medium Sized)
3 Cups Heavy Cream
4 Eggs
3/4 Cup Sugar
1T Vanilla Extract
3 oz Blueberries
Directions
1. Mix all except the blueberries and croissants, then add blueberries and pour over croissants.
2. Cover and bake for 40 mins at 350, remove foil and bake add'l 15-20 minutes.
But back now to this visit to Sunshine Seasons on October 31, 2019.  Being a creature of habit, I first had to check out the desserts in their display case…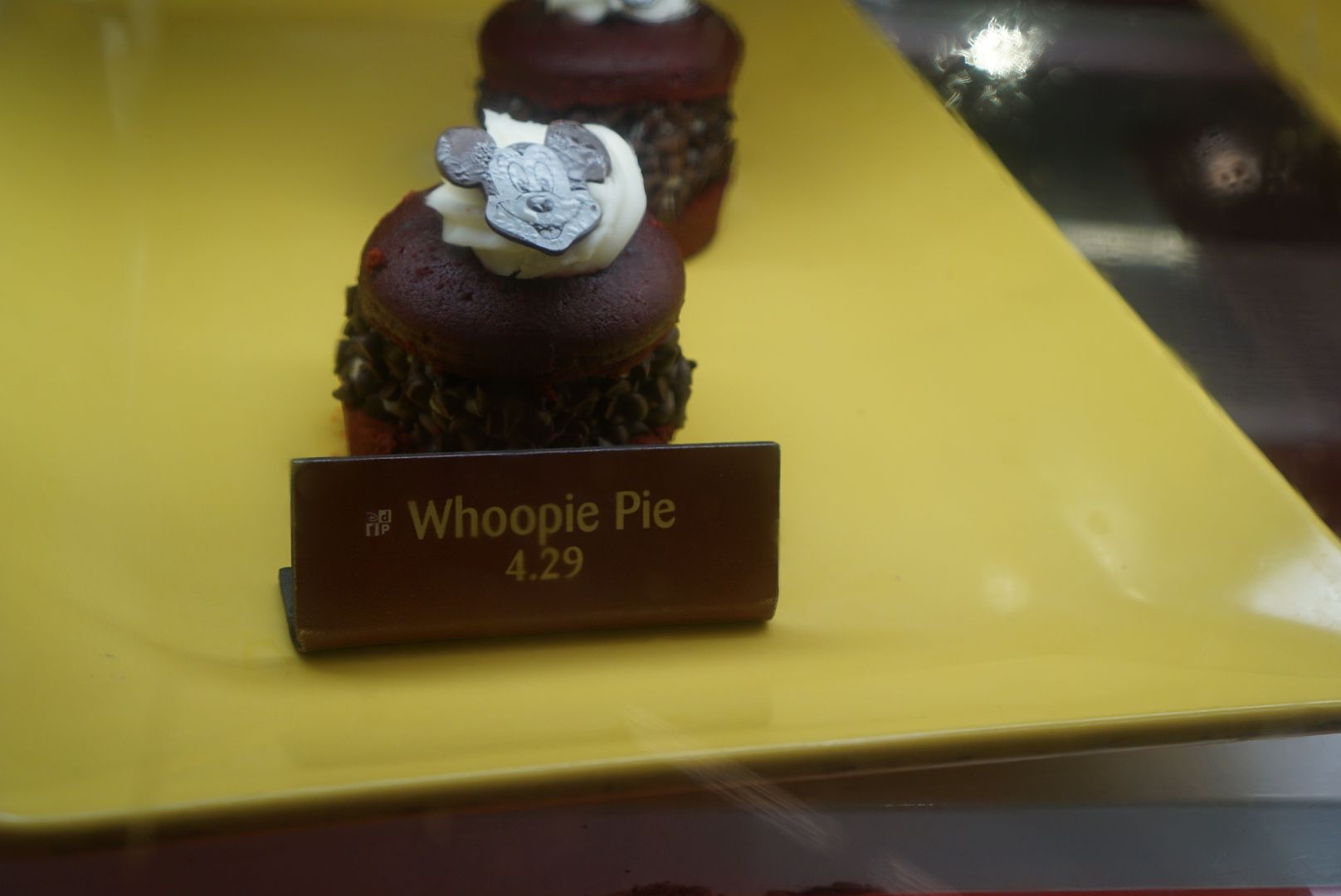 Whoopie Pie – Two Red Velvet Cake "Cookies" with a Cream Cheese Filling and covered in Chocolate Chips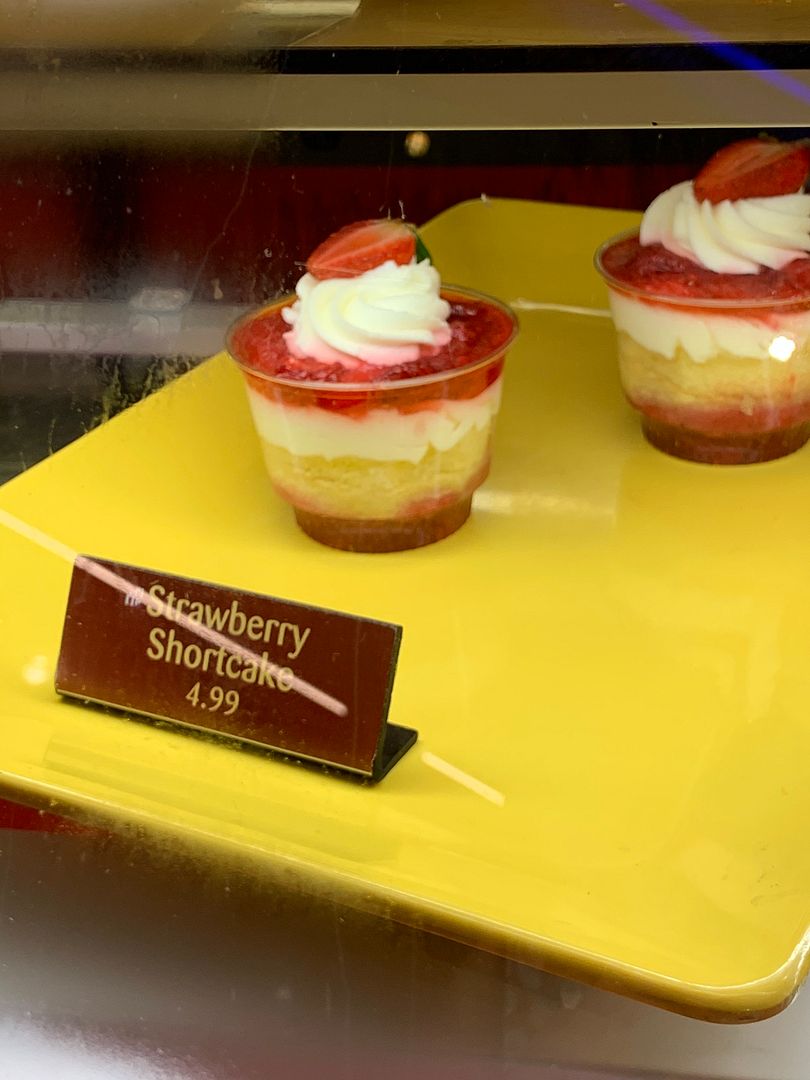 It looks like they've changed their Strawberry Shortcake dessert.  It doesn't look as good as it used to…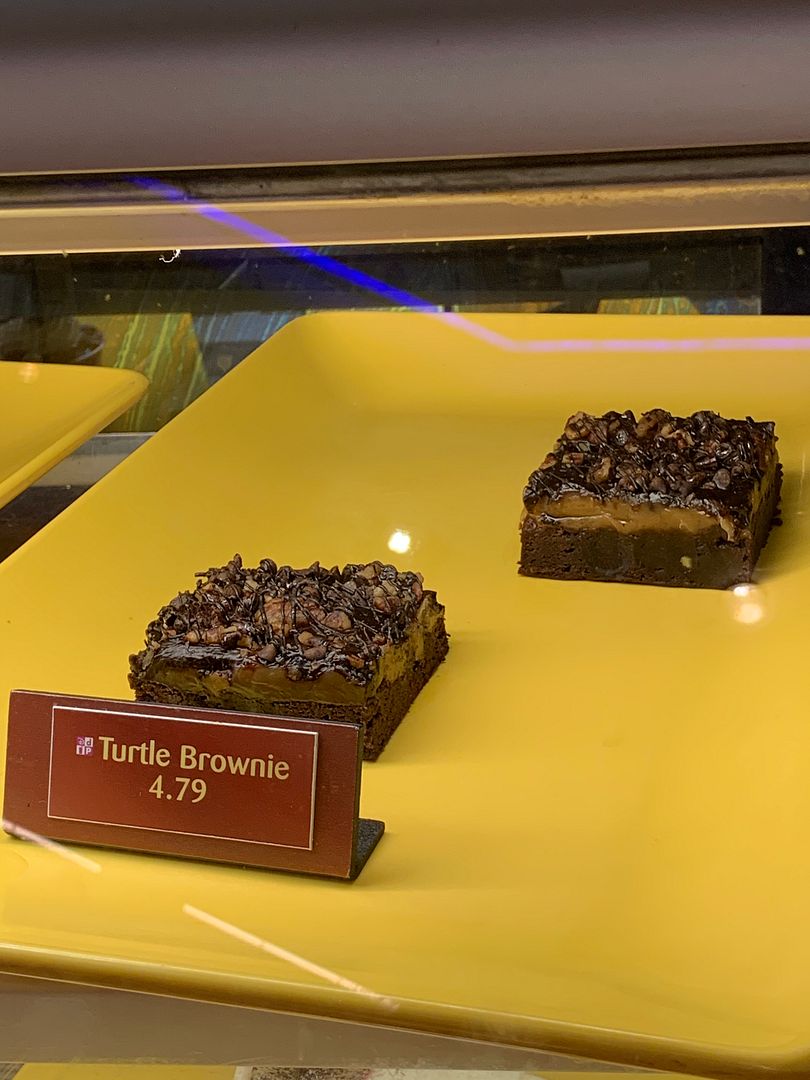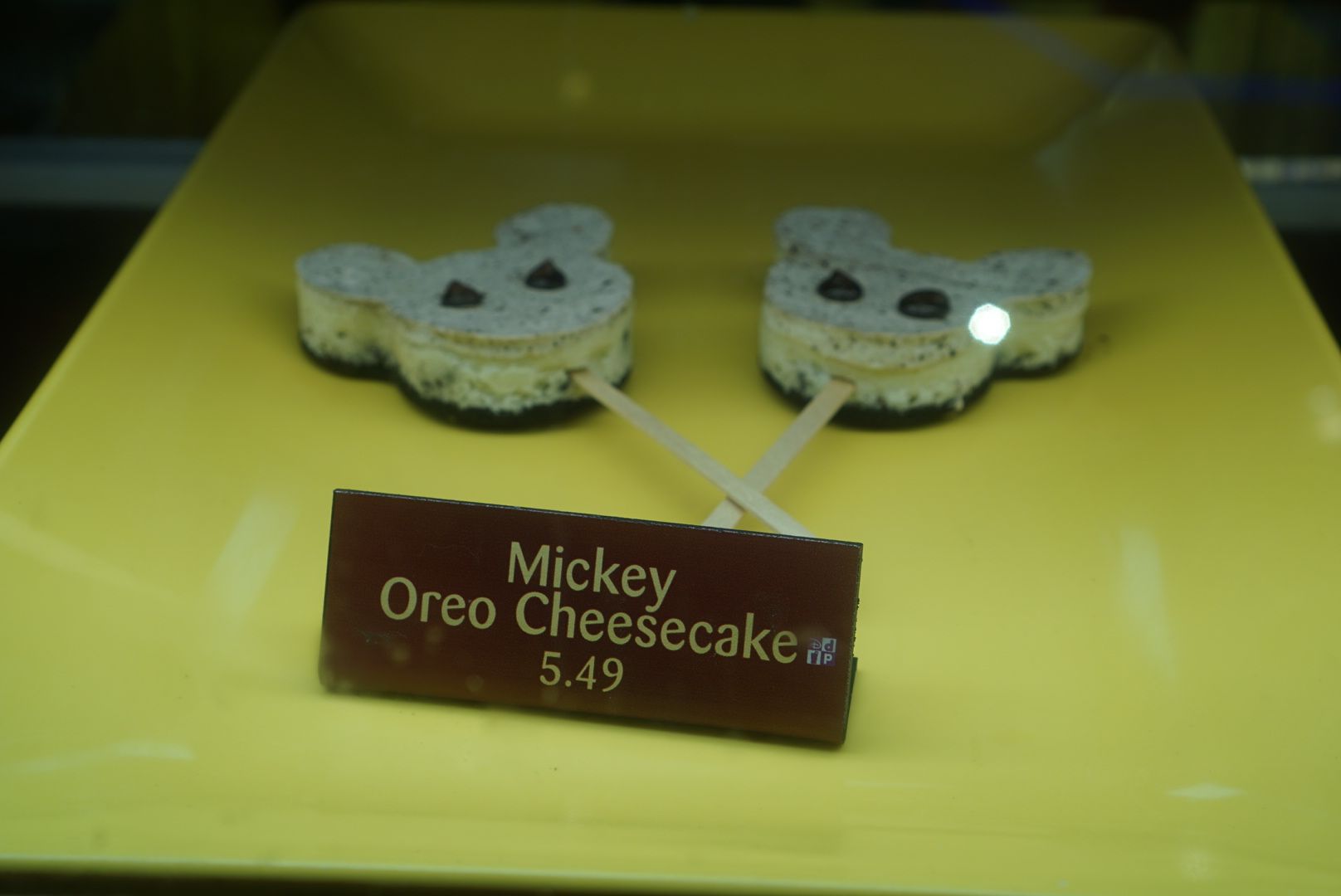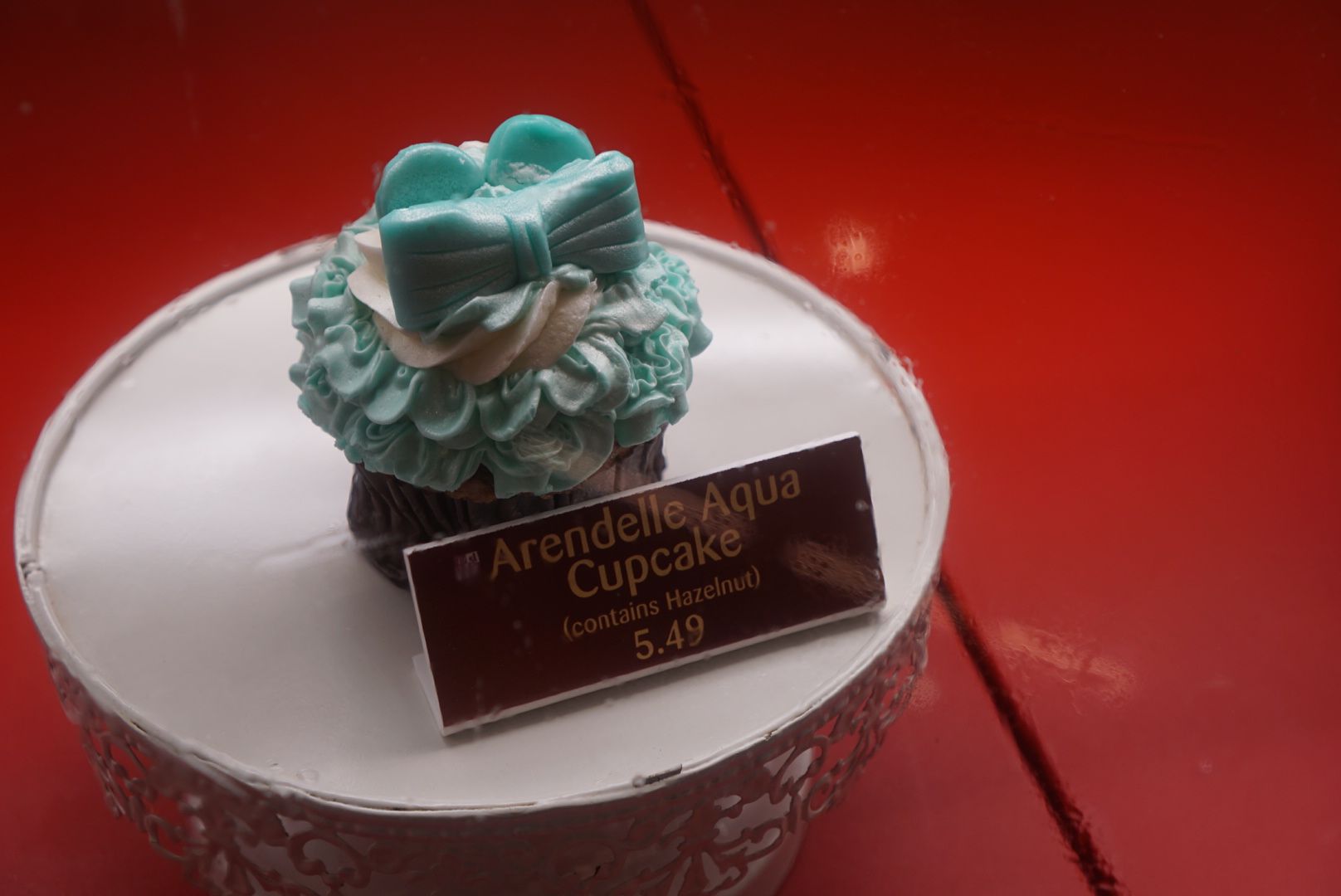 The Arendelle Aqua Cupcake is vanilla cake with chocolate hazelnut (Nutella) filling in the center.
I had read about this next cupcake, the Vegan Ice Cream Sundae Seasonal Cupcake…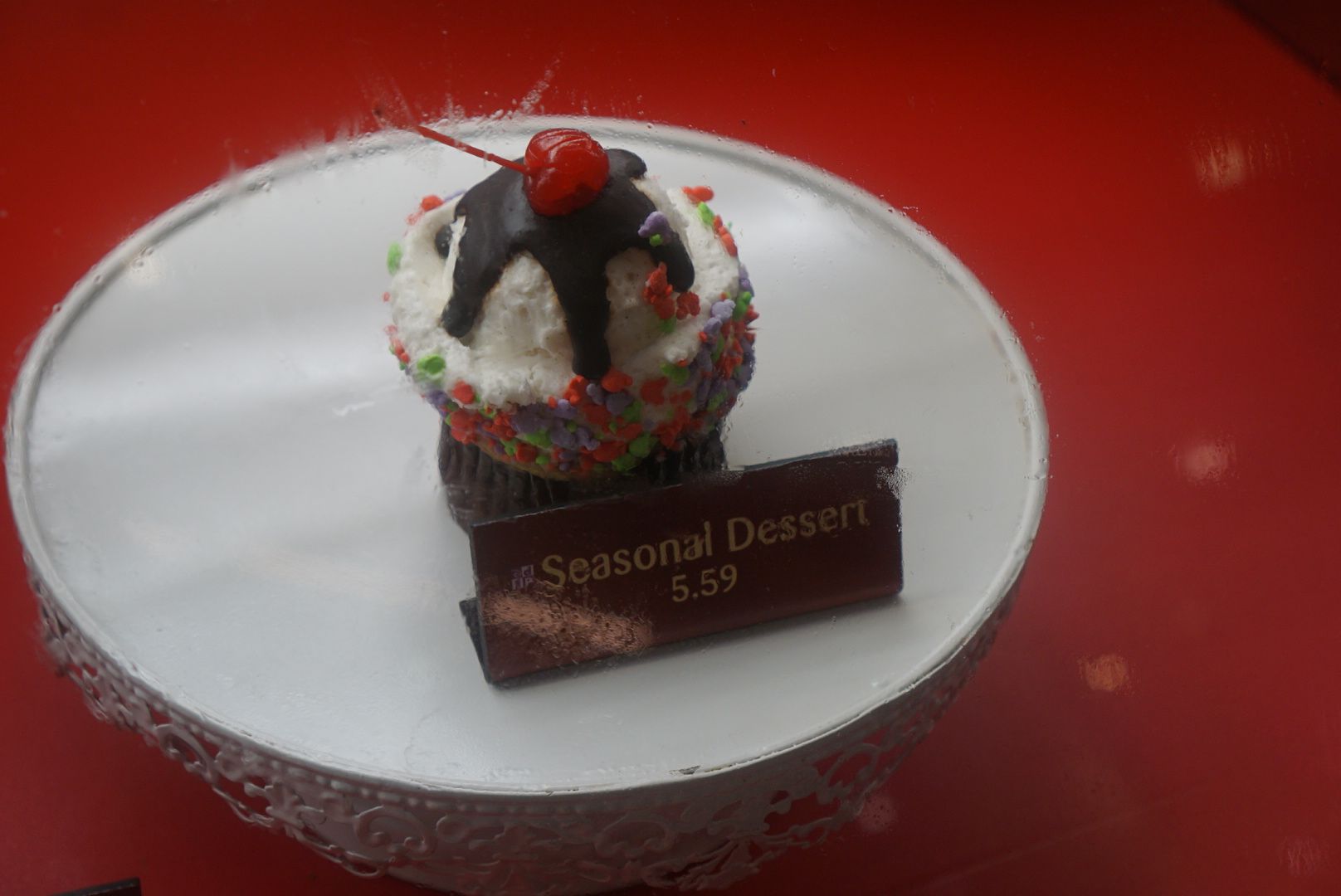 This cupcake used to be marked as "vegan" but apparently wasn't selling well so they took the word vegan off the menu description.   Anyway, the base of this dessert is yellow cake with a pineapple coconut filling. The cupcake is topped with an ice cream scoop of vanilla frosting, a drizzle of hot fudge and a maraschino cherry.  Oh, and it also is decorated with colorful Mickey sprinkles.
Though we could have had any of these desserts with one of our many snack credits (we had used only 1 so far of the 12 we needed to use by midnight the next day) we passed, as we had something a little more substantial in mind.   So we looked over all of the menus posted above the various stations, starting with Salads…
Next the Asian Noodles station…
Sandwiches & Pizza…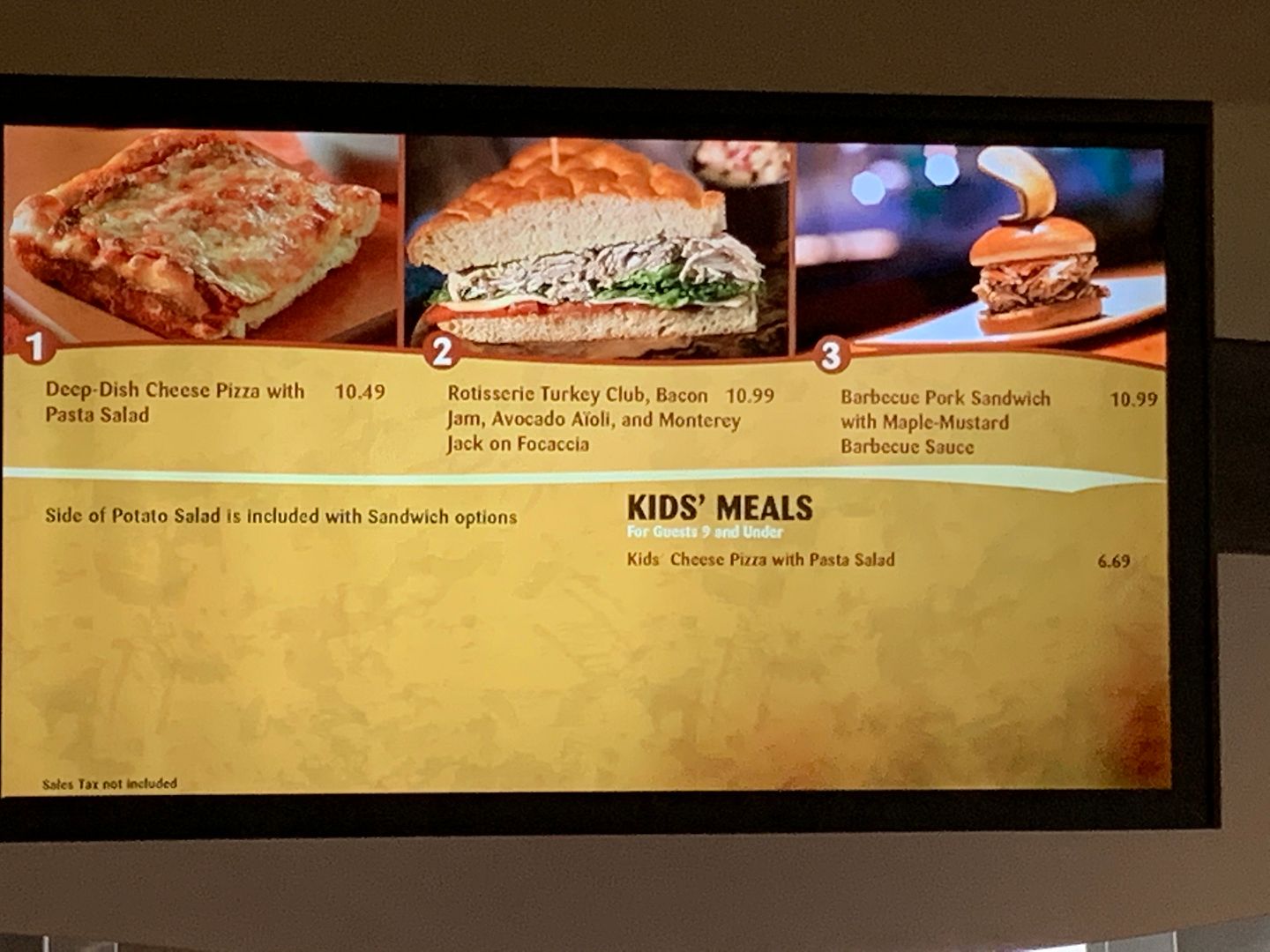 And The Grill Station…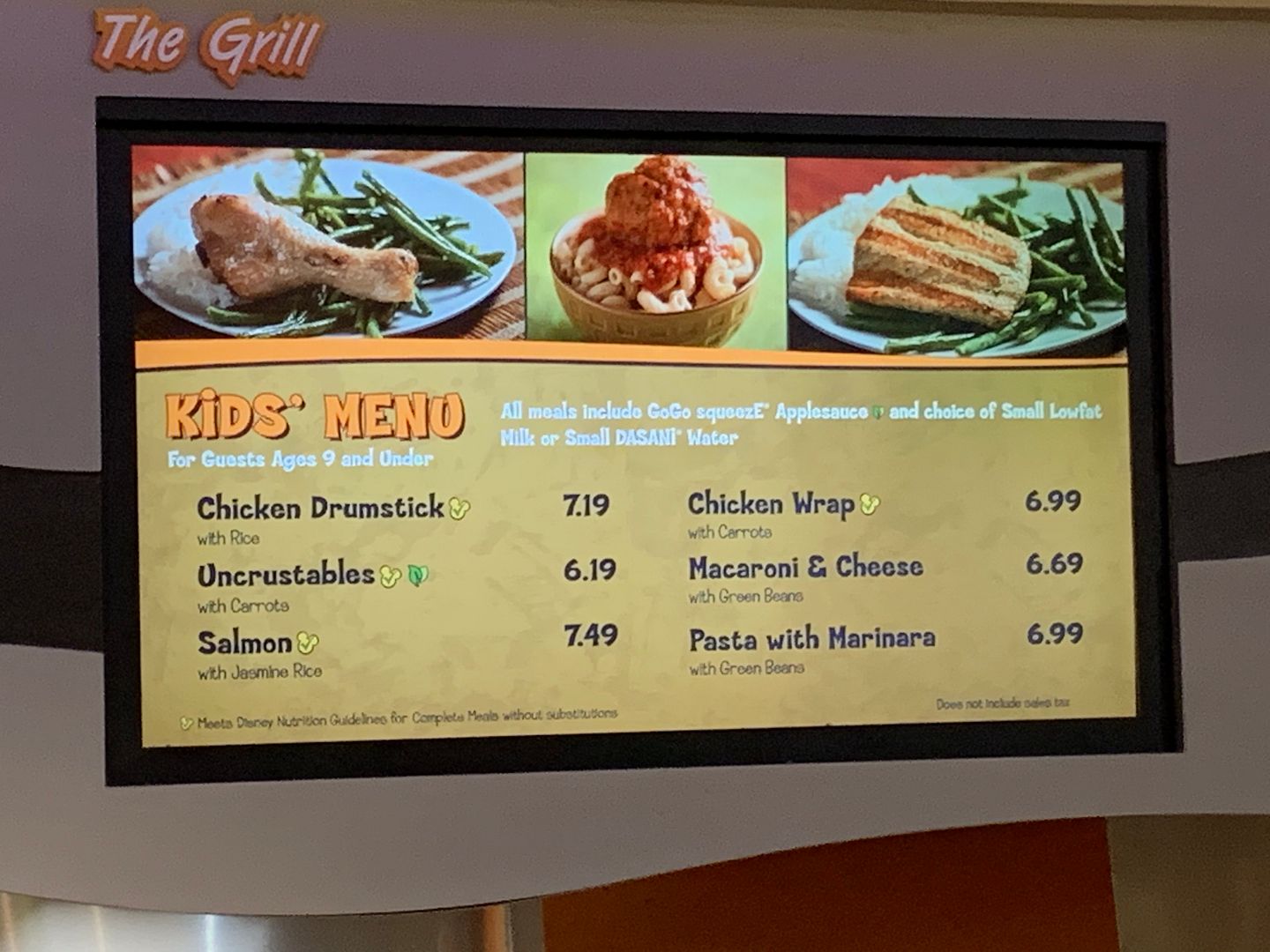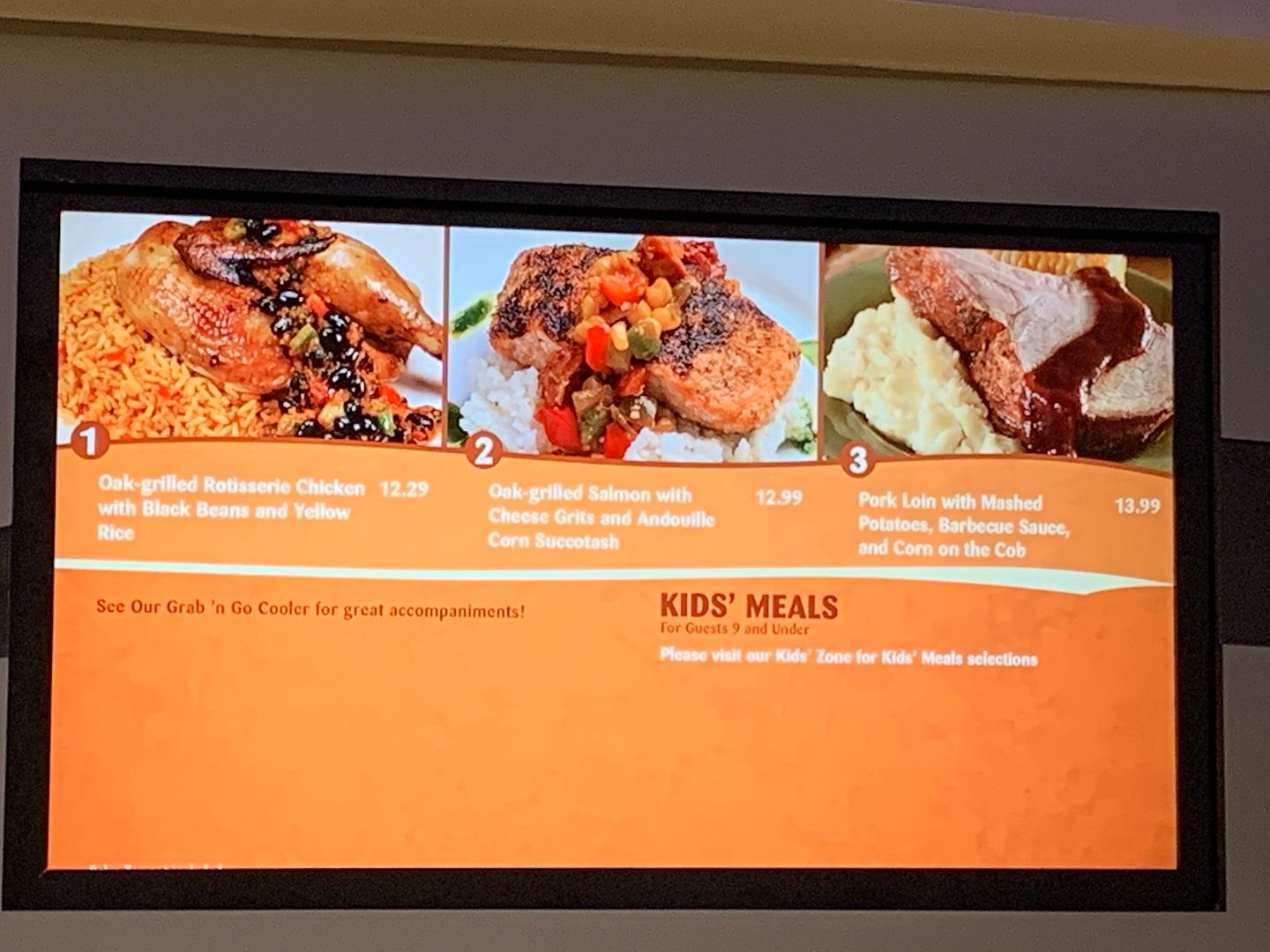 We chose our shared entree from The Grill station…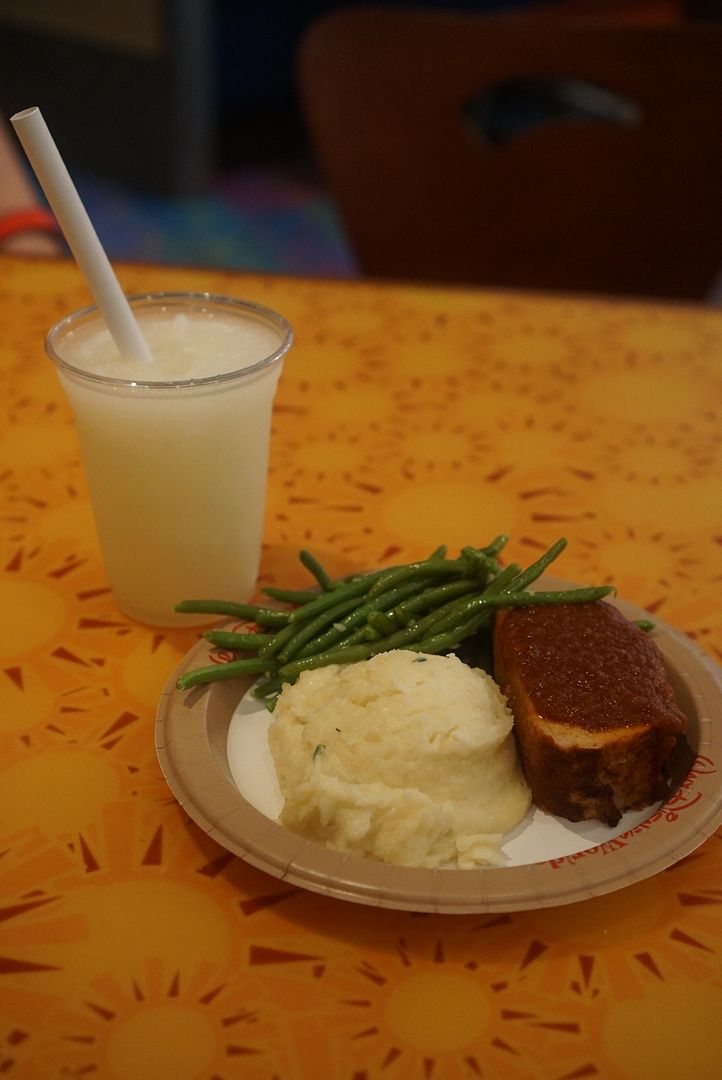 We chose the Pork Loin, which normally came with Mashed Potatoes and Corn on the Cob.  We were given the option though of substituting either or both sides for any of the other sides which were offered at The Grill station.  One of these was Green Beans, which appealed to us more than the Corn on the Cob.
Here's a closer shot of our meal…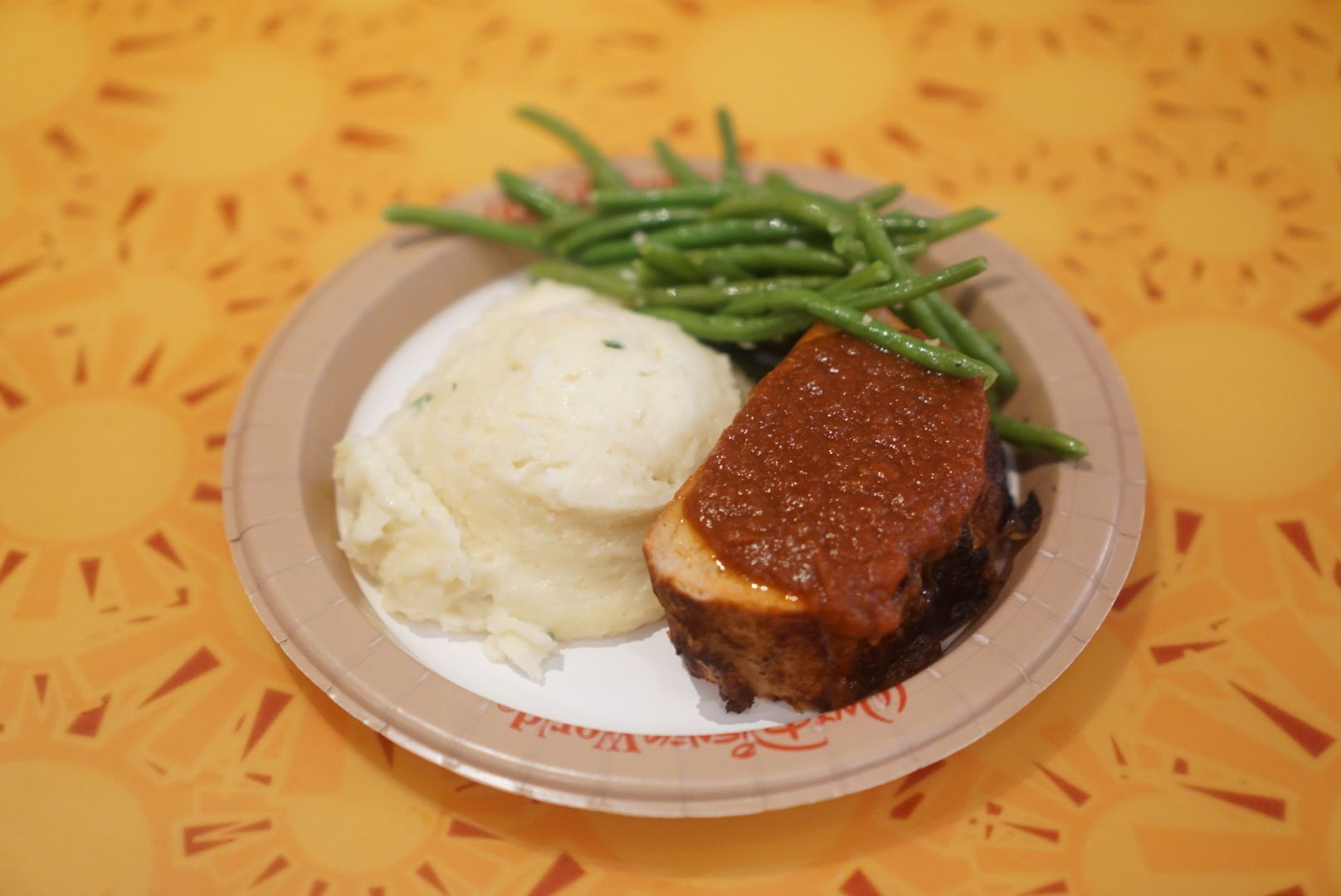 Pork Loin served with Mashed Potatoes & Green Beans – $13.99
The pork loin was quite thick but thankfully was cooked well (not overcooked and dry)…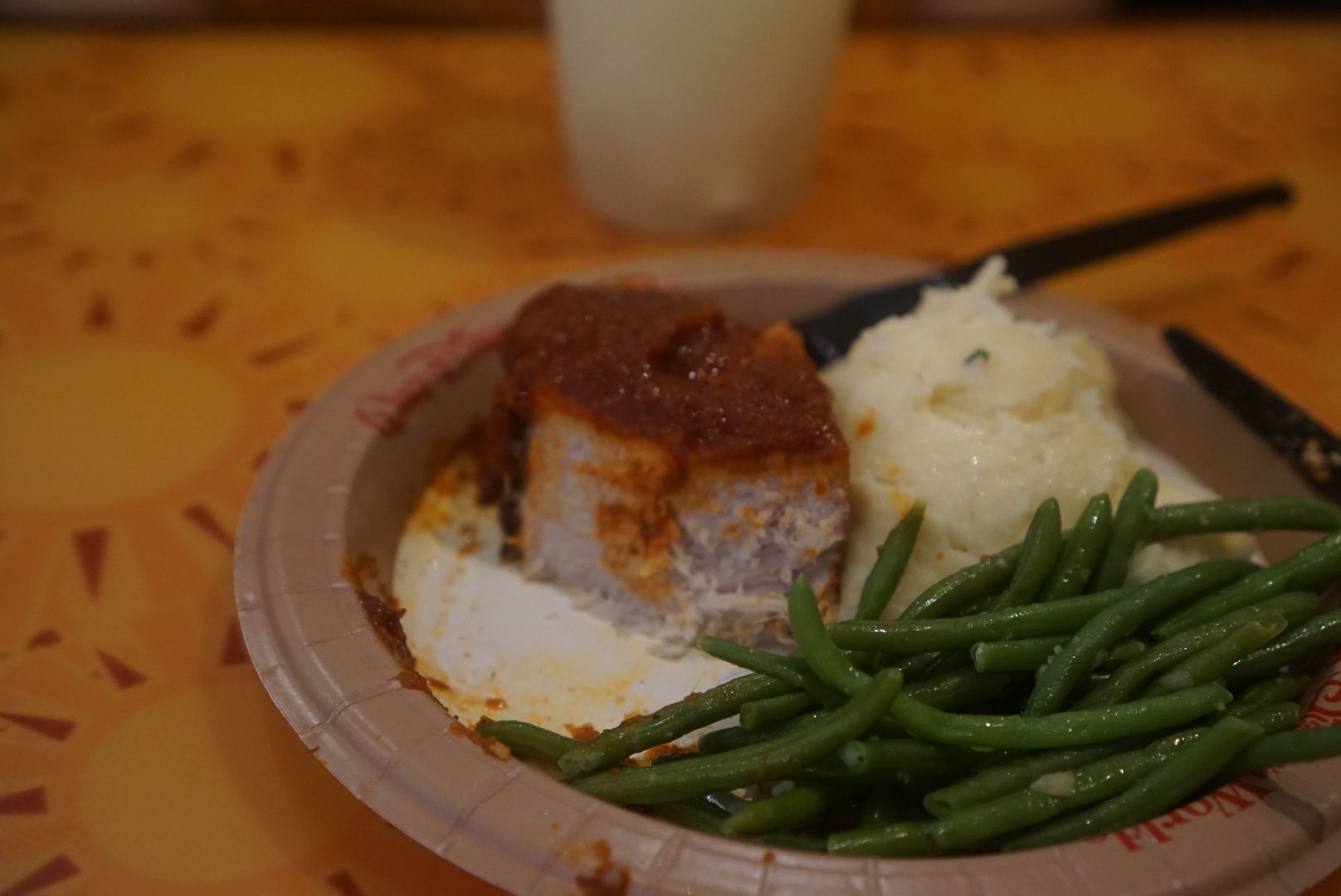 They had asked us if we wanted their house-made barbecue sauce on our pork loin and we said yes.  However, after tasting it we wished we hadn't.  It had a very strong vinegar taste so we scraped it off.  I would recommend to others ordering the pork loin here that you go ahead and try the barbecue sauce though (everyone's tastes are different after all), but have them put it on the side rather than on the meat.  We both really liked the creamy mashed potatoes. They were not served with gravy but they didn't really need any.  The green beans were a little more al dente than I normally like but they tasted fresh and a little garlicky (with small pieces of fresh garlic).
Since we were using a QS Dining Credit on this meal we were also entitled to a beverage (alcoholic or non-alcoholic).   Here were their Specialty Beverages…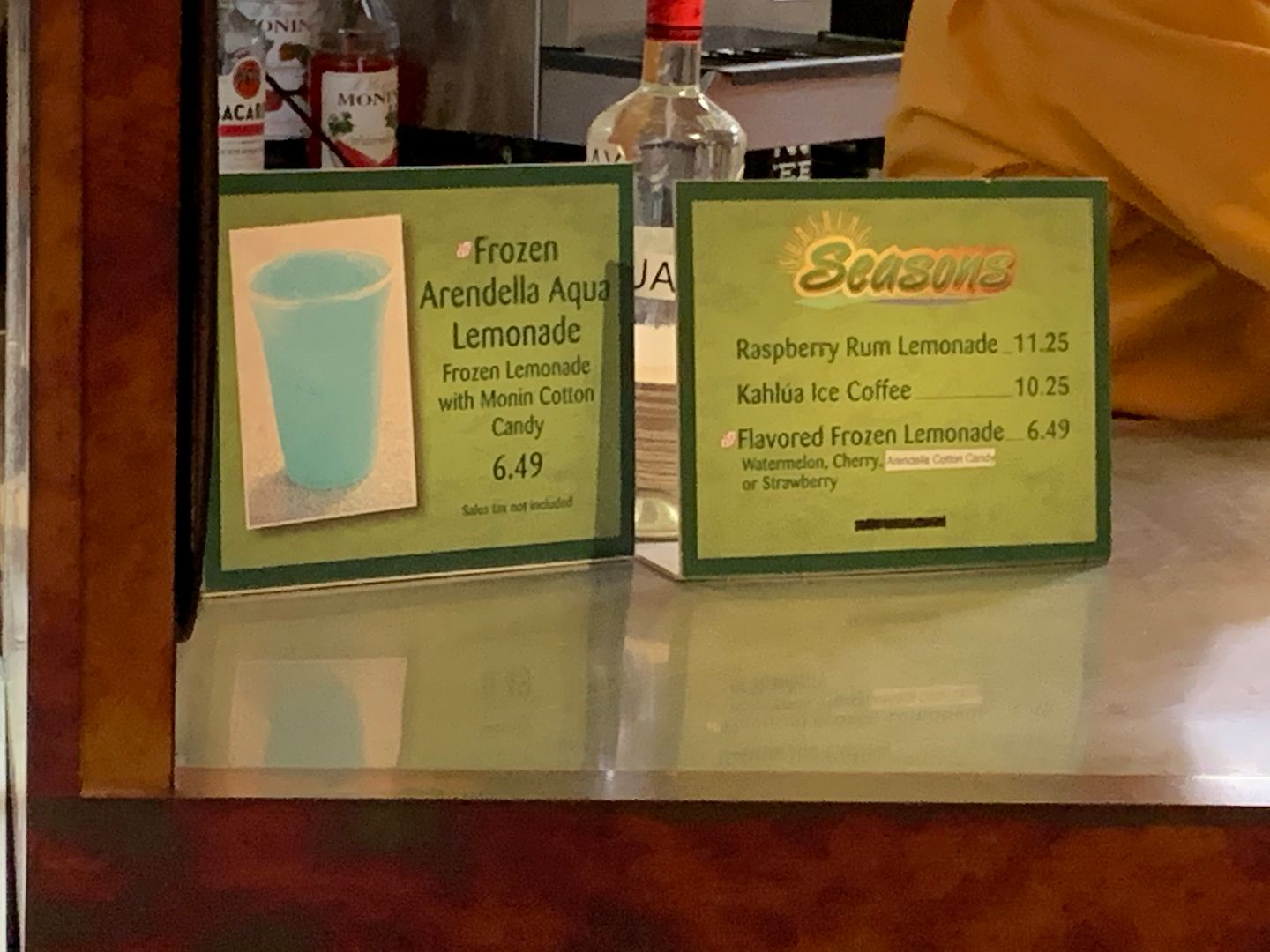 We chose the Raspberry Rum Lemonade ($11.25)…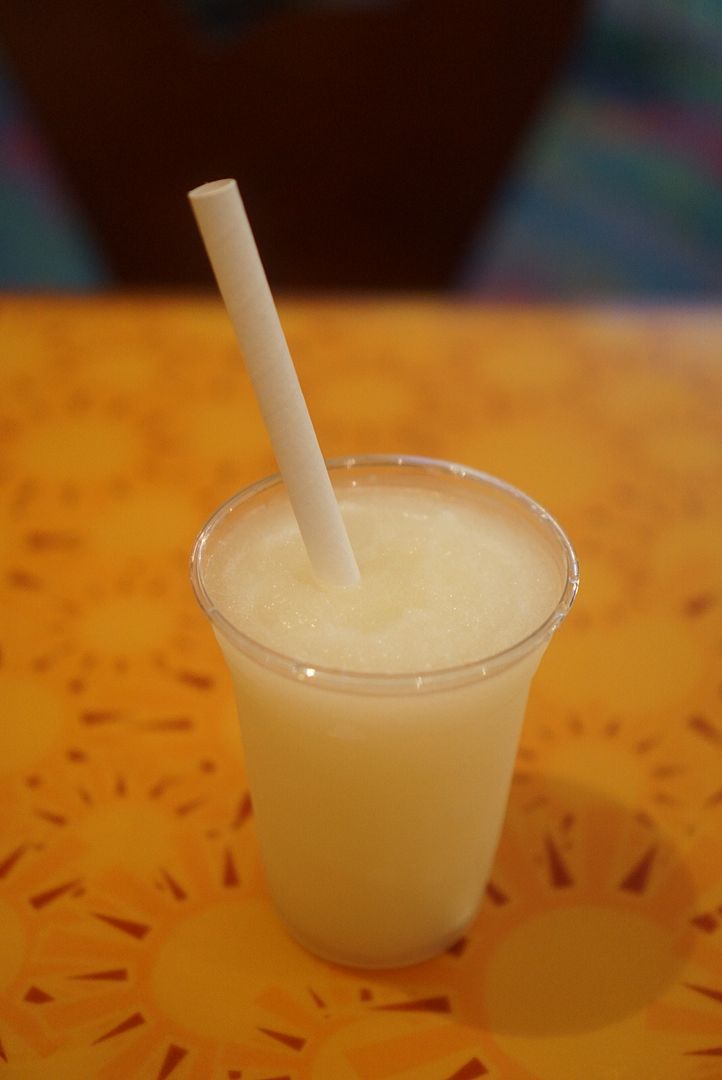 I was expecting this to be raspberry lemonade (so reddish colored) with rum added but it was actually regular frozen lemonade with (clear colored) Bacardi Raspberry flavored Rum added.  We were given the option of adding the Raspberry Rum to the Frozen Arendella Aqua Lemonade (which was frozen lemonade with Monin Cotton Candy syrup added) but we passed on the Cotton Candy syrup thinking it would be too sweet.  Though we liked our frozen lemonade, we really couldn't taste the alcohol/rum.
And that just leaves the ratings & ranking.  On Yelp the reviewers give Sunshine Seasons 3 1/2 stars, but on TripAdvisor it received 4 stars and ranked #335 of the nearly 3,000 Orlando area restaurants reviewed there.  Narrowing down to just the 250 or so restaurants in the Disney World area, Sunshine Seasons ranks #102.  As for this reviewer, I would agree with the Yelp rating of 3 1/2 stars.  Our meal was a good value/use for a QS credit but not really worth $26.88 if paying out of pocket.
1 Quick Service Dining Plan Credit Used – $26.88 (including tax)