We checked in a few minutes early for our 7:20 dinner reservation and were given a pager, as they said it would be about 15 minutes before our table would be ready.  However, we didn't even have time to walk across the room to sit down in the waiting area before our pager went off, which was a little odd.
We were seated at a table for 8, joining a family of 4 that was already seated there.  For those who have never been to Teppan Edo, to my knowledge it has only communal dining with all tables seating 8 around a teppan grill…
So unless you happen to be a party of 8, you will be seated with people you do not know.  They do remind you of this when you check in for your reservation.  I suppose, for those who were previously unaware of this and don't want to dine with strangers, they would probably refer you to their sister restaurant, Tokyo Dining, which is located next door.
Anyway, not long after we were seated, a very nice couple was seated at our table, which completed our group of 8.   Our Japanese server then came to take our drink orders.  Andrew and I were the only ones at our table who were on the Disney Dining Plan.  Since alcoholic beverages are an option for our one included beverage with the Dining Plan, we both chose a cocktail from their Cocktail menu…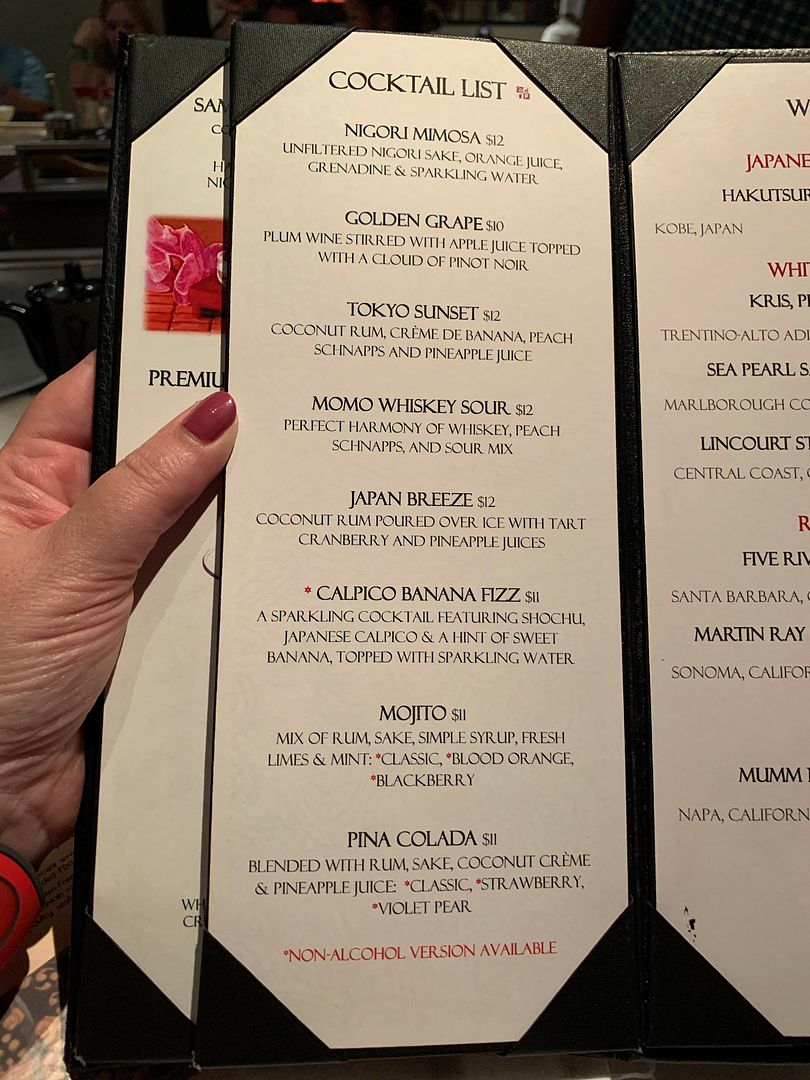 Strangely though, it took more than 20 minutes for our drinks to be delivered to our table…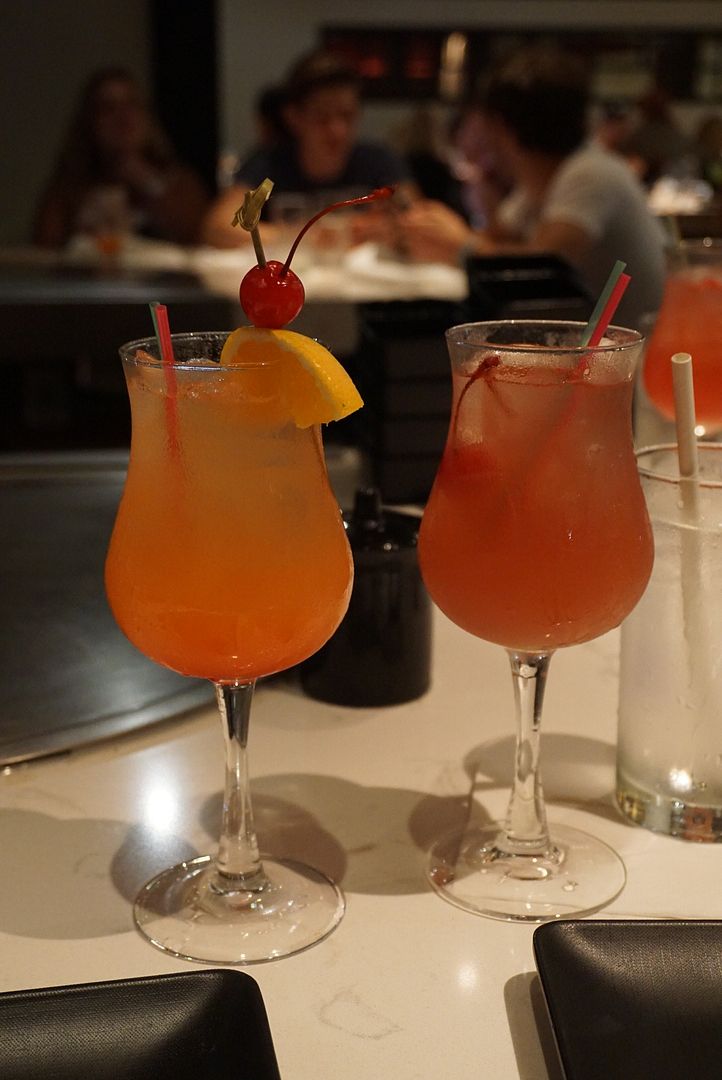 Tokyo Sunset (left) with Coconut Rum, Creme de Banana, Peach Schnapps, and Sour Mix – $12.00
Japan Breeze (right) with Coconut Rum poured over ice, Cranberry and Pineapple Juices – $12.00
I had the Tokyo Sunset, just as I always have at Teppan Edo.  It was again very fruity and sweet, but perhaps a little lighter on the alcohol than I remembered previously.  They also serve this cocktail outside at the Garden House for only $9.00, but it's not covered by the Dining Plan there.  Andrew enjoyed his Japan Breeze cocktail.  It would be a good choice for someone who likes fruity drinks but not as sweet.
While we were waiting for our drinks to be served, they gave each of us a packaged wet wipe to wash our hands…
This apparently has replaced the warm, damp cloths that they used to hand out.  Boo!
They also took our entree orders, which were chosen from this menu…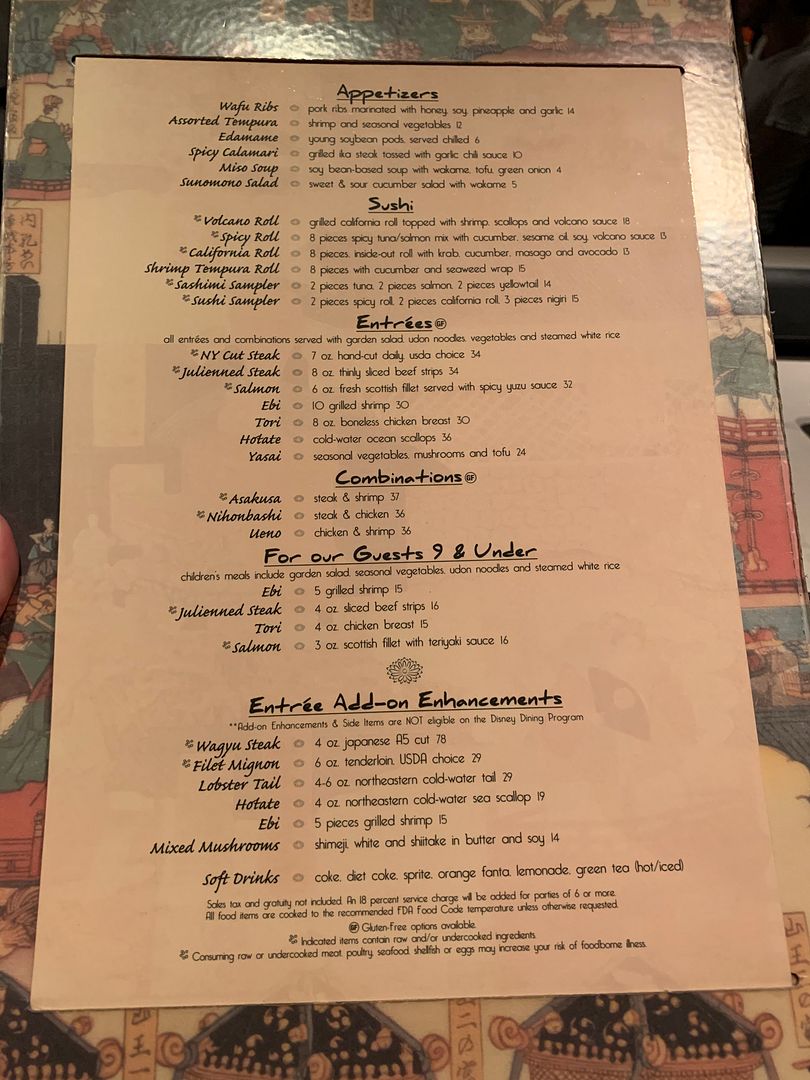 One or two people at our table also ordered sushi, but no one else ordered an appetizer.  It wasn't until they finished their sushi (while the rest of us just sat there) that the chef (pushing his cart) finally came to our table to prepare our entrees.  This was at about 8:00, or about 40 minutes after being seated.
It was then that they served the Garden Salad which comes with all of the entrees…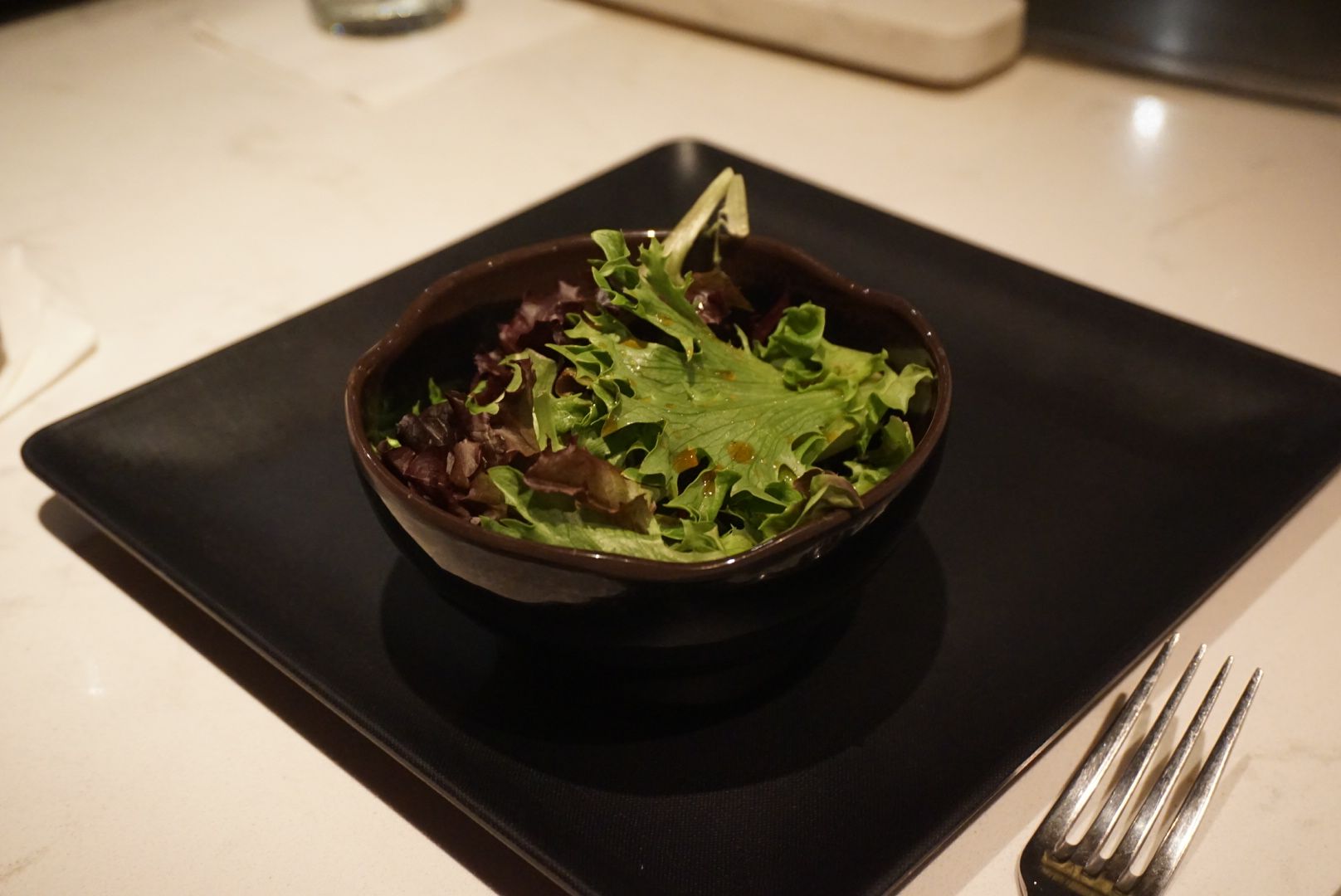 This was a very simple salad with only lettuce topped by a drizzle of dressing.  I ate a few bites and set it aside to leave more room for more flavorful food.  My son didn't want his so offered it to the couple sitting next to us.  They only ordered one entree to share (which was allowed) so had only been served one garden salad.
Then we turned our attention to the entertainment (aka as the teppan chef).  He began by confirming our entree orders and cooking preferences (for those of us who ordered steak).  Then he filled cups with two dipping sauces, one ginger and the other yum yum sauce ( a white mayonnaise-based sauce that is really good with shrimp).  Gone is the third (mustard) sauce that they used to also serve.
Then he prepared the teppan grill to begin cooking, starting with a (not hidden) Mickey…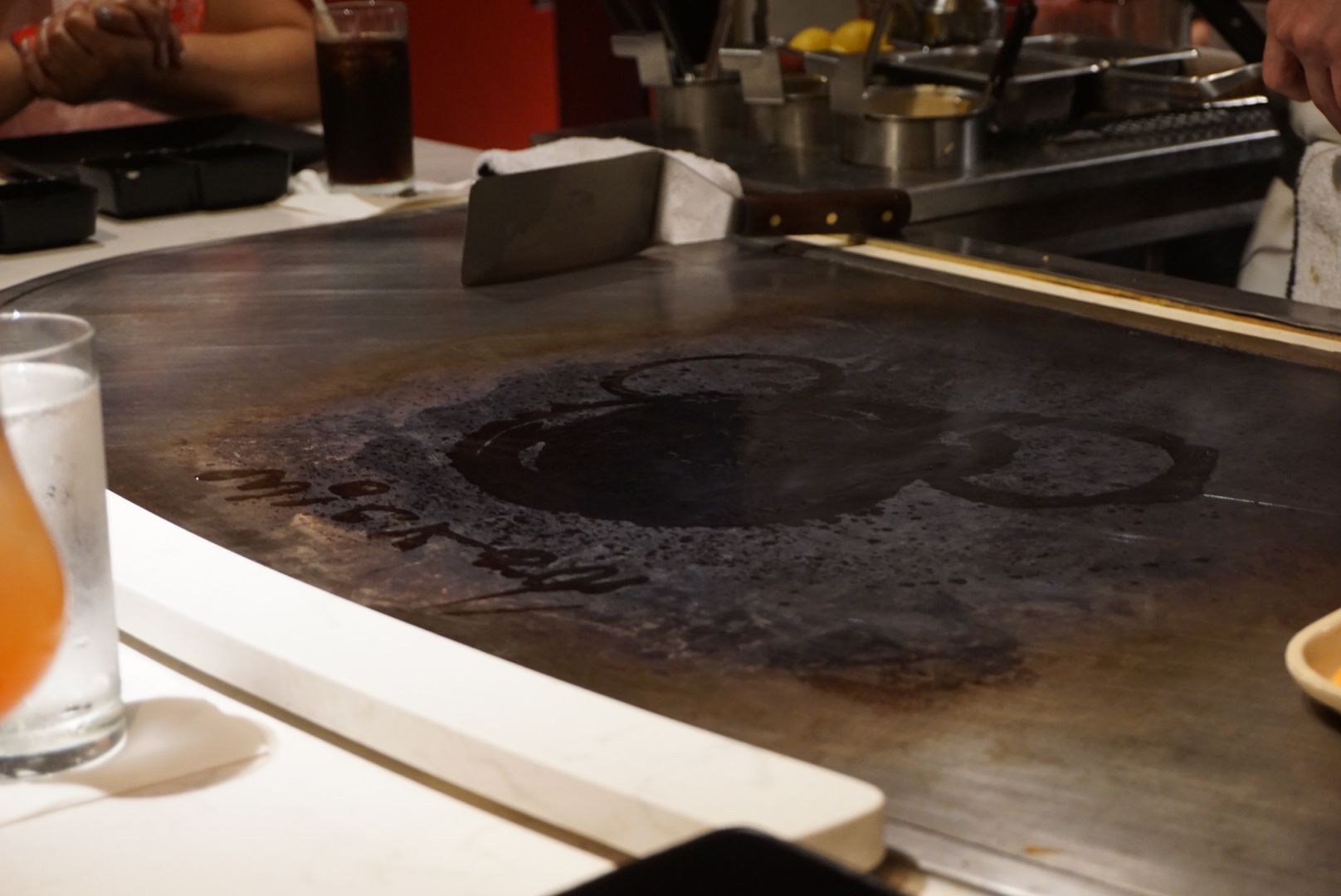 And then came the usual Onion Volcano trick…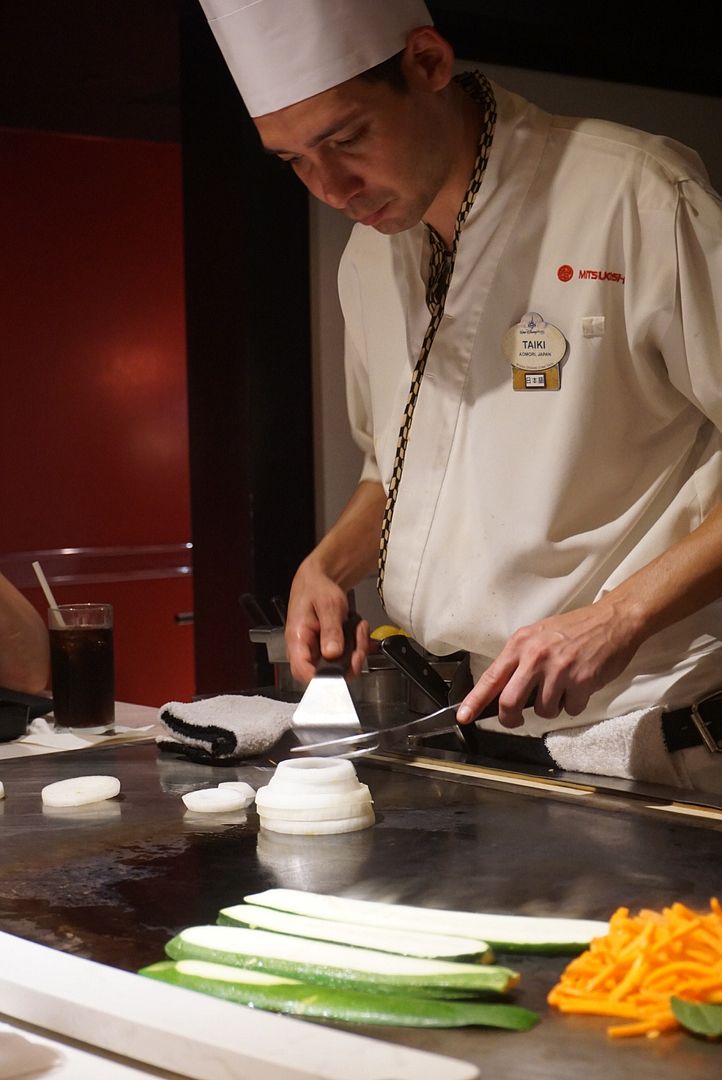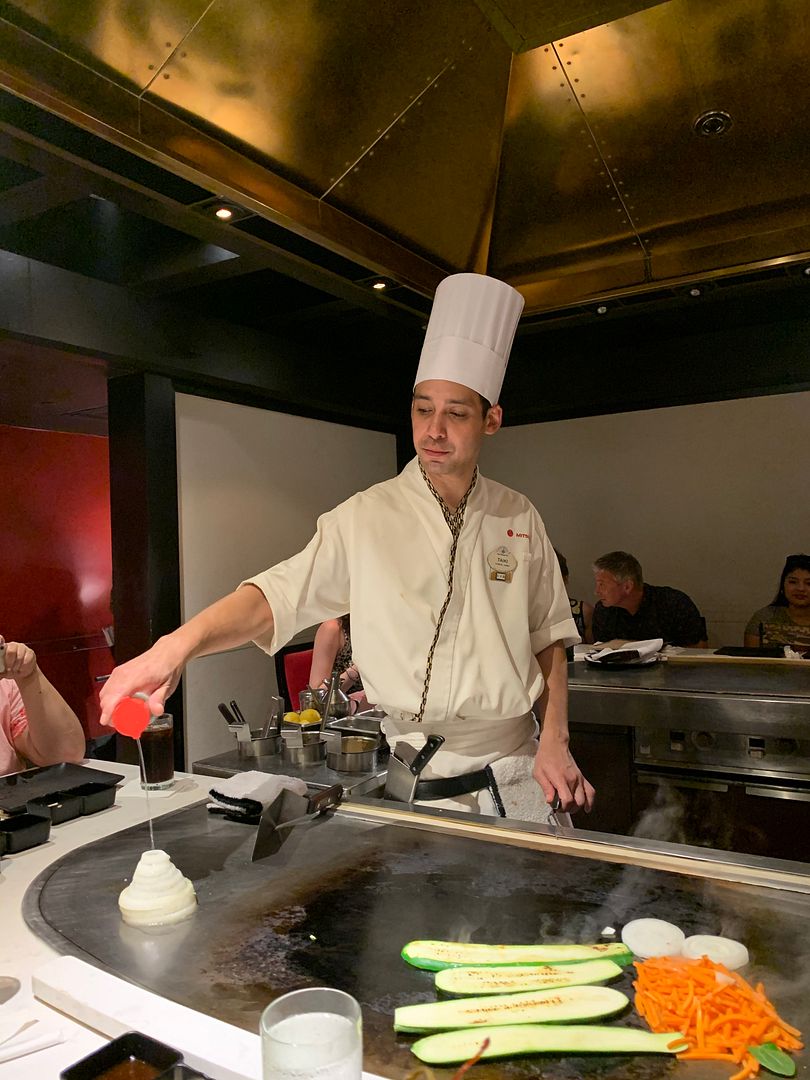 Where he got a faceful of onion smoke…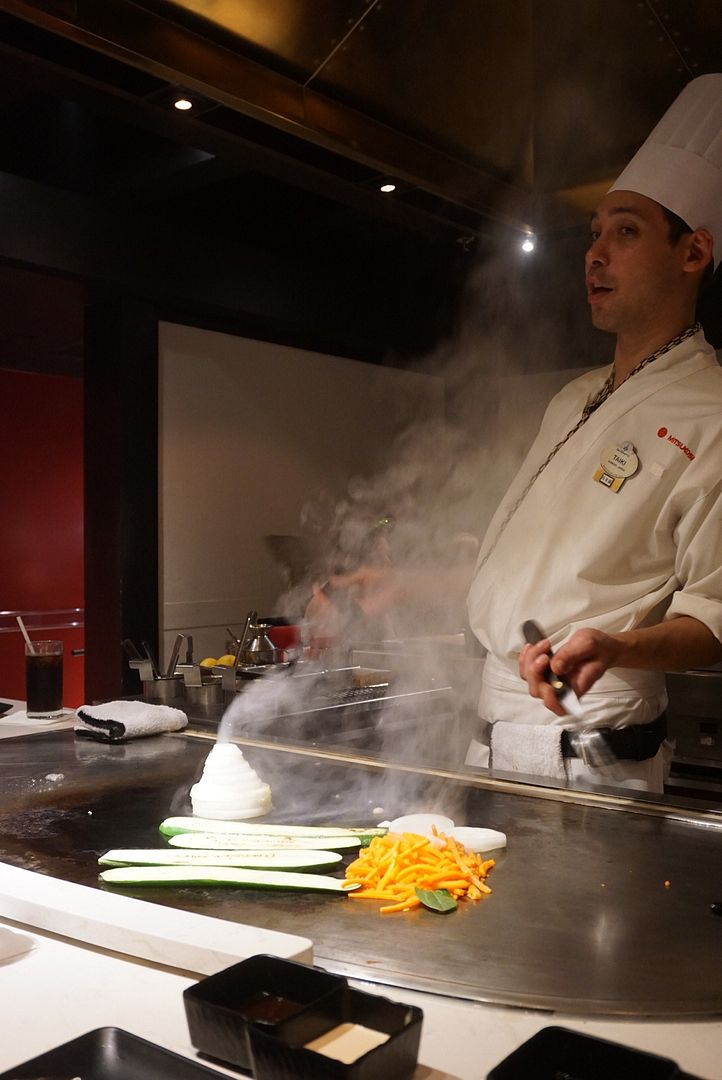 But still stopped to pose for a photo…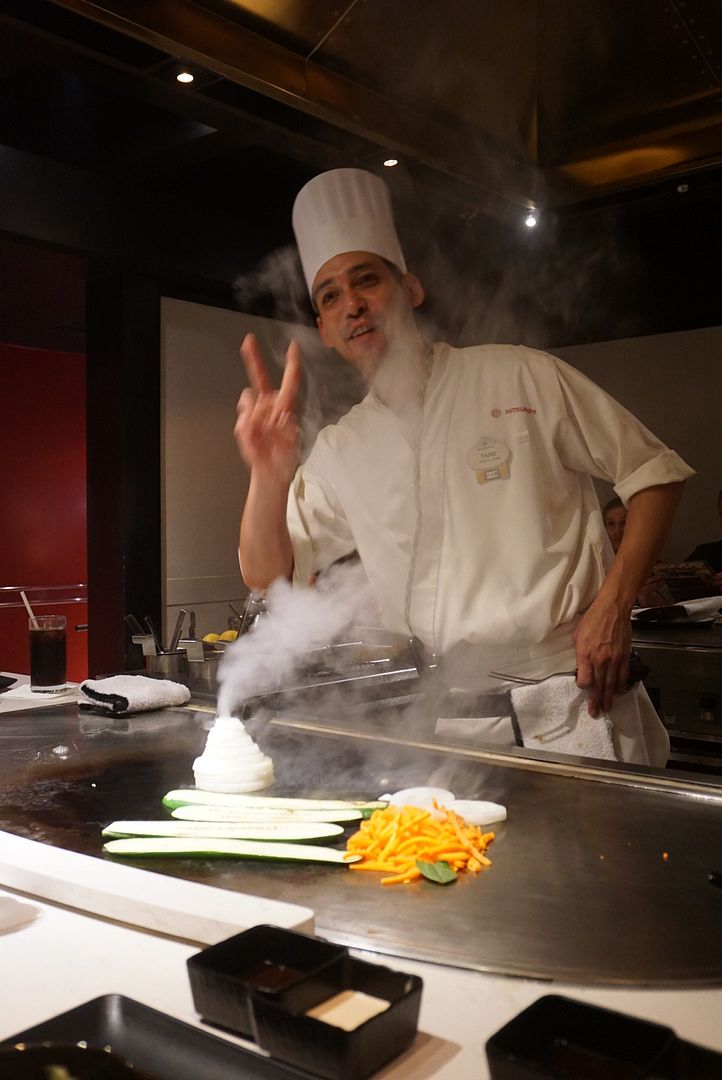 Then carrots and slices of zucchini were added to the "onion volcano" head to form Minnie Mouse (a trick I hadn't seen before)…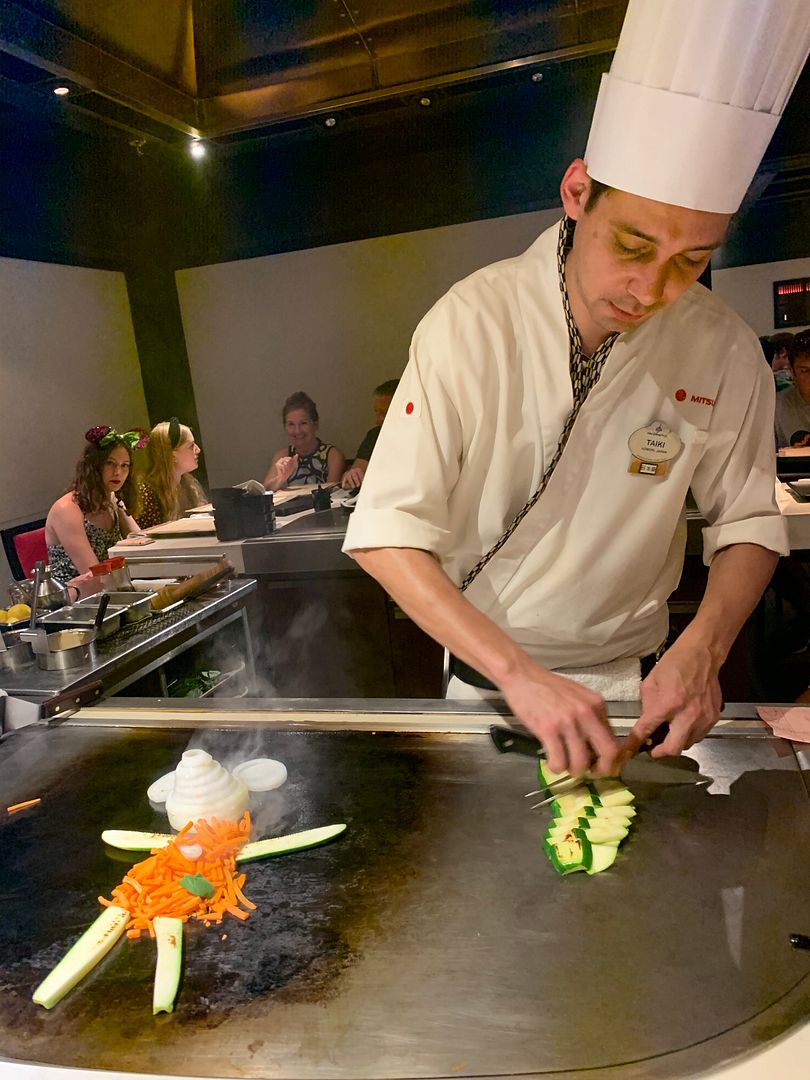 Then on to the cooking of the Udon noodles and veggies…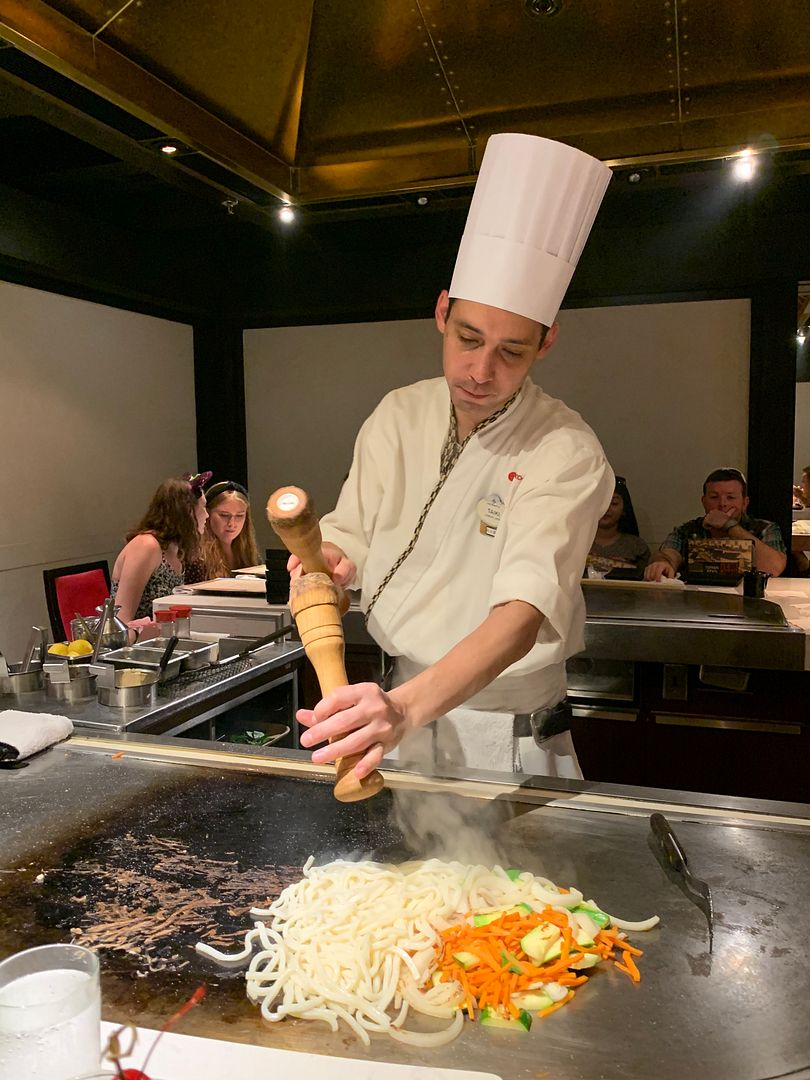 During the seasoning of the noodles and veggie pile, our chef also did some juggling of the salt & pepper shakers…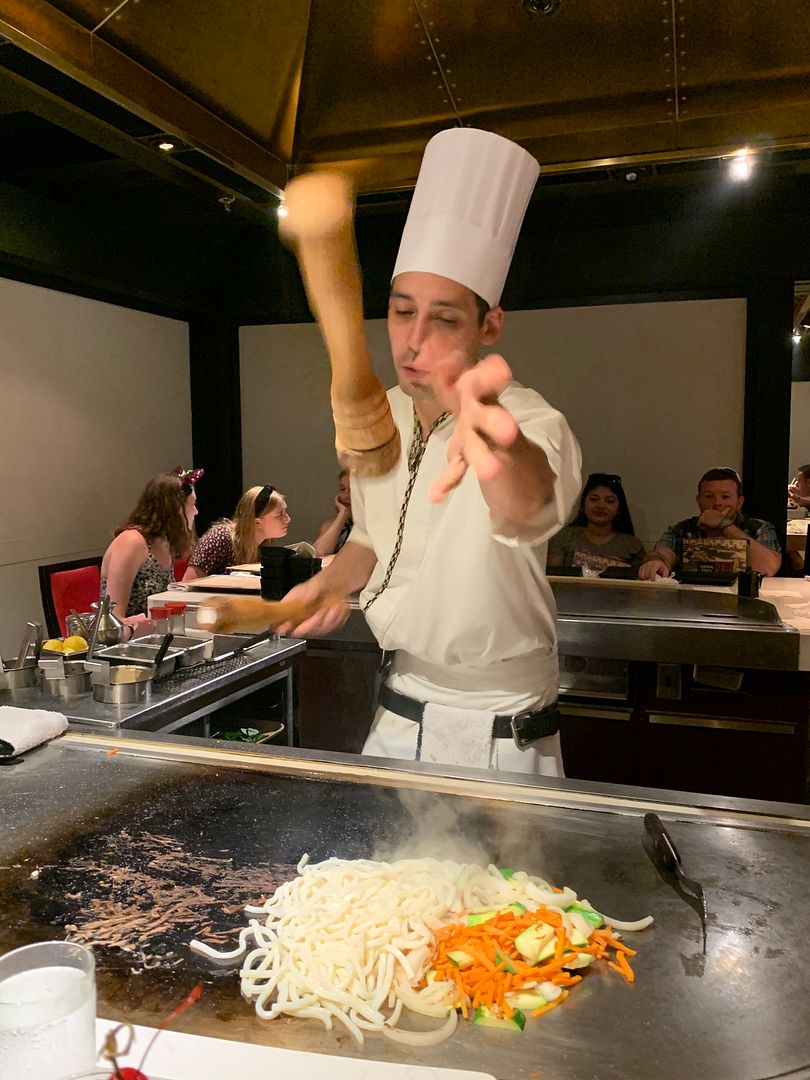 There were still no mushrooms (which were eliminated from their veggie mix a few years ago), unless you pay a $14 upcharge (not covered by the Dining Plan) for them.  Another Boo!!
I was though happy to see that they replaced the "abundance" of cabbage that they added to the veggies the last time I dined here with spinach…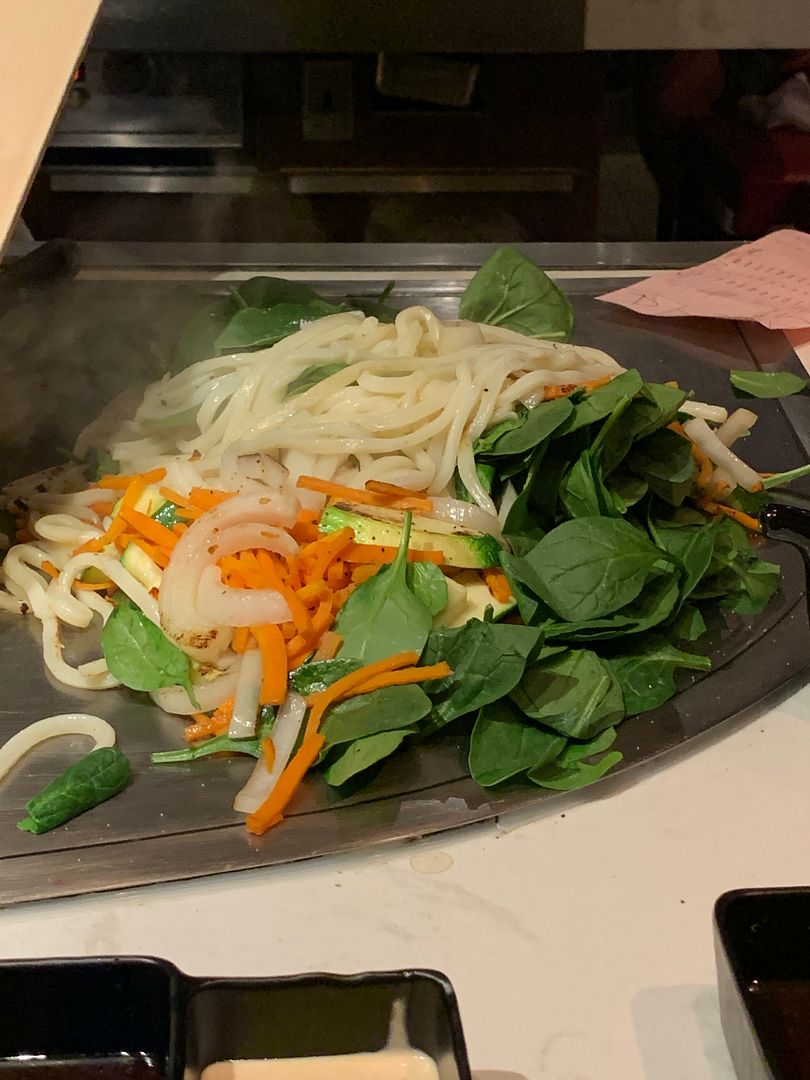 Chicken breasts and shrimp were then added to the grill…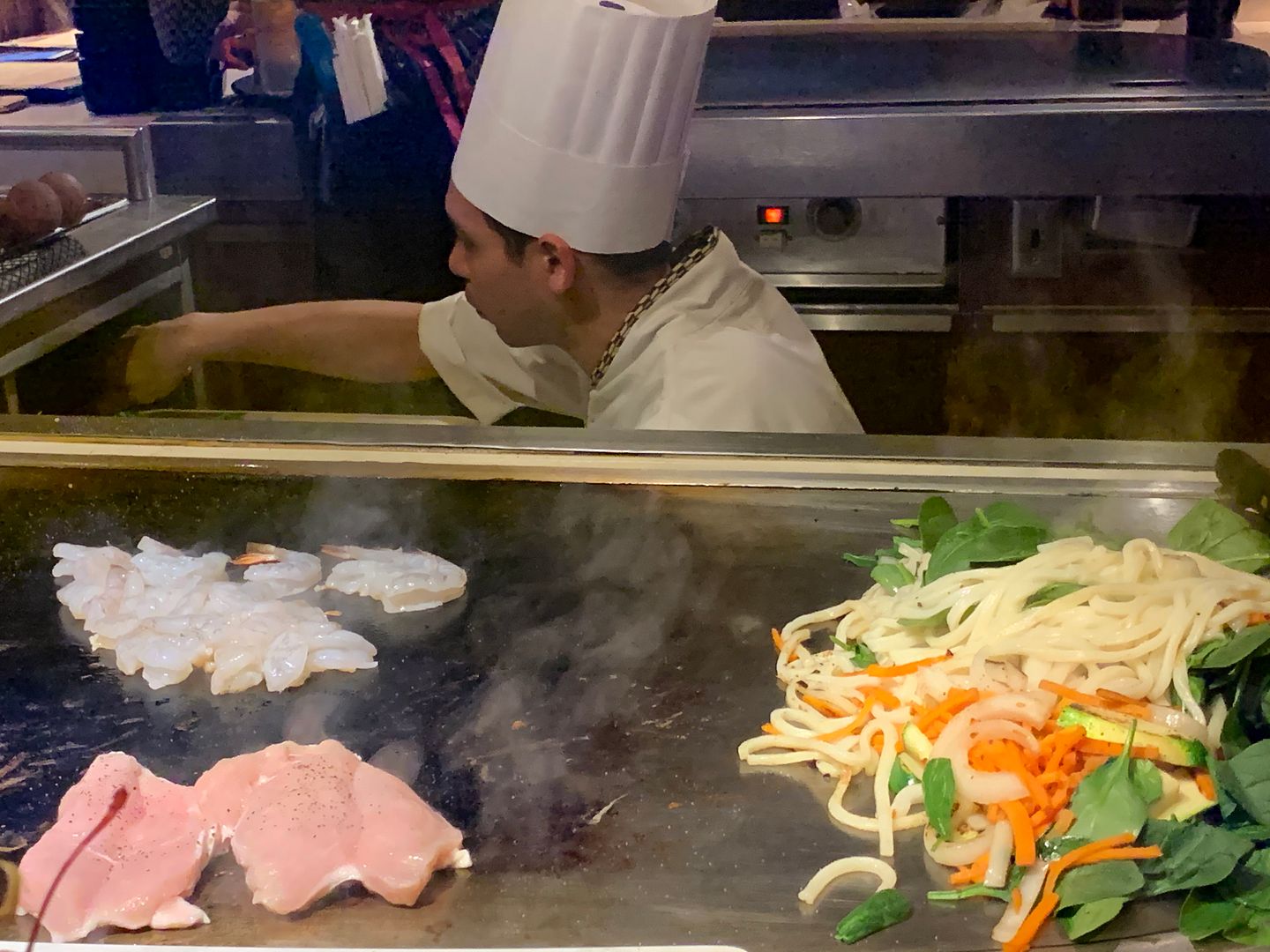 The steak was the last to go onto the grill, but I didn't seem to get a photo.
Once the noodles and veggies were done the chef divvied them up and onto our 8 plates…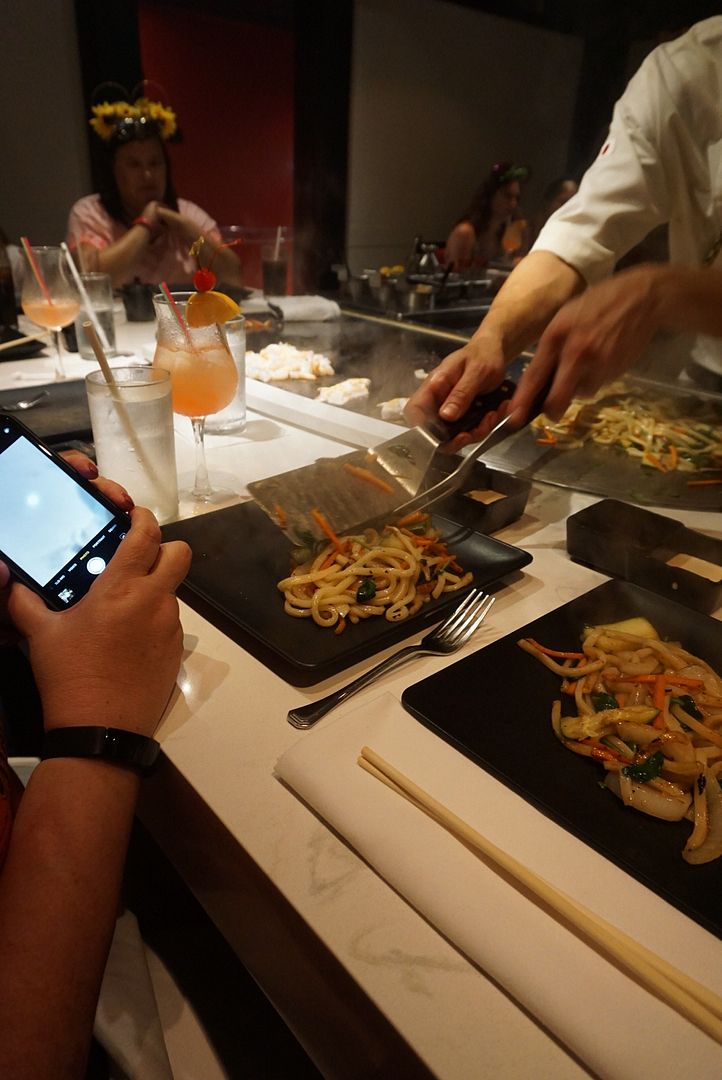 My share…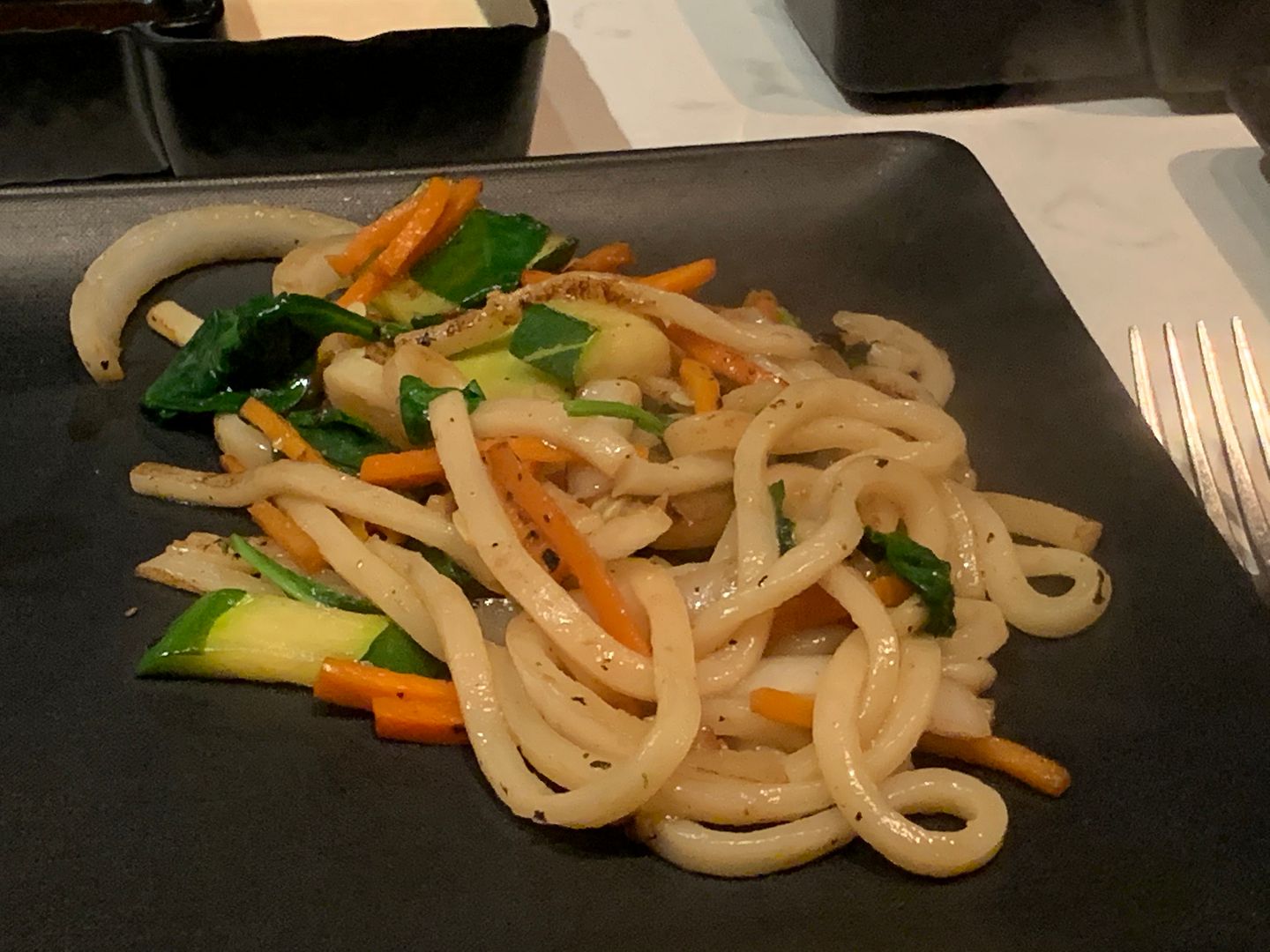 For my entree I had ordered the Asakusa (Steak & Shrimp Combination) and the shrimp was the next thing served from the grill…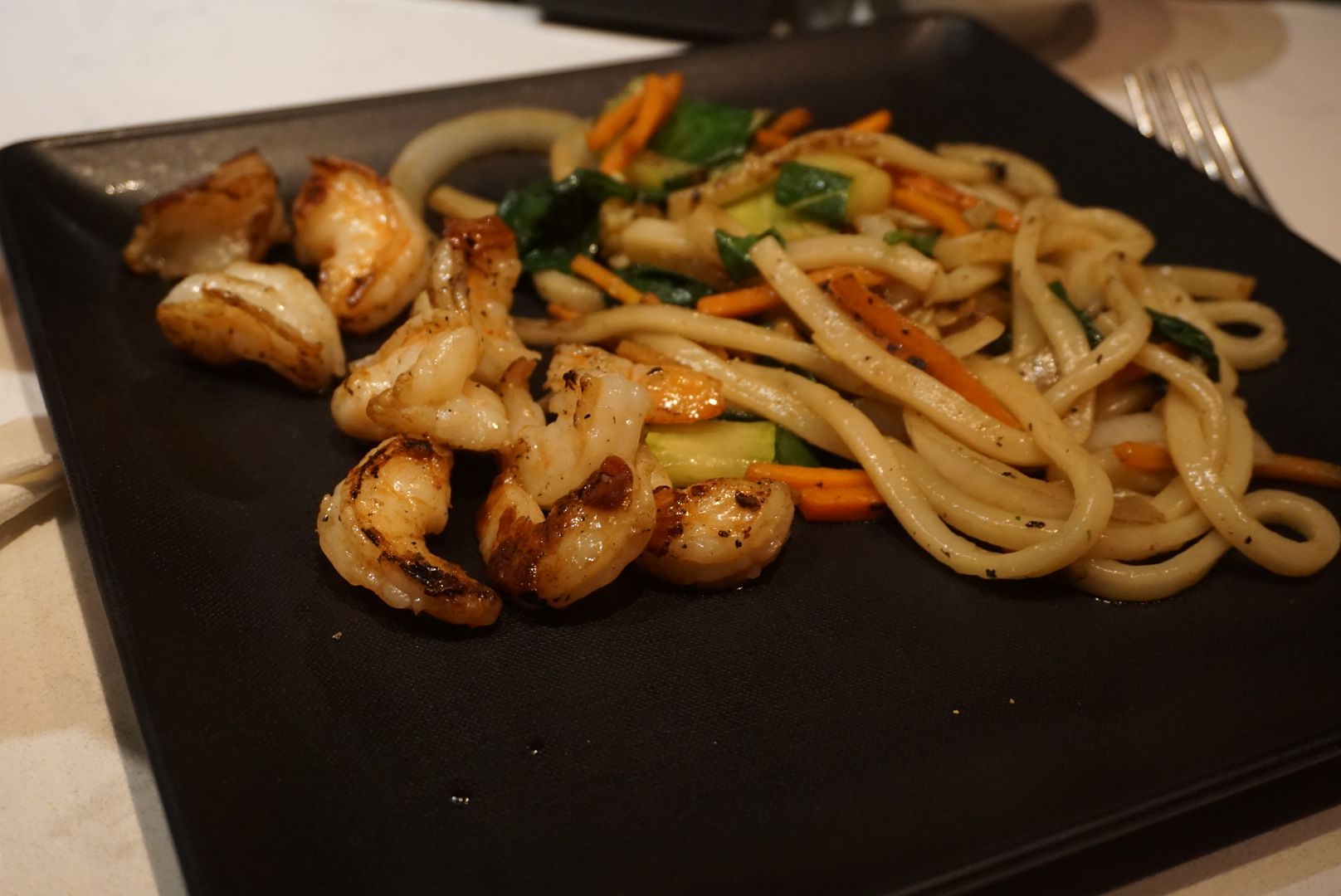 Andrew ordered the Nihonbashi (Steak & Chicken Combination) and his chicken was served next…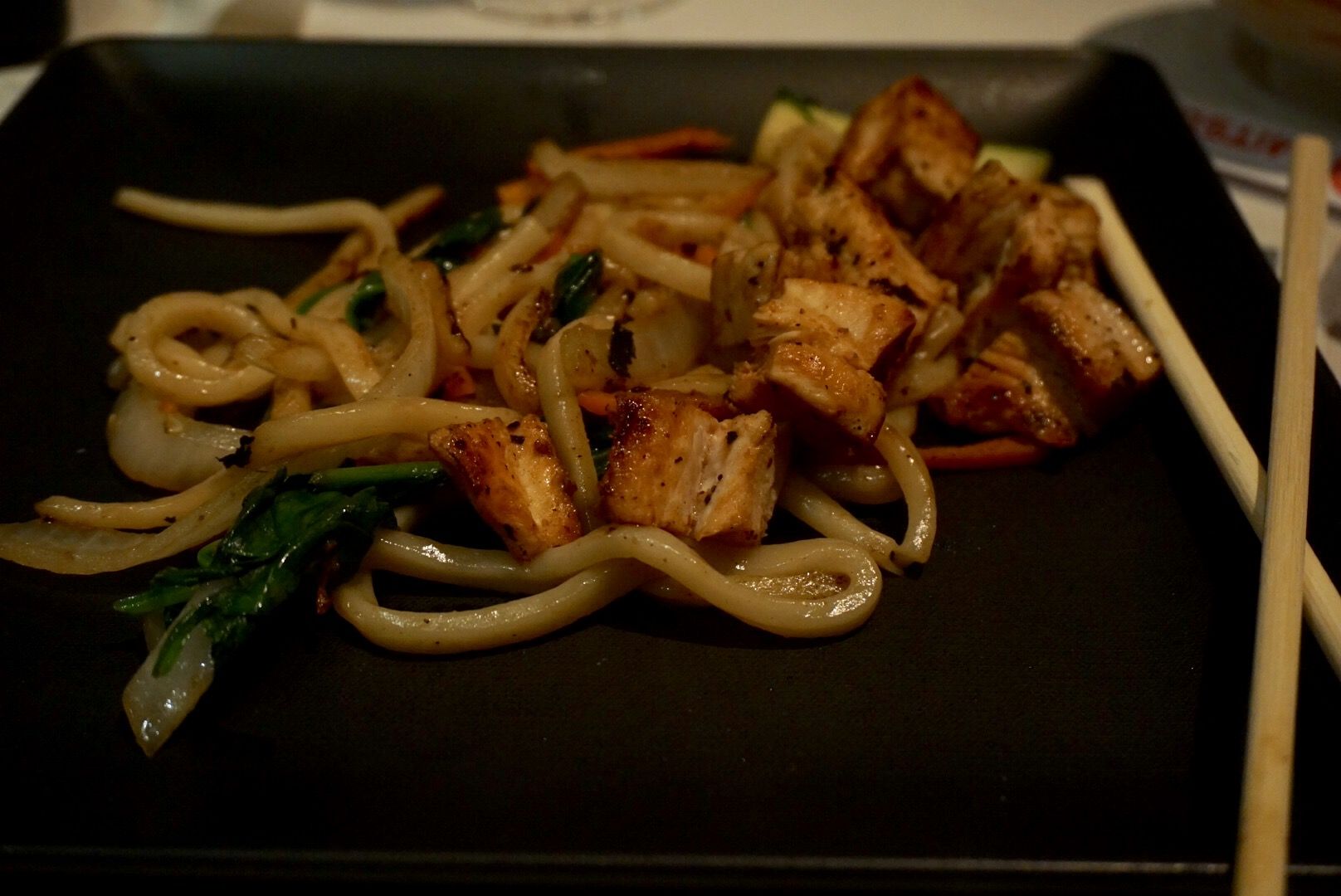 And then last was the steak, which was piled on top of my shrimp…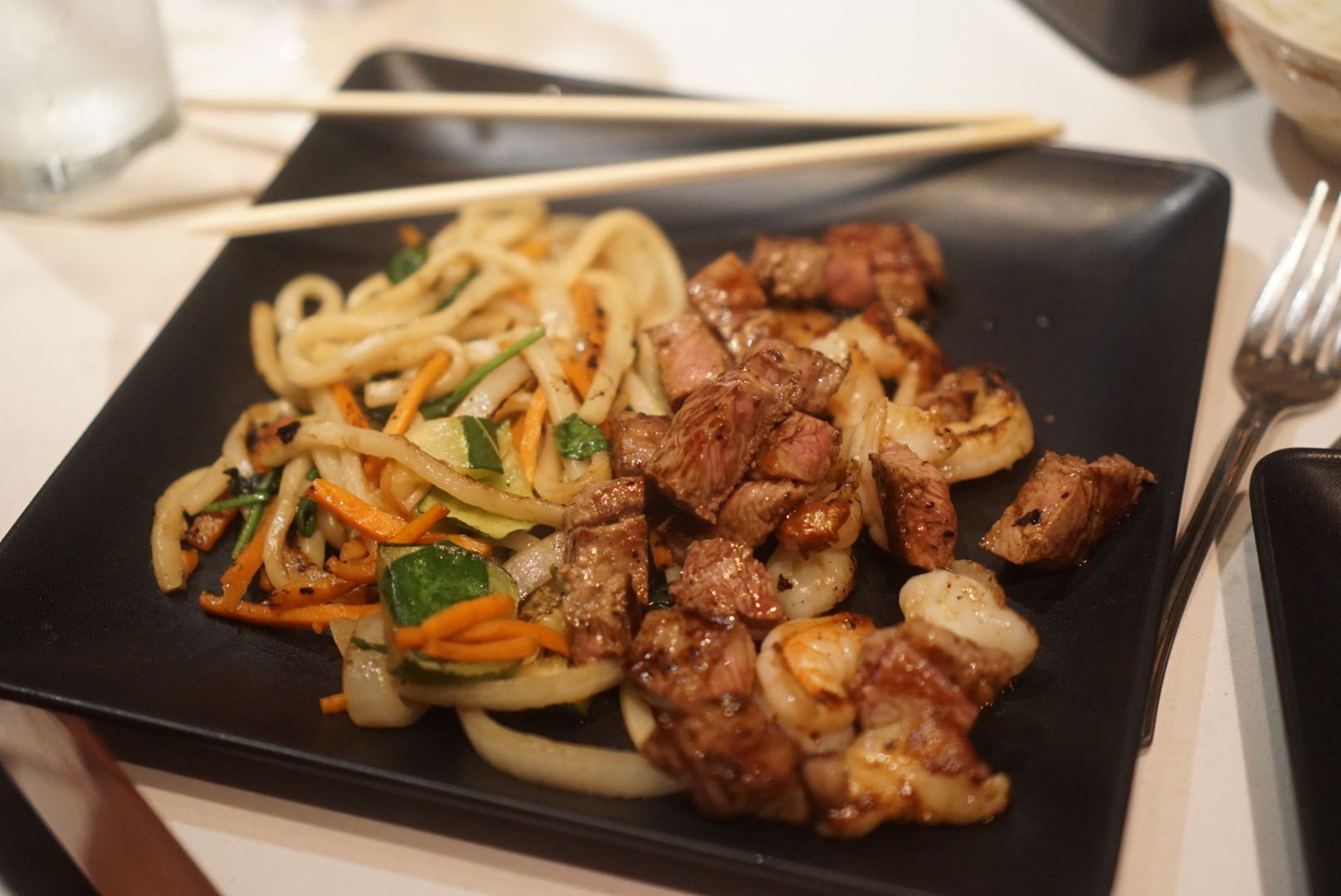 The Asakusa Steak & Shrimp Combination served with Grilled Udon Noodles & Vegetables – $37.00
But Andrew's steak was placed on top of his noodles & veggies…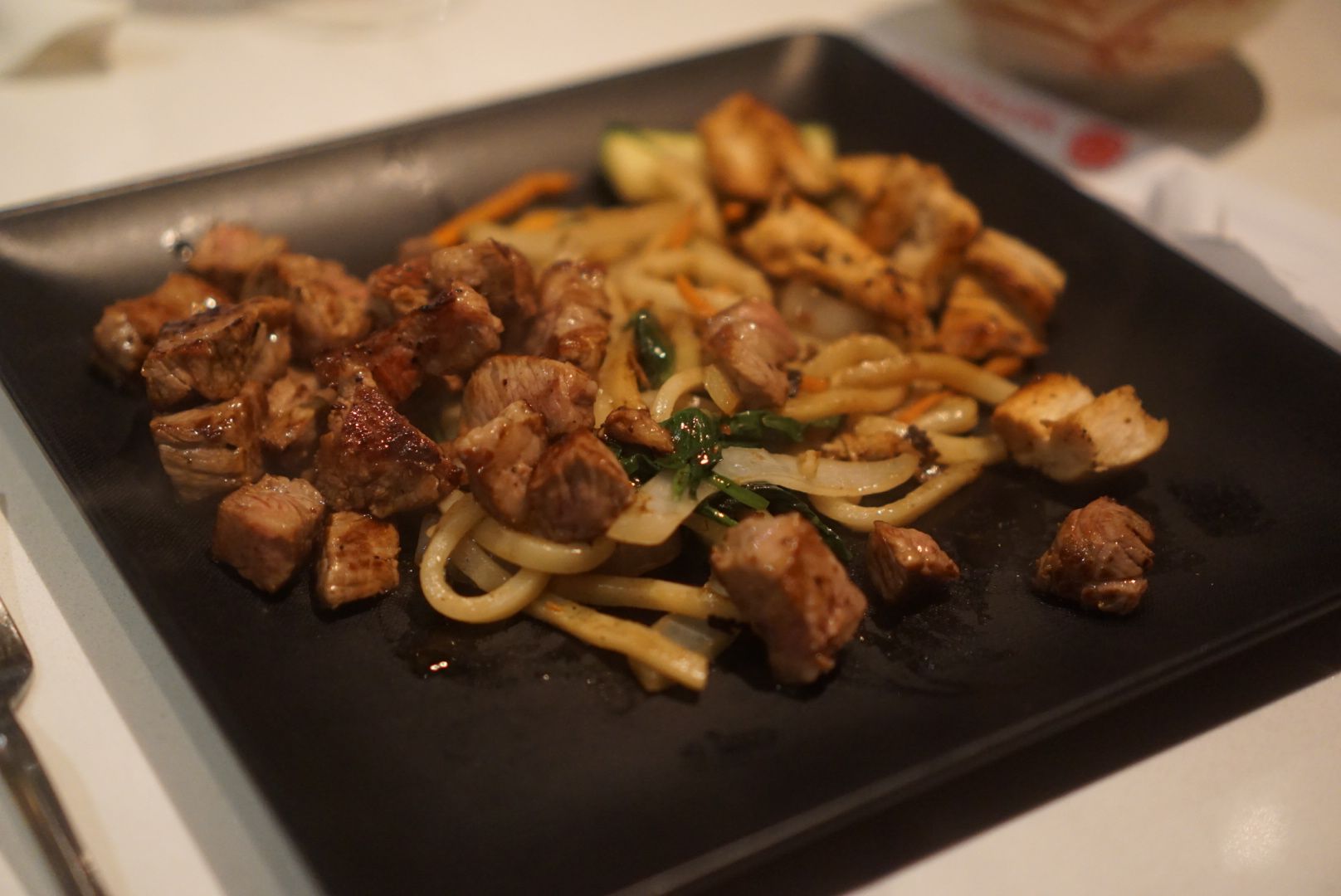 The Nihonbashi Steak & Chicken Combination served with Grilled Udon Noodles & Vegetables – $36.00
While I liked my shrimp and Andrew enjoyed his chicken, neither of us thought the steak was very good.  We both liked the noodles and veggies, but I again missed the mushrooms that they used to serve with them.  I didn't get a picture of it, but we each got a bowl of white rice which I didn't bother eating but Andrew ate most of his.
Once we were all finished eating they cleared everyone's plate except for mine and Andrew's, which was a bit awkward.  Then we sat there while everyone else received and paid their bills.  Finally at 8:55 they gave us a Dessert menu…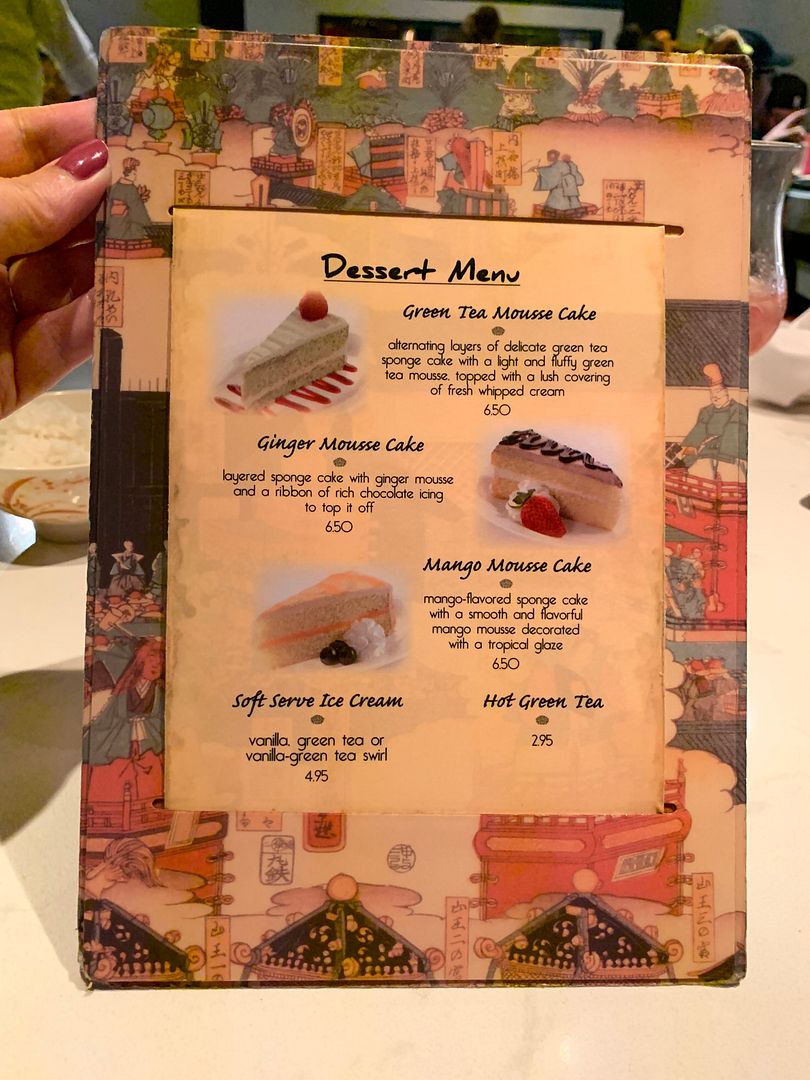 Since we were on Dining Plan, dessert was included with our meal so we felt obligated to order dessert even though I really wanted to get outside to see the Epcot Forever show which started at 9:00 that night.  I suggested to Andrew that we order two of the mousse cakes and take them "to go" but he wanted the Vanilla-Green Tea Swirl Ice Cream ($4.95)…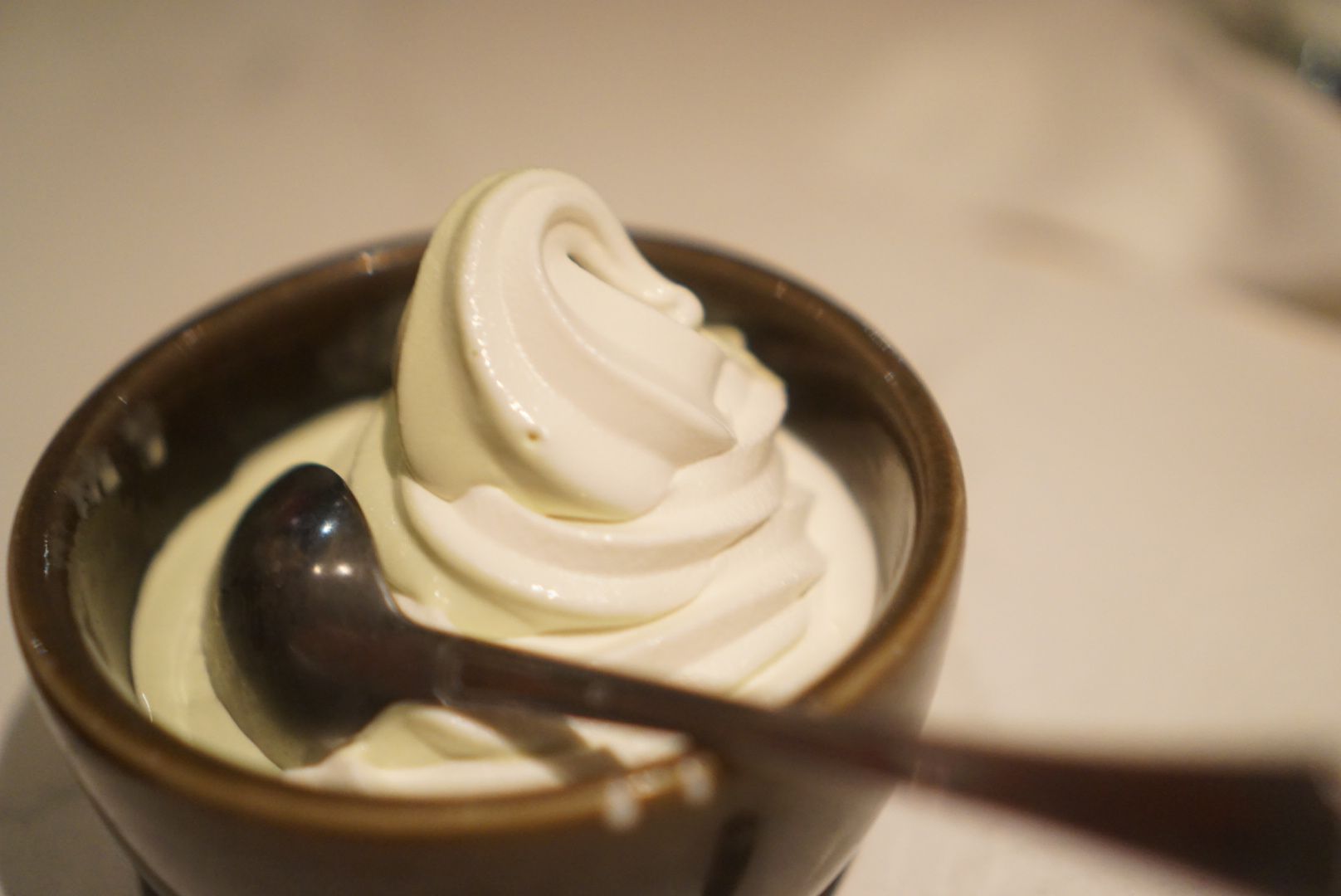 We shared this and it was good soft-serve ice cream…couldn't really taste the green tea.
I chose one of the mousse cakes and had them box it up…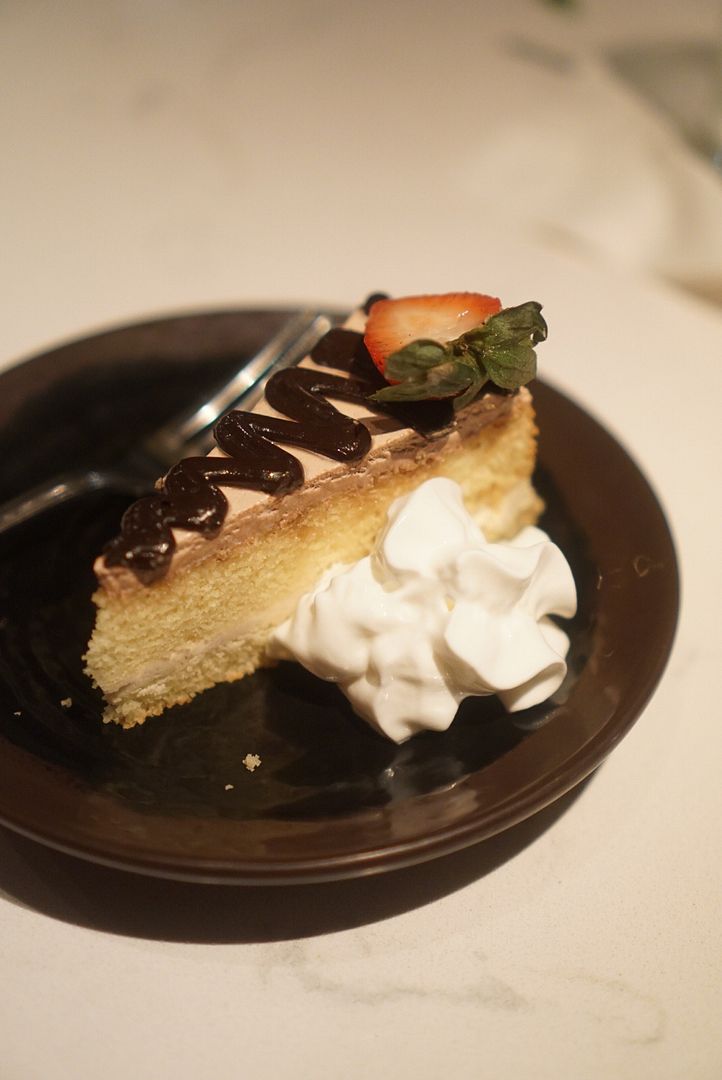 Ginger Mousse Cake – Layered Sponge Cake with Ginger Mousse, topped with a ribbon of rich Chocolate Icing – $6.50
We shared this later when we got back to our hotel room and it was tasty.
I asked that our server bring our check (which I needed to sign to have our two dining credits applied) with our desserts so we were able to leave as soon as we finished the ice cream…which was at 9:10.  Just in time to catch the last couple of minutes of Epcot Forever as we were making our way around World Showcase and towards the exit at the front of the park.
So this was my 4th time reviewing Teppan Edo since 2013 and each time I've enjoyed my meal a little less than the previous one.  The service this time was very slow and sometimes even awkward.  I had made a reservation for 7:20 thinking we would be done before the show at 9:00 but our meal actually took almost 2 hours.  The food was good (except for the salad and steak) but not as good as it once was.  So overall I would give our meal a rating of 3 1/2, which is below its rating of 4 from Yelp reviewers and well below its 4 1/2 star rating on TripAdvisor.  On TripAdvisor, Teppan Edo ranks in the top 100 Orlando area restaurants, coming in at #95.  Narrowing it down to just the (approx.) 250 Disney World area restaurants reviewed on TripAdvisor, Teppan Edo ranks #27.
2 Table Service Dining Plan Credits Used – $115.50 (or $57.75 per credit)