(NOTE: Temporarily Unavailable due to COVID restrictions) 
Official Tour Description from Disney's website:  A 4-hour walking tour of Epcot's Future World —which Walt Disney envisioned to help shape a better tomorrow.
Take a trip back in time to see how Walt's vision of a futuristic utopia became the Epcot we know today.
Walt dreamed of building the Experimental Prototype Community of Tomorrow (EPCOT)—a living, breathing home to 20,000 permanent residents and a model for city planning.
Stroll through the pavilions of Future World while hearing the amazing story of the groundbreaking construction project that brought Epcot to life. Learn how each pavilion and the attractions within it are a testament to Walt's accomplishments and challenges. And see how his legacy lives on in the design, technology and spirit of the park.
Also, go backstage for an exclusive look at areas usually off limits:
Walk beneath the outdoor portion of Test Track as SIM cars fly by directly above you.
Head to the Cast Services building and catch a glimpse inside the wardrobe department.
Price $69 per person (tax not included)
Annual Passholders, Disney Chase Visa Cardmembers and Disney Vacation Club Members qualify for a 15% discount.
Call (407) WDW – TOUR for reservations (when tour is again available).  Reservations can not be made online.
THE REVIEW OF OUR MONDAY, NOVEMBER 4, 2019 TOUR
Let me start by saying that this tour was not our first choice.  Andrew had actually requested that we do the Keys to the Kingdom Tour at Magic Kingdom, which I had done with my husband several years ago but was quite willing to do it a second time.  However, I waited until a couple of weeks before our trip to call and book it and to my surprise there was no availability in any of the 4 daily tour groups (8:00 a.m., 8:30, 9:00, 9:30) during the 6 days of our trip when Andrew would be there.  I had no idea that the KTTK Tour was that popular!  The tour reservations agent who I spoke with on the phone suggested that I book this EPCOT tour instead.  Though I had never heard of it before, I decided to go for it.  So instead of paying $99 + tax (less my 15% AP discount) per person for the 7 hour KTTK tour (which includes a quick service lunch) at Magic Kingdom, I paid $69 + tax (less my 15% discount) per person for a 4 hour tour of EPCOT (no lunch included).  [Note that this tour had to be paid for at time of booking and had to be cancelled 48 hours in advance in order to receive a refund of my payment.] Thankfully Andrew took the bad news of no KTTK tour pretty well.  He likes EPCOT a lot, so was looking forward to learning more about it.  
And so, as I had been instructed when I made the tour reservation, on the day of our tour we entered the park early at about 8:00 a.m. (official park opening time was 9:00 that day).  We came in from the International Gateway entrance since we were staying at the Beach Club resort.  At the entrance gate they verified our tour reservation by checking our Magic Bands and then we were allowed to enter a nearly empty EPCOT.  
I insisted that we stop to take this photo along the way as proof…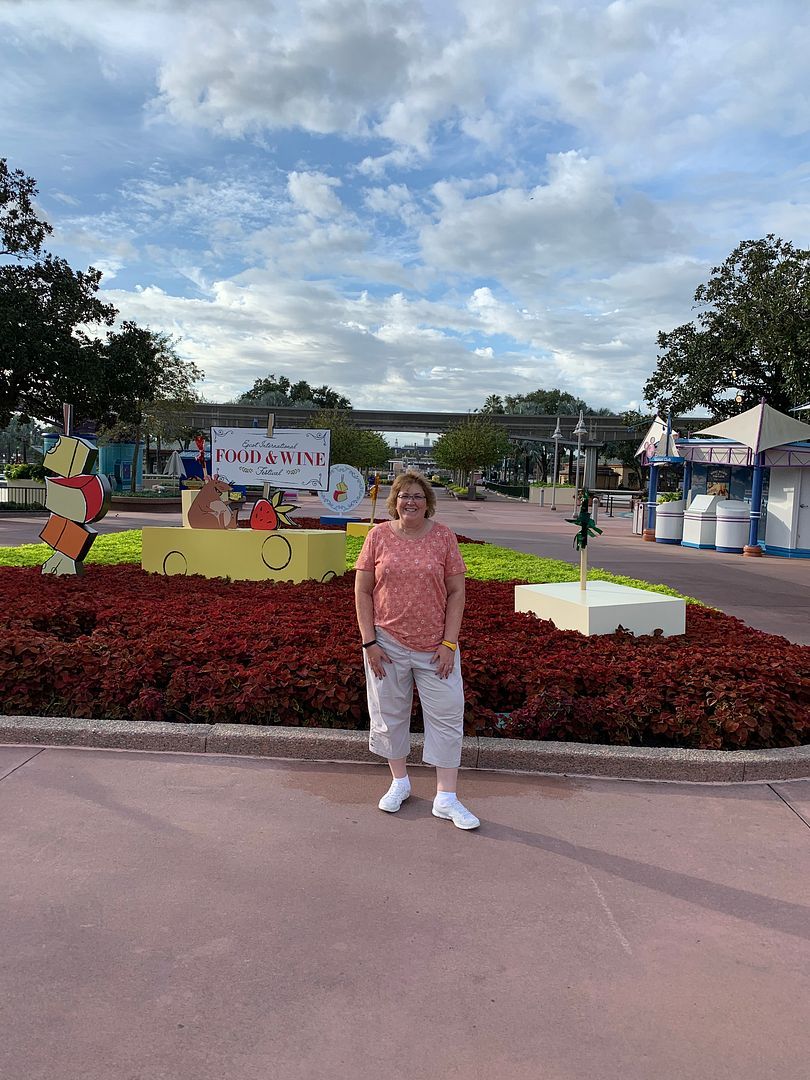 Then it was on to the Pin Central kiosk (near Spaceship Earth), where I had been instructed to check in by 8:15 for our 8:30 tour.  There was a small line of people checking in and I noticed that many were carrying backpacks/bags.  When I made the reservation they had told me that no backpacks/bags were allowed on the tour so we did not have one (and consequently I did not have my camera).  But nothing was said to the people about the backpacks/bags so I guess that was an unenforced rule.  Also we were told at the beginning of the tour that we were allowed to take photos (and one person videoed, which was also allowed) during our tour except when we were in the backstage areas.  
At check in we were given these nice pre-printed hard plastic name tags…
We were also each offered a bottle of water and given a headset.  These worked quite well during the tour, as we were able to hear our tour guide even when we were in noisy areas.  
Once our tour group was checked in our tour guide, Robert, introduced himself and at about 8:30 he led our group to inside the Guest Relations building where our tour began with an oral history of Walt & Lillian Disney and Walt's brother, Roy Disney, and the roles they played in the creation of the Disney Company, Disneyland, Disney World, and more specifically, the EPCOT theme park.  
During this part of the tour, our guide passed around several laminated photos for us to look at.  Here are a few of those, starting with Oswald the Lucky Rabbit, a cartoon character created in 1927 by Walt Disney for Universal Pictures.  About a year later came Mickey Mouse…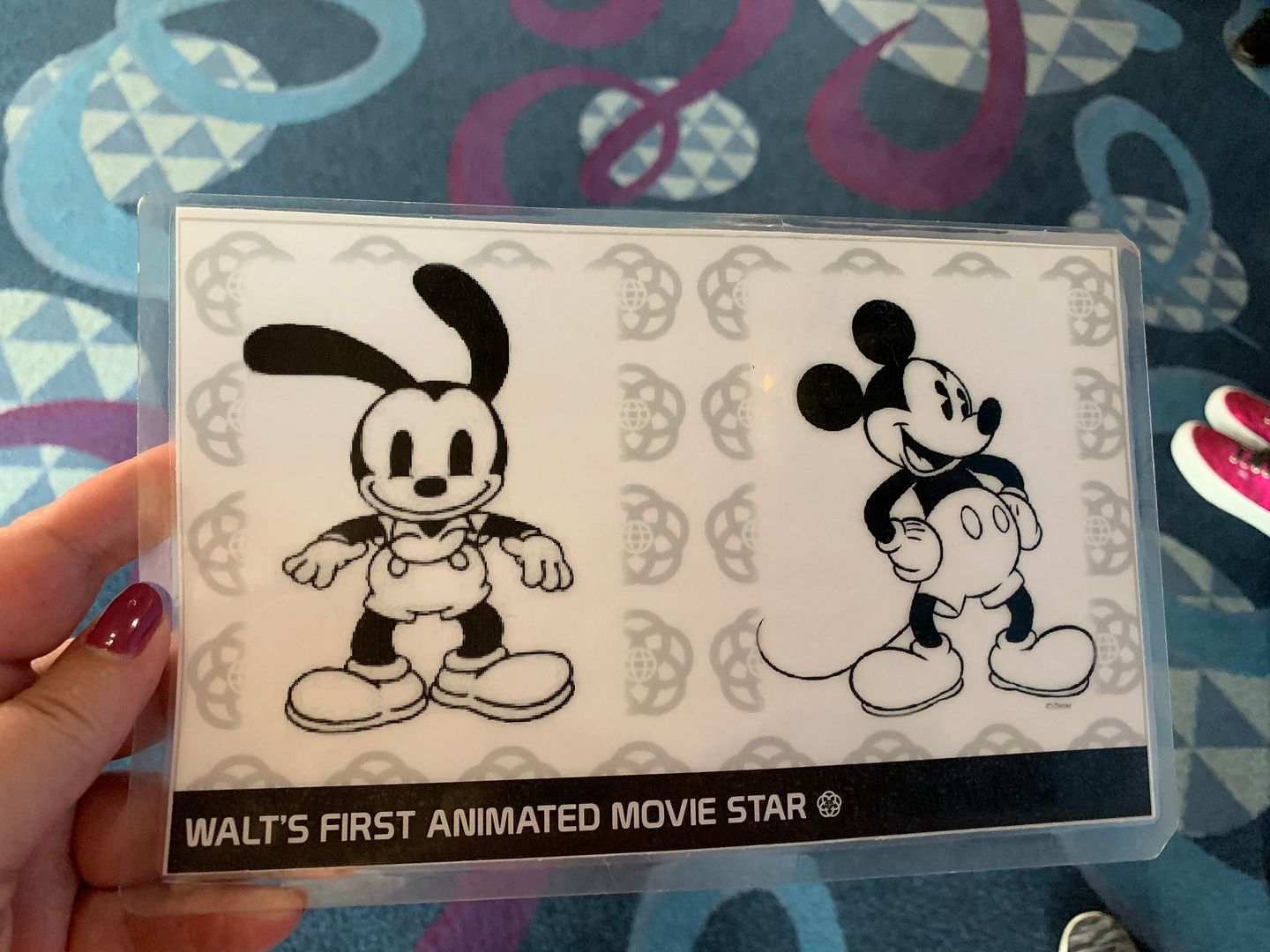 And then some photos from the 1964 New York World's Fair…look familiar?…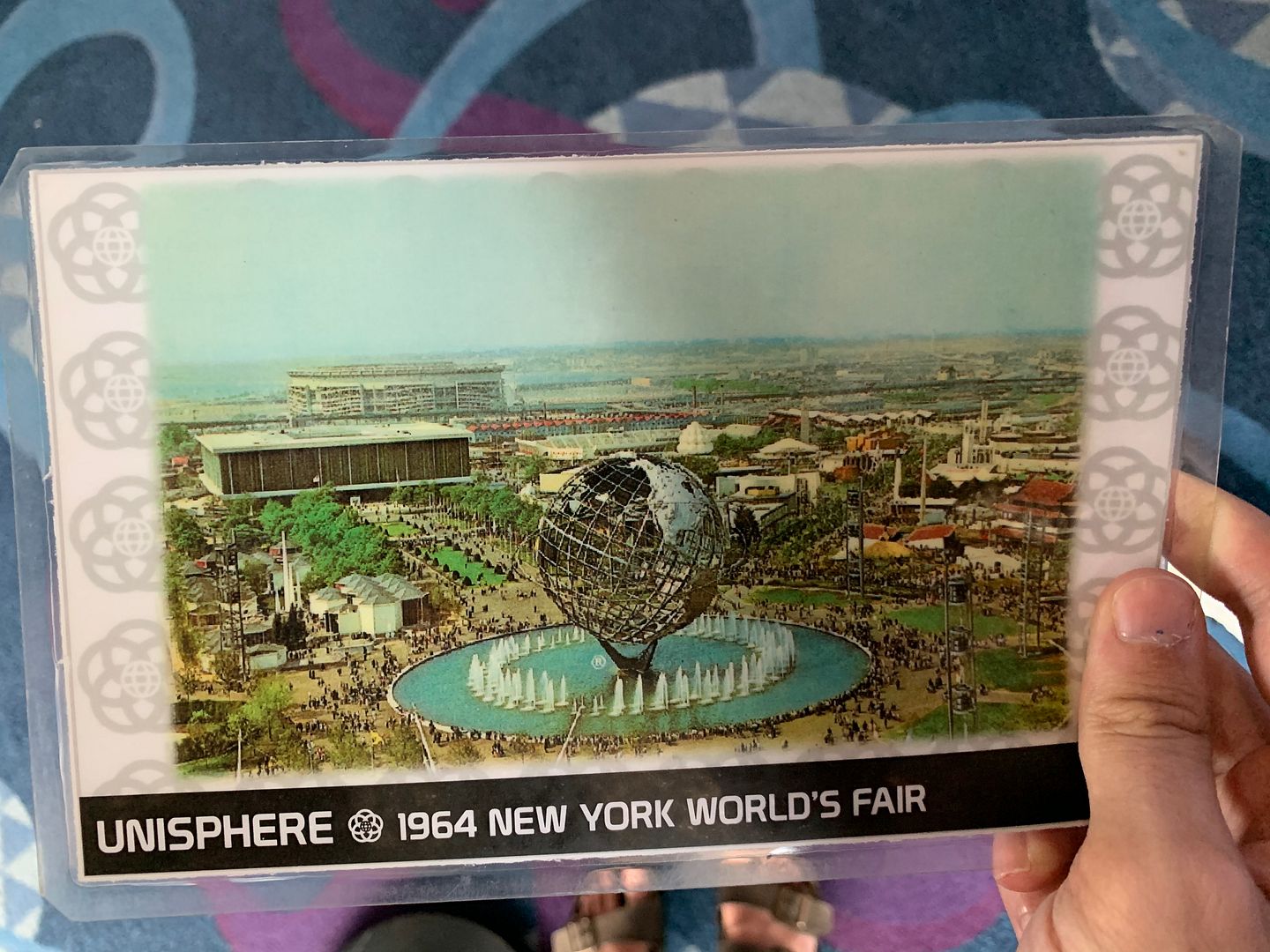 We learned a great deal of information that we didn't previously know about the Disneys during this part of the tour. Then once the masses were allowed into the park's front entrance just before 9:00, our guide led us outside and over to Spaceship Earth, where he talked about the building of it in 1982…
And the 2019 version of Spaceship Earth…
We were then taken up to the private lounge that is connected to Spaceship Earth. I must admit that I'd never paid attention to these windows, which overlooked the area formerly known as Innoventions Plaza…
These windows are in the Observatory part of the lounge. To get to the Observatory we took an elevator up and then followed a pathway of LED floor lights, which changed colors. In my photo they looked kind of like the "Yellow Brick Road" from the Wizard of Oz…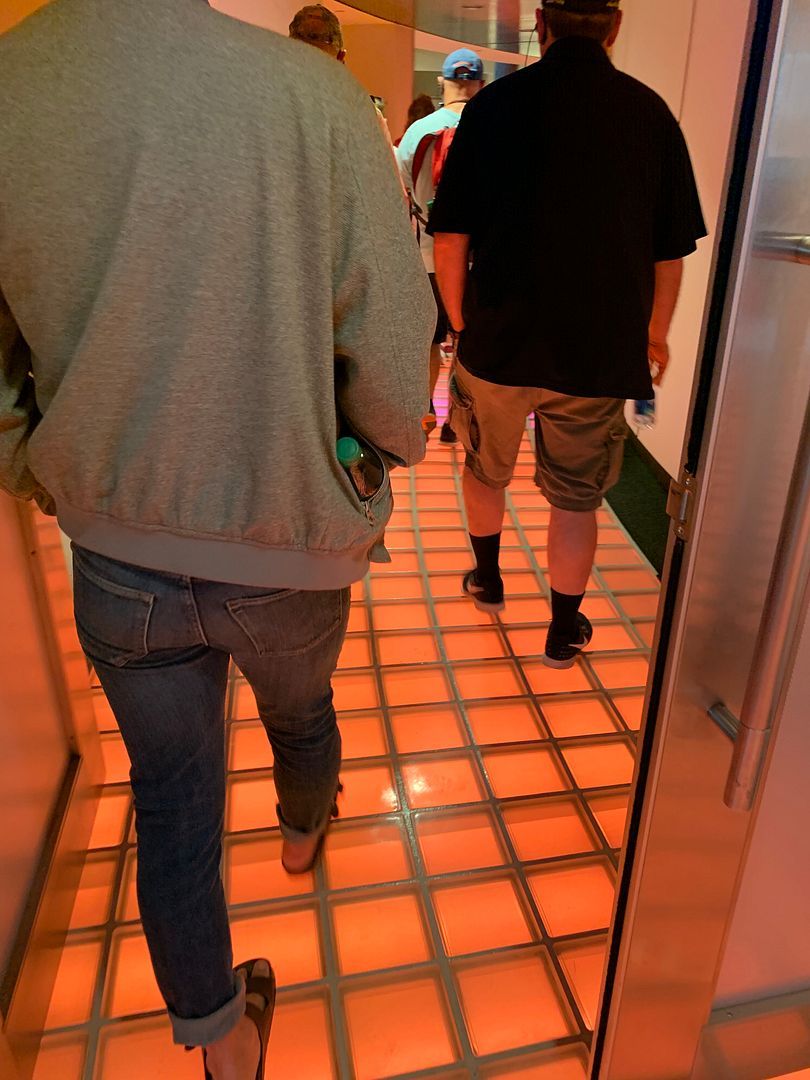 And he is the view looking out from the windows of the Observatory…
In the center is the Pin Central kiosk where we had checked in for the tour that morning. In front of the kiosk the Jammitors were performing…
And looking above the Pin Central kiosk you could see the American pavilion at the very back of World Showcase.
After enjoying this wonderful view of the park we were taken to the "Front of the Line" to board the Spaceship Earth ride vehicles. Note: We actually boarded in the area where guests get off of the ride and exit. So if you ever see this happening here, those boarding the ride are either VIPs or members of a tour group, like we were.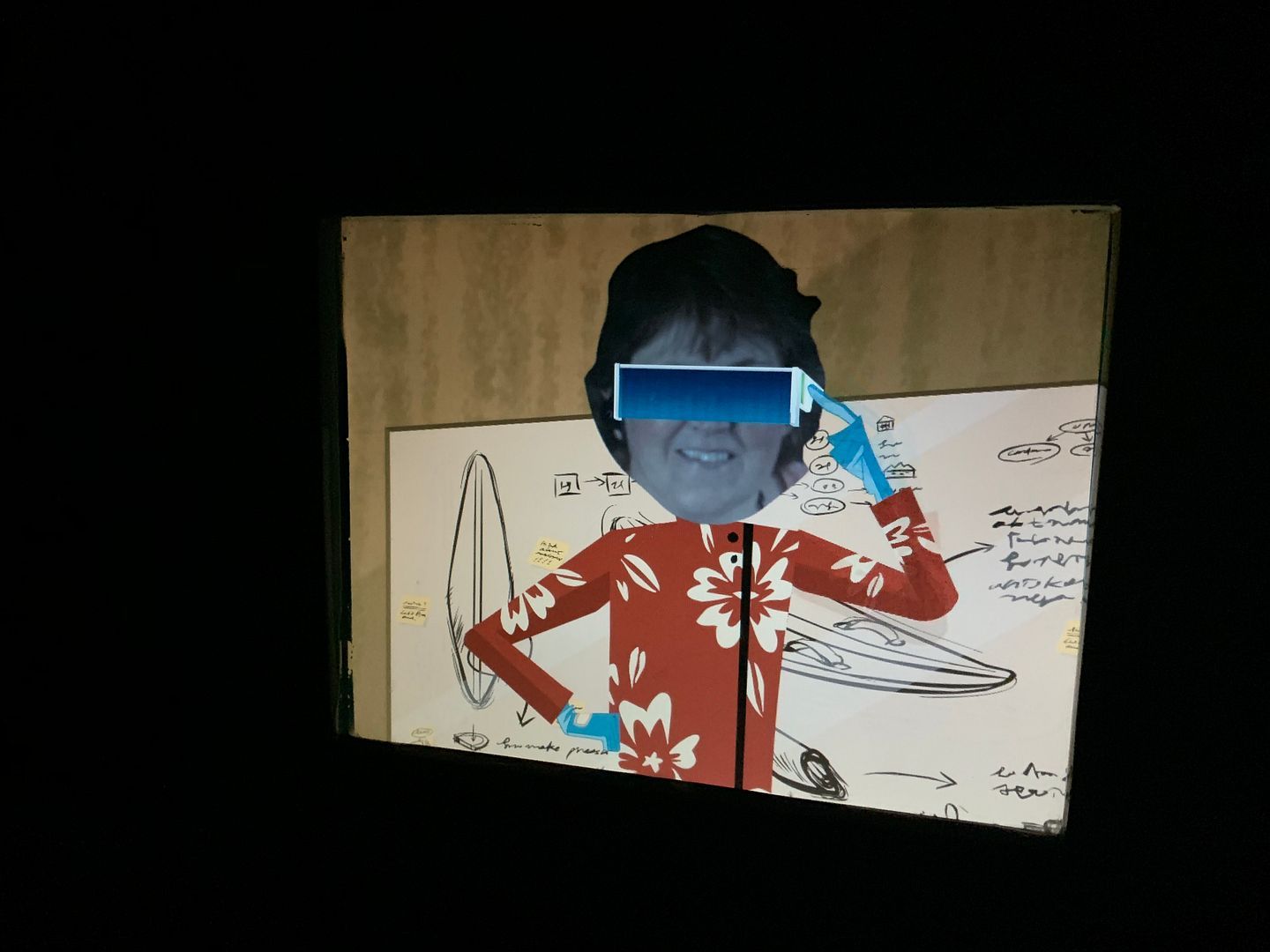 Our tour guide had given us some things to look for while on the ride, so this was an especially interesting ride this time.
After our Spaceship Earth ride our next tour stop was another VIP lounge, this time in the Living Seas pavilion.
From here we were treated to a great underwater view of The Seas main tank, which included a few scuba divers…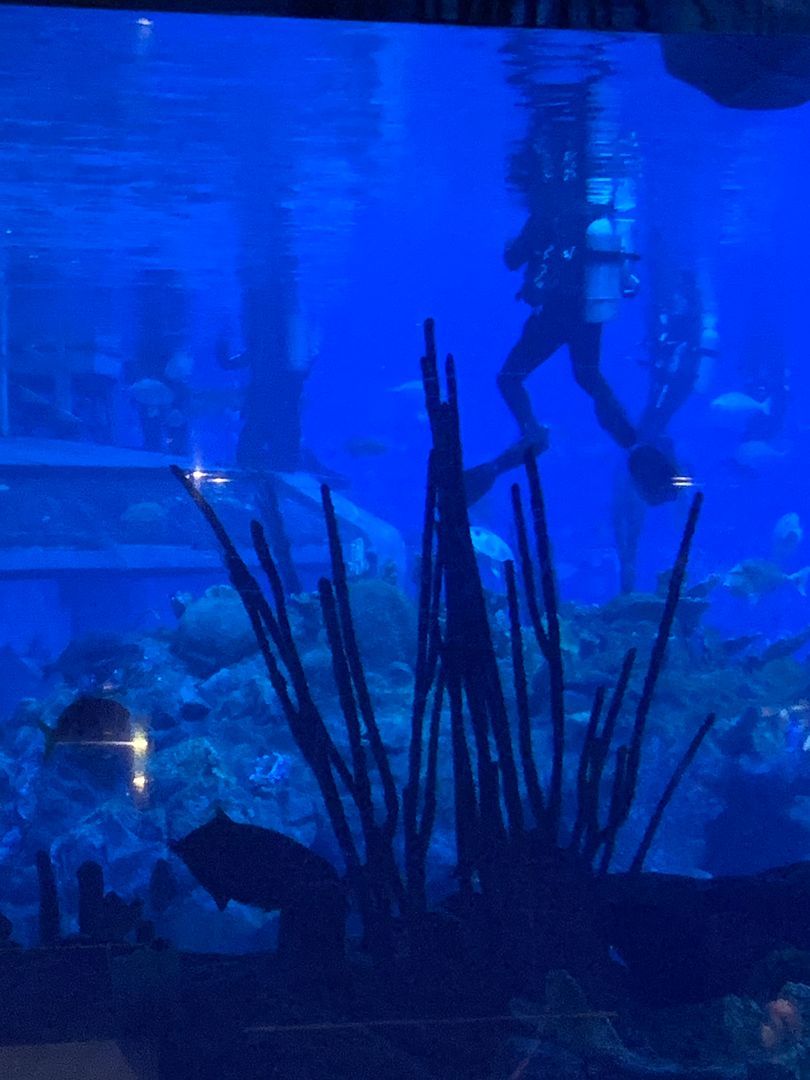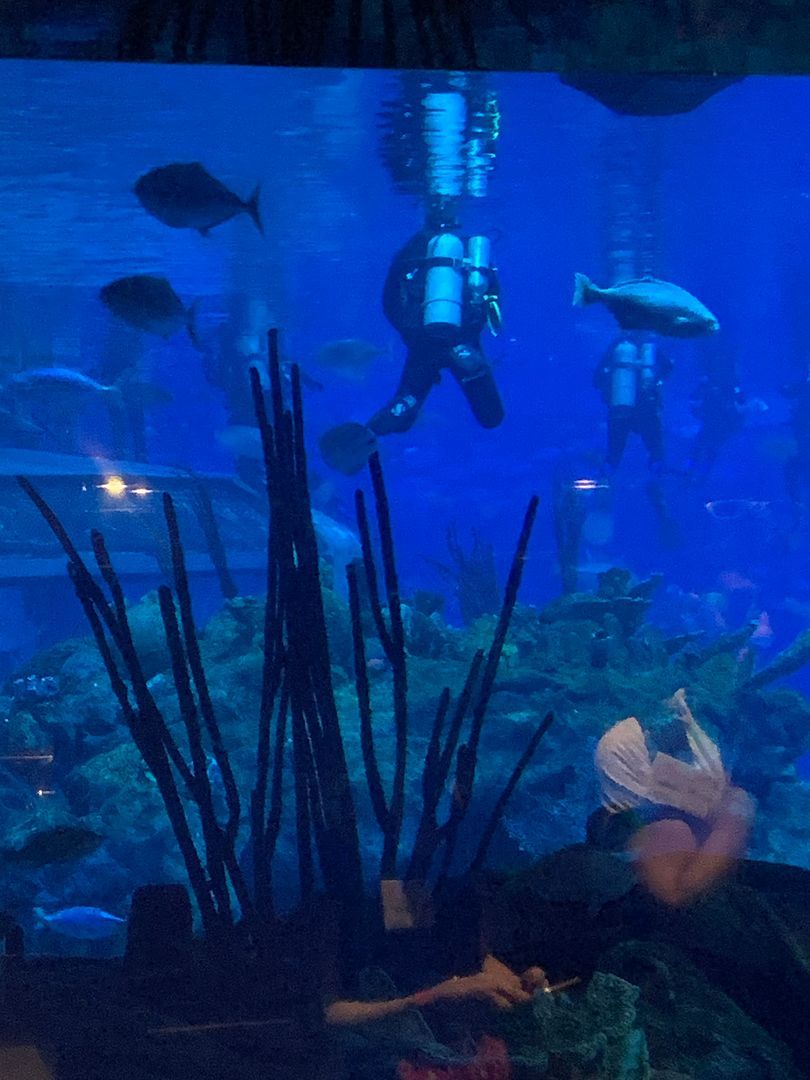 This photo shows the windows you pass by while riding the Seas with Nemo & Friends ride…
The next pavilion we visited was the Land, where we stopped at the entrance so that our guide to tell us about the mosaic tile mural there…
Once inside the pavilion, we stopped on the balcony, where our guide pointed out how the hot air balloons suspended from the ceiling and the separated dining areas of Sunshine Seasons (quick service) restaurant down below represent Earth's four seasons. Something I had never noticed before.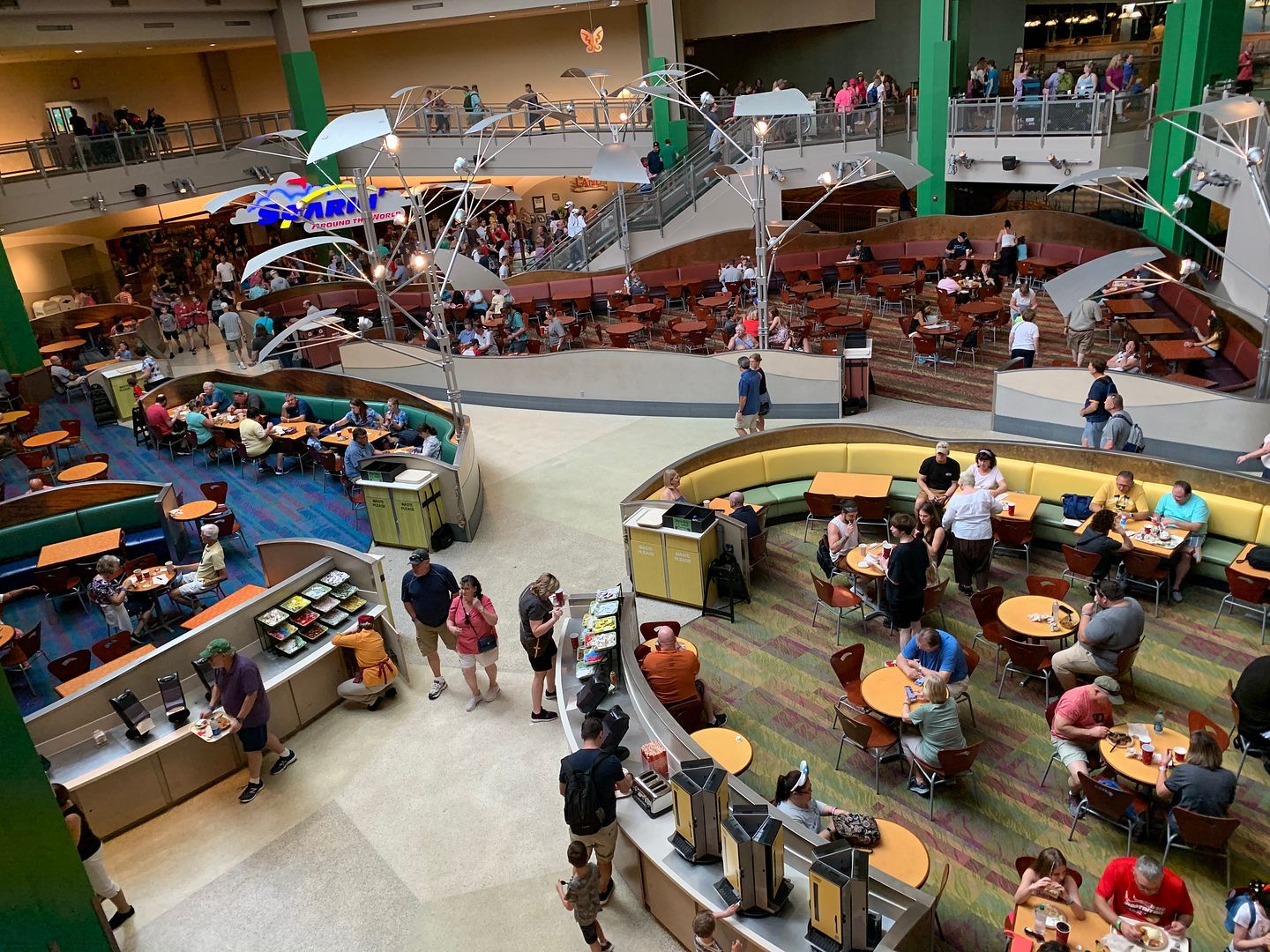 Our guide gave us the tip that the dining area which represents winter is generally the least crowded area. So I guess I'm in the majority on this, as winter is my least favorite season. Haha.
At this point it was about 11:00 and we were given a 15 minute break to get a drink, snack, go to the bathroom, etc. Andrew wanted a chocolate milk so while he purchased that I took a peek at the Sunshine Season's dessert display case. There were a few tempting treats there, like this Turtle Brownie…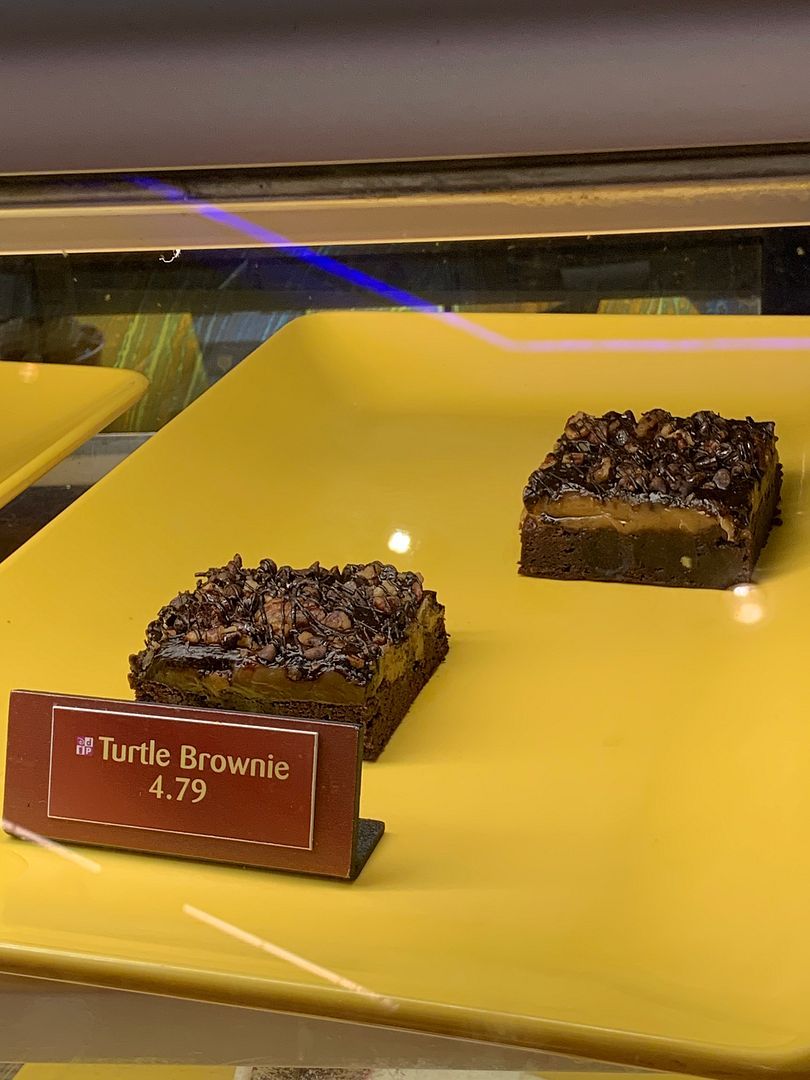 But it was covered with nuts, which I knew Andrew would have no part of. So I more strongly considered this nut-free option…
But knowing that we had a lunch reservation for Le Cellier following the tour, I refrained from getting the Strawberry Shortcake.
After our break our group was reconvened by our guide and led from the Land pavilion over to Mission Space, where he stopped outside in front of the building to share with us some fun Mission Space facts. One of the things that was pointed out to us here were the "tire tracks" commemorating Spirit and Opportunity, the twin Mars Exploration Rovers that were launched by NASA in 2003 and landed on Mars in 2004.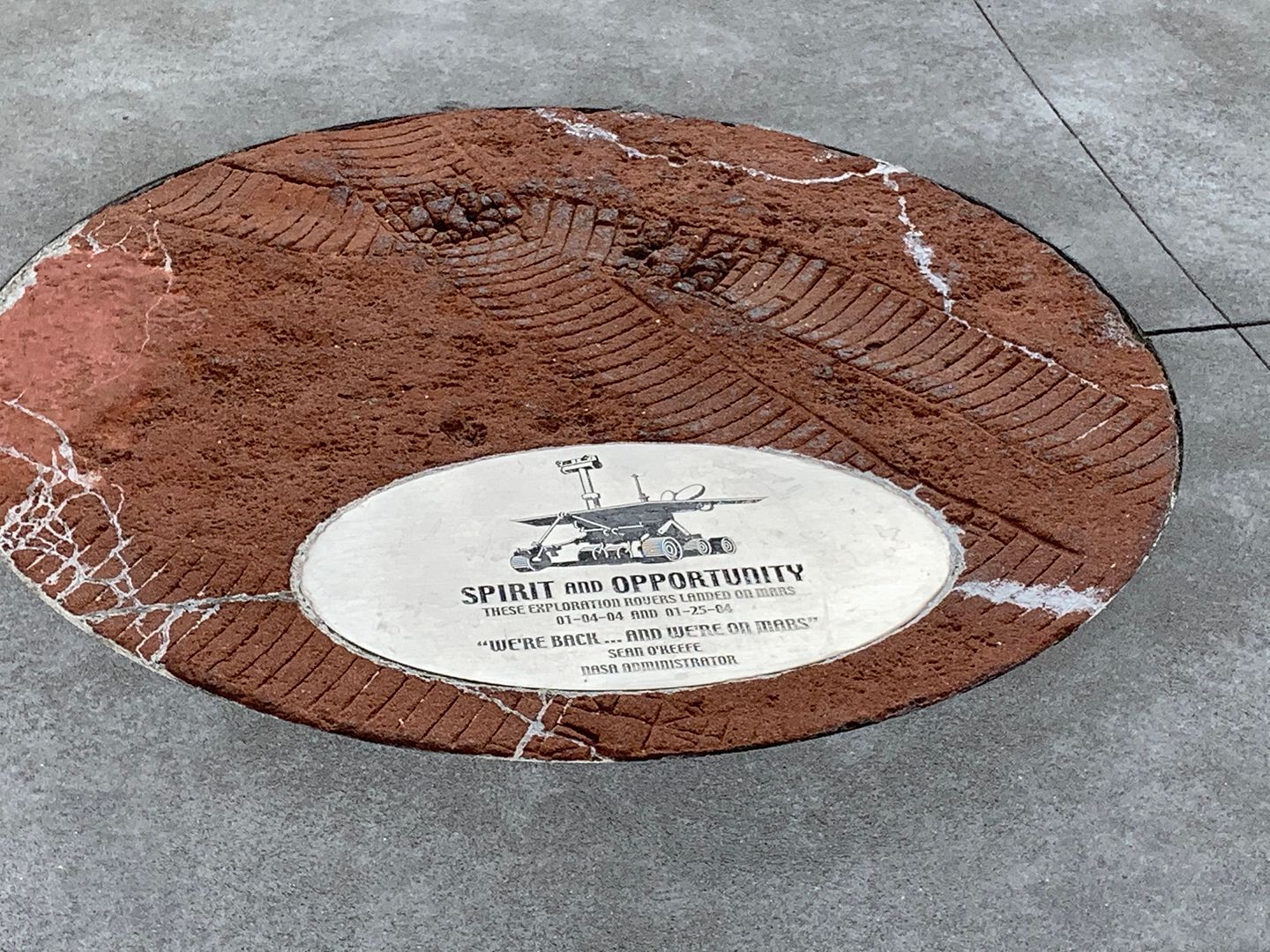 Next up was Test Track, where we were taken to the front of the line and immediately boarded the ride. (I could get used to this VIP treatment, lol)
Then came the backstage part of our tour, which meant no more photos could be taken. For this we were led (underneath the ride's outdoor track) to a backstage area between Test Track and the Mexico pavilion where we entered the Cast Services building. In this building we toured the huge costume department, which held thousands of Epcot country and ride themed costumes/uniforms, as well as those for CMs who work in Guest Relations (such as our guide). He pointed out to us that these costumes/uniforms included both warm weather and cold weather options. We then toured Creative Costuming, which is the department which makes the character costumes or maintains and fixes them too. Here we observed a seamstress hard at work repairing a character costume. Next we walked by the Wig room where we saw many of the wigs which are worn by the face characters. Also in this area we saw a few princesses getting their "hair" and makeup done. This part of the tour was very interesting for us, however it's probably why they don't allow children under 16 to participate, as it takes away from the illusion ("magic").
One more memorable part of our tour was our walk down Pride Hall. For those that don't know what Pride Hall is, Disney sectioned part of a hallway off in the CS building and allowed each department a specific area to paint a mural that best represented their department. Some of these were quite creative.
We were then led back to the area by the First Aid building where our tour concluded. We turned in our headsets to our guide and were each given this commemorative pin…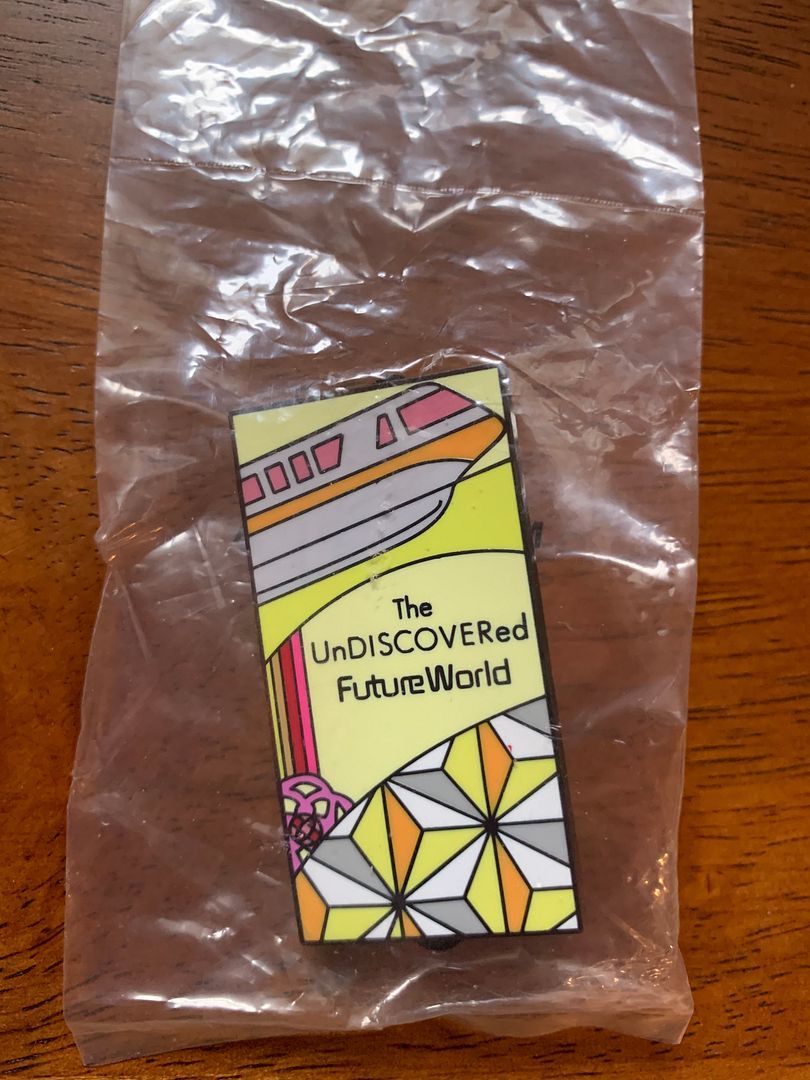 I then had a bit of a panic attack, as I realized that our tour had lasted nearly 5 hours (rather than the 4 hours that I had expected) and it was 1:15. Our lunch reservation at Le Cellier restaurant was at 1:20. So we had just 5 minutes to get to Canada!!
But first some final thoughts before making our mad dash to Canada. We both enjoyed this tour and generally I thought that it was worth the money. However, in my opinion, it was not nearly as good as Magic Kingdom's Keys to the Kingdom tour. So after this tour I was again feeling pretty guilty that I missed the opportunity to book the KTTK tour for us. Hopefully someday Disney will start doing tours again and on some future trip we will be able to do the KTTK tour together.