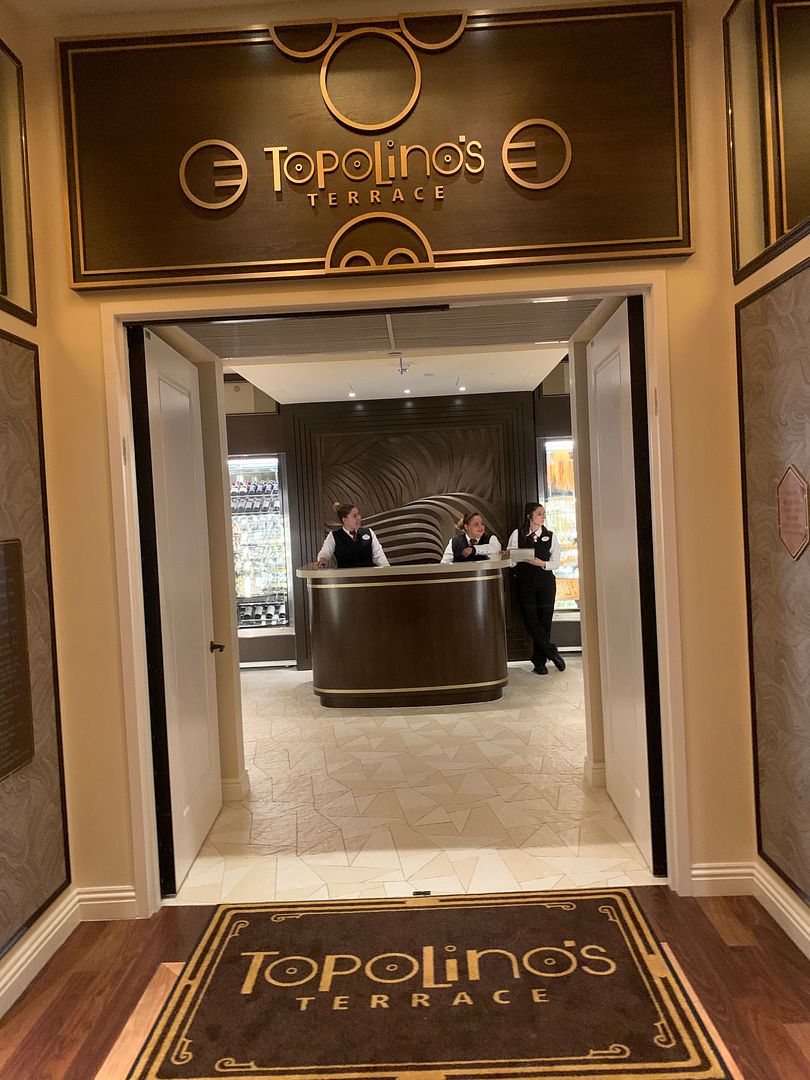 We arrived at the restaurant's check-in desk for our 8:05 dinner reservation about 5 minutes early.  We gave them my cell phone number and were told that we would receive a text when our table was ready.
I immediately started noticing the many ways that Topolino's resembles California Grill, the very popular signature restaurant located on the top (15th floor) of the Contemporary Resort.  Like California Grill, in the area around the check-in desk there were refrigerated, glass cases filled with wine bottles…
Different though, is that they also have cases here which held other items like olive oils…
And pastas…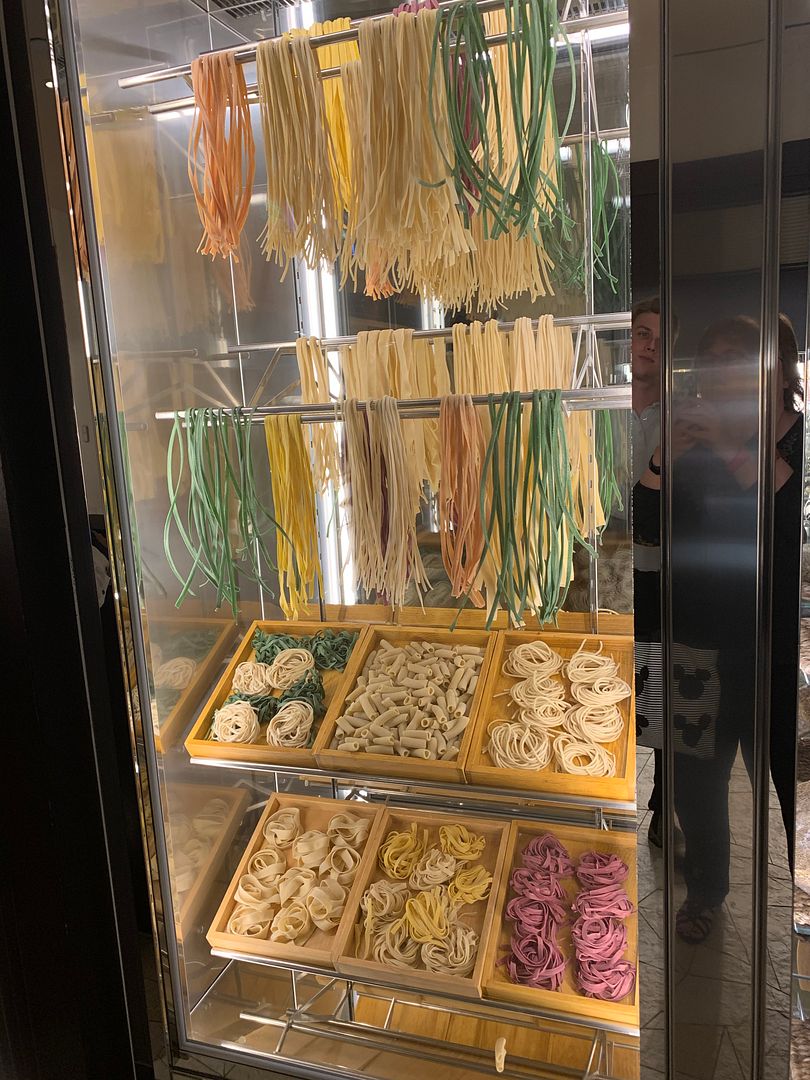 And Cheeses…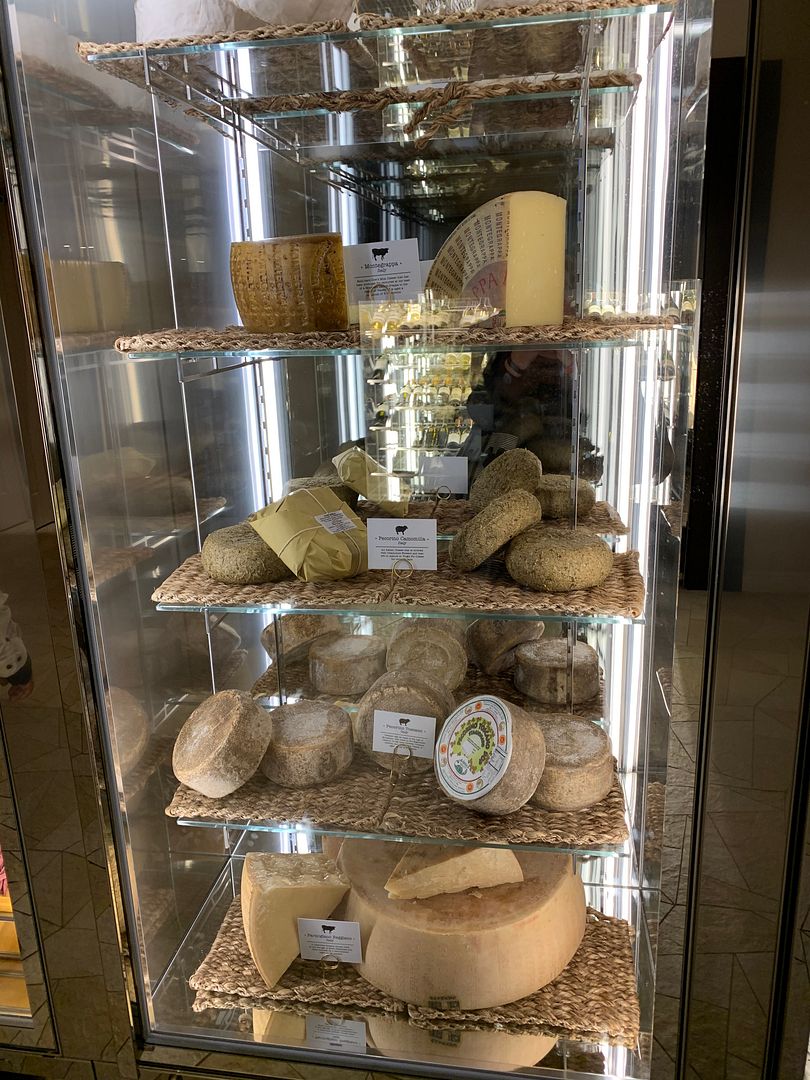 Looking inside the dining room, we again got the "California Grill" vibe…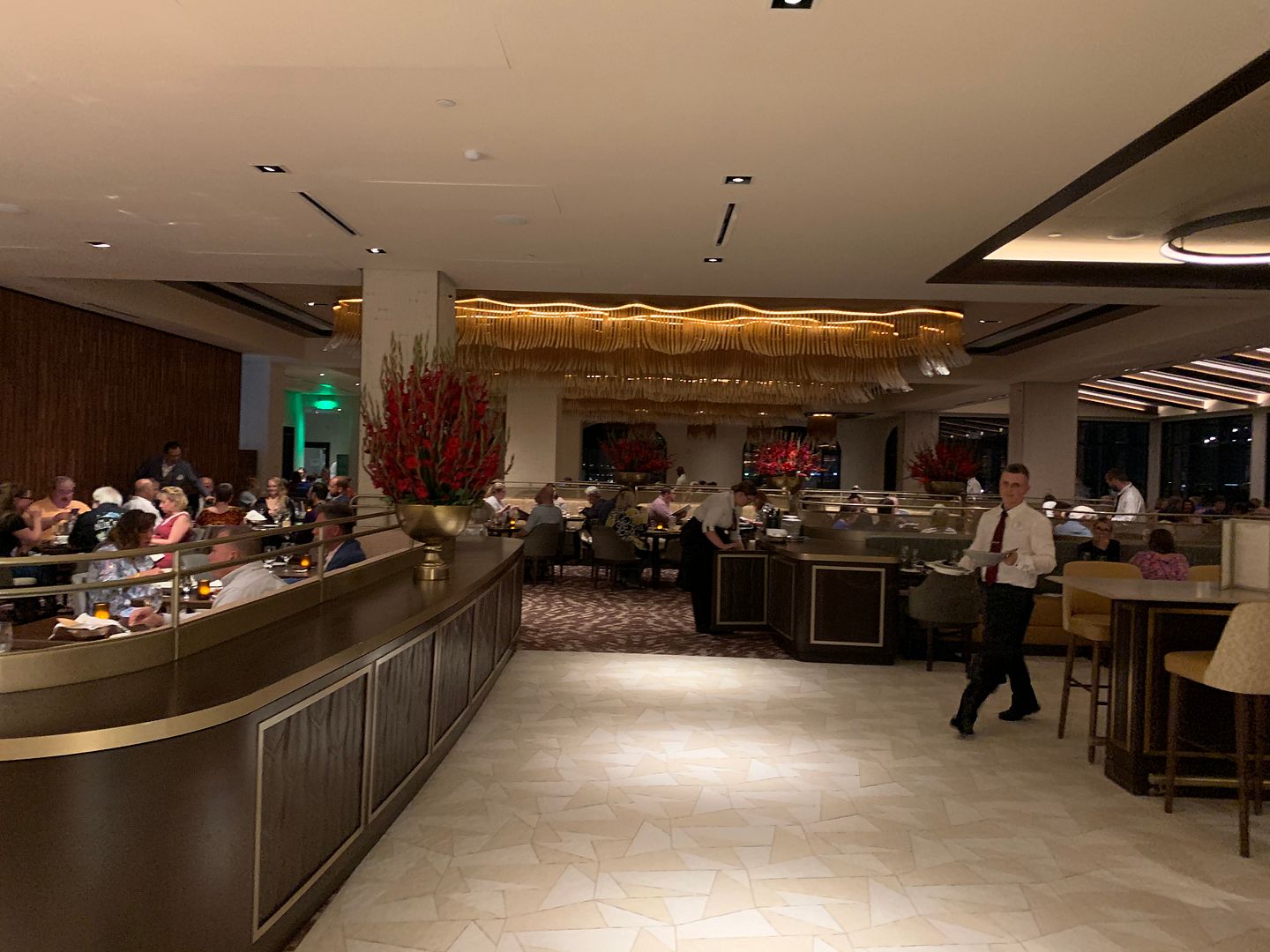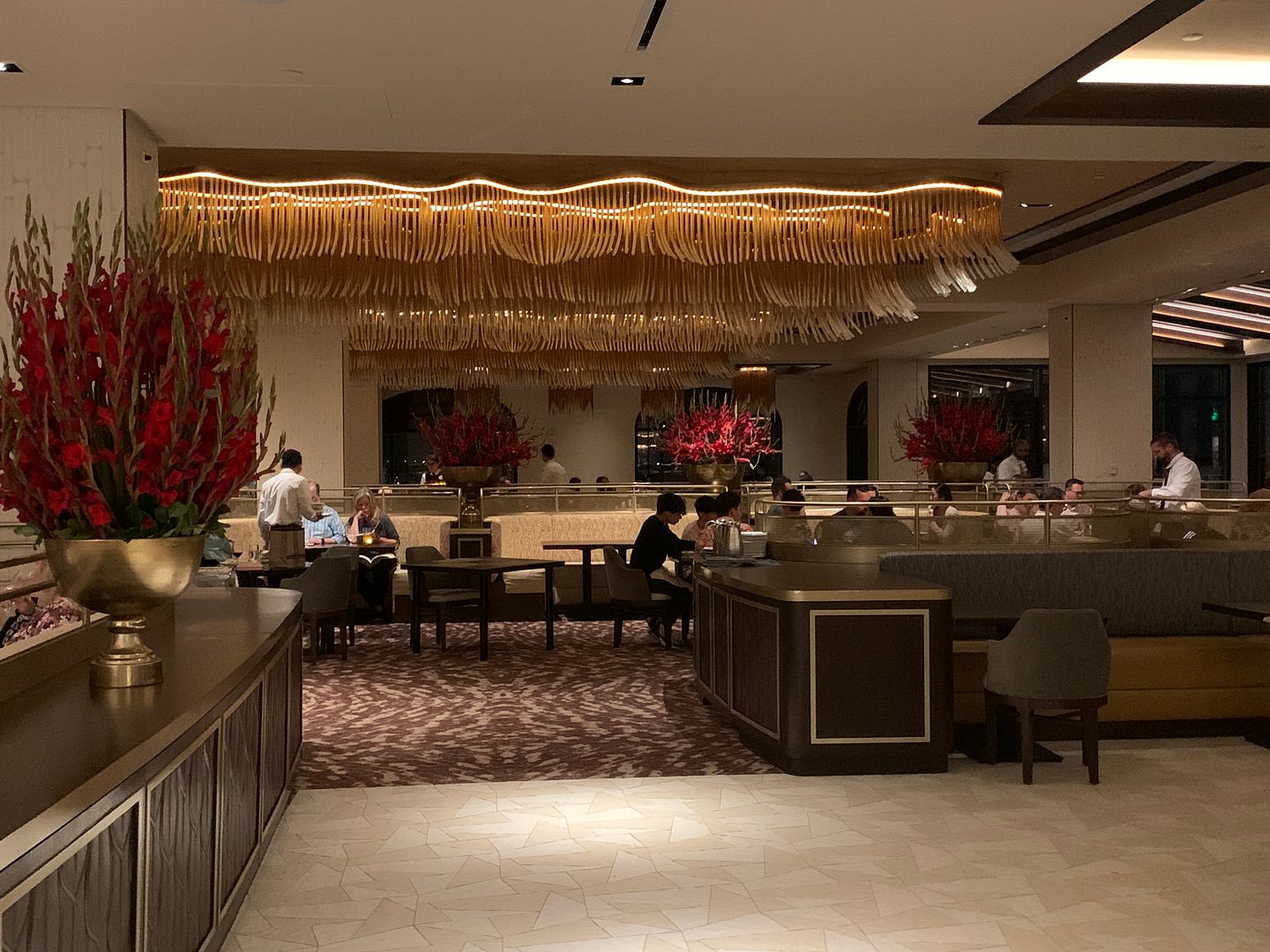 The dining area was surrounded by "floor-to-ceiling" windows, like at California Grill…
We decided to walk through the dining room and out to the terrace to check out the view from there.  As we were walking out the door (at 8:03) I received the text that our table was ready, however we took a couple of minutes to look around at the beautiful view of the resort and its pool…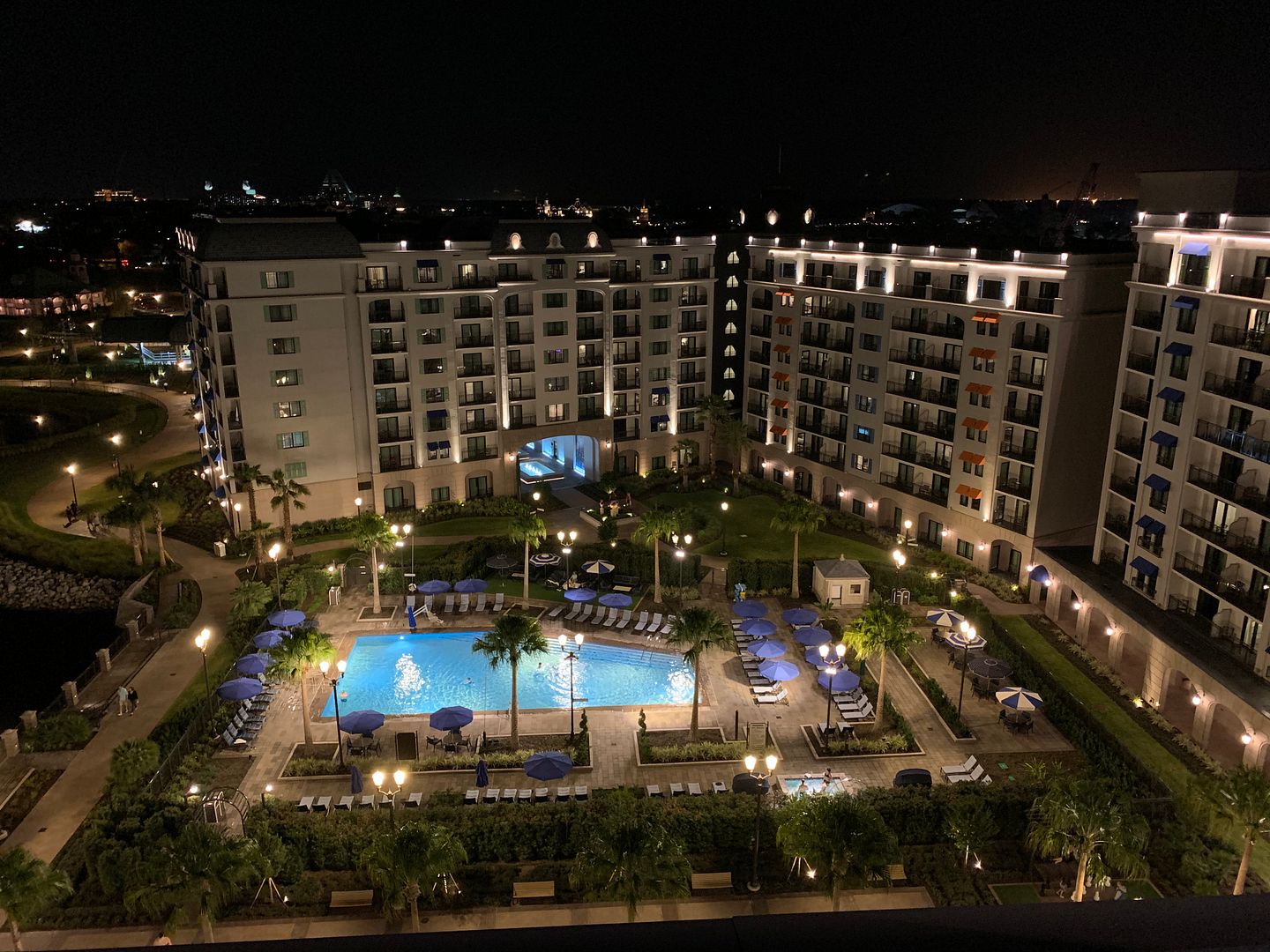 To the left of the resort we could see the Swan & Dolphin Resort and also Tower of Terror at Hollywood Studios…
My photos don't do justice to the view because I didn't have time to get out my camera so they were quickly taken with my cell phone.
Before we went back inside we even caught a glimpse of some fireworks…
We then returned to the Host stand and were taken to our table, which sadly was not close to a window.  Since I had only made a reservation earlier that day, I figured that we really didn't deserve one of the prime tables by the windows, like this one…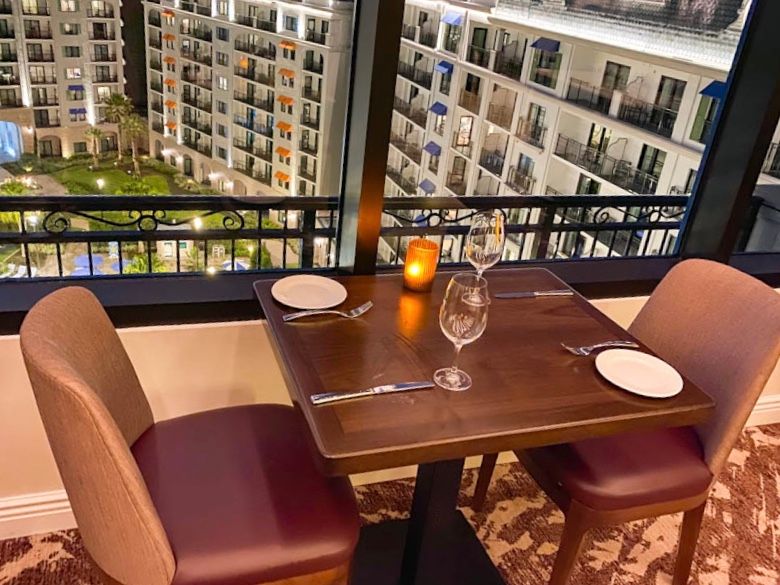 Instead, our table was a small 2-top, just like this one that was to the right of ours…
There had been a solo diner at that table when we were seated, so his table was placed much closer to ours than it appears in my photo.  The reason that I mentioned this is because the close proximity plays a factor later on in my review.  But anyway, at the time that the photo was taken they had pushed the two 2-top tables next to ours together to prepare it for a group of 4 who dined there next.
To our left was the open kitchen and counter where the servers picked up their orders…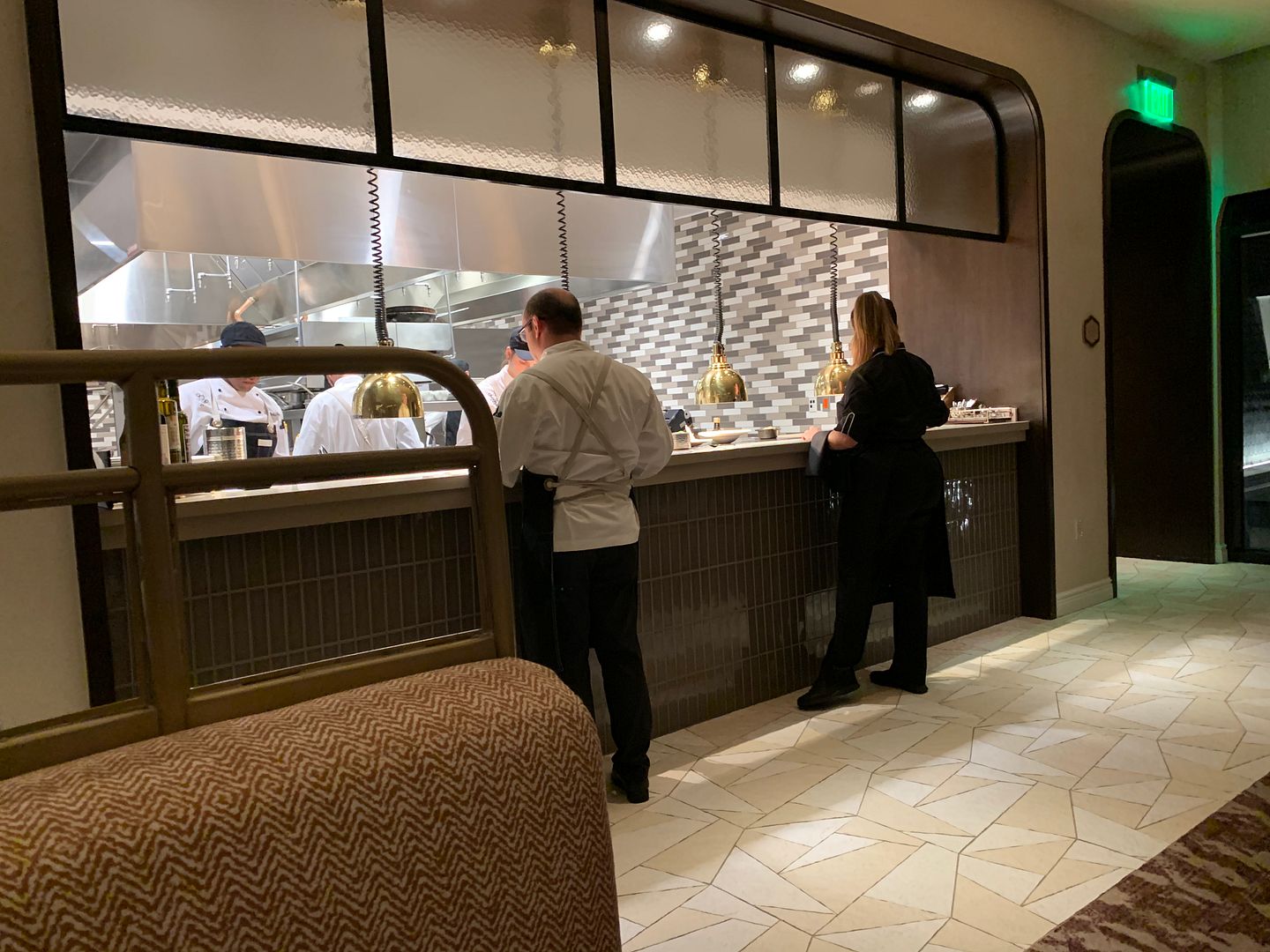 In addition to the normal place setting (silverware, cloth napkin, bread plate, water and wine glasses, we also each had a wooden bowl (which you can kind of see at the top of this photo)…
We would soon find out the purpose of these.  But first let's look at the menu, with a not-so-hidden Mickey on its cover…
Though I considered getting a cocktail from their menu…
I instead decided to have a glass of wine when I saw one of my favorites listed under their United States Whites…
I had the Eroica Riesling ($15) and Andrew had the Moscato ($10) listed under the Italy White wines.  Our server offered us a taste (which Andrew accepted) of our chosen wines before pouring our servings into our glasses.  Andrew noticed that our glasses had marks on them to indicate the fill line…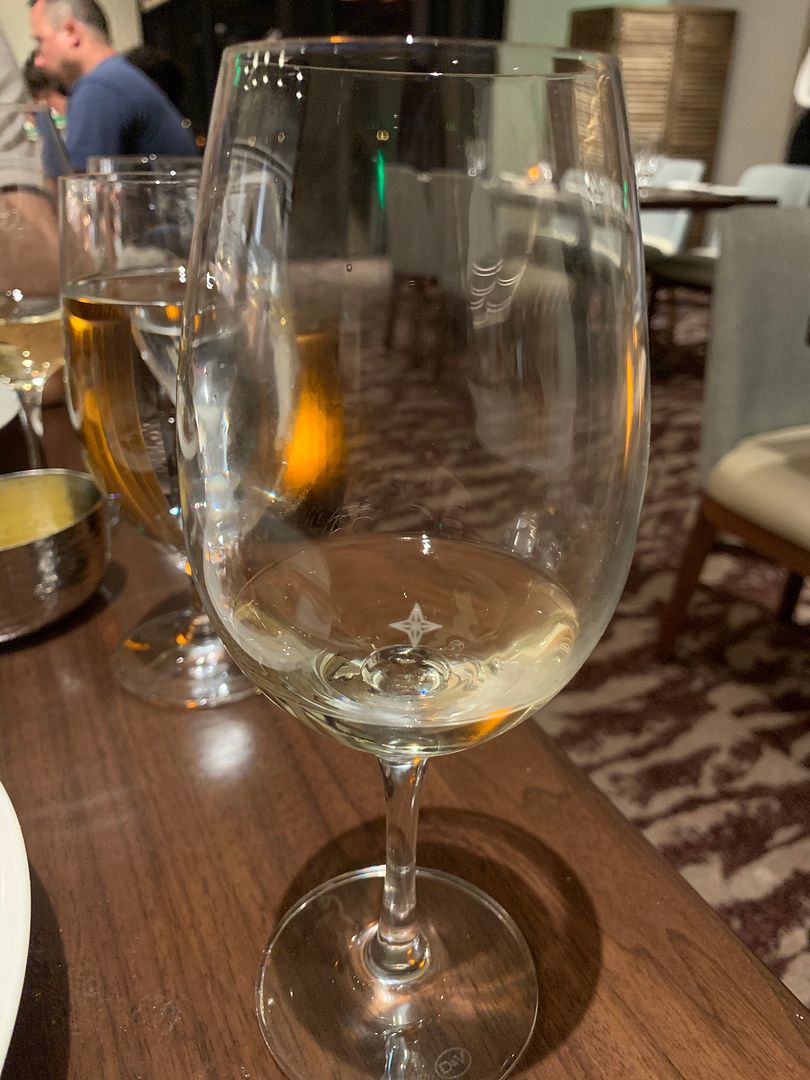 I'd already drank some of my wine before I took the above photo.
Oh, by the way, their wine list also included this page of Reds…
Now on to the food, which we chose from this menu…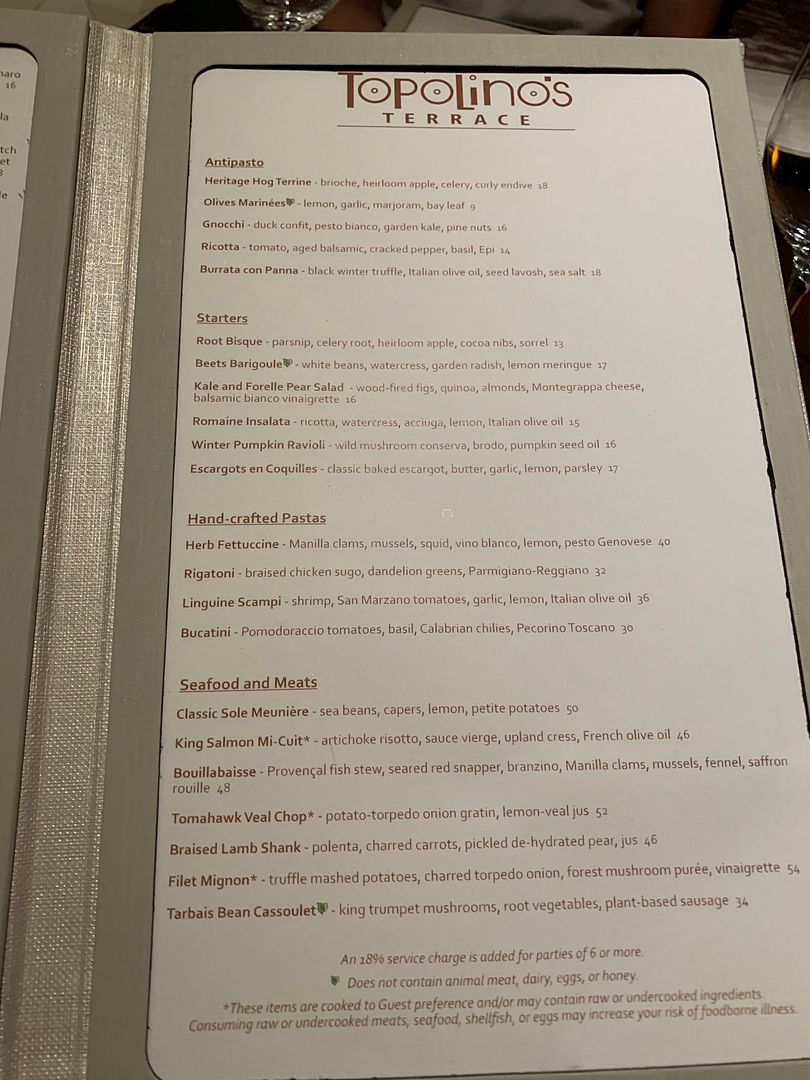 I wanted to try one of the Antipastos so I let Andrew choose which one we would order to share.  He chose the…
Ricotta Cheese topped with Cracked Pepper and Basil, served with a Tomato Chutney topped with Aged Balsamic Vinegar and Epi Bread – $14.00
And a look from another angle…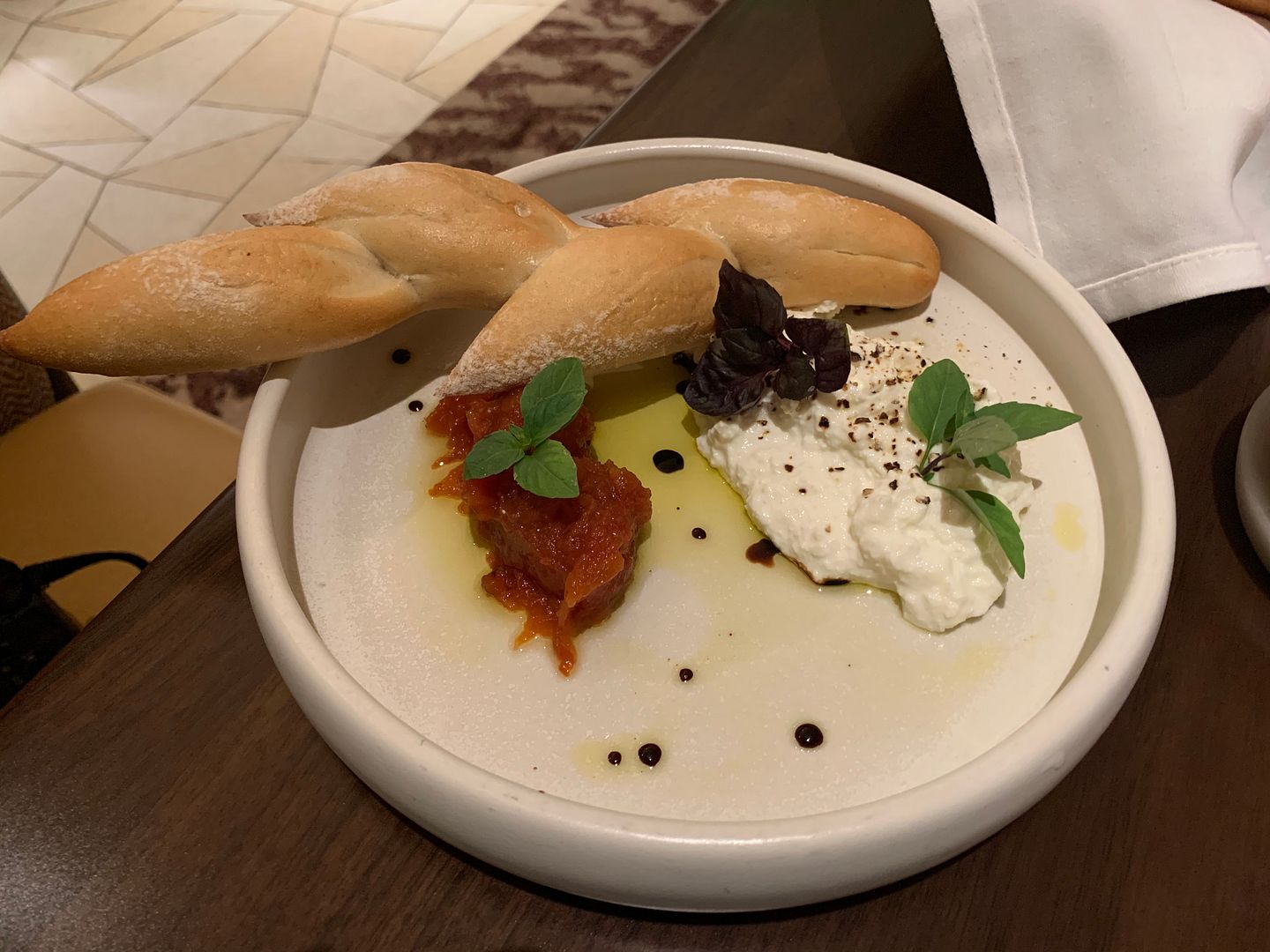 While the ricotta cheese was good, the highlights of this appetizer were the tomato chutney (which had more flavor than the cheese) and the Epi bread.
And speaking of the Epi Bread, the complimentary bread service also consists of Epi bread (or in French, Pain d'Epi).  In French, epi is the word used to describe the flower of a wheat stalk, so sometimes this type of French baguette is referred to as Wheat Stalk Bread.  Here is a photo of our basket of Epi Bread…
I've read that they make their own Epi bread in house from a classic French recipe and that they also serve this bread at the character breakfast that is held each morning at Topolino's Terrace.  Anyway, unlike the usual mini-baguettes that are served at French restaurants, Epi bread is intended to be served communal style, so you tear a piece off and pass it on.  With it just being the two of us though we both ate quite a bit of this (especially Andrew)…because it was really good.  Oh, also this is where the wooden bowls came into play.  Along with the basket of bread our server brought bottles of two different olive oils, one French and one Italian.  I really enjoyed the French one, Reserve Jen Ren Black Fruity Virgin Olive Oil.  It had a more bold, intense flavor, like that of very ripe fruit.
Now for our entrees.  I knew that the specialty of Topolino's was their pasta dishes, as their pasta is made fresh, in house.  I therefore steered Andrew away from the $54 steak and towards one of their four Hand-crafted Pasta dishes (average price of $35).  He chose their…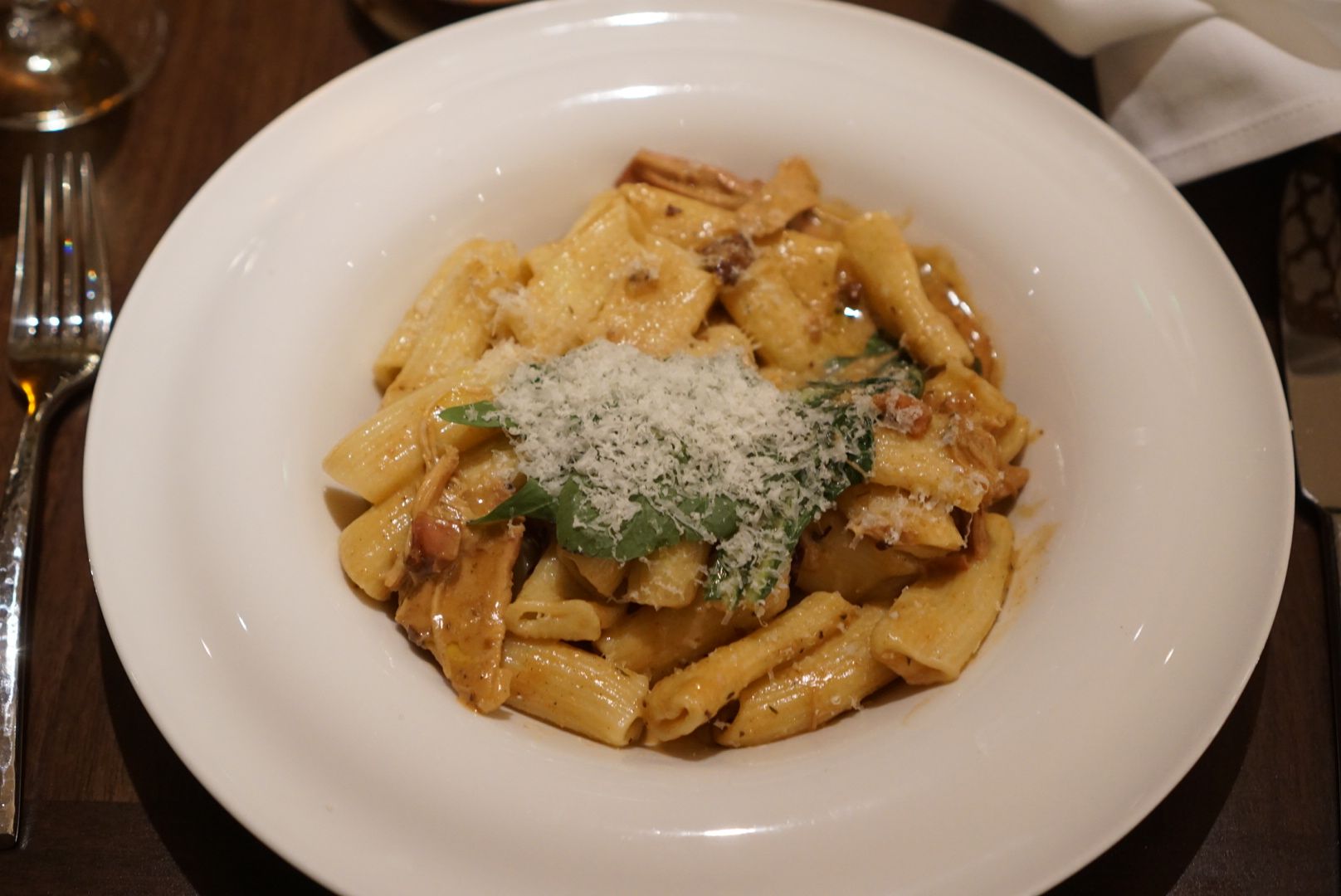 Rigatoni with Braised Chicken Sugo, topped with Dandelion Greens and Parmigiano-Reggiano Cheese – $32.00
And a closer look…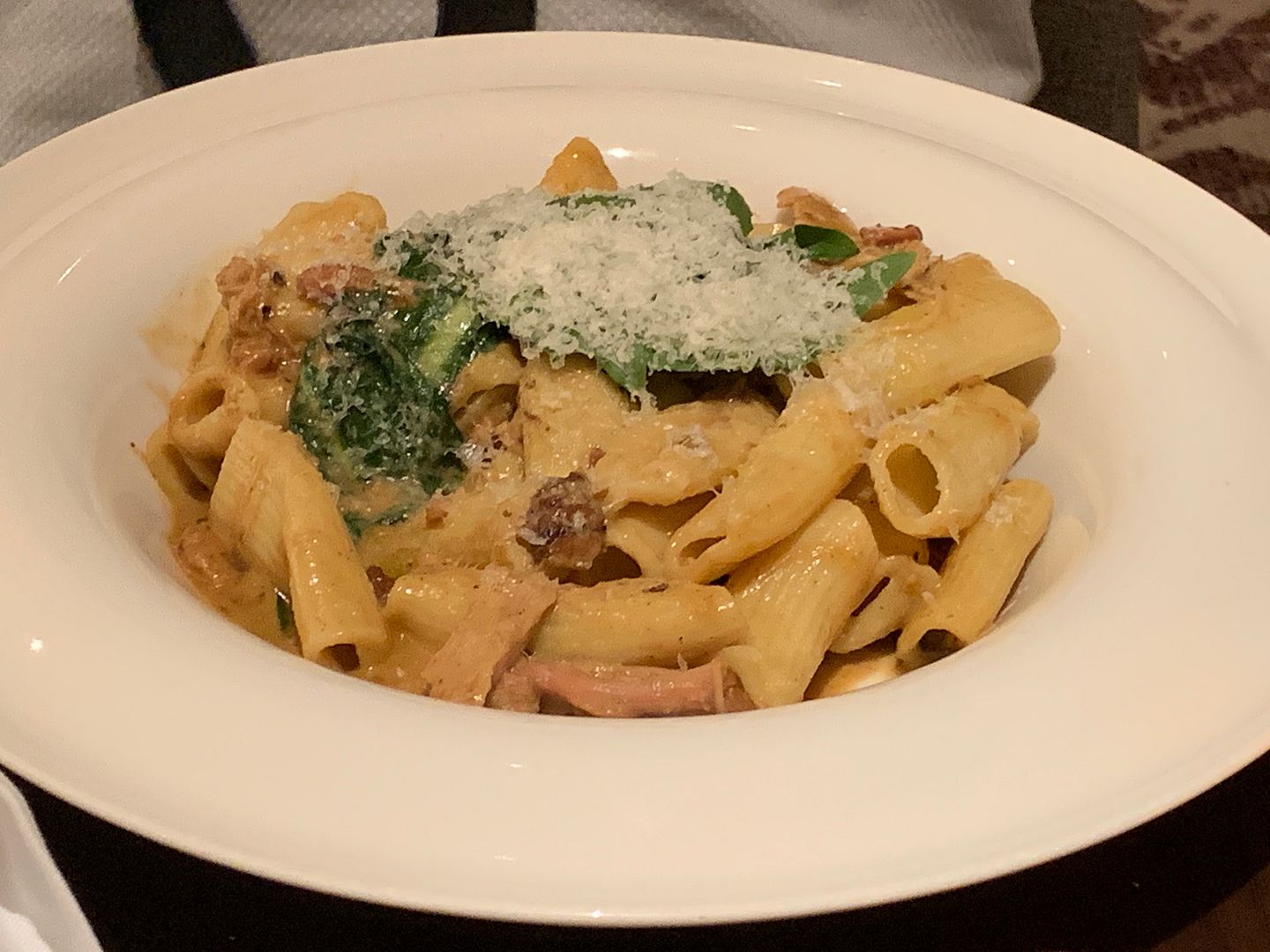 I was expecting the "sugo" (which means sauce in Italian) to be a classic red, tomato-based sauce but this sauce was instead brown and was thick and creamy like gravy.  I ended up eating quite a bit of this, but not because he didn't like it.  Andrew had made the mistake of eating too much of the yummy Epi bread (he is a bread lover) and didn't have room for much of his pasta.  What he was able to eat, he did enjoy though.  And I thought it was very good too.  My one complaint was that it could have used more of the grated Parmesan cheese.  I was kind of expecting our server to stop by and offer to apply more cheese (as they often do at Italian restaurants), but sadly this never happened.
As for my entree, I chose the…
Linguine Scampi with Shrimp, San Marzano Tomatoes, Garlic, Lemon, and Italian Olive Oil – $36.00
And a little closer look…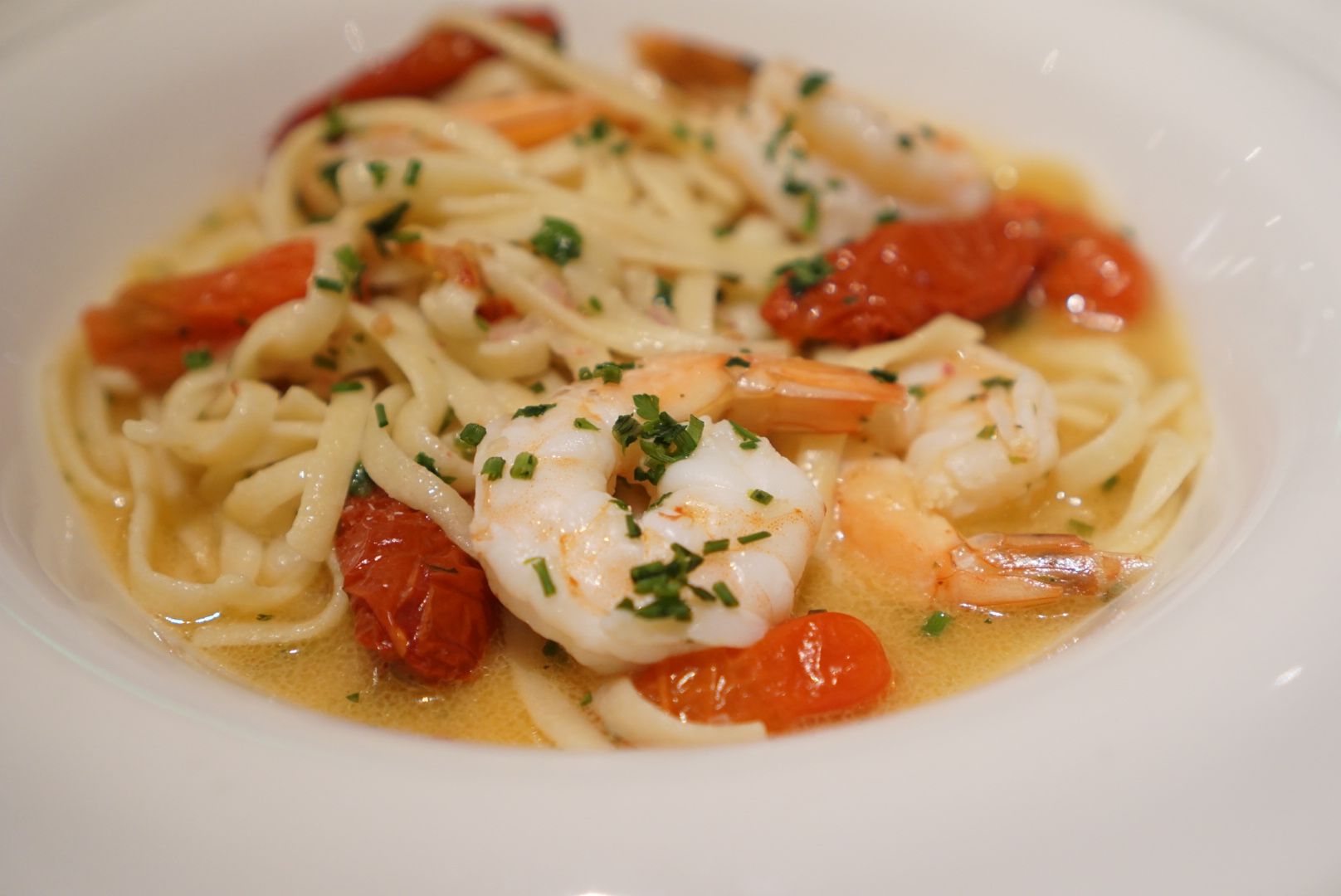 I thought I was going to really like this dish, as I have enjoyed most of the shrimp and pasta dishes that I've had elsewhere in the past.  However, I was disappointed with this one.  I will blame my disappointment though solely on the sauce, as I liked the shrimp (which tasted fresh and were well-cooked), the tomatoes, and the linguine noodles.  However, the sauce tasted heavily of lemon (which I don't care for) and the Italian olive oil (which you may recall that I preferred the French one).  Consequently I ate all of the shrimp (I think there were only 4) and a little of the pasta and tomatoes and then moved on to Andrew's rigatoni, which I preferred over my dish.
After we had finished eating we sat and waited for quite awhile for our server to come to our table to offer dessert.   Andrew was full and really wanted to just ask for the check but I insisted that we at least look at their Dessert menu.  When our server finally checked in with us I asked him to bring a menu…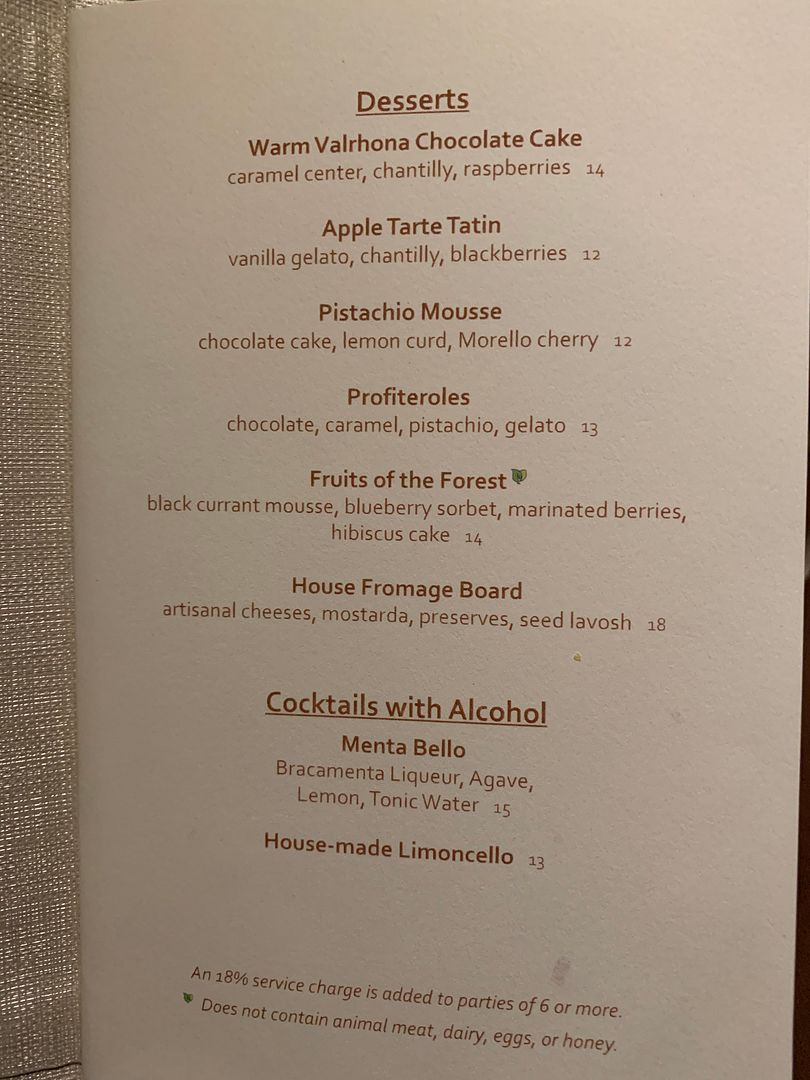 The gentlemen who had dined at the table right next to us had had the Valrhona Chocolate Cake and I couldn't help but covet my neighbor's dessert.  Being so close by, it was impossible not to notice how good it looked.  So I somehow persuaded Andrew to stick around a little longer so that I could get the cake.  I figured that once the cake was on our table in front of him he would somehow find the room to share a bite or two of it.  But sadly, our server didn't come back so that I could place the order.  Instead I flagged down another girl who had assisted our server earlier and asked for the check.  At this point, my desire to go to bed had become stronger than my desire to have dessert.  Even Warm Valrhona Chocolate Cake with ice cream and raspberries (photos borrowed from the Disney Food Blog)…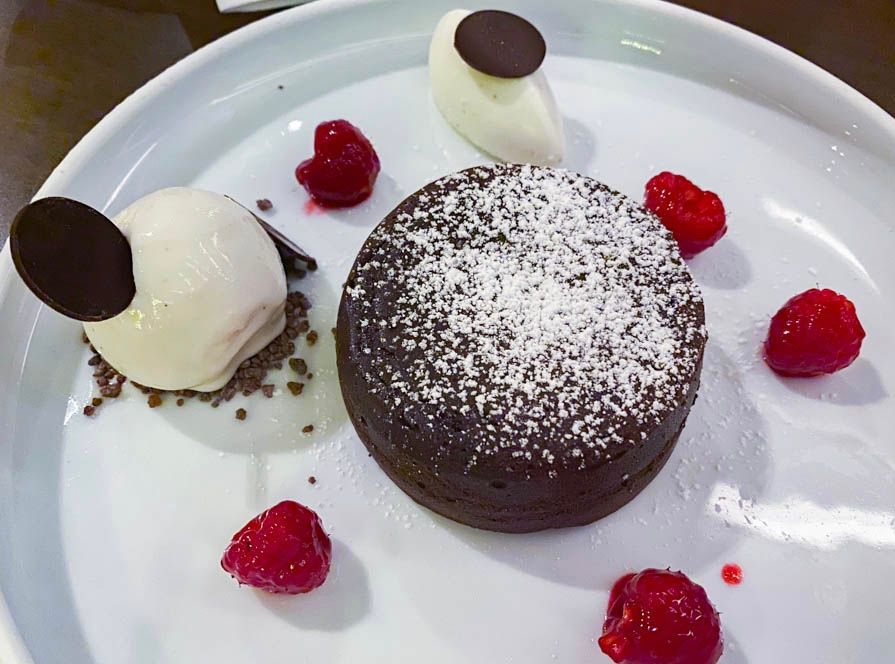 Oh, and did I mention that it is filled with caramel sauce?
Yeah, after seeing those photos I kind of regret that I caved in to my need (and Andrew's) for sleep.  I should have at least gotten this dessert to go.  On the other hand though, it was nearly 10:00 before we had gotten our check and paid with my Magic Band.  [Btw, as an Annual Passholder I was able to get a 10% discount on our food (alcohol excluded though)].  So we were there for almost 2 hours and had only two courses.  That seemed a bit excessive, even for a signature restaurant.
I will likely have dinner at Topolino's Terrace again sometime, but on my next trip I think I will give their character breakfast a try instead.  They had only been open for a few months when we visited so perhaps they are still working out the kinks.  Hopefully by my next trip (in late October 2020), my breakfast will be "kink-free".
And so, that just leaves the ratings.  Up until the awkward ending where we were unable to order dessert in a timely manner, I would have given our first experience at Topolino's Terrace a rating of 4 stars.  After that happened though I would deduct 1/2 star and rate our dinner there 3 1/2 stars.  However, the reviewers on Yelp have given Topolino's an average rating of 4 stars, and on TripAdvisor it has an even better rating of 4 1/2 stars.