When researching restaurants for my Fall 2019 trip, I had read great things about the brunch served at Wine Bar George. The only thing I couldn't find in my online search was information regarding the use of the Disney Dining Plan there, especially during their Sunday Brunch. I finally called the restaurant directly and was told that for 1 Disney Dining Plan TS credit I would receive an entree/main plate (of my choice) plus a beverage (alcoholic or non-alcoholic) but no dessert. Though I didn't like the fact that I would be forgoing the dessert entitlement by using my Dining Plan credit here, I decided that I really wanted to try their brunch anyway. And so I made a reservation for my son, Andrew, and I on Open Table for 11:00 a.m. on Sunday, Nov. 3, 2019.
NOTE: Brunch is only available from 10:30 a.m. – 2:00 p.m. and only on Saturdays and Sundays
We arrived at Wine Bar George, located in The Landing area of Disney Springs, at about 10:55. We checked in and were immediately seated at a table for 2 next to the window in the upstairs bar area.
Here's a photo of the bar on the first floor, which was taken from the stairs…
And here are a few from the second floor area where we were seated…
There was another bar on the second floor…
A photo of the nearby 2 top table, which was identical to ours…
And the view from our table…
You could see The Boathouse, another Disney Springs restaurant located at The Landing, and some of its amphicars from our table.
Anyway, as soon as our server came to the table to introduce himself I told him that we were on the (regular) Disney Dining Plan and planned to each use a Table Service dining credit. He was unsure as to what exactly that entitled us to so excused himself in order to ask a manager. When he returned he informed us that we could each get a cocktail, wine or beer priced at $15 or less.
Here are some menu photos, starting with their extensive list of wines…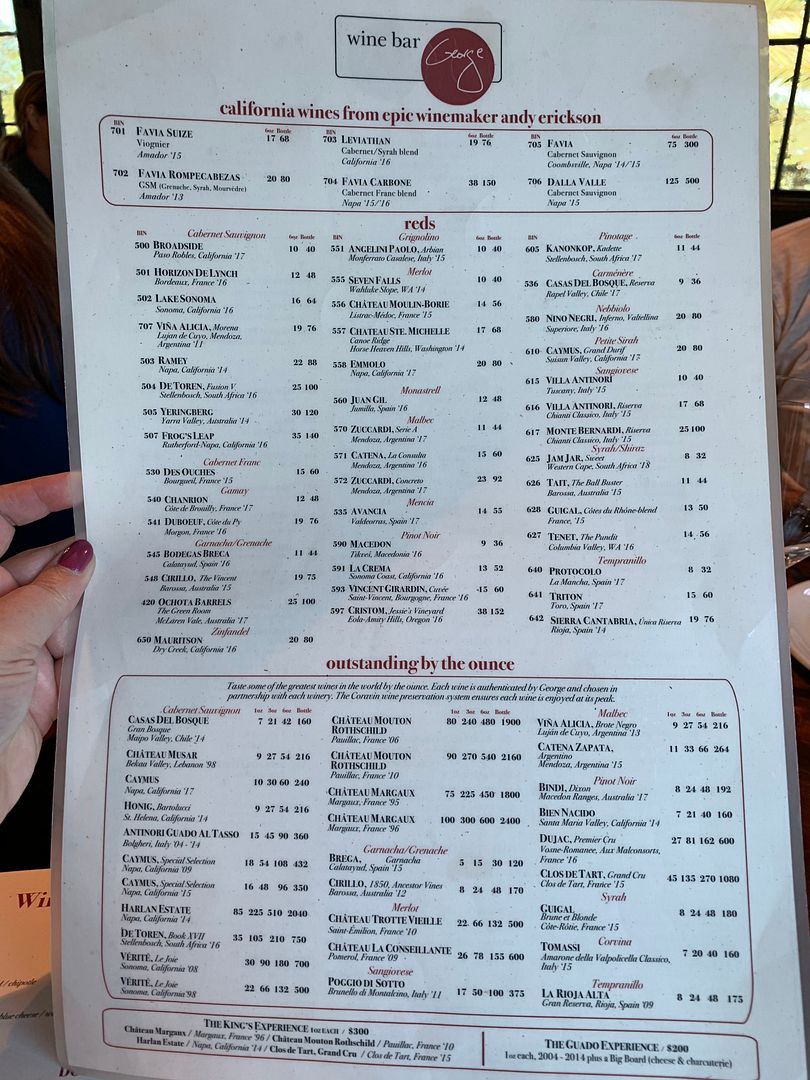 Notice that many of the wines are even available in 1 or 3 oz. pours (small tasting size portions).
But we knew exactly what we wanted, and it was from their list of Spritzes and Spirits…
We both chose their popular brunch specialty cocktail…
Frozcato – Mimosa made with DOLE Whip® Pineapple, Moscato and Prosecco – $15.00

At $15 this was right at the maximum allowed with our Dining Plan. And they were delicious, just as tasty as I'd expected them to be.
Next, for our entrees we were told by our server that we could each choose either two of the small plates from the "To Start" section of their Brunch Menu or one of their "Main Plates"…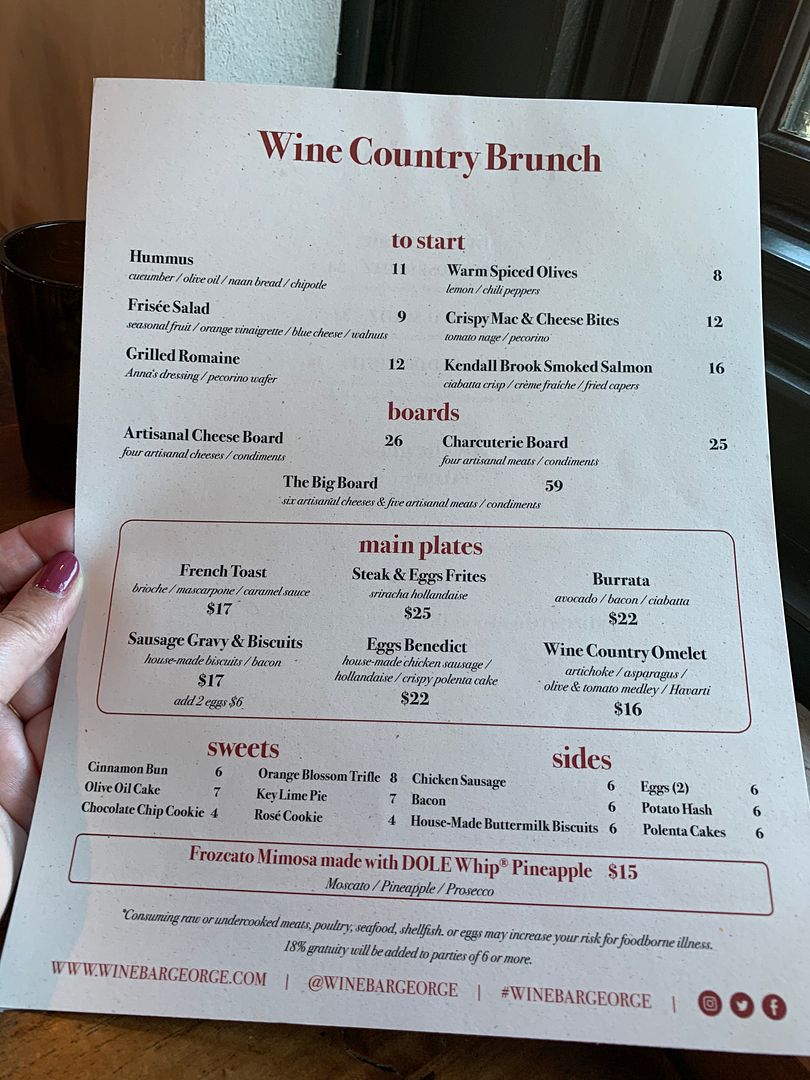 Though there was one of the small plates that I really wanted to try, there really wasn't two that interested me enough to forego trying one of their Main Plates.
So instead I ordered this as our appetizer and paid out of pocket for it…
Crispy Mac & Cheese Bites with Tomato Nage and Pecorino Cheese – $12.00
These were very good. They reminded me of the Mac & Cheese Bites sold by Trader Joe's, but with the tomato soup-like sauce and fresh pecorino cheese topping these were better. I am a big fan of the nutty, salty flavor of pecorino, an Italian cheese made from sheep's milk.
Note that the Mac & Cheese Bites are not exclusive to the Brunch menu at Wine Bar George. These are offered on their Lunch and Dinner menus, as well as being available as a " Bites to go" item at their counter service restaurant, The Basket.
Next up were our entrees, which we both chose from the "Main Plates" section of the Brunch menu. Andrew was torn between ordering the Burrata (Avocado Toast) and the Eggs Benedict, as he enjoys both of these popular Brunch options…pretty much equally.
Ultimately though he chose the…
Eggs Benedict with House-made Chicken Sausage, Hollandaise, and Crispy Polenta Cakes – $22.00
And a closer look…
Andrew was disappointed with this version of Eggs Benedict. While he was fine with the hollandaise sauce and the poached eggs were correctly prepared, the rest of this dish fell flat with him. He did not enjoy the flavor or texture of the polenta cakes, thought the chicken sausage was not an improvement over the standard Canadian bacon, and didn't like the addition of the arugula. So overall he wished he had gone with the Avocado Toast.
As for me, I chose this for my entree…
Steak & Eggs Frites with Sriracha Hollandaise – $25.00

I chose this because of the Steak Frites, a specialty of Wine Bar George that is on their Lunch and Dinner menus. However, I ended up being disappointed with the quality of the steak (skirt steak) that was used. I did though enjoy the french fries. They were well-seasoned and there was an abundance of them so I shared the fries with Andrew, who also thought they were tasty.
Which brings me to another mistake made with our ordering. I had read about how good their Potato Hash was, a side dish option listed on their Brunch menu. So, even though this was not included with our Dining Plan, I chose to still order these and paid out of pocket for them…
Side of Potato Hash – $6.00
Between the buttery taste of the potatoes and the bits of bacon, these were tasty. However, we both actually liked my french fries better. So since there were so many fries and they were better than the hash, we concentrated on them and left much of the $6.00 potato hash uneaten. In my opinion these should just be an included side dish with some of their Main Plates, such as the Eggs Benedict. I don't think they were really worth paying the extra $6.00.
Now for the included (with the Dining Plan) dessert. Though I had been told when I called the restaurant that we wouldn't receive a dessert if using Dining Plan credits at brunch there, our server told us that we could each choose one of the 6 items listed in the "Sweets" section of their Brunch menu…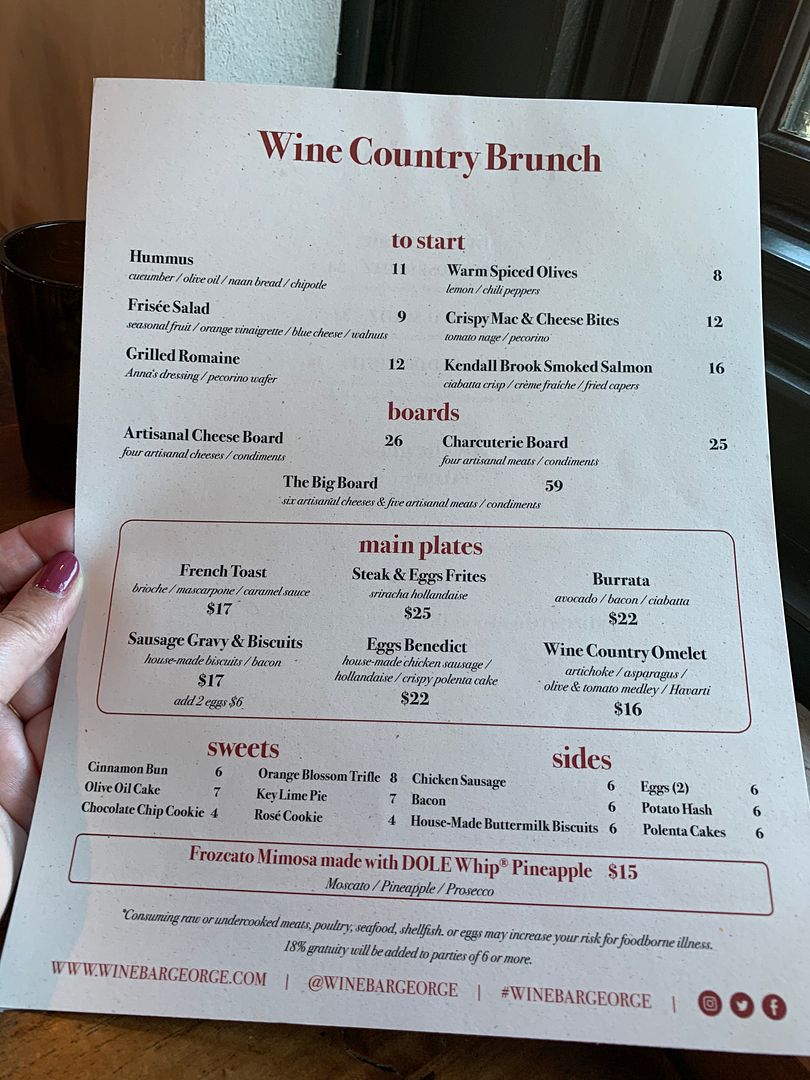 Here are the two "Sweets" we chose…
Olive Oil Cake topped with candied olives and lemon-flavored mascarpone – $7.00
The lemon flavor of this dessert was pretty overwhelming. Neither of us were a fan. That said, it was better than our other choice. At least the cake was moist and tasted fresh, unlike this…
Cinnamon Bun – $6.00
While this was a thing of beauty to look at, it was pretty much inedible. It was a stale, hard-as-a-rock cinnamon bun with a big pile of frosting on top.
So this meal had a very promising start with the Frozcato Mimosas and the Mac & Cheese Bites, but then went downhill from there. Using pre-paid Dining Plan credits to pay for most of the meal lessened the sting of this $114 (plus tip) meal for two…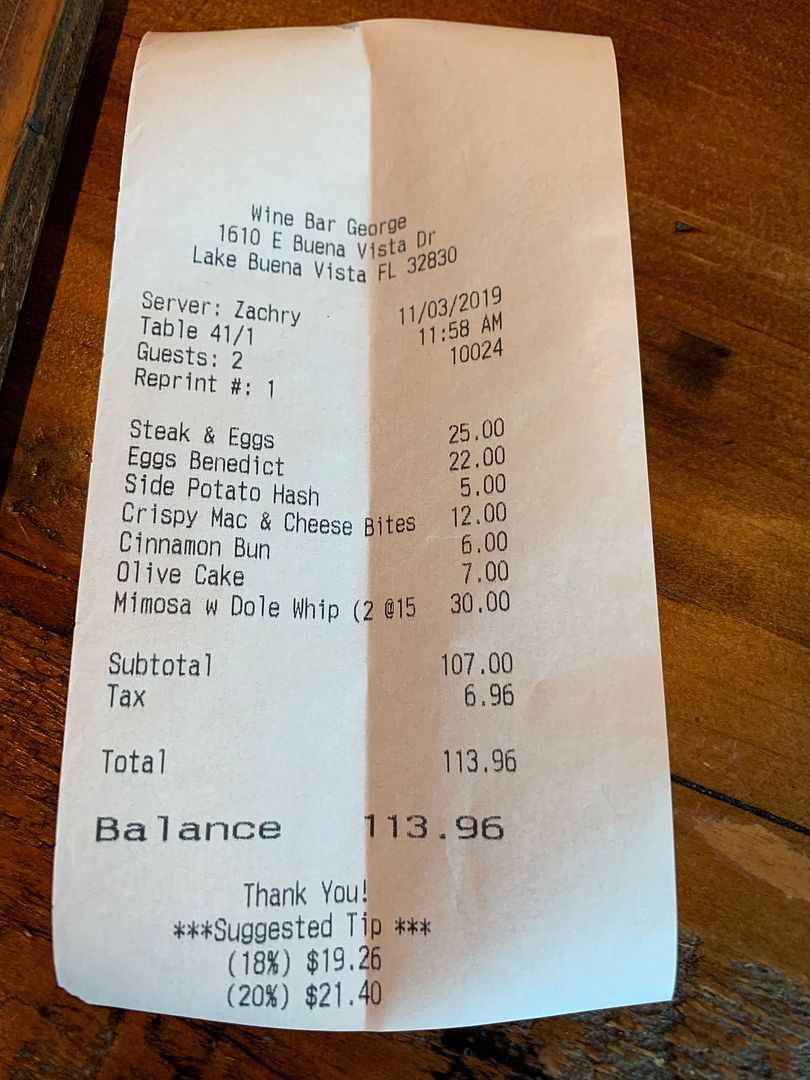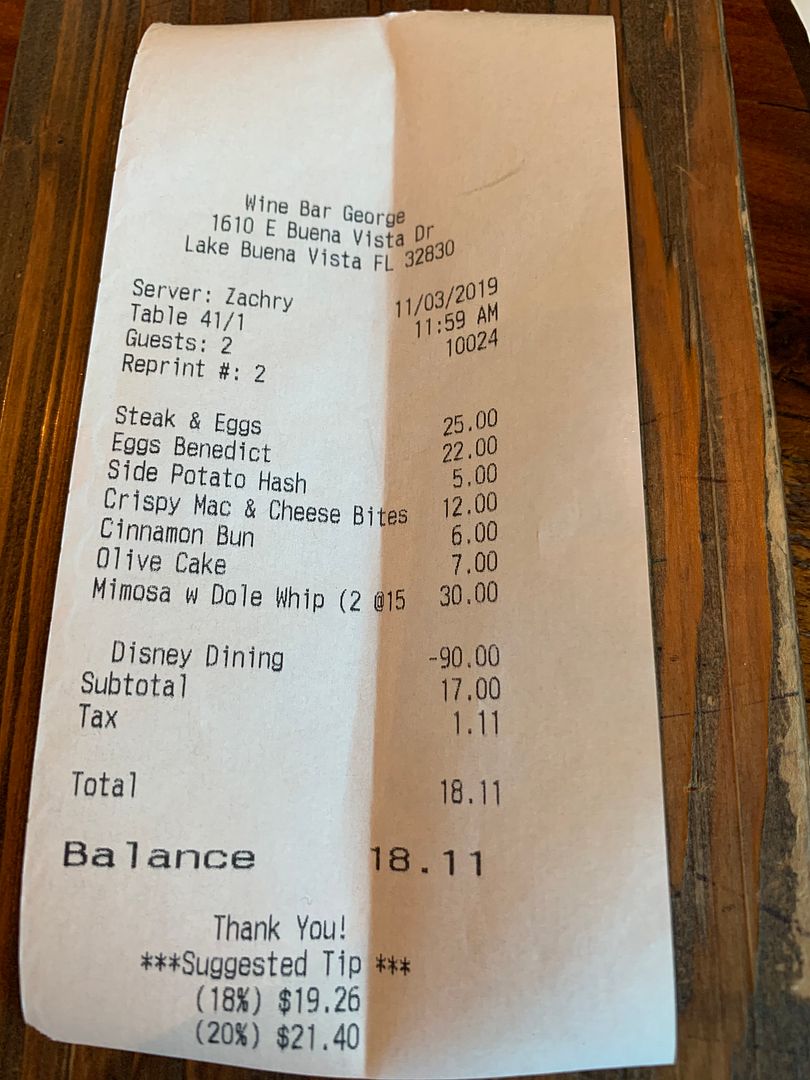 But in the end I felt like we could have received better value and better food elsewhere for our last two Table Service Dining Plan credits of this trip.
I started this review by saying that my interest in trying Wine Bar George was the result of seeing many positive reviews before our Fall trip last year. This seems to still be the case now (September 2020), as both Yelp reviewers and those on Trip Advisor have given Wine Bar George 4 1/2 stars. But based on our brunch experience, I would give Wine Bar George only 3 stars. While I'm certainly willing to give it another try, it will likely be awhile before that happens because there are so many other new restaurants at Disney Springs that I'd like to try first.
2 Disney Dining Plan Table Service Credits Used – $95.85 (including tax)