The Swan and Dolphin Resort held their 9th Annual Swan and Dolphin Food & Wine Classic on Friday, October 26 and Saturday, October 27, 2018.  And for the 5th consecutive year, I was there.
– Photo from the Classic copied from the Swan & Dolphin's website – 
In case you are unfamiliar with this annual event held (primarily) outside on the causeway between the two hotels (pictured in the photo above), it is the Swan & Dolphin Resort's (much abbreviated) version of the Epcot Food & Wine Festival.  There are some major differences though between these two events.  While the Classic is held for just two nights every year, the Epcot Festival starts in late August and went on for 75 days (in 2018).  Also, because the Festival is held inside a theme park (Epcot), it requires that you purchase a park ticket (or be an annual passholder) in order to attend.  This is not the case for the Classic, so no need to buy a park ticket.  Additionally, the Epcot festival has far more booths (most internationally themed and each with 2 – 4 food offerings ) while the Classic's booths feature one item from each of 10 of the eateries at their two hotels plus some special themed areas.   Another major difference is that the Epcot Festival is a "pay as you go" event while most of those attending the Classic purchase a ticket (wristband) which allows them to have unlimited food and wine tastings from their booths.  Though the Classic does offer a la carte tickets at the event (25 tickets for $65 in 2019), with all of the food items costing between 3 tickets (or $7.80) and 6 tickets (or $15.60) that option is not very economical.
Ok, one more background detail…my confession.  Until October 22nd (one day before leaving for Disney World and 4 days before the event), I was not planning to attend the Classic this year for various reasons.  The most important of these was the price.  When I first went in 2014 the Classic was very reasonably priced at $95.  However, nearly every year the price increased and in 2018 the price was $119.55 (or $127 with fees).  And unfortunately as the price increased, my overall satisfaction with the food and wines offered decreased.  I therefore decided to skip the 2018 Classic (held on Friday and Saturday, Oct. 26 – 27) and instead planned to have dinner at Jiko (using the last two of my dining plan credits) with friends on Friday night and attend the Happily Ever After Fireworks Dessert Party on Saturday night.  But then my plans changed with this message received on the afternoon of Oct. 22nd from my friend, Rachel…
An offer I couldn't refuse!  So in exchange for a ticket to the Classic, I treated Rachel to dinner at Narcoossee's on the first night of my trip, thereby using the two extra credits I had due to my cancelled plans to have dinner at Jiko.  This plan worked out perfectly!
And so at about 5:15 on Friday, October 26th, I arrived at the Swan & Dolphin by boat from Hollywood Studios and approached the Check-In/Will Call table for the Food & Wine Classic…
I showed them the email confirmation for my ticket that I received from Rachel…
They placed a wristband on my wrist and gave me a plastic tray and wine glass plus a piece of bubble gum (for entrance into The Bubble Lounge, lol)…
And also this year's guide book…
As usual, inside this book is a list of all of the Food Stations, all of the Beverage Stations, and a coded map to help you locate them…
As you can see there were 13 food stations (letters A – M on the map) and 47 beverage stations.  Additionally there were 4 special areas which had both food and beverages.  Three of these were repeats from last year (The Bubble Lounge, China Town, and Carnival Corner) and one area was a new addition this year, The Pig & The Poke. Most of the Beverage stations were serving wine (usually two different wines at each station) but there were also 7 which were serving beer (most of these were craft beers that I'd never heard of, although keep in mind that I don't drink beer. lol).  As for the wines, a large number of those served were from California wineries.  A few of these which I was familiar with were Rodney Strong and Kendall Jackson.  Other U.S. wineries represented were from Oregon and Washington (Chateau Ste. Michelle and King Estate were a couple of these that I was familiar with).  Additionally there were some international wines being served with 5 stations serving wines from Italy, 4 from Australia and New Zealand, 3 from Spain, 2 from France (including Louis Jadot) and 1 from Chile (however, Argentina was not represented this year).  There were a variety of wines being served, with many chardonnays, cabernet sauvignons, and sauvignon blancs.  I was happy to see that there were also a few pinot noirs and pinot grigios/gris, which is more my style.  A few miscellaneous wines, including a petite syrah, zinfandel, chianti, moscato, and riesling were also on this year's list.  Sorry merlot lovers, I didn't see any on the menu this year.  However there were some red wine blends that may have satisfied your tastes.
Now let the Eating & Drinking Begin!!
I headed first to Shula's (Letter K on the map, at the end of the left side of the causeway) because it's always the station with the longest lines.  The reason for this is that Shula's serves steak and mashed potatoes every year at its station, which is always popular because it's usually pretty good and because it's the most expensive item offered (costing 6 tickets if using a la carte tickets or about $15).  It was in the Shula's line that I met up with Rachel.  The station did not start serving though until after the event officially opened at 5:30.
Then we got our first tastes from this year's Classic…
And here is the description and photo of this from the official website for the Classic…
So our steaks weren't as big (thick) as the advertised photo and were cooked a little more (probably medium, which is my preference anyway) but overall I liked it better than the slice of rib eye steak I received here last year.  My piece last year was smaller, overcooked and tough…
Our next stop was Todd English's station (Letter I on the map), which later in the evening was manned by celebrity chef (and 4-time James Beard Award winner), Todd English himself…
In case you aren't familiar with Chef Todd English…
Among his more than 20 restaurants is bluezoo, one of the signature restaurants at the Swan & Dolphin Resort.
Here is what the website said they would be serving here on Friday night…
Note: Like most of the Classic's food stations, Todd English changed things up on Saturday night and served Lobster Tacos rather than Lobster Rolls.  So for those who would like to attend both nights of the Classic they will find some different options on the second night.
So what did our Lobster Roll actually look like?…
This was good but not as good as the one I had had two days earlier from the Hops & Barley booth at the Epcot Food & Wine Festival…
While the roll/bun seemed to be the same, the H & B lobster roll had more lobster plus I loved the mayo aioli.
However, this year's Lobster Roll was much better than what was served in 2017 at the Todd English station…
Mesquite Rubbed Wagyu Short Rib with Dehydrated Jamon Iberico, Smoked Cannellini Bean Puree, Au Blanc Red Pearl Onion Petals, Charred Brussel Sprouts, Verjus Pearls Cuisson
Last year's short rib was tiny and tasted just okay/nothing special.
After eating our lobster rolls, Rachel and I headed back behind the Shula's station to the beach where the "The Pig & The Poke" area was set up…
This Hawaiian Luau-themed area was a new addition to the Classic this year and IMO it was a great one.  This area had its own entertainment, which Rachel and I enjoyed…
As you can see from the above and below photos, this area was set up on the resort's sandy beach…
Having spent the day at Hollywood Studios and then going directly to the Classic I was not wearing the dressier-type shoes that I normally wear to this event.  Walking through this sand, I was very grateful that I was not wearing heels, lol.
Anyway, in The Pig & The Poke area there were three foods being offered.  My favorite was this pulled pork dish…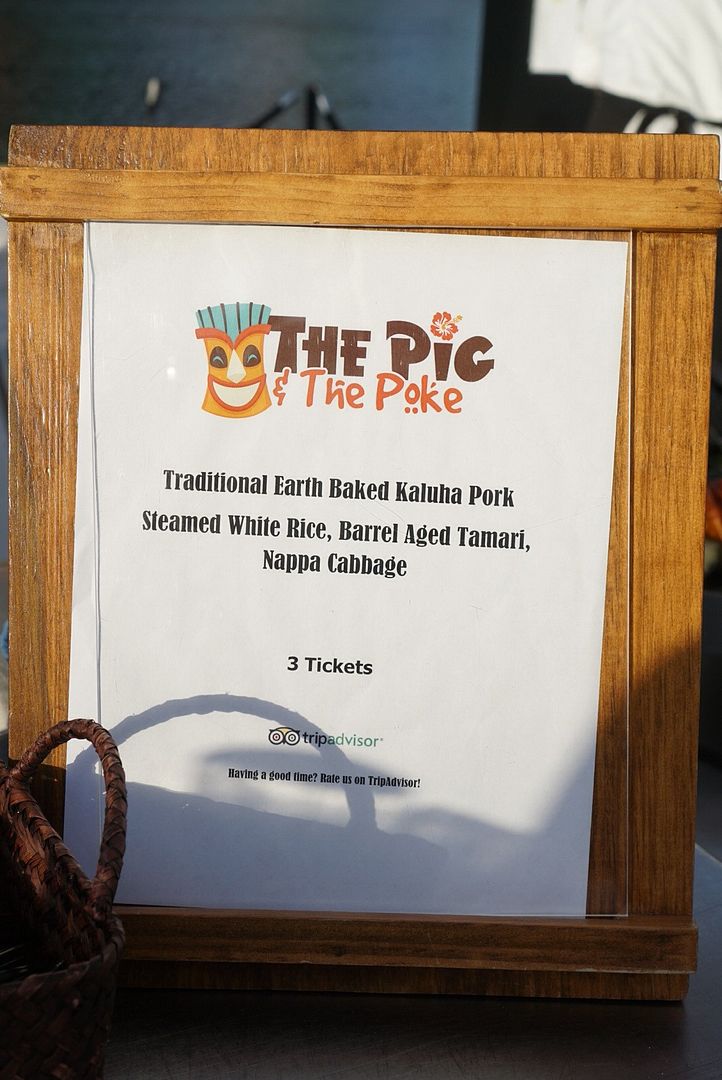 This is what this looked like in their website photo…
And here is what we each received that night…
From the photo, the meat looks like it might have been dry and flavorless but it was actually the opposite.  The pork was moist, nicely seasoned, and very tasty!  Oh, and the portion size was larger than most of the other food offerings at the Classic.
Here was the other savory food option at The Pig & The Poke (shown here as advertised)…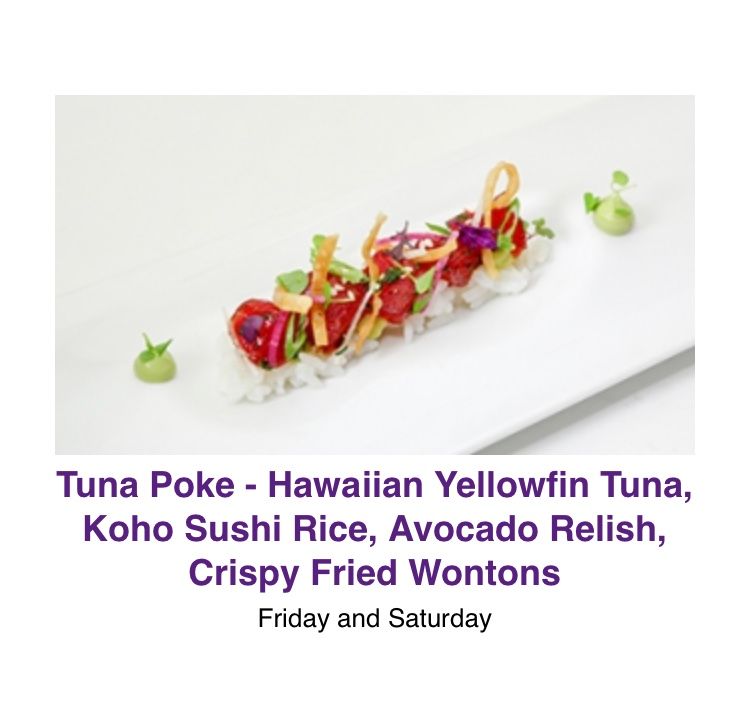 Raw fish is generally not my thing so I skipped this one in order to leave more room for other things, but Rachel had this and enjoyed it…
We moved on after this to the nearby Chinatown area, but at the end of the night we headed back to The Pig & The Poke area for this…
The cones of shaved ice were handed out from the window of this cool looking food truck…
Then on the side of the truck was a Self-Serve dispensing station where you could add as many flavored toppings as you liked…
Here was their menu of topping flavors…
Rachel and I both went with a Blue Raspberry and Ninja Cherry combo I believe…
This was a sweet, yet light way to end our night of eating and drinking at the Classic.  Very fun and tasty, two thumbs up!
Now moving on to our next stop, Chinatown.  This was the 3rd year that this area was included in the Classic and it has become one of our favorites.  Just like in the previous years the same two popular Chinese foods were being offered this year.  Here's how the Duck Bao and Pork Dumplings were pictured and described on the Classic's website…
And here is an action shot from that night showing the dumplings being pan seared…
And here is the finished product plus my serving of the Duck Bao…
And some individual photos of these…
Just like the previous years, these were again quite good.  We could have just camped out in Chinatown and filled up on pot stickers and duck bao, but our night of eating and drinking had just barely started.  There were so many more things for us to taste!
From Chinatown we headed to the nearby Carnival Corner, located behind the Swan's pool area. This area had previously served fun, carnival-type food like corn dogs and mini funnel cakes from food trucks since it was added to the Classic in 2015.  In 2016 and 2017 a food truck in this area served one of our favorite dishes…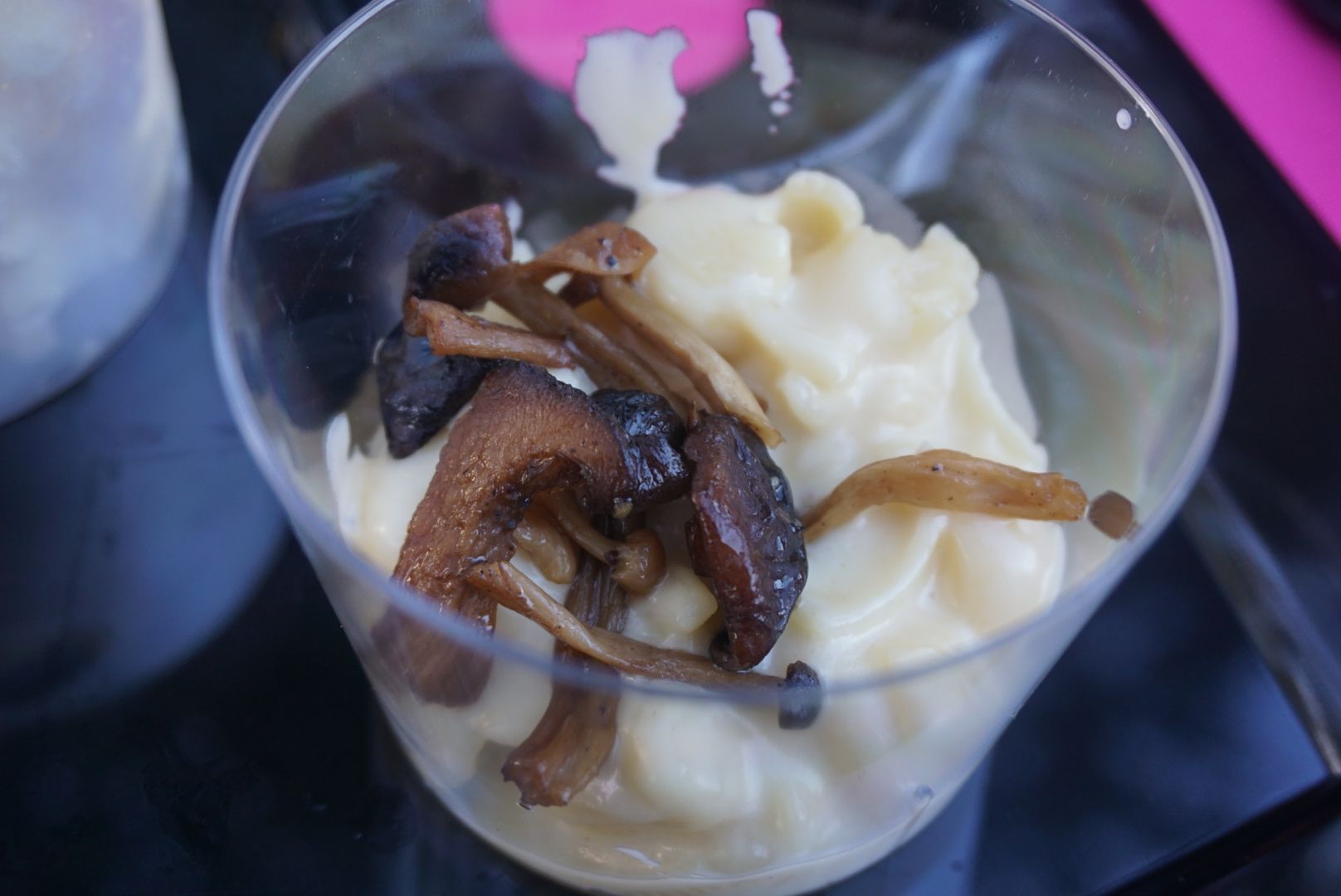 White Cheddar Macaroni and Cheese topped with Roasted Wild Mushrooms
While they were again advertising that Mac & Cheese would be offered in the Carnival Corner, they were changing it up this year…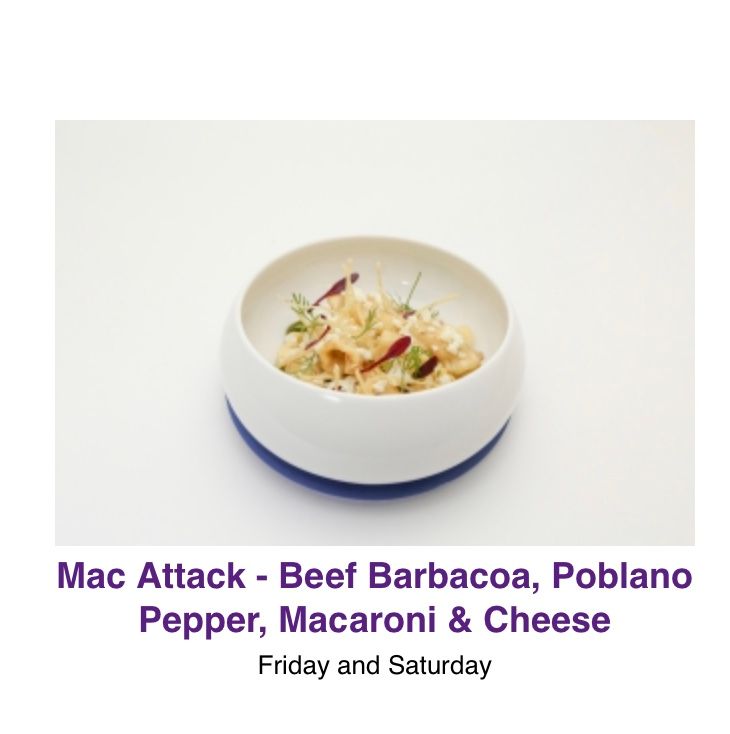 So Rachel and I were anxious to try this and compare it to the Mac & Cheese with mushrooms that we'd enjoyed so much the last two years.  And here is what the Mac Attack looked like…
This was good but not really what I was expecting.  With the addition of the beef barbacoa and poblano pepper I was expecting a spicy Hamburger Helper-type dish.  In reality though I don't recall seeing any beef or peppers in this.  The cheese sauce just had a slightly beefy flavor with a tiny bit of "heat".  So while it was good, I still much preferred the 2016 and 2017 Mac & Cheese with roasted mushrooms.
The corn dogs that were served in 2016 and 2017…
Were replaced in 2018 by this…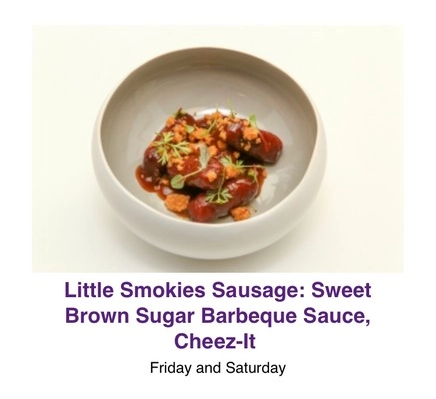 Unfortunately I didn't get a very good photo of my cup of Little Smokies that night…
I think there were two little sausages covered with crushed Cheez-it crackers and just a little bit of barbecue sauce.  A very poor replacement for the corn dogs.
They did though have another new dish that I enjoyed…
This was actually served that night like a "walking taco" (in an individual-size Fritos bag rather than in a plastic bowl…
I've always loved walking tacos so this was a hit with me!
The last few years they've offered these two desserts, Mini Funnel Cakes…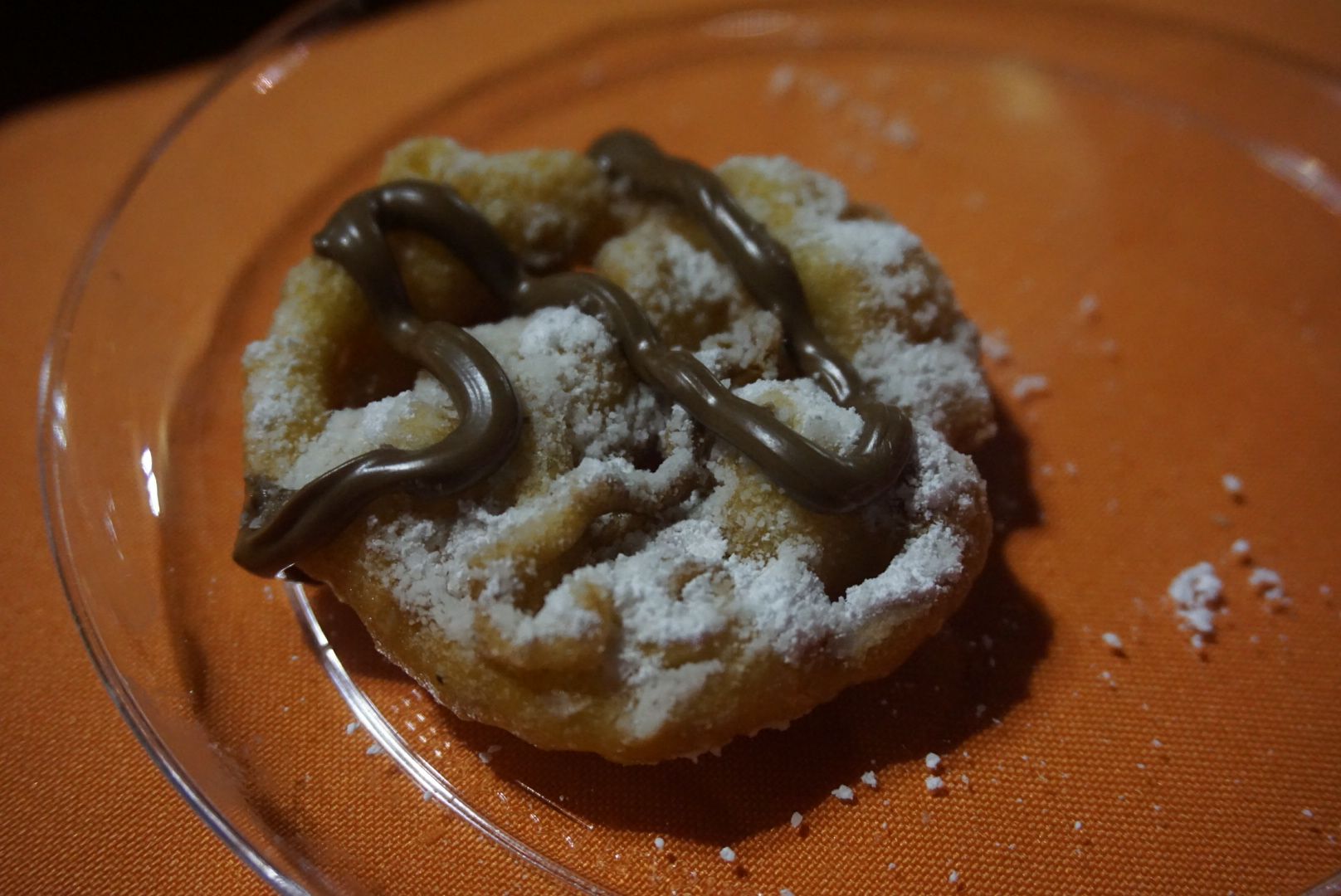 And Nitro Kettel Corn…
This year though they were replacing these with…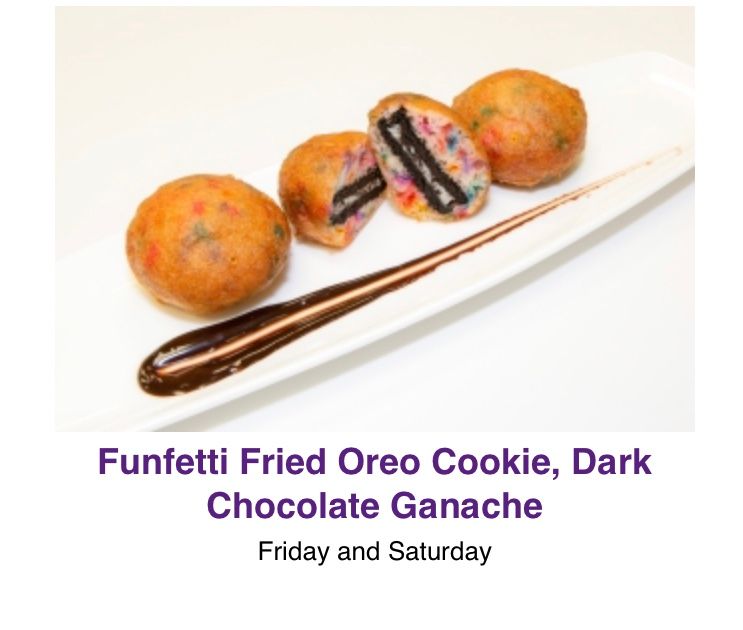 This didn't look as colorful as it did in their website photo…
Rachel really liked these though, and I think she returned to the truck for a second serving.  As for me, I've stayed away from Oreos for more than 20 years now due to an unfortunate incident with them back when my kids were little.  One of them ate way too many, the consequences of which I had to clean off of the couch and family room carpet.  She and I both have not been able to eat Oreos since, lol.
But moving on to a more pleasant topic, Prosecco!  There was a truck in the Carnival Corner that was serving two Italian sparkling wines.  One of these was a prosecco that Rachel and I both really liked.  I think we even returned for a second glass, but keep in mind that the pour size is generally pretty small at the Classic, lol.

Our next stop was in the area surrounding the pool.  I don't recall there being food stations set up in this area in previous years but this year there were two.  The first of these was Kimonos (Letter M on the map), which was advertised to again be serving a sushi roll this year…
Here is a photo of Rachel's Kimonos Roll…
She really enjoyed this and went back for seconds, maybe even a third since it was just one piece of sushi roll that was served each time.  I didn't try it.  I probably would have tried the Dragon Roll that this station served on Saturday night though as it had crispy shrimp and avocado, two things I really like.
On one side of the Kimonos station there was a Beverage station serving two kinds of Ty Ku Sakes (Cucumber Junmai and Coconut Nigori).  Sadly I didn't try these, but I wish I would have.  On the other side of Kimonos was a station serving Sapporo (a popular Japanese beer) and also White Claw Hard Seltzers in different flavors…
Rachel really liked these a lot.  I tried one (I think it was either the Black Cherry or Raspberry) and didn't really care for it.  It was drinkable but not something I would buy.
The other food station in the pool area was Cib's Smokehouse, with Cib being Robert Ciborowski, the former Executive Chef for the Swan & Dolphin Resort…
I say former because I read that he left in December 2018 and was replaced by his Executive Sous Chef, Dan Herman…
The Cib's Smokehouse station has been a part of the Classic ever since I first attended in 2014 so it will be interesting to see if/what they replace it with in 2019.  Dan's Smokehouse??
And speaking of previous years, Cib's had always served either Pork Belly or Handcrafted Bacon (which was basically the same thing) at his station.  Here is 2017's Pork Belly…
I'm not a fan of pork belly because of all the fat involved so I was happy to see that Cib was changing it up this year (on Friday night anyway)…
In the website photo this appeared to be more like a pork rib, which I thought I might like.
Here is what this dish looked like that night…
And here is my serving…
Not really a rib, but I still considered this an improvement over the bacon/pork belly from previous years.  It was definitely less fatty.  I liked the sauce and pieces of caramelized apples, but the fennel puree tasted a bit weird.  Note that on Saturday night Cib was again serving Handcrafted Bacon from this station, so I'm glad I was there on Friday.
Also Cib's Smokehouse was serving a second, bonus dish this year.
And here is what this actually looked like…
I thought this was going to be really good, but the sesame seed bun was kind of dried out and the pulled pork tasted just okay.
It was in the pool area though that I found three more wines that I liked. There was another prosecco (Santa Margherita), a Washington state pinot gris (Kings Estate), a New Zealand pinot noir (Villa Maria) and one of my current favorite wines, Chateau Ste. Michelle's Eroica riesling (another Washington state wine).  For those who like their riesling off-dry (just slightly sweet) I highly recommend this one.
Since the entrance to the Bubble Lounge (located inside the Swan) was right there by the pool we decided to go there next.  It was at this entrance that you deposited the piece of bubble gum (as shown below in the photo from the Disney Food Blog)…
This was optional though.  I chose to keep mine, lol.
Inside it appeared to be set up the same way as last year.
Here is my photo from last year…
They were serving the same two French champagnes as last year (G.H. Mumm Brut Cordon and Perrier-Jouet Grand Brut) as well as the same California cuvee and sparking rose (from J. Vineyards).
They also had the same food offerings as last year including Smoked Trout Salad.  Here's a photo from last year…
And this year's version, which wasn't quite as pretty…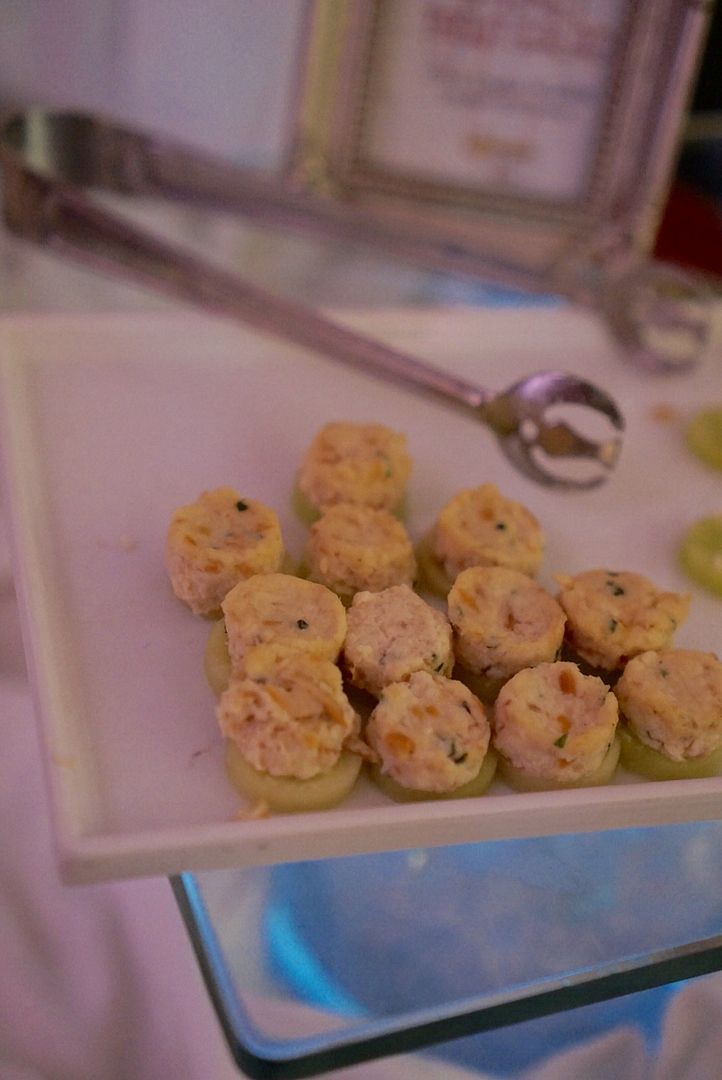 Last year's Candied Detroit Beet, Burratta Cheese, and Almond "Parfait"…
And this year's version, which looked pretty much the same…
Last year's Open-faced Roast Beef Sandwiches…
And this year's that looked more like brownies, lol…
A closer look…
Next is last year's Deviled Eggs…
And this year's…
Last year's Gougeres  (which is the French name for a savory  cheese pastry)…
And this year's…
One new canape was served this year though…
And another look…
And here is what I had…
I'm pretty sure I also had a deviled egg (maybe even two) but for some reason it was not on my plate when I took this photo.  Anyway all of these were good but like last year, my favorite was again the Gougere (aka the cheesy biscuit).  I should also add here that I don't like beets so didn't have any, but Rachel really liked the Candied Beets.
We then left the Lounge and ventured back out onto the main causeway, as there were at least 8 more food stations plus Laurent Branlard's Dessert tent that we had yet to visit.
Our first stop on the causeway was at the Cabana Bar & Beach Club Station (Letter J on the map).  Here is a photo of what they were to be serving on Friday…
Here is a pan of the yet to be plated meatballs on a stick…
And how they were presented to guests…
And a closer look…
I didn't try these but Rachel liked them.
Walking by Todd English's station, we saw he was there this time so I took the photo that I posted earlier.  Working our way down the causeway towards the entrance to the Swan, the next food station was Il Mulino's (Letter H on the map).  Here is what they were to serve on Friday…
And here is what this dish looked like that night…
And a closer look…
Anolini seemed like ravioli to me, both in shape and taste.  The parmesan cheese-stuffed pasta was just a tiny bit more al dente than I like but I really liked the mushrooms, little bits of ham, and pork-flavored broth.
Moving along we found the Chandon Bubbles station in front of the entrance to the Swan.  Here we were able to select from three of their sparkling wines.  My choice was their Sweet Star and it was very good.  Fruity and sweet, but not too sweet.
Then it was on to more food, with our next stop being the Fresh station (Letter B on map) where they were to serve…
And here is a photo from that night of the pan of unplated steak…
And the final presentation…
At this point of the evening I was getting a little full so I started being more particular about what I was trying.  I think I passed on this.  I believe that Rachel tried this though and said it was just okay.
I think we both skipped trying the Crab Cake Slider that was being served at the next station, Garden Grove (Letter C on the map).  Here is what these looked like on the website…
On Friday I took a few photos at this station when I arrived (by boat), as it was right by the boat dock and I passed by it to get to the Check-In table…
They already had several boxed up and ready to go at about 5:15 (the event officially started at 5:30)…
And now about 3 hours later they still had a whole lot of sliders sitting out there for the taking…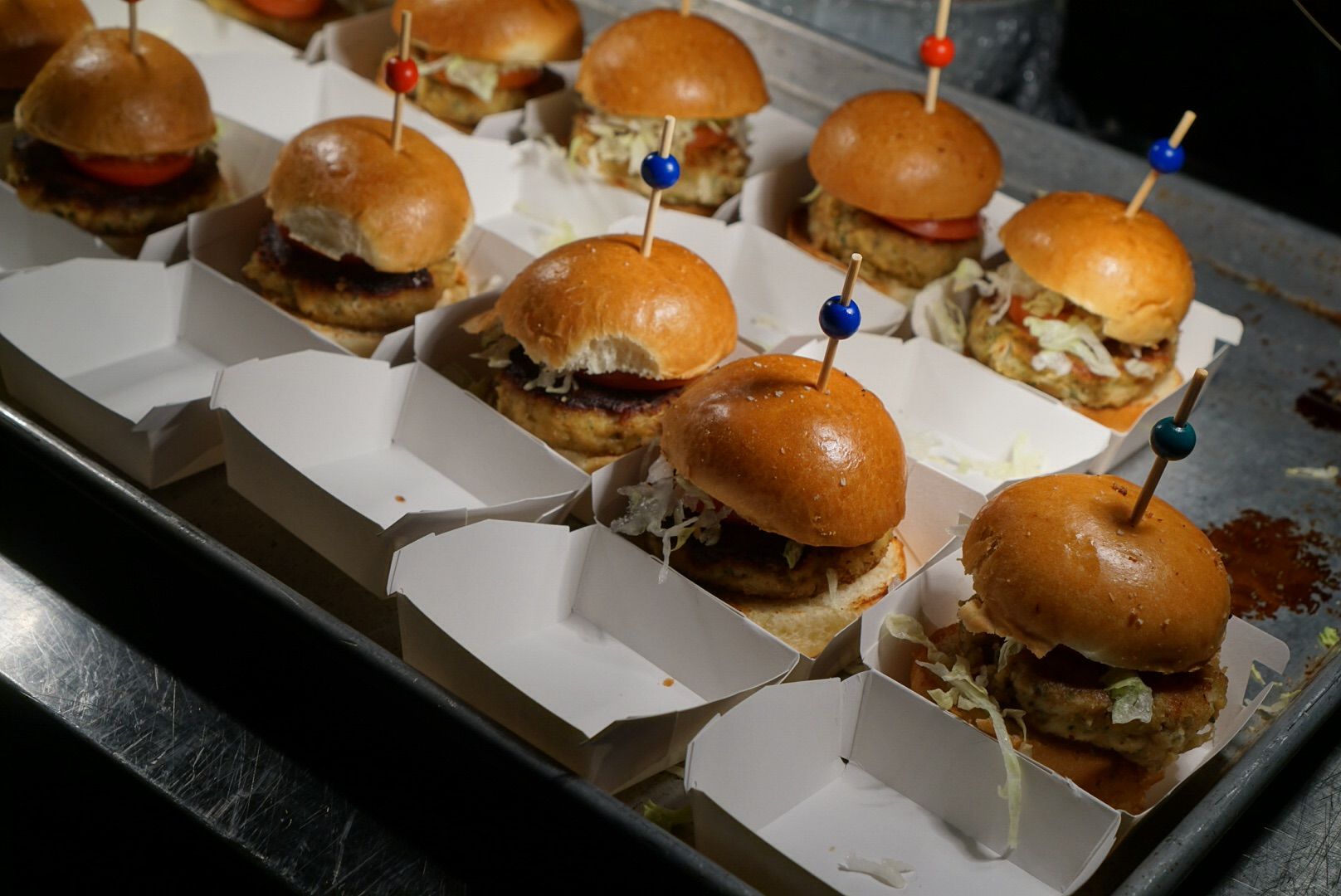 So I have a feeling that these didn't go over so well.
The next thing I tried was from the Bluezoo station (Letter D on the map).  Here they were to serve…
Here is what this dish looked like on Friday night…
A closer look…
And my shrimp…
The (one) shrimp was small but tasty.  It was fried and then coated in a sweet and slightly spicy sauce (maybe honey and sriracha?).
I should have had another shrimp, but instead I went to the Picabu station (Letter E on the map) for this…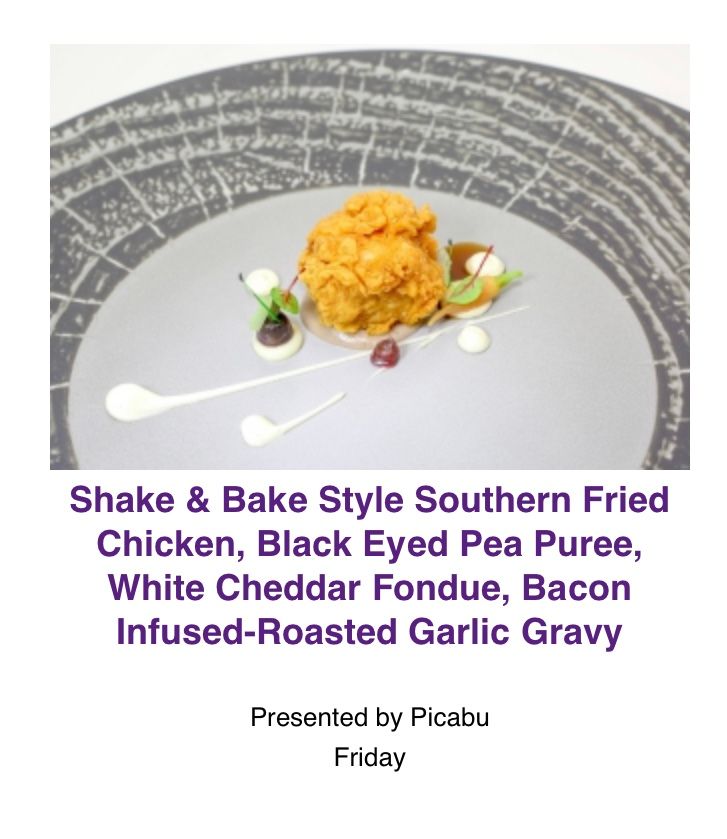 And here is what this dish looked like that night…
Another look…
Hmm…looked like a fancy chicken nugget.  I changed my mind and passed on this one.
Instead I headed to the (always yummy) Dessert tent (Letter F on the map).  Wait, this is not just the dessert tent, but the Laurent Branlard Dessert Tent.  Chef Branlard is the Executive Pastry Chef for the Swan & Dolphin Resort…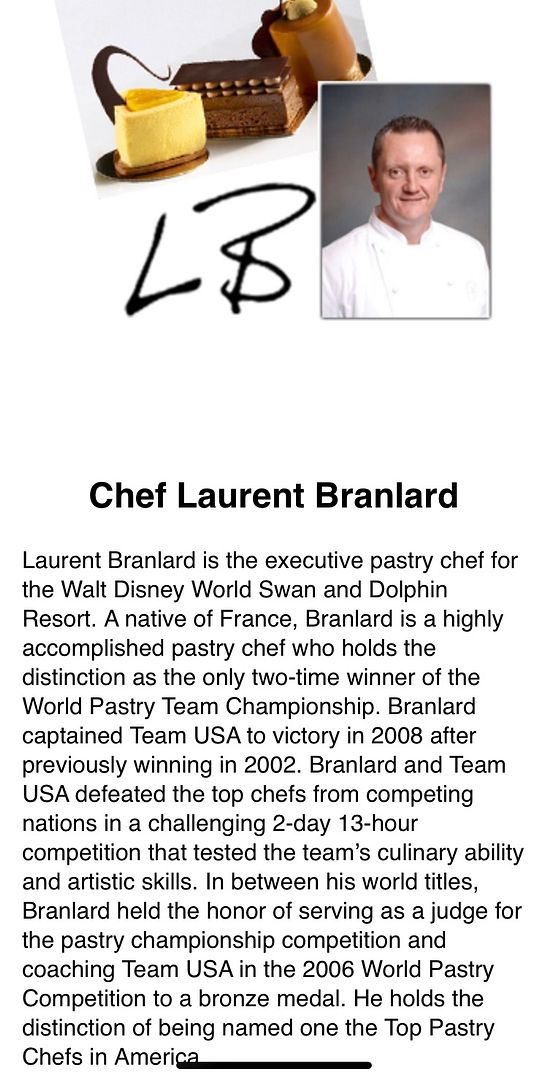 As in previous years, there were three mini-desserts being served here plus an ice cream dessert.  Here are photos of the three desserts for Friday…
Different this year was that we were told that we had to choose just one of these three desserts.  By this time it was very dark, especially in the area where we found a table to stand at and eat our desserts.  Because of this my dessert photos weren't very good.  I therefore was looking online for other photos and found this one from a review of the Classic…
Either they were somehow able to get around the "one dessert at a time" rule or the reviewer had two other people with them, lol.
Anyway, my choice was the Blackberry Cup…
This was good until you got to the bottom layer which was an intensely sweet blackberry compote.
For her mini dessert Rachel chose the Tropical Fruit Charlotte…
This was such a pretty little dessert and she said it was good.  But I think our favorite was the Roasted Pineapple Sundae that they also allowed us to have during Round 1 through the dessert line.  Here is my sundae…
And Rachel's…
This chocolate, caramel and pineapple flavor combination was very good.
After finishing our Round 1 desserts we got back in line to try one more mini dessert.  Rachel tried the Blackberry Cup and agreed that the bottom layer was too sweet.  I though tried the Chocolate dessert…
It was pretty good but the sundae was still my favorite.
There was one more station that we hadn't checked out (or so we thought at the time), which was the Fountain's (Letter G on the map).  The Fountain was to serve this…
This looked good so we decided to share one…
Bad decision.  This was bad.  Super dry, super salty.  We each had a bite and the rest went into the garbage.
And this is the reason why we ended our evening with the shaved ice (snow cones) from all the way back in The Pig & The Poke area…
This was a great way to wash away the taste of those nasty burnt ends.
And it was there that we ended our evening.  The stations closed promptly at 9:00, but we were happily full and just a little bit buzzed (or at least I was) from all of the wine tasting.  I was glad that I had changed my mind and gone along with Rachel to the Classic.  Overall I thought the food was better than last year and with the addition of The Pig & The Poke area there were even more choices.  I also found several more wines this year that I liked.  So now the question is, with the price set at $145 for the 2019 Annual S & D Food and Wine Classic and the date being moved back to November 8 & 9, 2019 will  I make it to the 10th Annual Classic?  That answer is yet to be determined.
P.S. When writing this review I realized that we completely missed a food station, one that was new this year.  It was Letter A on the map and was located on the right side of the causeway, on past the Check-In table.  The Phins station was to serve this on Friday…
I did an online search and found this photo of the pretzel served that night (part of the review done by the Disney Food Blog)…
This one looks pretty good and probably tasted better than the Mickey pretzel I had used my last snack credit on earlier that day.  I'm kind of bummed that I missed trying this.