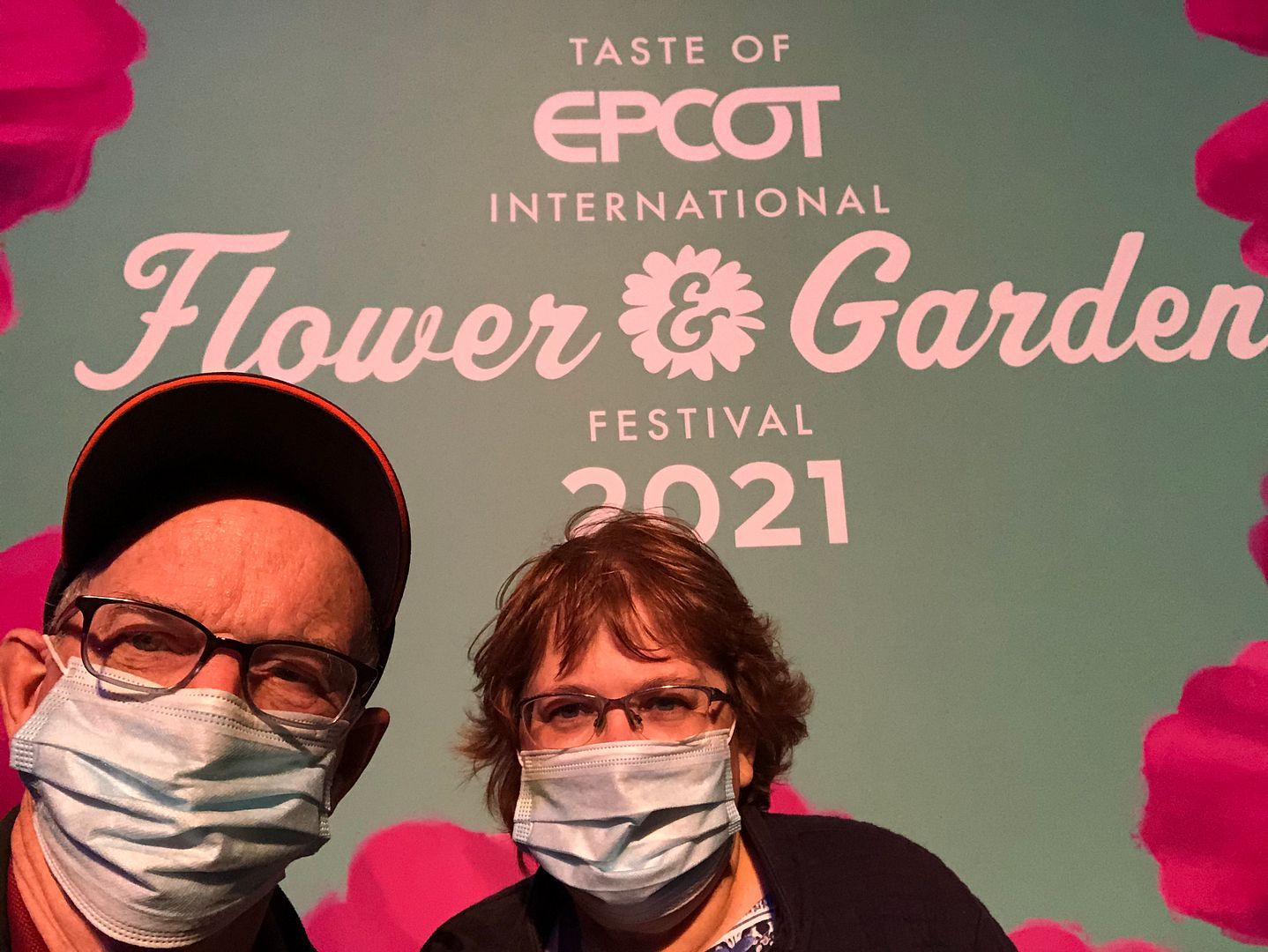 Another unexpected trip to Florida resulted in a quick visit to Disney World of only about 26 hours. Yes, it was a very short visit but it was just long enough for me to get a lay of the land…the new COVID restricted/modified version of Disney World. My goal for this visit was to determine if a longer trip in 2021 would be worth the time and money under the current conditions. So stay tuned for my trip report and find out the answer to the question, "Will I be returning to Disney World in 2021?"
I CAN'T BELIEVE WE ARE HERE!
So here we are, driving under the Walt Disney World arch at 10:04 a.m. on Monday, March 8…
We were on our way to the Yacht Club resort, where I had made a one night room reservation. I was happy to be able to get the "35% on Rooms in Early 2021" discount on a Standard view room. The other key selling point for me was Disney's current cancellation policy…
Enjoy added peace of mind when booking! To provide additional flexibility, we are waiving Disney-imposed change and cancellation fees up to the date of check-in for reservations with arrivals through April 30, 2021.
When I reserved our room, purchased our 2 day tickets, and made our park reservations just a few days prior, this visit was far from a sure thing. In fact, my husband gave it about a 10% chance of happening. But you know what they say, "Happy Wife, Happy Life." So when my husband took me to Disney World on Monday, March 8th, he made his wife very happy.
Happy as an Epcot butterfly…
Trust me, there is a big smile behind that mask!
But before Epcot we first had to take care of some things at the Yacht Club…
My husband had not been to Disney World since 2015. So although I brought with us his Magic Band from that 2015 trip, I had very little hope that it would still be usable. And I was correct…there was no magic left in that 5+ year old band, lol.
So at the Yacht Club's Guest Services his Magic(less) Band was replaced with a Magic Card…
So this card became his room key, park ticket, and room charge card. He could do everything with it that I could do with my Magic Band except wear it on his wrist, lol. Oh, and speaking of my Magic Band, I brought one of the bands from my Fall 2019 trip and Guest Services made sure all of the new links were in place (room key, charging privileges, park ticket). Or so I thought…bur more on that later.
Anyway, our room wasn't yet ready, so while my husband used the restroom off the lobby I looked around and took some photos.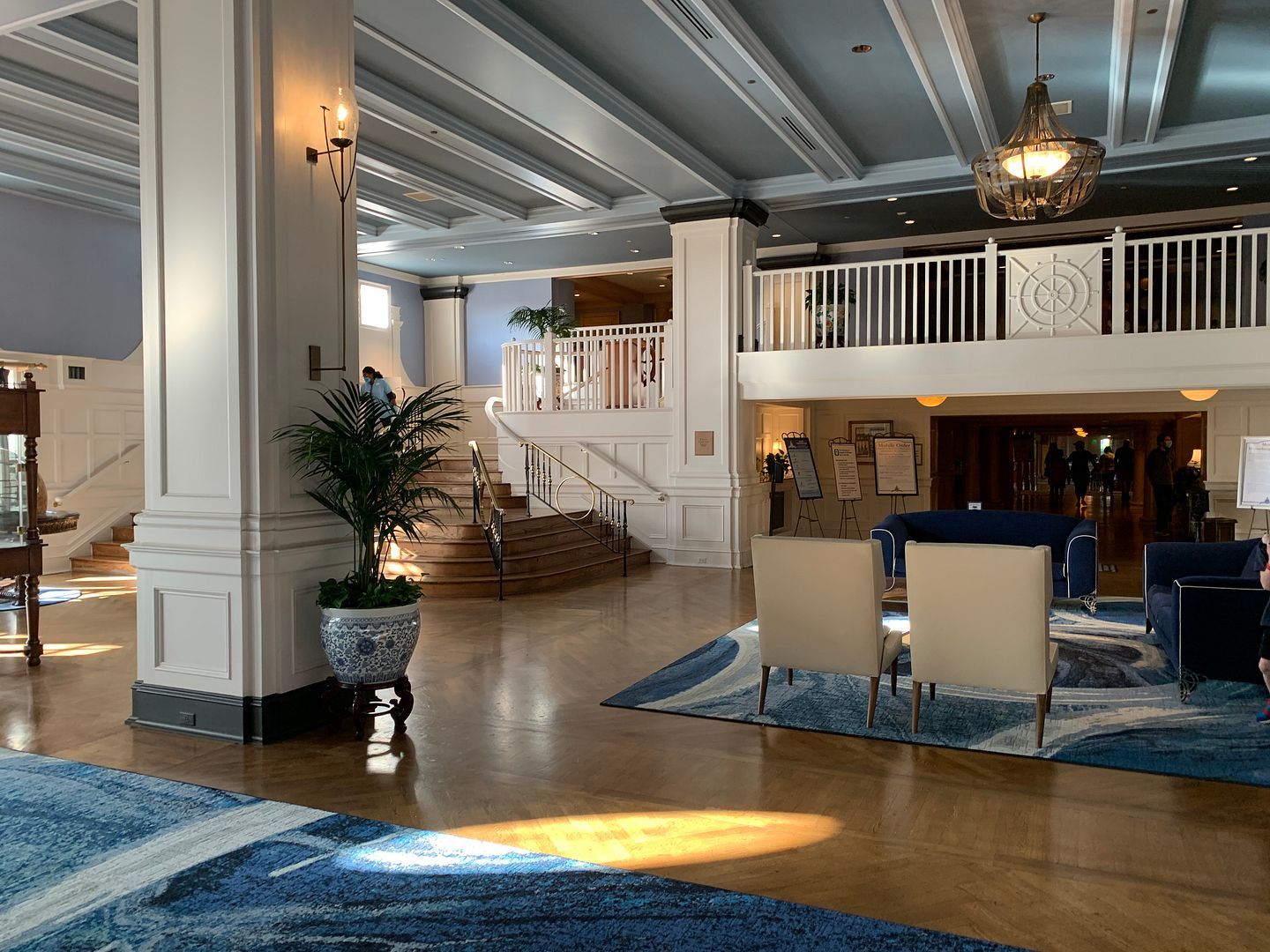 The lobby had gone through a refurbishment since the last time I'd walked through it in Nov. 2019. New furniture and area rugs…BLUER. I liked it!
Lots of signs posted in the lobby…
Note: Disney Resort guests now receive complimentary parking at the Theme Parks, which we took advantage of the next day. Now if only they waived the $25/night fee (for Deluxe resorts) for guests to park their car at the resort. Boo to Disney for taking away the free parking for hotel guests a couple of years ago!
And here's what's open at the Yacht & Beach Club Resort as of March 8, 2021…
Though the Yacht Club and the Beach Club Villas (DVC property) are open, the Beach Club remains closed (until May 30, 2021). Also not reopen yet are the Yacht Club's signature restaurant, Yachtsman Steakhouse, or the adjoining bar, Crew's Cup Lounge. And I seem to recall that the Ale & Compass restaurant used to serve lunch before the COVID shutdown, but now it's only open for breakfast (until 11:30) and dinner. But we weren't planning on doing any Table Service dining on this short trip so the reduced options and hours for Resort dining were no big deal for us.
And one more sign, this one regarding their Housekeeping Service (aka Mousekeeping)…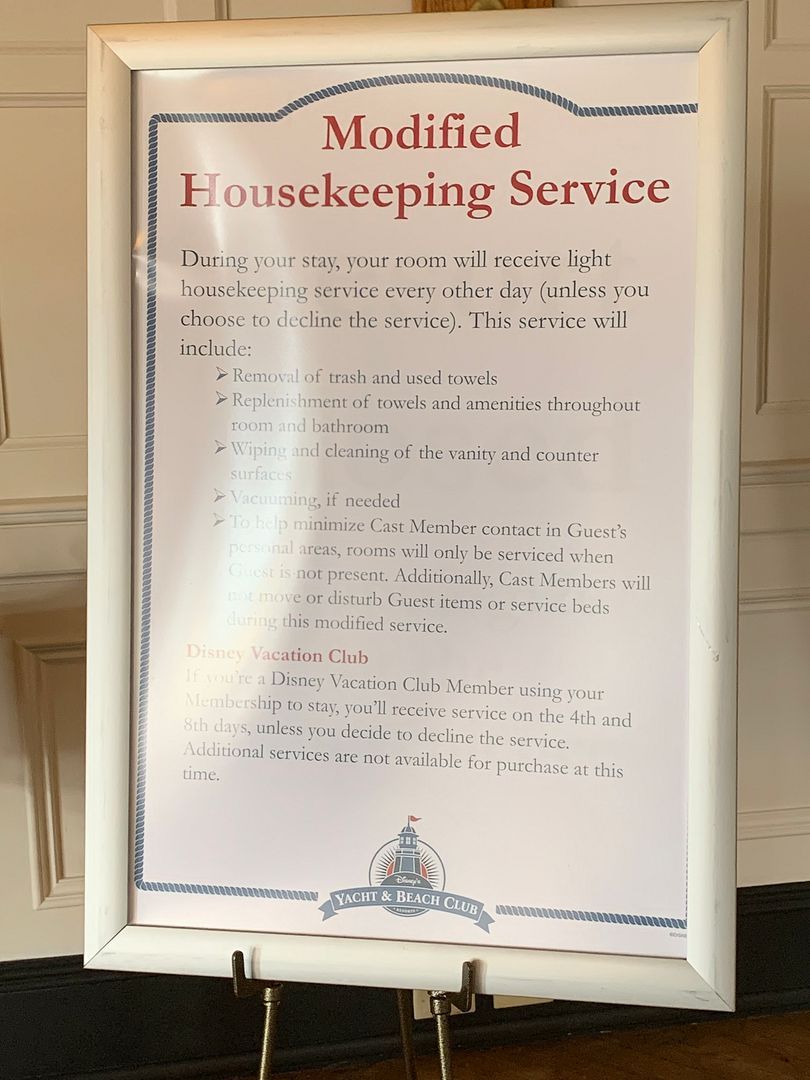 Again, we were only here for one night so this did not affect us.
By now it was 10:30 and time to make the short walk to the International Gateway entrance to Epcot. Though it officially opened at 11:00 that day, I had read that guests are being allowed to enter the parks about 1/2 hour earlier than the posted time.
During our walk to Epcot we noticed there were socially distanced spaces marked along the sidewalk in front of the Beach Club Resort. I was puzzled as to why there was a need for this in front of a still closed hotel. The answer to that question became evident to us during our walk back to the Yacht Club after Epcot closed that evening. The socially distanced line of people waiting to board the Skyliner extended all the way over the bridge and along the walkway in front of the Beach Club. WOW! That was our first clue of how the lines/wait times were being affected by the safety measures being taken by Disney World to prevent COVID spread.
EPCOT FROM OPEN TO CLOSE
So our day at Epcot began with our first experience with the new procedures for entering the parks. Since this was not a planned trip I had not had the time to research what changes had been made. I knew only that masks were required to be worn (except when stationary and actively eating or drinking) and that our temperatures would be checked before being allowed to enter the park. I was perfectly happy with both of these rules. In fact, if they were not in place I would likely not have gone to Disney World, since I hadn't yet had a COVID vaccine. But now the question was, what else had changed?
As we approached the International Gateway entrance gates we were directed to a canopy tent set up to the side. It was here that we had our temperature taken with a touchless forehead thermometer. Having both passed our tests, I was next expecting to have to go through Bag Check, as my husband was carrying a backpack. But to my surprise there was no Bag Check. Instead we were waved on to the short socially distanced spaced line for the metal detector scanner. No need to remove your phone from your pocket, etc. to walk through. So I'm guessing that they've upgraded their security scanners to allow for this big change. One at a time we walked through the scanner (my husband was still carrying his backpack) and since neither of us set off an alarm we then proceeded to the entrance gates. My husband correctly chose the faster moving line and soon he was inside the park waiting for me. When it was my turn to tap my Magic Band for entry into the park (by the way, gone were the fingerprint scanners) I couldn't get a green light despite multiple tries. So I had to step to the side and a Castmember with an iPad checked to see what was up with my Magic Band. After a few minutes the problem was apparently detected and solved and I got back into one of the short lines to enter the park. Thankfully this time I successfully tapped in with my band and we were off to the Land to ride one of my favorites, Soarin'.
Soarin' was nearly a walk on, as we proceeded up the long ramp without ever stopping until we had nearly reached the point where they divide up the line into Groups A, B, and C. It was at this point that I took this pic of my husband and sent it to our kids asking them, "Guess where we are?'
Since the possibility of this trip happening had seemed unlikely, we had not told them until now that we were going to Disney World. Anyway, this photo was taken at 10:59 (with official park opening time of 11:00) so it had taken less than 1/2 hour from when we left the lobby of the Yacht Club. Not too bad considering the problem I had had with my (un)Magic Band.
Once we reached the head of the line and were assigned to Group C, we found that they are no longer having the entire group stand in the area where they show the video. We were among the guests who were held outside of that area until boarding started. I did notice that they had installed plastic shields in between the three lines of this area. Once we had taken our seats on the ride, I was a little surprised that they seated another couple next to my husband. There was a plastic shield between them though and unlike me he is fully COVID vaccinated but still I thought it odd that they had kept us socially distanced while standing in line but then seated us next to each for the 5 or 6 minute ride.
So this was the first time that my husband rode the World version (rather than the California one) of Soarin' and he enjoyed the changes. Afterward I asked what he wanted to ride next, Test Track, Spaceship Earth…? He asked if those rides had changed since he was last here in 2015. With the answer being no, I realized that we were likely done with rides for the day. But then I remembered the Frozen ride and he agreed to give it a try. So we were off to World Showcase, with a few stops along the way to take photos of these Flower & Garden topiaries…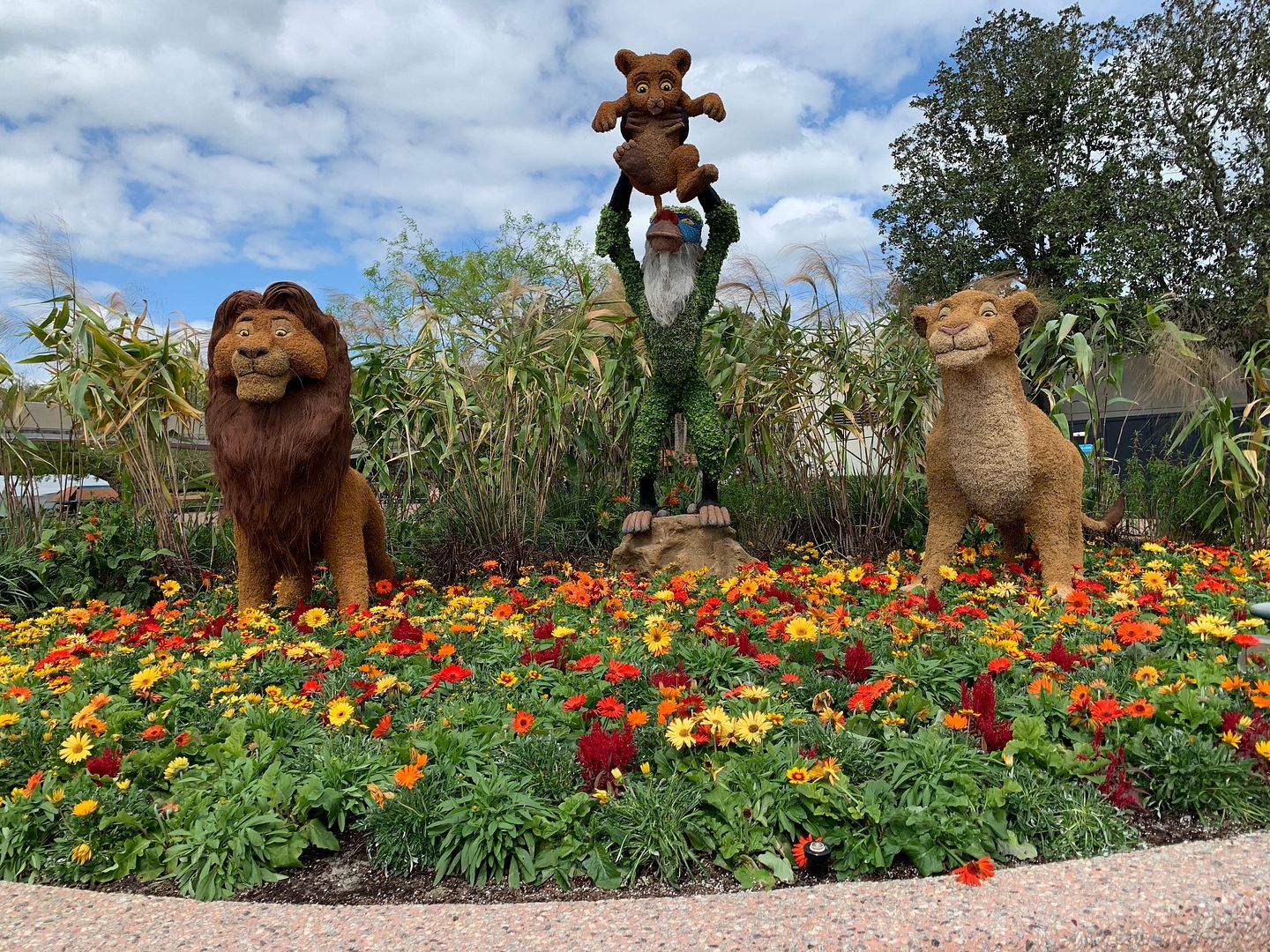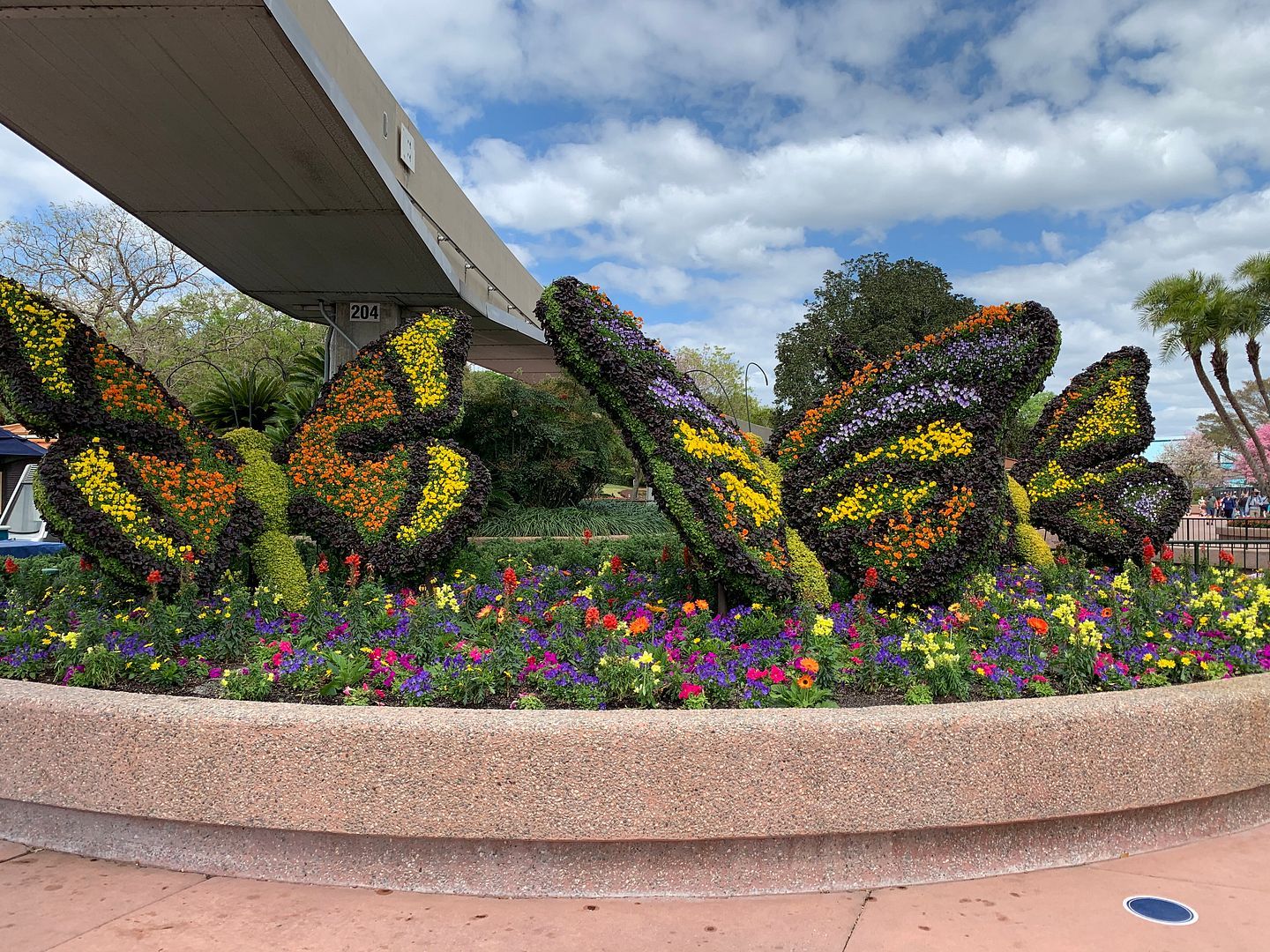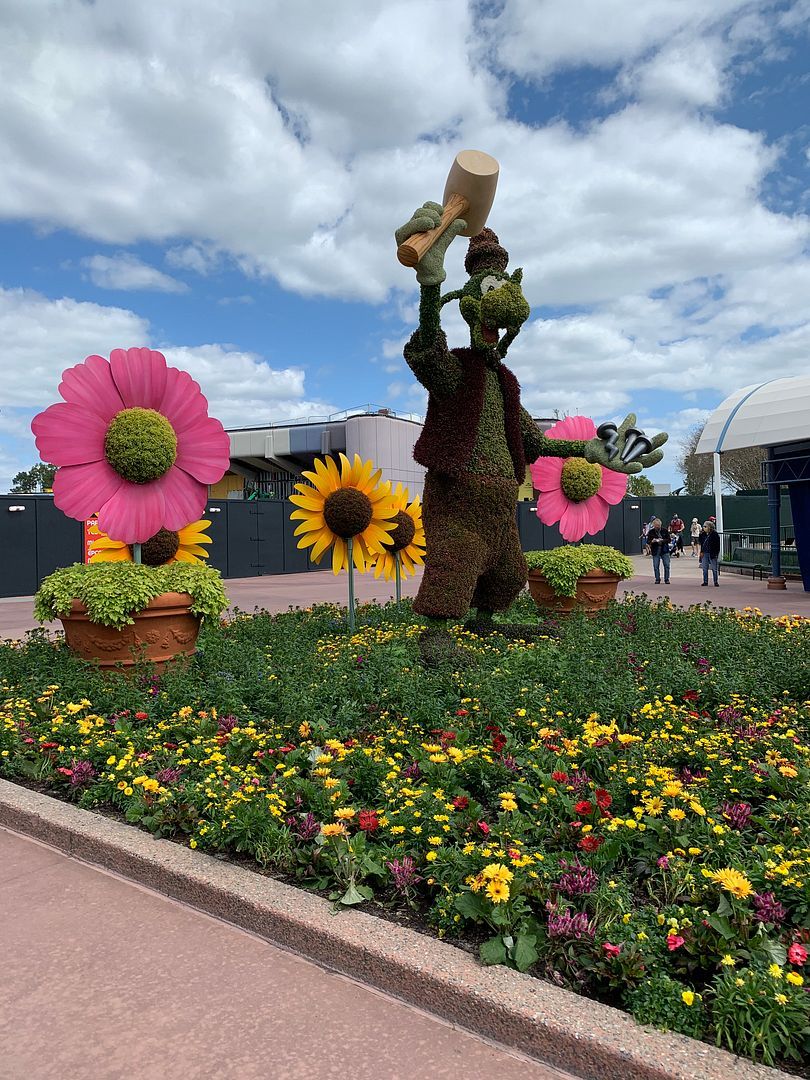 After meandering through Future World looking at these topiaries and taking photos plus my husband got a lengthy business call along the way, it was noon by the time we reached World Showcase. So we postponed our Frozen ride until after we visited some of the Flower & Garden Festival Food booths.
Next up: Was it possible that we started with the "Impossible"?
So in case you didn't already figure out our first booth from my clue, we began our eating at the Trowel & Trellis hosted by IMPOSSIBLE Foods…
So I attempted to withhold the fact that it was meatless (aka plant-based) when I asked my husband if he wanted to try the boneless Short Rib here. I had wanted to see if he would notice the difference in a blind taste test. But he declined on the short rib so I had to come clean and tell him that I wanted to try the IMPOSSIBLE short rib because the review I had read on the Disney Food Blog had said it was DELICIOUS! So we had high expectations when we found an empty picnic table behind one of the Port of Entry shops and removed our masks to dig in to our…
Boneless IMPOSSIBLE Korean Short Rib with Cilantro Lime Rice, Danmuji Slaw, and Kimchee Mayonnaise – $6.75
Ok, first of all, this did not look appetizing. It didn't look like the photo I saw of it in the Disney Food Blog review…
But looks can be deceiving, right? Well, sadly in this case they weren't. The "short rib" tasted pretty much as bad as it looked. The texture was not at all like a short rib but instead more like meatloaf. But not a good, tasty meatloaf. This was dry and tasteless "meatless" loaf. So on a scale of 1 (being pretty much inedible) to 5 (being DELICIOUS!) we gave this a 2. Only the Kimchee mayo saved this dish from being a 1 though.
So not a very good start to our Flower & Garden booth eating. We decided to try another booth before moving on to Norway for Frozen. And the next booth along the way was the always popular Mexico booth, Jardin de Fiestas…
We decided to get two things here. First was the…
Tostada de Cochinita: Braised Pork on a Crispy Corn Tortilla with Black Beans topped with Pickled Onions, Mango-Habanero Relish, and Oregano – $7.00
Ok, so again we were in disagreement with the Disney Food Blog. They said this fell flat because the pork was too greasy. Our pork seemed dry but otherwise this was pretty good. In our opinion, much better than the IMPOSSIBLE short rib. However, it wasn't nearly as good as the chicken tostadas (Tostadas de Pollo) that were once served at Mexico's San Angel Inn restaurant. Sadly I don't see them on their current menu but I think they still have them at the Choza de Margarita kiosk (also located in Epcot's Mexico area).
Here's my photo of the Choza tostadas I had a few years ago…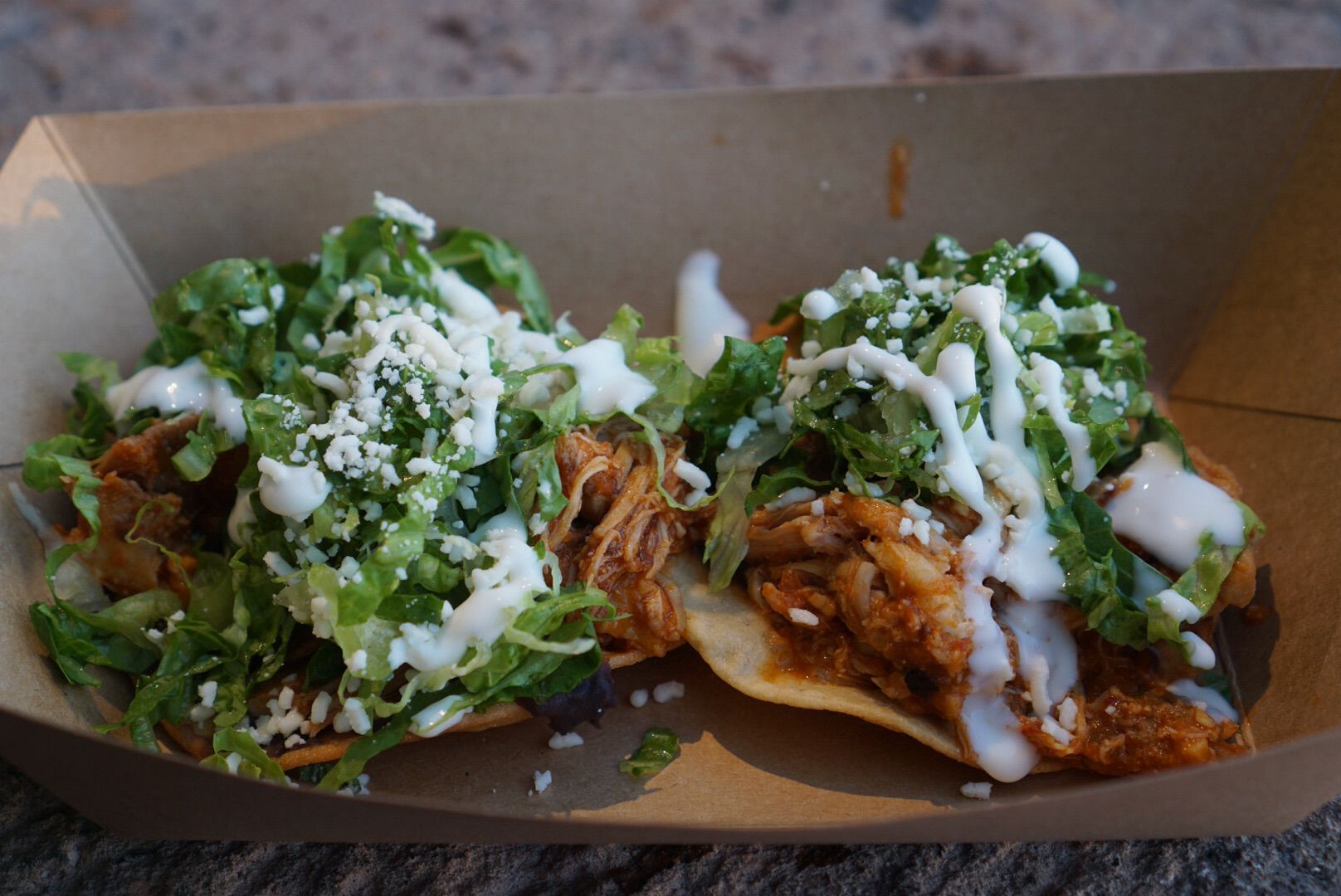 They weren't quite as good as the ones I've had several times at San Angel but still better than the pork one from the Flower & Garden booth. The shredded chicken was juicy and flavorful. They just had way more shredded lettuce than I wanted. Also note that these are $10.50 for two while the pork one was $7.00 for only one. So with all that in mind, I would give the F & G booth's pork tostada a 3. If you find yourself hungry for a tostada while at Epcot, my advice would be to keep on walking past the Jardin de Fiestas booth and continue on to Choza de Margarita for their chicken tostadas.
Ok, now on to our other choice from Jardin de Fiestas…
Taco Vampiro: Braised Beef on a Corn Tortilla with Crispy Grilled Monterey Jack Cheese and Salsa Ranchera – $7.25
So to be honest, I had never heard of a Taco Vampiro before. For those of you like me, here is a definition: Vampiros are a style of taco in which the tortilla is toasted on a comal (smooth, flat griddle) until firm and then topped with melted cheese, carne asada—or other meats, pico de gallo and finished with a salsa of your choosing. So a pretty accurate description for what is being served at the Jardin de Fiestas booth. I just noticed from looking at the photo that there was some (what appears to be) esquites (corn) served with the taco. I don't recall eating this. So either my husband ate it all or it was totally unremarkable, lol. As for the taco, it was pretty good…the best so far. We gave it a 4.
Next up: Will there be a second ride for us that day??
Sadly the answer to that question is NO. By the time we made our way to Norway at about 12:45, the end of the socially distanced spaced line for the Frozen ride had reached China. So I had to "Let it Go" and move on in search of more food. I thought maybe we could swing back around later in the day and catch it at a less busy time but that never happened,
The next booth was China's Lotus House. I decided to skip this one since two of their offerings were repeats from last year that I had tried. Here is my photo of these…
Bon Bon Chicken Skewer with Sesame and Peanut Sauce & House-made Crab and Cheese Wontons
I gave the chicken skewer a 5 last year and the wontons a 4, mostly because I thought they were overpriced at $6.00 for 3. Unfortunately I forgot to take a photo of this year's menu sign but I see from looking at the online menus that they raised the price for the wontons this year to $6.95. Ouch! Oh, and the chicken skewer last year was $6.50 but this year is $6.75.
But anyway, I wanted to try new things this year so we moved on to Germany's Bauernmarkt: Farmer's Market…
Last year I had tried both the Strudel and the Toasted Pretzel Bread…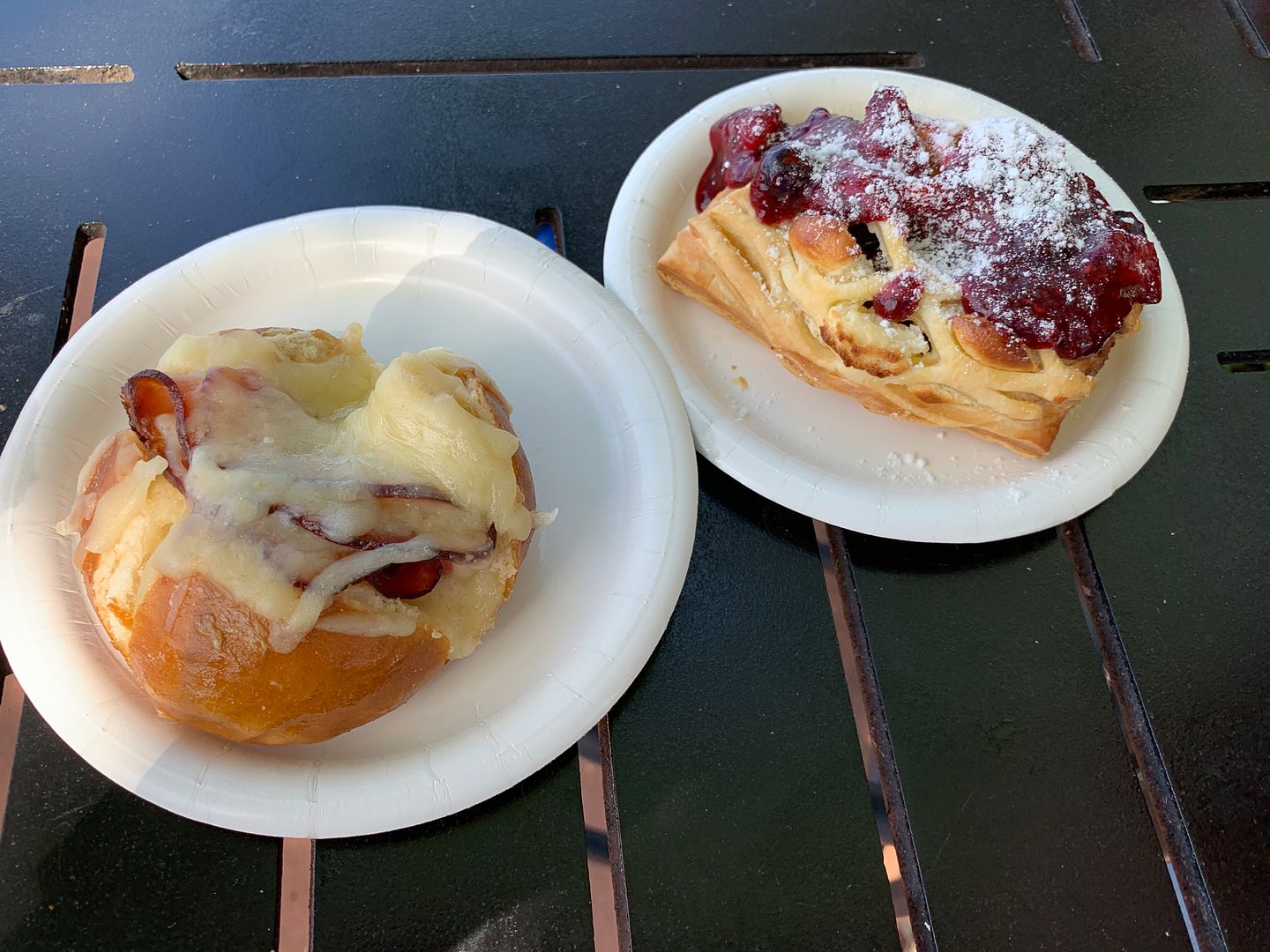 Toasted Pretzel Bread topped with Black Forest Ham and Melted Gruyere Cheese & Warm Cheese Strudel with Mixed Berries
While the Pretzel sandwich was overly salty (mostly due to the ham) and we gave it only a 3, the Cheese Strudel was a winner and received a 5 from us last year.
But again, I wanted to try something new so this year I tried their…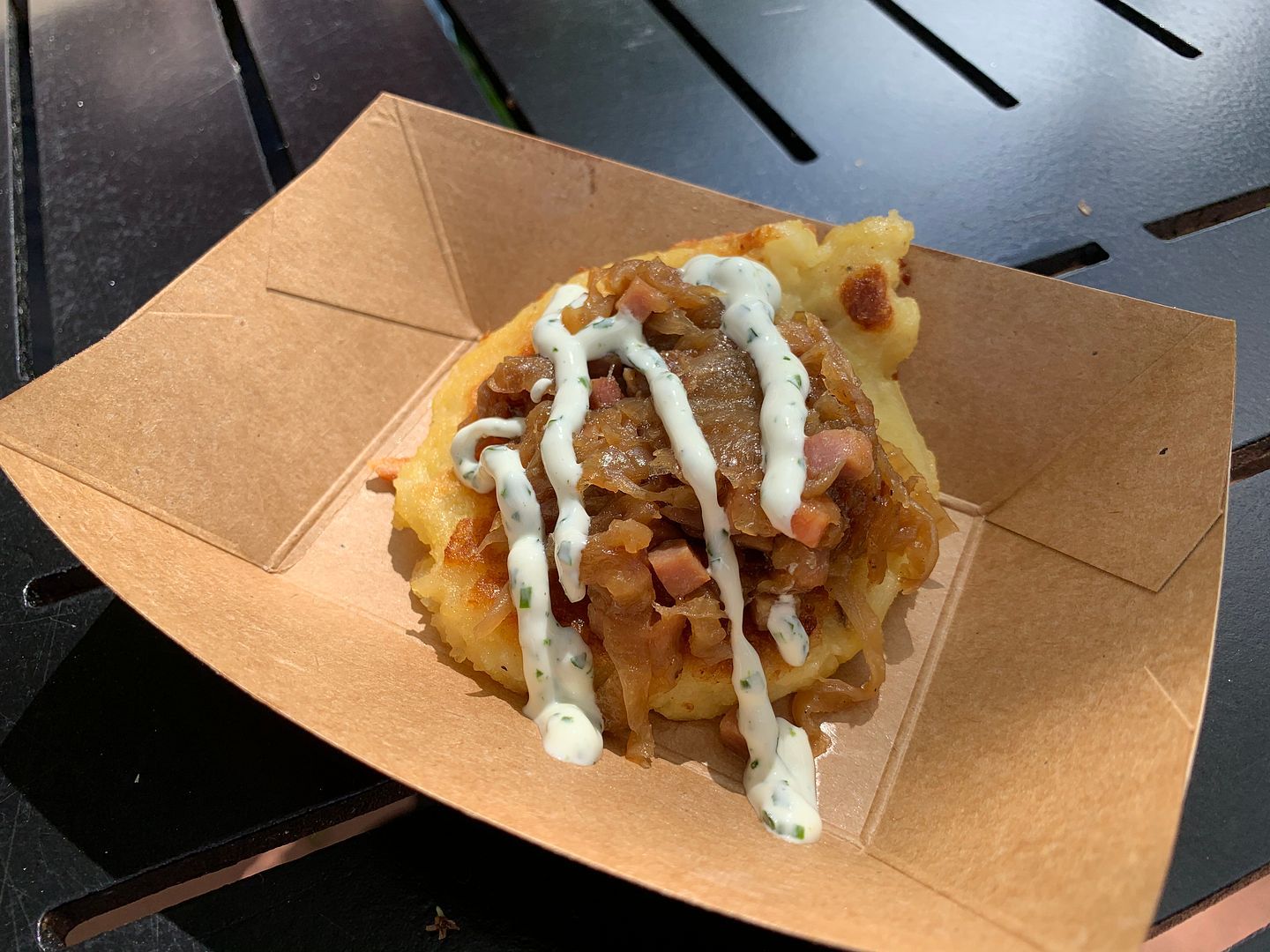 Potato Pancake with Caramelized Ham, Onions, and Herb Sour Cream – $4.75
They went way too heavy with the caramelized onion here. It dominated the other flavors of this dish. Because of this we had to give it a 2.
But that's not all we had here, because when my husband saw the strudel he had to have it…
Warm Cheese Strudel with Mixed Berries – $4.50
While this looked different from last year's version…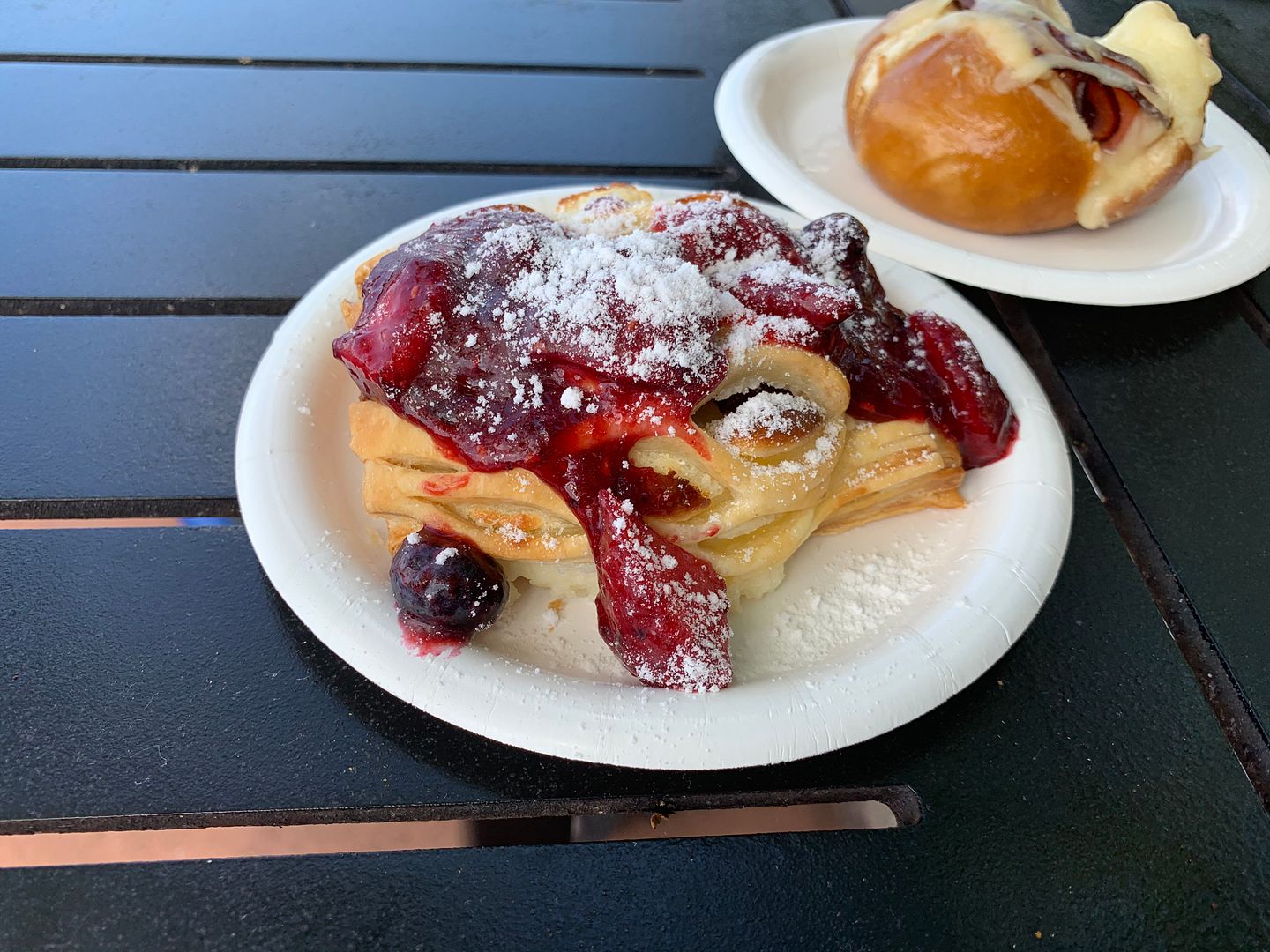 …it was equally DELICIOUS! We again gave this a 5 so I was glad that my husband insisted on getting it.
Then while we were in Germany I wanted to check out Karamell-Küche.
The display cases that used to be chocked full of caramel goodies were no longer that way. The goodies were pretty sparse now and the options were fewer. In fact one whole display case was filled with only caramel corn…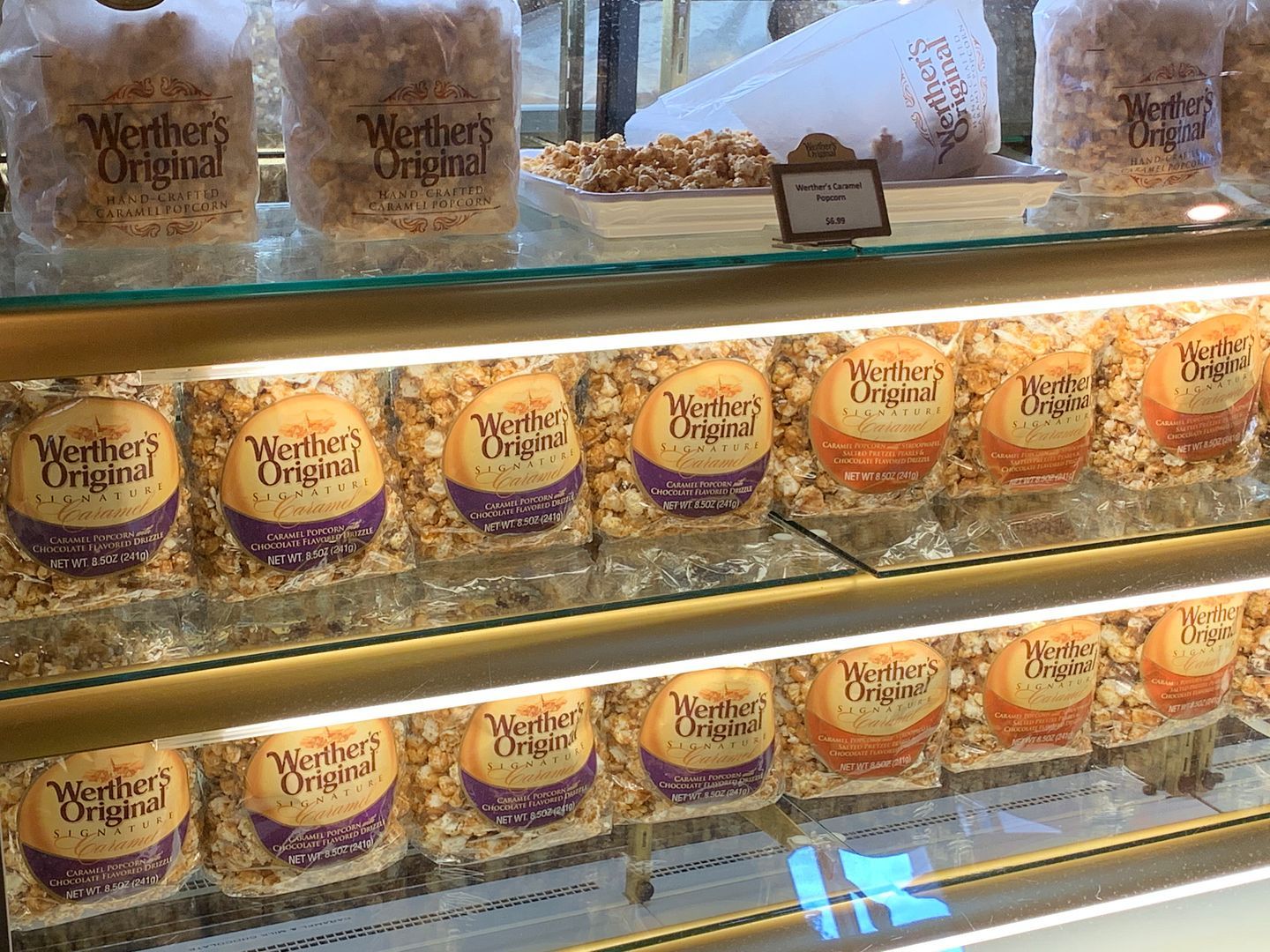 But I still purchased two of my old KK favorites. In addition to a bag of Caramel Corn (for $6.99), I also got a Milk Chocolate Caramel Square topped with Sea Salt for $4.29…
Both of these treats were saved until we got home. While the Caramel Square tasted as good as I remembered it being, I was disappointed with the Caramel Corn. It didn't taste very fresh and it was filled with hard, unpopped kernels. I probably won't be getting the caramel corn here again.
After Karamell-Küche we moved on to Italy's booth, Primavera Kitchen…
This booth again had the Margherita Flatbread Pizza that we had last year…
It was pretty good and we gave it a 4 last year. But what cost us $7.00 then was now priced at $8.50!
And here is where I messed up. Though I took a photo of Primavera Kitchen's menu I did not take note of the prices before ordering. Wanting to try something different I ordered the…
Arancini – Sweet Sausage Fried Risotto Balls with Pomodoro Sauce – $12.00
Yes, you read that right. $12.00!!! While these were very tasty (I think they were the same as what they used to serve at Via Napoli) they were not worth that price. So though they tasted like a 4 they get demoted to a 3 because of their $12.00 price. So BUYER BEWARE…pay attention to those prices.
We then took a break at the American Gardens Theatre…
To watch the 1:50 performance by the Voices of Liberty…
We've always been big fans of this acapella singing group that used to perform inside the American pavilion but now their shows are out in the open-air theater. We enjoyed them so much that we returned later for the next performance at 3:20. They switched out a few of the people and sang different songs but were still great.
But between their performances we moved on to Japan…
Oh, but you may have noticed that we skipped America's Magnolia Terrace booth…
Last year we got the Boudin Two Ways here…
It was not good and we gave it only a 2. I thought about getting the Pecan Cake this time but we weren't yet ready for another dessert.
So it was on to Japan's Hanami booth in search of something savory…
Here we found this…
Soy-glazed Pork Shank with Truffle Mashed Potatoes, Crispy Lotus Flower, Garlic Chips, and Green Onion – $7.00
This was very good. I couldn't really taste the soy glaze on the pork but it was still good and thankfully not fatty. And the truffled mashed potatoes were awesome! We gave this a 5.
After returning to America for another Voices of Liberty performance and going inside for the American Adventure show, we then moved on to Morocco's Taste of Marrakesh booth…
From this booth we chose the…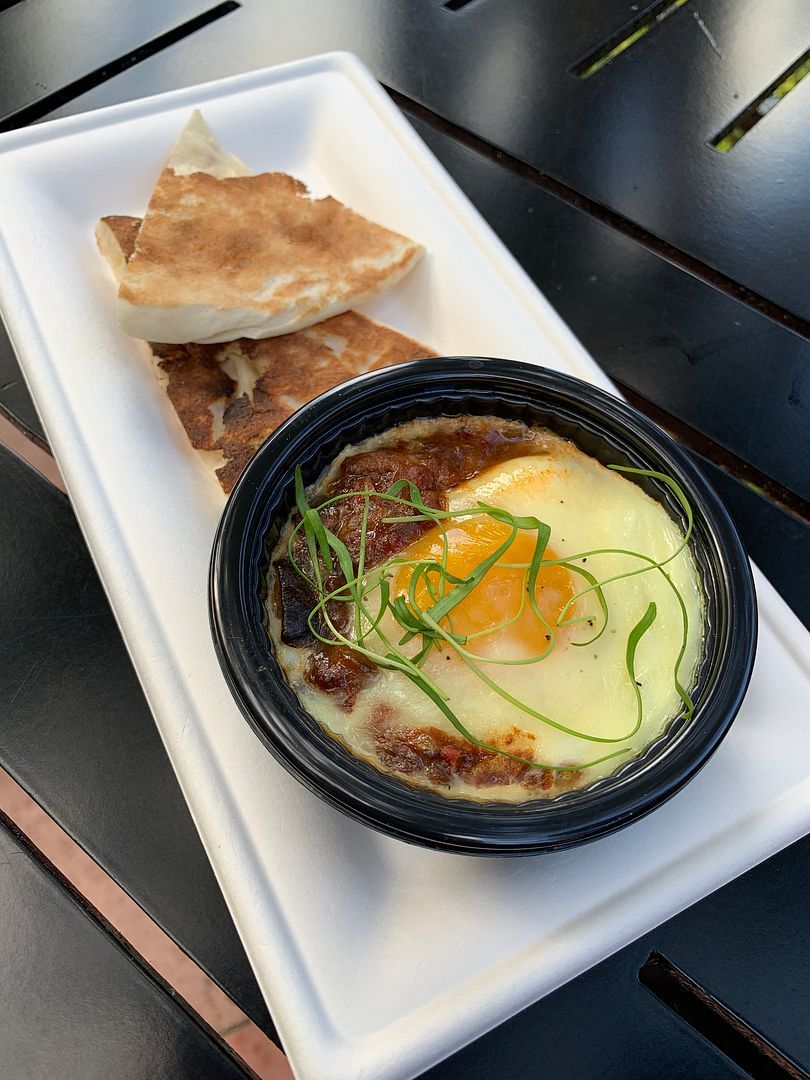 Shakshuka: Moroccan Baked Eggs in a Spiced Eggplant and Tomato Stew – $5.50
I chose this because this was another dish that was recommended by the Disney Food Blog but again I didn't agree. The egg dish was just okay and the pita bread was a bit overcooked/burned. Overall we gave this dish a 3.
Between the Morocco and France pavilion is La Isla Fresca booth, which was our next stop…
From this booth we chose the…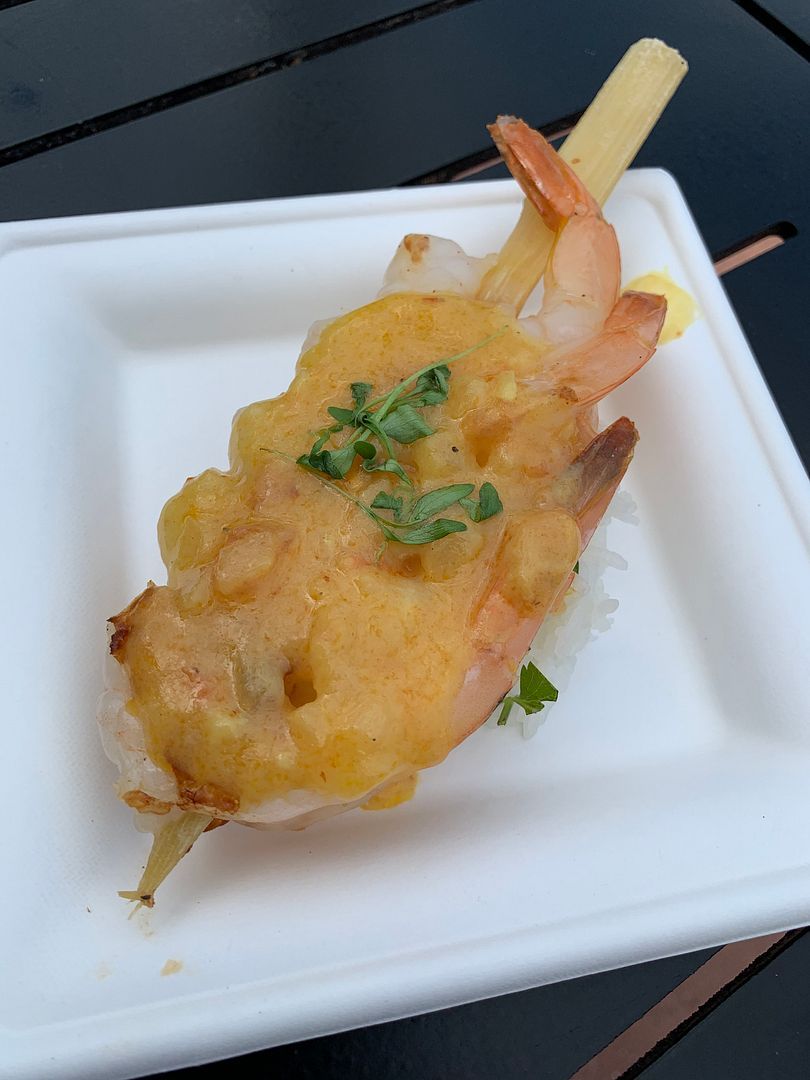 Sugar Cane Shrimp Skewer with Steamed Rice and Coconut-Lime Sauce – $7.00
I was expecting this dish to be sweeter than it was, with a sugary glaze on the shrimp. But that wasn't the case. The sauce was good and the shrimp were well-cooked. But overall there was nothing memorable about this dish. We gave it a 3.
While we were seated and eating our shrimp dish at about 4:15 the character cavalcade passed by…
We had seen it earlier at about 1:00 when we were in Germany. It was the same one both times with 4 princesses on board…Belle, Aurora, Jasmine and Snow White. This is just a parade, with the princesses remaining in their seats and waving to the guests. To my knowledge there is no schedule for this, which is probably necessary in order to avoid people from congregating to wait for the parade.
The next stop on our trip around the World was at another very popular booth, France's Fleur de Lys…
Last year we tried the Goat Cheese & Onion Tart that returned to the booth year. In fact it was the first thing that we tried at the festival last year…
We enjoyed it and gave it a 4. So this time I was between getting the Braised Duck or the Beignet. I let my husband pick and chose the…
Beignet Caramelise, Fourre Creme Vanilla, Glace au Caramel Fleur de Sel: Caramelized Beignet filled with Vanilla Cream and Glazed with Caramel Fleur de Sel – $5.25
This was tasty but nothing like any beignet I've had before. It was actually more like a pudding-like creme filled donut. Here's a look inside…
My husband really liked this and probably would have given it a 5 but I prefer the New Orleans Cafe du Monde-style of beignets. So I would give the Fleur de Lys version only a 4.
It was now nearly 5:00, which means Happy Hour! Being in France my cocktail choice was the…
Grand Marnier Orange Slushie from the France Kiosk – $11.50
It had been a few years since I'd had this. I'm happy to say that it's still awesome! But I should warn you that if you are susceptible to "Brain Freeze" like my husband is then this might cause you a little pain. But thankfully I've never experienced "Brain Freeze" so I say, "Bring on the Slushie!"
My husband decided he wanted something from the Rose & Crown pub for his Happy Hour drink so we were ready to forge ahead to the UK. But first one more topiary pic from France…
As we were crossing over the bridge I noticed that the boats were still running back and forth across World Showcase lagoon….
So if you are wanting to save yourself some steps, this is still an available option.
While the Rose & Crown restaurant is closed right now for refurbishment [NOTE: I just read that it reopened yesterday, 3/21], the bar service is still available at the pub for takeout drinks. While he was inside getting his Smithwick's Irish red ale, I took some photos of the topiaries in the UK area…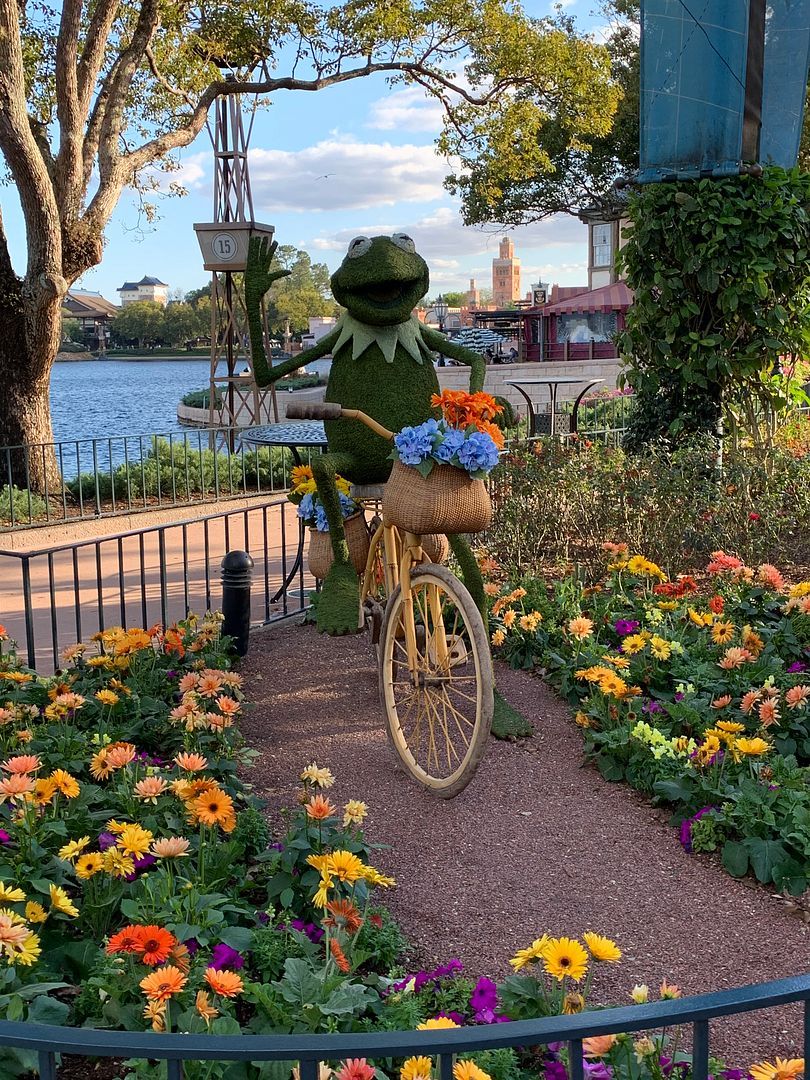 While he enjoyed his ale, we took in a performance of the JAMMitors…
They were performing on the Mill Stage between the UK and Canada pavilions. I still think of it as the Off Kilter stage though.
I then remembered that the Canada movie had changed in early 2020 so I suggested to my husband that we go see it. The new movie "Canada: Far and Wide" narrated by the actors from Schitt's Creek, Catherine O'Hara and Eugene Levy, was actually introduced in 2020 before the COVID shutdown. My son and I got to see it when we visited Epcot in March 2020. So what has changed (if anything) regarding the process of viewing this movie? Well, they didn't allow people to just enter the waiting area and sit or stand wherever they pleased while waiting to enter the theater. Instead a Castmember stood at the entrance and monitored the number of people allowed inside. Not only that but a CM actually led us inside to our assigned square on the floor to stand while we waited. Once the doors opened we were told to enter but remain socially distant while doing so. The theater itself seemed unchanged though. We were told to find a spot to stand and remain 6 ft. apart (I think spots may have been marked off on the floor) and of course were given the same old spiel of "no sitting on the railings or on the floor, etc." Anyway, my husband enjoyed the movie and I liked seeing it a second time.
Afterward we were ready for a little more food and since we were in Canada…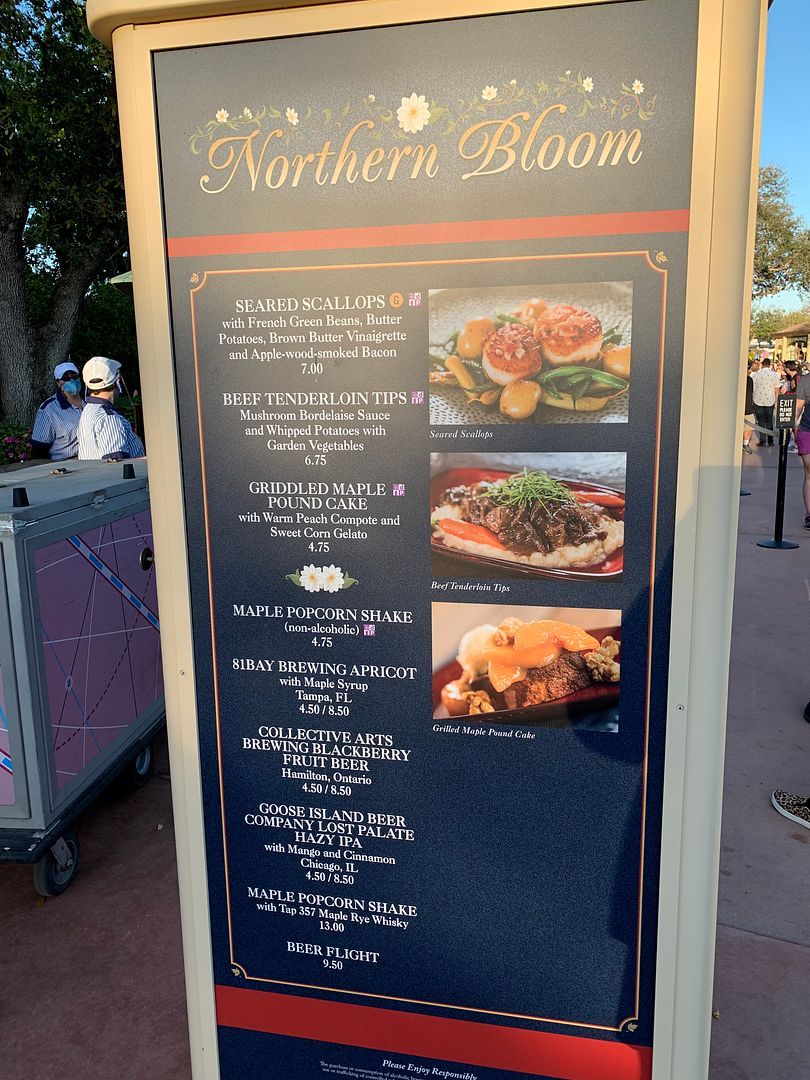 From Canada's booth, Northern Bloom, we chose the…
Seared Scallops with French Green Beans, Butter Potatoes, Brown Butter Vinaigrette, and Applewood-smoked Bacon – $7.00
Unfortunately I didn't care for the vinaigrette that was used with this dish. It tasted to me like pure vinegar. My husband didn't mind it but he's not a big fan of scallops. Even so, he ate most of this anyway, as he didn't want to waste the $7.00 that we paid for it. So overall we gave this dish a 3.
By the time we finished here it was about 6:45 (with Epcot closing at 8:00 that night). While he was ready to call it a day, there were still 3 booths that were on my list to check out.
However, the Citrus Blossom booth was not one of the three, so I just took a photo of their menu…
Actually my next destination was in Future World, all the way over by Test Track. My husband pretty much complained all the way there but eventually we arrived at the Sunshine Griddle booth…
Looking at the menu with all of the yummy sounding brunch-type foods, I wish this had been the first booth that we visited that day rather than one of the last. Had that happened I might have ordered all 4 of their food items, lol. But I guess for the sake of visiting more booths, it's probably best that this didn't happen. Anyway, again referring to the Disney Food Blog review, which called these "AMAZING!", my one choice here was the…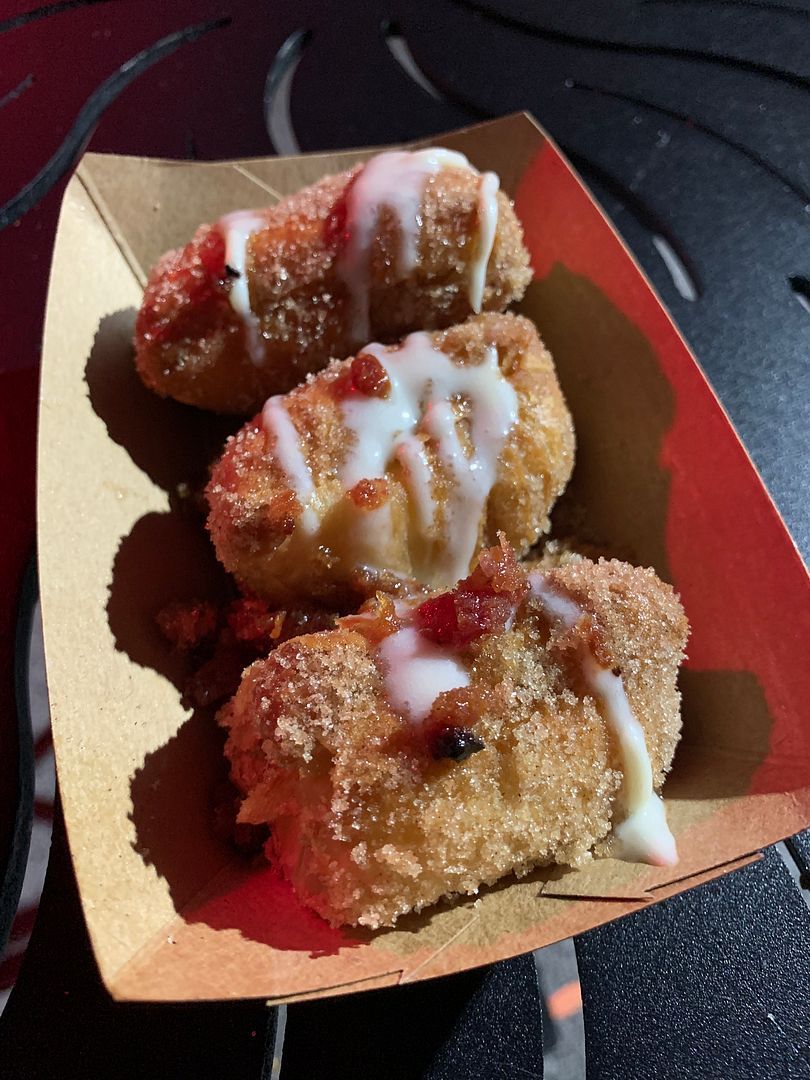 Fried Cinnamon Roll Bites with Cream Cheese Frosting and Candied Bacon – $4.25
Finally we were in full agreement with the DFB. These were AMAZING! We both declared them our favorite dish of the day, beating out the Cheese Strudel from the Germany booth. So in the end my husband was ok with the trek to Future World in search of the Sunshine Griddle booth.
The second of the remaining booths on my list was located back in Showcase Plaza, near the Port of Entry. Unfortunately I forgot to take a photo of the menu at the Pineapple Promenade though. But from this booth I ordered a…
Pineapple Dole Whip – $5.25
We took this with us as we walked to the location of our final booth of the day, the World Showplace pavilion (located between the UK and Canada). By the time we got there and started taking photos it was starting to melt. But it was DELICIOUS as always! They do also offer the boozy version of this at the Pineapple Promenade, Dole Whip topped with Parrot Bay Coconut Rum, for $12.00. I tried this during my 2019 trip and loved it too. Anyway, the Dole Whip of course gets a 5 from us.
It's pretty inside the World Showplace pavilion, with its colorful lighting…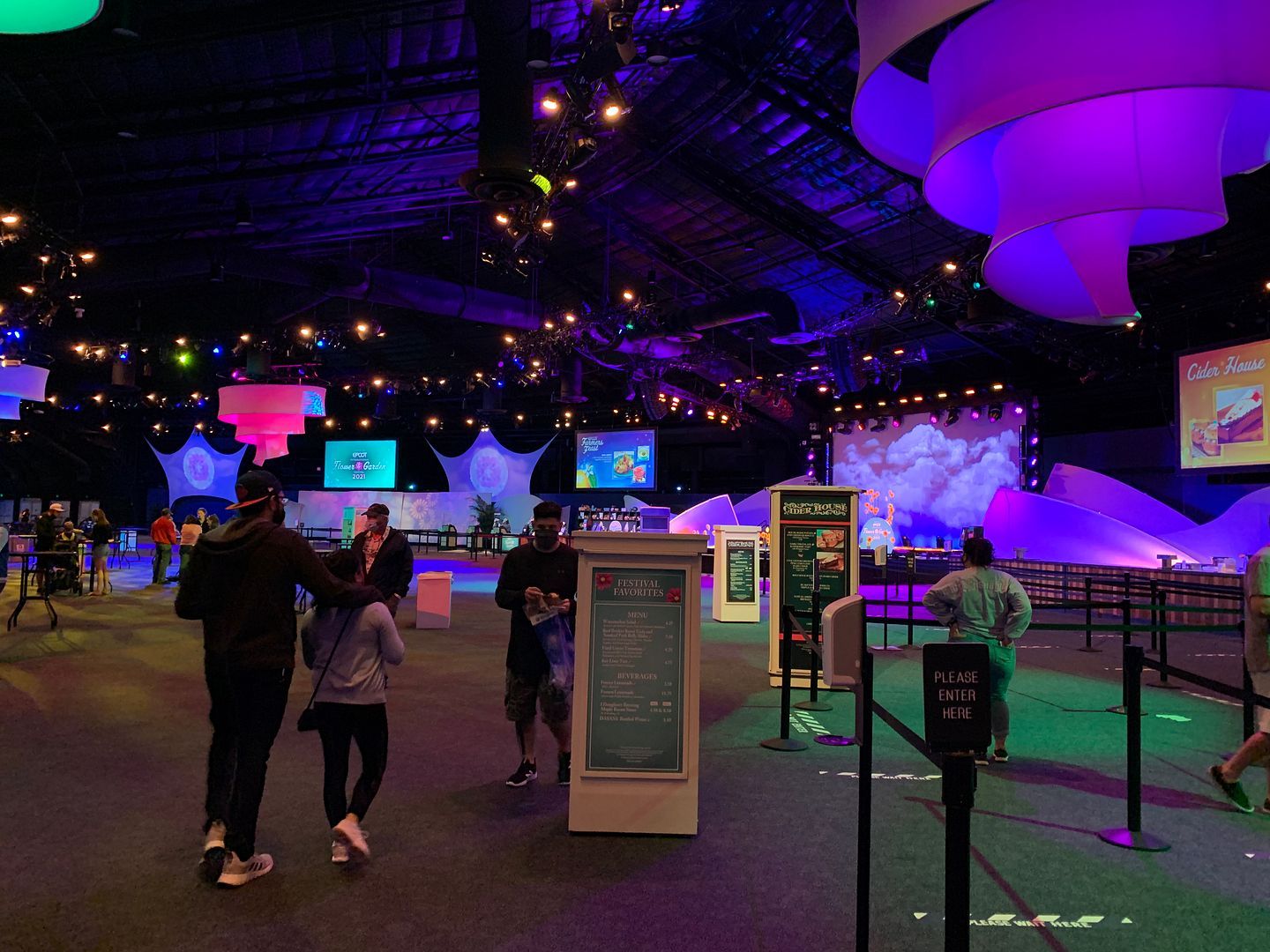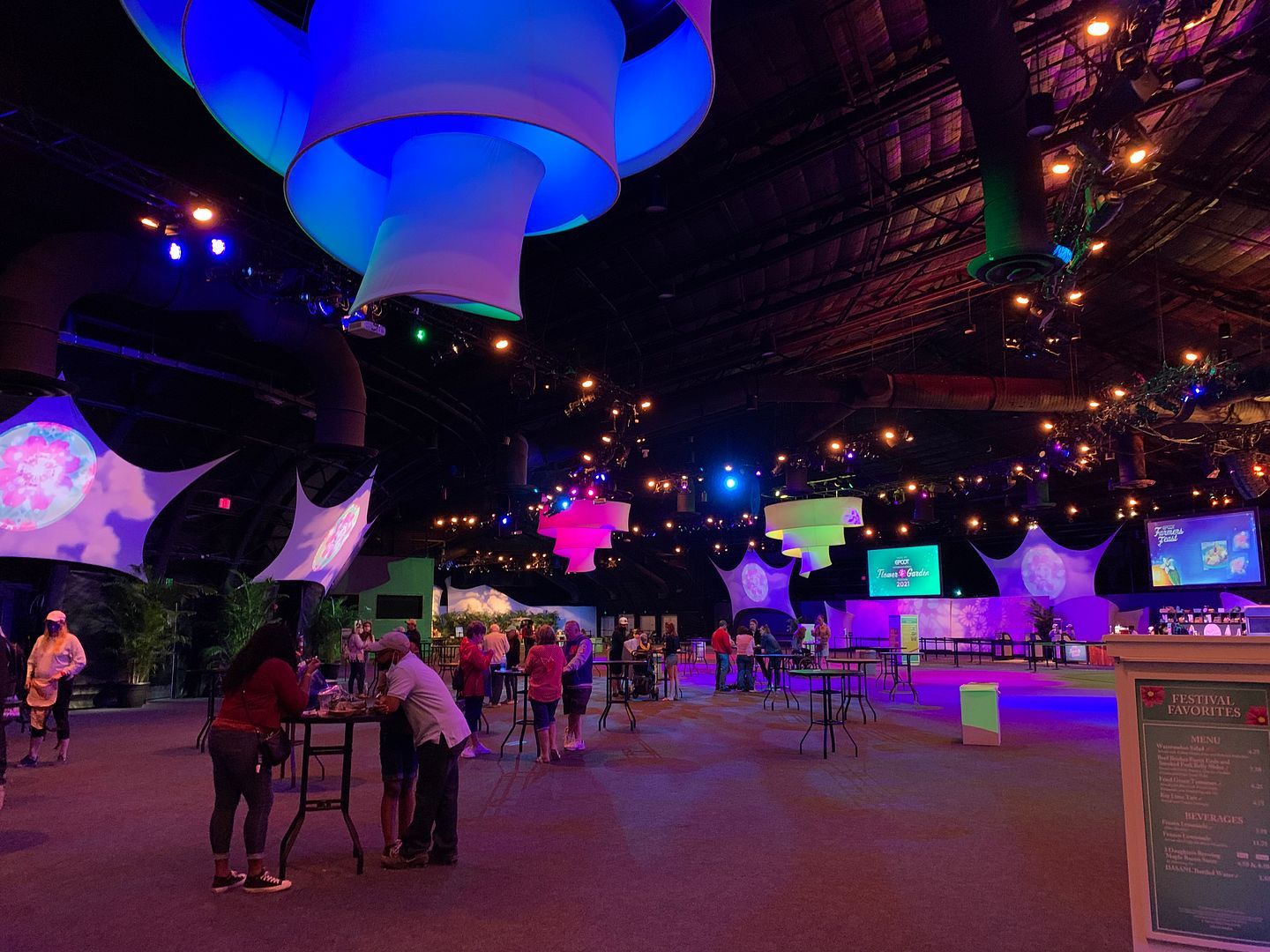 It brought back fond memories of the four Party for the Senses I'd attended here during my Food & Wine Festival trips. The stage was still set up and a grand piano sits upon it. I think I read somewhere that someone plays the piano there during the afternoon. I think it might be the "Hat Lady" who previously performed at the Rose & Crown Pub. Wow, that brings back so many great memories. I'm sorry that we didn't make it there during the afternoon to see if she was there. It would have been fun to see her perform again.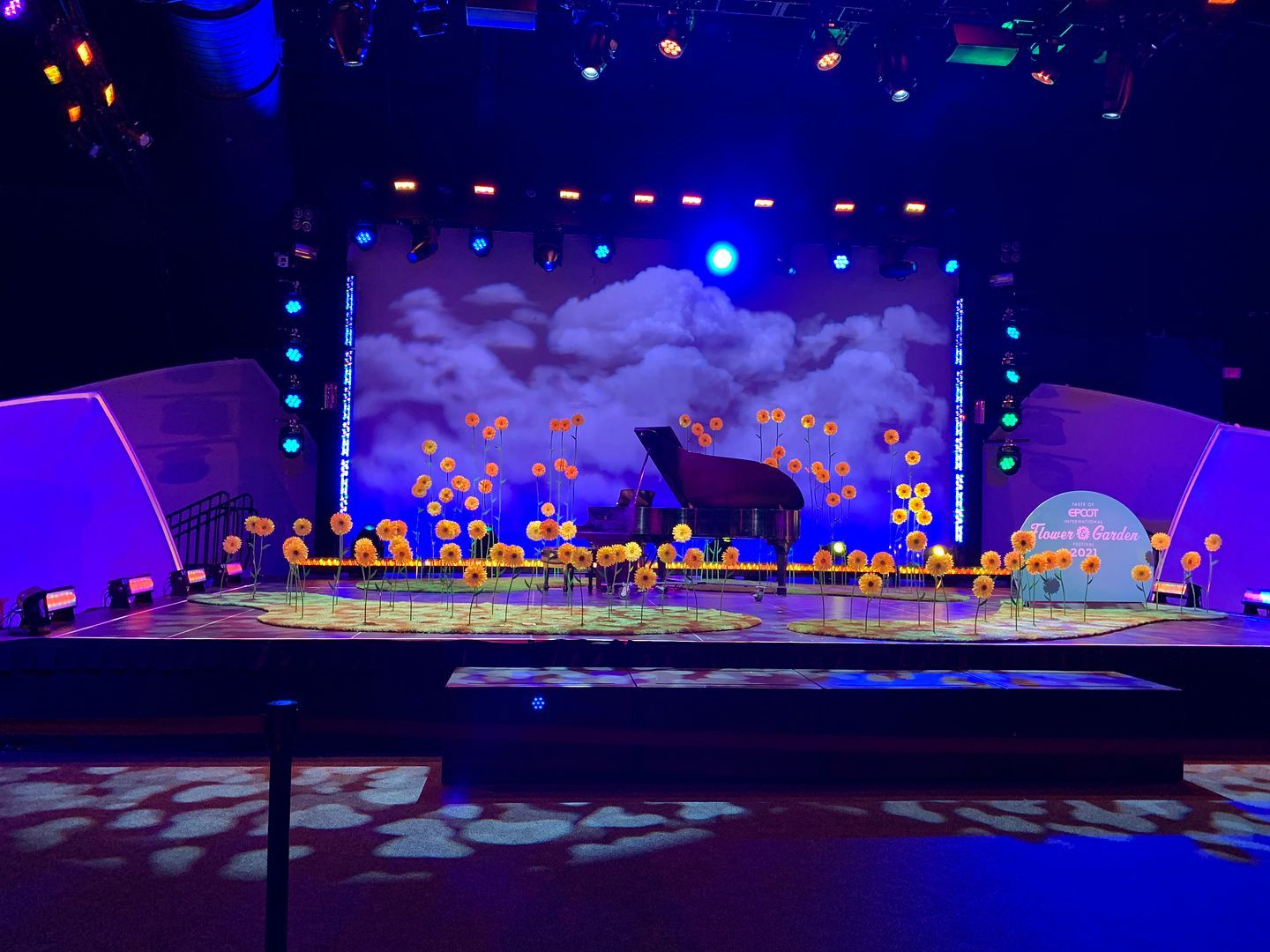 Now on to the food. There are 3 booths located in this indoor pavilion. There is the Cider House…
They had a large projection screen displaying photos of their offerings…
Then there is the Farmers Feast booth…
They are to have a rotating menu but so fat it has not changed. Here are their three current food offerings…
But the booth that I most wanted to try was this one…
The problem was choosing what to get, as they all sounded good. So by process of elimination, we decided against the Key Lime Tart since we had just had two sweet treats. The slider also looked like it was more than we could eat at this point…
So that left the Fried Green Tomatoes or what we ended up choosing…
Watermelon Salad with Pickled Onions, Feta Cheese, and Balsamic Reduction – $4.25
This was good. It was a nice, lighter choice for our last snack of the day. I would have liked a little more watermelon and a few less greens though. We gave it a 4.
It was a little bit after 8:00 when we finished our salad. The park had closed at 8:00 so they had locked the doors to prevent anyone from entering the pavilion but we were able to exit.
I hadn't noticed this on our way in but there was another Mickey & Mickey topiary next to the Showplace pavilion…
So I got to see them one more time before leaving the park. Then we made the short walk back to our hotel, the Yacht Club. I was so glad that we didn't have to stand in a long line for a boat, bus, monorail, or the skyliner (which I said before was crazy long). We could just use our own two tired but happy feet to take us back to our hotel. I took that last photo of Mickey & Minnie at a few minutes after 8:00 (at the World Showplace pavilion between Canada and the UK) and before 8:30 we were in our room at the Yacht Club taking photos, which are coming up next.
But first a short summary of our day at Epcot. We went on exactly one ride and that was at park opening (actually a little before the official park opening time). There was very little wait time involved, most of the time we were moving. We could have done more rides after that but my husband did not want to stand in a long line for any ride that had not changed since he was last here 5+ years ago. We did see two movies, caught two performances of Voices Of Liberty and one of the JAMMitors. But we were mostly there to try some of the festival food. In our 9 hours at the park we managed to visit 12 booths and try 14 of their food offerings. I think there were about another 10 booths that we either skipped or didn't get to. Overall the food we tried was more good than bad. The average score of our 14 items was 3.64, so better than average. The low lights for us were the IMPOSSIBLE short rib from the Trowel & Trellis and the potato pancake from the Germany booth. Highlights were the cheese strudel (also from Germany), along with the Pork Shank & truffled mashed potatoes from the Japan booth, and the Dole Whip from Pineapple Promenade. But the Best of the Best award goes to the Fried Cinnamon Roll Bites. If I return to the festival this year I will likely go to the Sunshine Griddle booth for these first.
During our day at Epcot (at 1:25, to be exact), I had received a text that our room at the Yacht Club was ready…
As I said before though, we ended up staying at Epcot until it closed at 8:00 and then walked back to the Yacht Club. We first went to our car to retrieve our suitcase and then took the elevator up to the 4th floor to our room. By the way, both my Magic Band and my husband's card worked fine to open the door.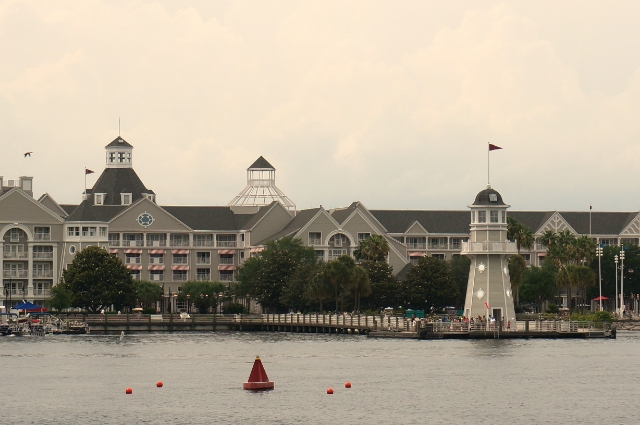 Review of our Yacht Club Room #4154
I had had thoughts of going down to the Ale & Compass Lounge for an adult beverage, something we haven't done since the pandemic started. But we were both exhausted. So we ended up having cans of soda that we had brought with us and watching a little t.v. before falling asleep. Something we'd done hundreds of time before during the pandemic. Oh well, at least we were at Disney World and not home in our family room, lol.
Before going to sleep I checked out my FitBit. I had walked 17,538 steps…
And 7.45 miles….
No wonder I was tired. And no, we didn't go to bed at 9:12. I hadn't yet synced my FitBit to my phone yet, so it was still on Central Time. Which means we went to bed at 10:12 Eastern Time. Ok, so we're old. Lol
TUESDAY, MARCH 9
With several goals in mind that morning, I was up at 6:00, showered and dressed, and anxiously awaiting for the clock to strike 7:00 so that I could attempt to obtain a Boarding Group for the Star Wars: Rise of the Resistance ride through the MDE app on my phone. Though a stressful experience (I'd read that the boarding passes would likely be gone in less than one minute), I was successfully able to get a Boarding Group number of 78!
NOTE: My Plan B if I had not been successful was to switch our park reservations to Animal Kingdom so that my husband could experience (for the first time) my current favorite Disney World ride, Avatar: Flight of Passage.
My next goal was to get us some breakfast. And I had something specific in mind from…
My First Ever Visit to The Market at Ale & Compass
Though my next goal after breakfast was to be packed up and out of our room by 8:00, I must sadly tell you that that goal was not quite achieved. It was 8:20 before we had reached our car in the parking lot. Our plan was then to drive to Hollywood Studios and take advantage of the free parking at the theme parks for Disney resort guests. With the official park opening time of 9:00, I had wanted to be at the ticket entry gates by 8:30 for what I thought would be the unofficial opening time. When I requested directions from the Yacht Club parking lot to Hollywood Studios from SIRI on my iPhone, she gave us an ETA that was just a few minutes later. Wow, was there still hope of us entering the park at 8:30??? The answer was NO!!! Because the directions took us to a Maintenance only entrance behind the Tower of Terror. Boo! So by the time we got turned around and then followed the signs for the main parking lot and entrance to DHS. it took us twice as long as the approximately 10 minutes that it should have taken if we'd gone the right way. But our car eventually reached the lines for the park/parking lot entrance gates and after having my Magic Band scanned to verify my status as a current Disney resort guest to establish eligibility for free parking, we were then guided to a parking space in the lot. With our car parked, temperatures checked, bodies scanned for weapons, and Magic Band/Card successfully tapped in, we made it into the park just before 9:00. Then with a fast-paced walk to Star Wars Galaxy's Edge, with my husband faithfully following behind without a clue as to where we were going (remember he hadn't been to WDW in more than 5 years, lol) we reached the Millennium Falcon about 10 minutes later.
We entered the ride line, which almost never stopped moving. By 9:08 we were here inside, looking out…
By 9:12 we were being given the instructions for our smuggling mission by Hondo Ohnaka…
By 9:16 we were in this room waiting to board…
We had been told that our job assignments would be either pilots or engineers (who are seated in the first or third rows). The second row of the cockpit (where the two gunners are normally seated) are being left empty due to COVID precautions. We were given the job of piloting the ship and we were in our front row seats and ready for takeoff at 9:18…
While I did better than I did on my first ever mission in Fall 2019, of which I also co-piloted, it was still not good. Our ship still sustained some damage, thanks to my less than stellar piloting skills, lol. I think I actually prefer being a gunner or engineer (jobs that I performed on my second and third missions in 2019). So much less pressure, lol.
We were off the ride by 9:25, so the whole experience took only about 20 minutes from the time we entered the fast-moving line. This included our time in the cockpit, which was about 5 minutes. I considered that a very successful start to our day. But then my husband was feeling a bit queasy. I had forgotten that he doesn't do well on motion simulator rides like this. So we had to sit down for a few minutes to allow him to recover, In the meantime I was checking the ride wait times on MDE. OMG!! At 9:30 all of the rides that I thought my husband might be interested in doing had wait times of 40 – 60 minutes. One of the 40 minute rides was Toy Story Mania, so I suggested that that be our next ride. I knew he couldn't resist the urge to trounce me again, as he has always done on both Toy Story Mania and the Buzz Lightyear ride at Magic Kingdom. But that urge quickly subsided when he saw the line for Toy Story and the wait time, which by then had grown to 50 minutes.
So my next attempt was to ride one of our favorites, Rock 'n' Roller Coaster. He was reluctant about trekking all the way over to the other side of the park but I managed to keep him moving despite his objections. However, we got only about half-way down Sunset Boulevard before we saw the sign for the end of the line for Rock 'n' Roller Coaster showing a 50 minute wait. I checked MDE and all of the good rides had wait times equally as long or greater, so he gave in to my pleading and we got in line…a line which snaked along the side and back of the Beauty & the Beast theater and in front of the Tower of Terror before proceeding down to the end of Sunset Boulevard where Rock 'n' Roller Coaster is located. There was a lot of stopping and going throughout the process, but one stop that is no longer being made is inside the building in the studio room. Due to COVID precautionary measures, the line keeps on moving right through this room, so you don't get to see Steven Tyler and the rest of the Aerosmith gang ask their manager to get you a limousine ("make it a stretch") to take you to their concert, But to my husband's amazement at how well they guesstimated our wait time, we boarded our limo almost exactly 50 minutes from the time we entered the line.
Though neither of us are generally a fan of roller coasters, we both really enjoy this ride. Was it worth waiting 50 minutes for a ride that lasts about 1 1/2 minutes? Hmm…maybe not. Lol
It was now 10:45 and the ride Wait Times were insane! I knew all the coaxing in the world would not convince my husband to stand in line for an hour or more to go on another ride. But I still had some hope that we might make it onto Star Wars: Rise of the Resistance before we needed to head back to Tampa-St. Pete at noon.
So I suggested that we have an early lunch. My first idea was to have lunch at the Hollywood Brown Derby Lounge, which is an outdoor location that used to serve some pretty good food (mostly small plates, appetizer-type food but I was really hungry for their Cobb salad). Unfortunately though we discovered that they are now only serving beverages, perhaps a temporary change due to COVID. I hope so, anyway. Still wanting that Cobb salad I was willing to overcome my fear of indoor dining and checked the MDE app for availability inside at the Hollywood Brown Derby restaurant. But of course, nothing was available.
The next closest source of food was the ABC Commissary, a quick service restaurant. I checked the app for a possible Mobile Order and found that if we placed an order it would be available in about 10 – 15 minutes. Ok, that works!
Next up: Would we get to ride Star Wars: Rise of the Resistance?
Sadly, the answer to that question is, "NO".
By the time we finished lunch it was noon (the agreed upon time for our departure) and here was the status of our Boarding Group…
I knew the chances of getting my husband to stay for another hour or more were zero, so I admitted defeat and we made our way towards the park exit. But I did manage to talk him into one more stop on the way out…
Where I picked up this treat as my consolation prize…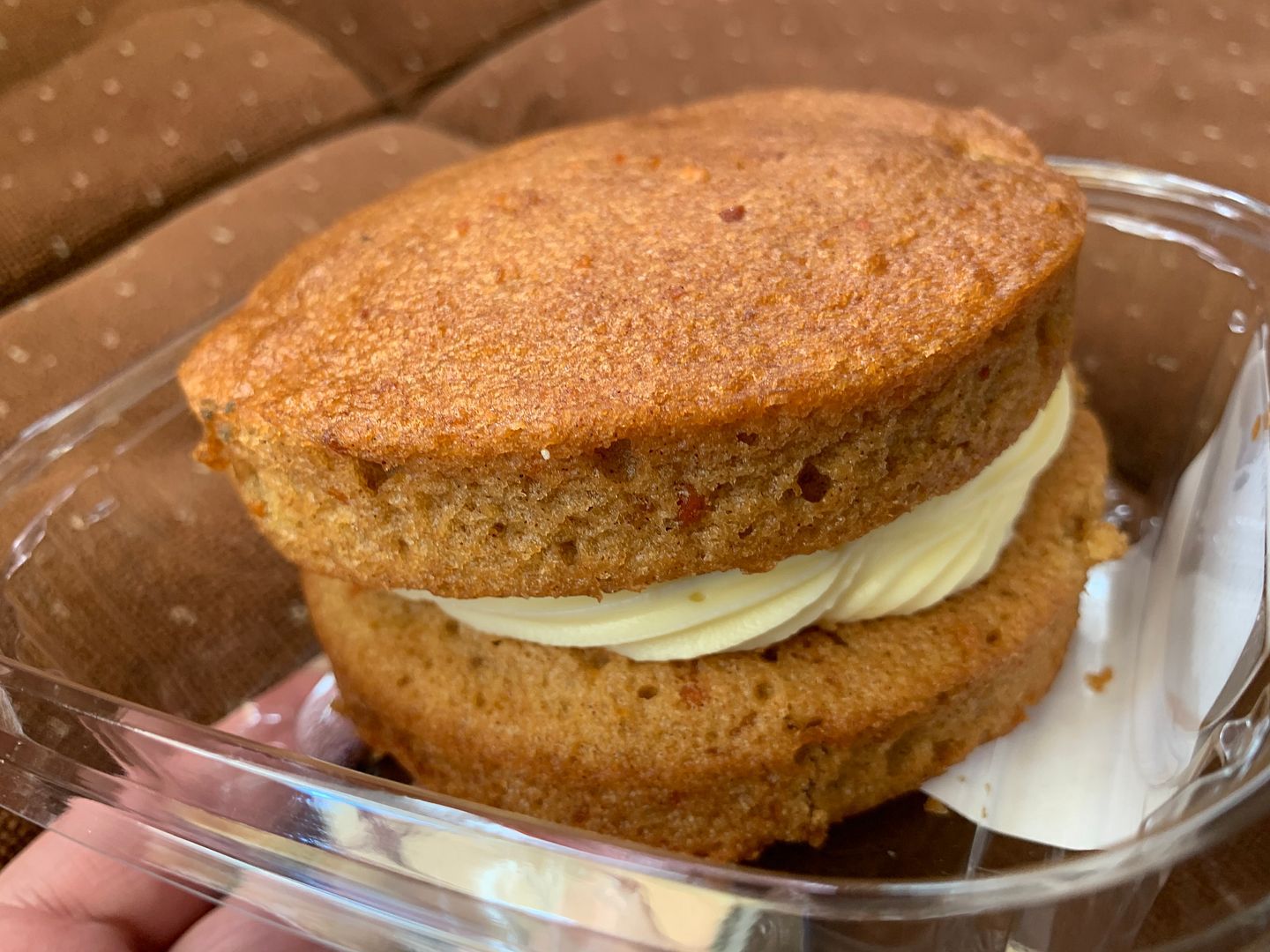 It had been many years since my last Carrot Cake Cookie. I can't even remember for sure whether I got it at Sweet Spells or the Writer's Stop, neither of which exist anymore at DHS. But I do remember this being more like a cookie in texture and looking like this…
So instead of two carrot cake flavored cookies with cream cheese frosting sandwiched in between, it is now like two pieces of carrot cake with cream cheese frosting in between the layers…
I really liked this new version and so did my husband. Carrot cake is the only kind of cake that he likes, and he really enjoyed this one. It was filling though. We had part of it for dessert that evening and then the rest for breakfast the next morning.
And that concludes my report on this very short, but sweet trip to Disney World.
Next up: The answer to the question, "Will I be returning to Disney World in 2021?"
Happily, the answer to that question is, "YES!"
About a week after returning home from Florida, I was able to get my first COVID vaccine. With my second shot scheduled for exactly two weeks before my birthday, that means I will about 94% safe from getting COVID. So I've decided that I'm willing to assume a small amount of risk in order to celebrate my birthday later this month at my Happy Place. Even though it's not as "Happy" right now as it used to be pre-pandemic, my 2021 birthday celebration at Disney World should be tons more fun than my 2020 birthday in COVID lockdown at home…with takeout from Olive Garden for my birthday dinner.
So here's a preview of my upcoming trip: I'll be going to Disney World to celebrate my birthday later this month. Since it's a special birthday this year (plus I wasn't able to take my usual Fall trip to Disney World last year), I decided to splurge and spend a few nights of our trip at the Grand Floridian Resort. We have not stayed there since May 2002, so it's been nearly 20 years! After that we are transferring to the Yacht Club. I have several indoor dining meals scheduled, which will be my first time dining inside a full-service restaurant since I went to Disney World in early March 2020 and my son and I had dinner at Topolino's Terrace. So if all goes as planned and I don't chicken out, I should have much to tell you about next month. Until then, I will try to get a little more done on my Fall 2019 trip. Can't make any promises, but I'll try. Lol