What began on February 19th with a leisurely two day drive with my husband to Austin, Texas for a week long visit with our daughter ended up as a 10 day emotional roller coaster, which was then followed by me (and my son, Andrew) actually riding my favorite roller coaster.  How did this all come about?  Well, the day after our arrival in Austin we found out that a family member who lives in Florida had been admitted to the hospital there.  With 4 other family members flying/driving to Florida immediately, my husband and I were able to at least spend the weekend in Austin with our daughter.  Then on Monday morning, February 24th we started our drive to Florida, arriving on the 25th.  Later that week we purchased a plane ticket for my son to fly to Florida to help out in whatever way needed.  However, by the time he arrived on Monday, March 2 the medical issues had settled down enough that I was able to escape to my "Happy Place" for a few days.  So a few hours after my son's plane touched down in Florida, we made the 1 1/2 hour drive and the two of us were at Disney World!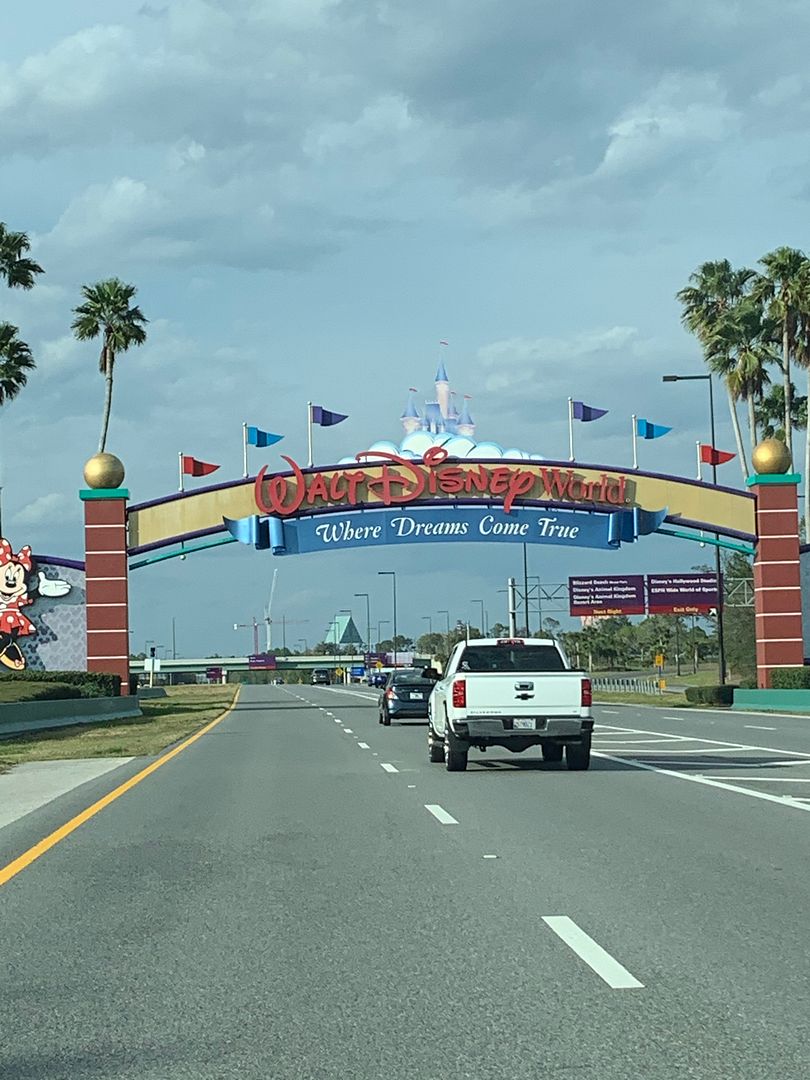 You know that saying, "When life gives you lemons, make lemonade"?  Well, this short visit to Disney World was my lemonade…AND BOY WAS IT SWEET!!
So anyway, I've decided to put the report for my very carefully planned out Fall 2019 trip on hold for a bit and instead write about this totally unplanned, spur of the moment trip to Disney World.  Much to my surprise, it can be successfully done.  You just have to believe in the Disney Magic…oh, and be at the park (more specifically DHS) at least 1 1/2 hours before it officially opens. LOL
So here is what will be covered in this trip report:
Table service Restaurants
Arrival Day Dinner at the recently remodeled Beaches & Cream(Yacht & Beach Club Resort) – COMPLETE
Dinner at the recently opened Topolino's Terrace – Flavors of the Riviera (Riviera Resort)
Quick service Restaurants
Our failed attempt to have breakfast at Docking  Bay Food & Cargo, so had Desserts instead! (Disney's Hollywood Studios, Star Wars Galaxy's Edge) – COMPLETE
Lunch at the recently opened Regal Eagle Smokehouse: Craft Drafts & Barbecue (Epcot's American Pavilion)
Breakfast at ABC Commissary (Disney's Hollywood Studios)
Departure Day Breakfast from the Beach Club Marketplace (Beach Club Resort)
Epcot's Flower & Garden Festival on Opening Day (Wed., March 4)
Miscellaneous Non-Food Stuff
Our Review of Beach Club Resort Room #3624 – COMPLETE
Riding Star Wars: Rise of the Resistance – Round 1 (Disney's Hollywood Studios, Star Wars Galaxy's Edge)
Riding Mickey & Minnie's Runaway Railway on Opening Day (Disney's Hollywood Studios)
Riding Star Wars: Rise of the Resistance – Round 2
Just a few more details before I begin.  I was able to reserve a room online for a 3 night stay (starting March 2) at the Beach Club at 10:00 p.m. on Saturday night, Feb. 29th.  To my surprise I was even able to get an Annual Passholder discount.  Earlier that day the Yacht Club had also shown as available but I wasn't quite ready to commit to the non-refundable one night deposit at that point.  We had just stayed at the Beach Club on our last trip so I was hoping for the Yacht Club this time, but in the end felt very lucky to get a room at an Epcot resort (since we were only planning to visit Hollywood Studios and Epcot during our 2 park days).  I have an annual pass (planning to use it for two Fall trips, in 2019 and 2020) but I had to buy a 2 day Park Hopper for my son, which was expensive but turned out to be well-worth the money.  Without it we would not have been able to do nearly as much as we did during our short visit.  Anyway, after purchasing his ticket on Sunday, March 1 (and linking it to MDE) we were able to get 2 Fast Passes for DHS on March 3rd (Rock 'N' Roller Coaster, Tower of Terror) and 2 Fast Passes for Epcot on March 4th (Soarin', Spaceship Earth).  We ended up switching all of these out for others on the day of the Fast Passes though.  Also, we arrived at the Beach Club at about 5:00 p.m. on Monday, March 2nd with ABSOLUTELY NO DINING RESERVATIONS!!!  For a Disney Food Blogger and Disney Trip Planner Extraordinaire this was ABSOLUTE MADNESS!!  And yet it all worked out in the end.
NOTE: I first posted our review of Opening Day at Epcot's Flower & Garden Festival (see 2nd Park Day).  All remaining reviews will be posted in chronological order.  
ARRIVAL DAY – MONDAY, MARCH 2 (Beach Club Resort, Disney Springs)
Upon our arrival at the Beach Club Resort, we unloaded and parked our car (which requires that an additional $25 per night parking fee be paid…BOO!!!), then checked in to our room at the Front Desk.  I had not done the Express Check-in online because I needed to make sure that the Magic Bands (from our last trip in November 2019) could be used for this trip (since we hadn't had time to order and receive new ones).  The Cast Member made sure that the old bands could be used to open the door to our new room and quickly took care of the other check-in details.  Soon we were off to our room on the 3rd floor,  #3624.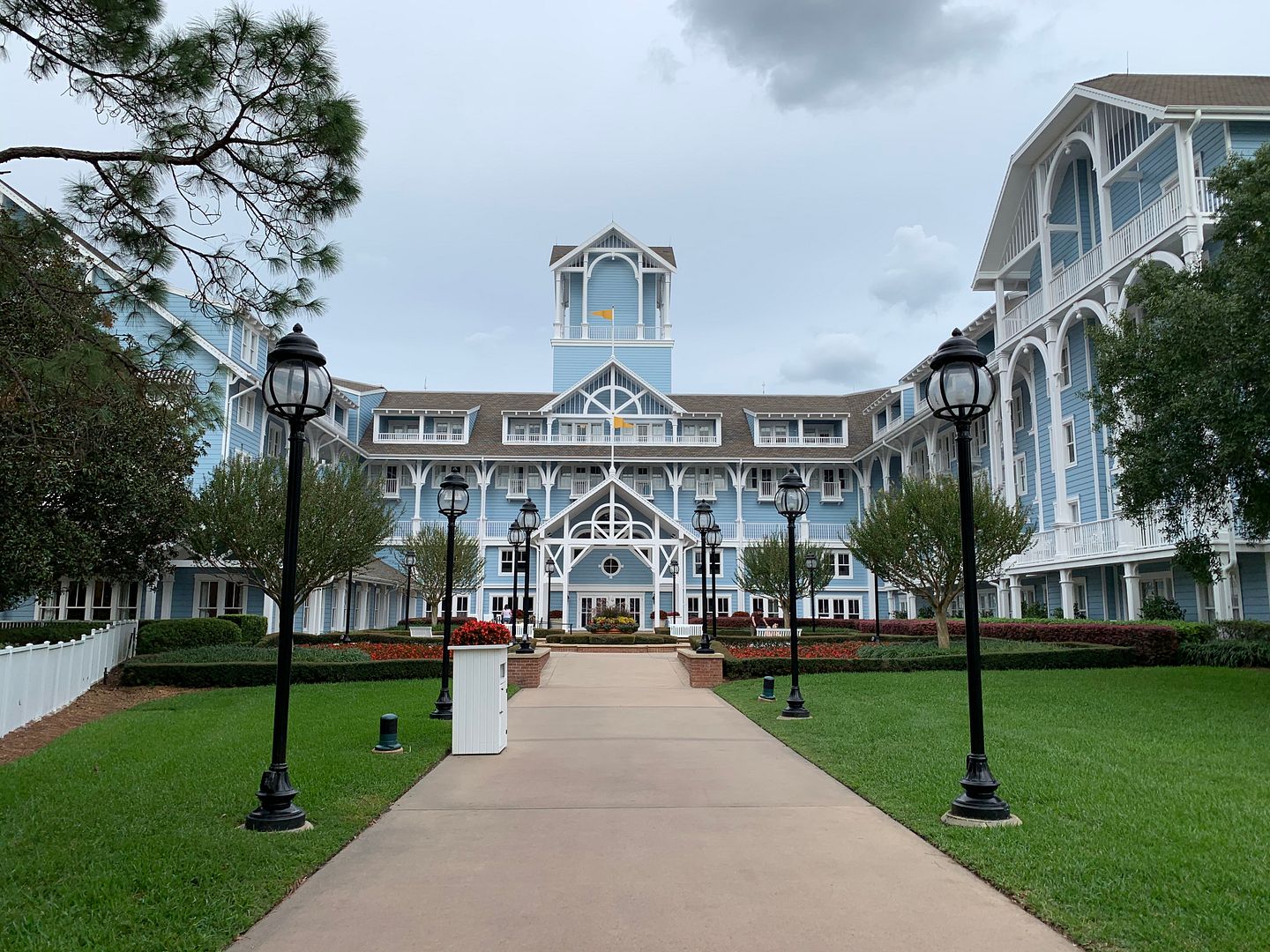 Our Review of  the Beach Club Resort's (Garden View) Room #3624
Once settled in our room we next made a plan for dinner.  Checking for openings for 2 people later that evening on the MDE app we found several non-park options.  There were several Disney Springs restaurants available, like STK, Wolfgang Puck, Morimoto Asia, and Terralina Crafted.  A new restaurant at the new Riviera Resort, Topolino Terrace, also had a 9:15 dinner reservation, but we decided that was too late to have dinner (since we knew we had an early morning ahead of us).  Another surprise option was Narcoossee's (one of my favorites currently) but it too was a late reservation.  However, the biggest surprise was the reservation that was available right there at our resort, at Beaches & Cream.  And that is the one we chose.
We then ran a few errands off-property before going to Disney Springs for a bit of shopping.  Not really knowing our way around the area by car we mistakenly parked in the Orange Garage by the movie theater and walked all the way around through the Landing to get to the stores.  That is when we saw that the Lime Garage was right next to the shopping area that we were going to.  Oh well, it was fun to walk through anyway and we had the time.  After our shopping we took the much shorter route back to the Orange Garage and made the short drive back to our resort, the Beach Club, where we had a reservation for dinner at…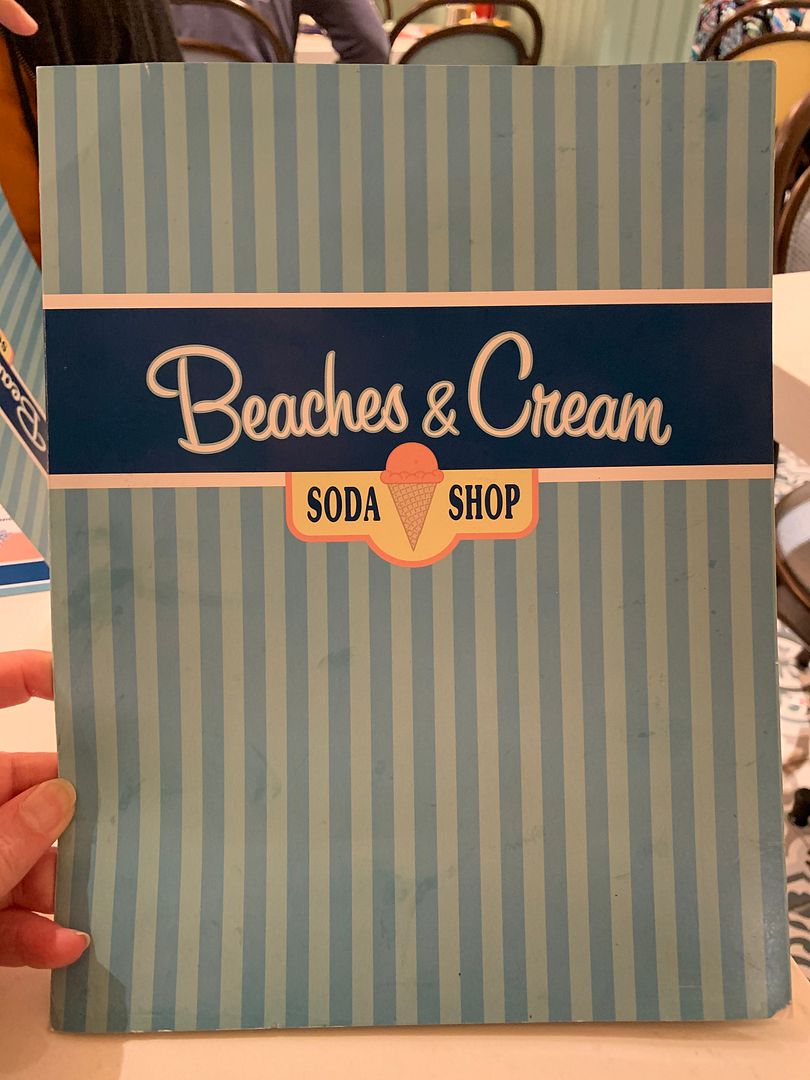 Our Dinner at the Newly-Remodeled Beaches & Cream
We had finished dinner and were back in our room, there at the Beach Club, by 10:30.  Then in bed asleep by 11:00.
Total Step Count for the Day (per my FitBit): 7,360 
Total Miles Walked: 3.15 
FIRST PARK DAY – TUESDAY, MARCH 3 (Hollywood Studios, Epcot, Riviera Resort)
My phone alarm went off at 5:00 a.m. and after hitting the snooze twice, I was up and going at 5:19.  Andrew waited about another 1/2 hour before crawling out of bed.  The night before we had planned to be out the door of our room at 6:00 a.m. to walk to Hollywood Studios, which had an official opening time of 8:00 a.m.  We actually left our room at the Beach Club at about 6:10 (so not too behind schedule) and began our walk past the Yacht Club, the Dolphin, the Swan, the backside of the Boardwalk, and then the DHS Skyliner station before reaching the entrance to park.  This walk (at an average pace) took us about 20 minutes from our room to park entrance line.  We passed a few people along this walkway and a few people passed us, by in total there were probably less than 10 people at this time of the morning.  BTW, the boats and skyliner weren't yet running so walking, driving our car, or taking Lyft/Uber were the only options if we wanted to get to the park that early.
Reaching the park entrance at about 6:30, we were able to bypass the Bag Check line since we brought no bags with us that morning.  This saved a few minutes, which can be an advantage.  We chose one of the lines of people that were waiting for the gates to be opened.  Here is a photo of the line ahead of us at 6:48…
The lines behind us continued to build until at 7:00 a.m. (1 hr. before the park rides opened) they allowed people to enter.  The crowd then dispersed, with a majority of the people going towards the holding area for Star Wars: Galaxy's Edge (or more specifically, the Millennium Falcon Smugglers Run ride).  Only a few people headed down Sunset Boulevard to the holding area for Rock 'n' Roller Coaster and Tower of Terror.  We had ridden the Millennium Falcon twice on our last trip.  Though we liked it, it wasn't a priority on this trip and didn't want to spend a lot of time standing in line for it.  So we decided instead to head towards Toy Story Land, where most (including us) were headed to Slinky Dog Dash.  We were guided by CMs into the line for Slinky Dog and that's where we stood from 7:10 to 8:00 when the ride (and all other rides in the park) opened.  We estimated that there were about 100 people in front of us in the line.  As it got closer to 8:00, nearly everyone was checking the time on their phones.  At exactly 8:00 a.m. they begin assigning Boarding Passes for the new Star Wars: Rise of the Resistance ride to those requesting them through the MDE app.  Note: You must be inside the park in order to initiate the request for a Boarding Pass.  Also, at this time, that is the only way you can ride Rise of the Resistance.  Andrew and I both attempted the Boarding Pass request through MDE on our phones (as you can also request passes for everyone in which you are linked on MDE, as long as they too are inside the park).   I was the lucky one on this morning and by 8:01 I had successfully obtained our passes for Boarding Group 23…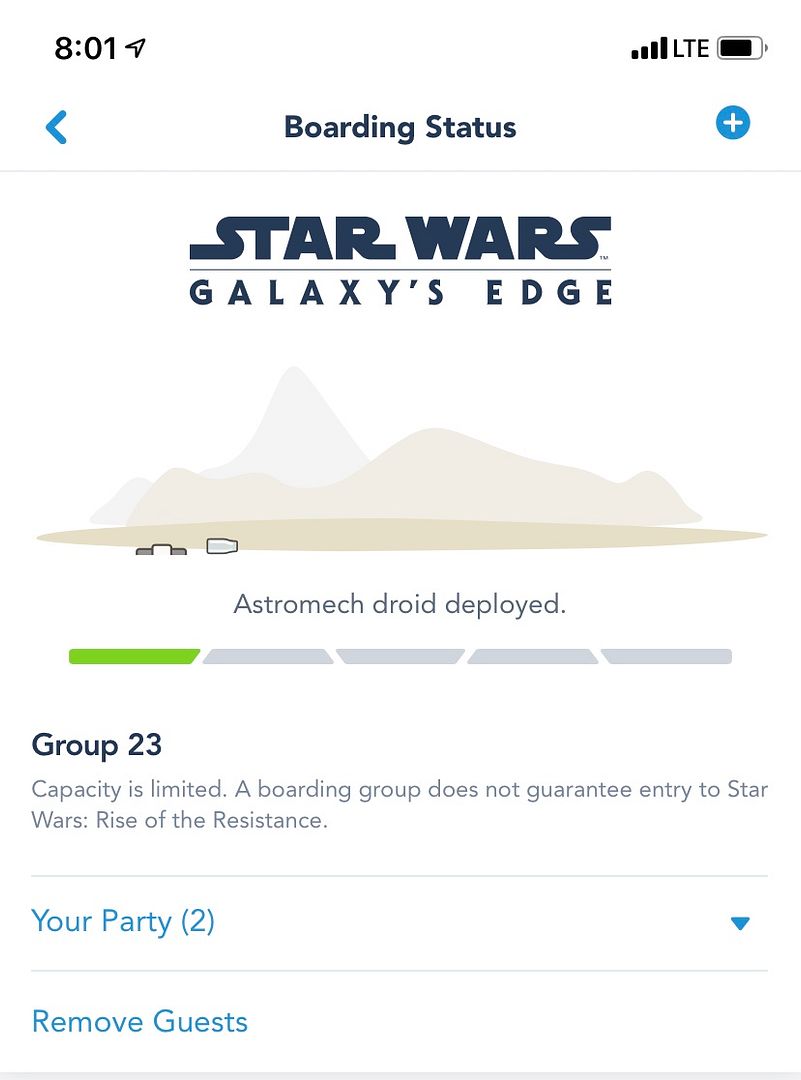 Then 10 minutes, at 8:11 we were riding Slinky Dog Dash and getting this PhotoPass taken…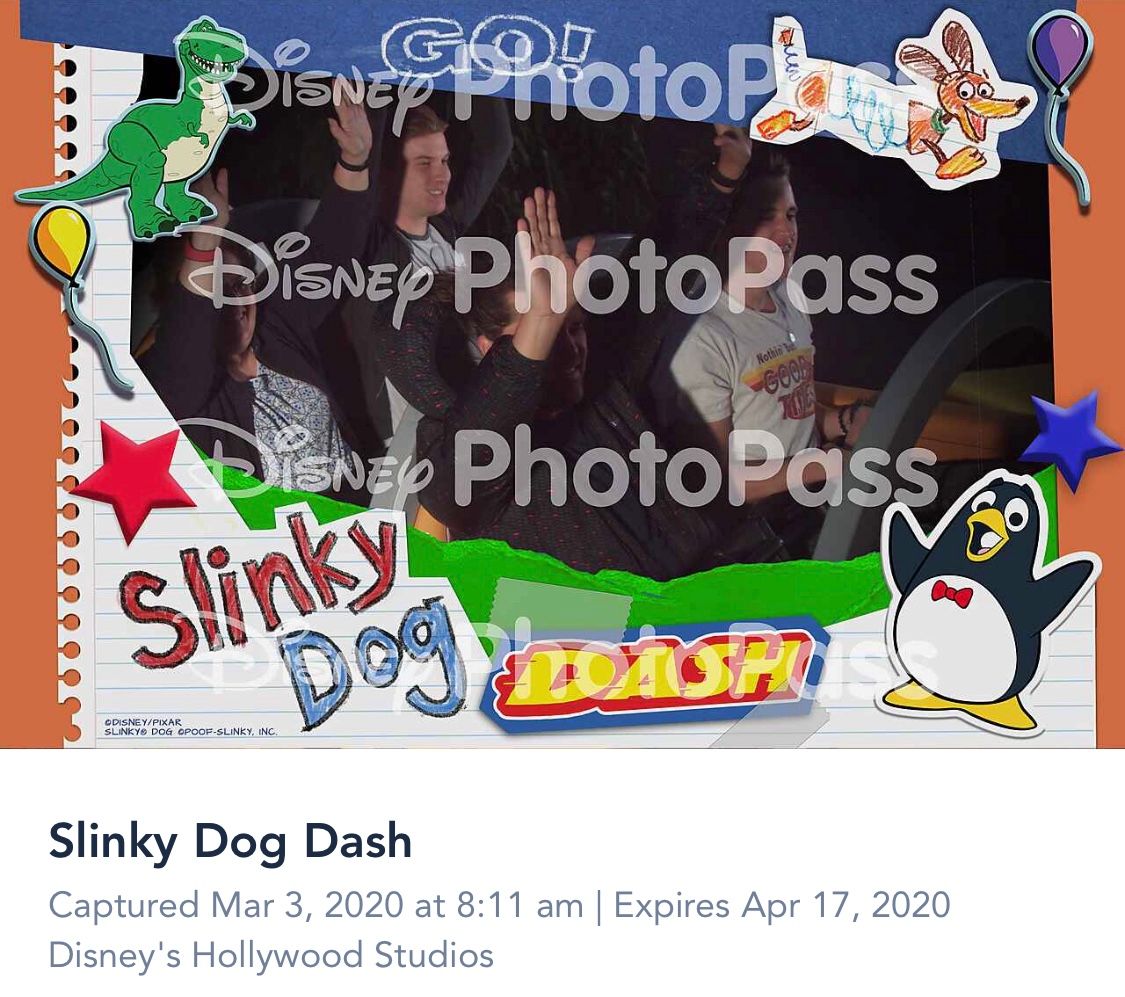 You can't even see my face, which is probably why the photo never showed up on my account, where I could have downloaded for free because I am an Annual Passholder.  The above photo did appear on Andrew's account though, but with the Disney PhotoPass watermarks.
Anyway, after Slinky Dog we thought about riding Toy Story Mania but the wait time at 8:15 (15 minutes after opening) was 30 minutes (per the MDE app).  So instead we headed out of Toy Story Land.  At 8:18 the  end of the line for Slinky Dog was already out to this point…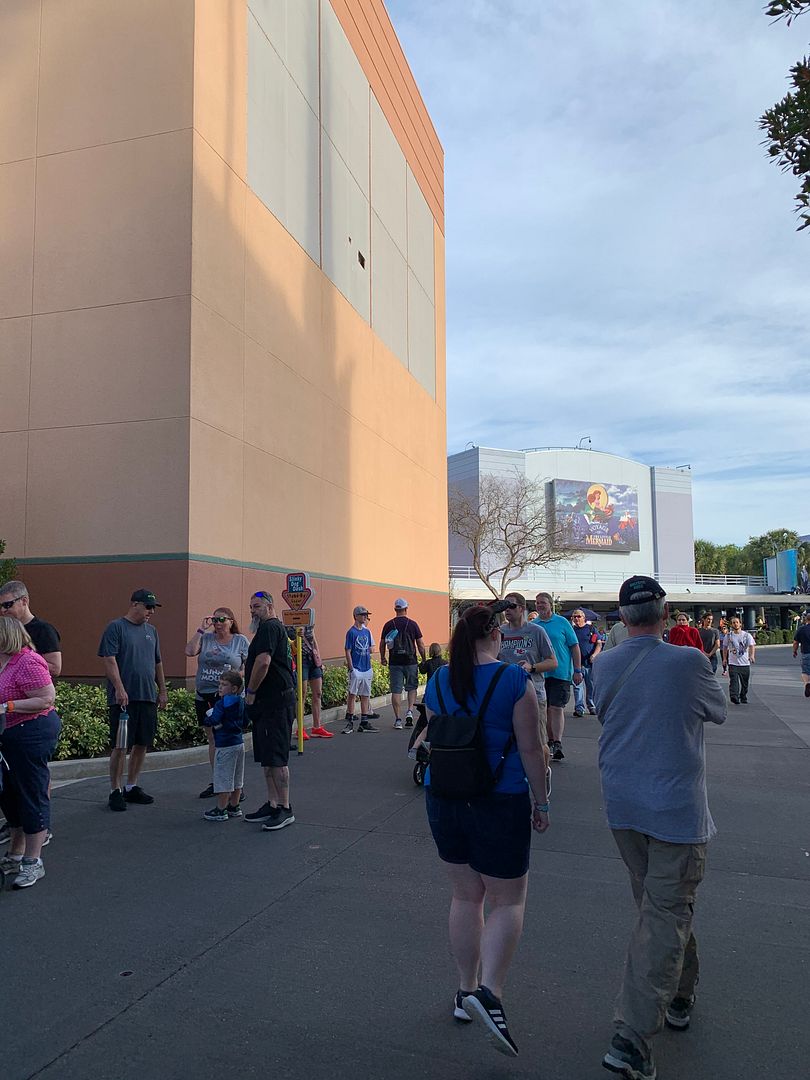 But we were headed to Rock 'n' Roller Coaster where at about 8:30 the standby line never stopped moving.  By 8:45 we were through the pre-show, loaded into our stretch limo, and launched…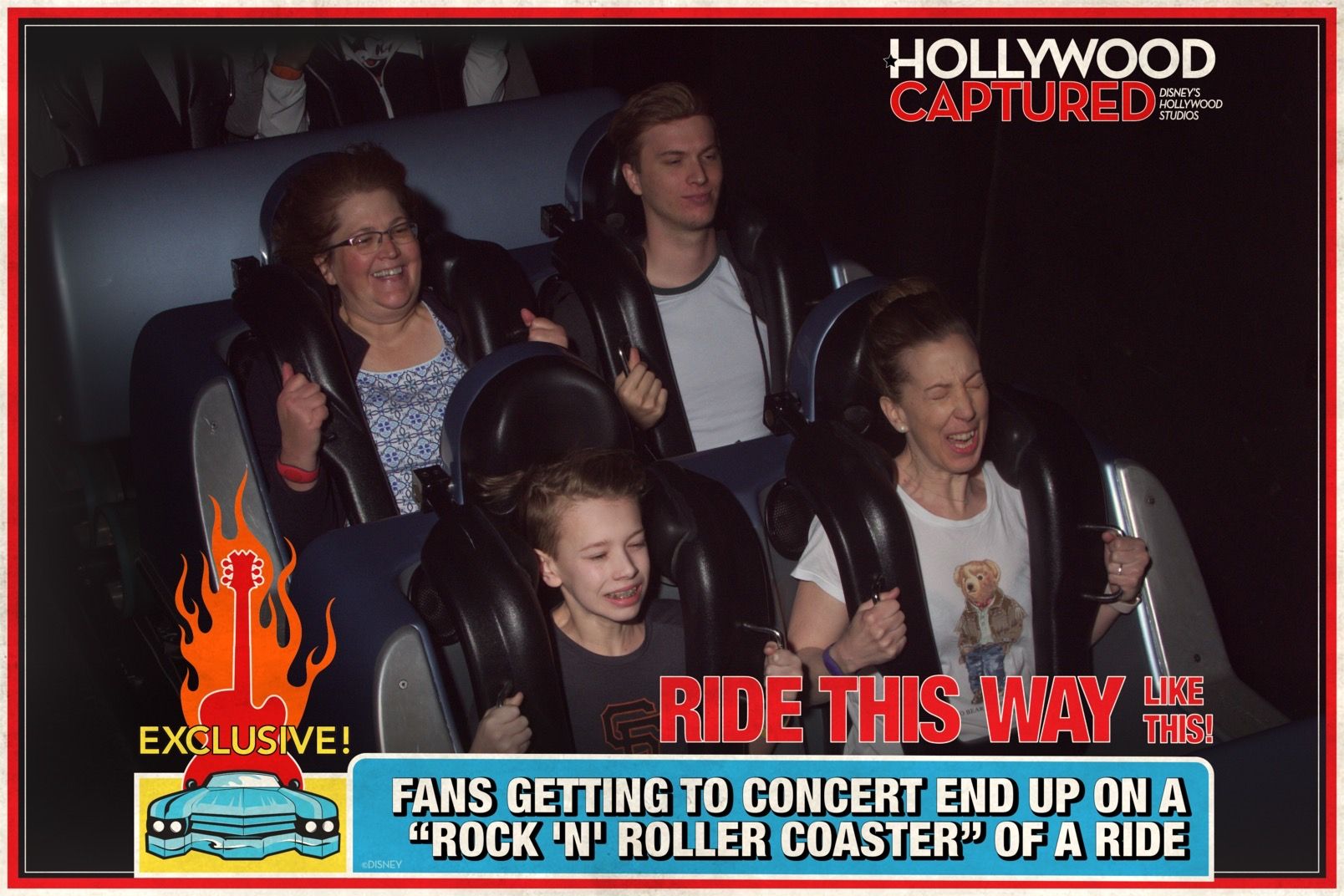 I concentrated on making sure that I had a smile on my face this time during the ride launch when the PhotoPass photo is taken.  This much more accurately represents how I feel about this ride, as I really do love it.  However, on my last trip I rode RnRC three times (twice with Andrew and once with my daughter, Allison).  Each time I had the identical look of fright/pain on my face in the ride photos.  Here is Ride #1…
And Ride #2 (later on the same day)…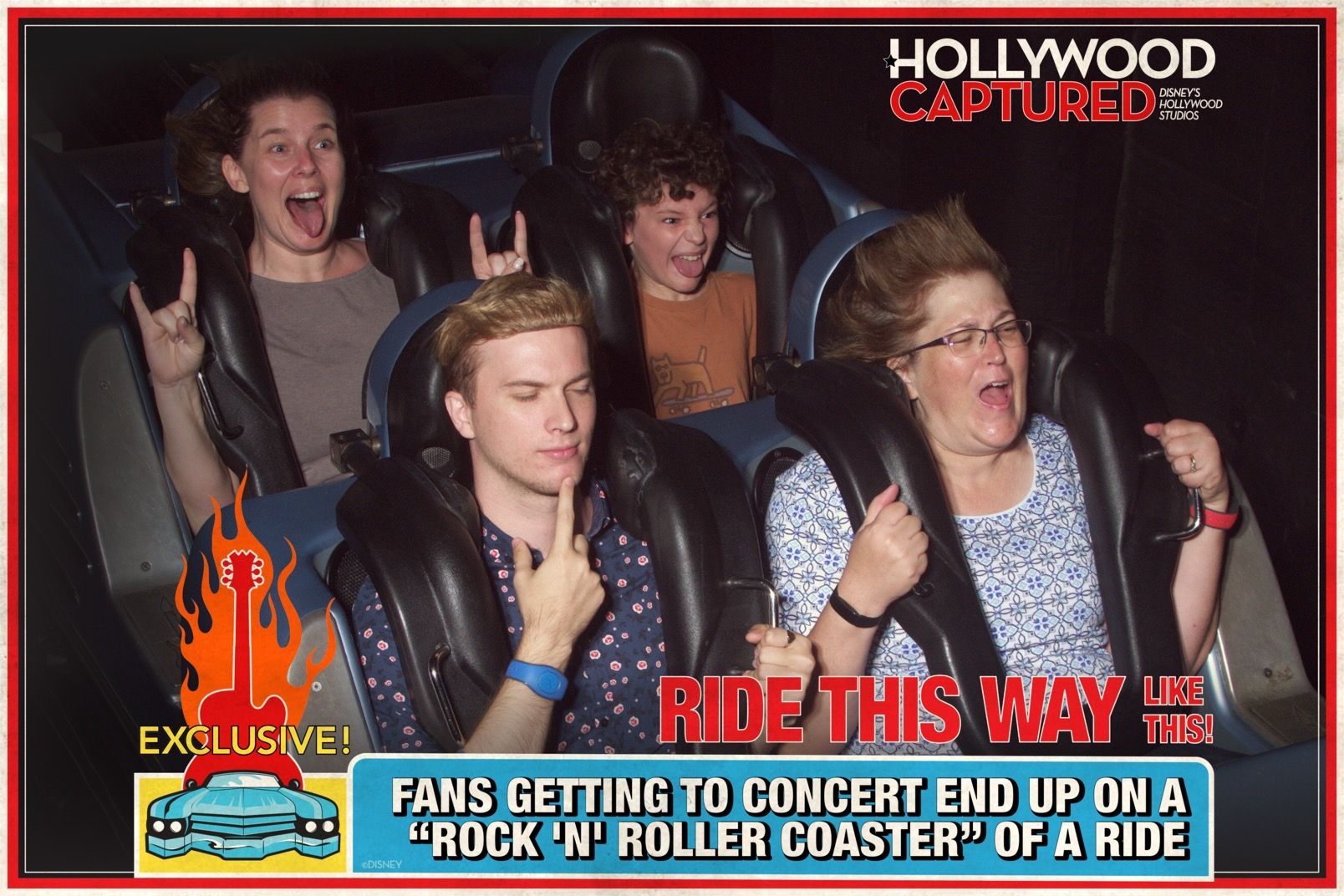 And then Ride #3 was about a week later with my daughter…
See what I mean???
  I swear to you, I do love this ride!  In fact, it used to be my 3rd favorite ride in all of Disney World, but with this trip it has now moved down to the 4th spot.
Next up was Tower of Terror, which also had a fast-moving Stand-by line.  By 9:09 we were seated in the back row (left corner) of the elevator when this PhotoPass photo was taken…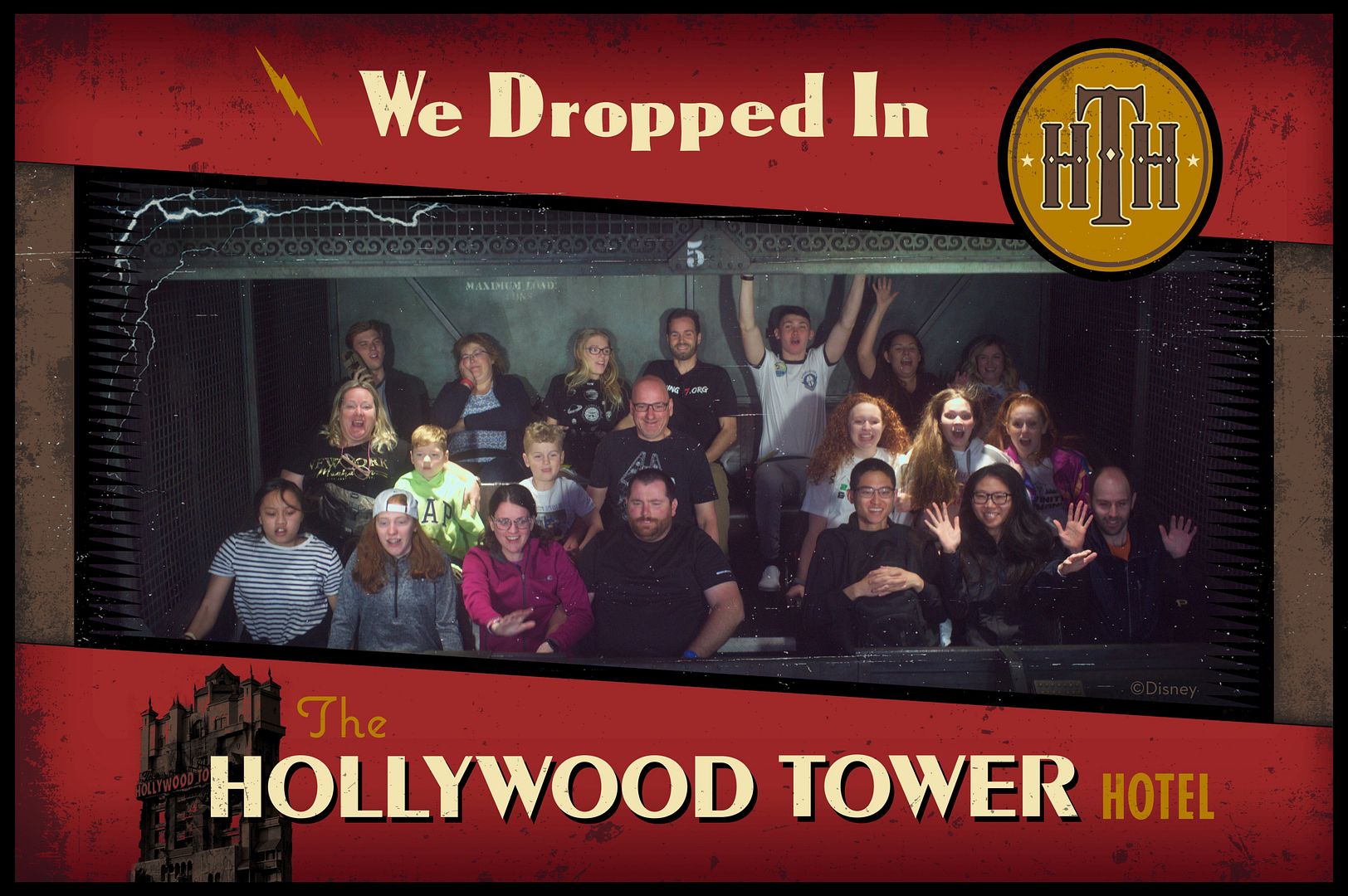 My assignment for the photo was to look bored out of mind, while my son was talking on his "shoe" phone. 
How did we do with our assignments?
After Tower of Terror, we made our way to the Star Wars area, as our Boarding Group for the Rise of the Resistance ride was getting close to being called.  Once there we decided we were hungry and the Docking Bay 7 quick service restaurant was close by…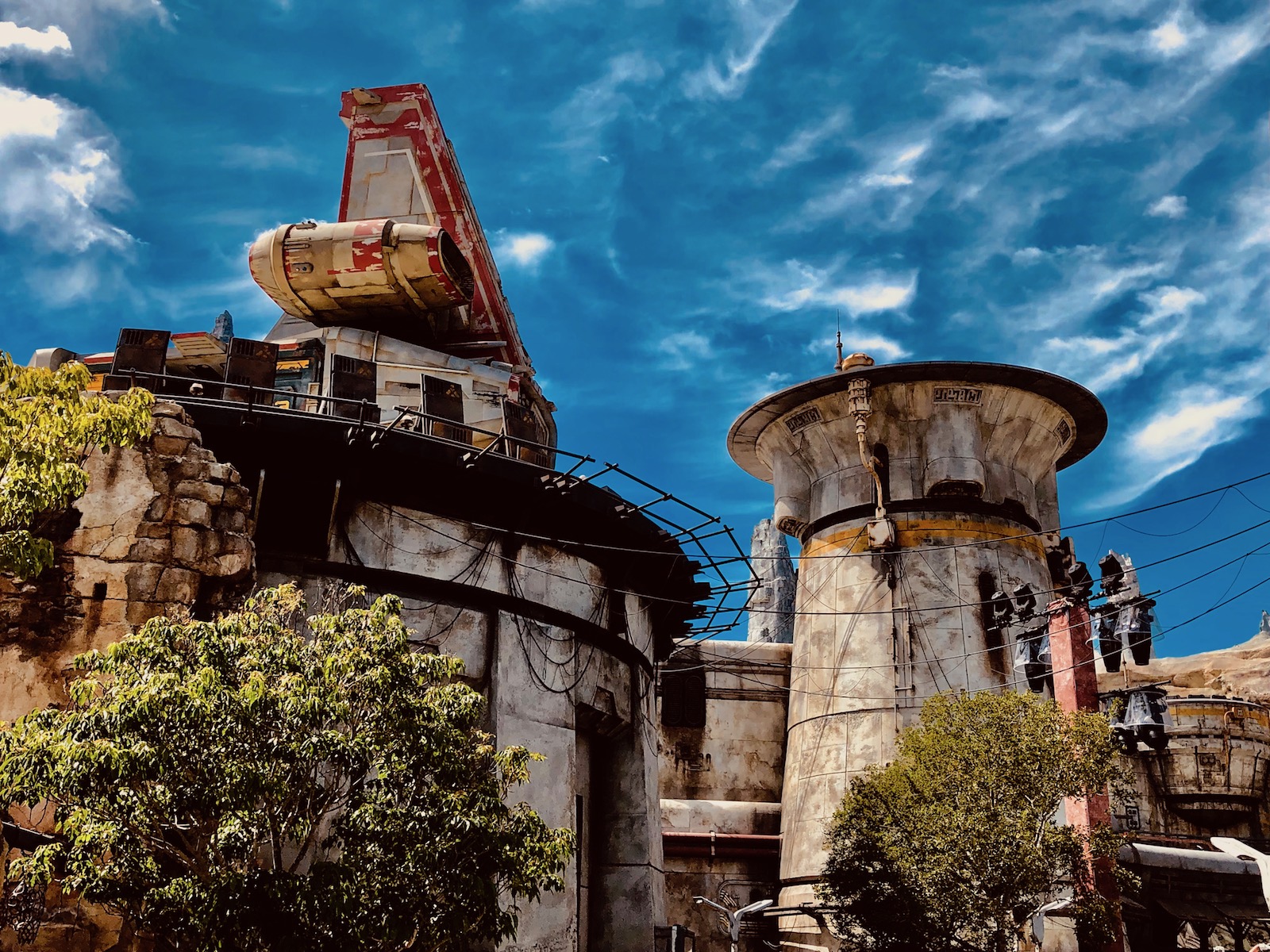 Our failed attempt to have breakfast at Docking  Bay Food & Cargo, so had Desserts instead!
We had just found a table at Docking Bay when I was alerted that our Boarding Group #23 for  Star Wars: Rise of the Resistance could now board the ride.  This was at about 9:30, so it took about 1 1/2 hours for them to reach Boarding Group #23.  The estimate is that there is about 150 people assigned to each boarding group, so if that's correct then about 3,300 people had already been called in 1 1/2 hours time.
Anyway, we took our time at Docking Bay and enjoyed the air conditioning so it was close to 10:30 before we entered the line for the Rise of the Resistance ride.  By this time they were allowing anyone from Boarding Groups 18 – 35 to board the ride…
Next I have a few "teaser" photos from our first experience with Star Wars: Rise of the Resistance…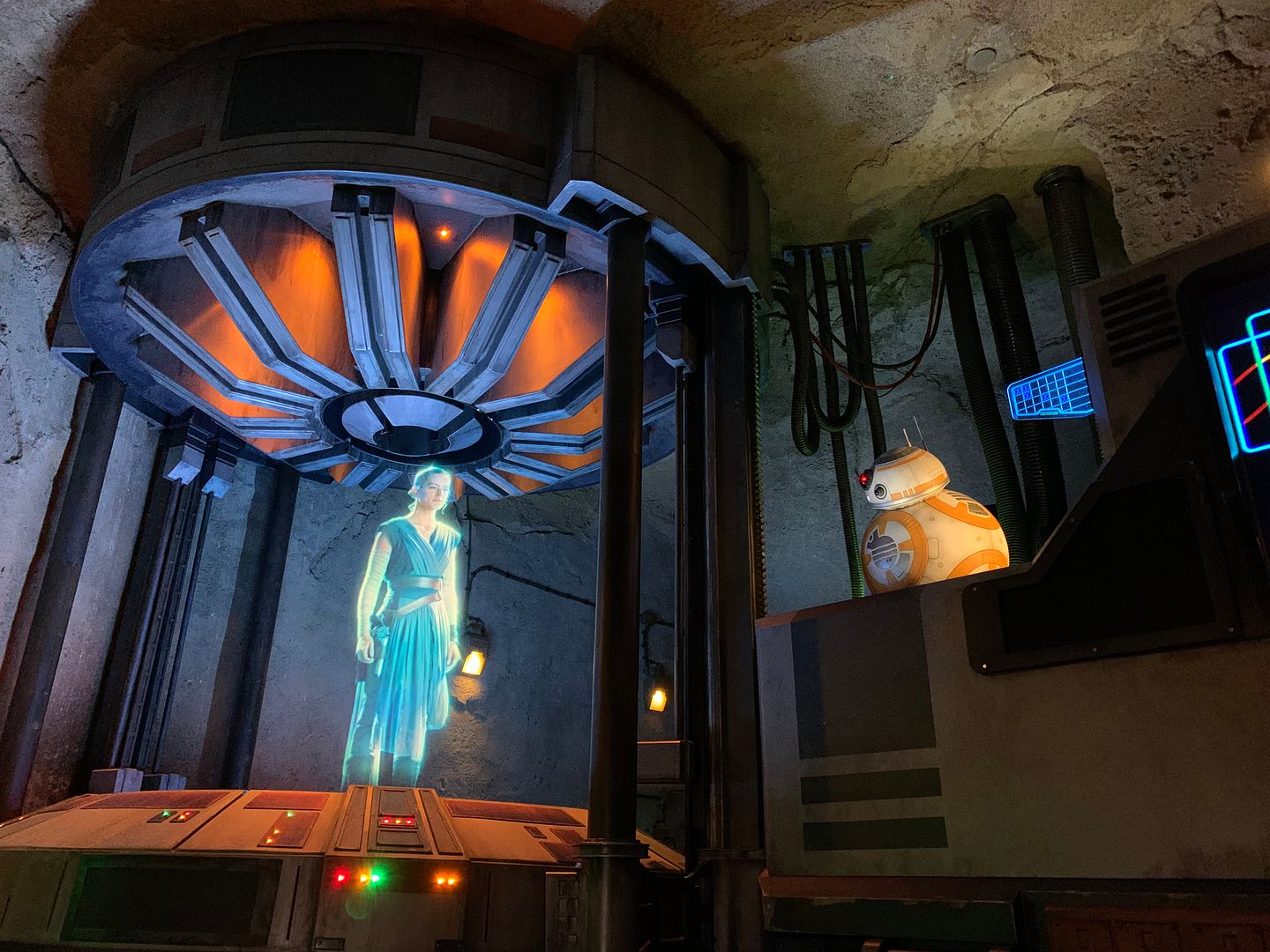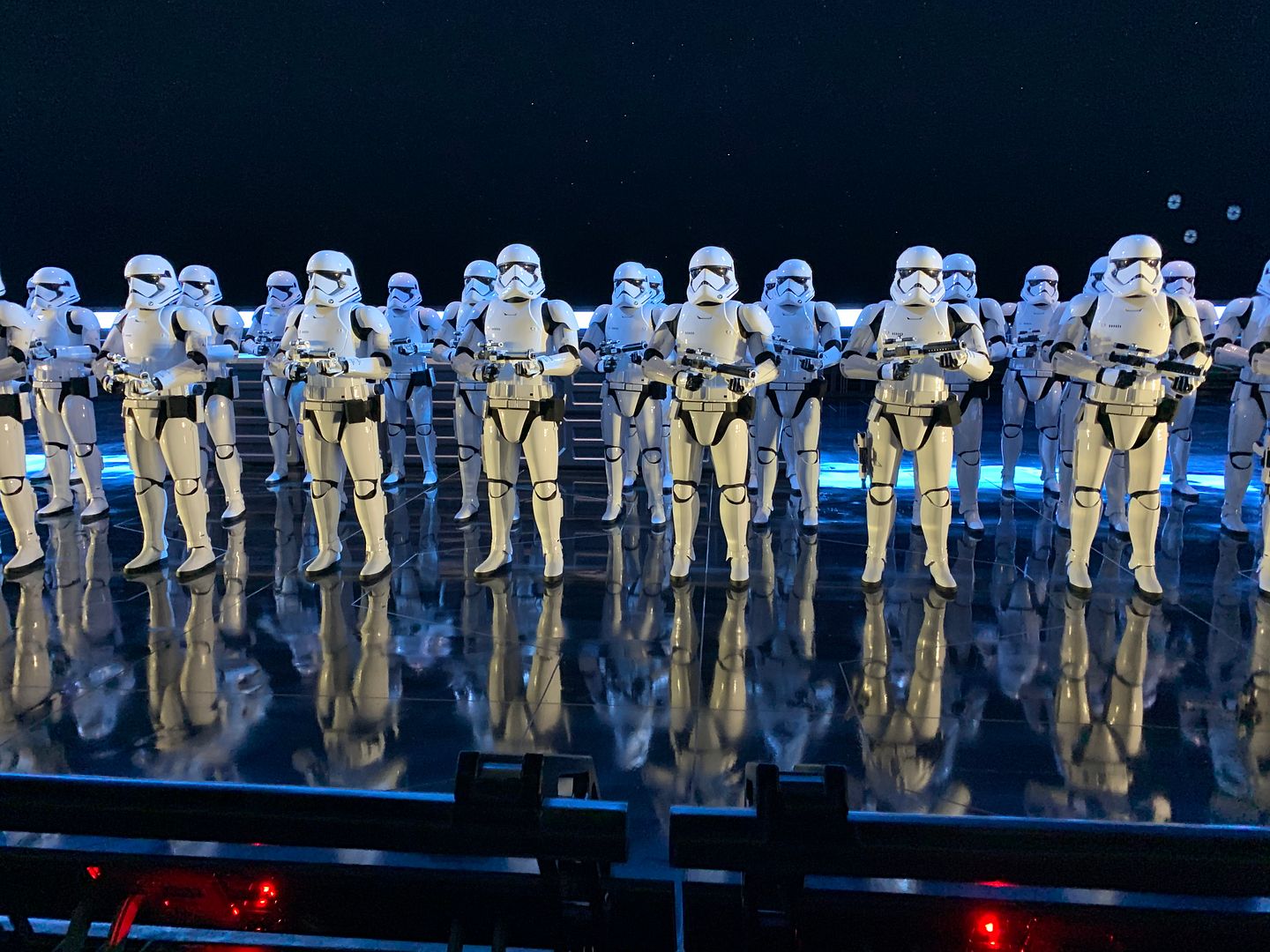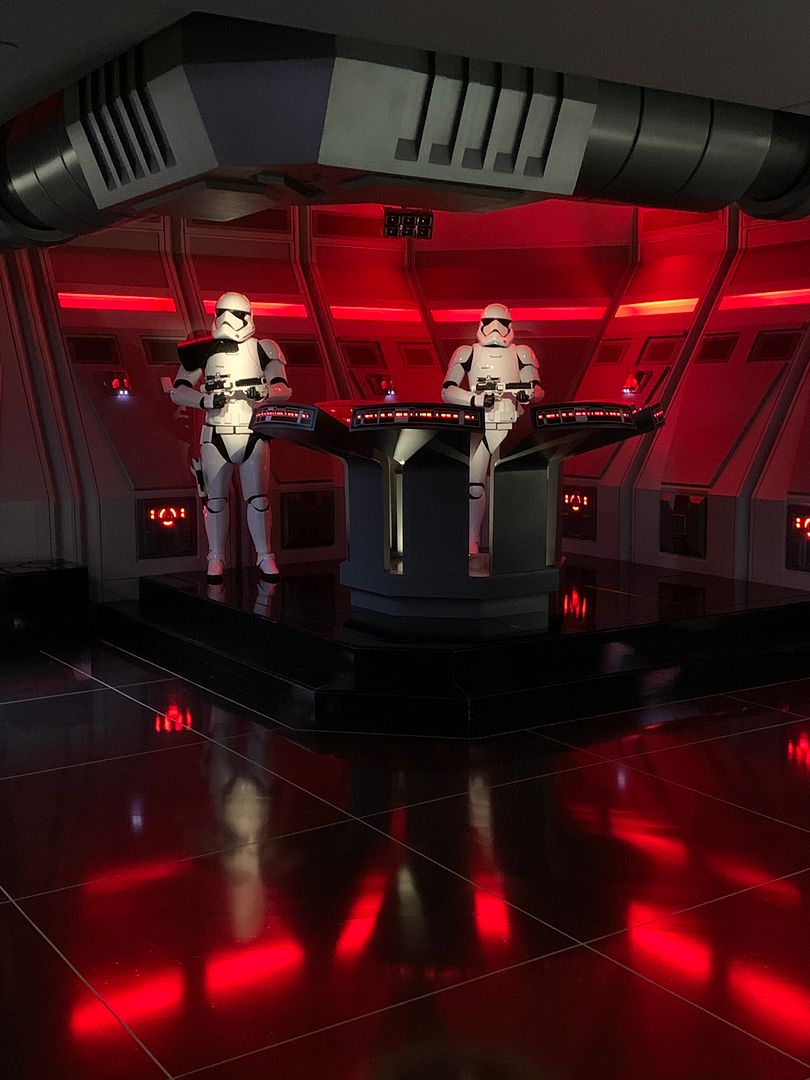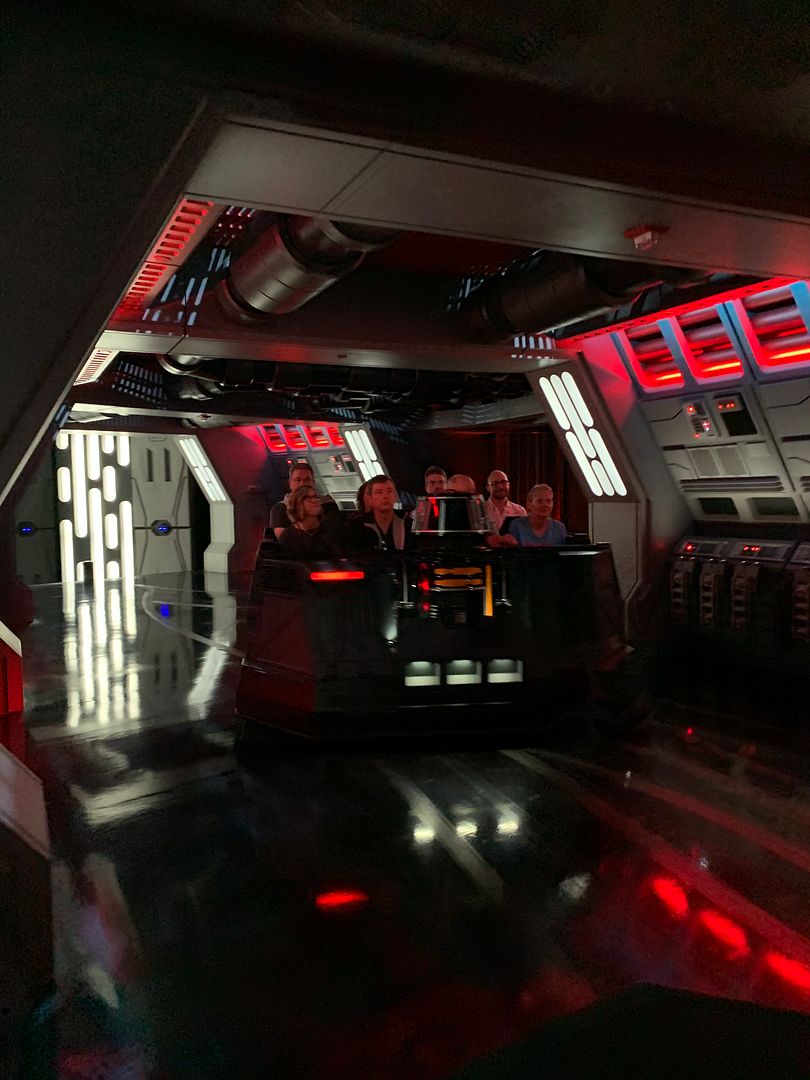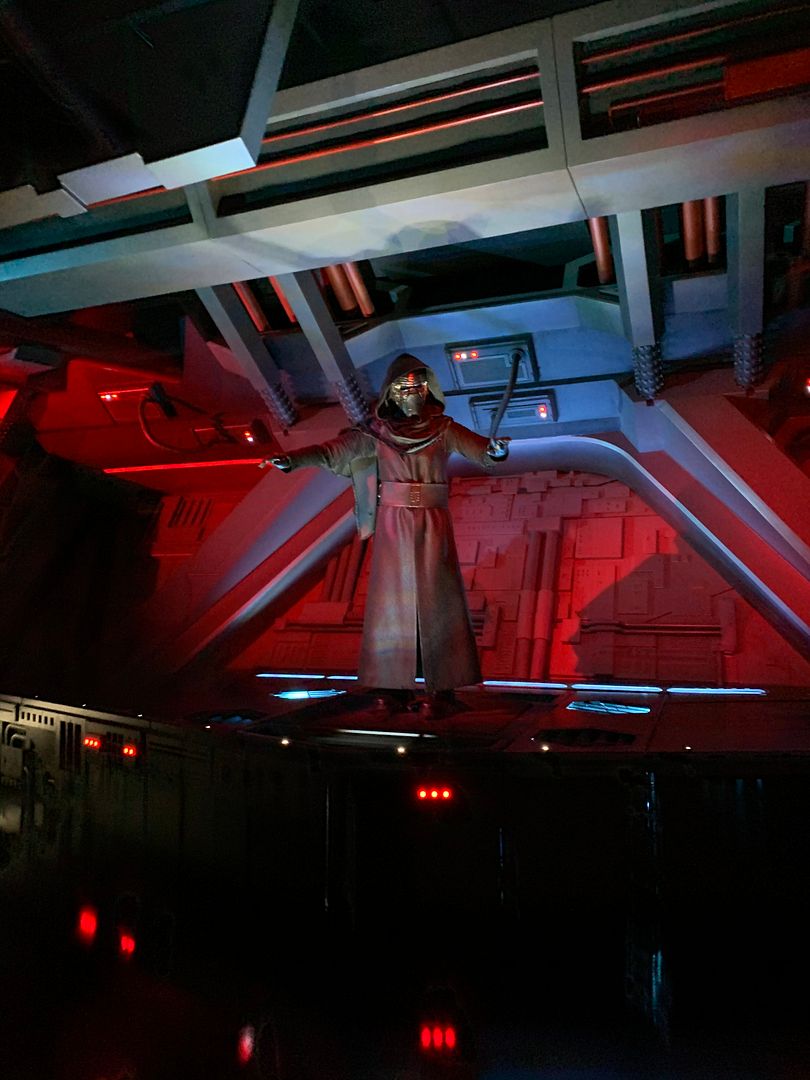 I won't get into any details, so as to keep them a surprise for those who haven't yet experienced this attraction.  But I will say that we both loved it!  For Andrew, it is now his favorite Disney World ride/attraction, beating out his previous favorite, Avatar: Flight of Passage.  For me though it is #3, behind only my #1 Avatar: Flight of Passage and #2 Soarin', both of which I love.
As you probably have heard, at this time you are allowed only one boarding pass per day for Rise of the Resistance, and that is only if you are in Hollywood Studios at park opening when they are assigned and you are lucky enough to get one. Wanting to ride it again, we decided to start the next day at Hollywood Studios so that we could again attempt to get a boarding pass.
We saw Chewbacca doing an informal Meet 'n' Greet in the area around Rise of Resistance…
So anyway, since we'd accomplished everything that we wanted to at Hollywood Studios that morning, we decided to spend the afternoon at Epcot.  We originally had late afternoon Fast Passes for Rock 'n' Roller Coaster and Tower of Terror scheduled but after we were able to ride both stand-by that morning, we decided to switch them out for Fast Passes for Soarin' and Spaceship Earth at Epcot.  I was very glad that I had purchased Andrew a Park Hopper ticket because it gave us the flexibility to do this.   We again used the park hopper feature several times on our second day by starting our morning at Hollywood Studios, then went over to Epcot for lunch at the Flower & Garden Festival booths on its opening day, then back to DHS when our Boarding Group for Rise of the Resistance was getting close to being called, then to Animal Kingdom for our early evening Fast Passes, and then closed out our day back at Epcot.   
As we were leaving Hollywood Studios at about 11:00, we saw this sign posted at the entrance…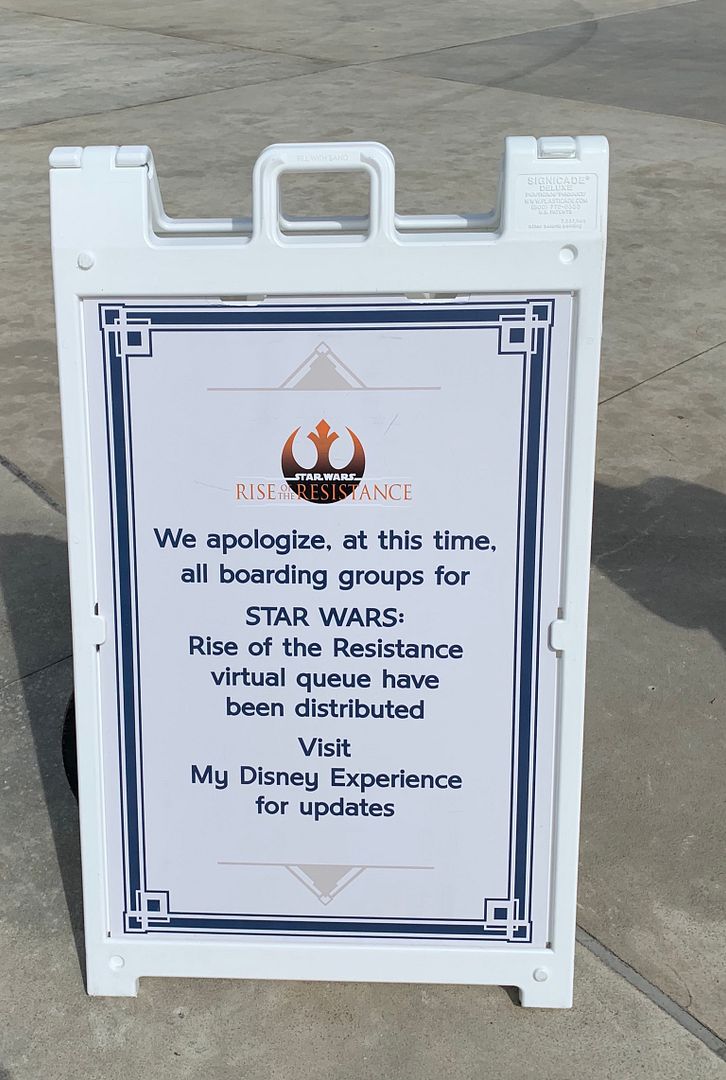 It was likely that the sign had been up for at least a couple of hours, if not more.  We then headed to the boat dock to catch a boat back to the Beach Club so we could take a little break before heading to Epcot for lunch…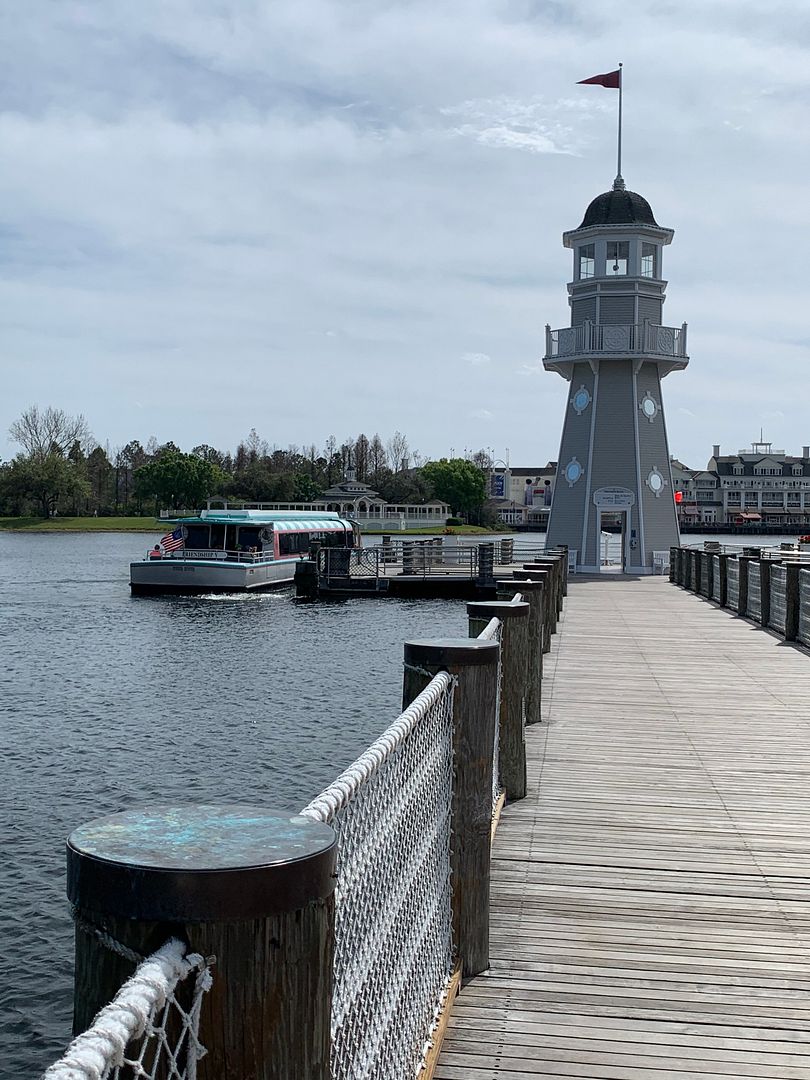 As we were walking to our room from the Yacht & Beach Club boat dock, my FitBit notified me that I had already reached my daily goal of 10,000 steps.  It was definitely time to take a break!
Next up: Lunch at Epcot's Regal Eagle Smokehouse
SECOND PARK DAY – WEDNESDAY, MARCH 4 (Hollywood Studios, Epcot, Back to Hollywood Studios, Animal Kingdom, Back to Epcot, Beach Club Resort)
Our Opening Day Visit to Epcot's Flower & Garden Festival
DEPARTURE DAY – THURSDAY, MARCH 5 (Beach Club Resort)