What began on February 19th with a leisurely two day drive with my husband to Austin, Texas for a week long visit with our daughter ended up as a 10 day emotional roller coaster, which was then followed by me (and my son, Andrew) actually riding my favorite roller coaster.  How did this all come about?  Well, the day after our arrival in Austin we found out that a family member who lives in Florida had been admitted to the hospital there.  With 4 other family members flying/driving to Florida immediately, my husband and I were able to at least spend the weekend in Austin with our daughter.  Then on Monday morning, February 24th we started our drive to Florida, arriving on the 25th.  Later that week we purchased a plane ticket for my son to fly to Florida to help out in whatever way needed.  However, by the time he arrived on Monday, March 2 the medical issues had settled down enough that I was able to escape to my "Happy Place" for a few days.  So a few hours after my son's plane touched down in Florida, we made the 1 1/2 hour drive and the two of us were at Disney World!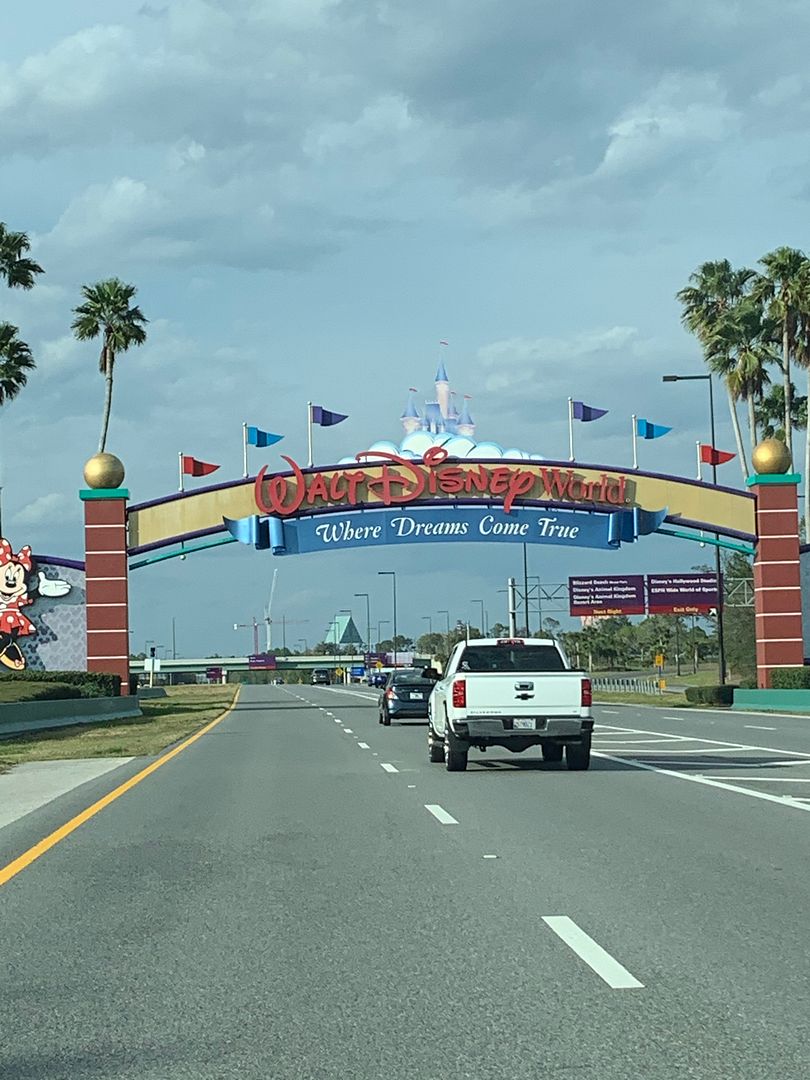 You know that saying, "When life gives you lemons, make lemonade"?  Well, this short visit to Disney World was my lemonade…AND BOY WAS IT SWEET!!
So anyway, I've decided to put the report for my very carefully planned out Fall 2019 trip on hold for a bit and instead write about this totally unplanned, spur of the moment trip to Disney World.  Much to my surprise, it can be successfully done.  You just have to believe in the Disney Magic…oh, and be at the park (more specifically DHS) at least 1 1/2 hours before it officially opens. LOL
So here is what will be covered in this trip report:
Table service Restaurants
Arrival Day Dinner at the recently remodeled Beaches & Cream(Yacht & Beach Club Resort) – COMPLETE
Dinner at the recently opened Topolino's Terrace – Flavors of the Riviera (Riviera Resort) – COMPLETE
Quick service Restaurants
Our failed attempt to have breakfast at Docking  Bay Food & Cargo, so had Desserts instead! (Disney's Hollywood Studios, Star Wars Galaxy's Edge) – COMPLETE
Lunch at the recently opened Regal Eagle Smokehouse: Craft Drafts & Barbecue(Epcot's American Pavilion) – COMPLETE
Breakfast at ABC Commissary (Disney's Hollywood Studios) – COMPLETE
Snacks from the Beaches & Cream To Go Window – COMPLETE (see March 4)
Departure Day Breakfast from the Beach Club Marketplace (Beach Club Resort) – COMPLETE
Epcot's Flower & Garden Festival on Opening Day (Wed., March 4)
Miscellaneous Non-Food Stuff
Our Review of Beach Club Resort Room #3624 – COMPLETE
Riding Star Wars: Rise of the Resistance – Round 1 (Disney's Hollywood Studios, Star Wars Galaxy's Edge) –  COMPLETE (See March 3) 
Riding Mickey & Minnie's Runaway Railway on Opening Day (Disney's Hollywood Studios) – COMPLETE (See March 4)
Riding Star Wars: Rise of the Resistance – Round 2 – COMPLETE (See March 4)
Just a few more details before I begin.  I was able to reserve a room online for a 3 night stay (starting March 2) at the Beach Club at 10:00 p.m. on Saturday night, Feb. 29th.  To my surprise I was even able to get an Annual Passholder discount.  Earlier that day the Yacht Club had also shown as available but I wasn't quite ready to commit to the non-refundable one night deposit at that point.  We had just stayed at the Beach Club on our last trip so I was hoping for the Yacht Club this time, but in the end felt very lucky to get a room at an Epcot resort (since we were only planning to visit Hollywood Studios and Epcot during our 2 park days).  I have an annual pass (planning to use it for two Fall trips, in 2019 and 2020) but I had to buy a 2 day Park Hopper for my son, which was expensive but turned out to be well-worth the money.  Without it we would not have been able to do nearly as much as we did during our short visit.  Anyway, after purchasing his ticket on Sunday, March 1 (and linking it to MDE) we were able to get 2 Fast Passes for DHS on March 3rd (Rock 'N' Roller Coaster, Tower of Terror) and 2 Fast Passes for Epcot on March 4th (Soarin', Spaceship Earth).  We ended up switching all of these out for others on the day of the Fast Passes though.  Also, we arrived at the Beach Club at about 5:00 p.m. on Monday, March 2nd with ABSOLUTELY NO DINING RESERVATIONS!!!  For a Disney Food Blogger and Disney Trip Planner Extraordinaire this was ABSOLUTE MADNESS!!  And yet it all worked out in the end.
NOTE: I first posted our review of Opening Day at Epcot's Flower & Garden Festival (see 2nd Park Day).  All remaining reviews will be posted in chronological order.  
ARRIVAL DAY – MONDAY, MARCH 2 (Beach Club Resort, Disney Springs)
Upon our arrival at the Beach Club Resort, we unloaded and parked our car (which requires that an additional $25 per night parking fee be paid…BOO!!!), then checked in to our room at the Front Desk.  I had not done the Express Check-in online because I needed to make sure that the Magic Bands (from our last trip in November 2019) could be used for this trip (since we hadn't had time to order and receive new ones).  The Cast Member made sure that the old bands could be used to open the door to our new room and quickly took care of the other check-in details.  Soon we were off to our room on the 3rd floor,  #3624.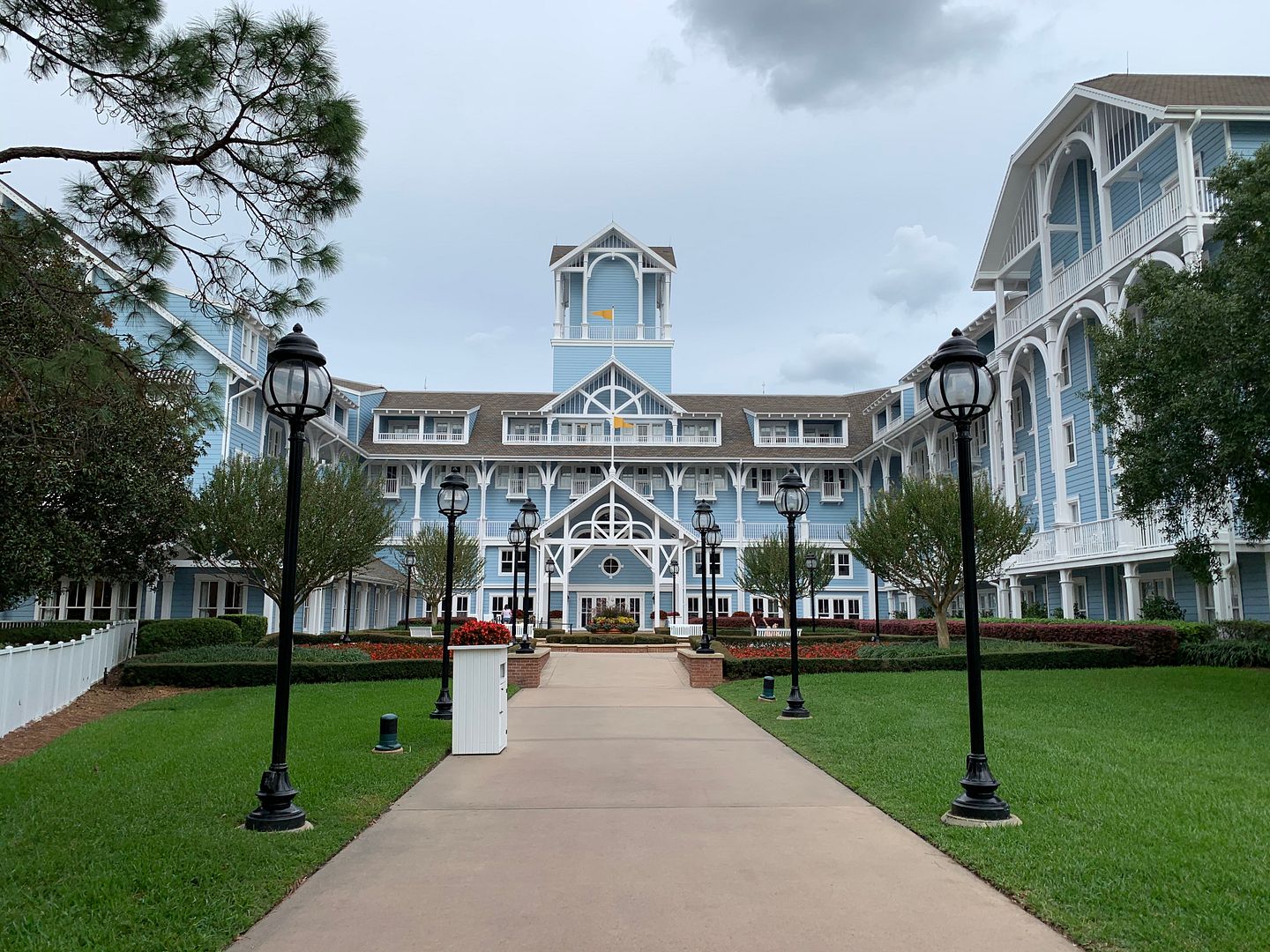 Our Review of  the Beach Club Resort's (Garden View) Room #3624
Once settled into our room we next made a plan for dinner.  Checking for openings for 2 people later that evening on the MDE app we found several non-park options.  There were several Disney Springs restaurants available, like STK, Wolfgang Puck, Morimoto Asia, and Terralina Crafted.  A new restaurant at the new Riviera Resort, Topolino Terrace, also had a 9:15 dinner reservation, but we decided that was too late to have dinner (since we knew we had an early morning ahead of us).  Another surprise option was Narcoossee's (one of my favorites currently) but it too was a late reservation.  However, the biggest surprise was the reservation that was available right there at our resort, at Beaches & Cream.  And that is the one we chose.
We then ran a few errands off-property before going to Disney Springs for a bit of shopping.  Not really knowing our way around the area by car we mistakenly parked in the Orange Garage by the movie theater and walked all the way around through the Landing to get to the stores.  That is when we saw that the Lime Garage was right next to the shopping area that we were going to.  Oh well, it was fun to walk through anyway and we had the time.  After our shopping we took the much shorter route back to the Orange Garage and made the short drive back to our resort, the Beach Club, where we had a reservation for dinner at…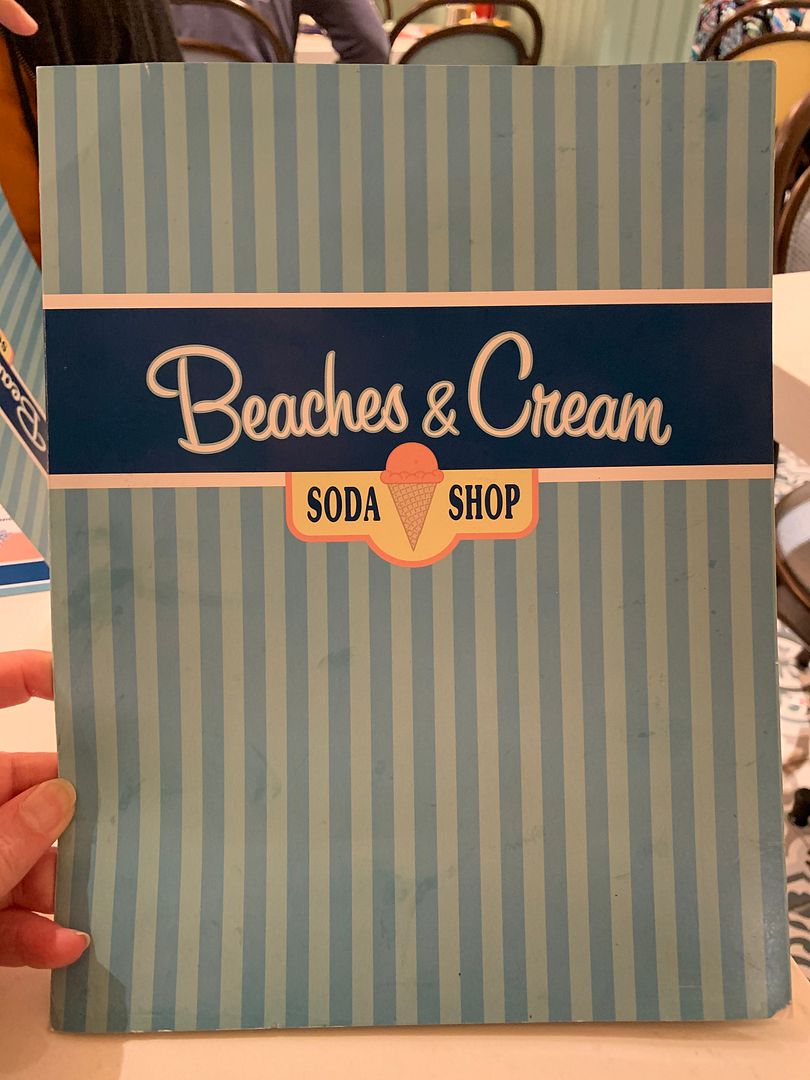 Our Dinner at the Newly-Remodeled Beaches & Cream
We had finished dinner and were back in our room, there at the Beach Club, by 10:30.  Then in bed asleep by 11:00.
Total Step Count for the Day (per my FitBit): 7,360 
Total Miles Walked: 3.15 
FIRST PARK DAY – TUESDAY, MARCH 3 (Hollywood Studios, Epcot, Riviera Resort)
My phone alarm went off at 5:00 a.m. and after hitting the snooze twice, I was up and going at 5:19.  Andrew waited about another 1/2 hour before crawling out of bed.  The night before we had planned to be out the door of our room at 6:00 a.m. to walk to Hollywood Studios, which had an official opening time of 8:00 a.m.  We actually left our room at the Beach Club at about 6:10 (so not too behind schedule) and began our walk past the Yacht Club, the Dolphin, the Swan, the backside of the Boardwalk, and then the DHS Skyliner station before reaching the entrance to park.  This walk (at an average pace) took us about 20 minutes from our room to the park entrance line.  We passed a few people along this walkway and a few people passed us, but in total there were probably less than 10 people at this time of the morning.  BTW, the boats and skyliner weren't yet running so walking, driving our car, or taking Lyft/Uber were the only options if we wanted to get to the park that early.
Reaching the park entrance at about 6:30, we were able to bypass the Bag Check line since we brought no bags with us that morning.  This saved a few minutes, which can be an advantage.  We chose one of the lines of people that were waiting for the gates to be opened.  Here is a photo of the line ahead of us at 6:48…
The lines behind us continued to build until at 7:00 a.m. (1 hr. before the park rides opened) they allowed people to enter.  The crowd then dispersed, with a majority of the people going towards the holding area for Star Wars: Galaxy's Edge (or more specifically, the Millennium Falcon Smugglers Run ride).  Only a few people headed down Sunset Boulevard to the holding area for Rock 'n' Roller Coaster and Tower of Terror.  We had ridden the Millennium Falcon twice on our last trip.  Though we liked it, it wasn't a priority on this trip and didn't want to spend a lot of time standing in line for it.  So we decided instead to head towards Toy Story Land, where most (including us) were headed to Slinky Dog Dash.  We were guided by CMs into the line for Slinky Dog and that's where we stood from 7:10 to 8:00 when the ride (and all other rides in the park) opened.  We estimated that there were about 100 people in front of us in the line.  As it got closer to 8:00, nearly everyone was checking the time on their phones.  At exactly 8:00 a.m. they begin assigning Boarding Passes for the new Star Wars: Rise of the Resistance ride to those requesting them through the MDE app.  Note: You must be inside the park in order to initiate the request for a Boarding Pass.  Also, at this time, that is the only way you can ride Rise of the Resistance.  Andrew and I both attempted the Boarding Pass request through MDE on our phones (as you can also request passes for everyone in which you are linked on MDE, as long as they too are inside the park).   I was the lucky one on this morning and by 8:01 I had successfully obtained our passes for Boarding Group 23…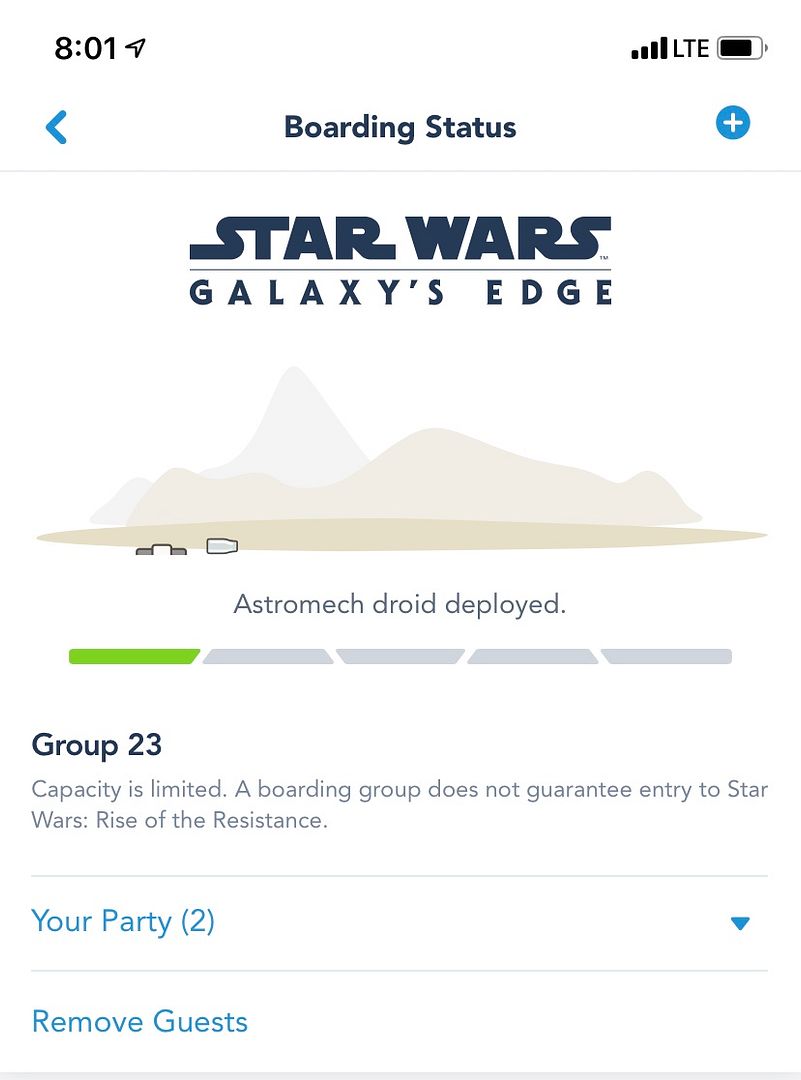 Then 10 minutes later, at 8:11 we were riding Slinky Dog Dash and getting this PhotoPass taken…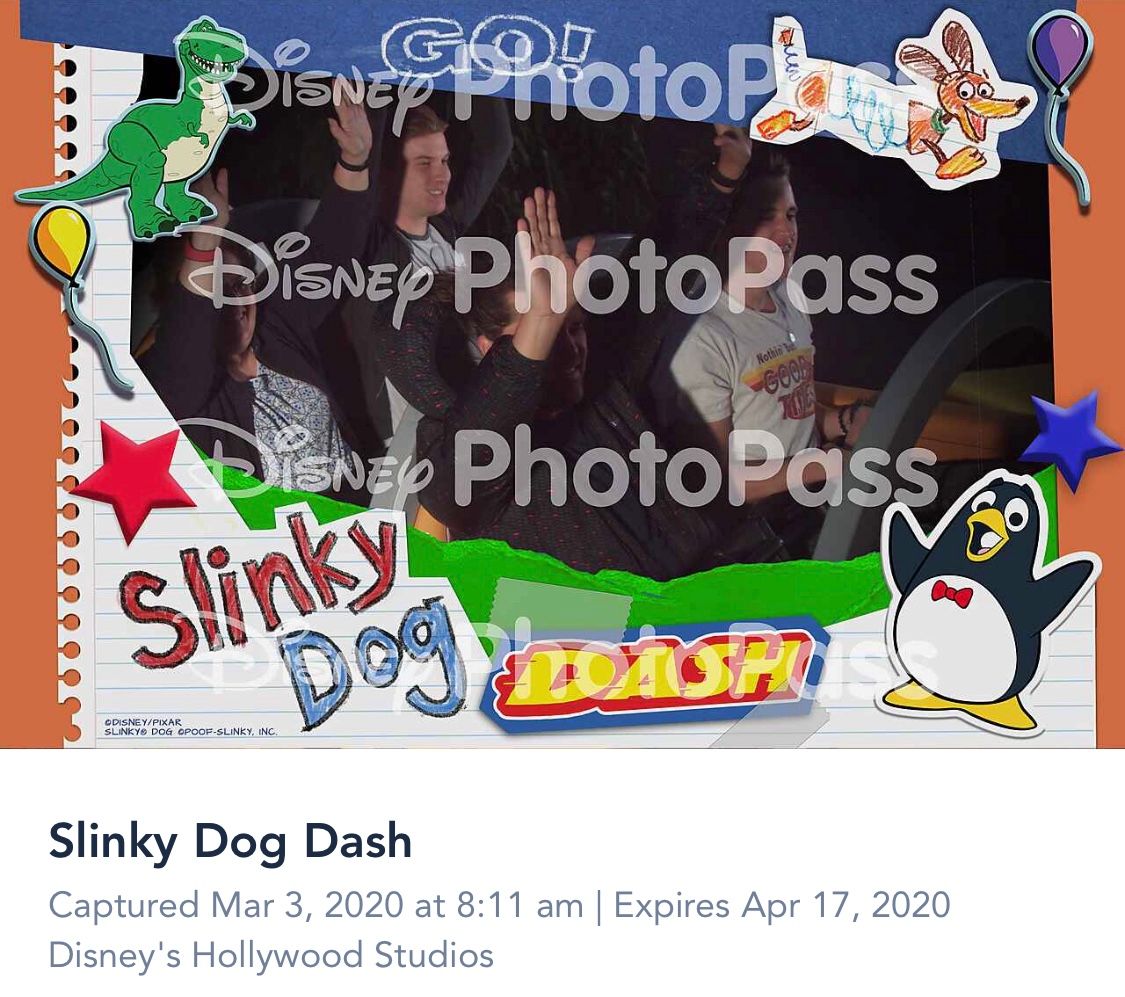 You can't even see my face, which is probably why the photo never showed up on my account, where I could have downloaded it for free because I am an Annual Passholder.  The above photo did appear on Andrew's account though, but with the Disney PhotoPass watermarks.
Anyway, after Slinky Dog we thought about riding Toy Story Mania but the wait time at 8:15 (15 minutes after opening) was 30 minutes (per the MDE app).  So instead we headed out of Toy Story Land.  At 8:18 the end of the line for Slinky Dog was already out to this point…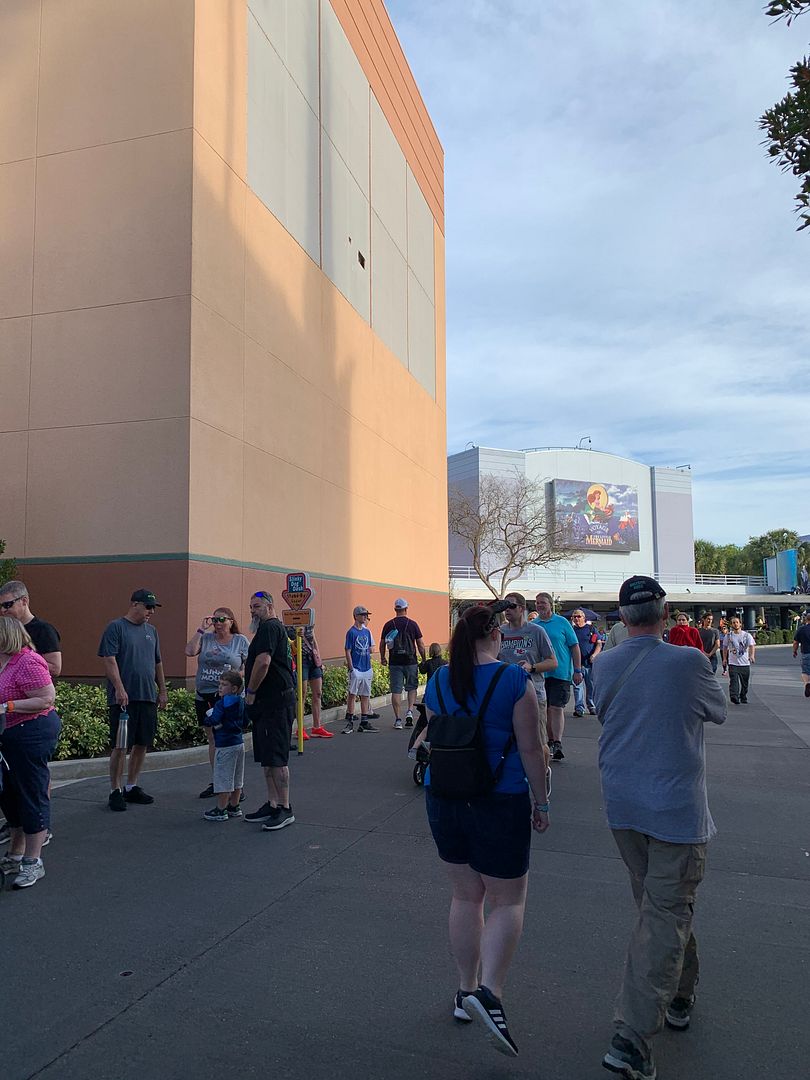 But we were headed to Rock 'n' Roller Coaster where at about 8:30 the standby line never stopped moving.  By 8:45 we were through the pre-show, loaded into our stretch limo, and launched…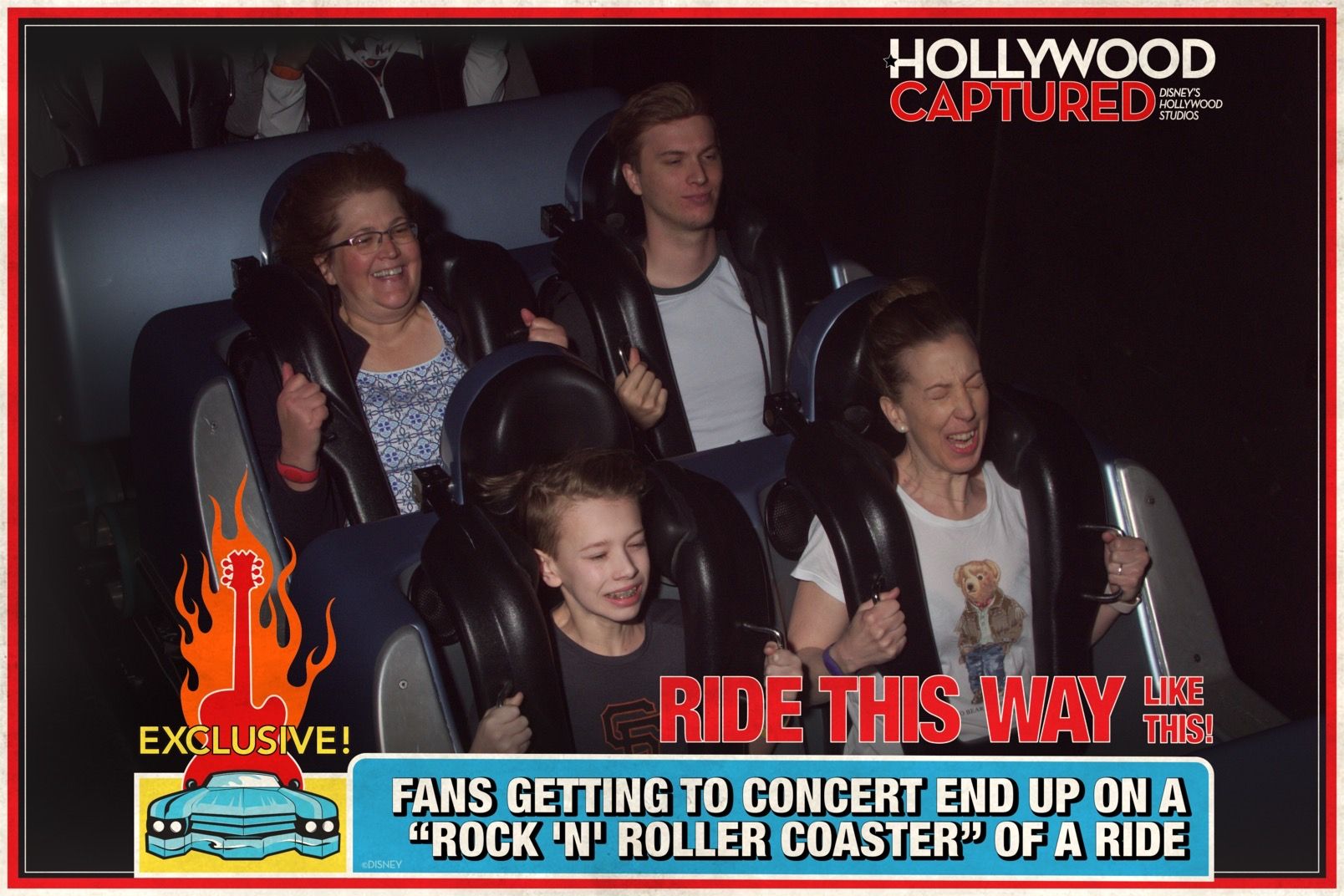 I concentrated on making sure that I had a smile on my face this time during the ride launch when the PhotoPass photo is taken.  This much more accurately represents how I feel about this ride, as I really do love it.  However, on my last trip I rode RnRC three times (twice with Andrew and once with my daughter, Allison).  Each time I had the identical look of fright/pain on my face in the ride photos.  Here is Ride #1…
And Ride #2 (later on the same day)…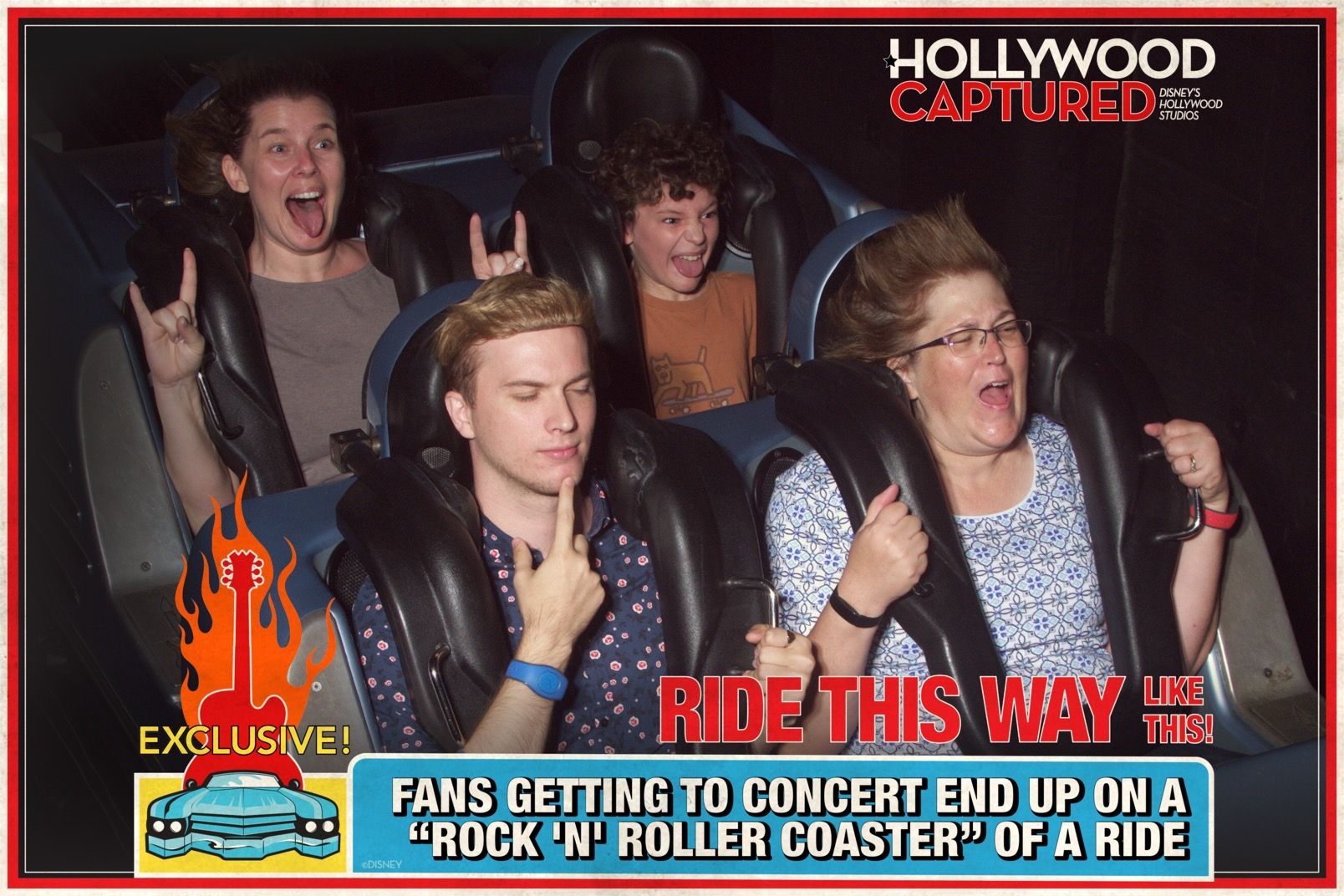 And then Ride #3 was about a week later with my daughter…
See what I mean???
  I swear to you, I do love this ride!  In fact, it used to be my 3rd favorite ride in all of Disney World, but with this trip it has now moved down to the 4th spot.
Next up was Tower of Terror, which also had a fast-moving Stand-by line.  By 9:09 we were seated in the back row (left corner) of the elevator when this PhotoPass photo was taken…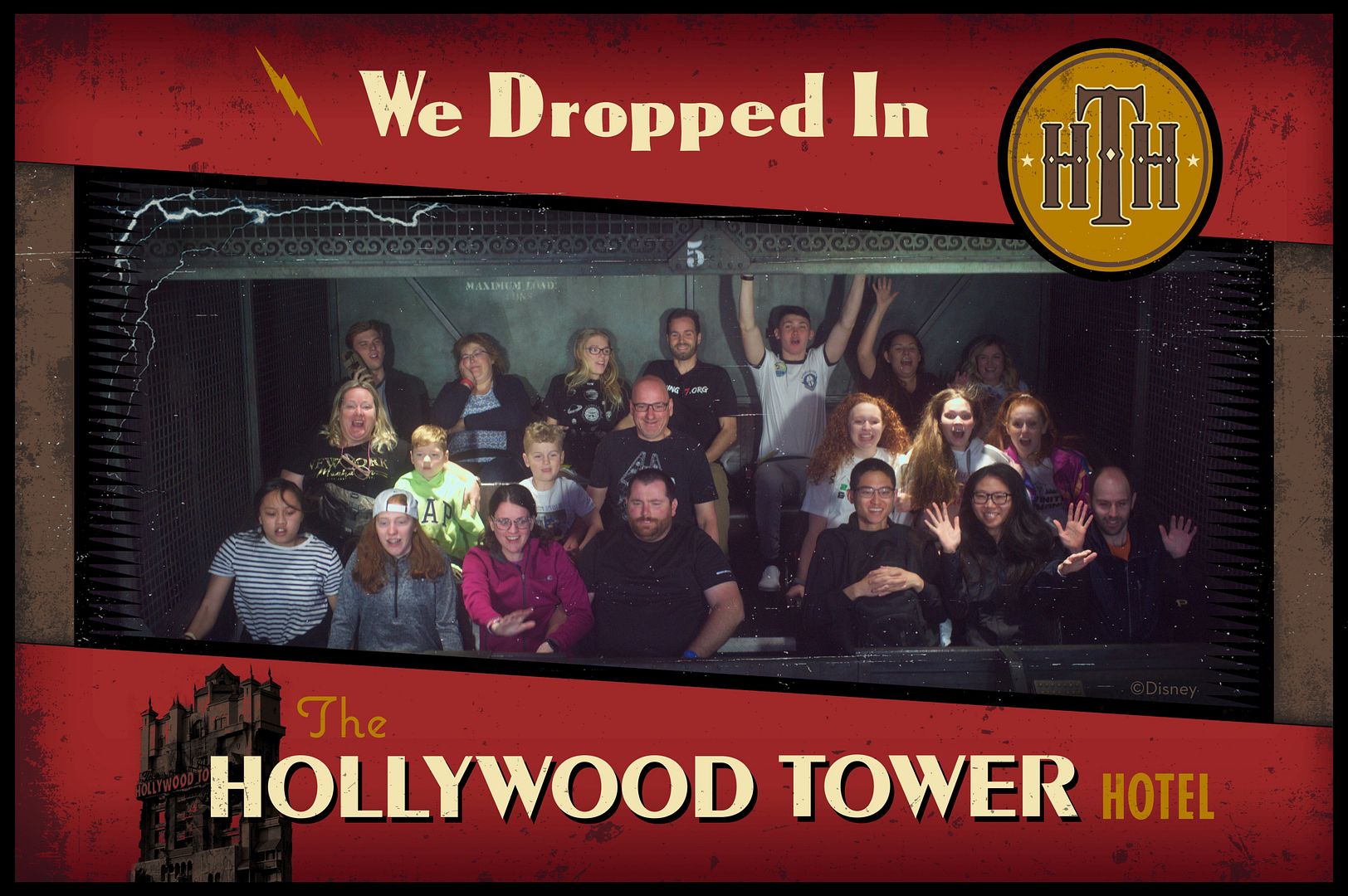 My assignment for the photo was to look bored out of mind, while my son was talking on his "shoe" phone. 
How did we do with our assignments?
After Tower of Terror, we made our way to the Star Wars area, as our Boarding Group for the Rise of the Resistance ride was getting close to being called.  Once there we decided we were hungry and the Docking Bay 7 quick service restaurant was close by…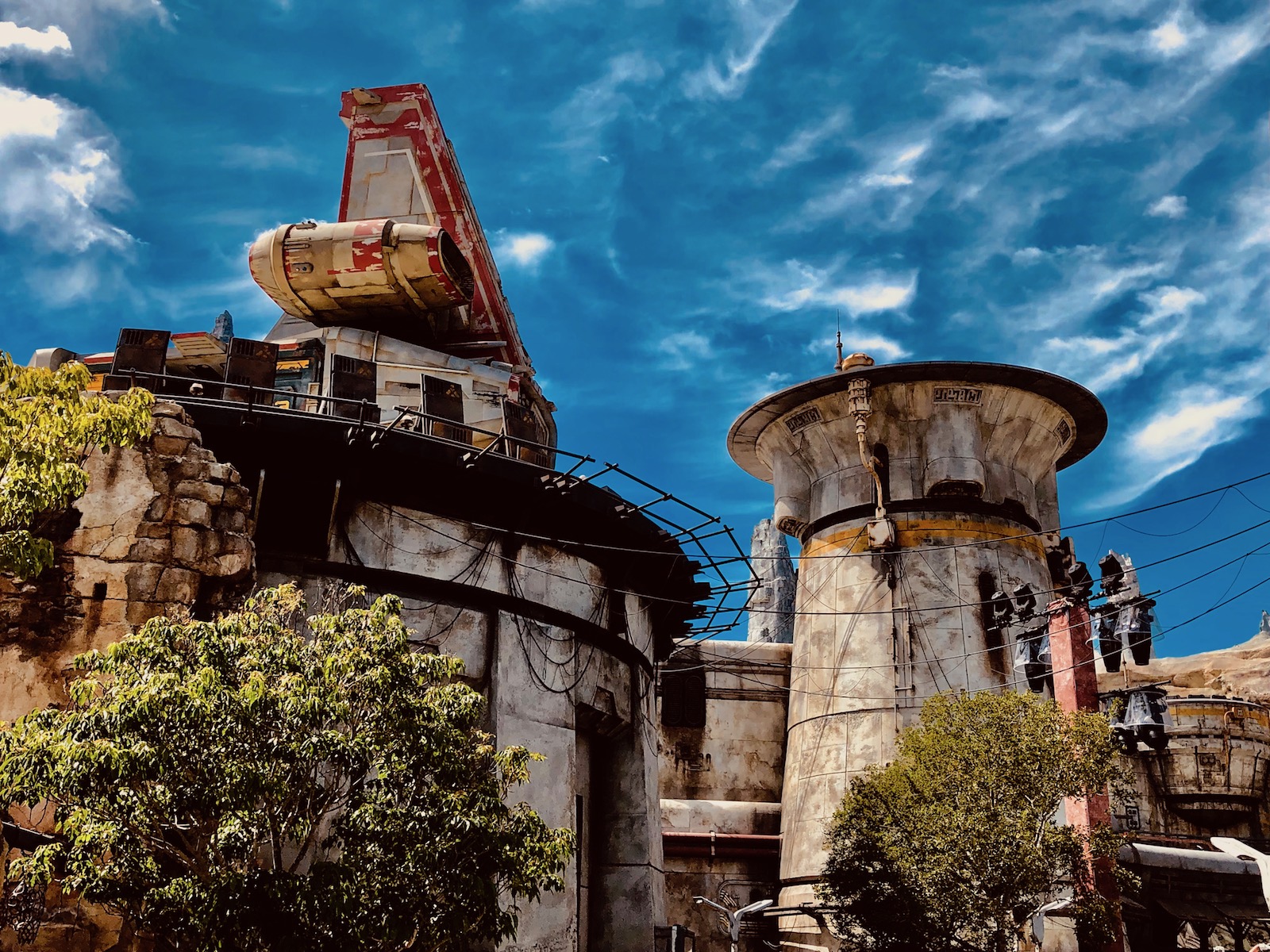 Our failed attempt to have breakfast at Docking  Bay Food & Cargo, so had Desserts instead!
We had just found a table at Docking Bay when I was alerted that our Boarding Group #23 for  Star Wars: Rise of the Resistance could now board the ride.  This was at about 9:30, so it took about 1 1/2 hours for them to reach Boarding Group #23.  The estimate is that there is about 150 people assigned to each boarding group, so if that's correct then about 3,300 people had already been called in 1 1/2 hours time.
Anyway, we took our time at Docking Bay and enjoyed the air conditioning so it was close to 10:30 before we entered the line for the Rise of the Resistance ride.  By this time they were allowing anyone from Boarding Groups 18 – 35 to board the ride…
Next I have a few "teaser" photos from our first experience with Star Wars: Rise of the Resistance…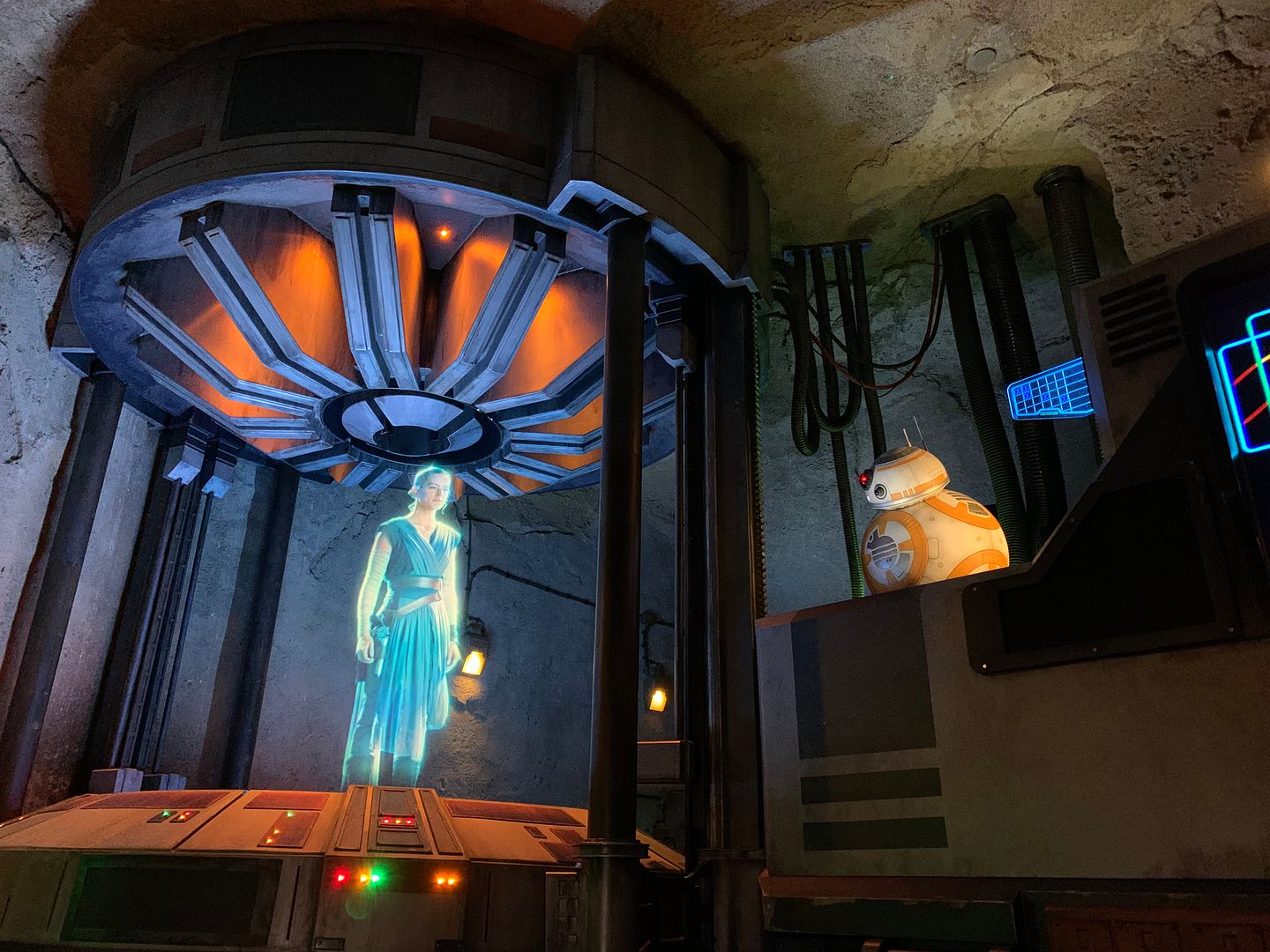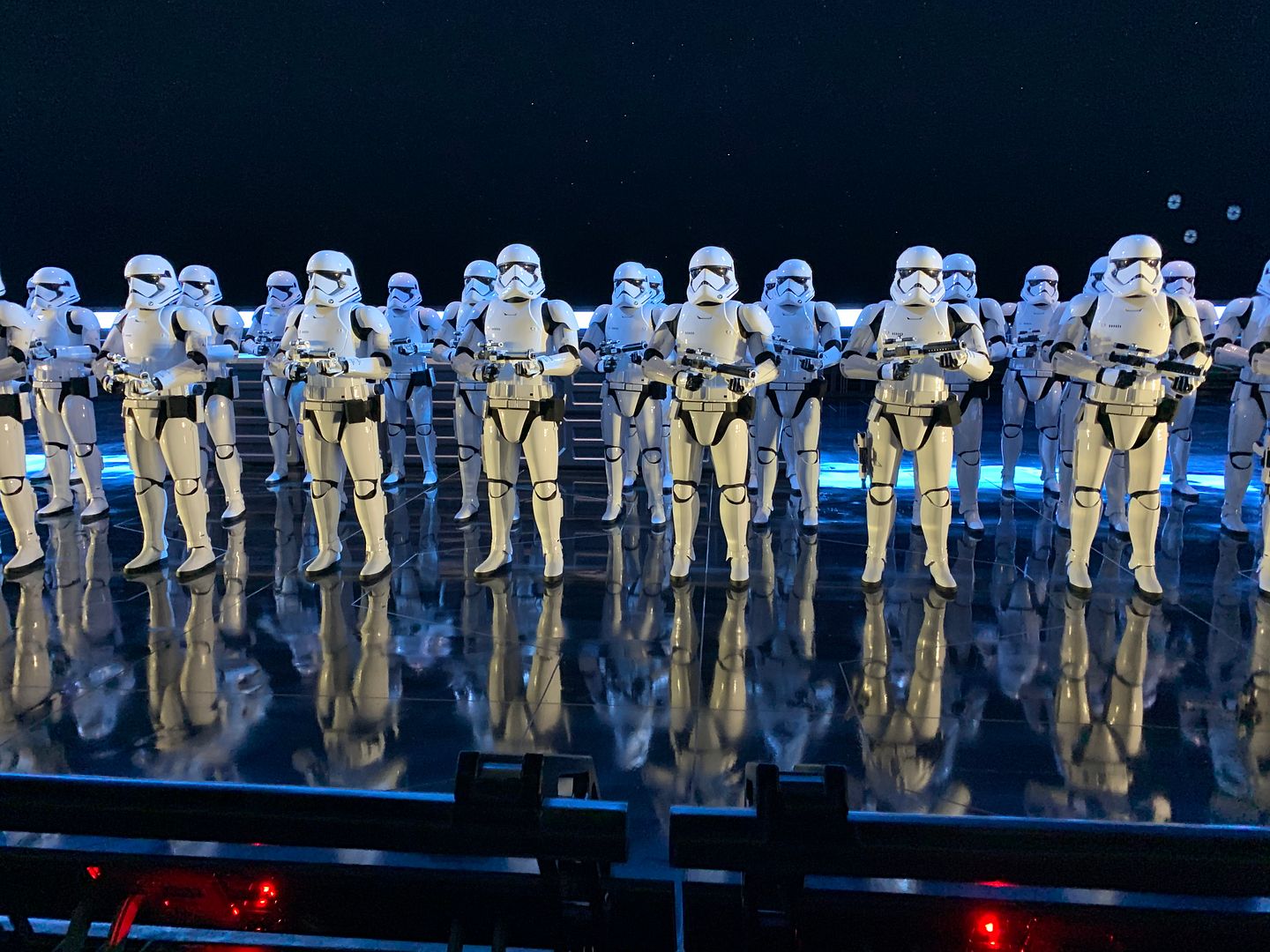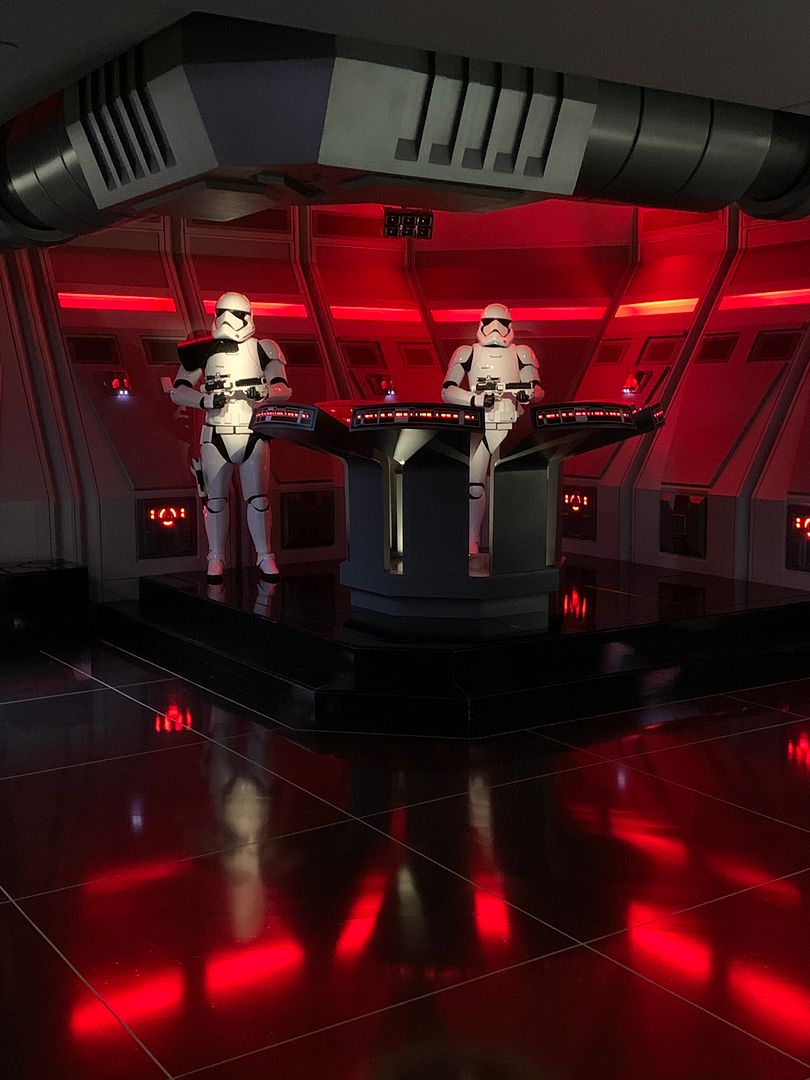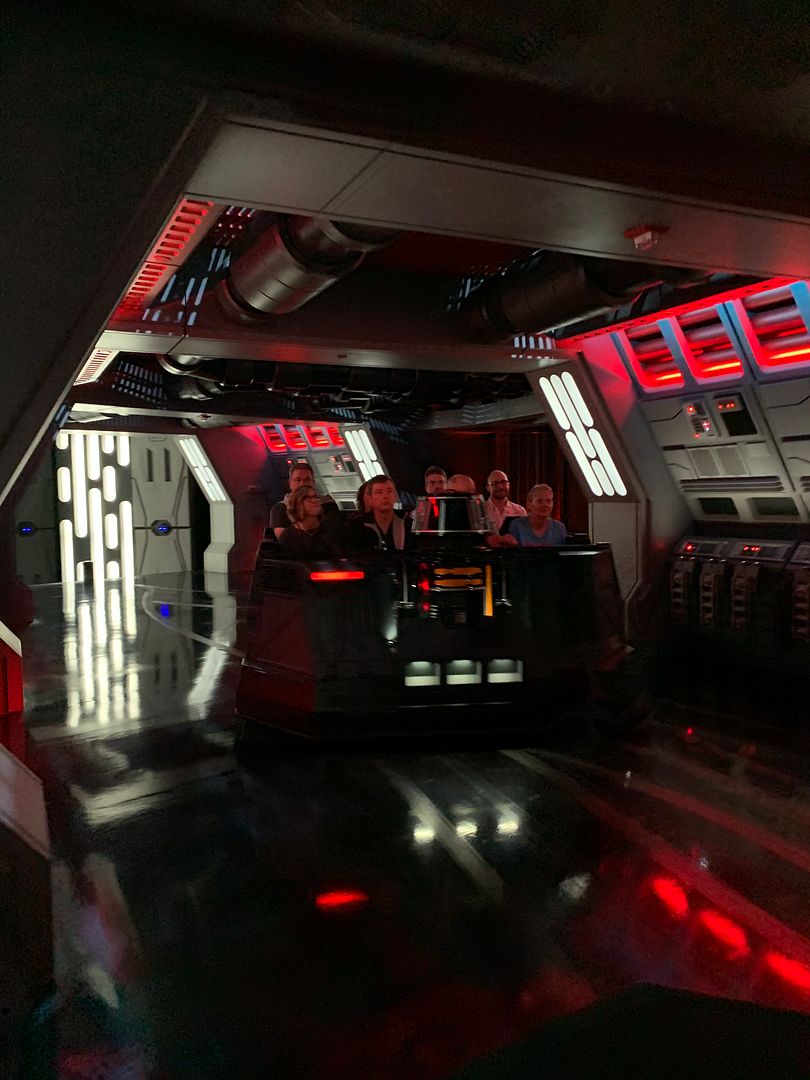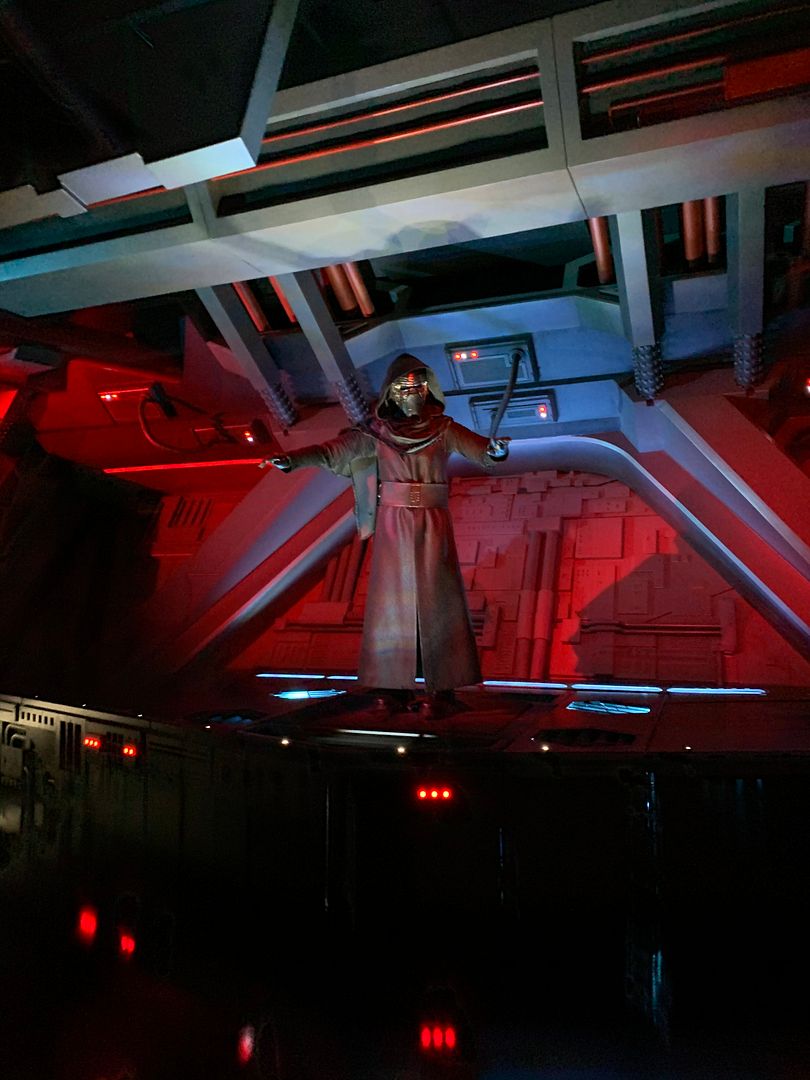 I won't get into any details, so as to keep them a surprise for those who haven't yet experienced this attraction.  But I will say that we both loved it!  For Andrew, it is now his favorite Disney World ride/attraction, beating out his previous favorite, Avatar: Flight of Passage.  For me though it is #3, behind only my #1 Avatar: Flight of Passage and #2 Soarin', both of which I love.
As you probably have heard, at this time you are allowed only one boarding pass per day for Rise of the Resistance, and that is only if you are in Hollywood Studios at park opening when they are assigned and you are lucky enough to get one. Wanting to ride it again, we decided to start the next day at Hollywood Studios so that we could again attempt to get a boarding pass.
We saw Chewbacca doing an informal Meet 'n' Greet in the area around Rise of Resistance…
So anyway, since we'd accomplished everything that we wanted to at Hollywood Studios that morning, we decided to spend the afternoon at Epcot.  We originally had late afternoon Fast Passes for Rock 'n' Roller Coaster and Tower of Terror scheduled but after we were able to ride both stand-by that morning, we decided to switch them out for Fast Passes for Soarin' and Spaceship Earth at Epcot.  I was very glad that I had purchased Andrew a Park Hopper ticket because it gave us the flexibility to do this.   We again used the park hopper feature several times on our second day by starting our morning at Hollywood Studios, then went over to Epcot for lunch at the Flower & Garden Festival booths on its opening day, then back to DHS when our Boarding Group for Rise of the Resistance was getting close to being called, then to Animal Kingdom for our early evening Fast Passes, and then closed out our day back at Epcot.   
As we were leaving Hollywood Studios at about 11:00, we saw this sign posted at the entrance…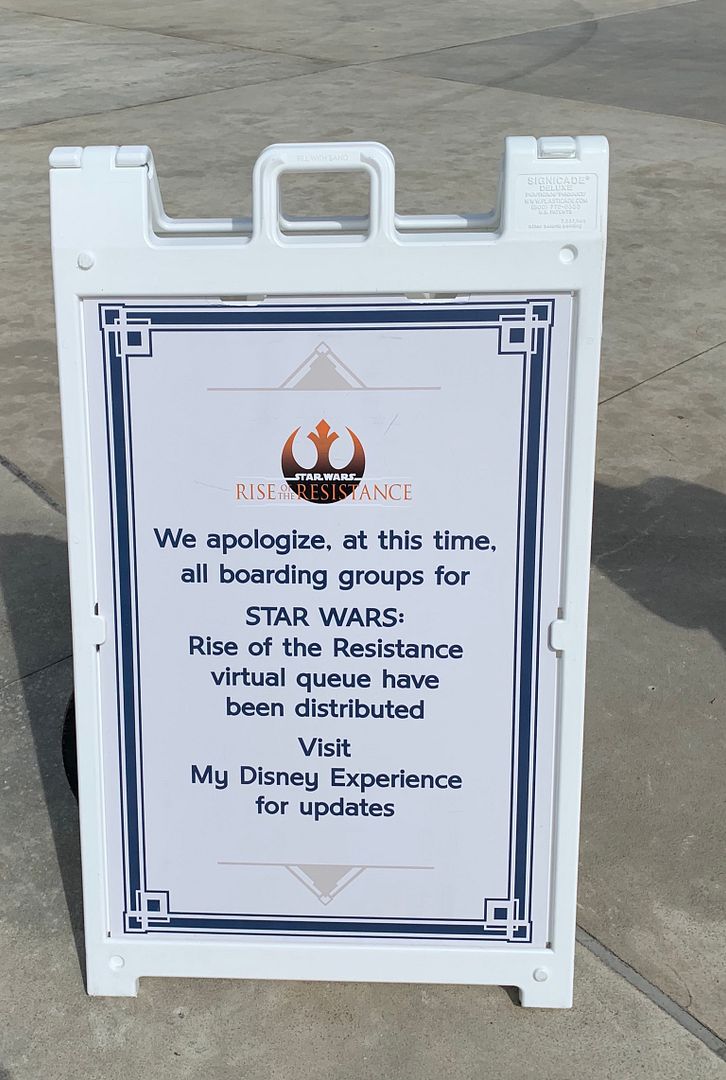 It was likely that the sign had been up for at least a couple of hours, if not more.  We then headed to the boat dock to catch a boat back to the Beach Club so we could take a little break before heading to Epcot for lunch…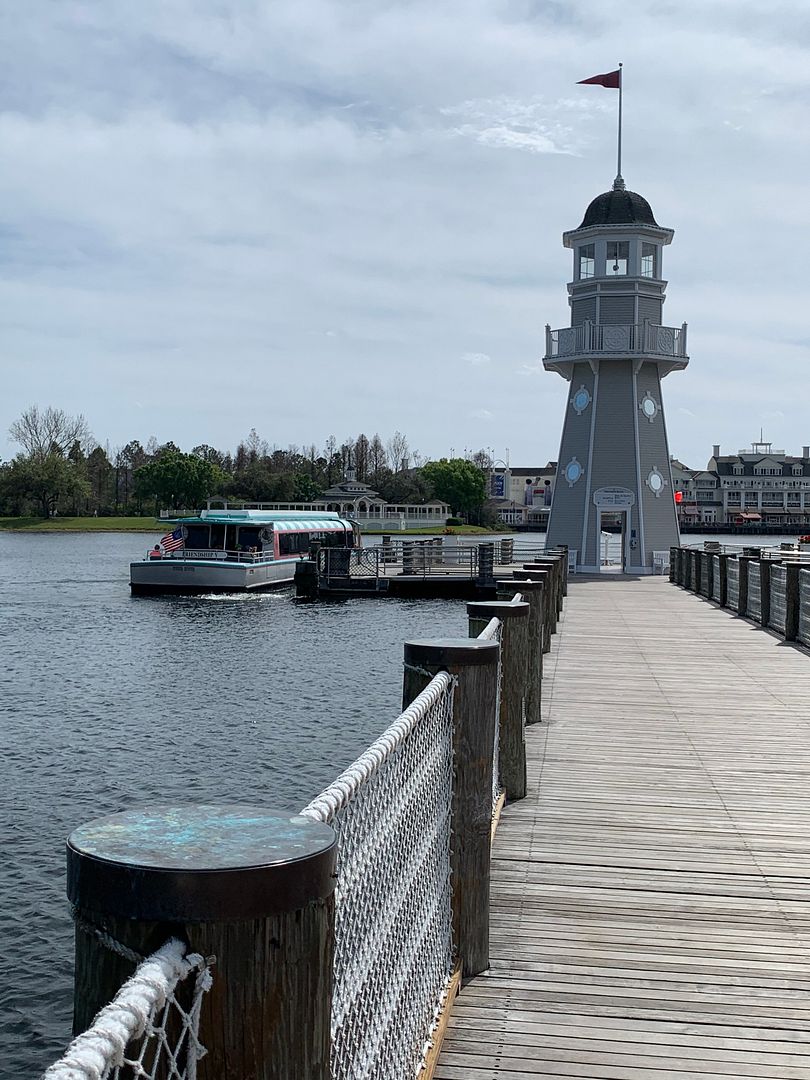 As we were walking to our room from the Yacht & Beach Club boat dock, my FitBit notified me that I had already reached my daily goal of 10,000 steps.  It was definitely time to take a break!
After our break we walked to Epcot, where we first had lunch at a new quick service restaurant in the American pavilion…
Our Lunch at Regal Eagle Smokehouse
After lunch we headed to the Land pavilion to use our first Fast Pass on my second favorite Disney World ride, Soarin'.  That was followed by what could be our final ride on the old version of Spaceship Earth…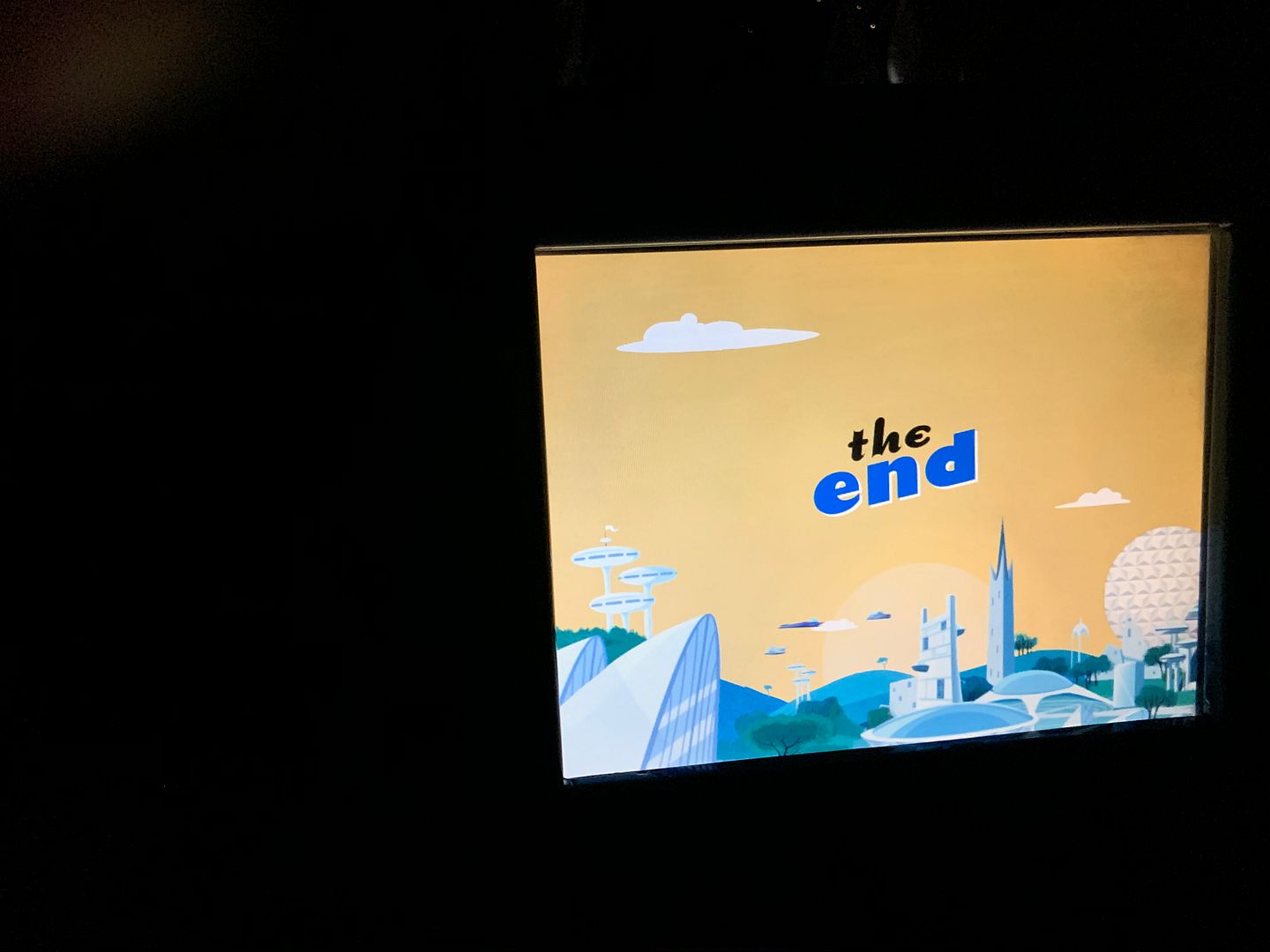 Before the COVID-19 shut down of the parks, Spaceship Earth was to close on May 26th for a major refurbishment.  With all of their many construction projects being halted during this time, it's possible that the Spaceship Earth project might be delayed or maybe even cancelled?  So perhaps this wasn't The End after all.  Only time will give us the answer to that question.
After Spaceship Earth we headed back to our room at the Beach Club again, this time for naps, showers, and getting dressed up a bit for our dinner.
I gave Andrew the option of either driving our car over to the Riviera Resort for our dinner or taking the Skyliner there and he chose the Skyliner.  So we walked from our room at the Beach Club to the Skyliner station at Epcot.  We boarded a gondola and got off at the first stop, the Riviera Resort…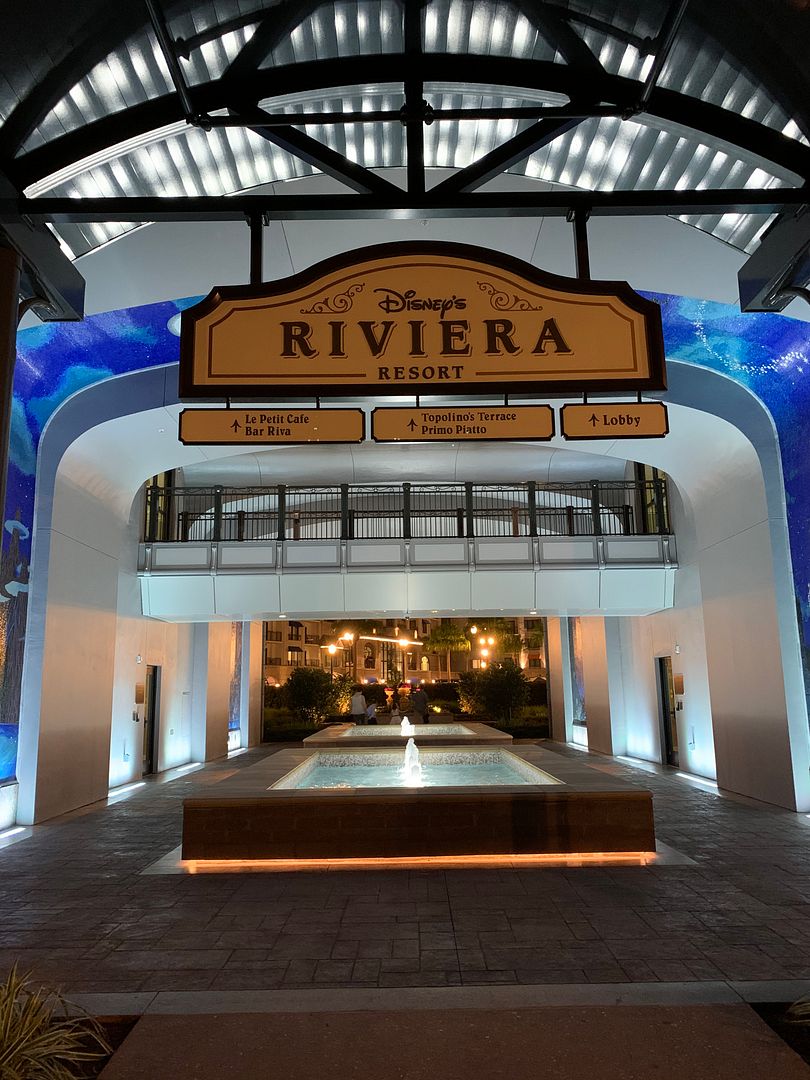 Once inside we walked through the beautiful lobby…
And down a hallway (next to Le Petit Café) until we found the East elevators…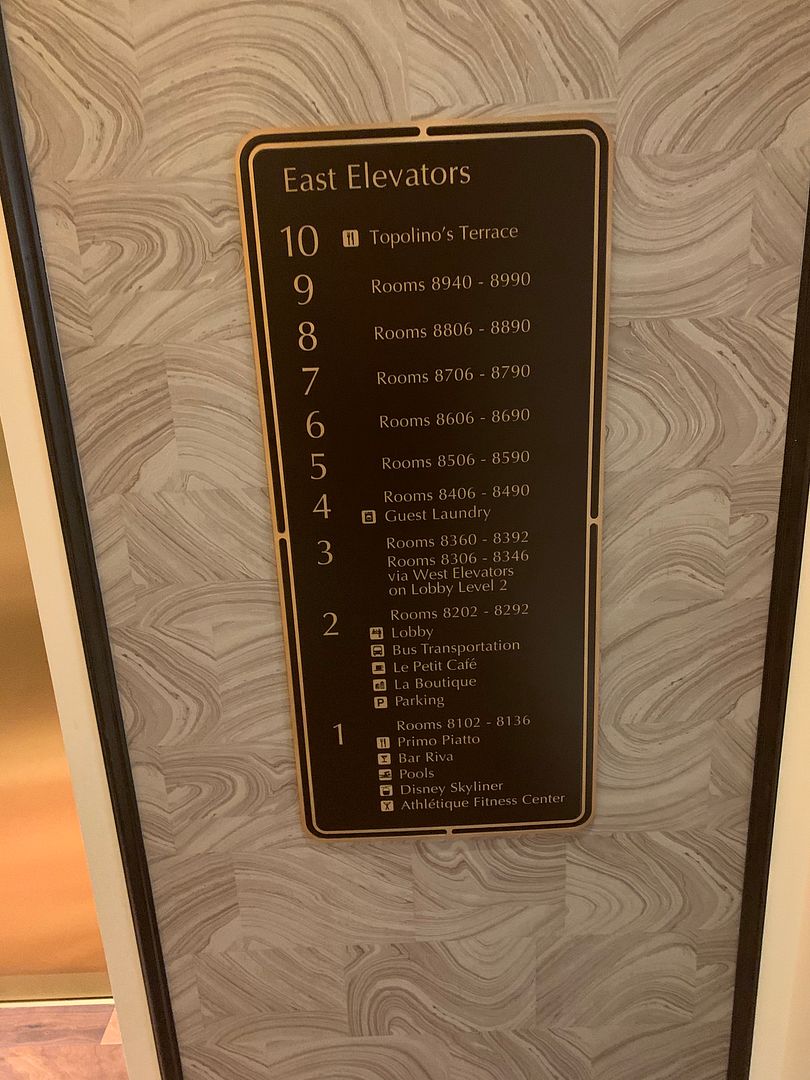 I have read that only the East Wing elevators will take you up to the 10th floor, which is where the restaurant is located.  Apparently you can not get there from the West Wing elevators.
As soon as you step out of the elevator, you'll arrive at the entrance of Topolino's Terrace…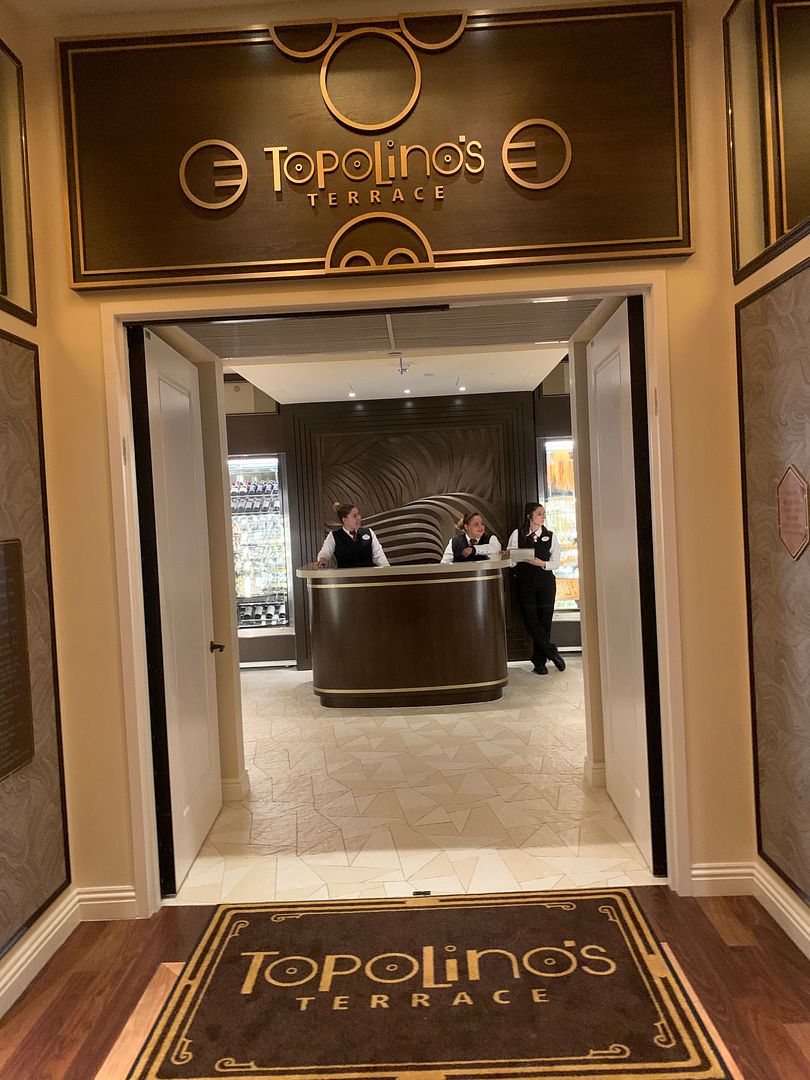 Our Dinner at Topolino's Terrace
After our dinner we walked back to the Riviera's Skyway station, which was operating until 11:30 that night…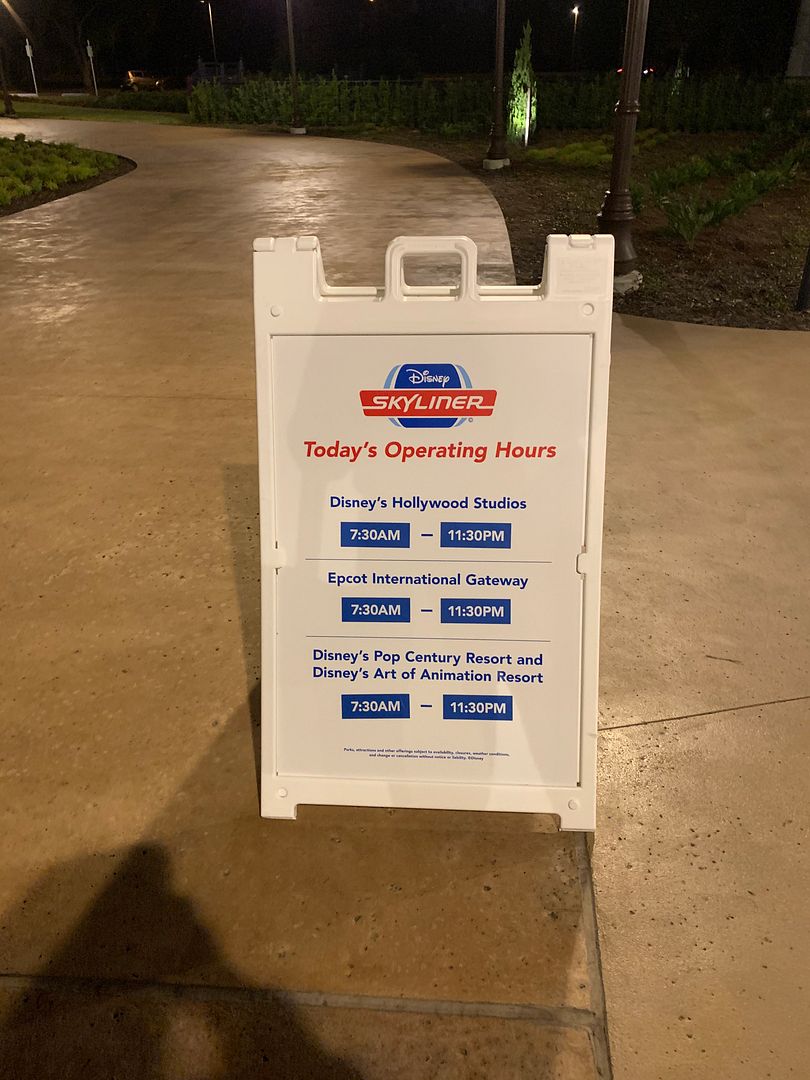 We boarded a gondola there, which took us back to the Epcot station.  From there we walked to our room at the Beach Club.
And speaking of walking…
Total Step Count for the Day (per my FitBit): 22,584
Total Miles Walked: 9.71 
SECOND PARK DAY – WEDNESDAY, MARCH 4 (Hollywood Studios, Epcot, Back to Hollywood Studios, Animal Kingdom, Back to Epcot, Beach Club Resort)
My alarm went off again at 5:00 a.m., as our plan was again to be out of our room and on our way (by foot) to Hollywood Studios by 6:00.  Unlike the day before, this time we achieved our goal.  But even though we arrived at the park about 15 minutes earlier than the previous day, the line ahead of us was much, much longer…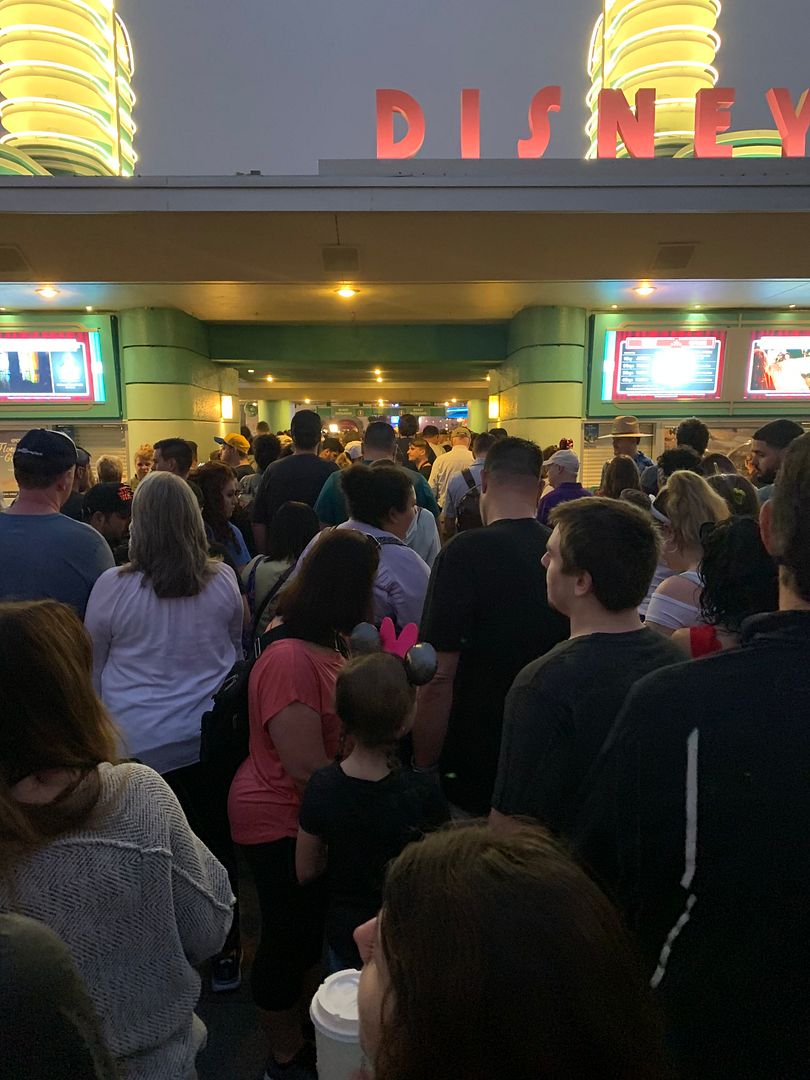 And wider…
The reason?  Today was Opening Day for Disney World's newest attraction…
Like the day before, they again opened the gates and started letting people into the park at 7:00.  Unlike yesterday though, when none of the rides/attractions were open until 8:00, today there was one open and running at 7:00.  That attraction was the one that most of the crowd (including us) was headed to, Mickey & Minnie's Runaway Railway.
As soon as we made our way into the park we headed straight to the line that had already formed outside the attraction.  The line was guided by several Cast members to snake up and down and around several times, in order to squeeze in more people into the space in front of the theater.  By 7:30 we were this close to the entrance…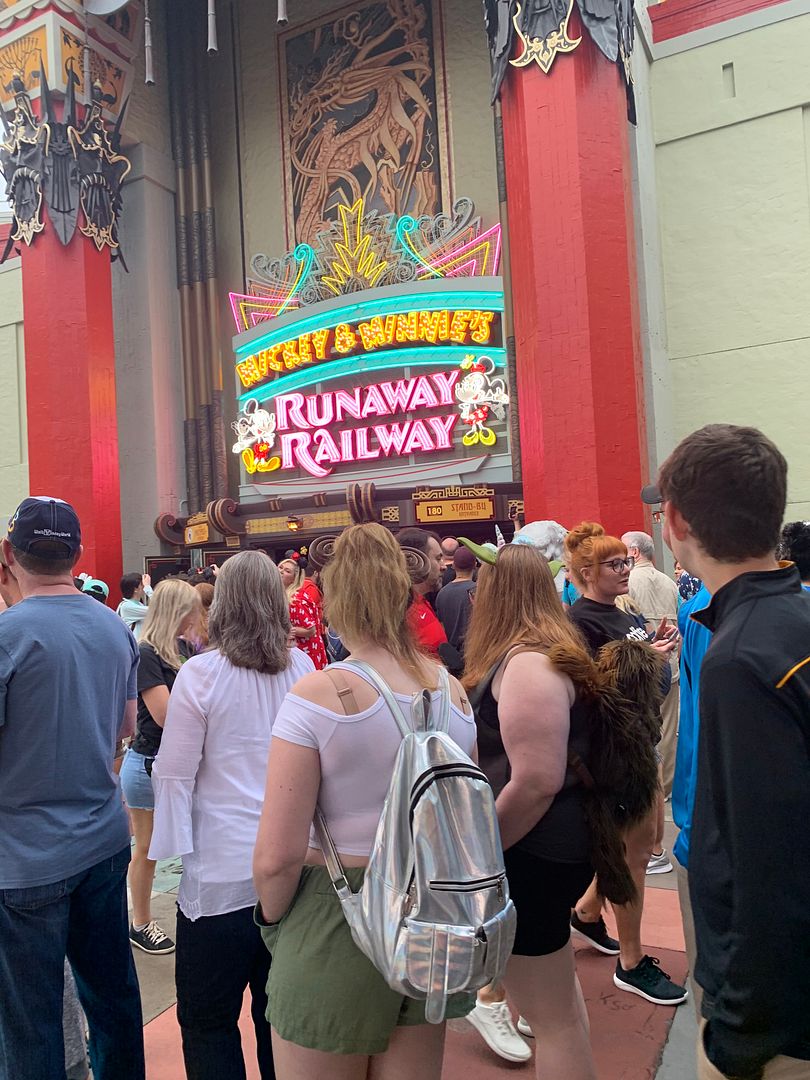 And the posted wait time just 1/2 hour after the attraction opened (and 1/2 hour before the rest of the park was scheduled to open) was already at 180 minutes.  By the time we entered the Stand-by Entrance door about 10 minutes later, the posted wait time was up to 240 minutes.
While in line, I told Andrew that we would probably be one of the unlucky ones who was boarding the ride at 8:00, the exact time when we needed to sign into the My Disney Experience App in order to have any chance at getting a boarding pass for Star Wars: Rise of the Resistance.
By 7:48 I was taking this photo in the pre-show (which lasted about 6 minutes)…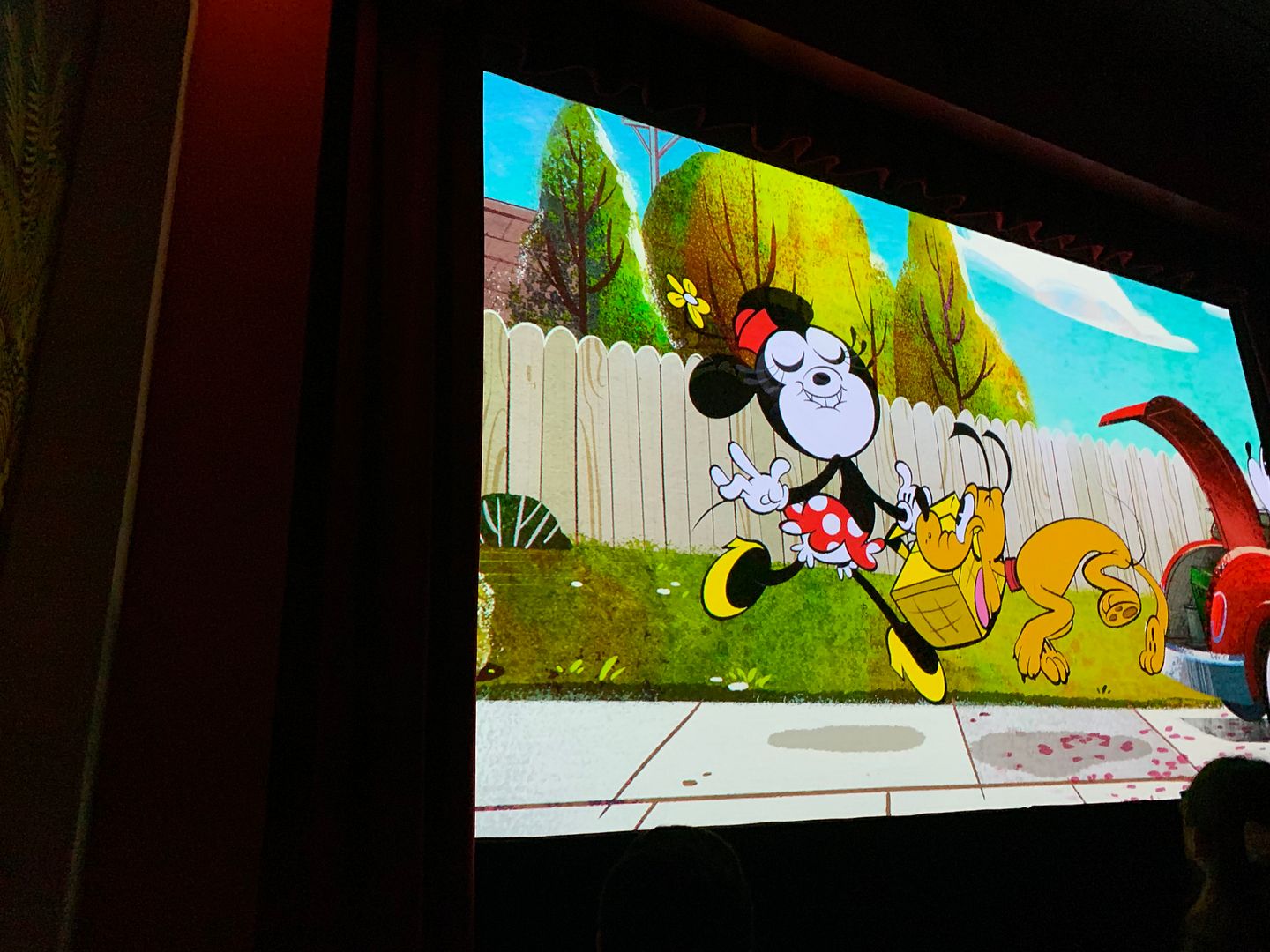 Then we were in line in the loading area for another 5 or 6 minutes.  So yes, just as the clock struck 8:00, we were boarding the train!!  I'm not coordinated enough to board a ride vehicle and attempt to get a boarding pass on my phone at the same time, but luckily my son is.  It did though take a bit for him to get through, probably because the Wi-Fi did not work well inside the building.  Also the crowds in the park were larger on this day because of the new ride opening, so there were more people trying to get boarding passes.  But ultimately he was successful and we got a Boarding Group of 82, which was much higher than the previous day's 23 and not within the guaranteed (to ride that day) range that cut off around 66 I think.  However, I had read that on most days, Rise of the Resistance reaches backup boarding groups in the 105 to 115 range.  So barring a breakdown, we were feeling pretty good about our chances of riding Rise of the Resistance at some point that day.
With that task completed we were able to sit back and enjoy the new Mickey & Minnie's Runaway Railway ride.  Here's just a few photos, the first one is of Jackhammer Pete…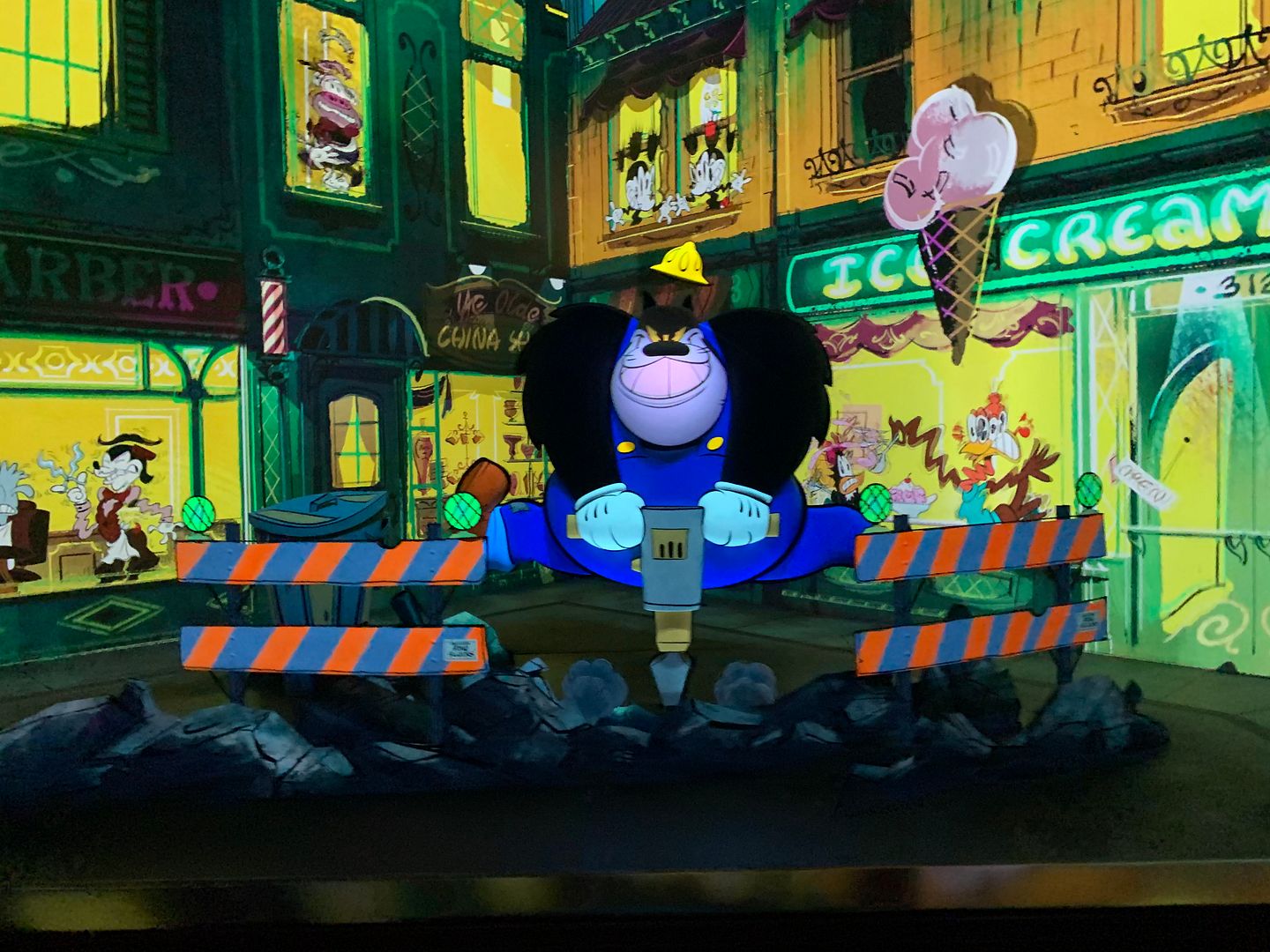 The next one is from my favorite part of the ride, where you end up ""waltzing" with Daisy Duck in her Dance Studio…
And the last was taken as we are about to enter "The Smasher"…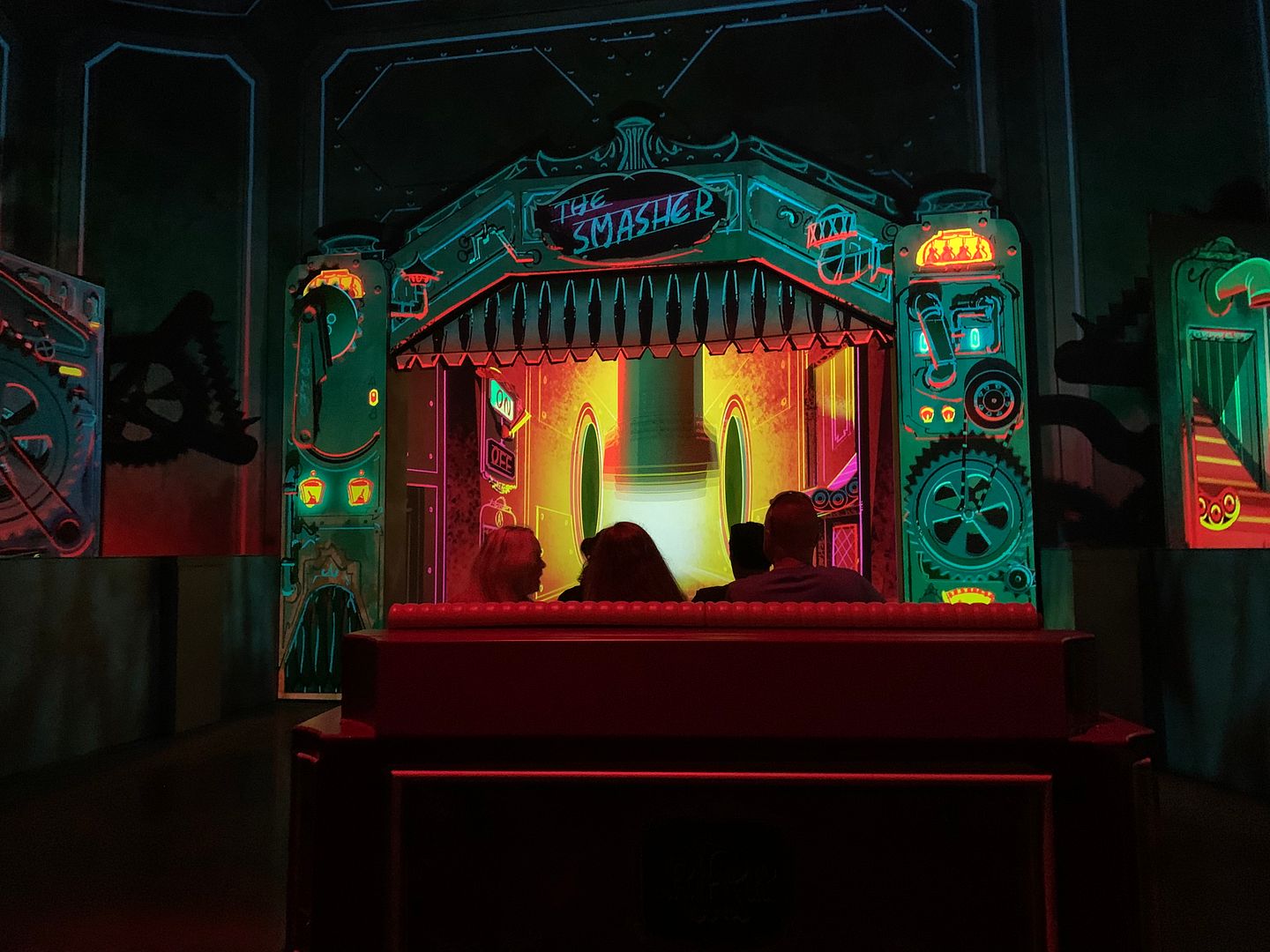 So what did we think?  Well, we agreed that this is a cute, family-friendly ride.  If you like the idea of jumping into a rather chaotic but fun Disney cartoon then you will like this.  However, though it is a nice addition to the park, did it have to come at the expense of losing the Great Movie Ride?  This classic (movie-themed) attraction had been the last one standing of the original ones which were present when the park (then called Disney's MGM Studios) opened on May 1, 1989.  And now, it's gone…a big piece of the park's history and original theme, as well as a long-time family favorite.  This makes us very, very sad.
After exiting the Mickey & Minnie ride we checked the other ride wait times on the MDE app.  The only one that we were interested in that had little to no wait was the Star Tours ride.  So we headed towards the ride by walking down Commissary Lane, which took us past the ABC Commissary quick service restaurant.  We stopped to check out the menu posted outside the restaurant and decided to return here after riding Star Tours…
They serve breakfast at ABC Commissary?  Who knew?
After breakfast we left the park and returned to the Beach Club for a nap, as I'd been up since 5:00 a.m.  Then at about 11:00 we walked to Epcot, where it was the Opening Day of the Epcot International Flower & Garden Festival.
Our Opening Day Visit to Epcot's Flower & Garden Festival
It was almost 2:30 by the time we finished our lunch from 6 of the Festival booths located between France and Germany in World Showcase.  Based on the current group numbers that were being allowed to board the Star Wars ride back at Hollywood Studios we estimated that we had about an hour before our group #82 was called (it actually was less than an hour though).  Andrew wanted to get something from back in our room at the Beach Club so he headed there while I continued walking around World Showcase to see and photograph some more of the topiaries. [I've included these photos in my festival review].
At 2:45 I took one last photo of the Winnie the Pooh topiary in the UK pavilion…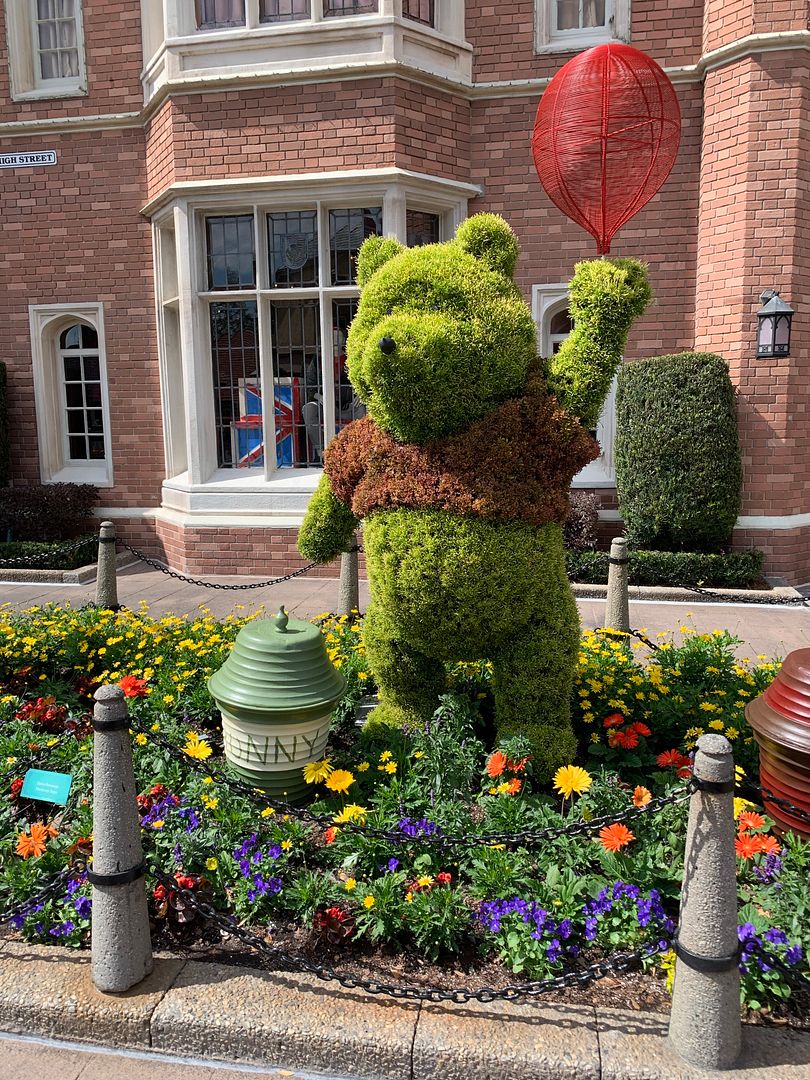 Then I exited the park through the International Gateway and boarded the Skyliner, with the final destination of Hollywood Studios.  At the Caribbean Beach station though I had to get off the gondola I was on and make a short walk over to board a different gondola that was headed to Hollywood Studios.  The process was very quick and easy.
I arrived at the Hollywood Studios station, went through security with the bag I was now carrying, through the ticket gate, and walked down Hollywood Boulevard before stopping to take this photo at 3:25…
So it had taken me less than one hour to go at a leisurely pace from Epcot's Germany pavilion to the front of t̶h̶e̶ ̶G̶r̶e̶a̶t̶ ̶M̶o̶v̶i̶e̶ ̶R̶i̶d̶e̶   Mickey & Minnie's Runaway Railway.  I was surprised that the line was not long out in front of the building on the afternoon of the ride's opening day.  Unfortunately in the photo you can not see the Wait Time but I would guess it was much, much less than the 4 hours that it was when we left the park that morning.
Meanwhile Andrew was just arriving at the park by boat and we agreed to meet by the entrance to the Star Wars: Rise of the Resistance ride, as our boarding group had already been called.  On my way by the ABC Commissary I stopped to take a photo of the menu posted outside of the restaurant…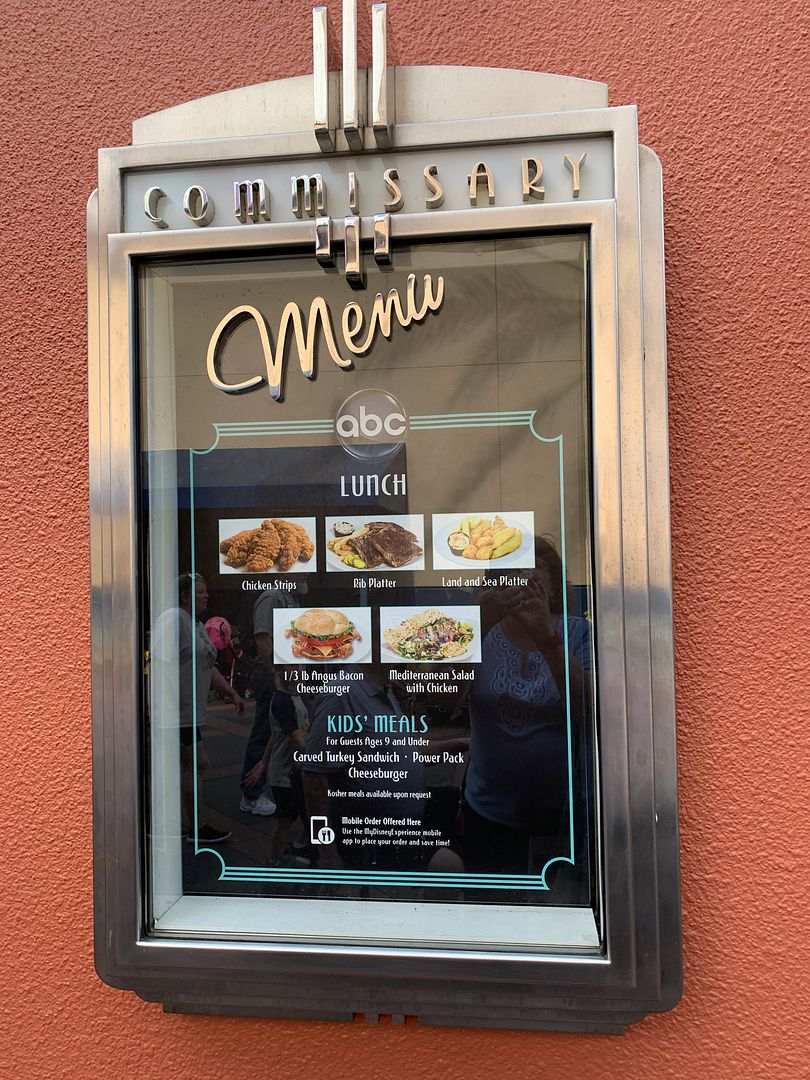 It was still their Lunch menu at about 3:30.  I believe they switch over to their Dinner menu (which they take reservations for) at 4:00.  The Dinner menu is pretty much the same as Lunch but there are a few more entrees added, like a Stir-fried Shrimp Teriyaki Bowl and Pot Roast & Mashed Potatoes.
Anyway, then it was on to Galaxy's Edge where I found a place to sit down by the ride entrance.  I was a bit nervous, as we were getting close to our Boarding Group pass expiring (no longer being in the range being allowed to board).  But thankfully Andrew arrived just a few minutes later and we immediately got our Magic Bands scanned (to verify our Boarding Group) and entered the fast-moving line for the ride.  At 3:43 I took these photos from the Pre-show…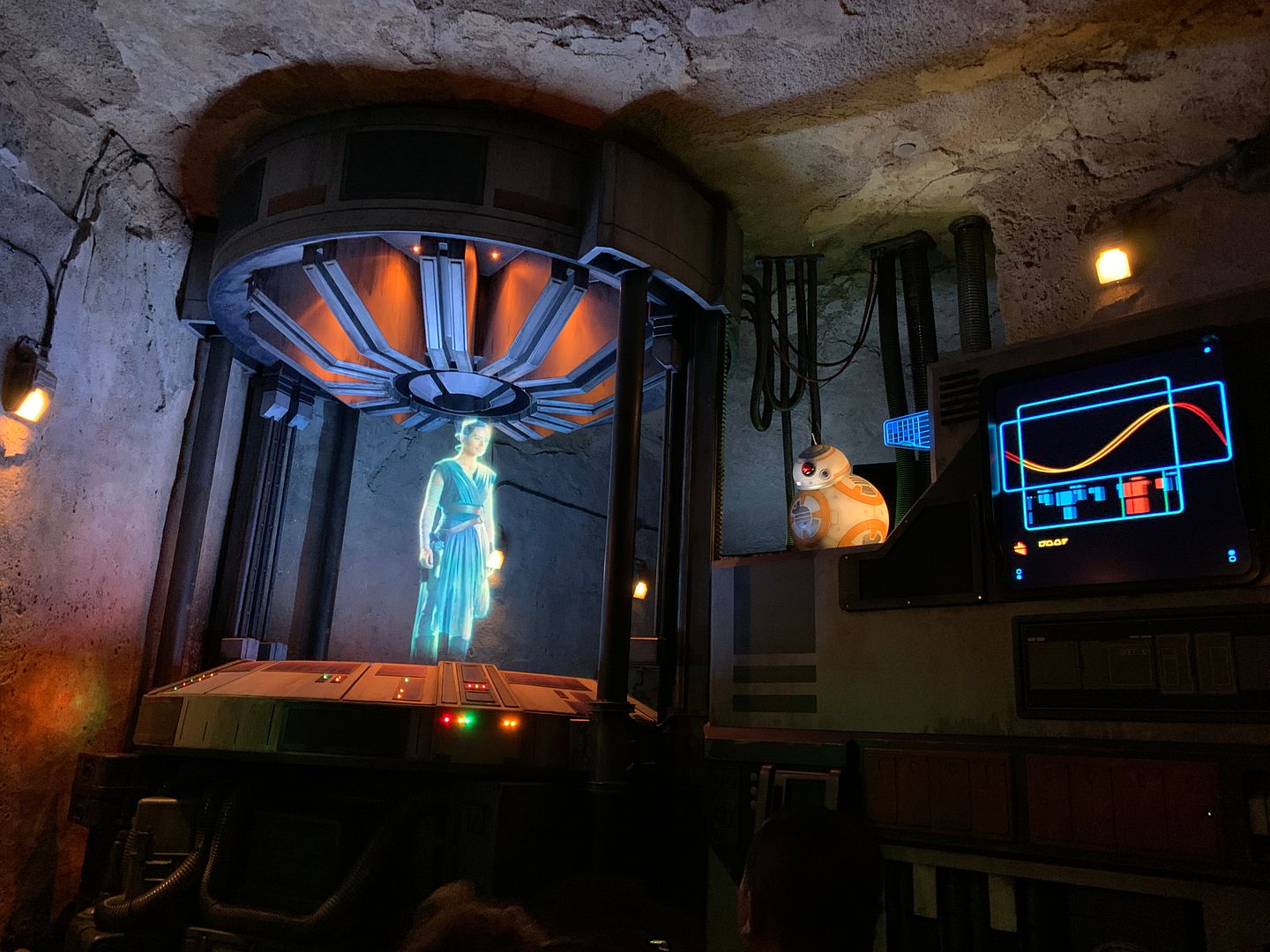 Just 2 minutes later we had boarded our shuttle and I was taking these photos of Lieutenant Bek…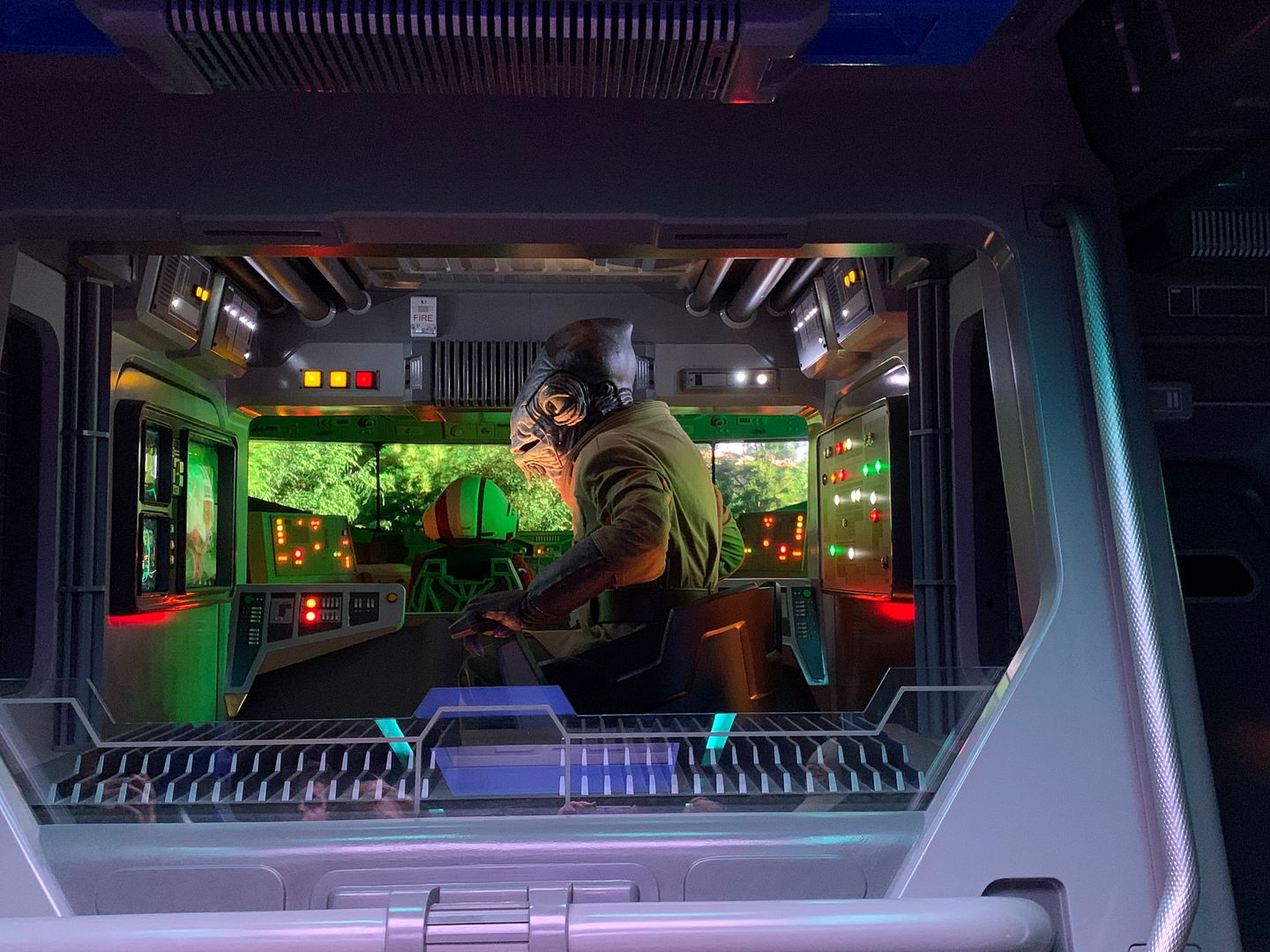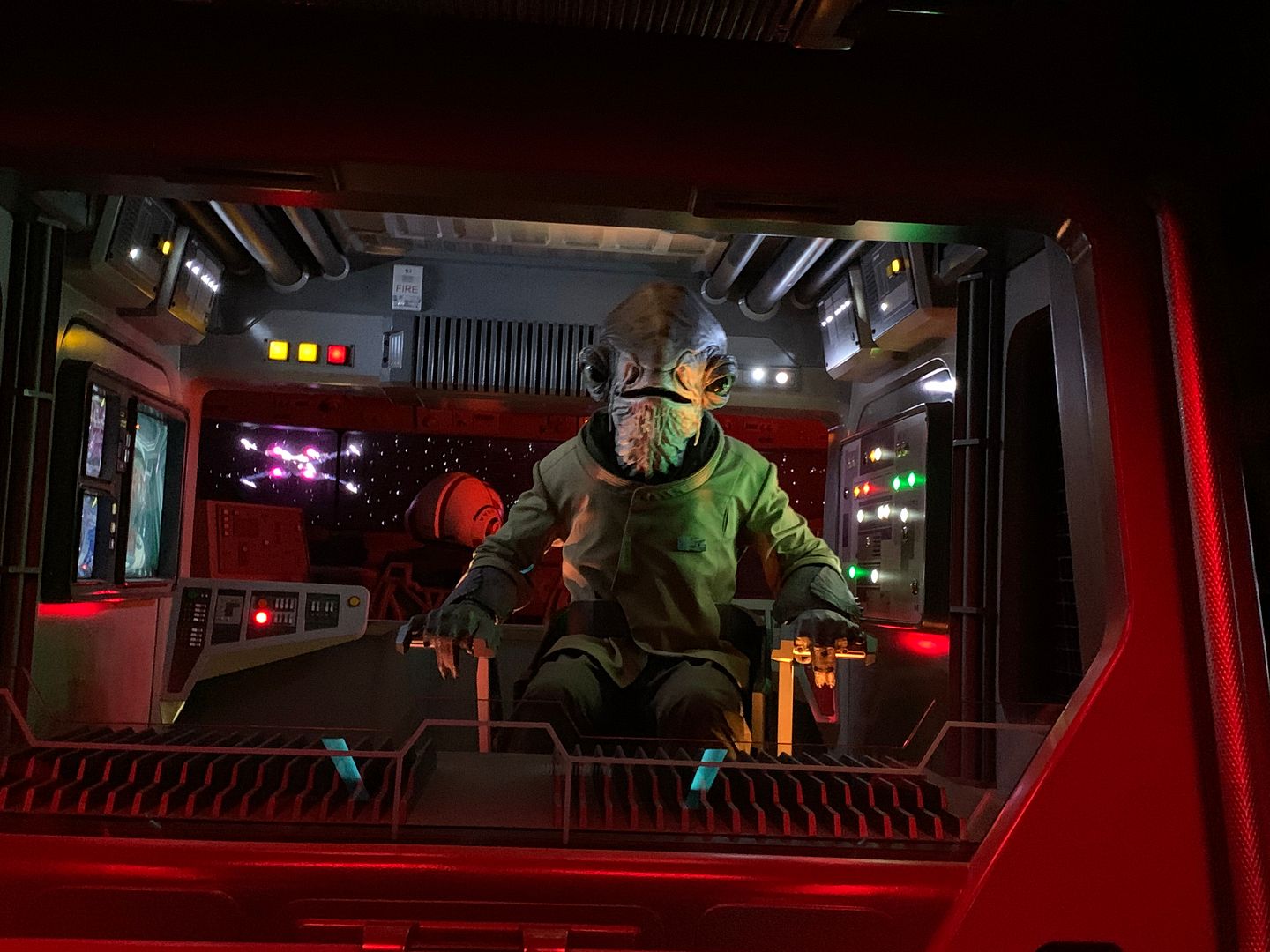 And about 3 minutes after that our shuttle had been captured by a First Order Star Destroyer and our shuttle door opened to this sight…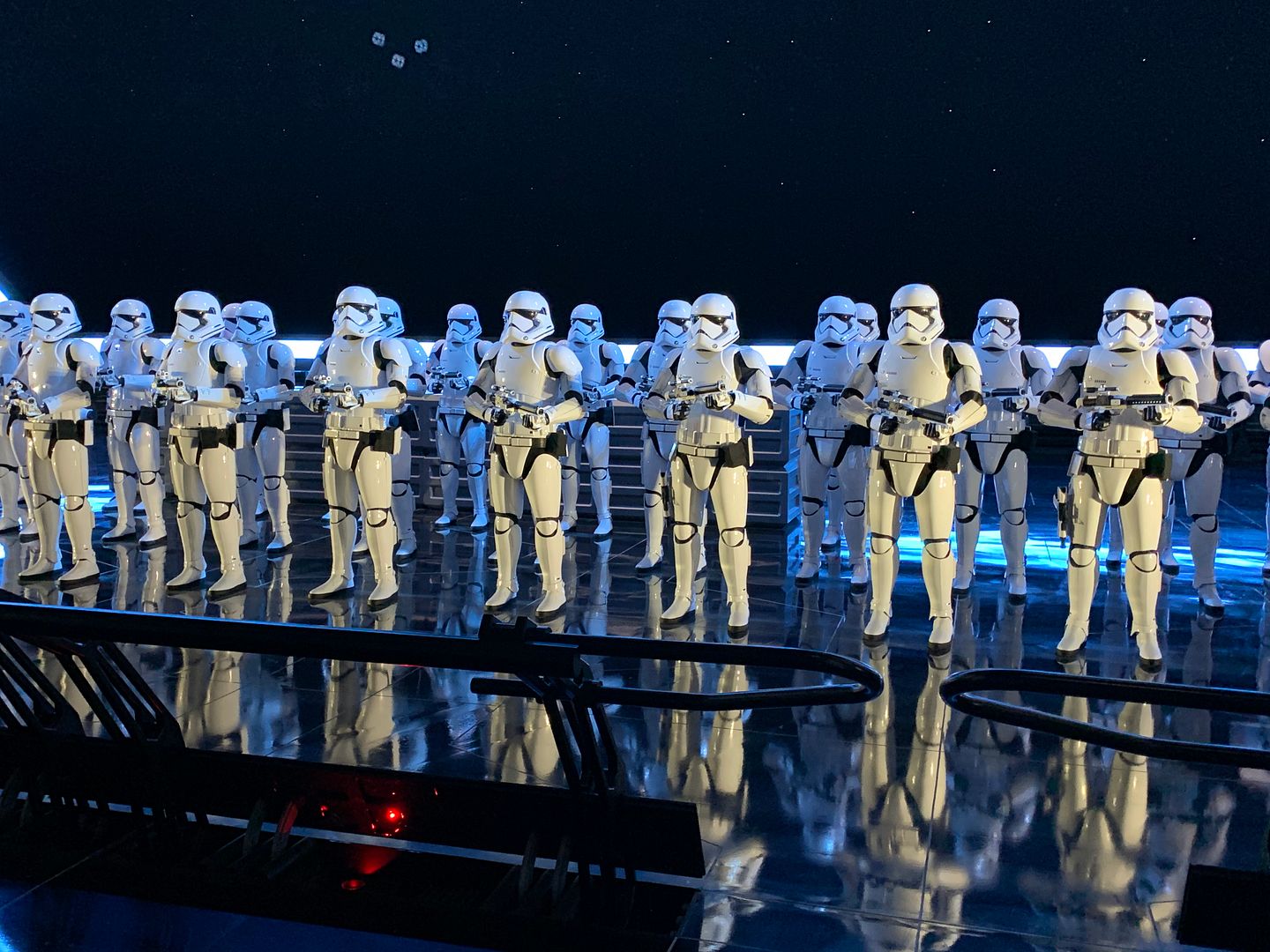 Five minutes later we were in the Interrogation room with Kylo Ren and General Hux…
But have no fear, because within a few minutes the Resistance troops arrived to rescue us…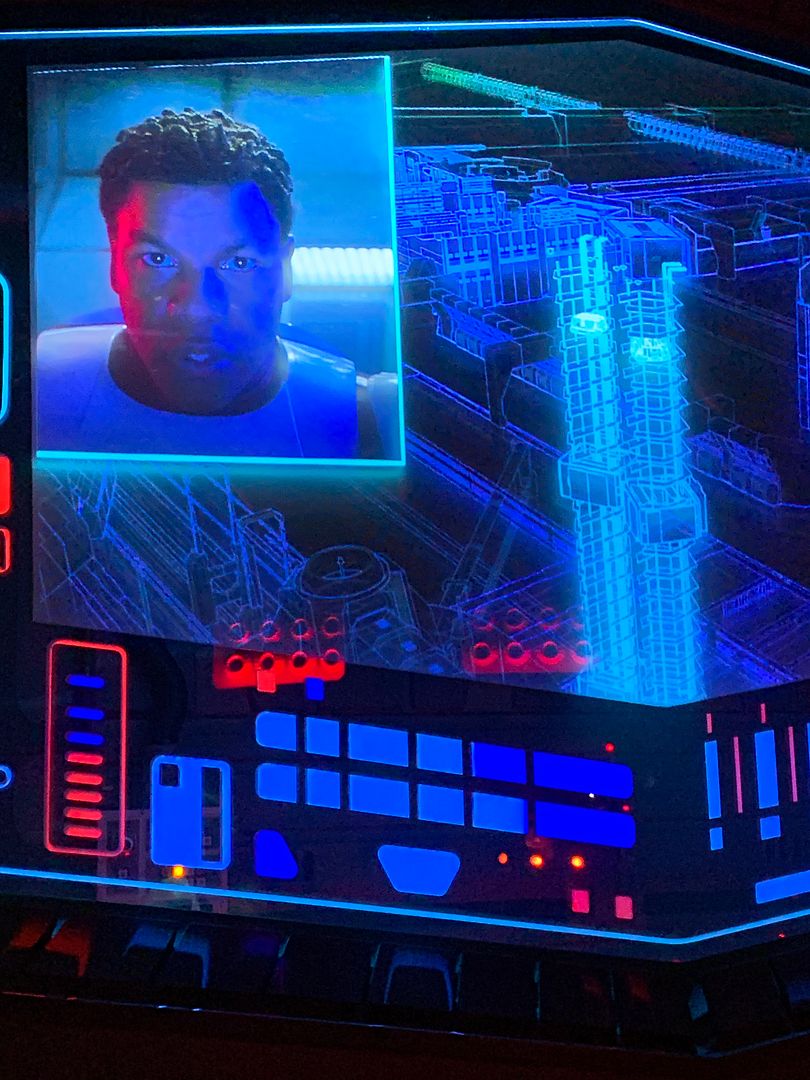 Though it's a bit of a wild escape ride, one where we were nearly caught by Kylo Ren…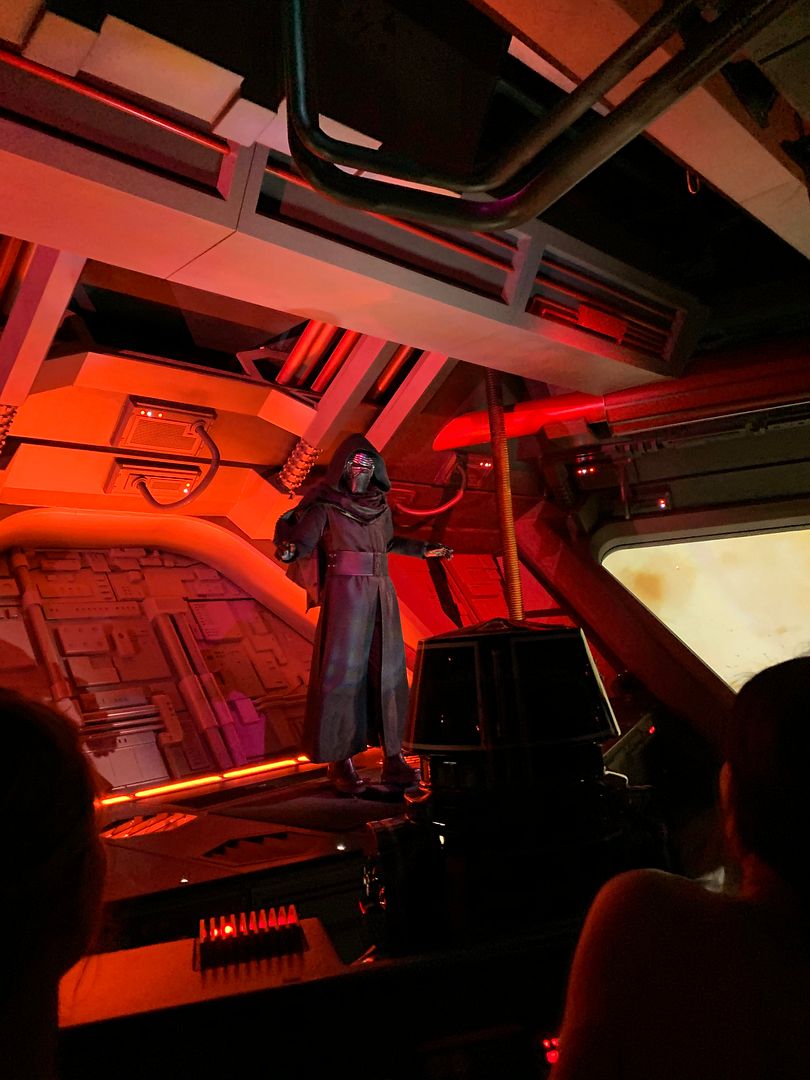 Eventually we saw the light at the end of the tunnel (aka Batuu)…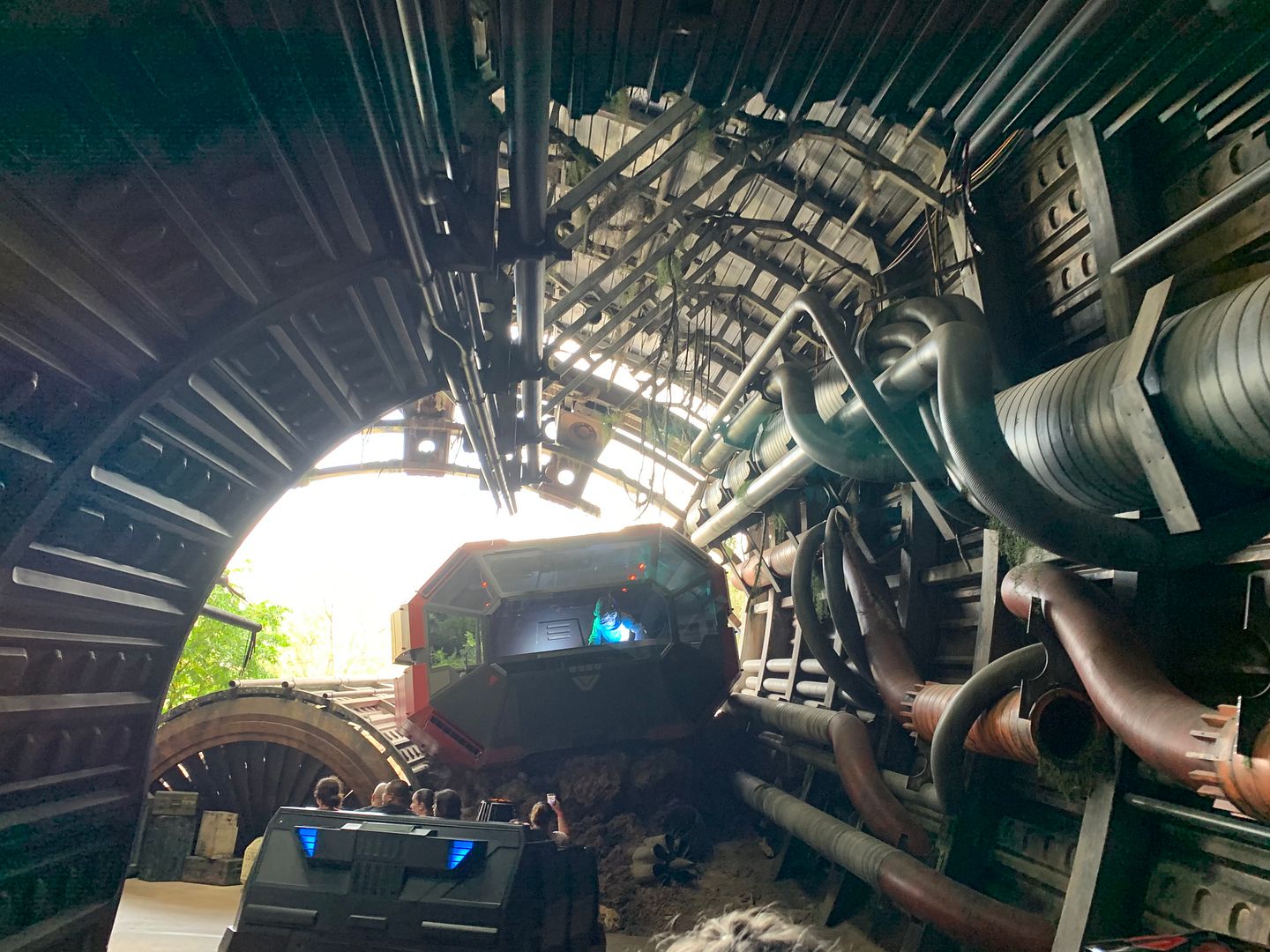 It was good to see that Lieutenant Bek also made it safely off the Star Destroyer…
We again loved this ride, perhaps even more the second time around.  As I previously mentioned, it is now Andrew's favorite Disney World ride and it comes in 3rd on my favorites list.
So anyway, from the Pre-show room to the return to Batuu, the ride took 17 minutes (per my photo times).  So at 4:00 we disembarked and made our way out of the park.  There was no boat in sight so we decided to take the Skyliner instead…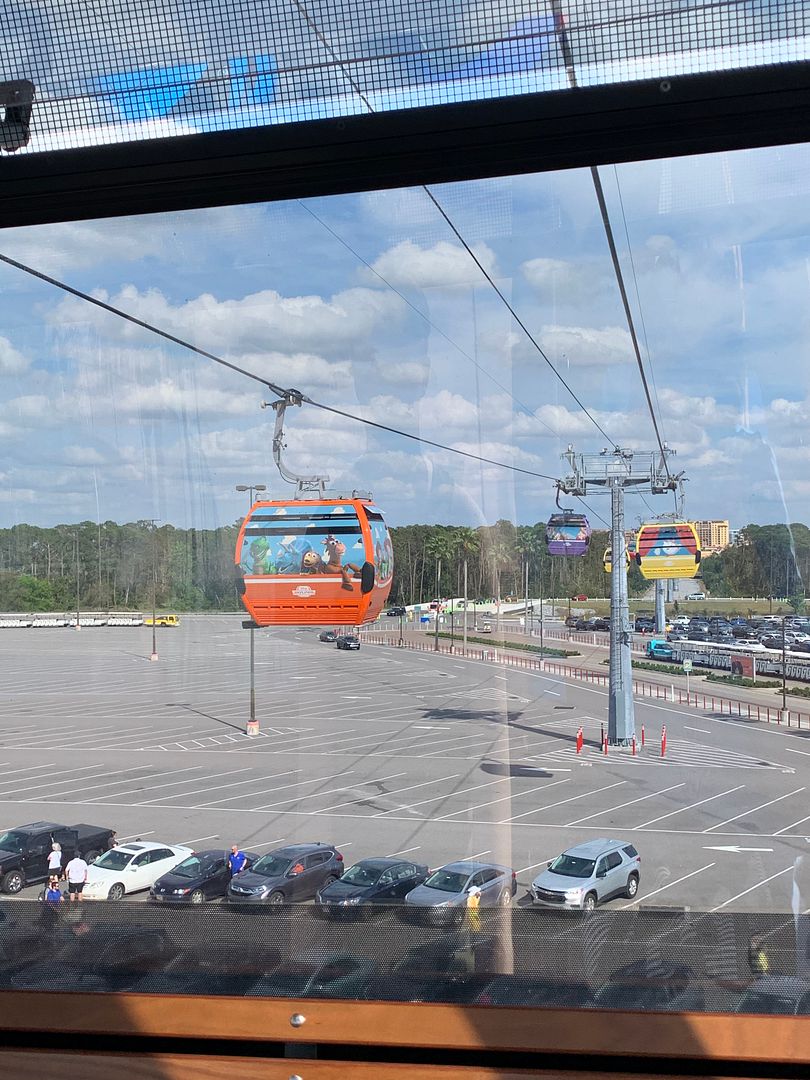 At 4:15 I took this photo on board a gondola that was on its way to the Caribbean Beach Resort station.  And then at 4:21 I took this photo at that station as we were transferring to a Skyliner gondola that would take us to the Epcot station…
You may recall that we had eaten dinner the night before at Topolino's Terrace (located at the Riviera Resort, which is on the Epcot line of the Skyliner route).
From the Caribbean Beach station to the Epcot station, followed by the short walk back to our room at the Beach Club took just 22 more minutes.  So we went from Galaxy's Edge at Hollywood Studios to our Beach Club room (via the Skyliner plus a little walking) in 43 minutes.  Not too bad.
Oh, and the reason that I know it was exactly 43 minutes is because at 4:43 I took this photo of some bath towels that our Mousekeeper had formed into the shape of a Mickey Mouse head and had left on my bed..
It had been awhile since I had been the lucky recipient of one of these so I of course had to take a picture.
After a change of clothes into something a bit warmer, as we intended to spend the rest of our evening at the parks, we headed to the Beach Club's bus stop.  Earlier in the day we decided that even a quick 2 day trip to Disney World would not be complete without riding my favorite Disney World ride (and Andrew's 2nd favorite) so our destination was Animal Kingdom.  Though we had tried to get same day Fast Passes for Avatar: Flight of Passage we were not successful.  However, we were able to get Fast Passes for Expedition Everest and Navi River Journey so we were able to do both of these rides pretty quickly and only had to stand in line for Flight of Passage.
So at 5:41 we were on Expedition Everest and had this PhotoPass photo taken of us…
Andrew always does a great of posing for the PhotoPass cameras, lol.
We then had some time before our Navi River Fast Pass, so we decided that this was the best time to get in the stand by line for Flight of Passage.  Though the posted wait time was about 90 minutes, I think we ended up waiting only about an hour.  But it was actually an interesting hour, as this was the first time that we had entered the ride via the Stand by route rather than Fast Pass.  There was so much that we hadn't seen before, including the room that has this mural…
As always, I loved this ride!  I am so, so happy that we were able to squeeze it in to our very busy 2 day park schedule.
We then used our Fast Pass for the Navi River Journey ride just before it was to expire, so our timing was perfect.  We finished the ride at about 7:30 and decided to return to Epcot (which was open until 9:00 that evening) to try the food at a few more of the Flower & Garden booths there.  Apparently many other park guests also wanted to close out their evening at Epcot because the bus was standing room only.  Can I just say, "Oh how I hate standing on a bus jammed full of people and gripping the nearest handle for dear life".  Thankfully this was the only time on this trip that we had to do this though.  But I'm wondering how in the (Disney) world that Disney is going to handle bus transportation (especially overfull buses like this) once they reopen the parks.  Will they require you to make a reservation to ride a bus, so that they can reduce the capacity level on the buses?  It sounds like a social distancing nightmare to me.
Anyway, by 8:11 we had entered the park and I took this (way too dark) photo of the topiary at Epcot's front entrance…
With the construction in the front of the park, we had our choice of taking the right (side) route through Future World or the left route.  We were headed to the Mexico and China food booths so took the left route.  This path took us behind the Mouse Gear store, which had a sign posted outside its entrance regarding the complimentary magnets that were being given out to annual passholders during the Flower & Garden Festival.  Though we were running short on time, I saw there wasn't really a line to speak of so took a minute to take out my annual pass and ID and present them to a Cast Member just inside the door of the store.   And that is how I was one of the few lucky recipients of this magnet…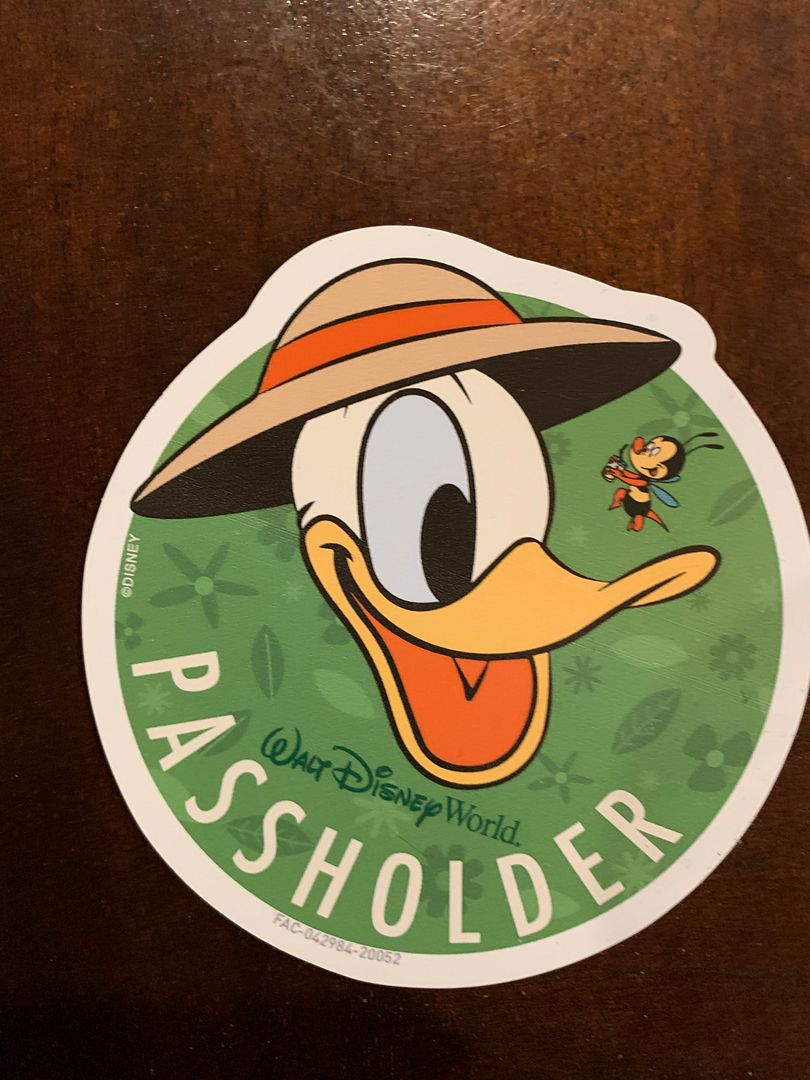 This was the first day of the festival (so the first day this magnet was given out), and though it was originally to be distributed through April 19 (after that a different magnet was to be given out until the end of the festival on June 1), the parks were closed at the close of business on Sunday, March 15 and remain closed as of this writing (on May 11).  Therefore, this year's festival lasted for only 12 days.  I wonder how many of these complimentary souvenirs were given out to annual passholders during those 12 days?  I did a quick search online for the answer to this question.  Though my search was unsuccessful, I did run across this very cute magnet that is currently being sold on Etsy…
This would have been a perfect gift for Disney to mail to all of its annual passholders as they patiently wait for them to reopen their parks once it is safe to do so (or at least less risky, and with new Covid-related guidelines).
So anyway, after getting my magnet we proceeded on to World Showcase, where (due to a shortage of time before park/ food booth closing) we split up.  Andrew headed to the Mexico booth and I went on to the China one.  Our reviews of these booths were part of our overall review of the festival that I posted previously.   Here again is that link: Our Opening Day Visit to Epcot's Flower & Garden Festival
After meeting up inside the Odyssey pavilion (where there were tables and chairs available and light for taking photos of our food) to share the food we had purchased from the Mexico and China booths, we headed out of the park through the International Gateway.  The night show (Epcot Forever) was still going on so most of the guests had not yet begun to exit the park.  From previous experience, we knew that trying to exit the park after the show can be chaotic, especially if you are walking against the flow, as we would likely be doing.  Even with the addition of the Skyliner (by the back entrance/International Gateway entrance), I believe a majority of the guests would still be exiting the park from the front.  Since we had both seen Epcot Forever (at least once) during our Fall 2019 trip, we decided to leave the park during the show and avoid that potential hassle.
After exiting from the International Gateway we walked back to the Beach Club.  But before heading to our room, we stopped at the Beaches & Cream To-Go window for dessert…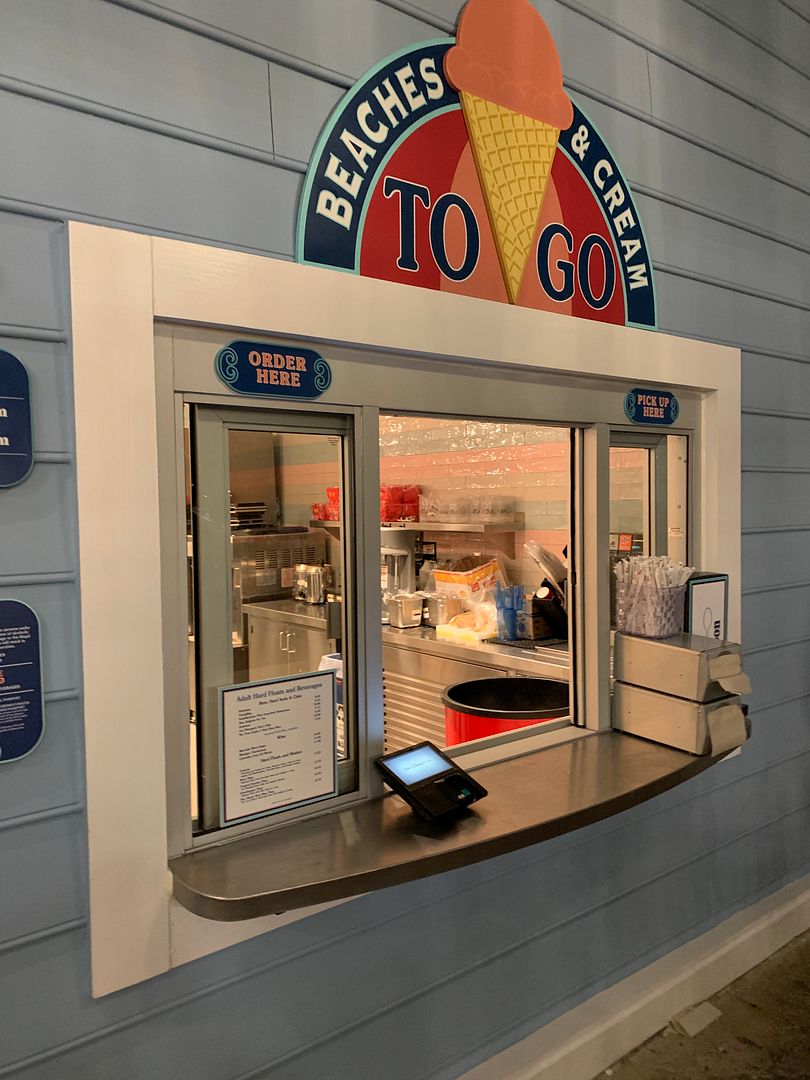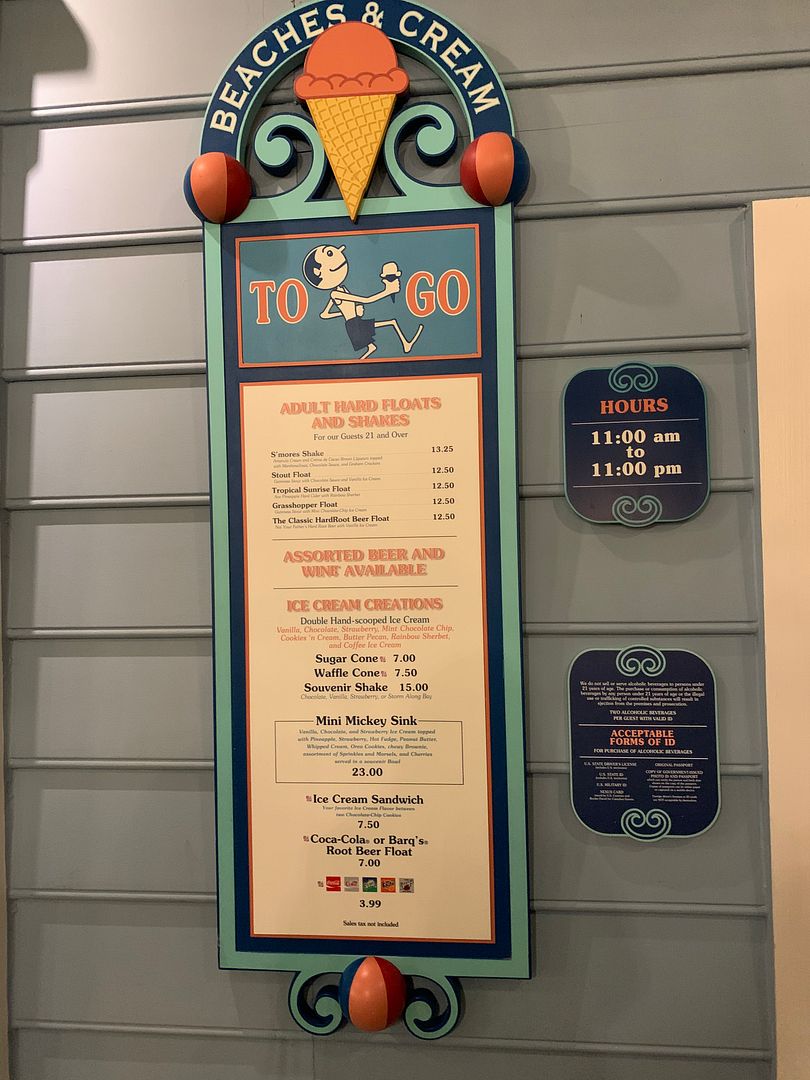 Here we had a bit of a problem with ordering, perhaps because we requested two things that were technically not on their posted To Go menu.  Most of our problems occurred with our request for Cokes with vanilla syrup added (like we always get inside the restaurant, including our visit two nights earlier).  The first girl that was taking orders at the window did not understand what we wanted (I don't think that English was her first language, which likely made our special off-the-menu request difficult).  She then asked for the help of another cast member.  Thinking that this person understood what we wanted, I paid the amount I was told by her was the cost of our order.  But after paying, and as we were waiting for our order to be made, I took a closer look at our receipt…
Hmm…Ice Cream Soda with 4 oz. vanilla added?  And sure enough, when they called my name to return to the window to pick up our order our Cokes actually had vanilla ice cream added to them (apparently 4 oz. of it) instead of vanilla syrup.  So I tried to explain to the first girl who had attempted to take our order that this was not what we had wanted.  She called over a manager and we explained to him what had happened.  He quickly exchanged the ice cream sodas for vanilla cokes and issued a refund of $6.39 ($6.00 plus tax).
Until now, I figured that this was the difference between the price of what I paid (for 2 Ice Cream sodas) and what I actually wanted (2 Cokes with vanilla syrup added).  But now I see that he just refunded the cost of one of the two ice cream soda charges.  So this is all to say that in the end I apparently came out ahead in this deal.  According to the To Go menu price for a regular Coke of $3.99 (btw, it's actually $4.29 inside at the restaurant) plus $.50 for the addition of vanilla syrup, I should have been charged $4.49 for each of our vanilla cokes.  So my refund should have been around $3.00 plus tax.  But then again, with the extra time that we spent on this transaction (some of which was while our ice cream sundae was melting), I don't feel too guilty about receiving an extra $3.00.
But speaking of our ice cream sundae, this was not just a regular sundae but the To Go version of my favorite Beaches & Cream sundae, the No Way Jose…
And a closer look…
Though it was the same price ($11.00) as what is charged for this sundae inside at the restaurant, I think the To Go version is a little smaller.  What do you think?
Here is what this sundae looks like when you order it at Beaches & Cream…
And here are the ingredients of the No Way Jose sundae shown in the above photo:
No Way José Sundae
Beaches and Cream, Beach Club Resort
2 scoops chocolate ice cream
2  scoops vanilla ice cream
1/2 cup smooth peanut butter
1/2 cup hot fudge sauce
1-2 tablespoons peanut butter morsels
1-2 tablespoons chocolate morsels
whipped cream
cherry
But regardless of the seemingly smaller size of the To Go version of this sundae, it was still more than the two of us could manage.  Andrew said he wasn't hungry so only had a bite or two.  I ate as much as I possibly could because I love this sundae, but eventually had to surrender to my overly full stomach and quit.  After having forfeited this awesome dessert on our first night dinner at Beaches & Cream (and instead trying their "not awesome at all" strawberry shortcake dessert), I was so happy that I ended up getting to have it on this trip.  Hooray for the No Way Jose!
And so after getting up at 5:00 a.m. and visiting 3 different parks (two of them twice), we finally called it a day with the following FitBit stats…
Total Step Count for the Day: 29,836 
Total Miles Walked: 12.73
DEPARTURE DAY – THURSDAY, MARCH 5 (Beach Club Resort)
Sadly there wasn't enough time to have breakfast at a full-service restaurant, as we needed to pack up and get on the road.  But I did have time to run downstairs and get our breakfast to go from the…
Breakfast from the Beach Club Marketplace
After eating our breakfast in our room, it was time to start our long drive home to Illinois (with a detour to Tampa first to pick up my husband).  Though our time at Disney had been short, it sure had been SWEET!
NEXT UP: Back to where I left off on my Fall 2019 Trip Report