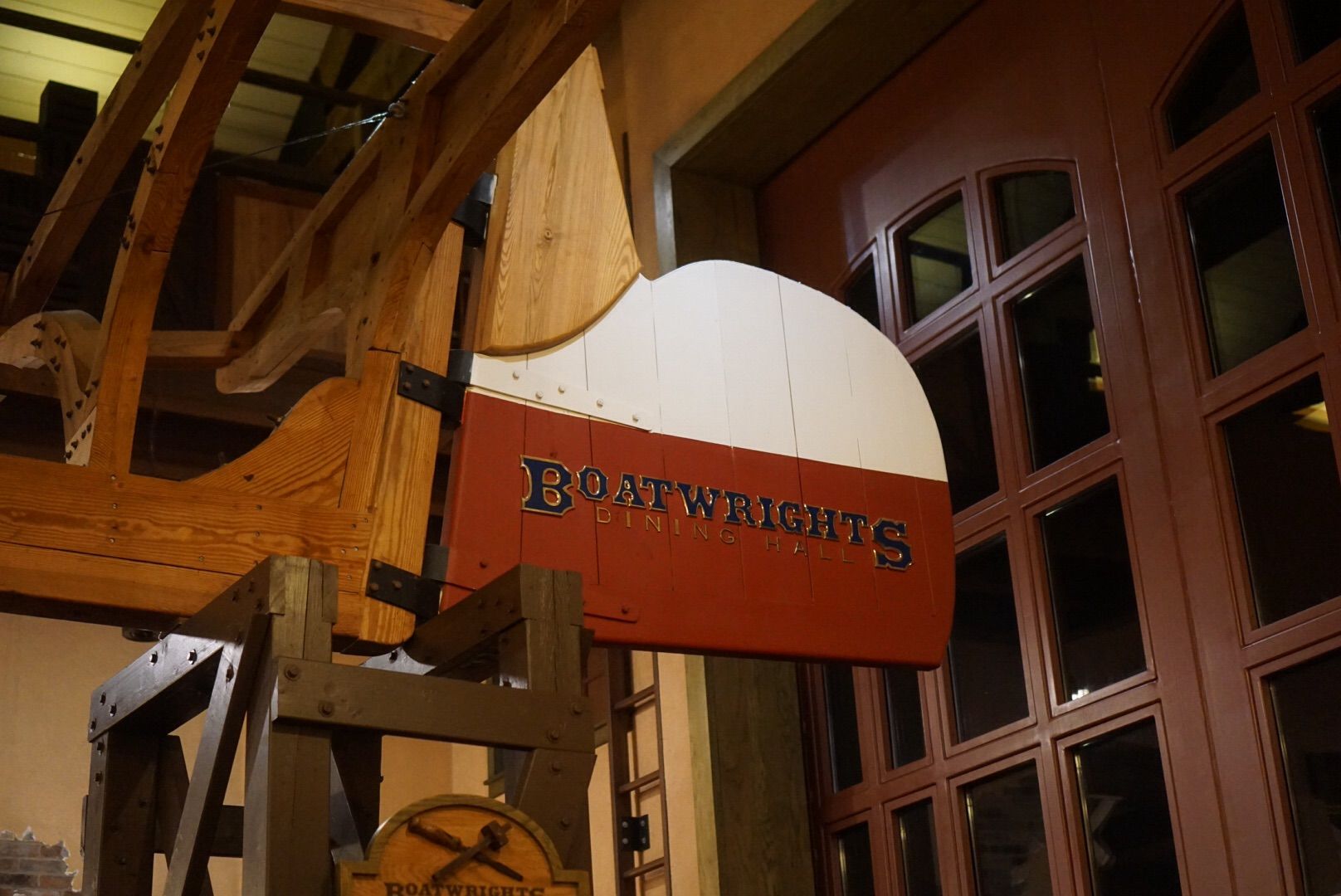 The interior of Port Orleans Riverside's full service restaurant is made to look like a shipyard, complete with a centerpiece of this skeletal hull of a lugger fishing boat suspended from the ceiling.
And the walls were adorned with antique shipbuilding tools like C-clamps, saw blades, axes and many more.
After check-in for my 8:15 dinner reservation (made just a few hours earlier that day), I was seated with just a 5 minute wait and was presented with this menu…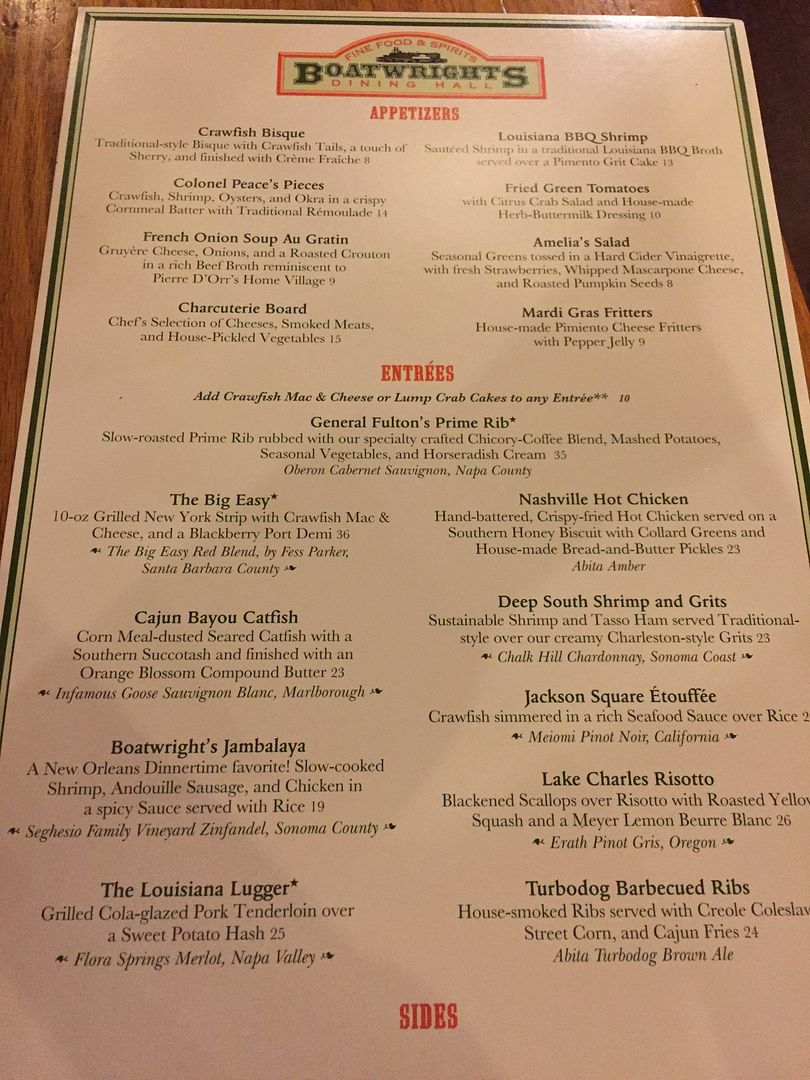 They also had a 4 course Prix-Fixe Tasting Menu for $58.99…
My server soon stopped by my table to introduce herself and take my drink order.  Being a Southern-themed resort and restaurant I thought that they would have Sweet Tea (even though it wasn't listed on their menu) and that it would be good…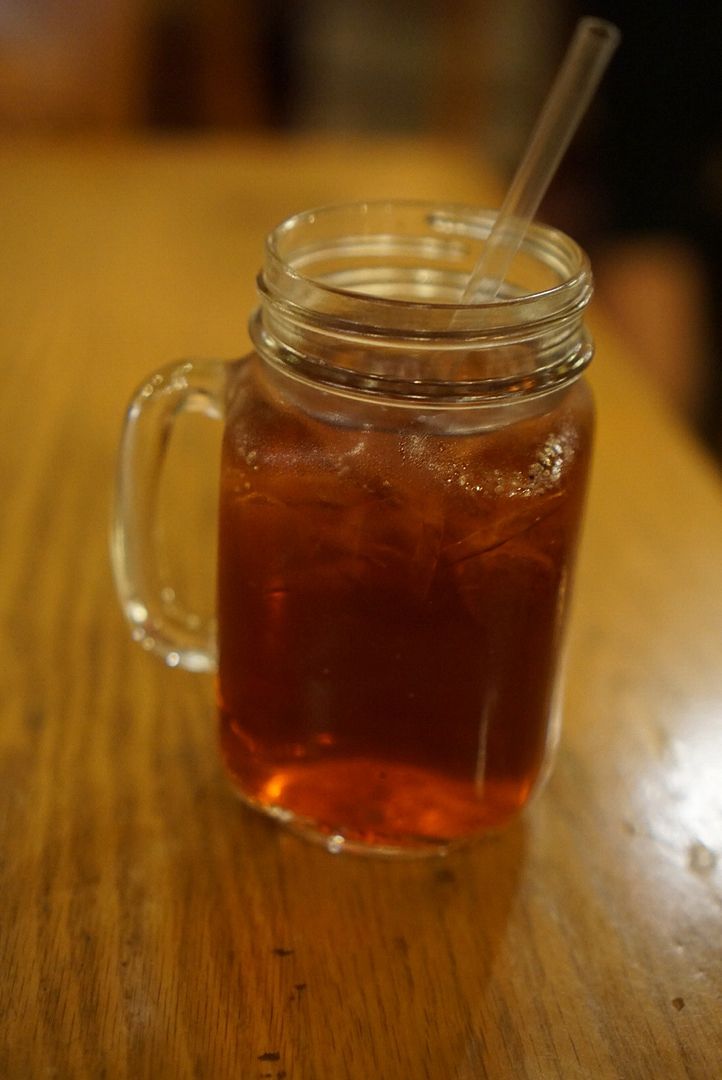 And I was correct, as they did have Sweet Tea (served in a Mason jar) and it was very good.  My server kept my jar full throughout my meal and even offered to fill my Disney refillable mug with sweet tea, which I enjoyed later back in my room.  This saved me a trip to the Riverside Mill quick service restaurant for a drink refill after dinner.
There were a couple of their appetizers that sounded very good so I decided to ask the advice of my friendly server.  She recommended this one…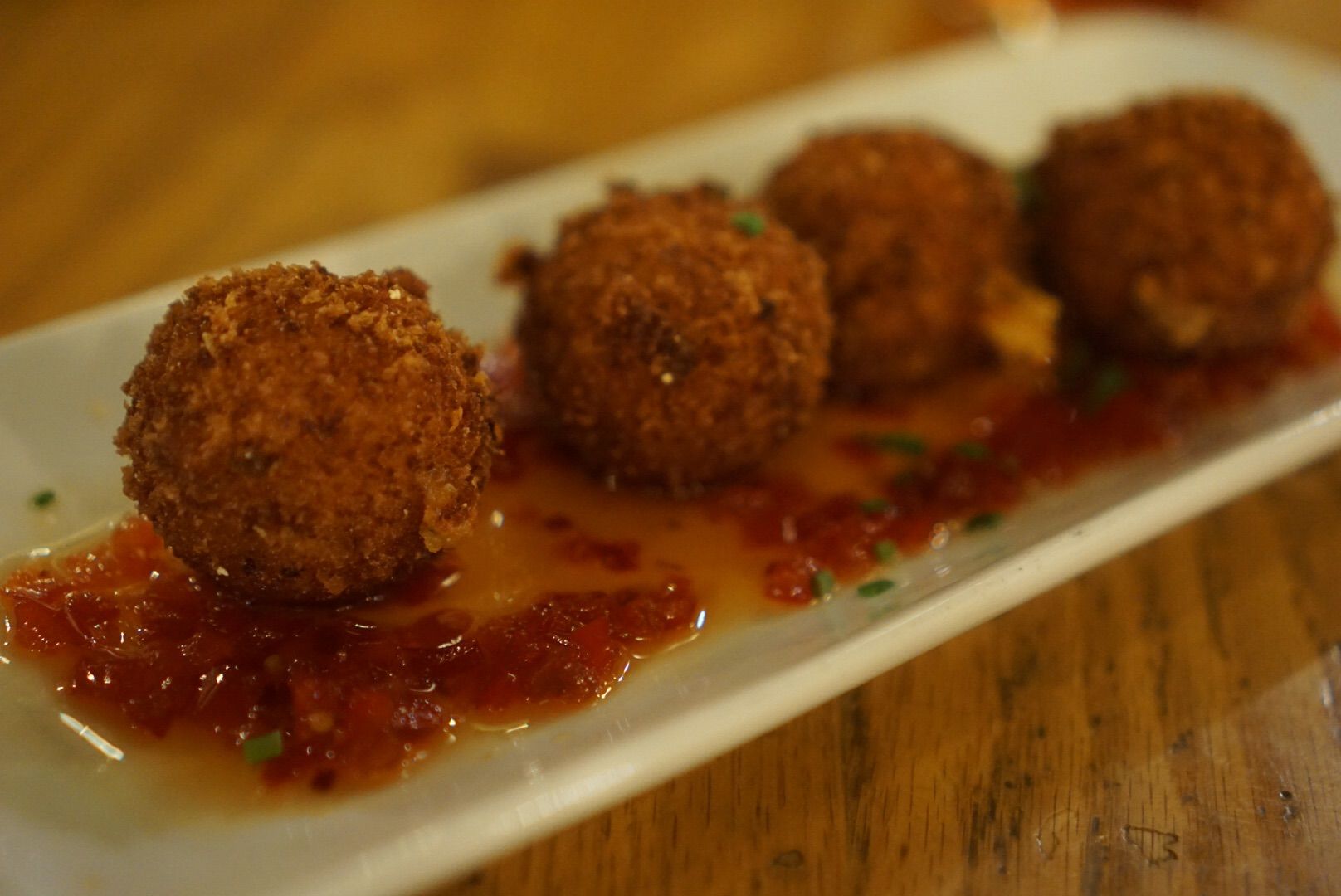 Mardi Gras Fritters – House-made Pimiento Cheese Fritters with Pepper Jelly – $9.00
And an inside look…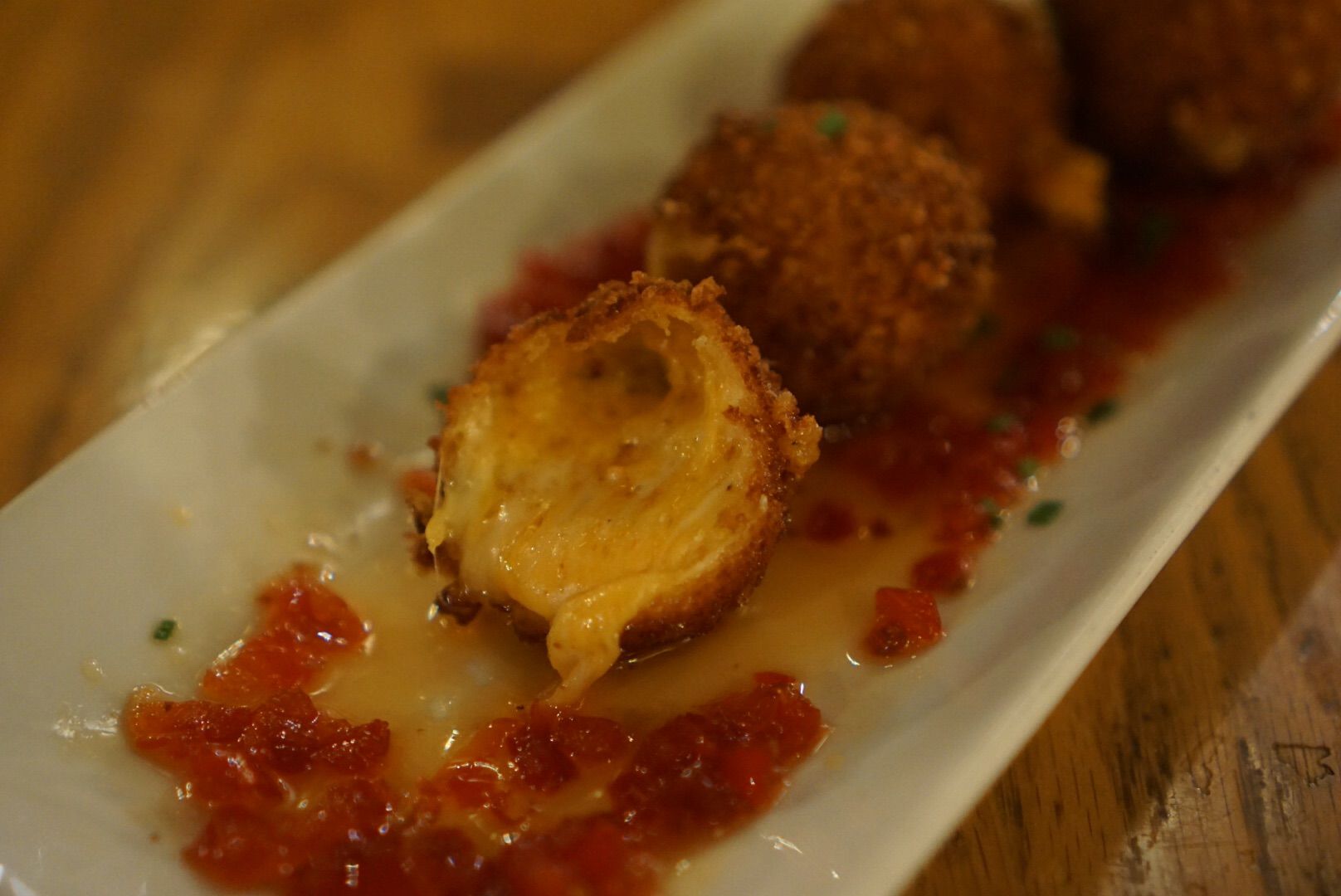 These were very good, both with and without the pepper jelly.  The jelly was sweet so if you like a combination of sweet and savory (from the pimiento cheese) flavors then these fritters are ideal.
My server also brought a complimentary basket of warm Cornbread and soft, whipped butter…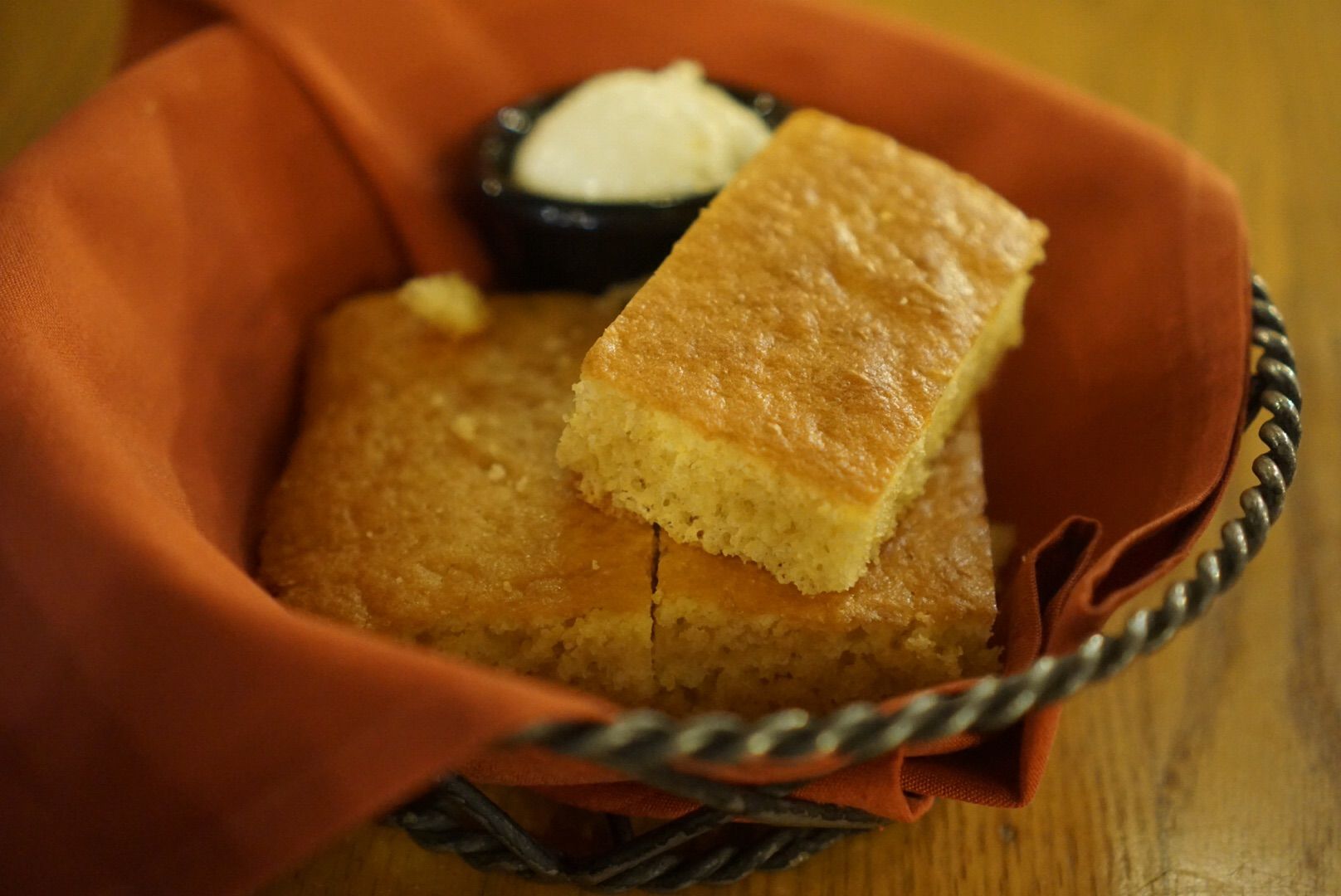 This was delicious but I didn't want to fill up on cornbread when I had an appetizer and entree to eat.  Though I only ate one of the three pieces, my server boxed up four pieces (adding two additional pieces) plus a plastic container of butter and a set of plastic silverware so that I could take it back to my room.  Even cold, this made for a great breakfast the next morning.
Now on to my entree.  I was between two entrees, the jambalaya and the shrimp & grits, so again I asked my server for her recommendation.
Deep South Shrimp and Grits – Sustainable Shrimp and Tasso Ham served Traditional-style over creamy Charleston-style Grits – $23.00
And a closer look…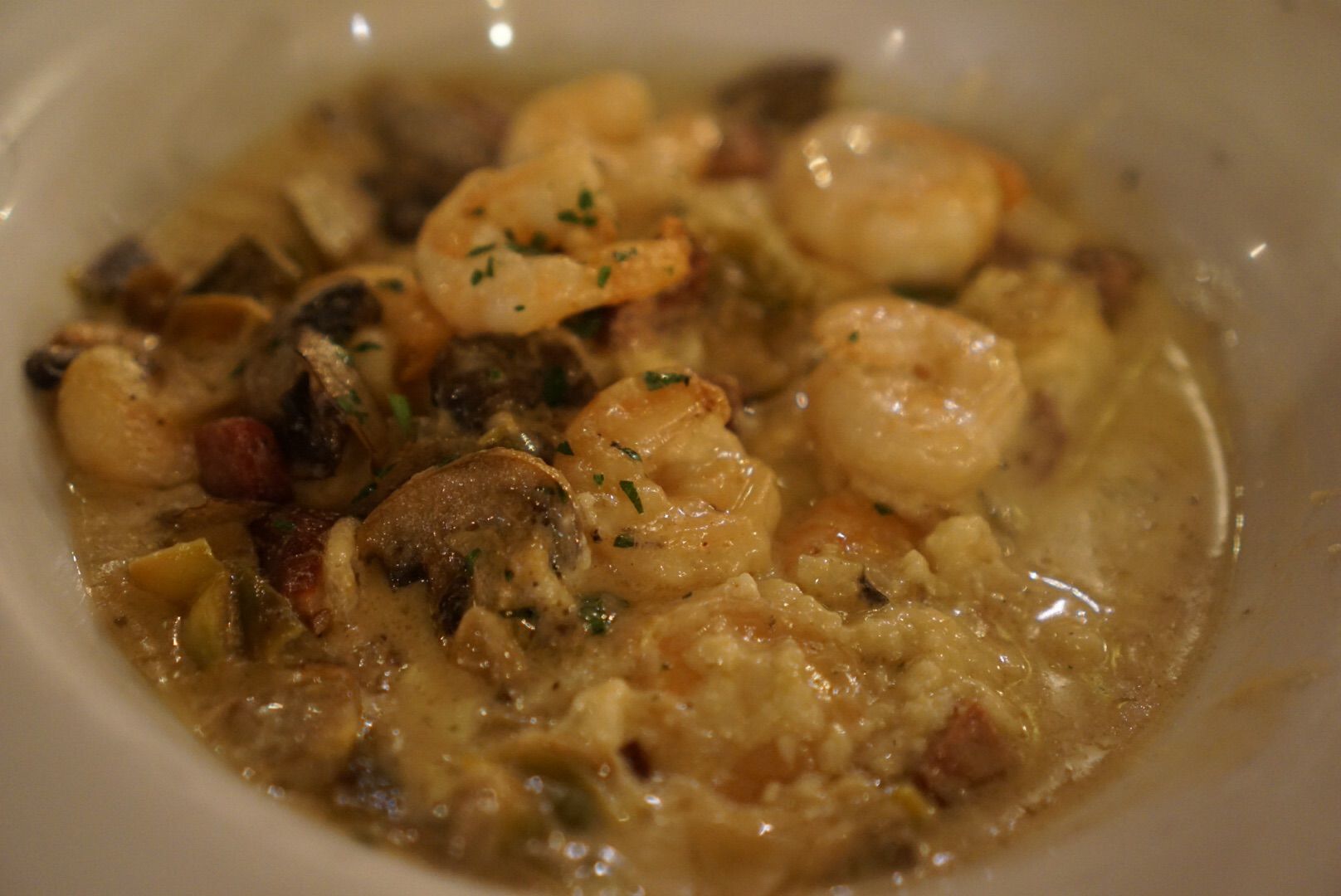 This was really good.  The shrimp were plentiful (probably 10 -12) and tasty and the grits were cooked in a delicious white wine sauce.  In addition to the ham, there were also mushrooms, green peppers, and onion in the grits.  I was told this when I placed my order, as I could choose to exclude any of these because the grits were made to order.  I wish I could have eaten more than I did of this entree, but it was so rich and filling that I had to admit defeat.  If I had had a microwave in my room I would have probably taken the rest to go and had it along with my cornbread for breakfast, but I didn't think it would be good cold.
Even though I had heard that their Red Velvet cheesecake was great, I was too full for dessert.  And sadly I forgot to take a photo of their dessert menu.
So that just leaves the ratings and rankings.  Though Yelp reviewers rated Boatwright's only 3 1/2 stars, Trip Advisor reviewers gave it 4 stars and ranked it #369 of the nearly 3,000 Orlando area restaurants reviewed there. Narrowing it down to just the nearly 300 Disney World area restaurants reviewed on Trip Advisor, Boatwright's is ranked #117.  My rating would be at least a 4 (possibly even 4 1/2), as both the food and service were very good.  Boatwright's was a pleasant surprise and I would definitely return if I stay at Port Orleans Riverside again on a future trip.