The Festival of Fantasy Parade Dining Package, as advertised on the official Disney World website…
When I decided to add the Disney Plan to the first three nights of my trip rather late in the Disney trip planning game, I looked for some quick advice in choosing how to use my 9 dining credits.   In my online research, to my surprise I found this Disney Dining Package held at Tony's to be at the top of more than one Table Service Disney Dining Plan Credit Value list.  Previously I hadn't considered including Tony's in my dining plans for this trip as I had just had lunch there during my 2017 trip.  While my meal was fine, it didn't warrant a return visit the next year.  But then the addition of the Dining Plan changed my way of thinking.  Between the high $ value for the one credit cost (average value of $64.99 per one source) and the fact that I hadn't seen the Festival of Fantasy parade in a couple of years, I decided on 9/26 to see if I could get a reservation online for this on my Magic Kingdom day, 10/25.
And I found success…
And so at 11:40 I checked in for my solo lunch reservation at Tony's Town Square Restaurant…
I had about a 10 minute wait in the lobby, giving me enough time to take this photo…
NOTE: For those that have never been to Tony's, it is themed to the 1955 classic Disney movie, Lady and the Tramp.  In addition to many pictures depicting scenes from the movie hanging on the walls of the dining room, there is also this lovely statue of Lady and the Tramp/water fountain that stands in the middle…
When my name was called and I was seated at a two-top table just inside the main dining room door.  There was only this four-top table between me and the dining room entrance (from the lobby)…
Here was my view of the dining room from my seat…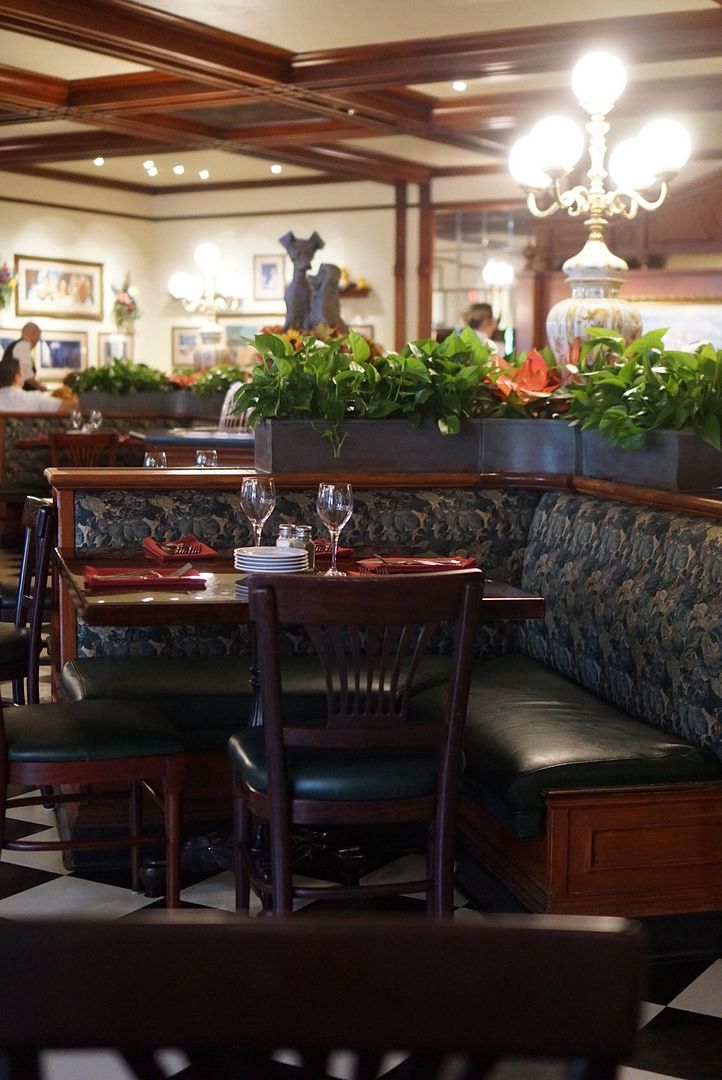 And here was the view to my left…
As you can see, the restaurant had opened at 11:30 but still had many empty tables when I took these photos at about 11:55.
In addition to my table being located by the entrance from the lobby to the main dining room, my table was also right next to the doorway out to the terrace dining area…
– Photo courtesy of the official Disney World website –
So if you haven't guessed already, I was sitting right in the path of nearly every guest being led to their table by a host/hostess.  And because of that I got to hear, "So where are you all visiting us from?" (or some form of that question) about a hundred times during the hour or so that I was there.  (Ok, maybe not 100 times but enough times that it made me laugh.)  But even though (for the second meal in a row) I was seated in one of the restaurant's least desirable tables, I never felt the awkwardness that I did the night before at Citricos.
Ok, now moving on to this lunch.  My server immediately gave me the card (aka VIP viewing voucher) that I would need to present to enter the reserved area for the parade…
Note: The only written instructions on the card stated, "Return to Main Street U.S.A. Flagpole 15 – 35 minutes prior to parade start time."
My server then explained what is included with the Parade Dining Package, which is an appetizer, entrée, dessert and non-alcoholic beverage of my choice.  And because I was using a Disney Dining Plan credit for this meal I could also have an alcoholic beverage, which I took advantage of.  My choice was made from their Beverage menu…
I spotted a sparkling red wine that I hadn't had for quite awhile so I went for it…
Banfi Rosa Regale – $14
For those that have never had this, it's a very sweet Italian sparkling wine…more of a dessert wine.   It pairs really well with chocolate, but not especially well with my appetizer and entrée choices.  However, I still enjoyed it, especially since I wasn't paying $14 for it.
Now for my appetizer, chosen from the Antipasti section of their menu…
My choice was the…
Calamari served with House-made Marinara – $16
And a closer look…
This was about 1/2 rings and 1/2 tentacles.  I'm not really a fan of tentacles, but these weren't bad.  I preferred the rings though.  While the calamari was pretty good here, the best calamari that I've had at Disney World (so far) was at Spice Road Table (in Epcot's Morocco).
Along with my appetizer, this complimentary bread (focaccia) & olive oil plate was brought to my table…
I like focaccia so I had to have one slice and it was pretty good.
My entrée choice was a difficult decision.  Here were my options, listed in the Secondi Piatti section…
I had strongly considered ordering the Grilled Jumbo Shrimp, but I decided I should probably review another of their pasta dishes (last visit I had the spaghetti & meatballs).  So I compromised and ordered this…
Ravioli – Spinach and Ricotta Ravioli, Heirloom Tomatoes, Wilted Chard, Hazelnuts, and Lemon-Parmesan Crema with Grilled Shrimp Added – $30
And another look…
The ravioli was fine.  The hazelnuts in the description were actually inside the ravioli (along with spinach and ricotta cheese), which gave the filling a crunchy texture.  A review of this entrée that I had read prior to my lunch had mentioned that their ravioli was "al dente".  Though my ravioli was adequately cooked (I prefer my pasta cooked a little more than "al dente"), the shrimp were not.  I tried a bite of a couple of the five shrimp and they tasted undercooked.  When my server came to check on me he noticed that I was just picking at my entrée and asked if there was something wrong.  I told him about the shrimp and he returned my entrée to the kitchen for further cooking.  When the plate was returned to me a few minutes later and I tasted the shrimp they seemed pretty much the same.  I fibbed though and said they were better, as I just wanted to move on.  For the next few hours I was a little worried though about getting sick from those few bites of undercooked shrimp, but thankfully nothing ever came from it.
But my meal did end on a positive note with dessert…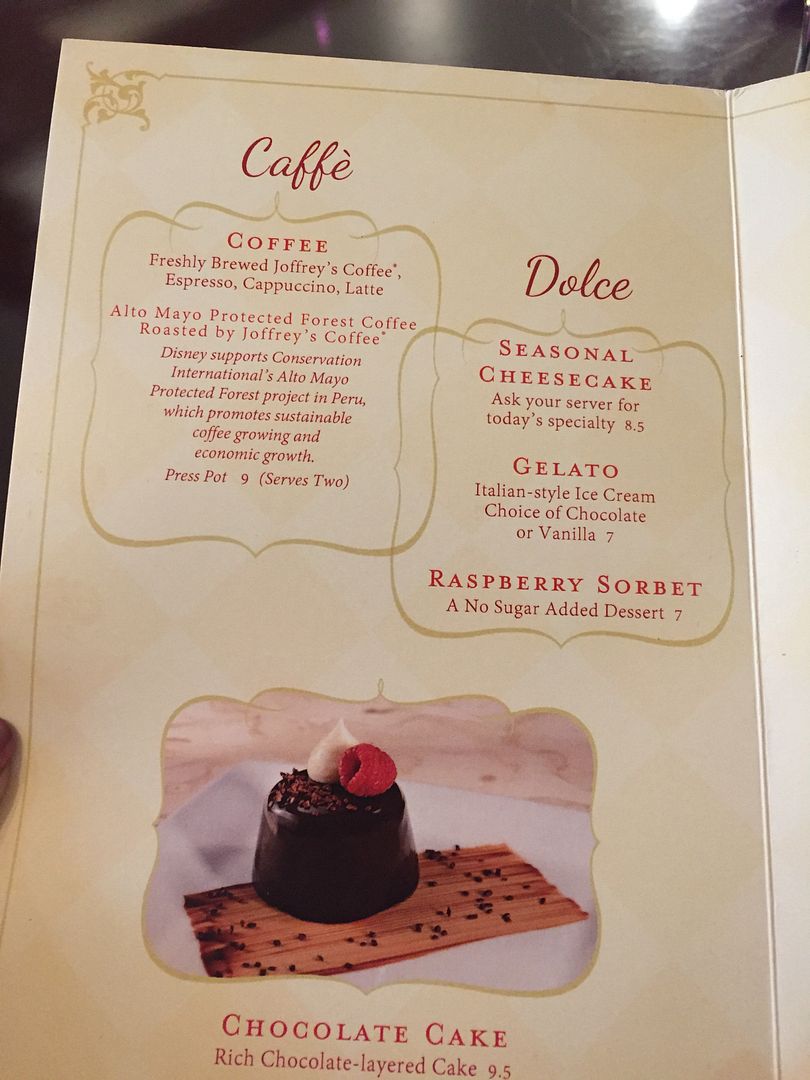 Though having limited choices (with one of the five being just gelato, vanilla or chocolate), my dessert choice was delicious…
Tiramisu – Kahlua Espresso-soaked Lady Fingers and Whipped Mascarpone topped with Mocha Cream – $8
Tony's was a very good version of this classic Italian dessert.  This was the highlight of my meal!
And so here was my bill…
Everything was covered by my Dining Plan credit (except for the gratuity) so my server had crossed out everything except for the Tip section.  Without using the Dining Plan though this meal (with a non-alcohol beverage) would have been $54 plus tax and gratuity.  Coincidentally, the total of my appetizer, entrée, and dessert choices was exactly $54.  Adding in a non-alcoholic beverage like a $3 soda, I would have come out slightly ahead paying for this dining package lunch out of pocket.  And of course, that doesn't take into account the privilege of viewing the parade from a reserved area.  Being on the Dining Plan, I had the option of having an alcoholic beverage which added another $8 – $16 to the value of my meal.  As you can see, the total cost of my meal (including tax) which was covered by one of my Deluxe Disney Dining credits was $72.42.   This was second to only my lunch at Tutto Italia, which was $79.88.  Sadly though, the food and service weren't anywhere close to being as good as Tutto Italia's.  However, if you are a fan of the Festival of Fantasy parade and want to watch it from a reserved area with a great (straight-on) view as it comes down Main Street and the castle in the background…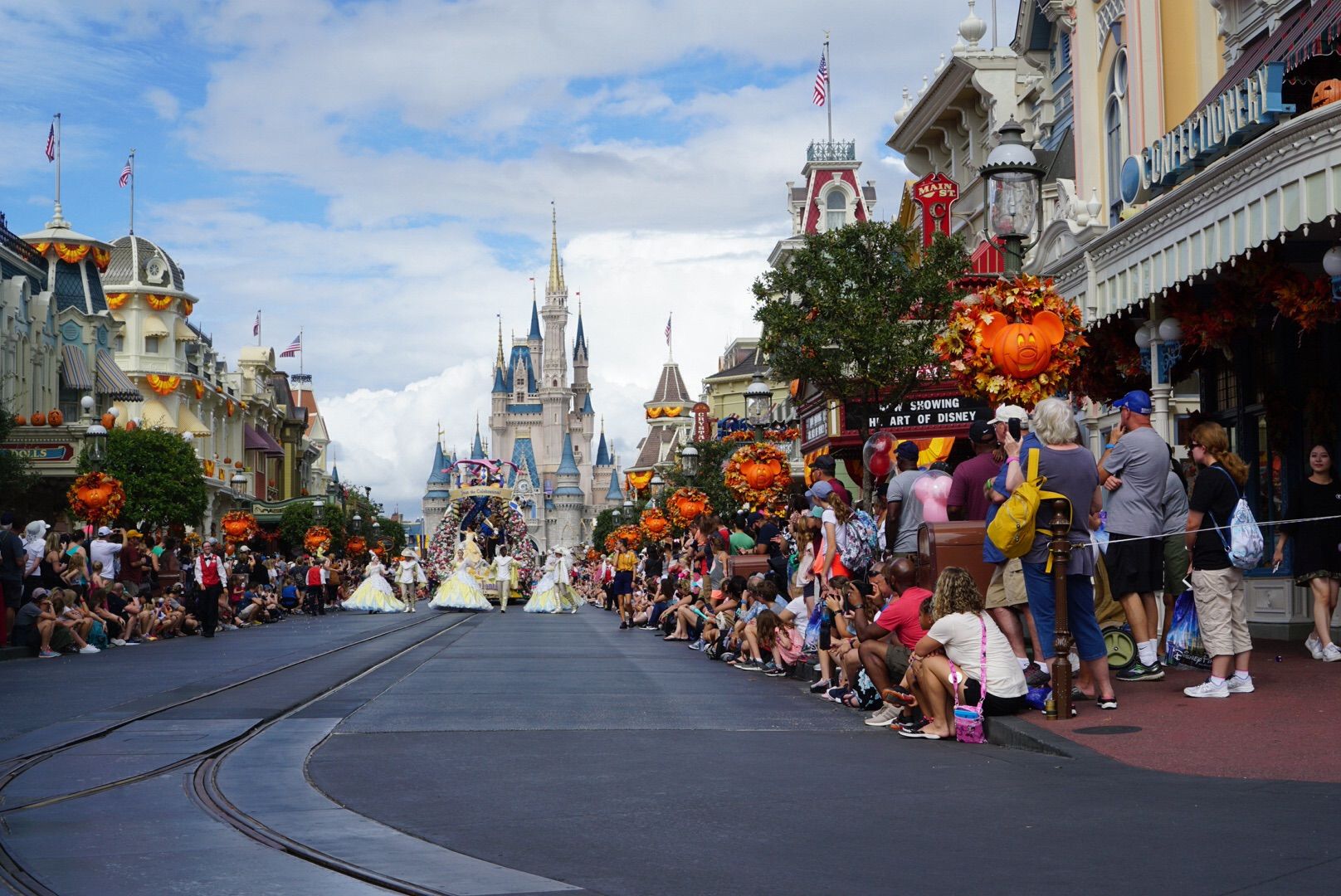 Closer…
Closer…
Closer…
Closer…
Closer…
And about as close as you can get without being in the parade, lol…
Then this Dining package is not a bad deal.  And if you are using the Disney Dining Plan then it's actually a pretty good deal.  I just wish my entrée had been better.
So that just leaves the ratings and rankings for Tony's Town Square Restaurant.  Yelp reviewers gave Tony's only 3 stars and I would probably agree with their assessment.   Those on Trip Advisor though gave it 3 1/2 stars and ranked it #557 of the nearly 3,000 Orlando area restaurants reviewed there.  Narrowing it down to just the Disney World area restaurants, Tony's ranked #151.
Deluxe Dining Plan Credits Used – 1 (Note: Just 1 Unused Credit Remaining)
Cost of my Meal (with Parade Dining Package) had I paid Out of Pocket – $72.42