I've returned from my annual fall trip to Disney World and am very excited to share with you all of the details from my 2 week adventure.  First I must confess, though this trip was one of my longest, I still was unable to see, do, and eat everything that I'd hoped to.  That seems to always be the case with my WDW trips.  So my goal in writing these trip reports is to help others that are planning a trip to Disney World and are trying to figure out the best use of their time and money, especially when it comes to Disney dining.  Hopefully, as you follow along with my report, you will learn from both my successes and mistakes from this trip.
Now to answer the questions of Who? When? Why? and Where?
Who: In addition to myself (Barb), my son (Andrew) joined me for the first week of my trip.  On his departure day my old friends (Paula & Hunter) arrived and I had dinner with them (plus a new friend, Nancy) twice.  Those of you who have read my 2016 and 2017 trip reports might remember Paula & Hunter, as I spent most of my time on those trips with this great couple.  Then for the last 5 nights of the trip my daughter (Allison, who is shown with me in the photo above) joined me and we celebrated her 30th birthday.  And then last, my friend Rachel (who has made appearances in many of my trips) joined Allison and me for one evening.  That's 3 stars plus 4 guest stars appearing in this trip report, which means a lot of food was eaten and reviewed! 
When: Tuesday, Oct. 29, 2019 – Tuesday, Nov. 12, 2019
Why: Fall is my favorite time of year to be at Disney World because that's when the Epcot Food & Wine Festival and the Swan & Dolphin Food & Wine Classic are held plus the weather is usually warm (but not hot) with little rain and the crowds are relatively low.  Unfortunately, the weather & crowds didn't always cooperate this year.  However, a hot, crowded day at Disney World is still better than a freezing cold, snowy day at home.
Where: The first 5 nights of our trip, my son and I stayed at the Contemporary Resort.  We had two reservations (one for the first 3 nights and then the second reservation was for the next 2 nights) after I decided I wanted to spend a little more time at the Contemporary.  For some reason, my travel agent was unable to just add the two nights to my existing reservation so consequently we ended up with two back-to-back reservations.  The remaining 9 nights of my 14 night trip were spent at the Beach Club Resort. The first 2 nights my son was still with me, then I had 2 nights on my own before my daughter arrived for the remaining 5 nights at the Beach Club.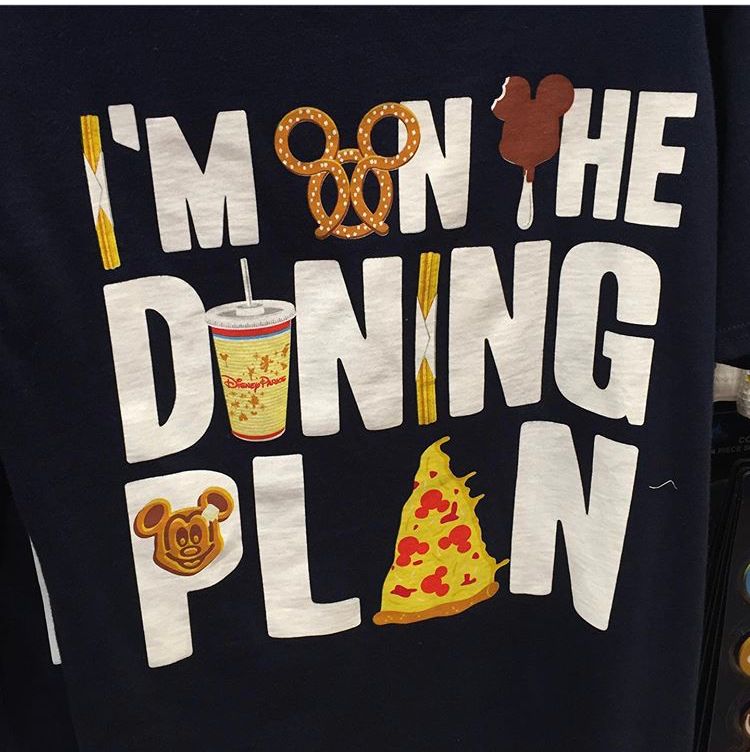 Disney Dining Plan
This is another important detail regarding this trip, one which directly affected our dining choices.  My son and I were on the regular Disney Dining Plan during our 5 nights at the Contemporary.  Since we had two separate reservations we did have the option of just doing the first 3 nights with the Dining Plan or just the last 2 nights.  We also could have done the regular Dining Plan for 3 nights and then the Deluxe Dining Plan or vice versa.  Having the two Contemporary reservations (each for a short time) gave us several options to consider.  Ultimately though I decided to go with the regular Dining Plan (1 Quick Service credit, 1 Table Service credit, & 2 snack credits per person/per night) for all 5 nights for a total cost of $754.90 for the 2 of us ($75.49 per person/per night).  The two reservations did though complicate our use of Dining Plan credits just a bit.  Our credits for the last two nights were not credited to our account on the morning that our second room reservation began, which was what I had planned for when planning out our dining schedule.  Instead we did not receive our second group of Dining Plan credits (snacks, QS, and TS credits) until every single credit had been used from our first group of credits.  When this was discovered on Day #4 of our trip I had to make some quick adjustments to our dining plans, but it all worked out fine in the end.
Our Park Tickets
Though I purchased an Annual Pass, my kids each had only 5 day park tickets (1 park per day).  This meant no park hopping.  They both chose to visit Epcot (their favorite park and mine) on 2 out of their 5 park days, therefore much of our dining took place at Epcot.  In fact we dined or snacked at all of the countries in World Showcase except for China, Germany and France (yes, I didn't get to the French bakery on this trip😢) as well as two locations in Future World.  Also related to our dining, being an annual passholder I was able to get a 10% discount (alcoholic beverages excluded) at most of the Table Service restaurants we visited.   This discount, along with being on the Dining Plan for about one-third of the trip, led me to the decision to not purchase the Tables in Wonderland membership card (with its 20% discount, including alcohol) for $150.
And then finally and most importantly for a Disney World trip report which focuses on dining, "Where did we eat?"
Here is a list of the places/events which I will be reviewing in this trip report:
Table service Restaurants
Story Book Dining at Artist Point on the Disney Dining Plan (Wilderness Lodge) – COMPLETE
Teppan Edo Dinner on the DDP (Epcot, Japan Pavilion) – COMPLETE
California Grill Dinner (mostly) on the DDP (Contemporary Resort)
50's Prime Time Cafe Dinner on the DDP (Hollywood Studios)
Wine Bar George Brunch on the DDP (Disney Springs)
Le Cellier Lunch (Epcot, Canada Pavilion)
Grand Floridian Cafe Breakfast/Lunch (Grand Floridian Resort)
Jaleo Dinner (Disney Springs)
Jiko Dinner (Animal Kingdom Lodge)
Garden Grill Lunch (Epcot, The Land Pavilion)
Akershus Royal Banquet Hall Dinner (Epcot, Norway Pavilion)
Kimonos Dinner (Swan & Dolphin Resort)
California Grill Brunch (Contemporary Resort)
Cinderella's Royal Table Dinner (Magic Kingdom)
Cape May Cafe Breakfast (Beach Club Resort)
Restaurant Marrakesh Lunch with the Eat to the Beat Dining Package (Epcot, Morocco Pavilion)
Rose & Crown Dining Room Dinner (Epcot, United Kingdom Pavilion)
Quick service/Specialty Shops/Kiosks
Be our Guest Breakfast on the DDP (Magic Kingdom) – COMPLETE
Aloha Isle Snack on the DDP (Magic Kingdom) – SEE OCT. 30
Contempo Cafe Lunch (Contemporary Resort) – COMPLETE
Sunshine Seasons Lunch on the DDP (Epcot, The Land Pavilion) – COMPLETE
Funnel Cakes Kiosk Snack on the DDP (Epcot, American Pavilion) – SEE OCT. 31
Creature Comforts (aka Starbucks) Breakfast on the DDP (Animal Kingdom) – COMPLETE
Flame Tree Barbecue Lunch on the DDP (Animal Kingdom)
Satu'li Canteen Snack on the DDP (Animal Kingdom)
Restaurantosaurus Dig Site Burgers & Sundaes Dinner on the DDP (Animal Kingdom)
Woody's Lunch Box Breakfast (Hollywood Studios, Toy Story Land)
Milk Stand Snacks on the DDP (Hollywood Studios, Star Wars Galaxy's Edge)
Docking Bay 7 Food & Cargo Lunch on the DDP (Hollywood Studios, Star Wars Galaxy's Edge)
Cookie Dough & Everything Sweet Food Truck Snack on the DDP (Disney Springs)
The Polite Pig Dinner on the DDP (Disney Springs)
Boardwalk Bakery Snacks on the DDP (Boardwalk)
Ample Hills Creamery Snacks on the DDP (Boardwalk)
La Cantina de San Angel Dinner (Epcot, Mexico Pavilion)
Beach Club Marketplace Breakfast (Beach Club Resort)
Woody's Lunch Box Lunch (Hollywood Studios, Toy Story Land)
Lounges/Bars 
Enchanted Rose Drinks (Grand Floridian Resort) – COMPLETE
Oga's Cantina Drinks – Visit #1 (Hollywood Studios, Star Wars Galaxy's Edge)
Enzo's Hideaway Drinks (Disney Springs)
Jock Lindsey's Hangar Bar Drinks (Disney Springs)
Raglan Road Drinks (Disney Springs0
Victoria Falls Lounge Drinks (Animal Kingdom Lodge)
Tutto Gusto Wine Cellar Drinks (Epcot, Italy Pavilion)
Crew's Cup Lounge Drinks & Snack (Yacht Club Resort)
Oga's Cantina Drinks – Visit #2 (Hollywood Studios, Star Wars Galaxy's Edge)
Nomad Lounge Lunch (Animal Kingdom)
La Cava del Tequila (Epcot, Mexico Pavilion)
Special Food & Wine Festival Events & Booths 
15 Epcot Food & Wine Festival Booths Visited (over 4 days) – ROUND 1 COMPLETE
Italian Regional Food & Wine Pairing Luncheon held at Tutto Gusto on Nov. 6, 2019 (Epcot, Italy Pavilion)
Swan and Dolphin's Food & Wine Classic held on Nov. 9, 2019 (Swan & Dolphin Resort)
Other Special Dining Events
Happily Ever After Fireworks Dessert Party with Plaza Garden Viewing (Magic Kingdom)
Miscellaneous Non-Food Stuff
Extra, Extra Magic Hours at Magic Kingdom (see Oct. 30), Animal Kingdom & Hollywood Studios
The Latest Version of Rivers of Light Nighttime Show (Animal Kingdom)
First Impressions of Star Wars: Galaxy's Edge & the Millennium Falcon: Smugglers Run ride
The unDISCOVERed Future World Guided Walking Tour (Epcot, Future World)
Epcot Forever New (Temporary) Nighttime Show (Epcot)
Beach Club Resort & Room 3705
Riding the Skyliner
My Daughter Arrives and so do the Crowds! (Crowded Parks during the Veteran's Day Holiday Weekend of Nov. 8 – 11)
"It's Beginning to Look A Lot Like Christmas" at the Parks & Resorts in early November
Sunset Seasons Greetings (Hollywood Studios, Sunset Boulevard
Jingle Bell, Jingle BAM! Holiday Fireworks Show (Hollywood Studios)
Big, Bad Voodoo Daddy Eat to the Beat Concert
DAY 1 – TUESDAY, OCTOBER 29  OUR ARRIVAL DAY (Contemporary Resort)
The countdown to our arrival began at about 1:35 in the afternoon (Central Time) when I received the texts and notifications on my phone that our room was ready.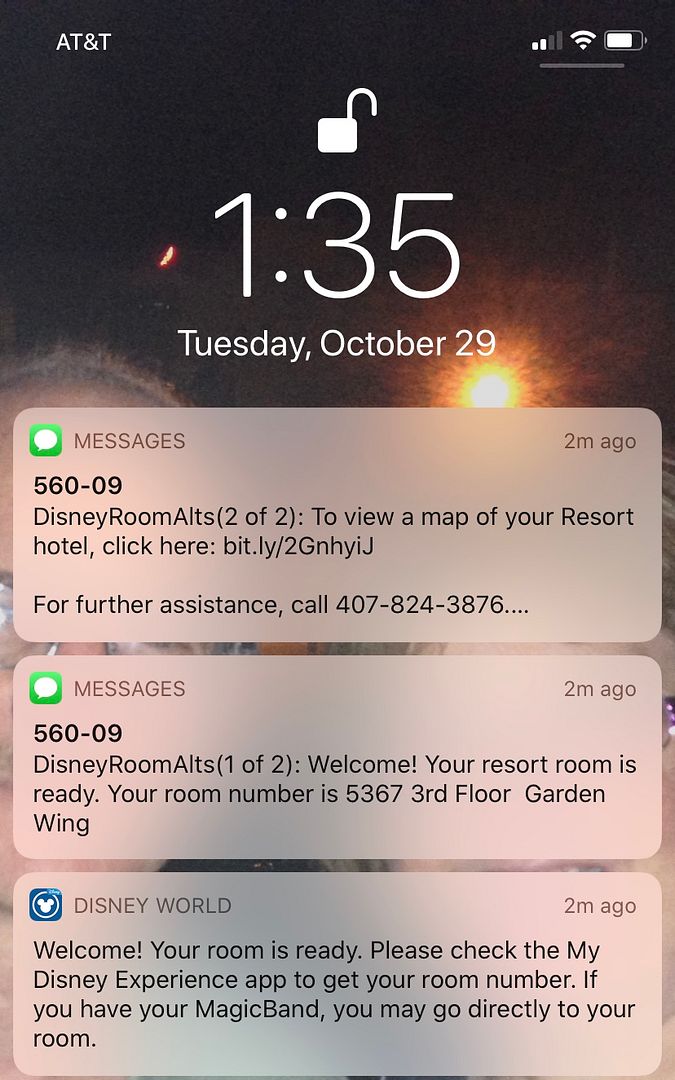 Unfortunately our flight to Orlando was not leaving for 6 more hours.  IT WAS A VERY LONG 6 HOURS!!!  But at about 11:00 p.m. our plane finally touched down at the Orlando Airport and then it was on (via the Magical Express bus) to Day 1's  final destination…
Our Review of the Contemporary Resort & Room 5367 (Garden Wing, 3rd floor)
DAY 2 – WEDNESDAY, OCTOBER 30 (Magic Kingdom, Contemporary Resort, Wilderness Lodge, Grand Floridian)
After less than 4 hours of sleep, the 5:15 a.m. phone alarm was not a welcomed sound.  But it was the first full day of our trip and we wanted to hit the ground running.  So by 6:15 we were out the door and on our to Magic Kingdom via the walkway from the Contemporary…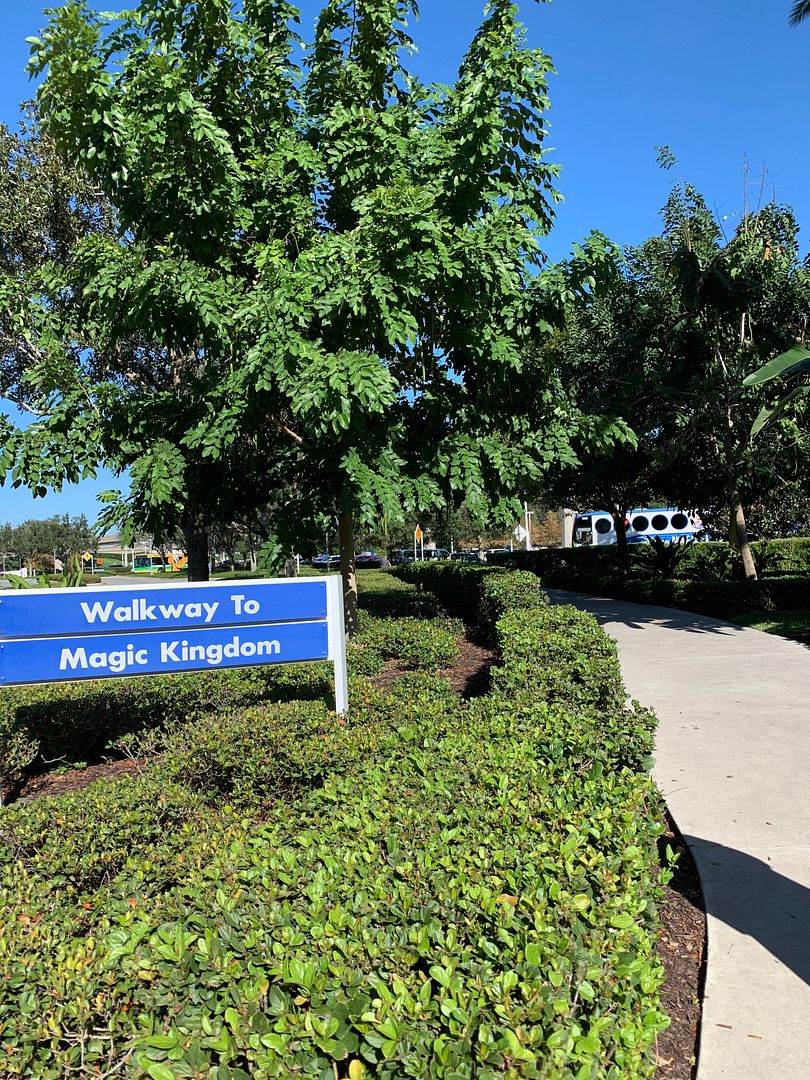 The walk took only about 10 – 15 minutes, and that included a quick stop at the Security canopy which was set up along the walkway.  It was manned by 3 guards who checked my bag and guided us through the walk thru scanner.  We were the only ones there at around 6:30 a.m. so we were through very quickly and continued down the path to the Magic Kingdom.  This allowed us to bypass the security at the park entrance, which was a big time saver.  Once we reached Magic Kingdom I had to first visit the Guest Services window and present to them my annual pass order confirmation number along with a government-issued photo ID to get my actual annual passholder ticket/card.  I had purchased my annual pass online just before our 60 day Fast Pass window (for WDW resort guests) opened up so that I could reserve Fast Passes for both me and my son, who had a regular 5 day ticket.   (NOTE: Unfortunately though I didn't purchase my annual pass before the huge price increase in June 2019 so I paid the ridiculous price of  $1,191.74 for my Platinum Annual Pass.  Yikes!  I did though go to a park on 13 days of my 14 day trip so that calculates to about $92 per day.  Still not great, but I also plan to take another trip before my Annual Pass expires on Oct. 30, 2020 so that will help bring down the per day cost of the ticket.)  Anyway, I was able to link the temporary AP number I was issued at the time of purchase to the My Disney Experience account in order to make my Fast Pass selections 60 days before our trip began, however my annual pass wasn't activated (and the one year clock didn't start ticking) until I was issued the actual card.  Once I had my card we joined the line of guests waiting to enter the park.
Our Experience with Extra, Extra Magic Hour at Magic Kingdom
What were Extra, Extra Magic Hours?
In anticipation of the heavy crowds at the parks after the opening of Star Wars Galaxy's Edge, Disney announced in May that 3 of their 4 parks would open extra early every morning from August 29 – November 2, 2019 for guests of their resorts.  For Magic Kingdom, Extra, Extra Magic Hour occurred daily from 7:00 – 8:00 a.m. 
Though the scheduled opening time was 7:00 a.m. (for Disney resort guests),  we found that they actually opened up the entrance gates at about 6:45.  Right after we entered the park we again had to have our Magic Bands scanned by a Cast Member to verify that we were Disney resort guests and therefore qualified to enter the park early.  We then walked up a relatively quiet Main Street and stopped for a Photopass photo in front of the castle…
The photo was taken at 6:52 a.m. and (as you can see) the sun was not even up yet. 
By the way, one of the benefits of being an Annual Passholder is that all of  the Photopass photos we had taken plus all of the ride photos were available to download free of charge from our MDE account.  This takes away a little bit of the sting from paying the hefty price of an Annual Pass…just a little bit though.
At the Tomorrowland bridge we were guided by Cast Members into two directions.  Only Tomorrowland and Fantasyland were to be open at 7:00 so guests either went right if they were heading to one of the rides in Tomorrowland or left if heading to a Fantasyland ride.  Here is a list of what was open during the Extra Magic Hour with links to the ride description on the official Disney World website:
TOMORROWLAND RIDES/ATTRACTIONS
FANTASYLAND RIDES/ATTRACTIONS
I believe these are the same rides that are open now for the regular Morning Extra Magic Hours at Magic Kingdom that are held a couple times a week.
We were headed to the Seven Dwarfs Mine Train so went left along with a majority of the other guests.  The next holding area/rope was set up along the walkway to the Mad Tea Party.  Here we were again stopped and we waited for the Cast Members to drop the rope and lead us in a fairly organized fashion to the Mine Train ride entrance.  This occurred right at 7:00.  We didn't make it on the first train of the day but we were on the second one.  So by 7:11 we were enjoying the ride from the back of our train car…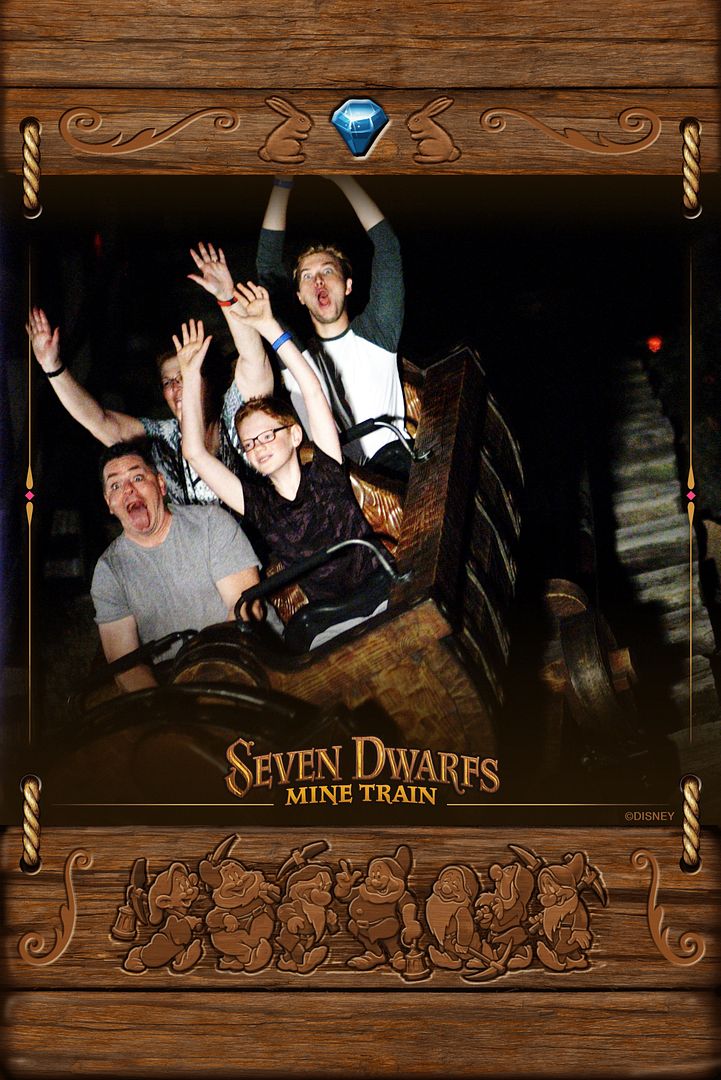 I love Andrew's face!
I never remember to pose for the ride photos.
After the Mine Train we headed to the Peter Pan ride.  I told Andrew that the wait time for this ride would be incredible later in the day so I wanted to ride it next.  He was very skeptical but went along with my plan.  He thanked me when just an hour later the posted wait time was 90 minutes for Peter Pan!!!  At the same time, the wait time for the Seven Dwarfs Mine Train was 60 minutes.  Anyway we enjoyed seeing the themed walk thru area before you board the ride.  Usually if I ride Peter Pan I do so with a Fast Pass and the Fast Pass line bypasses this area so it had been a long time since I had seen this area.
We then left Fantasyland and made our way to Tomorrowland, or more specifically to Space Mountain.  It had been several years since I'd ridden SM because I really don't like it.  However, it used to be one of my son's favorite Magic Kingdom rides so I agreed to ride with him…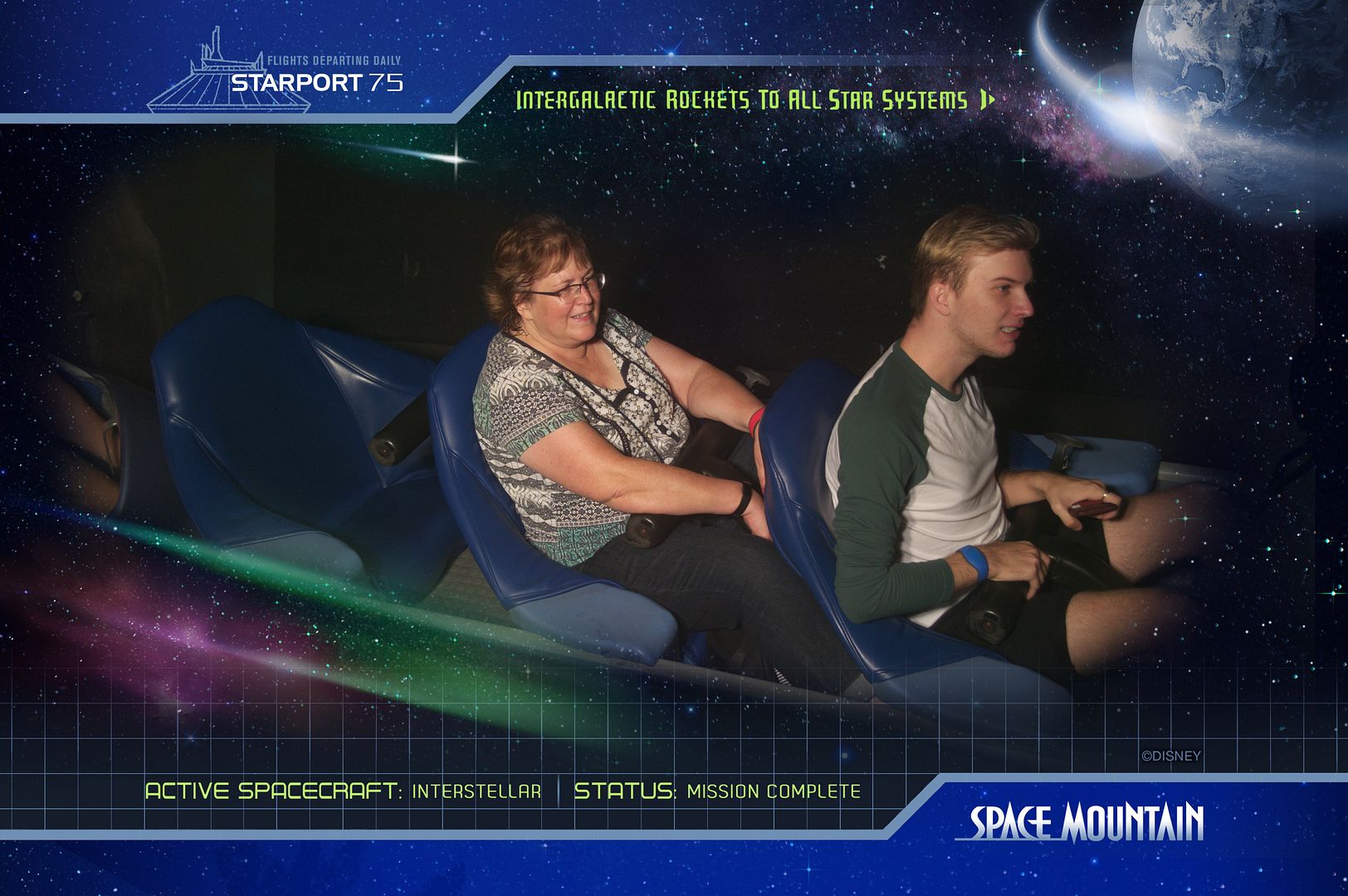 Notice I said "used to be one of his favorites".  This time he agreed with me…not so great. 
Anyway, by the time we had completed our mission on Space Mountain it was about 7:40 so we had time for one more ride before the rest of the park opened at 8:00.  We both like the Buzz Lightyear ride, Buzz Lightyear was nearby, so Buzz Lightyear it was…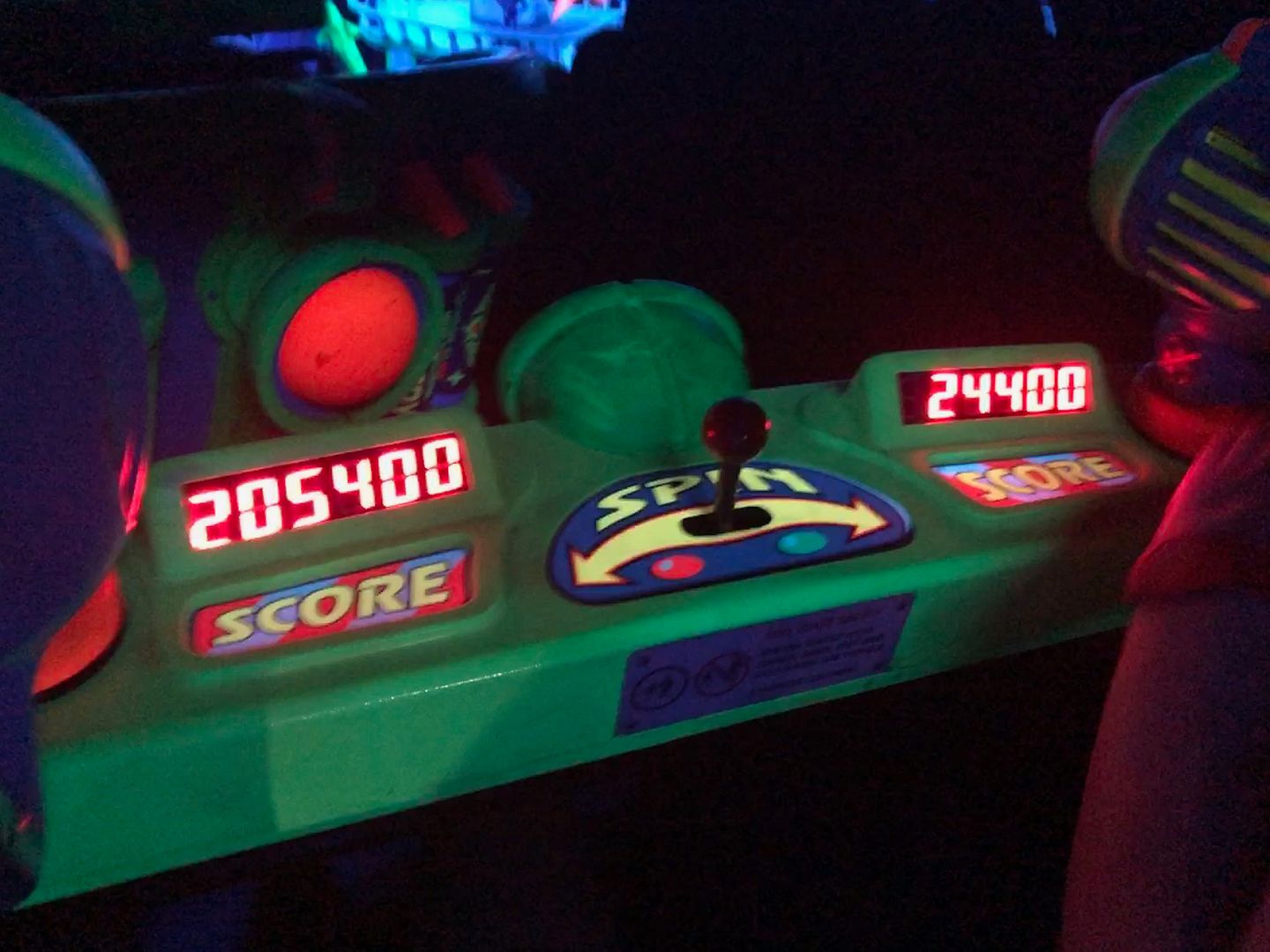 Yep, Andrew outscored me by 181,000 points!!  Nothing new there.  Not sure why I like this ride because I suck at it. 
Next we headed toward Frontierland for my favorite Magic Kingdom ride, Big Thunder Mountain Railroad.  For some reason they had Cast Members posted before the bridge to Liberty Square and they were redirecting traffic to the left, towards the entrance to Adventureland.  The rope at the entrance was still up, as it wasn't quite 8:00 yet.  We waited there for rope drop along with a few other people.  At 8:00 we were allowed in and walked through Adventureland and on to Frontierland where we walked on to BTMR.   Then we backtracked to Adventureland to ride Pirates of the Caribbean…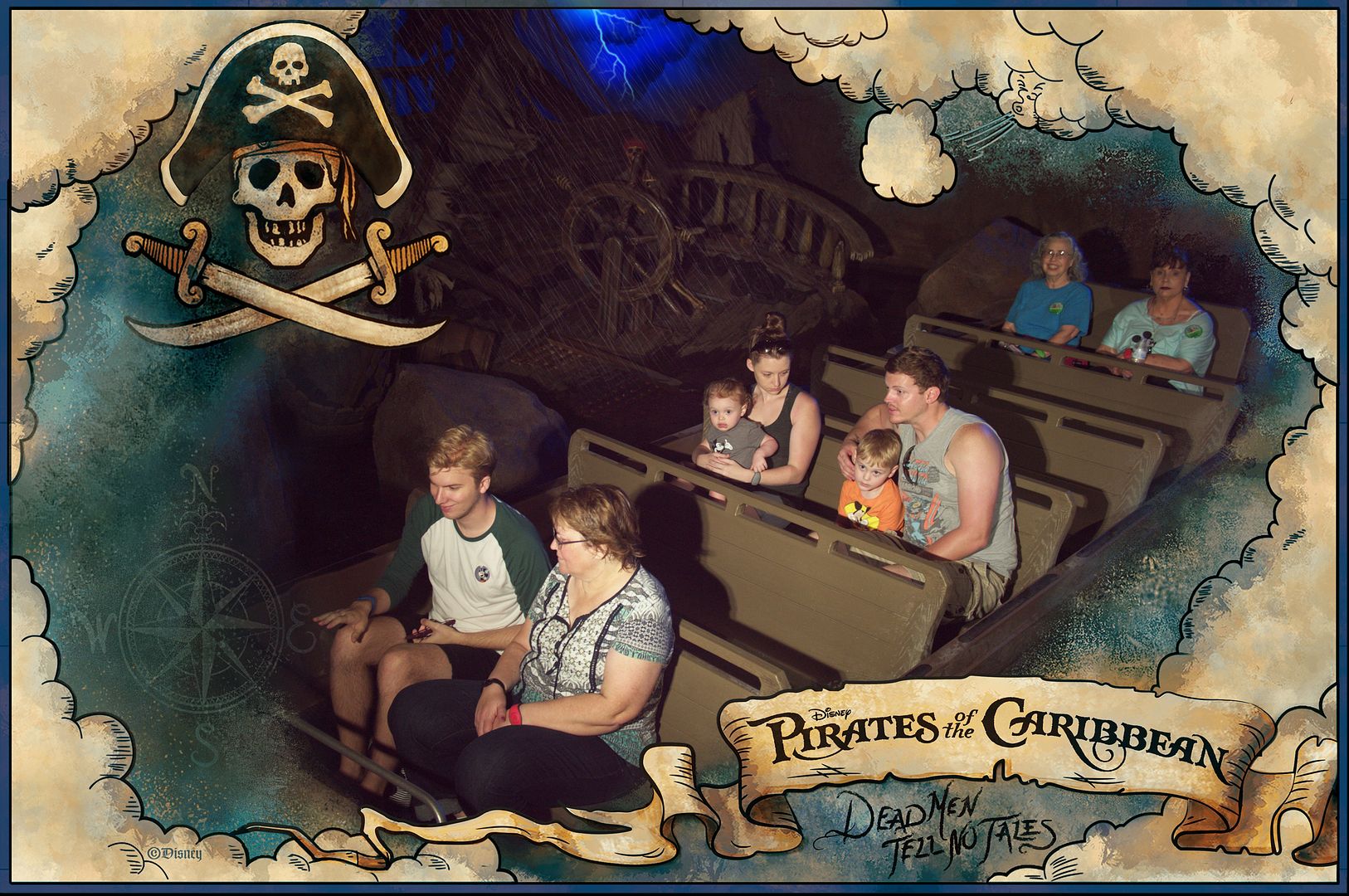 By 8:25 we were back in Frontierland to use our first Fast Pass of the day for a second ride on Big Thunder Mountain Railroad.  Yes, we road it again…because it is my favorite ride at MK after all.  We then returned to Fantasyland, where we had a 9:20 breakfast reservation at Be our Guest.  However it was only about 8:45 so we had some time to kill.  We decided to ride Journey of the Little Mermaid, as it was close by and had little to no wait time.  By the way, as we were entering this ride my Fitbit let me know that I had successfully completed my daily goal of 10,000 steps…and it was only 8:45 in the morning! 
So in the 2 hours since the park opened for Extra, Extra Magic Hour at 7:00 a.m. we rode 8 rides (only one using a Fast Pass) and spent almost no time waiting in line.  I would say it was a very successful 2 hours and was worth getting up before the sun was up… I guess. 
We celebrated our successful morning by taking a break for breakfast at…
Be our Guest Breakfast with the Disney Dining Plan
2 Quick Service Dining Plan Credits Used – $85.20 Value (or $42.60 per credit)
After breakfast we had a couple of hours before our next Fast Pass so we filled it longer indoor rides/attractions where we could sit down and enjoy the air conditioning, as it was getting pretty hot outside.  We saw the Mickey's PhilharMagic and Hall of Presidents shows and rode It's a Small World…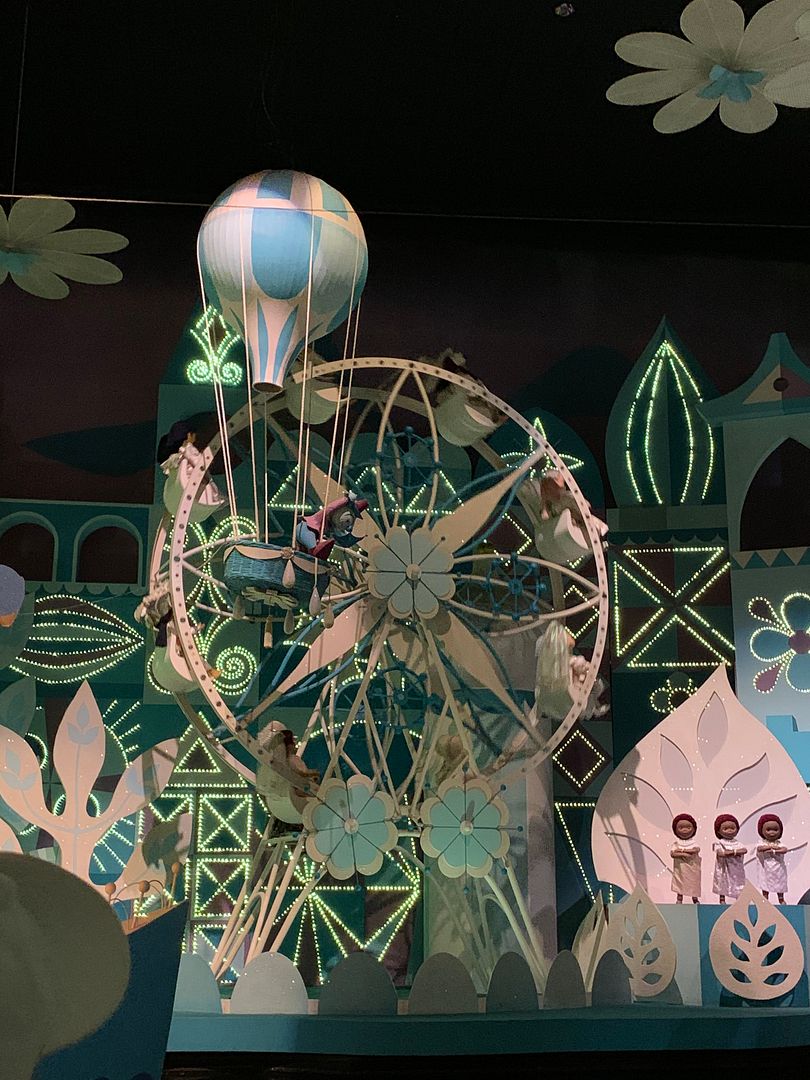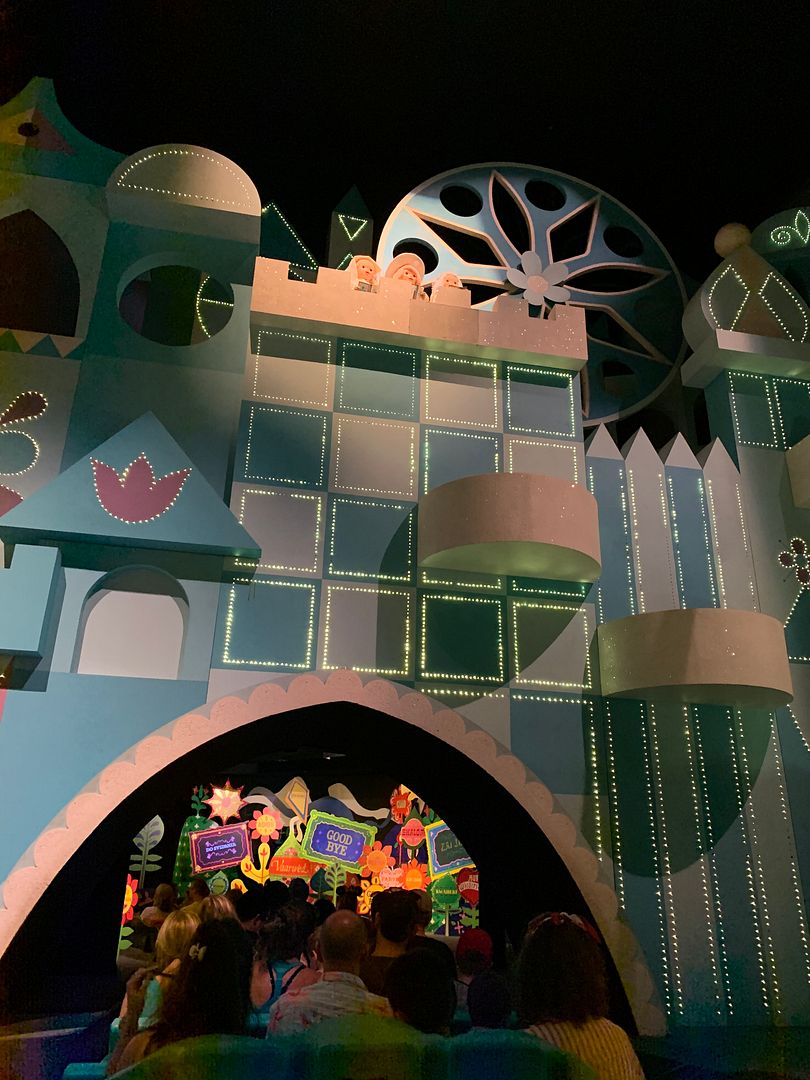 Oh, we also had time to Visit…Carousel of Progress.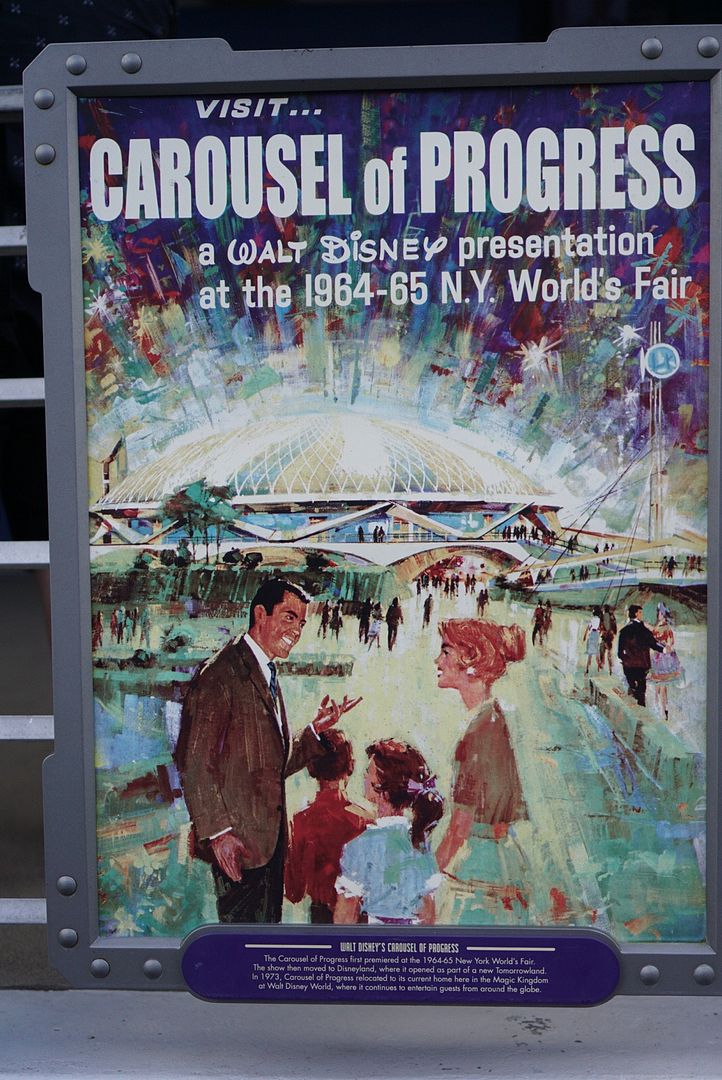 Anybody else have "It's a Great Big Beautiful Tomorrow" song playing in your head right now?
And somewhere in between all of these rides/attractions we had time to use our first Snack Credit.  I gave Andrew about 3 suggestions for our first (& only) snack of the day and he chose the one from Adventureland's Aloha Isle.  Here's a photo of their menu as of October 30, 2019…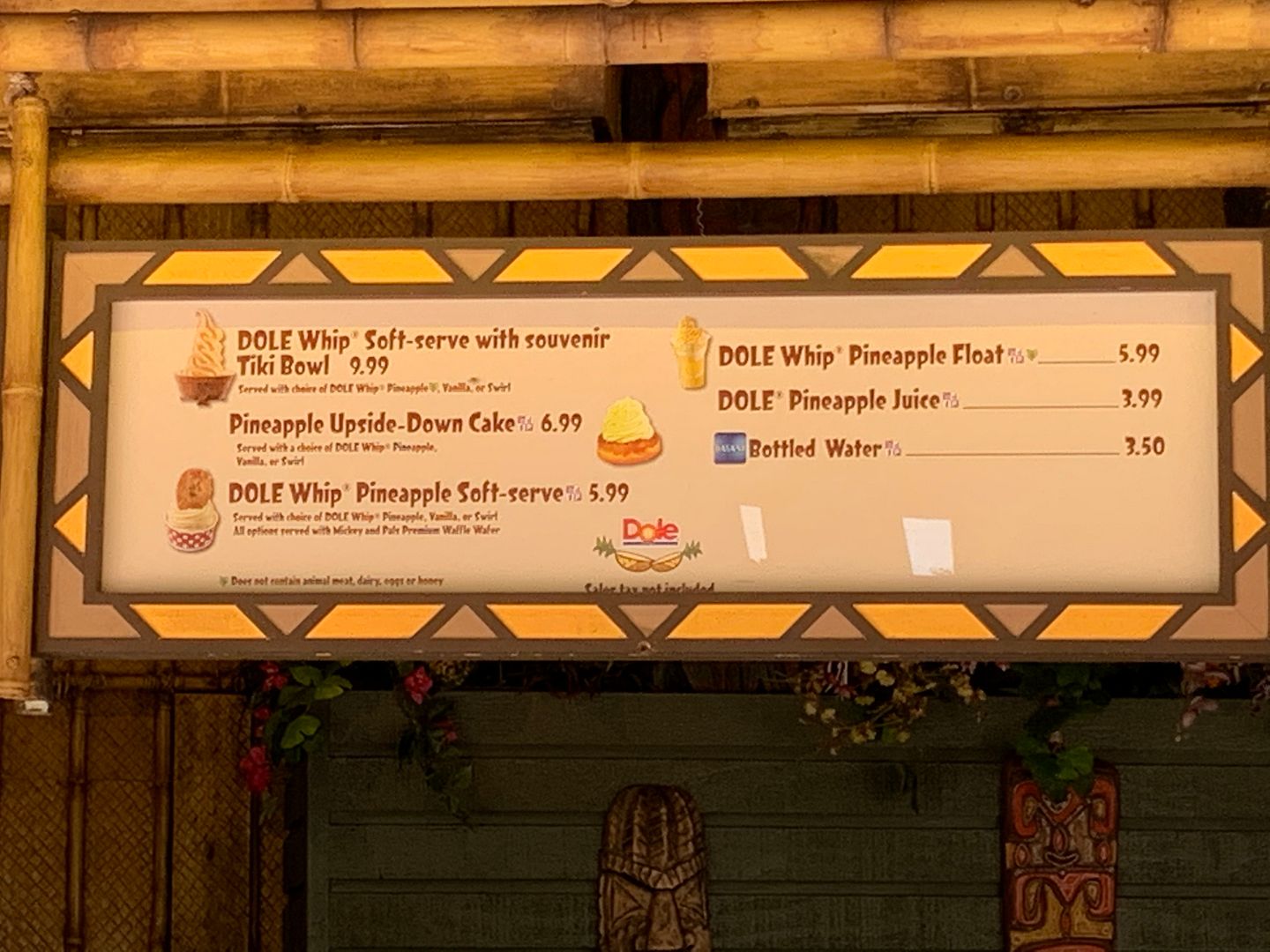 Everything on their menu was available for a Snack Credit except for the Dole Whip served in a souvenir Tiki Bowl.  We chose the Pineapple Upside-Down Cake…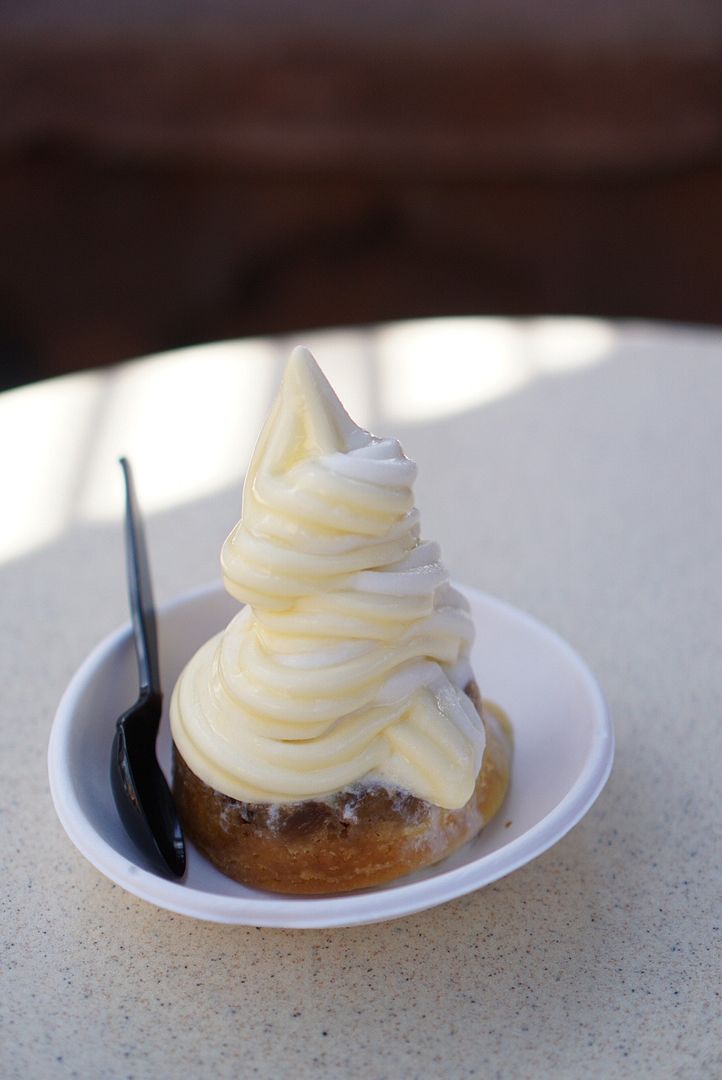 1 Snack Credit Used – $7.44 Value (including tax)
The cake is topped by a tower of Dole Whip soft-serve, with a choice of 3 flavors…pineapple, vanilla, or pineapple & vanilla swirl (which is what we chose).  This was delicious!!!  Two years ago I had my first Dole Whip swirl at the Pineapple Lanai.  I loved it so much that I had a second (maybe even a third) during my stay at the Polynesian Resort.  Then in 2018, again while staying at the Polynesian, I used a Snack Credit for a Dole Whip swirl float.  While I liked it, I didn't like it as much as the regular Dole Whip (minus the pineapple juice).  This version with the added bonus of the pineapple upside cake was a step up though.  However, my new favorite Dole Whip will not make an appearance until the final day of this trip.  Can you guess what it is?
Anyway, after our snack in Adventureland we headed back Liberty Square for our 2nd Fast Pass of the day at Haunted Mansion…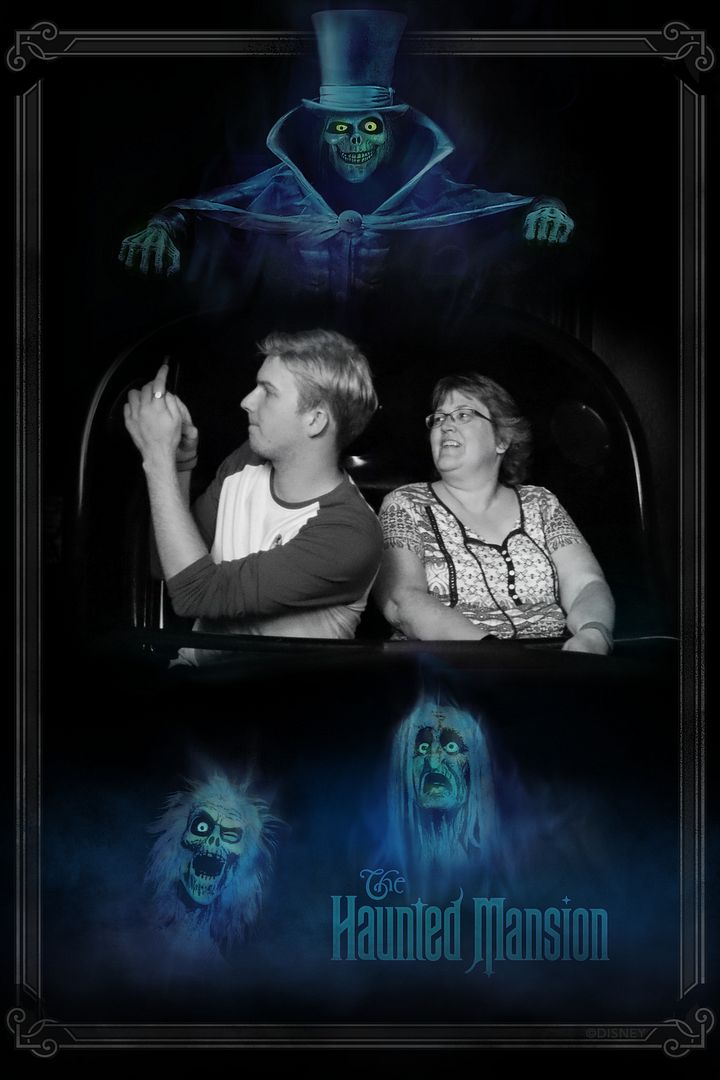 We didn't know that there was a ride photo taken here until this photo showed up on our MDE account, lol.
Our 3rd Fast Pass was for Seven Dwarfs, however it was scheduled for that evening.  So after Haunted Mansion we made our way out of the park, but stopped to take a few photos of the Halloween decorations inside the park…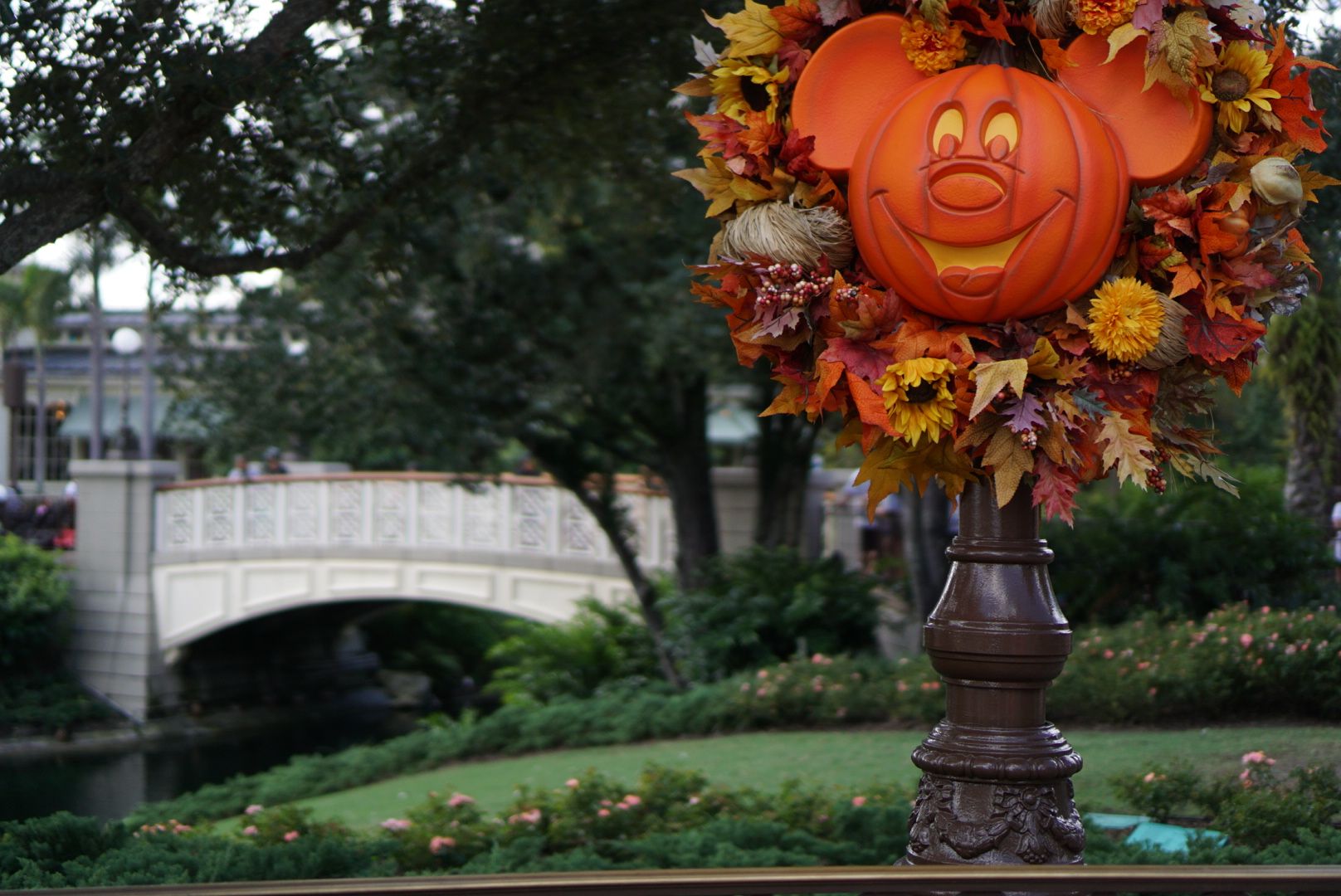 I love the Pumpkin Mickey decorations that are on all of the light poles…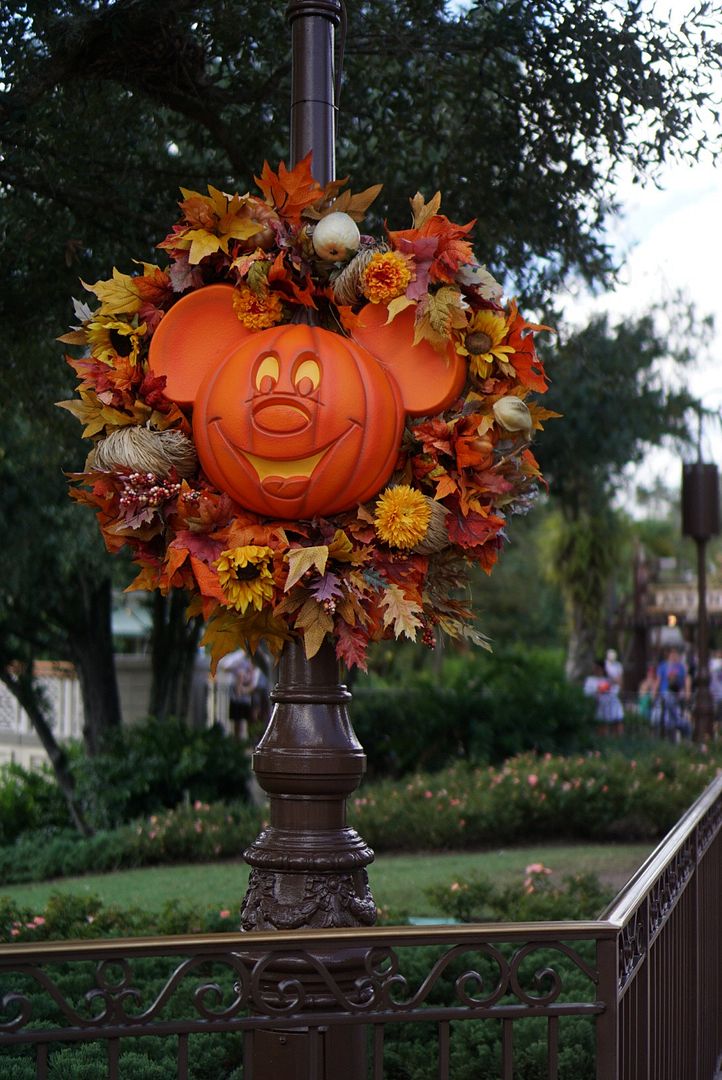 We also took a few outside of the park, at the entrance…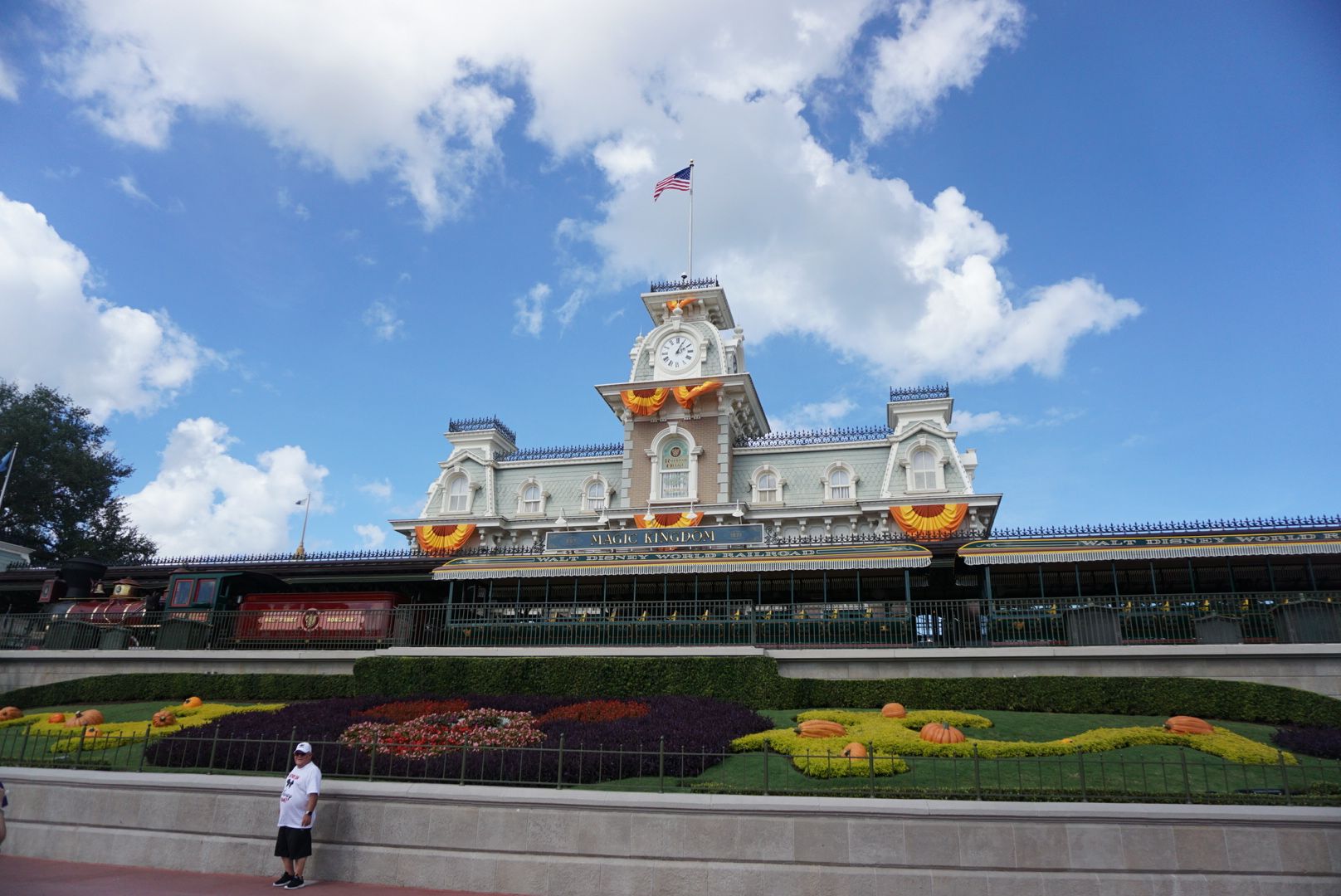 Notice the train is still parked in front of the Main Street station?  It has been shutdown since December 2018 while they build the TRON coaster ride in Tomorrowland.   It sounds like it will continue to be parked there through the rest of this year and maybe all of next year as well.
We were hot and tired from walking all over Magic Kingdom so decided to take the monorail back to our resort rather than walking.  The Contemporary is the first stop after Magic Kingdom.
The Contemporary's monorail station/platform is on the 5th floor of the main building.  From there you take an escalator (or elevator) down to the 4th floor.  On this floor there are stores, as well as the resort's character dining restaurant, Chef Mickey's, and their Quick Service restaurant…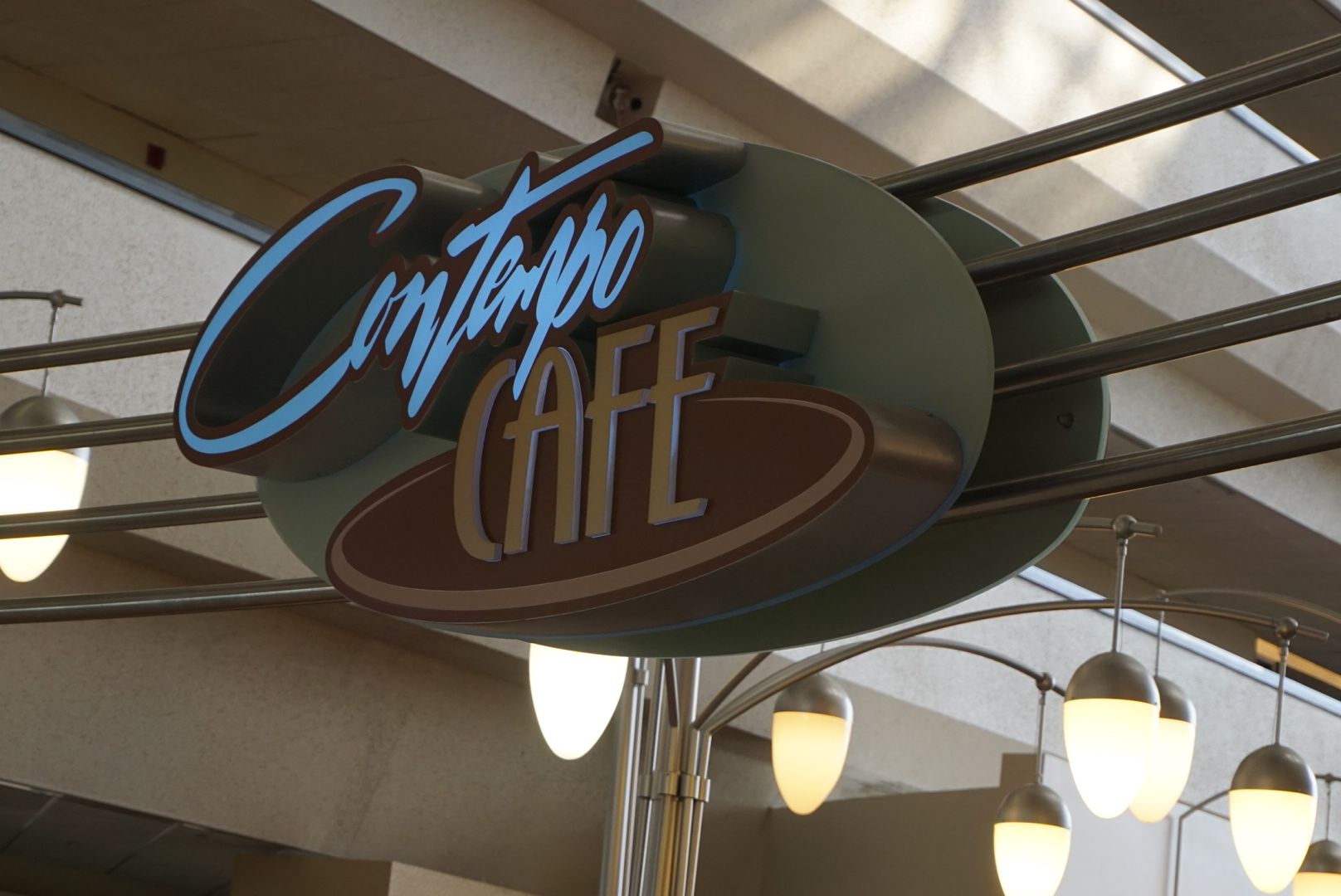 DINING PLAN: 2 Refillable Mugs = $42.58 Value
At about 5:00 we headed out to the Contemporary's dock and waited just a short time for a boat which took us to the Wilderness Lodge for our 5:45 dinner there…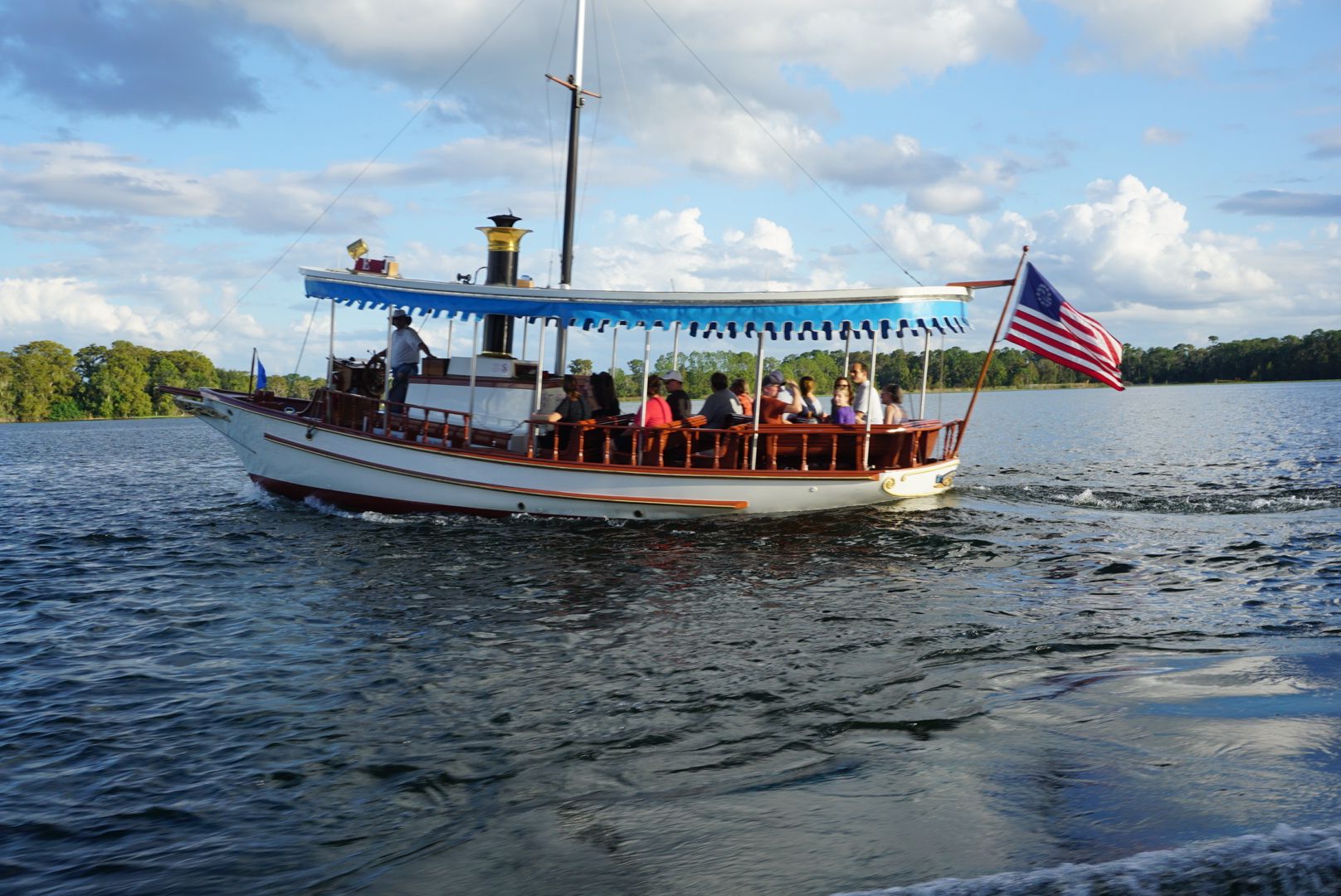 Our boat docked at the Wilderness Lodge at about 5:40…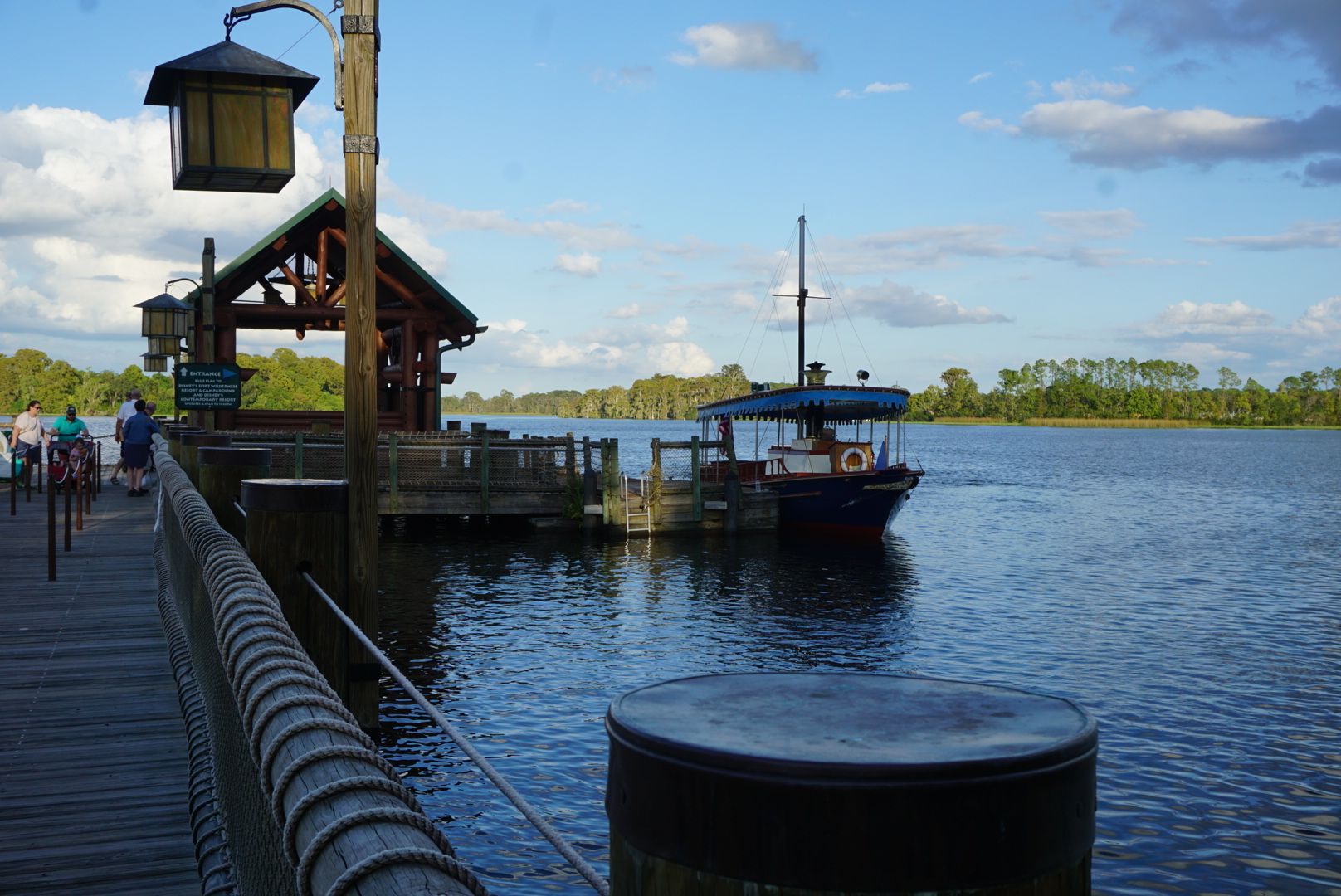 Which gave us just enough time to walk up the path to the lodge, stopping to take just a few photos…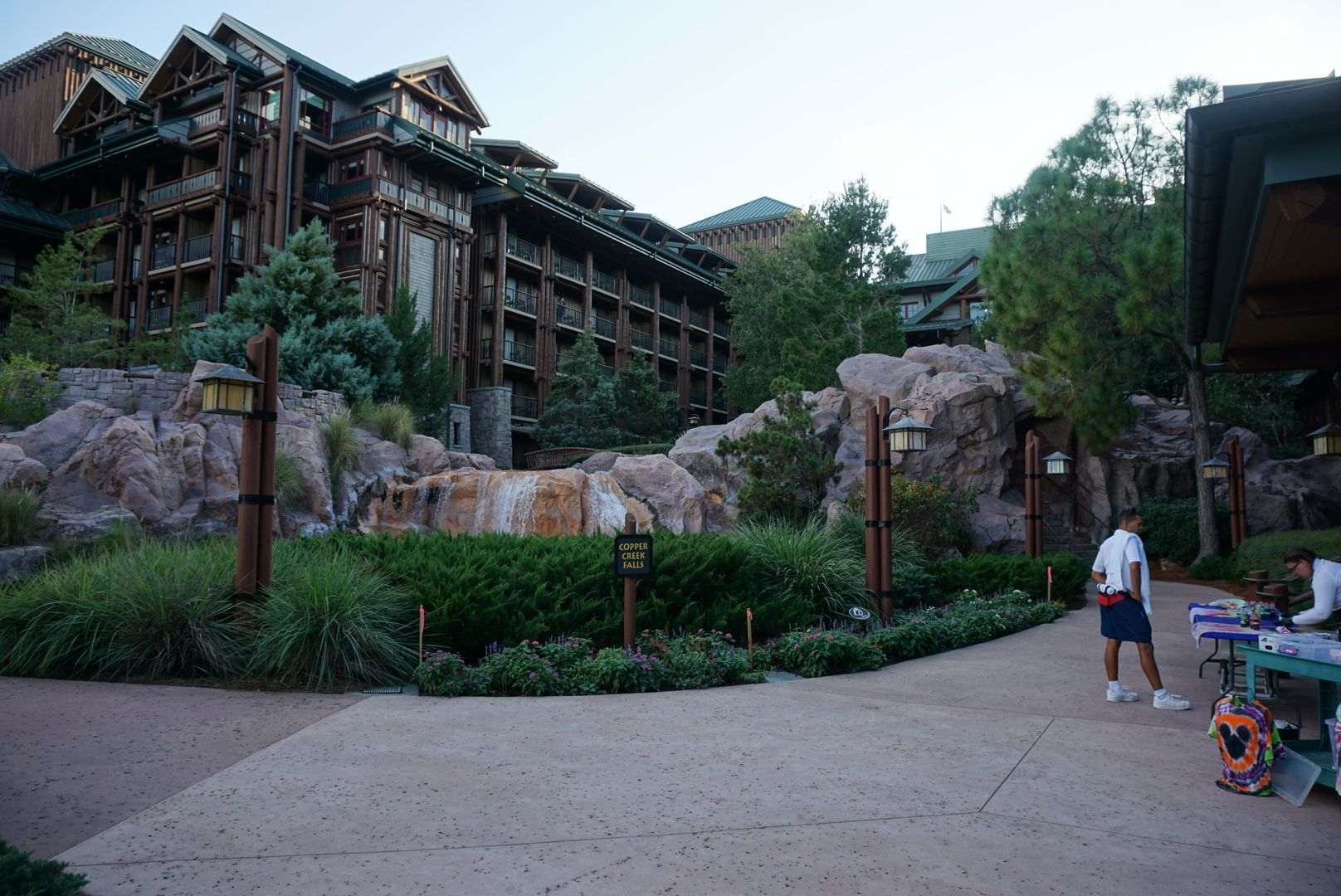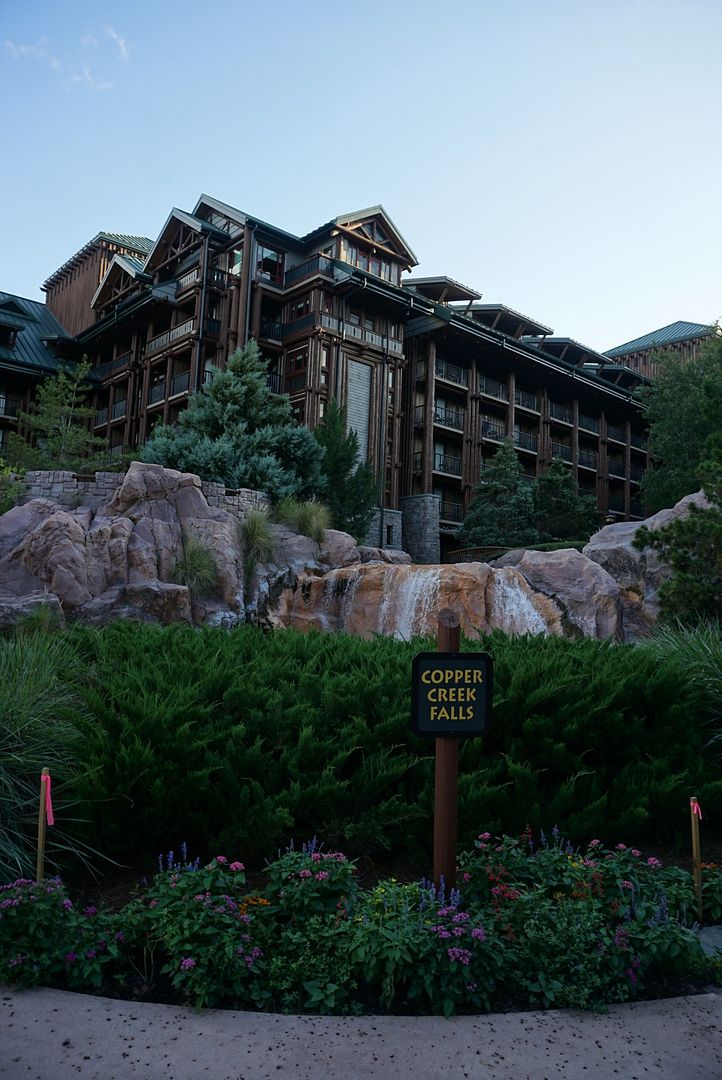 I must admit that I was feeling a few pangs of regret that we weren't staying at the Wilderness Lodge on this trip, as it is one of my favoriteDisney resorts.
But I at least had a dinner at the Lodge to look forward to and it was time to check in for that at…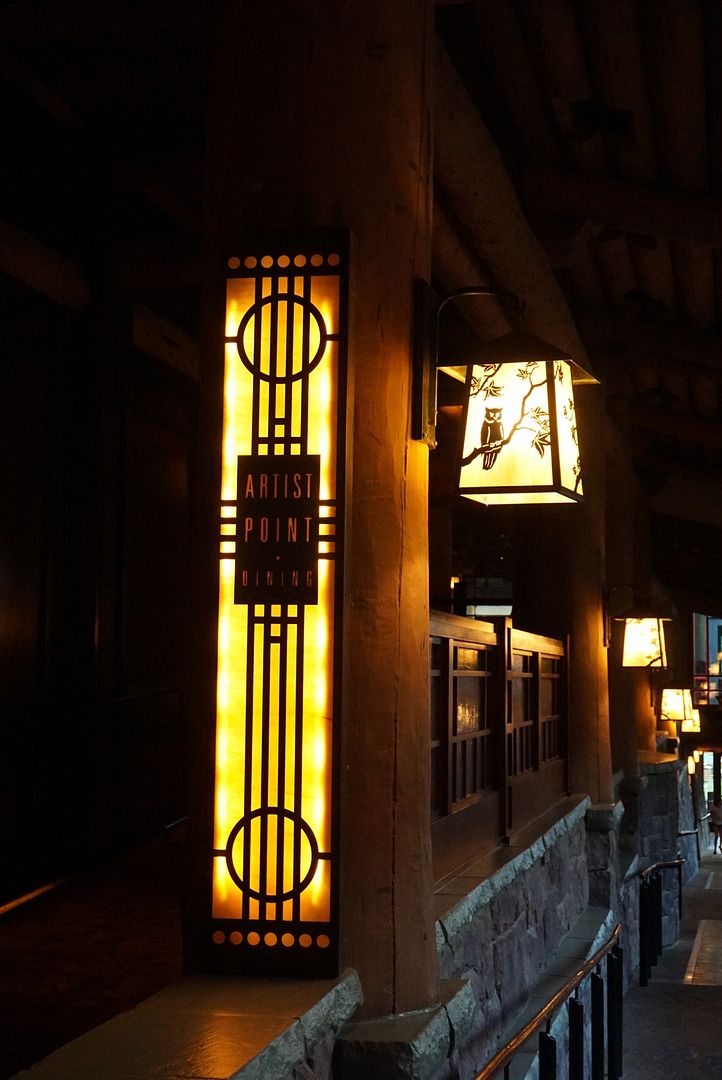 Our Story Book Dinner at Artist Point (on the Disney Dining Plan)
2 Table Service Dining Plan Credits Used – $154.43 Value (or $77.21 per credit)
We left the Wilderness Lodge (via boat) at about 7:30, and after a stop at our room at the Contemporary, we walked to Magic Kingdom.  We arrived at Magic Kingdom at about 8:30, which gave us just enough time to ride Seven Dwarfs Mine Train (with our 3rd and final Fast Pass of the day).  Then it was time to find a spot to watch the Happily Ever After Fireworks.  This was one of only a couple of nights that week when the fireworks were being held because most nights (during the week of Halloween) the Mickey's Not So Scary Halloween Party (a separate ticket event with its own fireworks show) took place at Magic Kingdom.  Therefore we knew the park would be quite busy that night and our thoughts were confirmed as soon as we entered Magic Kingdom and saw the crowd on Main Street…
But at just a few minutes before the fireworks were to begin we were able to find a decent spot not far from the castle…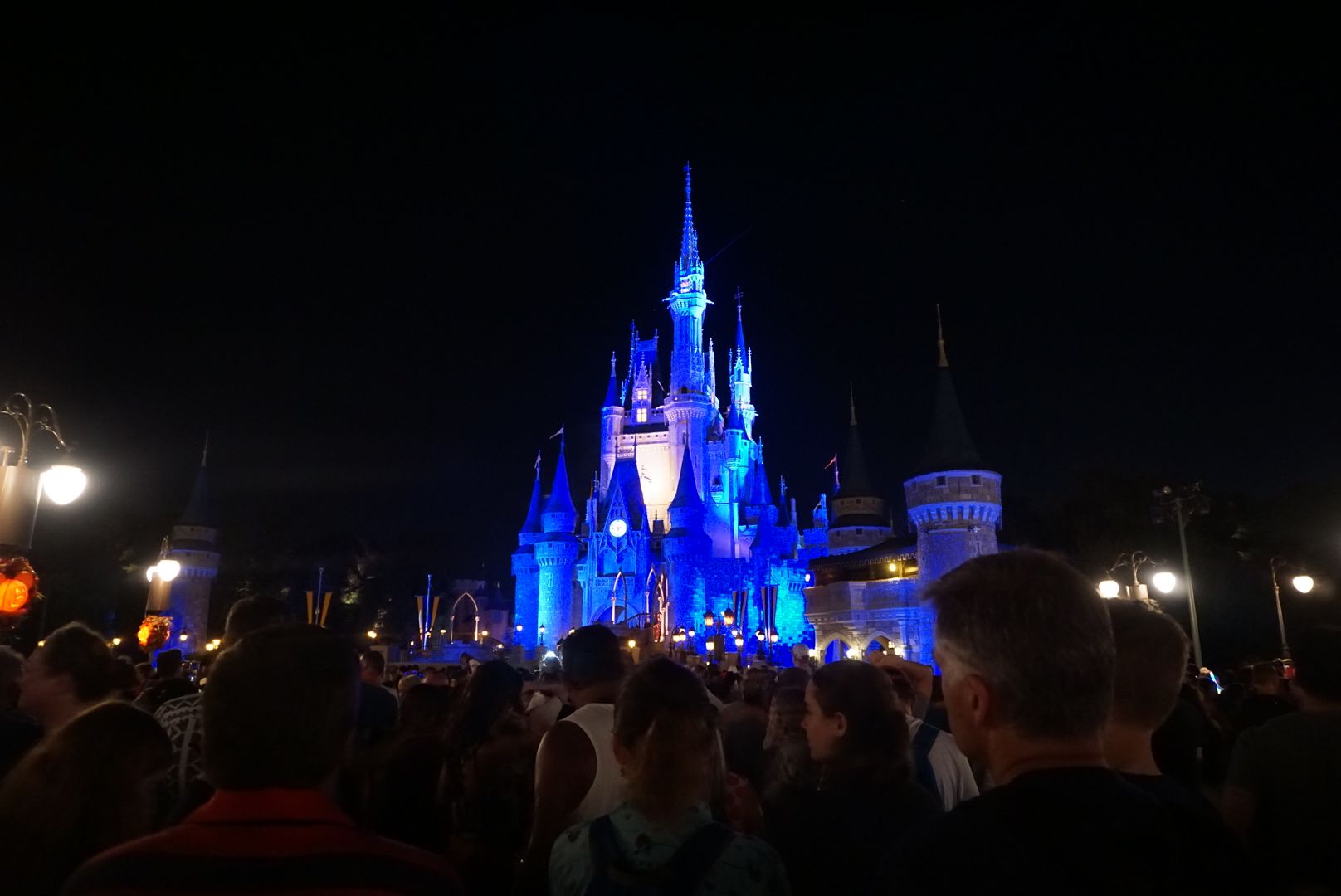 Here are a few of the many photos that we took of the show…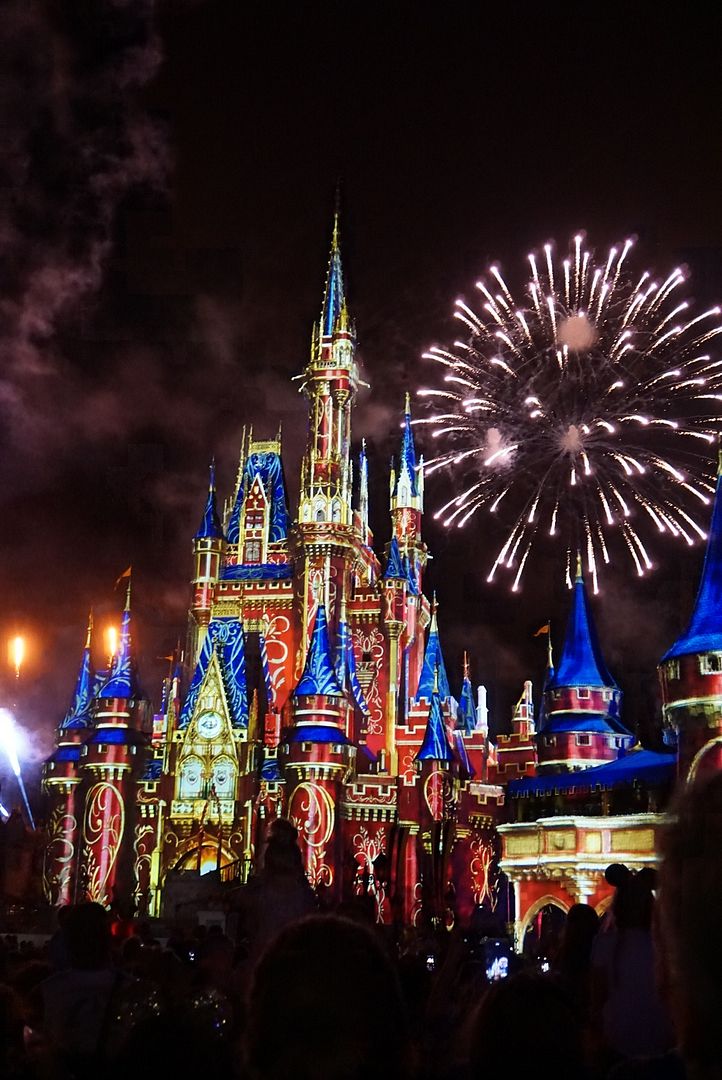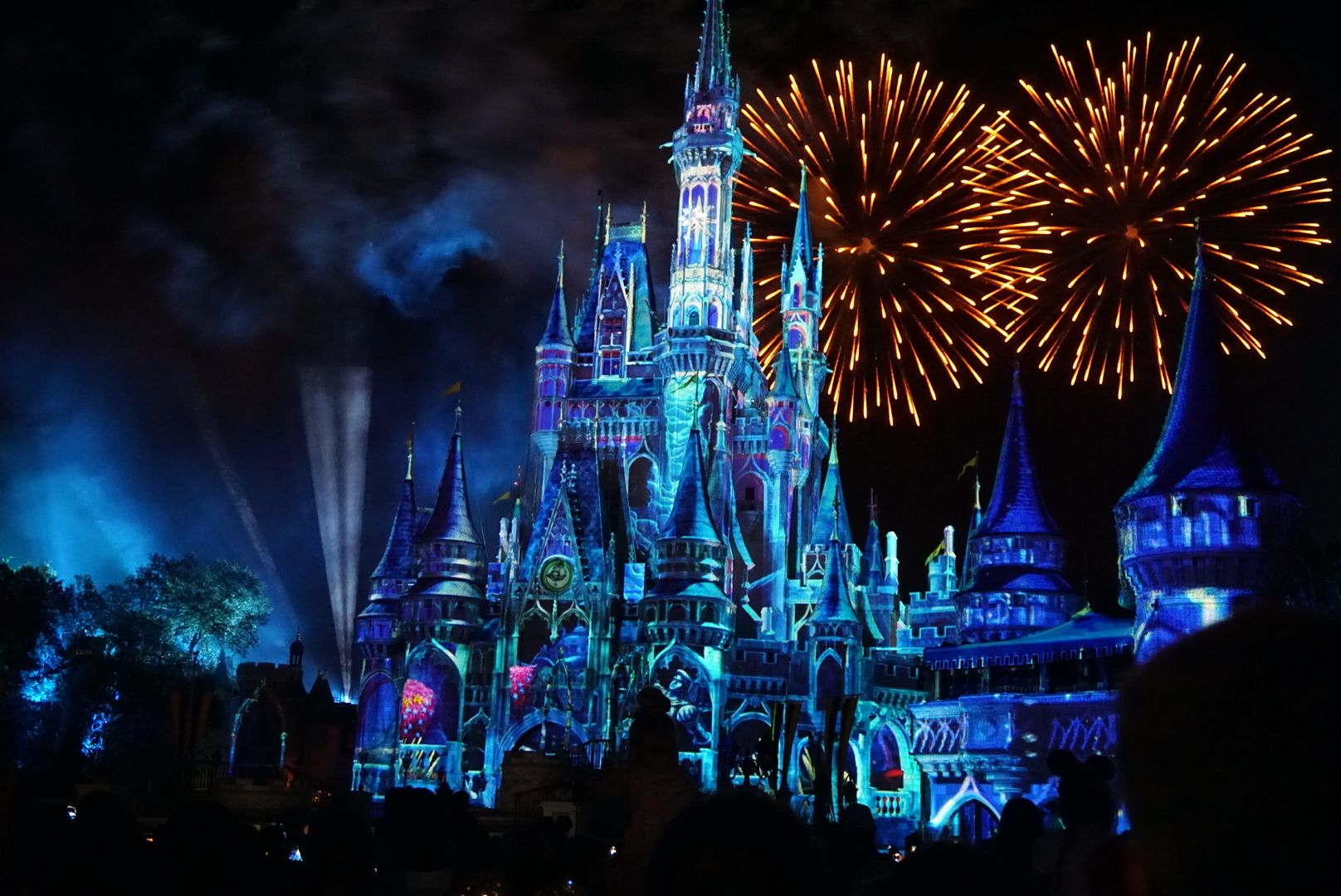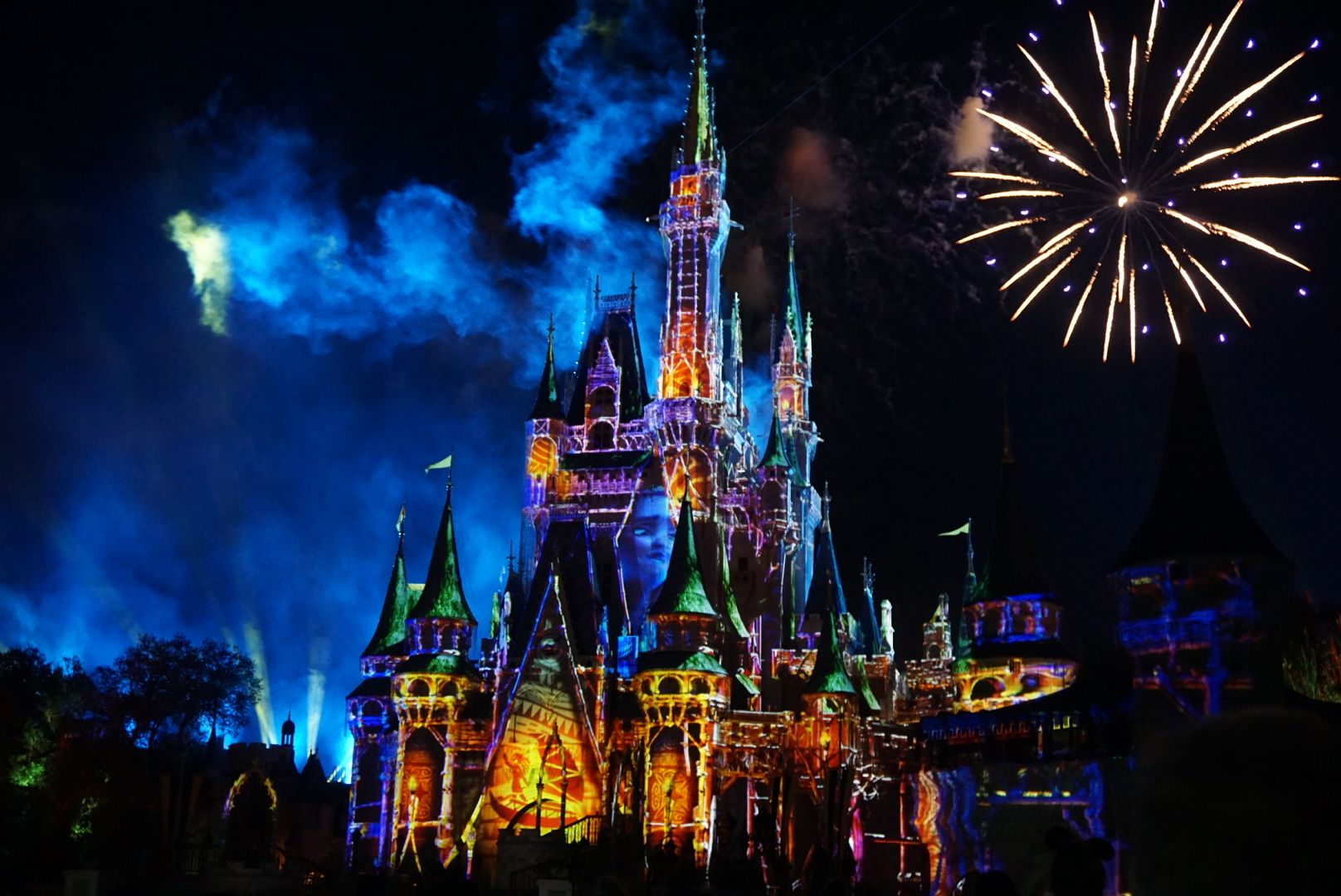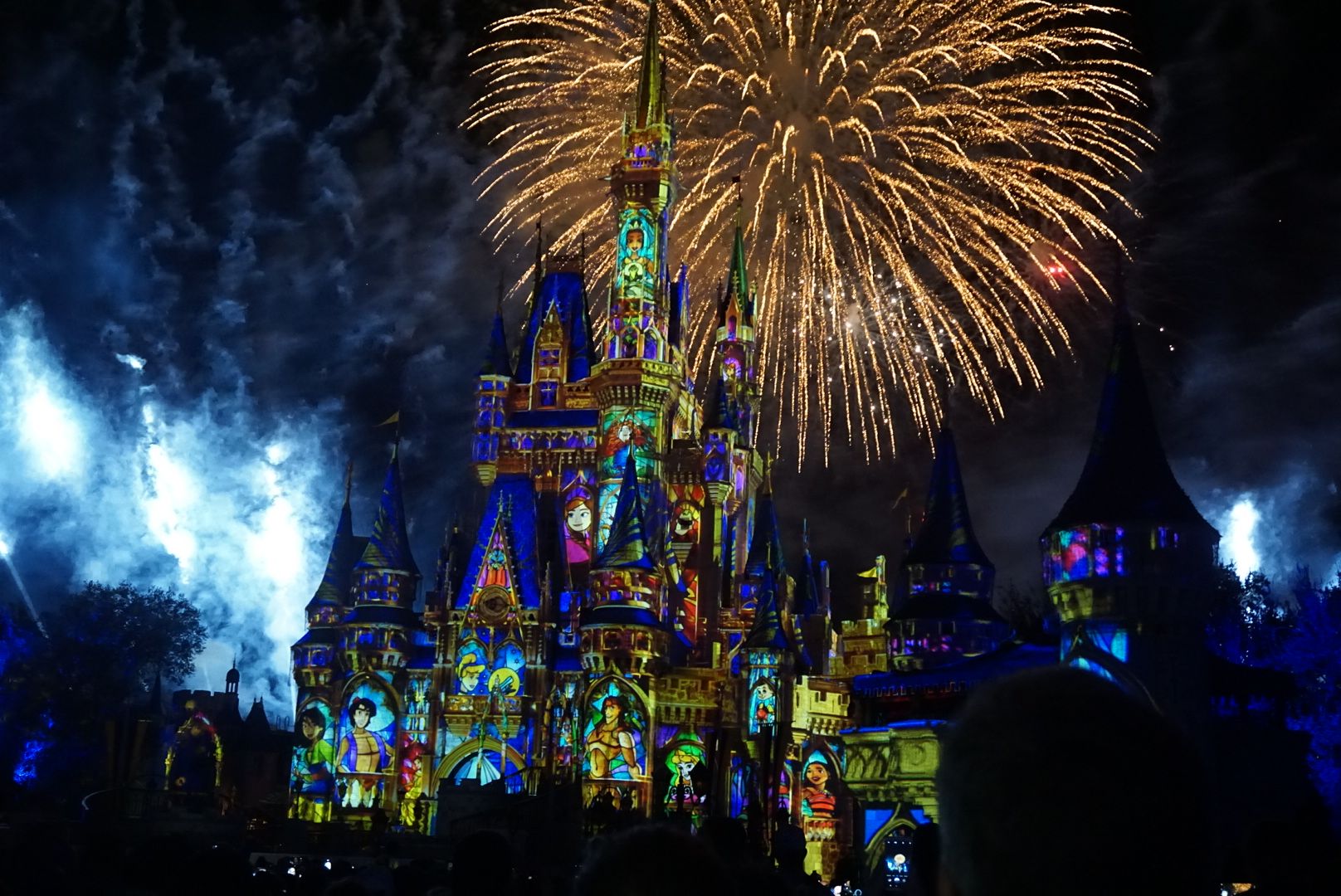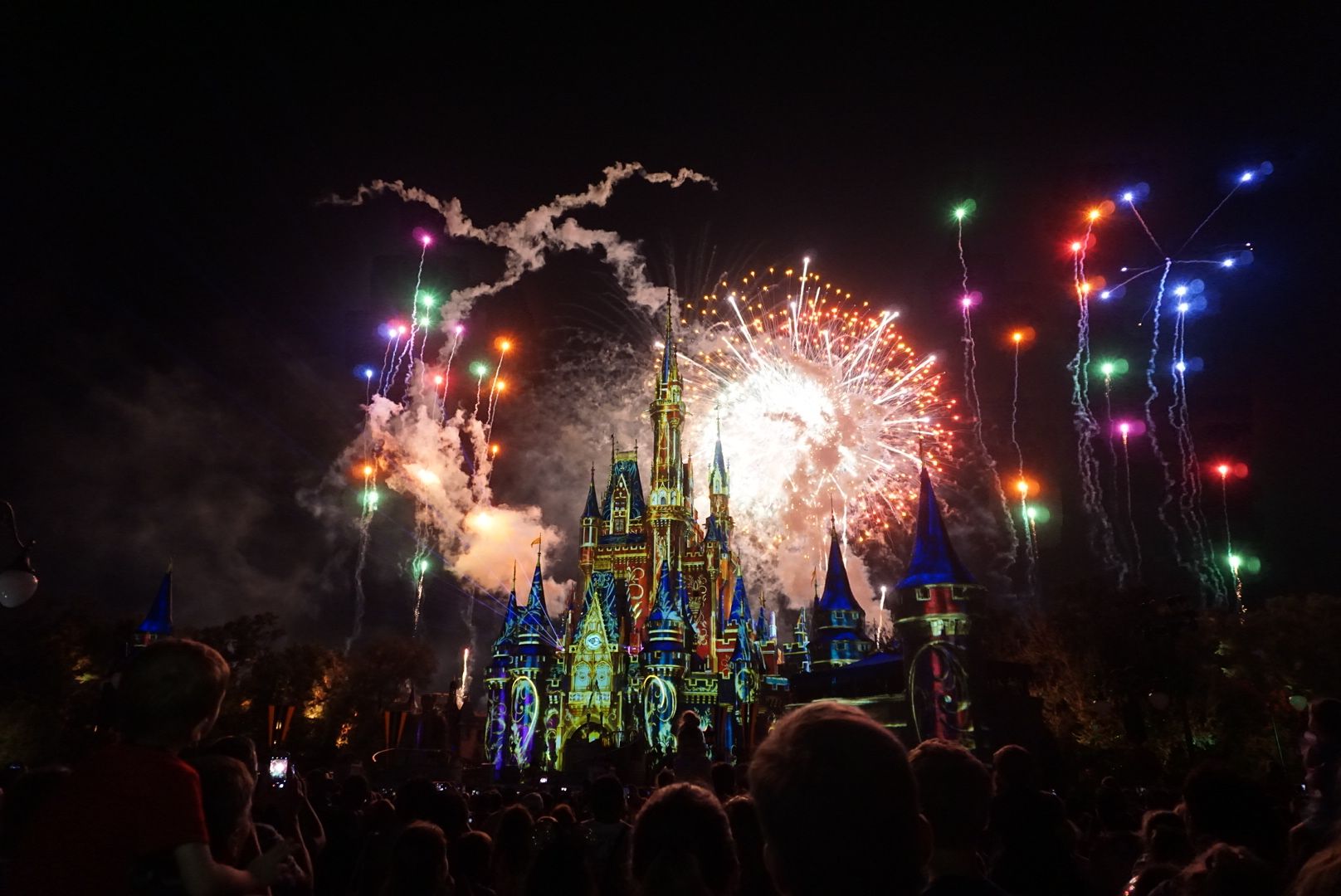 I have to admit that I love Happily Ever After, even more than I loved its predecessor WISHES.  I love the music and I love the projections.  The projections on the castle make this show necessary to be seen in the park (and near the hub) to get the full effect.  In my opinion this is the best night show at Disney World, so if you have time to see only one I would recommend this one.
We immediately left the park after the show.  Here is where I  think I made a huge mistake.  While Andrew walked back to the Contemporary, I was headed to the Grand Floridian to meet up with a friend so I first went to the boat dock.  The line for the (small) boat that travels between the Grand Floridian, Polynesian and the Magic Kingdom was incredibly long.  I then switched to Plan B and started up the ramp to catch the Resort Monorail there at Magic Kingdom and found myself among a big crowd of people waiting to board.  I believe I finally made it on to the 3rd monorail (standing room only) leaving Magic Kingdom and after 3 stops (Contemporary, Ticket & Transportation Center, and the Polynesian) I reached the Grand Floridan at about 10:30…more than 1 hour after exiting the park.   In retrospect, I think I should have walked back to the Contemporary with Andrew (which took him only about 10 minutes) and then boarded the Resort Monorail there.  I probably would have made it to the Grand Floridian in half the time that it took me.  But you know what they say, "Hindsight is 20/20".
Now on to the…
My First Visit to the newly opened Enchanted Rose Lounge
The monorail was already closed down for the night so I was forced to find another mode of transportation to get back to my resort, the Contemporary.  Linda was able to take a LYFT back to her resort, the Beach Club, but I didn't have the app downloaded (thinking I could rely on my son's or daughter's if we ever needed to take a LYFT during our trip).  So instead I just went the "old school" way and took a cab, which cost $10 (including tip) to go the short distance between the Grand Floridian and the Contemporary.  Not too bad.
DAY 2 TOTALS
2 Quick Service Dining Plan Credits Used – $85.20 Value (or $42.60 per credit)
1 Snack Credit Used – $7.44 Value (including tax)
2 Refillable Mugs = $42.58 Value
2 Table Service Dining Plan Credits Used – $154.43 Value (or $77.21 per credit)
TOTAL VALUE RECEIVED ON DINING PLAN THRU DAY 2 – $289.65
COST OF 5 NIGHTS OF REGULAR DISNEY DINING PLAN FOR 2 PEOPLE – $754.90
8 QS & 8 TS CREDITS REMAINING PLUS 19 SNACK CREDITS!!
STEP TOTAL FOR THE DAY (per my FitBit): 22,156 (or 9.52 miles)!!
DAY 3 – THURSDAY, OCTOBER 31 (Epcot)
H

A

P

P

Y

H

A

L

L

O

W

E

E

N!

!

!
Our plan today was Epcot and because Epcot was the only park not participating in Extra, Extra Magic Hours it did not open until 9:00 that morning.  Consequently we got to sleep in until about 7:30, which doesn't really seem like sleeping in but on this trip it was.
The news from home was the weather or more specifically SNOW!!!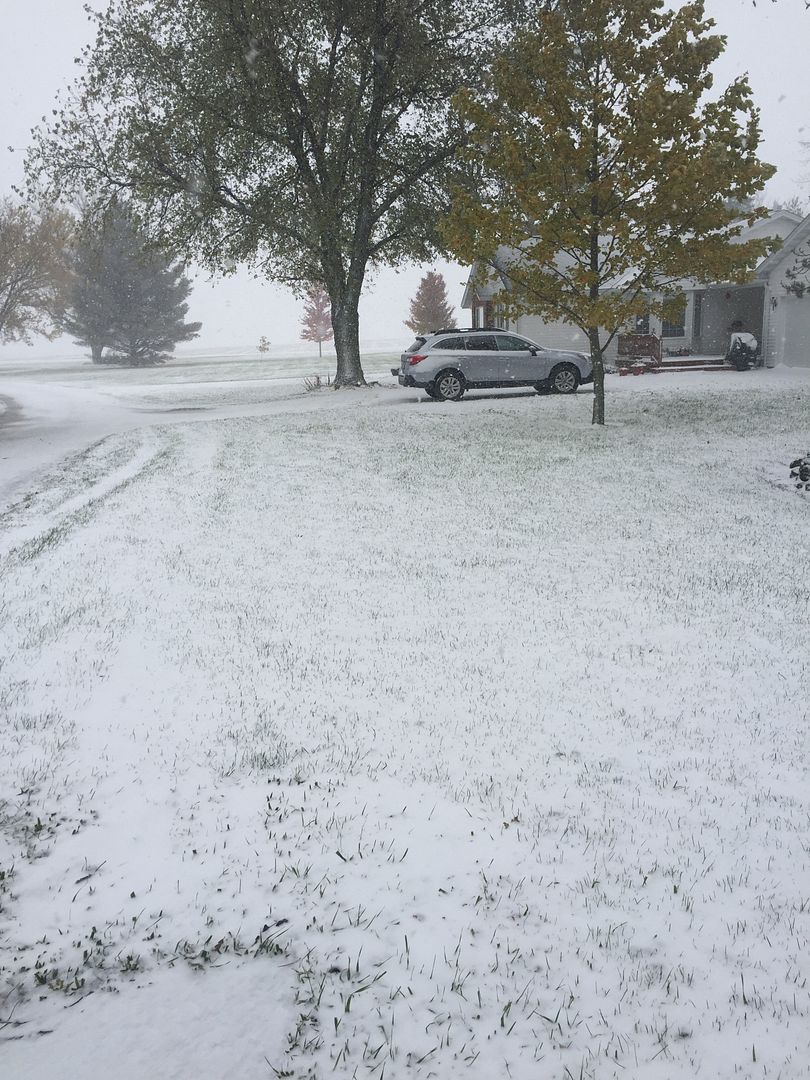 They ended up getting about 3 inches that day, which set a record for the snowiest Halloween record.  They also set a record for the coldest Halloween on record.
Meanwhile at Disney World, we were in for another hot day…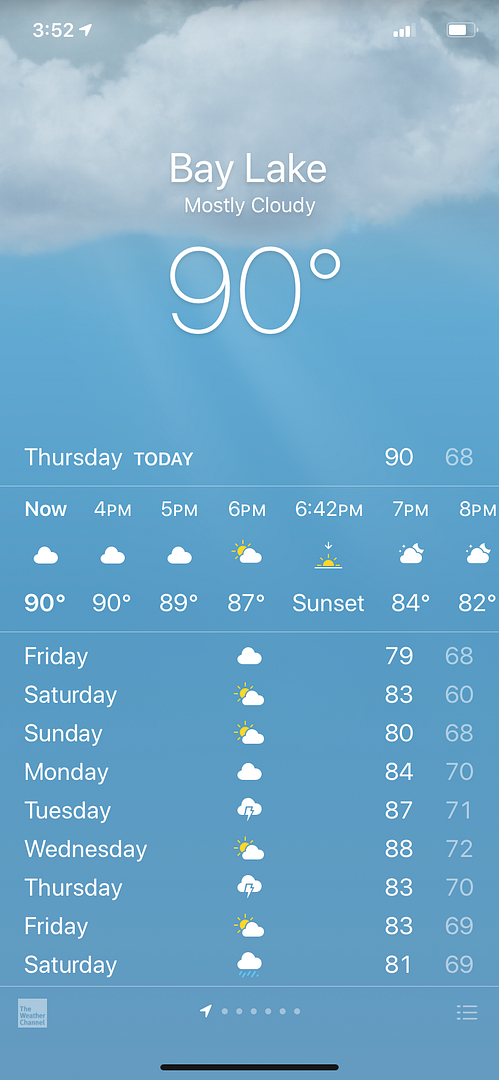 Normally I would have complained about the heat but knowing the alternative weather they were experiencing at home I considered myself lucky to sweating my butt off here.
Anyway, our in-room breakfast this morning were the leftover pastries from our breakfast (the day before) at Be our Guest.  Then before leaving the Contemporary to spend the entire day at Epcot, we made a stop in the lobby to take some photos of the Pumpkin Masterpieces created by the Cast Members of the Contemporary Resort…
Halloween at the Contemporary Resort
Backing up just a bit to admit the "brain fart" I had this morning regarding our transportation to the Epcot.  As we were walking towards the Contemporary's bus stop I checked the MDE app on my phone to see the ETA for the next Epcot bus.  That is when I realized/remembered that there are no buses which go to Epcot from the Contemporary (or the other monorail resorts, the Polynesian and Grand Floridian).  So instead of continuing on to the bus stop we went inside the main building (stopping to take photos of the pumpkins in the lobby) and up the 3 escalators to the 5th floor monorail platform, as the monorail is the only form of complimentary transportation which Disney provides to Epcot from the Contemporary.  After boarding the Resort Monorail for a short ride to the next stop (Ticket & Transportation Center), we got off that monorail, walked down the ramp and up the ramp for the Epcot monorail.  After a short wait a monorail arrived and about 15 minutes later we were at Epcot.  I was pleasantly surprised that we were able to by-pass the security lines at the park, as we had already gone through the security check at the Contemporary before boarding the first monorail.  But here is when we experienced our second snafu of the day.  As we were about to enter the park my son realized he had forgotten to put on his Magic Band.  However, after a visit to Guest Services (who were very quick and efficient) he had a plastic KTTW card which could be used as his park ticket and for his reserved Fast Passes.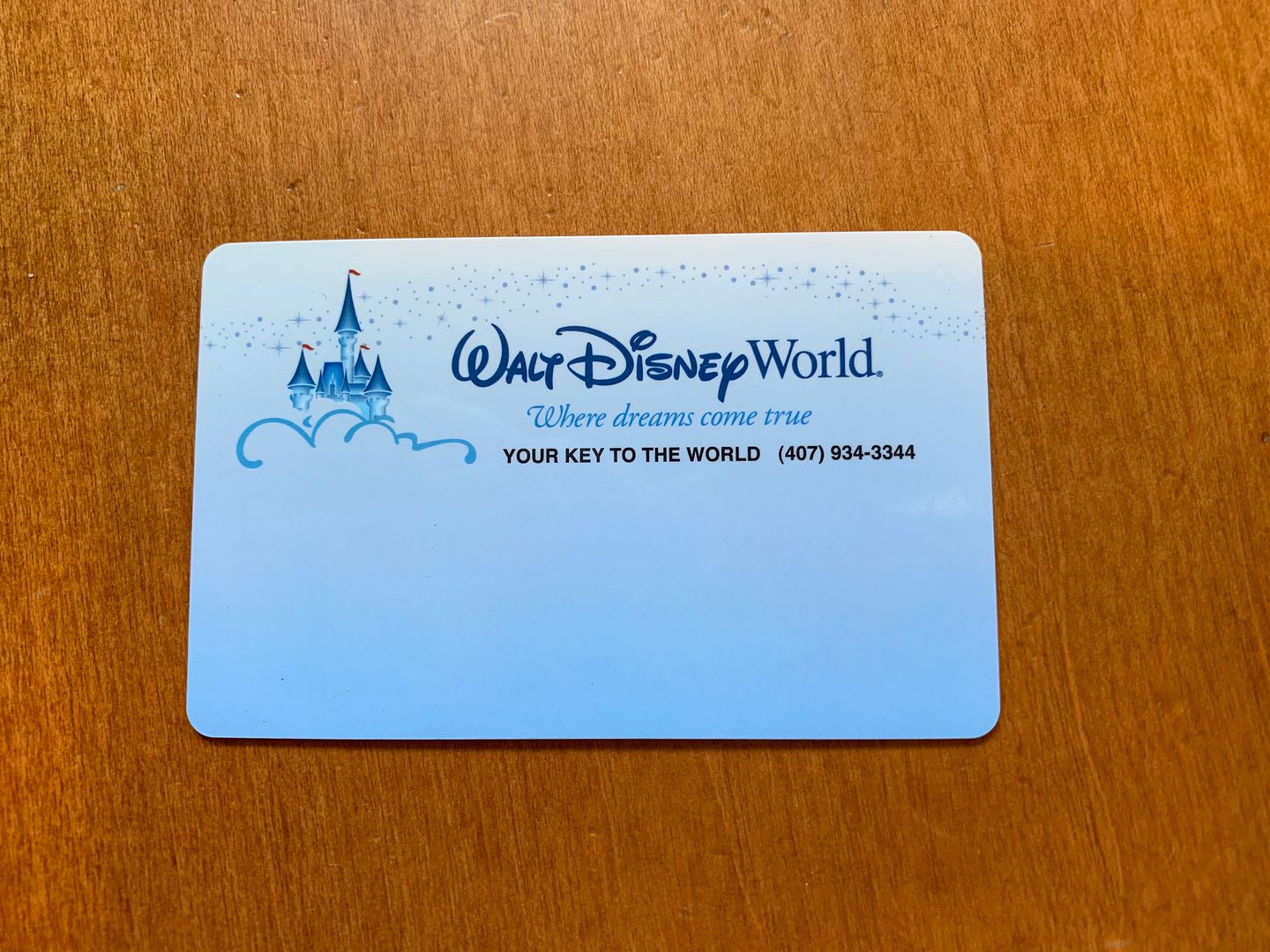 Once inside the park we fast walked to the Land pavilion and reached Soarin' 10 minutes after our fast passes had expired.  We were prepared to grovel however they allowed us to enter the Fast Pass line, no questions asked.  I knew from experience that your FP window actually starts 5 minutes before your reserved time begins (so you can enter up to 5 minutes early) and had heard that it extends 15 minutes after the expiration time but had never before tested that theory.  Now I can confirm that that is likely true.  After Soarin' (my favorite Epcot ride and second favorite at Disney World) we were able to immediately use our second fast pass to ride Spaceship Earth.  Here is when I learned something new.  I had thought that after using our last scheduled fast pass of that day we could reserve another 1st Tier Fast Pass (we were hoping for a Test Track Fast Pass).  However we were only allowed to schedule a 3rd (non-Tier 1) Fast Pass on the MDE app.  So we reserved the first Fast Pass that was available (which was immediately) for the Disney & Pixar Short Film Festival.  Though I wouldn't normally waste a FP on this (as it is held in a large theater so doesn't require a Fast Pass to get a seat), it fulfilled the 3 Fast Pass requirement before being able to get a 4th Fast Pass of your choice (including one for another Tier 1 attraction, if available).  So as soon as we scanned our Magic Band/ticket at the entrance to the theater we were able to reserve Fast Passes for Test Track, with only a little more than an hour to kill in between the 18 minute show and the start of our Fast Pass time.  SCORE!!!
The added bonus was that we were planning to see the Short Film Festival anyway.  One of the three films shown was Feast, which I had seen there on my last trip in October 2018 and loved.  I again loved it the second time around and saw and loved it a third time with my daughter later in this trip.   I highly recommend seeing Feast, especially if you like cute dogs…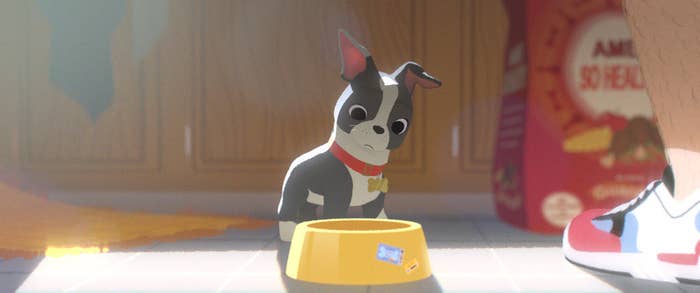 We then headed back to the Land pavilion to have lunch at…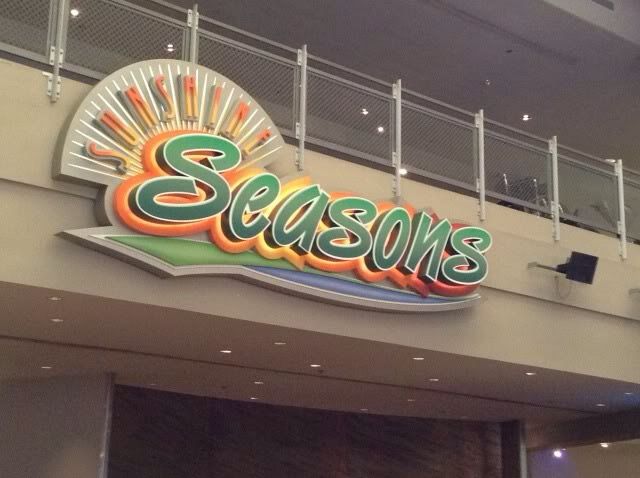 Sunshine Seasons Lunch on the Disney Dining Plan
1 Quick Service Dining Plan Credit Used – $26.88 (including tax)
After lunch we headed over to Test Track to use our Fast Pass and then on to the Epcot Experience in the nearby Odyssey pavilion.  We were then ready for some more food…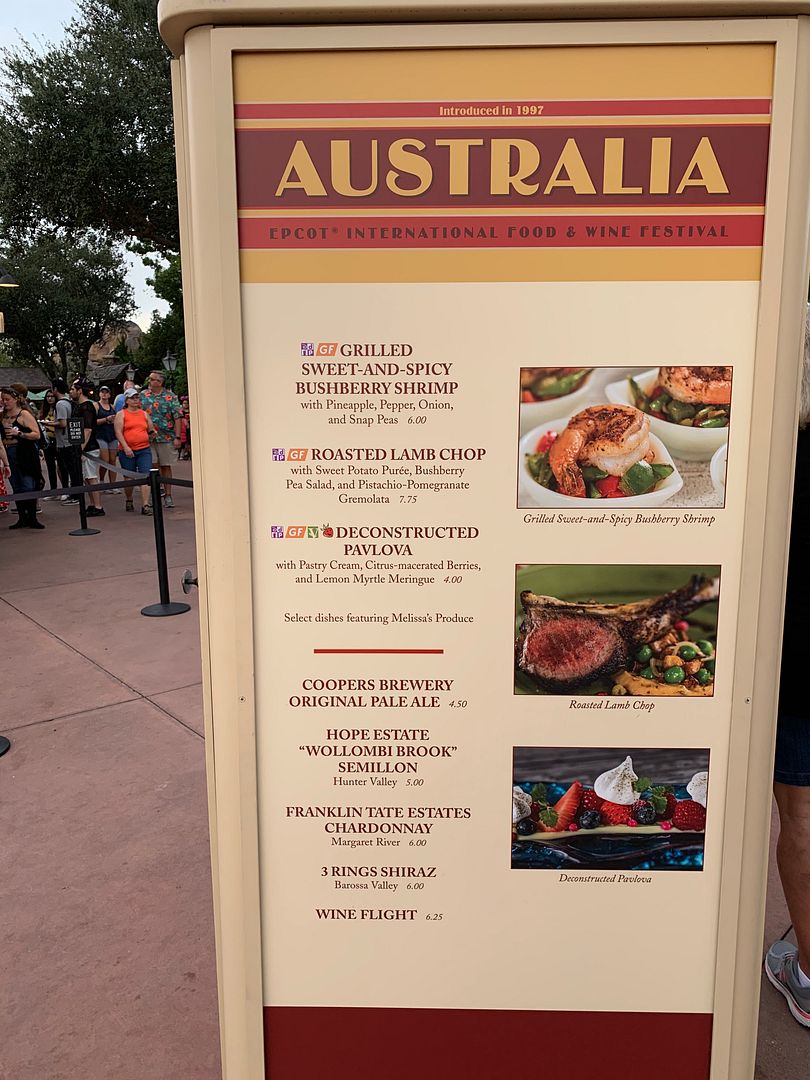 Epcot Food & Wine Festival Booths – Round 1
5 Snack Credits Used – $38.00 (Average value of $7.60/credit)
We then headed inside the American pavilion to catch a Voices of Liberty performance followed by the American Adventure movie.
Andrew was then ready for another snack and we didn't have to go far to find a really tasty one…
From this Funnel Cakes kiosk in the American pavilion area, we were able to get this for a snack credit…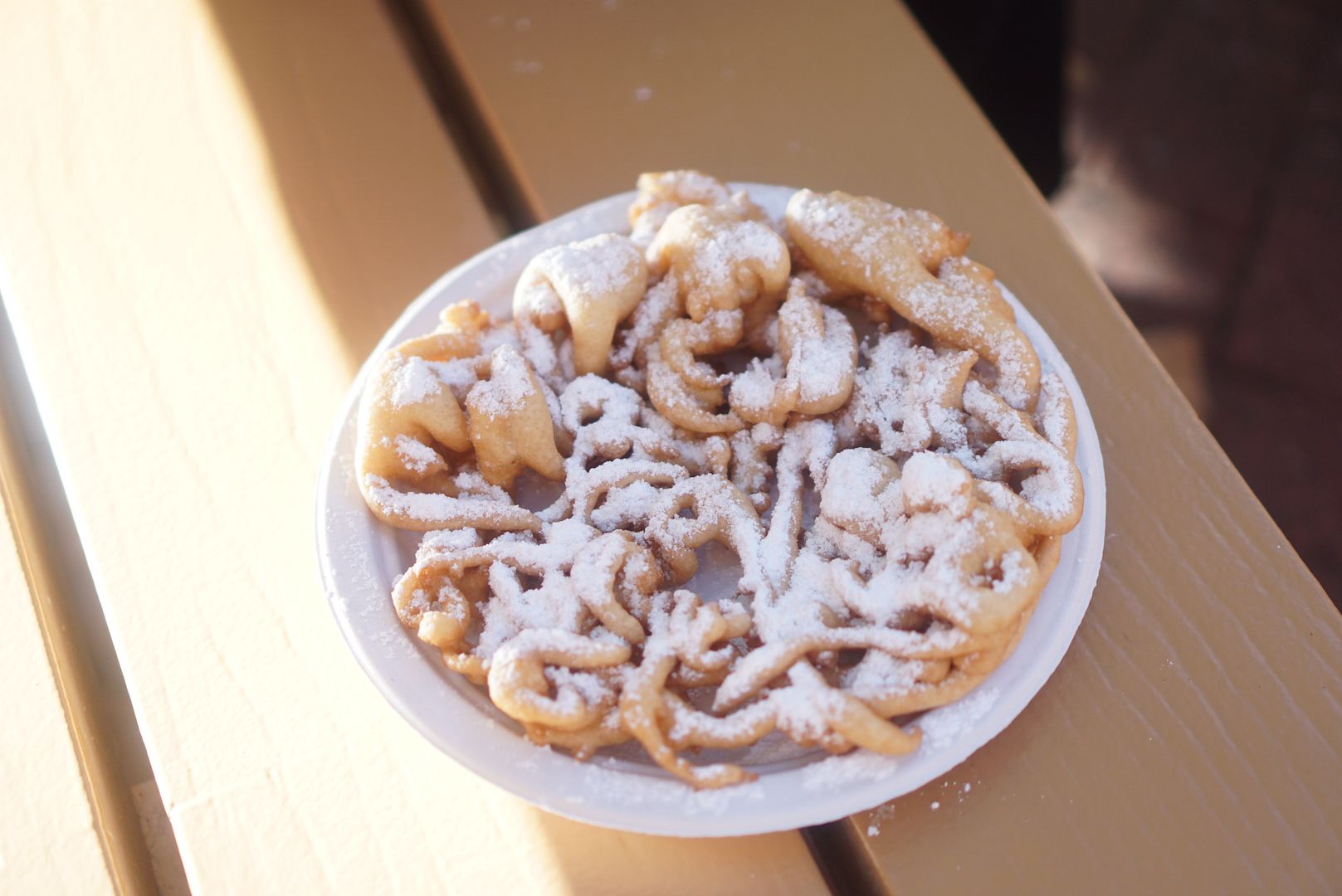 Funnel Cake topped with Powdered Sugar – $7.00 
It had been a few years since I'd had a funnel cake, so this was especially delicious…and the perfect size for sharing.  It was a great use of a snack credit!
1 Snack Credit Used – $7.00 
We found seats at the American Gardens Theater and shared the funnel cake while we were waiting for the 5:30 Eat to the Beat Concert to begin.  Tonight's performer was two-time Grammy Award winner Sheena Easton…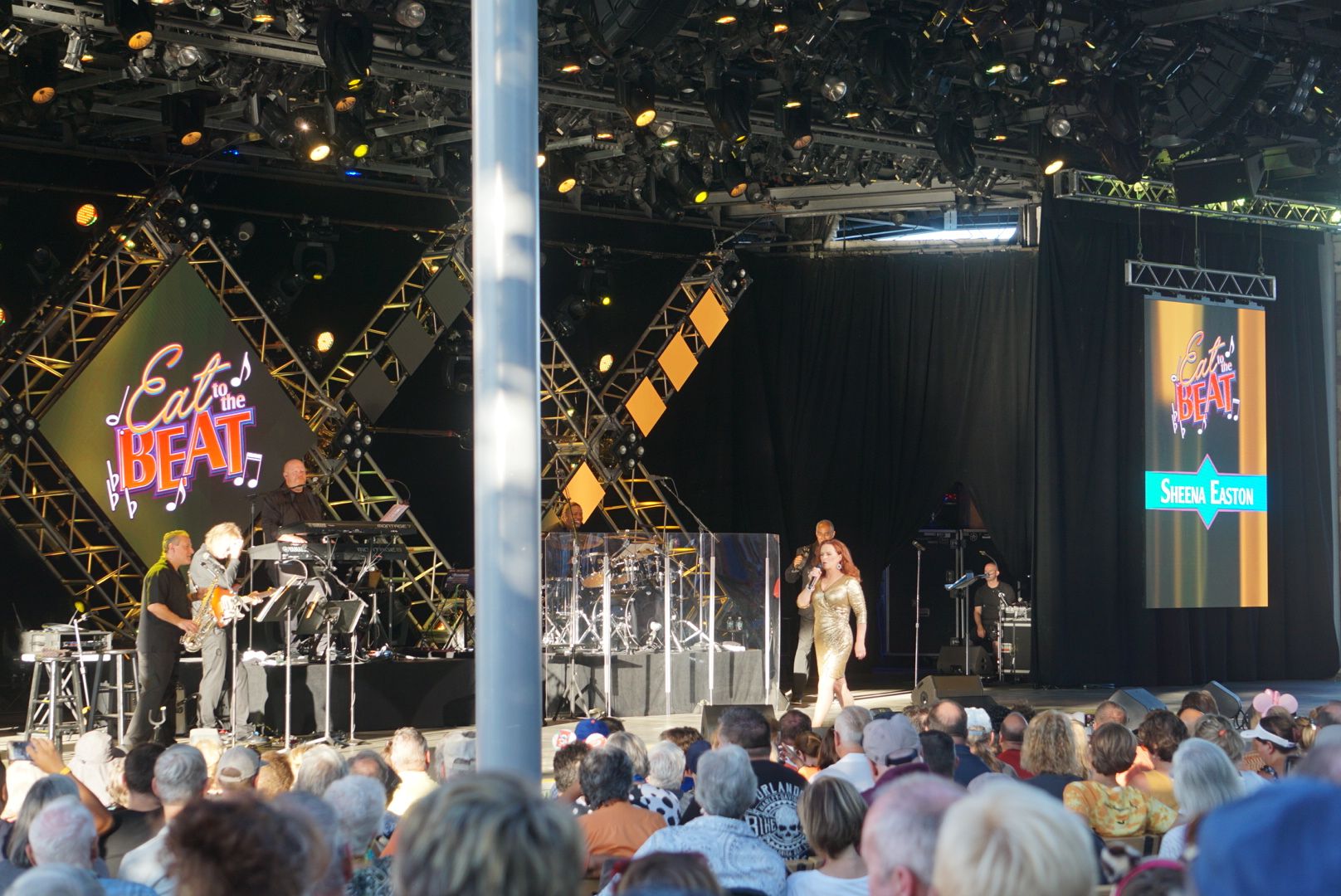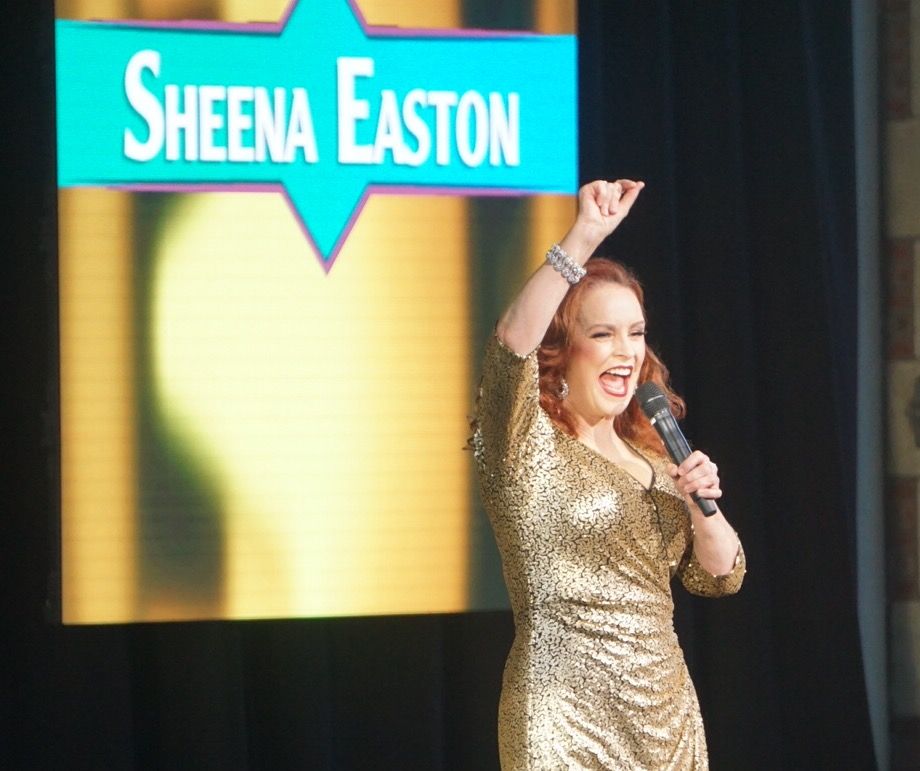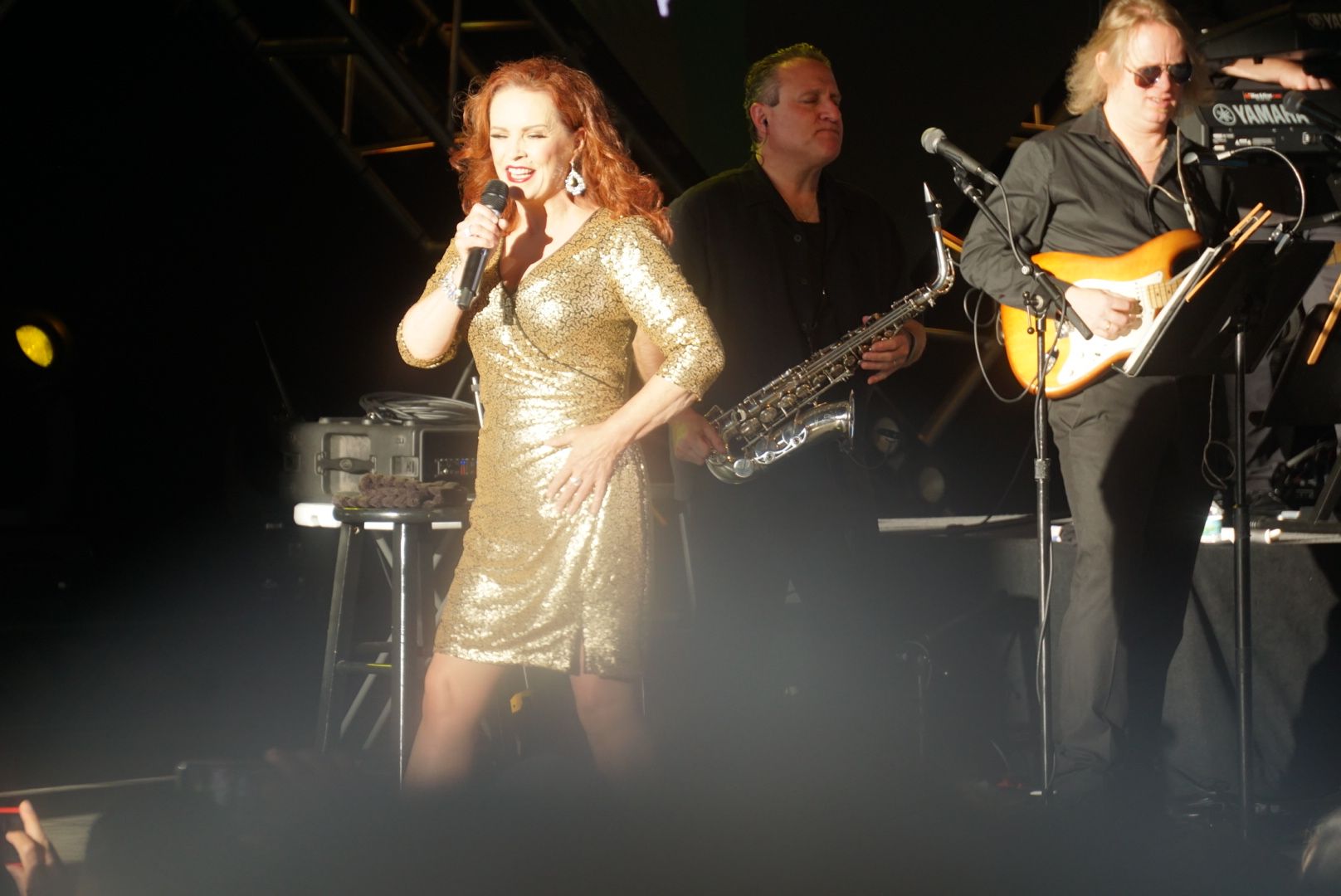 Sheena Easton was good with some of her hit songs but then others, like "Call Me on the Telephone", were not good.  But anyway, I always enjoy seeing the Eat to the Beat concerts.  I wish I could have seen more than the two that I saw on my two week trip.
After the show we headed to Japan and spent a lot of time browsing in the Mitsukoshi store there.  Then we found a place to sit and relax in the Japanese gardens (we were even able to hear Sheena Easton's 6:45 concert from there) until it was time to check in for our 7:20 dinner reservation. We climbed the stairs to the upper level of the Mitsukoshi building, where the restaurants are located.  I paused at the top before going inside to take a picture of the lovely view…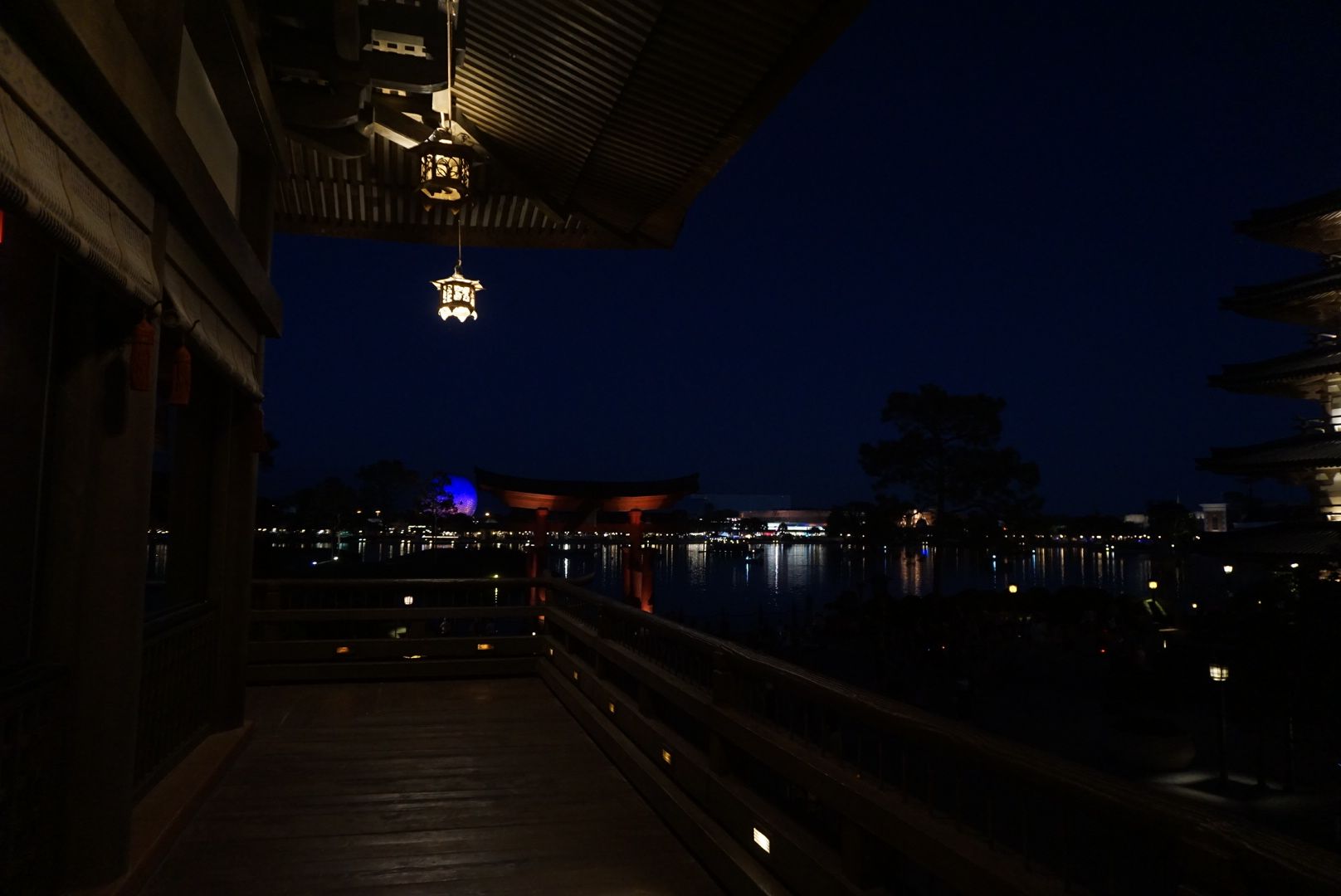 I told Andrew that we should come out here after our dinner to watch the Epcot Forever show at 9:00.  Then we continued inside for our…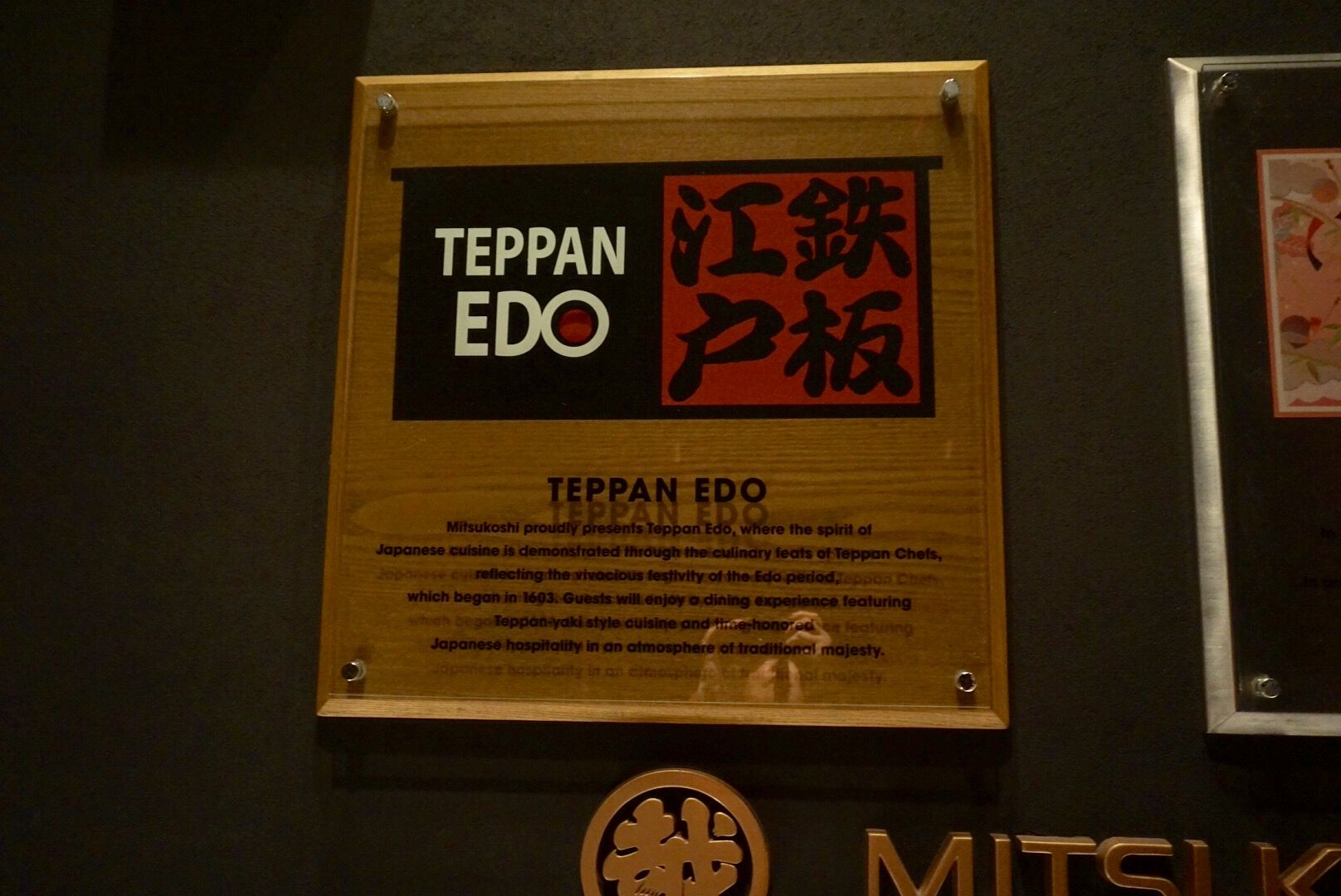 Dinner on the Dining Plan at Teppan Edo
2 Table Service Dining Plan Credits Used – $115.50 (or $57.75 per credit)
With dinner taking nearly two hours we didn't leave the restaurant until 9:10, so we only got to see the last few minutes of Epcot Forever…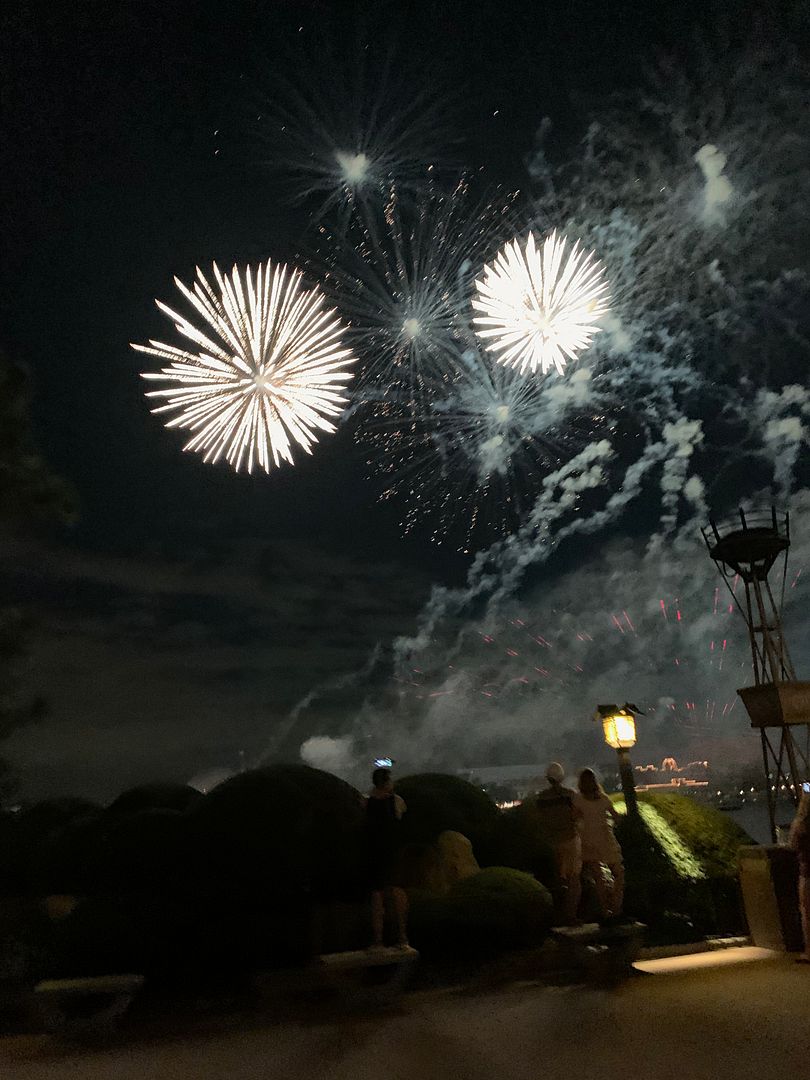 It was enough to pique our interest in the new show and want to see the entire thing.  Then we proceeded towards the front of Epcot (along with the masses) to exit the park and board the monorail to the Ticket & Transportation Center.  Then from there we transferred to the Resort monorail, which after 3 stops at the Polynesian, Grand Floridian, and Magic Kingdom, we finally reached our resort, the Contemporary.  A very long drawn out process but at least it was a nice boost to my step count for the day, lol.
DAY 3 TOTALS
1 Quick Service Dining Plan Credit Used – $26.88 (including tax)
6 Snack Credits Used – $45.00 (Average value of $7.50/credit)
2 Table Service Dining Plan Credits Used – $115.50 (or $57.75 per credit)
TOTAL VALUE RECEIVED ON DINING PLAN THRU DAY 3  –  $477.03
COST OF 5 NIGHTS OF REGULAR DISNEY DINING PLAN FOR 2 PEOPLE – $754.90
7 QS & 6 TS CREDITS REMAINING PLUS 13 SNACK CREDITS!!
STEP TOTAL FOR THE DAY (per my FitBit): 15,494 (or 6.61 miles)
DAY 4 – FRIDAY, NOVEMBER 1 (Animal Kingdom, Contemporary Resort)
We were up very early again (my FitBit says 5:00 a.m.), as we were headed to Animal Kingdom for Extra, Extra Magic Hour, which was from 7:00 – 8:00 a.m.  We took the bus and arrived at the park around 6:30 – 6:45.  The lines to enter the park were short and the gates opened soon after we got in line.  The crowd (most of which was headed to Pandora, more specifically Avatar: Flight of Passage ride) was stopped soon after walking through the Oasis, as they had the walkway roped off and several Castmembers guarding it.  At about 7:00 they started letting people through, once you'd had your Magic Band scanned to confirm that you were a a Disney World resort guest (and therefore qualified for early access.  Once we'd turned the corner towards Pandora there were more Castmembers to lead the crowd to the line for the Avatar ride.  Great crowd control!
The line to board the ride never stopped moving and we were soon flying through Pandora.  I love this ride!  It's my absolute favorite.  I was excited to ride it with Andrew to see his reaction, as this was his first time riding it.  He too loved it!  We were glad that we had a Fast Pass to ride it a second time later in the day.  So instead of getting back in line (which was longer now) to ride Avatar again, we decided to move on to the other ride in Pandora, the Navi River Journey boat ride.  While this ride is not a "must do" ride for me, I do enjoy it.  At about 8:00 (the end of EMH,  and when the park opened for all guests) and made our way out of Pandora while the crowds were going the opposite way.  It was then that I turned to Andrew and said, "You're Welcome!"  Getting up early and taking advantage of the parks' EMH definitely paid off for us on this trip.
By 8:15 we had walked on to Expedition Everest…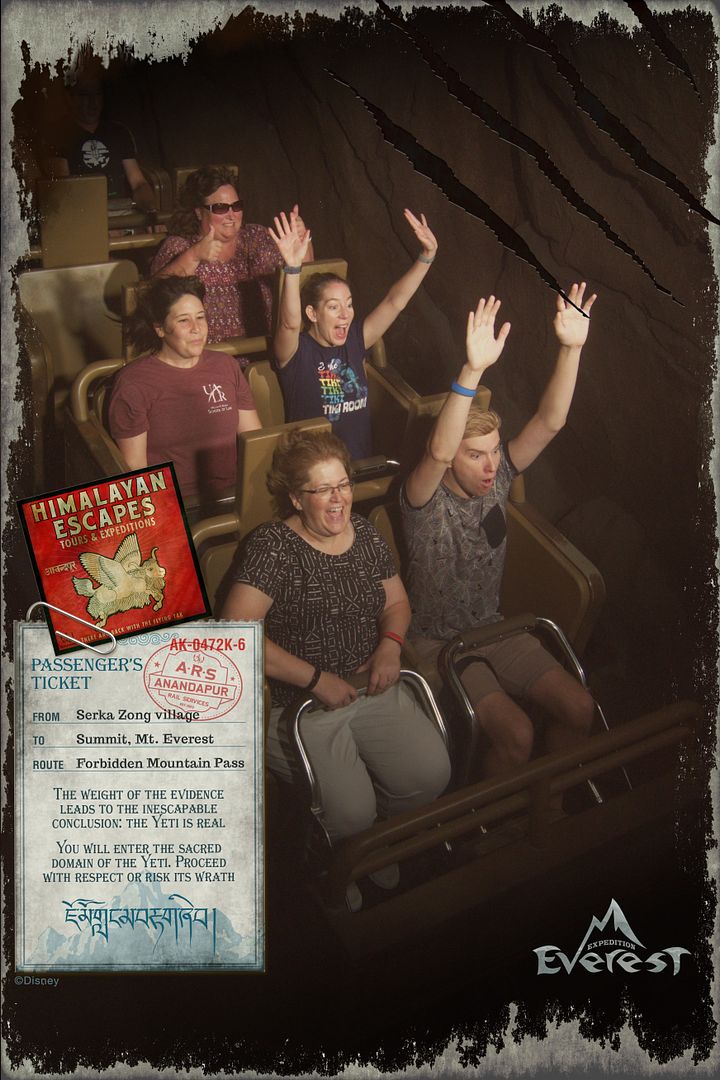 We could have ridden it again right away (the line was still short) but we had a Fast Pass for it in about an hour so we decided to get some breakfast.
Breakfast from Creature Comforts using Disney Dining Plan Credits
After a leisurely breakfast seated outside of Creature Comforts, it was then time to use our first Fast Pass of the day…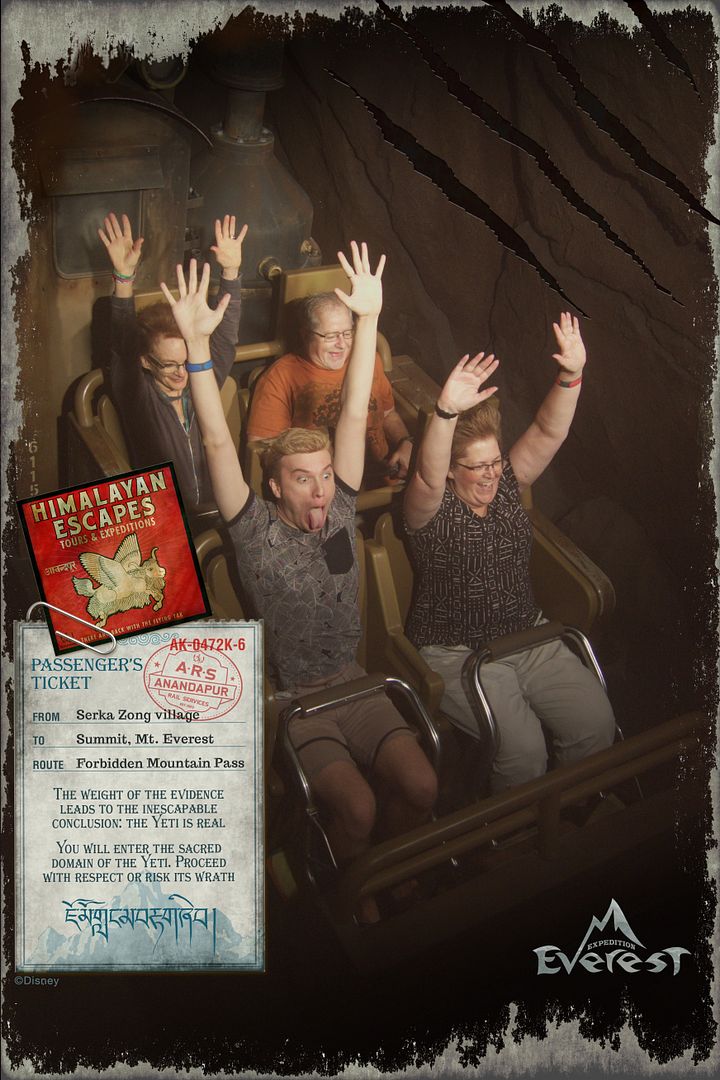 Andrew did a great pose for the camera, even better than the first ride. 
Our 2nd Fast Pass of the day was not until early afternoon (earliest we could get for Avatar Flight of Passage), so we had a few hours to kill.  Checking the MDE app we saw that the wait time for the Kilimanjaro Safaris was pretty short so headed to the Harambe Wildlife Reserve…
After a short wait in line we boarded our truck…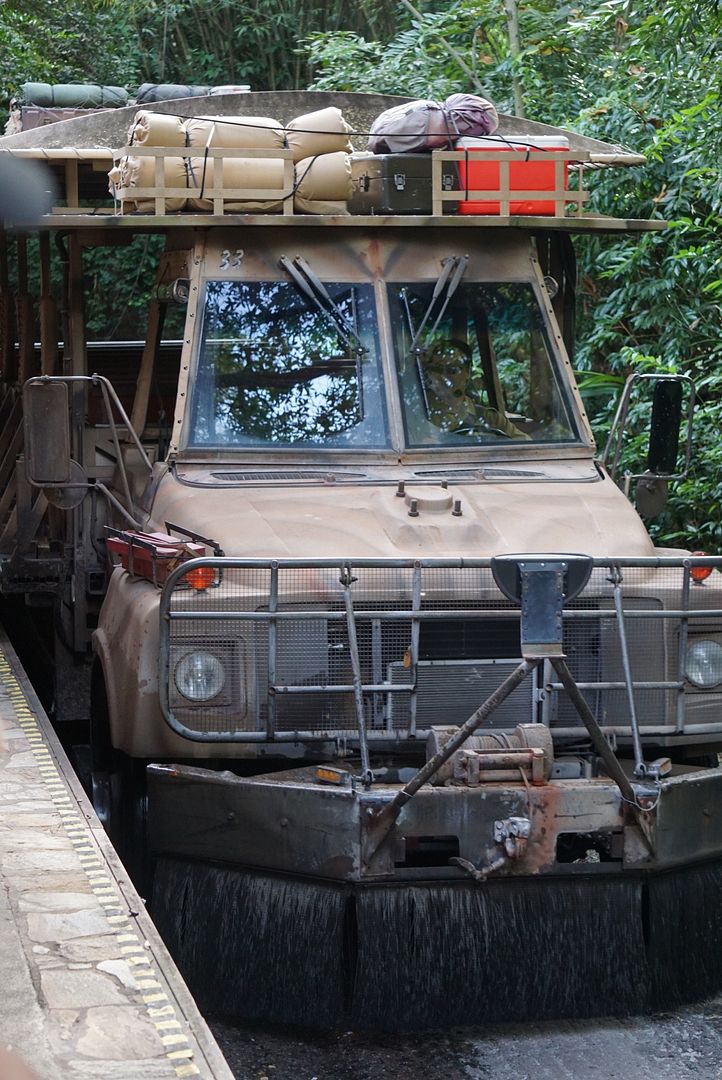 For a week  20 minute long safari ride through the African savanna…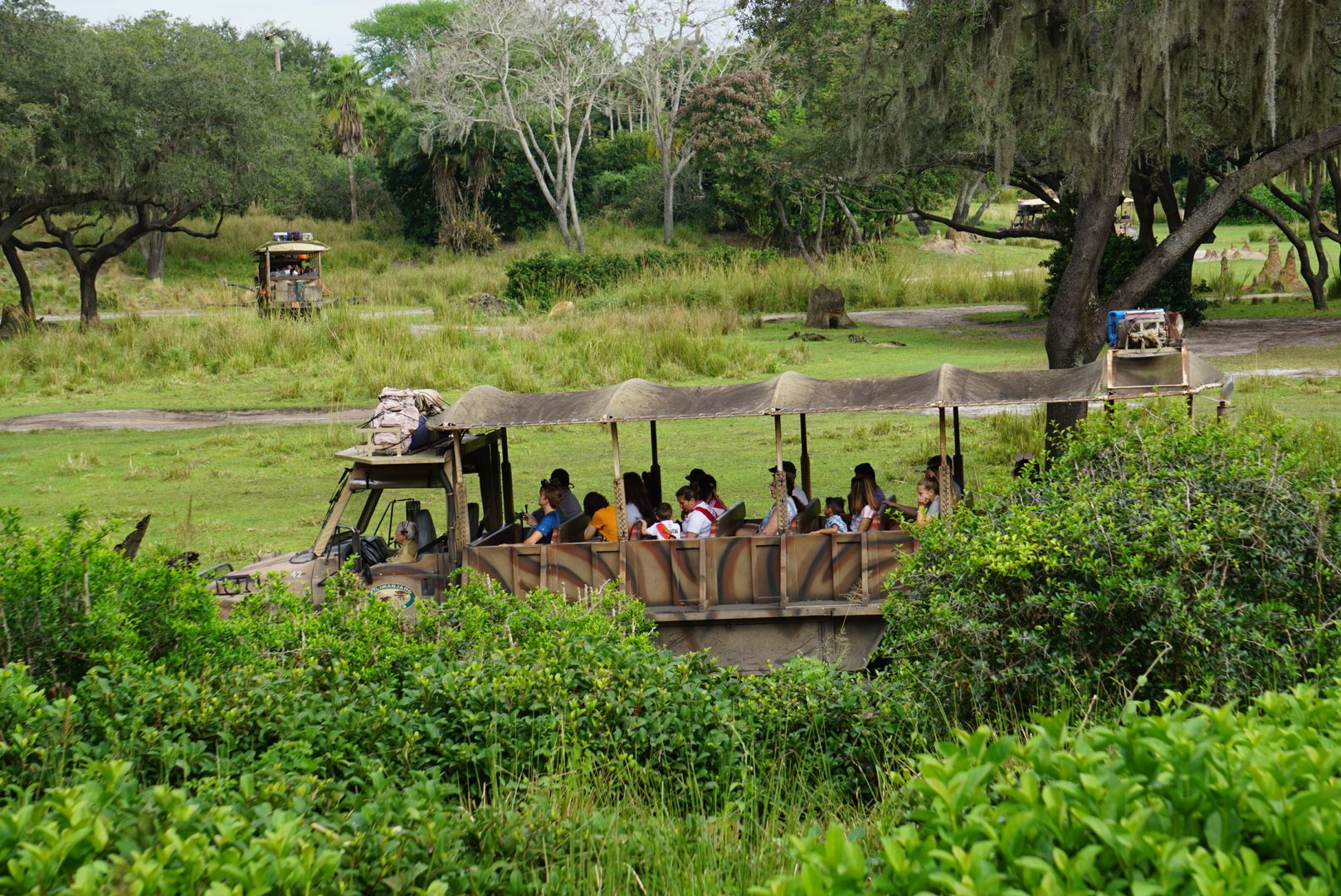 While on our safari we saw many animals, like Bongo…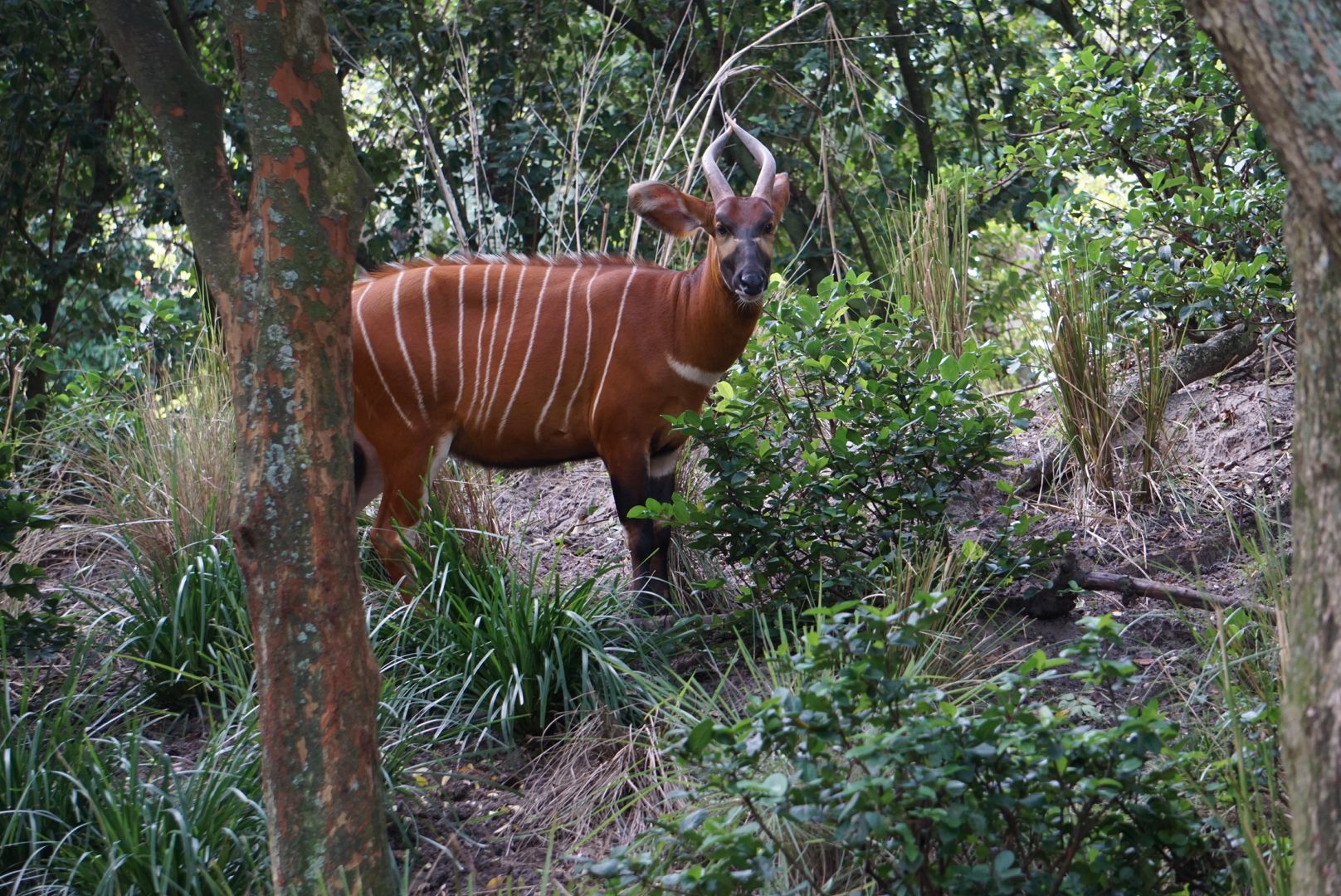 Rhinos…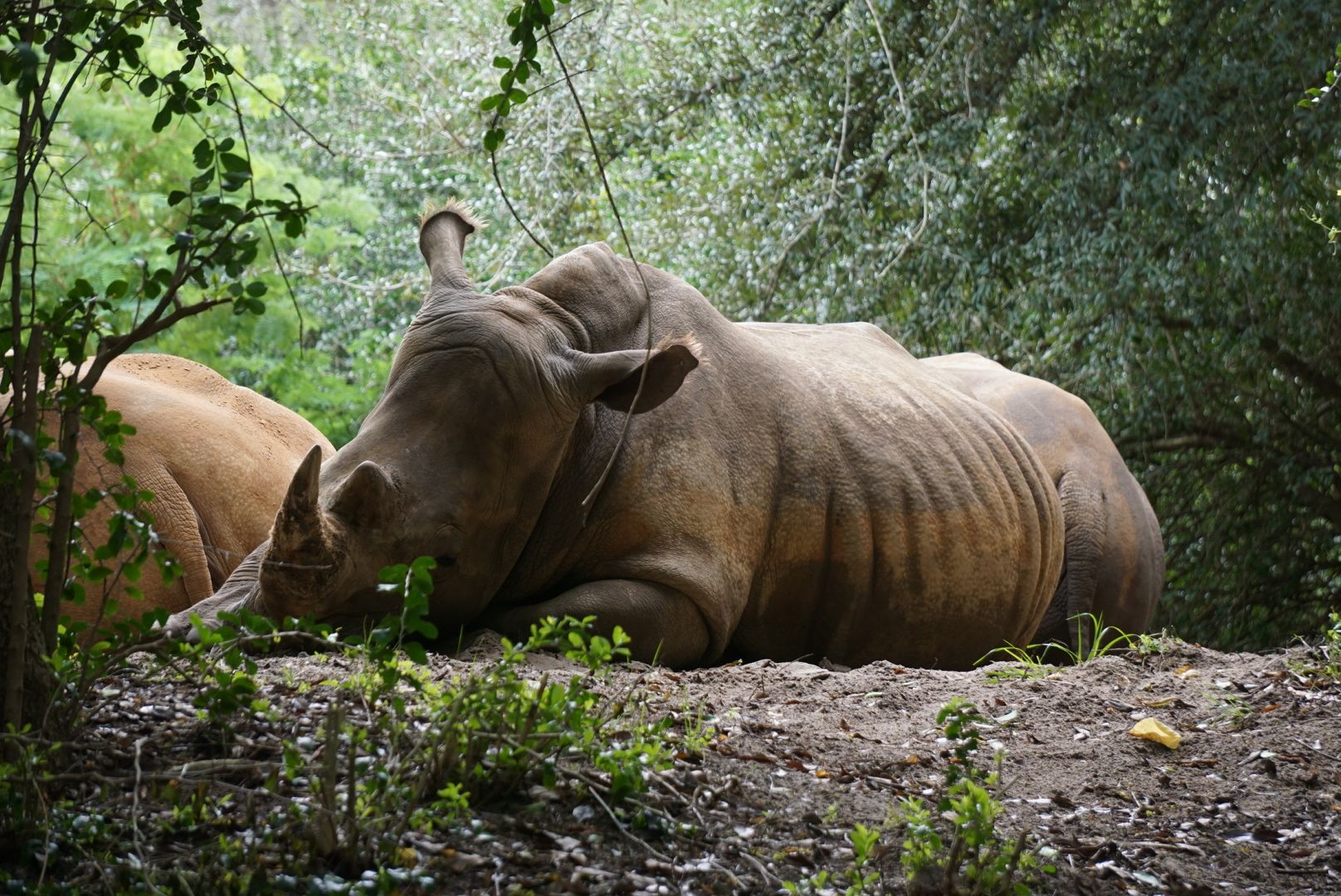 Giraffes…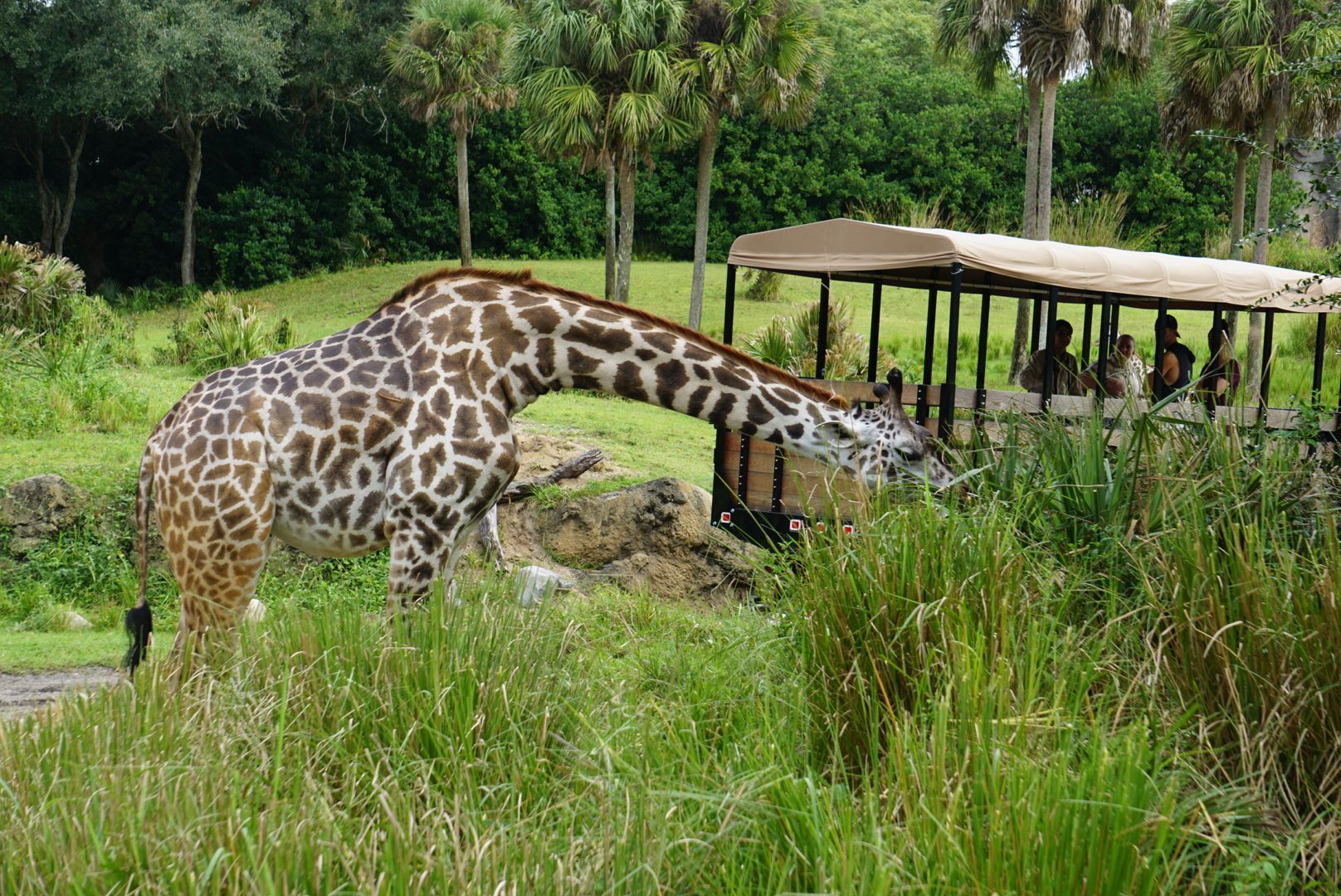 We had a close encounter with this Giraffe…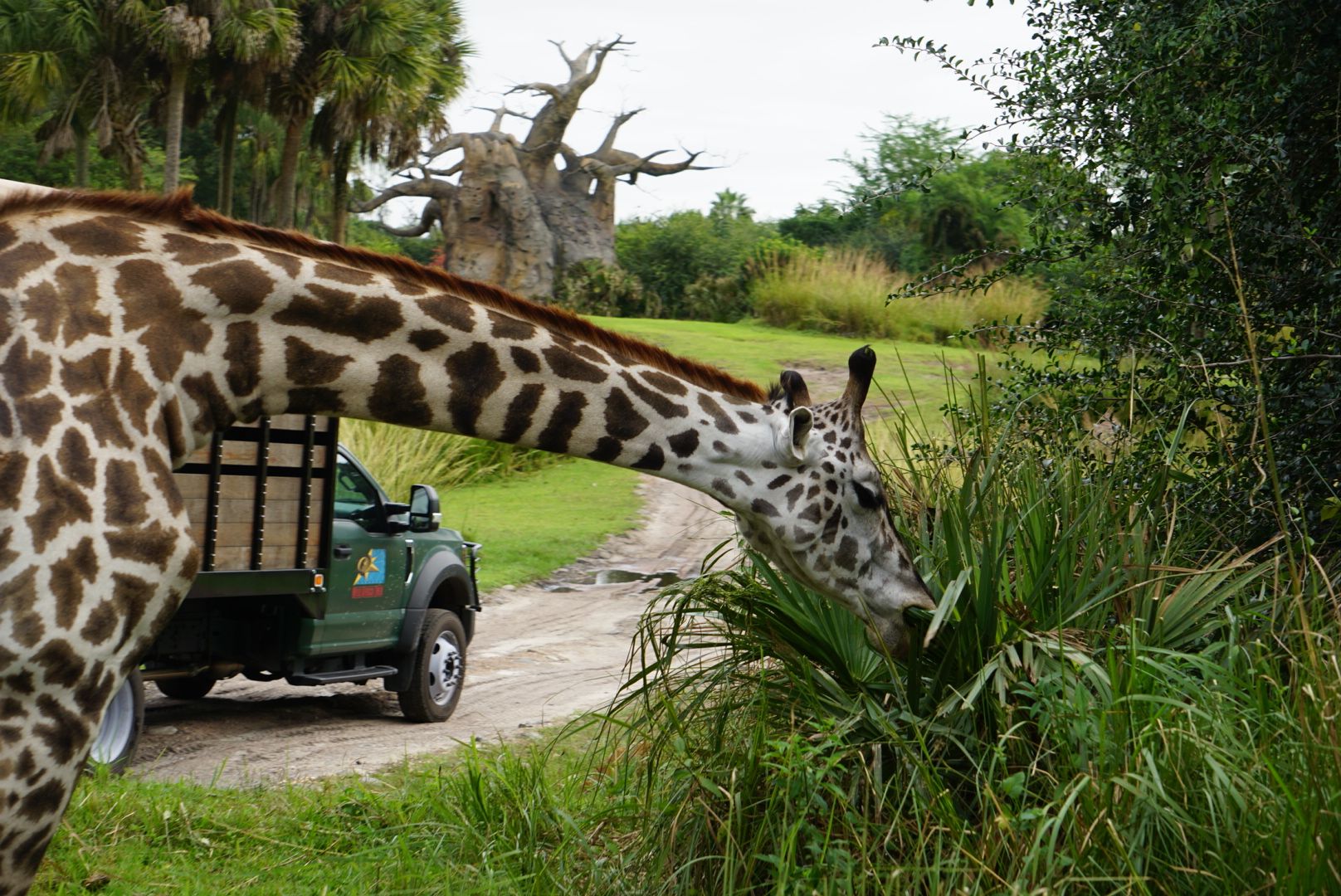 There were also Elephants…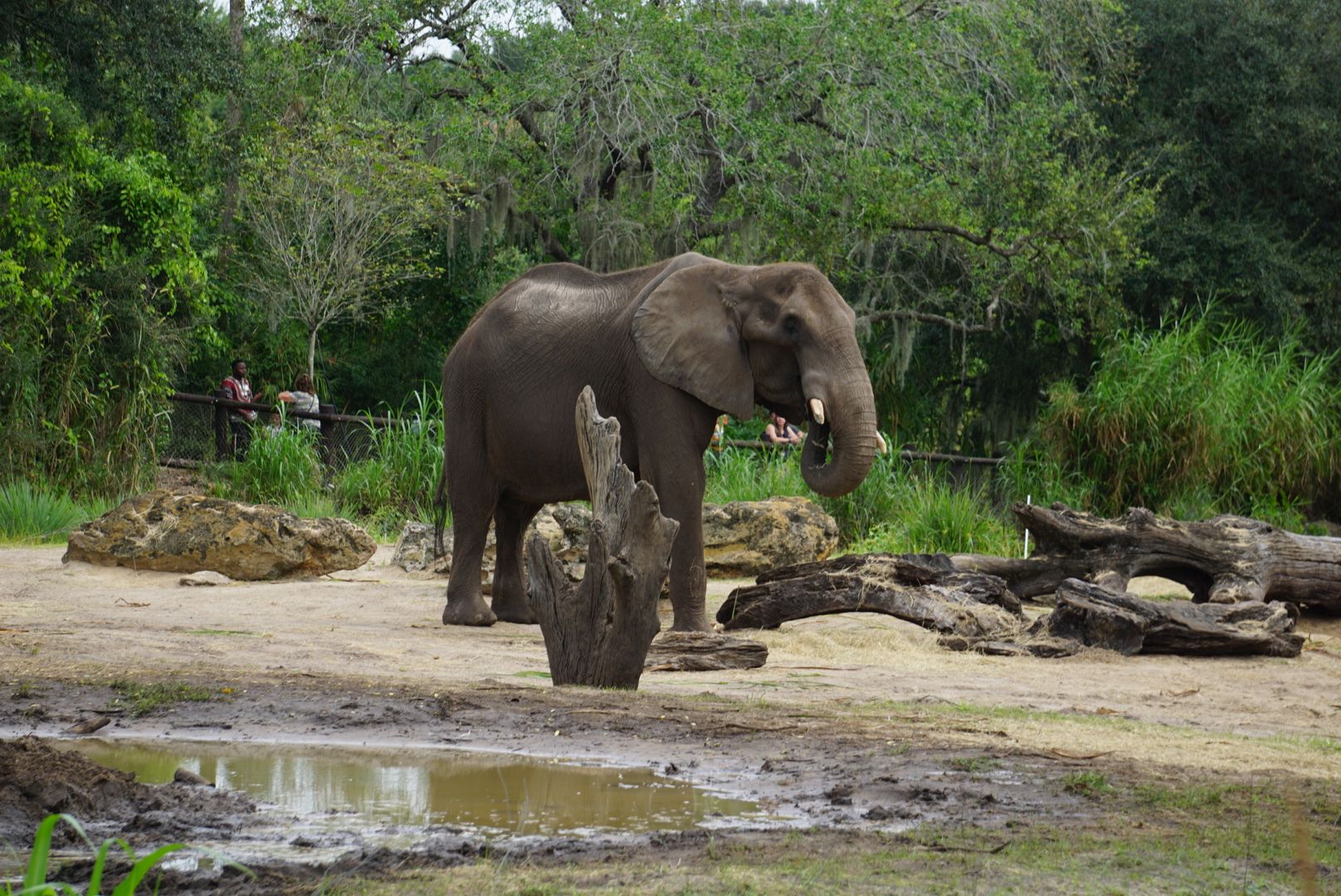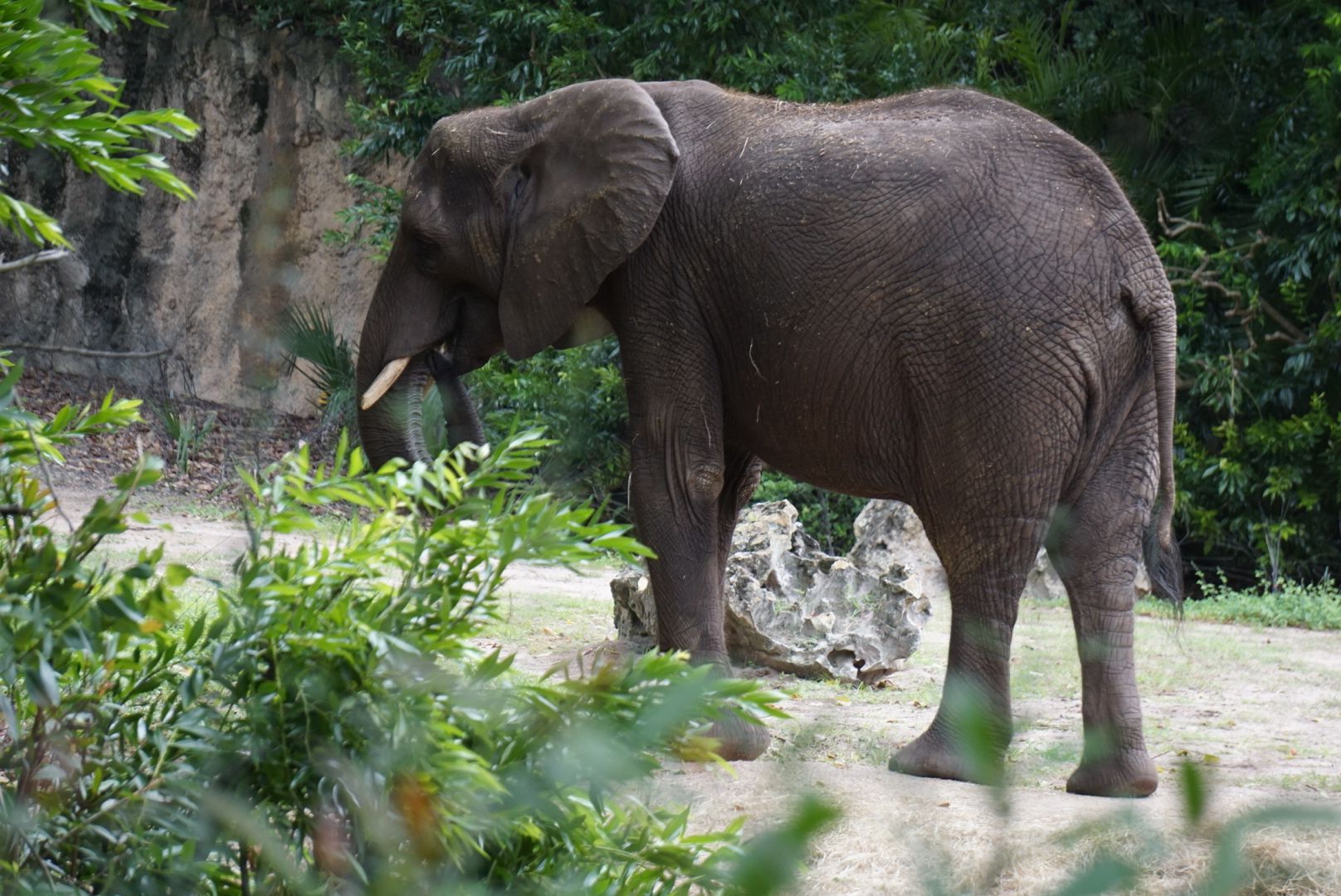 And the Lion was out…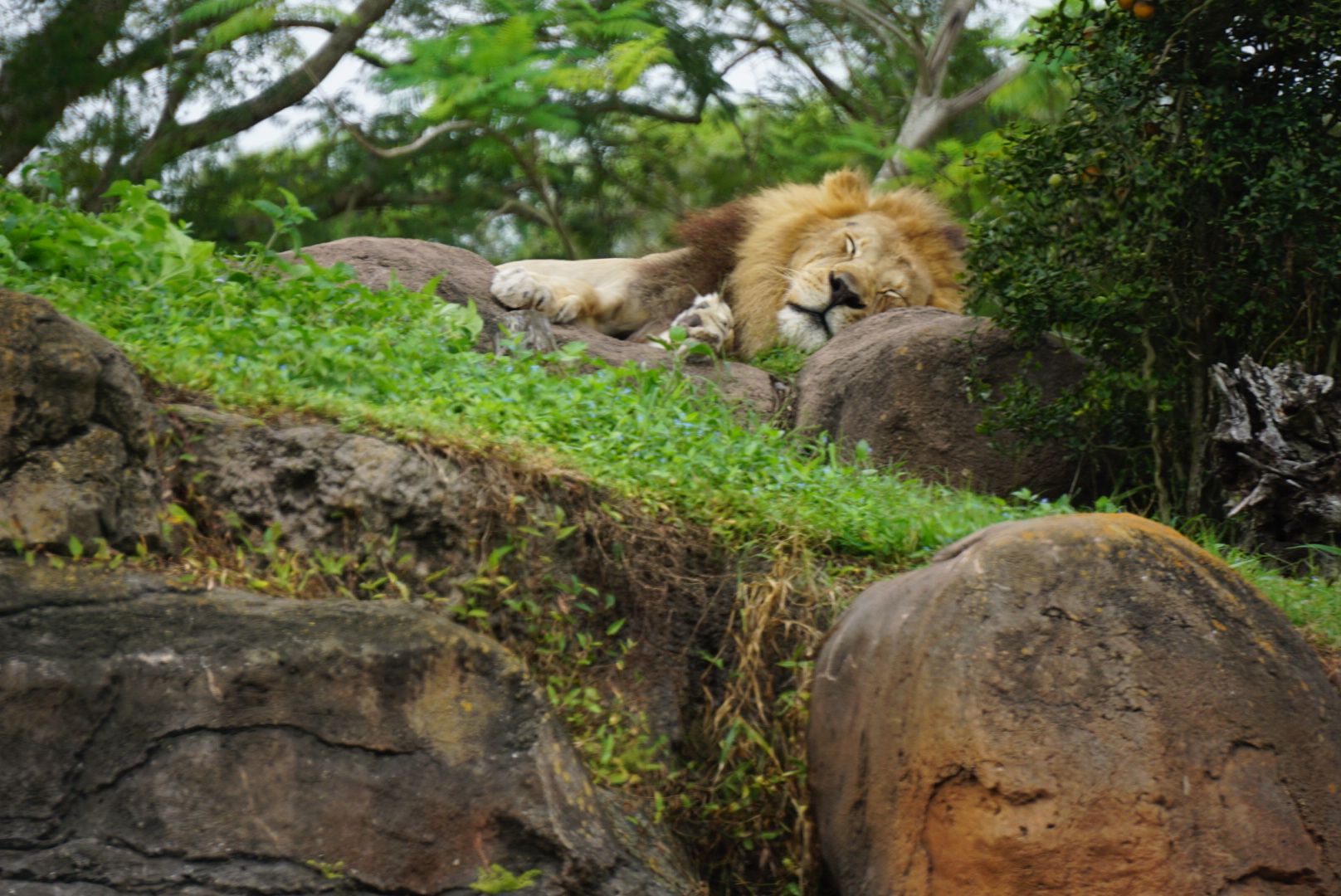 And his pride…
Along with other animals and birds.
We finished our ride in time for the first show of the day (at 11:00) at the nearby Festival of the Lion King theater…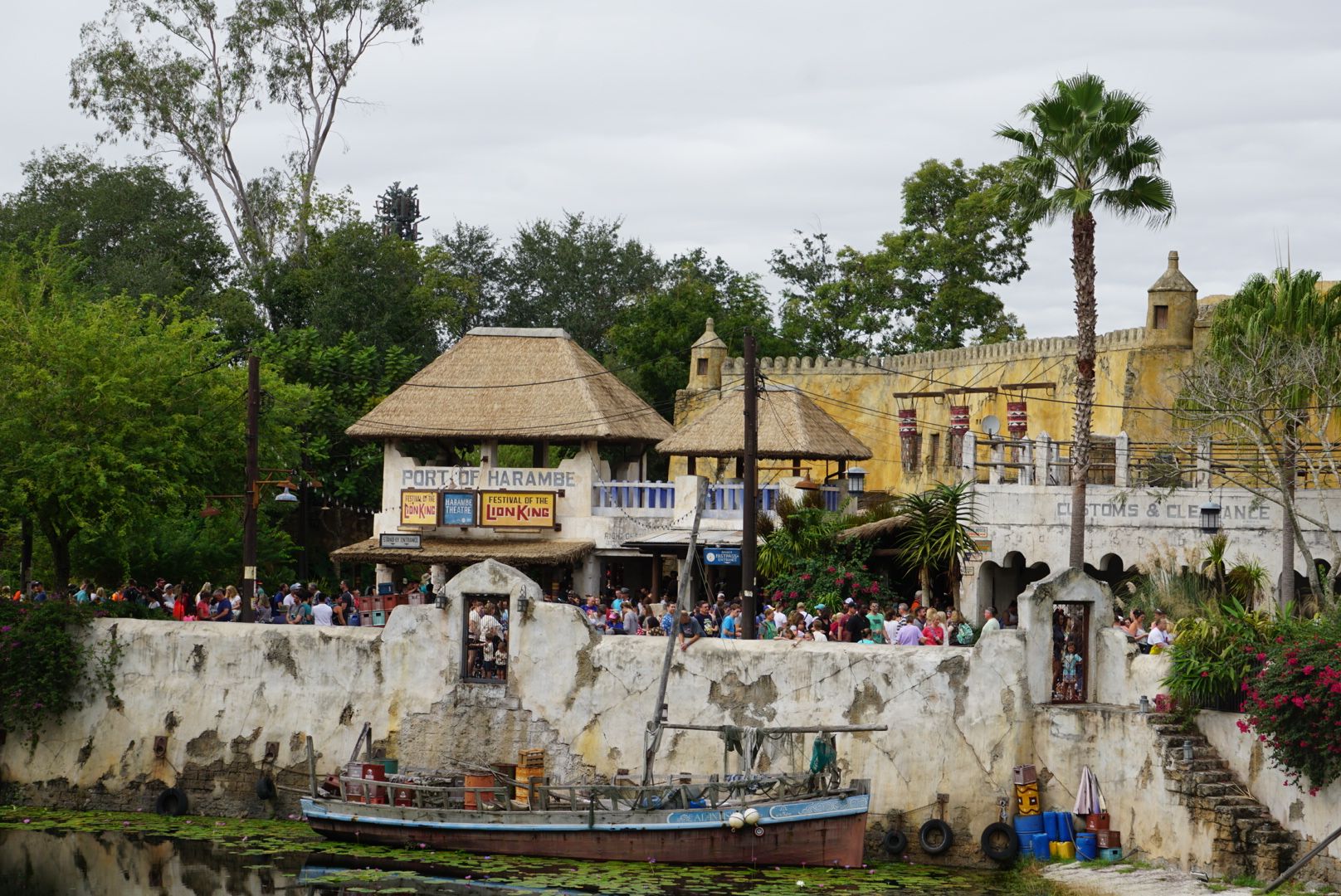 Next up: Festival of the Lion King show, Lunch at Flametree BBQ