My 5th consecutive fall trip to Disney World was different in some ways. Unlike the previous two fall trips, sadly this time my friends, Paula and Hunter, were unable to join me as I "tasted" my way around the World. I was though able to meet up with other friends for about 1/3 of my dining, so at least some of my reviews will include additional opinions other than my own. One of these friends was Rachel, who is shown here with me at our Sunday brunch at California Grill.
Several times I also dined with my friends, Nicole & Mike, including at the Italian Regional Food & Wine Pairing Luncheon when I took this photo of them (in front) and their friends Kevin and Krissie.

Another change this year was that for the first time in many years I did not purchase an Annual Pass and therefore was not eligible to purchase a Tables in Wonderland membership (for its 20% discount at most Disney World table service restaurants). So with this in mind, I decided to experiment with another option highly promoted by Disney for discounted dining. For the first three nights of my 12 night trip (during my stay at the Polynesian Village Resort) I was on the Deluxe Disney Dining Plan. So for a cost of $348.72 ($116.24 per night) I received 9 meal credits, 6 snack credits, and a refillable mug (sold for $18.99 plus tax and good for up to 14 days, so for my entire trip). Of my 9 meal credits I used 6 to dine at signature restaurants which require two credits per person and the remaining three for two lunches and one dinner at other (1 credit) table service restaurants. Therefore, all of these meals included a beverage (I chose an alcoholic beverage at all but one), appetizer, entrée, and dessert plus tax (tip not included). Also four of my 6 snack credits were used at the Epcot Food & Wine booths for $8.00 items. So for the first 3+ days of my trip I ate "DELUXE" with lots of steak, lobster, shrimp, expensive Disney cocktails and desserts.  On Day 4 of this trip report (after my last snack credit was used) I'll crunch the final numbers for you and reveal my conclusion as to whether this Disney Dining Plan experiment was a success.
That just leaves a few more important introductory details, like "Where did I stay?" This trip started with a 3 night stay at the Polynesian, followed by 2 nights at the Wilderness Lodge, then 6 nights at the Boardwalk Inn (my favorite Disney resort), and the final night at Port Orleans Riverside, so all four of these resorts will be reviewed in this report.
And then finally and most importantly for a Disney trip report which focuses on dining, "Where did I eat?"
Here is a list of the places/events which I will be reviewing in this trip report:
Table service Restaurants
Narcoossee's Dinner with Deluxe DDP (Grand Floridian Resort)
Tutto Italia Lunch with Deluxe DDP (Epcot, Italy)
Citricos Dinner with Deluxe DDP (Grand Floridian Resort)
Tony's Town Square Restaurant Lunch with Deluxe DDP (Magic Kingdom) – Festival of Fantasy Parade Dining Package
The Plaza Restaurant Dinner with Deluxe DDP (Magic Kingdom)
Kona Café Breakfast (Polynesian Village Resort)
California Grill Sunday Brunch (Contemporary Resort)
Beaches & Cream Dinner (Beach Club Resort)
Flying Fish Dinner (Boardwalk Resort)
Ale & Compass Restaurant Breakfast (Yacht Club Resort)
La Hacienda de San Angel Dinner (Epcot, Mexico)
California Grill Dinner (Contemporary Resort)
Chef Art Smith's Homecomin' Lunch (Disney Springs)
Bluezoo Dinner (Dolphin Resort)
Liberty Tree Tavern Lunch (Magic Kingdom)
The Edison Lunch (Disney Springs)
Boatwright's Dining Hall Dinner (Port Orleans Riverside Resort)
Quick service/Specialty Shops/Kiosks
Captain Cook's Breakfast #1 (Polynesian Village Resort)
Captain Cook's Breakfast #2 (Polynesian Village Resort)
Pineapple Lanai snack (Polynesian Village Resort)
Woody's Lunch Box Lunch (Hollywood Studios)
Roaring Fork Breakfast (Wilderness Lodge Resort)
Boardwalk Bakery Breakfast (Boardwalk)
Satu'li Canteeen Lunch (Animal Kingdom)
Beaches & Cream To Go Counter snack (Beach Club Resort)
Choza de Margarita snack (Epcot, Mexico)
Belle Vue Lounge Breakfast x 2 (Boardwalk Resort)
Woody's Lunch Box Breakfast (Hollywood Studios)
Boardwalk Pizza Window Dinner (Boardwalk)
The Ganachery snacks (Disney Springs)
Ghirardelli Soda Fountain & Chocolate Shop snack (Disney Springs)
Riverside Mill Food Court Lunch (Port Orleans Riverside Resort)
Resort Lounges/Bars
Trader Sam's Tiki Terrace Lunch (Polynesian Village Resort)
Territory Lounge Dinner (Wilderness Lodge Resort)
River Roost Lounge (Port Orleans Riverside Resort)
Special Food & Wine Festival Events & Booths
12 Epcot Food & Wine Festival Booths Visited
Swan and Dolphin's Food & Wine Classic held on Oct. 26, 2018 (Swan & Dolphin Resort)
Parisian Breakfast held at Chefs de France on Oct. 27, 2018 (Epcot, France)
The Parisian Afternoon – Sandwiches, Macarons and Bubbles! Lunch held at Monsieur Paul on Oct. 27, 2018 (Epcot, France)
Italian Regional Food & Wine Pairing Luncheon held at Tutto Gusto on Oct. 29, 2018 (Epcot, Italy)
Other Special Dining Events
Happily Ever After Fireworks Dessert Party (attended after fireworks) with Plaza Garden Viewing (Magic Kingdom)
Frozen Ever After Dessert Party (held in Norway pavilion due to inclement weather) followed by reserved waterside viewing for Illuminations (Epcot)
Miscellaneous Non-Food Stuff
Torch Lighting Ceremony at The Polynesian – COMPLETE
Mickey's Not So Scary Halloween Party held on Thurs., Oct. 25, 2018 (Magic Kingdom)
Wilderness Lodge Room 3207
Rivers of Light Fast Pass Viewing vs. Dining Package (Animal Kingdom)
Boardwalk Inn Room 3289
Halloween at the Boardwalk (plus a few photos from the Yacht Club)
Port Orleans Riverside Room 8088 (Magnolia Bend, Acadian Mansion)
(Kudos to anyone who recognized that the above photo and the next one were taken on Epcot's Spaceship Earth ride.)
Tuesday, October 23 – Arrival Day (Polynesian Village Resort, Grand Floridian Resort)
My morning was mostly uneventful, with only a small delay going through security when the gentleman in front of me had his home canned pickles confiscated, as there apparently was more than the allowed 3.4 ounces of pickle juice included with them in the jar.  Lol.  After that though it was smooth sailing (or flying)…
…with my Frontier flight taking off on time at about 10:00 a.m. Central Time and landing about 2 1/2 hours later (or  about 1:30 p.m. Eastern Time) at the Orlando (MCO) airport. Despite a quick bathroom break, a slight detour from my normal path due to some construction in the main terminal, and a longer than usual Magical Express check in line, I was still on my ME bus by about 2:00.  It was during my walk through the airport that I received a text saying my room at the Polynesian was ready.  I had been assigned to Room 2603 on the 2nd floor of the Samoa longhouse.  Also included in the text was a link to this Polynesian Resort map…
With the help of the map plus having just stayed at the Polynesian last year, I was able to find my longhouse and room pretty quickly once the ME bus let us off at the front entrance of the Great Ceremonial House (where the main lobby of the resort is located).   So by 3:00 I was already in my room taking photos like this one that I sent to my family of the beautiful view out my window…
My Review of Samoa Room 2603 & the Polynesian Village Resort
Next was a visit to the front desk to take care of a Magic Band issue, a park ticket issue, and to confirm that everything was in order to begin using my Dining Plan.  It was during this visit to the front desk that I was given this lei…
Then after a quick stop at Captain Cook's (the Polynesian's quick service restaurant) to pick up the refillable mug which was included in my dining plan…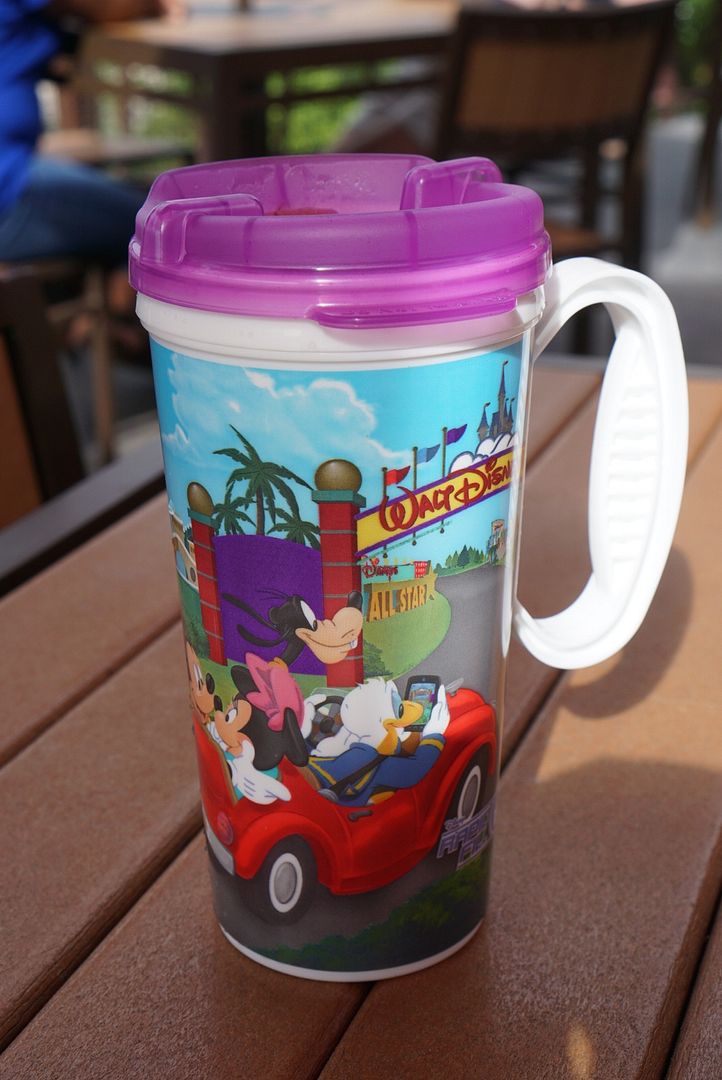 NOTE: Though I was hoping to get the cute Halloween themed mug that I'd seen in photos, there weren't any available at Captain Cook's (as of October 23rd).  My color choices at Captain Cook's for the lid of the regular mug were red, blue, pink and purple.
…it was on to the Tiki Terrace of Trader Sam's.
My Late Lunch at Trader Sam's Tiki Terrace
When I returned to my room my luggage had arrived from the airport and been delivered there.  I took some time to get my stuff organized and take more photos of my room.  Then it was time to go outside to the Great Ceremonial House Lawn for…
The Polynesian's Torch Lighting Ceremony
At about 7:45 I was my way to dinner when I saw another activity taking place on the Great Ceremonial House lawn…
The activity seemed to involve lighted hula hoops and lots of kids having fun.
But no hula hooping for me, 'cause my plan for this evening was to meet up with my friend, Rachel, for dinner at one of my favorite Disney restaurants.  So I boarded the monorail (on the 2nd floor of the Great Ceremonial House) and got off at the next stop, the Grand Floridian, where I had to stop and take a picture (or two) of the beautiful lobby…
And also stop for a minute to listen to the orchestra…
Then it was down the stairs, out the back door and down the path to the waterfront, where Narcoossee's is located…
Dinner at Narcoossee's on the Deluxe Dining Plan
4 Deluxe Dining Plan Credits used, 5 Credits Remaining
Wednesday, October 24 – Polynesian Village Resort, Epcot, Grand Floridian Resort
On this first morning of my trip I was awake very early and ready to start my day with breakfast to go from the Polynesian's quick service restaurant.  So at 7:00 a.m. I made the short walk over to…
Next up: 12 Epcot Food & Wine Festival Booths Visited Over 3 Days